Top 5 TV Repair Services in Toronto
Is your TV starting to give you more pain than entertainment? Struggle no more because we have all the essential things you need to learn here!
Today's review will be about companies that can deliver the best TV repair in Toronto. Each one was selected for their fair pricing and quality and work.
Before we get to the actual reviews, though, we'll give you an idea of the potential cost of repairing your beloved TV.
The Cost of TV Repairs in Toronto
Common repairs range from $60 to $300. The price will vary depending on the damage and the type of TV you have.
See the table below to discover the cost of common repairs based on TV type:
| | |
| --- | --- |
| TV Type | Estimated Cost for Common Repairs |
| Flat Screen | $45 – $360 |
| 4K TV | $100 – $275 |
| LED TV | $100 – $125 |
| Plasma TV | $300 – $400 |
Still, the biggest factor in the cost is the type of repair needed. The table below shows the estimated costs based on the type of repair:
| | |
| --- | --- |
| Repair | Cost |
| Backlight Repair | $100 – $125 |
| TV Bulb Replacement | $60 – $115 |
| Circuit Board Repair | $95 – $300 |
| Cracked Screen Repair | $100+ |
| TV Inverter Repair | $105 – $170 |
The Best TV Repair Services in Toronto
Now that you have an idea of the costs, let's get straight to our reviews! Here are the shops we liked best after our research.
1. Home TV Service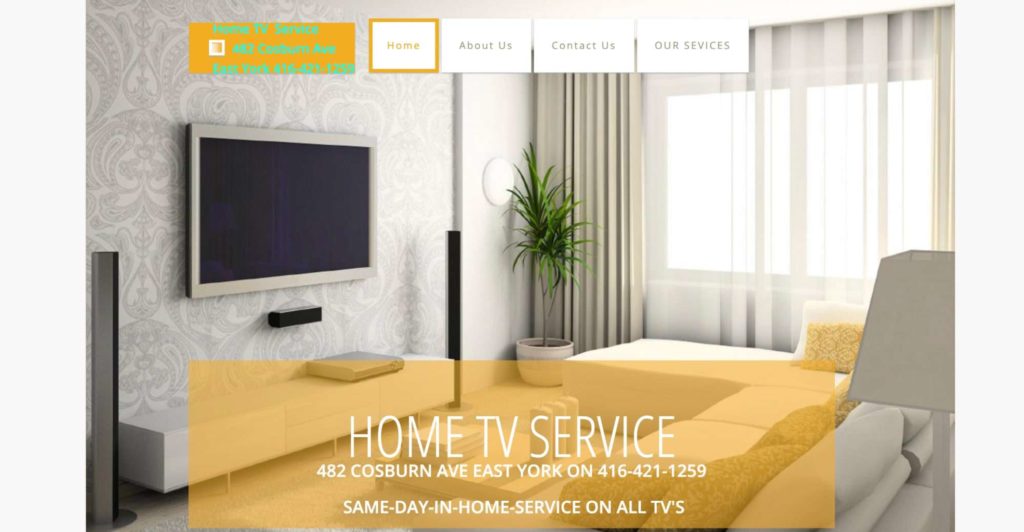 | | |
| --- | --- |
| SERVICES | TV repair services, gadget repairs |
| WEBSITE | http://www.hometvservices.com/ |
| ADDRESS | 482 Cosburn Ave., East York, ON M4J 2N5, Canada |
| CONTACT DETAILS | +1 416-421-1259 |
| OPERATING HOURS | Monday – Friday: 7:00 AM – 10:00 PM |
Home TV has been servicing clients for more than 38 years! With that level of experience, we reckon that they've worked on all sorts of TV models from the past and present.
Their strong suit is their availability. Their lines are actually open 24/7, making them fit for emergency repair services.
Of course, their name isn't up there for nothing. Instead of you driving to their center, they'll drive to your home to do the fixing – convenient, right?
They can fix all sorts of TVs from your typical Flat Screens to Plasma and even Retro Classic TVs. So, if you still want to get your old model up and running, they can do the magic.
By the way, they also repair computers, phones, laptops, chargers, and cables. You might want to have some of your gadgets repaired while they're at your home.
38 years of experience
Lines are open 24/7
In-home service
Can fix retro TVs to modern flat-screen TVs
Can also repair tech gadgets and cables
Gives you options to choose what fix to do
No online estimates are available
Can be expensive
Customer Reviews
Knowledgeable and straightforward
Great customer service. Very responsive – I received a call back the same day. George took the time to talk me through the issue as well as options available to resolve the issue with my LG TV. He's obviously very knowledgeable about his business and is very straightforward with both advice and quoting. I would highly recommend to friends. – Allison Grande
Excellent repair man for tech issues
George is an excellent repair man for all technological services. He arrived quickly, repaired the issues with my television and reconnected my sound system. He resolved all of my technological issues efficiently. I would greatly recommend him to anyone with any technological issues. I am very happy with his services. – Tara Maloney
2. The TV Guy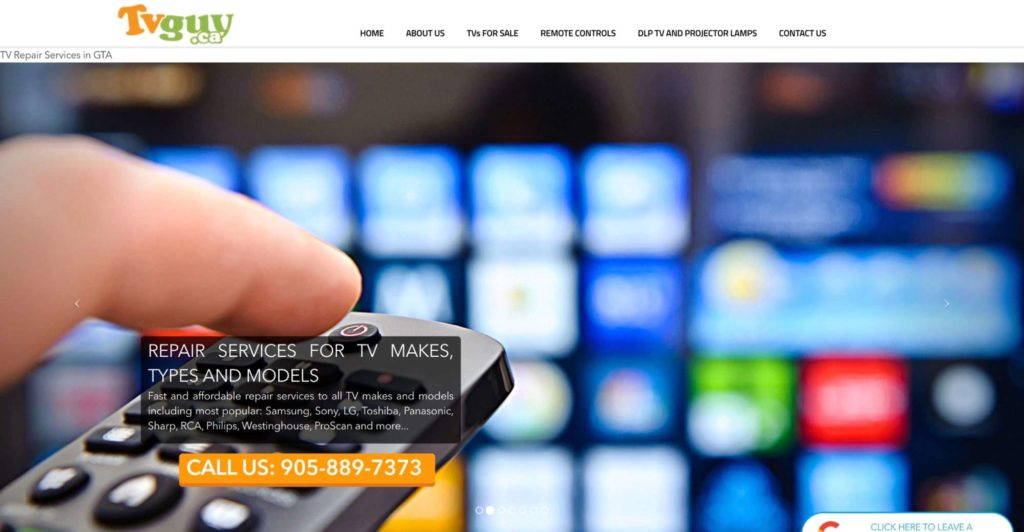 SERVICES
TV repairs, TVs for sale, remote controls, projector lamps
WEBSITE
https://www.tvguy.ca
ADDRESS
25 North Rivermede Road, Unit # 11, Concord, Ontario L4K 5V4
CONTACT DETAILS
905-889-7373


[email protected]

OPERATING HOURS
Monday – Friday 10:00 AM – 6:00 PM
Saturday: 11:00 AM – 4:00 PM
The TV Guy can fix all TV types and makes, from major brands to even obscure ones. With 25 years of experience, they've dealt with 4K TVs, Smart TVs, and even curved TV models.
One of the first things we liked when taking a look at them was their free in-store estimate: they'll give you a quote if you bring your TV to their store. Alternatively, you can simply hit them up and they'll be happy to speak to you.
Their availability is also worth noting because they offer in-home services 7 days a week. Their shop is closed on Sundays, though, so if you need repairs that day, just call for an in-home one.
We also like the 10% discount they offer to senior clients, reducing the costs. Speaking of, to pay for your total cost, you can use Visa, Mastercard, cheque, and cash, of course.
Though the terms are a little unclear, they also offer a written warranty for three to six months. And as general knowledge, this basically means that if the issue wasn't fixed, they will fix it again at no cost.
Can fix curved TV models
Free in-store estimates
In-home services available 7 days a week
10% discount for senior clients
Flexible payment options
3 to 6 months written warranty
Slightly vague warranty terms
Can be difficult to communicate at times
Might try to sell you a TV too
Customer Reviews
Honest and reliable service
We were doing renovations at our house when all of a sudden my 75″ Samsung TV wouldn't turn on anymore. I decided to bring it to the TV Guy based on their great reviews. Turns out the issue was with my outlet on the wall and NOT my TV. These guys were so honest I couldn't believe it. They charged us a minimal fee and told us our TV turns on and works fine and they advised us to check our wall outlet. I was so happy I chose this place and from now on my TVs will keep coming here. Thank you Noel for being so honest and reliable!!!!! Highly recommend!!!! – Amanda
Great customer service
Called with TV problem, they explained over phone what the issue could be, quoted a price and I took it in for repair. Idan did brief diagnostic, reconfirmed problem and cost and would take a few days. Picked up TV today, they gave me broken parts, verified I had my warranty and no hidden additional cost!! Now that's great customer service!! – Adele
3. AMI Electronics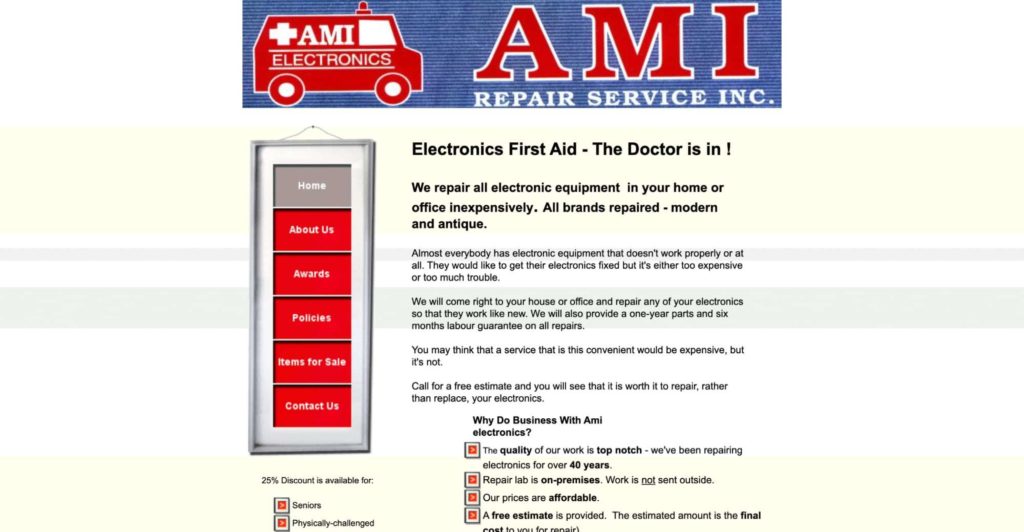 SERVICES
Repairs electronic equipment
WEBSITE
https://www.electronicsfirstaid.com/
ADDRESS
379 Shuter St, Toronto, ON M5A 1X3, Canada
CONTACT DETAILS
+1 416-362-7797
OPERATING HOURS
Monday – Thursday: 12:00 AM – 12:00 PM
Friday – Saturday: 12:00 AM – 6:00 PM
With 40 years of experience repairing electronics, AMI Electronics can give you top-notch services, in our opinion. Plus, they can fix your TV, whether it's the newest model or the most antique analog TV.
We like that you get the option to choose between in-home or in-store repair. As for the latter, you don't have to worry because all repairs happen on their premises – nothing is sent outside.
Upon them checking your unit, you'll get a free estimate. The best part is, this is exactly the amount you have to pay, no need to worry about extra costs.
We're also big fans of their comprehensive warranty terms and the long warranty period of up to one year for parts. For labor, the warranty period is six months.
Eligible customers (seniors, pregnant women, physically challenged) can also enjoy a 25% discount. And if you're one of these people, you can simply ask them to pick up the unit in your home for convenience.
By the way, do note that you have to pay a deposit of $20 to $200 for repairs. The deposit will be returned to you if repair is not possible, so we don't have much of an issue with this.
40+ years of experience repairing electronics
In-home or in-store service
Free pickup and delivery from day to evening
Free estimate and pay the exact amount
One-year warranty for parts; six-month warranty for labor
Eligible customers get a 25% discount
Deposit is returned if repair is not feasible
100% satisfaction guarantee
No online estimates
Difficult to contact at times
Customer Reviews
Terrific experience
This is the third time I called Oscar for an issue with a TV. Like both previous calls, this was a terrific experience. He came quickly, picked up the tv that was not working, and called me the next day to give me options, all with prices. I chose to purchase a tv rather than repair the old one, and he came and installed it that night. Oscar is honest, knowledgeable, and professional. Highly recommend him. – Debra Dearlove
Polite and precise repair man
We had our Sony TV of many years broken. I was about to say goodbye to it but Oscar took it, fixed it and he gave us warranty for both parts and labour! Very polite and precise man! We are more than happy with the outcome. Not to mention the kids 🙂 Recomended him to all of our friends and this is the first place I will call if I need repair again! – Branka Bozic
4. Action TV Repairs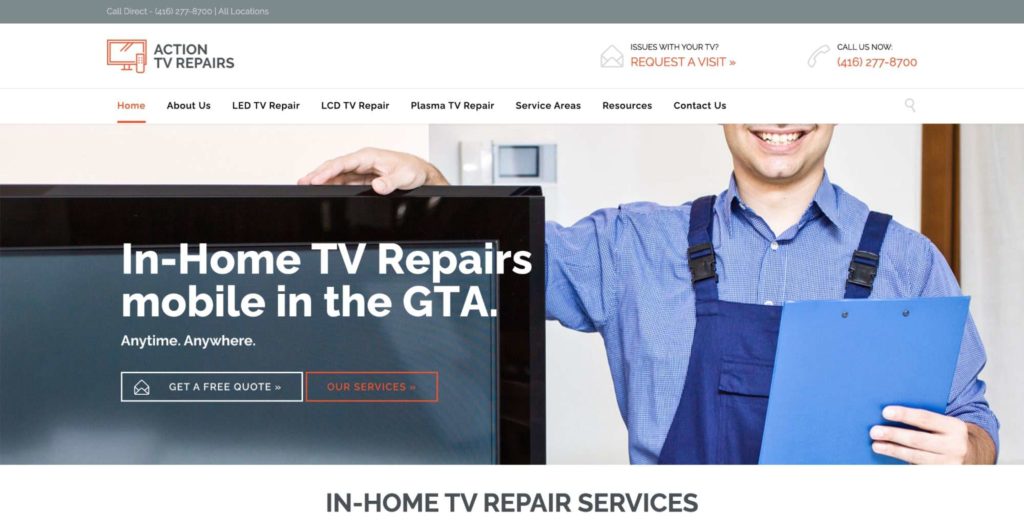 Action TV Repairs live up to their name by jumping into action when a client is in need. Their edge is in their 24/7 availability, as you can call them for an in-home service at any time.
Like most centers in this list, they also deal with LED TVs, plasma TVs, and more. But what makes them stand out from the rest is that they serve many areas in Toronto and GTA.
Whether you're in Mississauga, Vaughan, Ajax, or other surrounding areas, they can reach you. And they'll reach you on time every time, many past clients claim.
We also like that they offer free online estimates as other shops didn't have this. This option makes it easier for you to see the potential costs without the hassle of bringing your TV to their shop.
When we looked into their pricing, many past customers said that the rates, even for diagnosis, were fair. Still, every case is unique, so prepare at least the average amount charged in the city for the costs.
Available 24/7 for in-home services
Services many areas in Toronto and GTA
Free online estimates
Fair and local pricing
Can be difficult to contact at times
No warranty
Customer Reviews
Extremely competent and transparent
It was pleasure and my good fortune to find a technician like Mr Singh to fix my TV. He was upfront about the cost and was prompt, professional, courteous, friendly, extremely competent and totally transparent. I would gladly reccomend him to all my friends and family. – Kavesseri Ramanathan
Courteous and professional
Great service. Singh came by on short notice, we pulled the TV off the wall and he fixed it right in front of me. That was a month ago. TV has been working perfect. Very Courteous and professional. I would definitely recommend Singh and Action TV Repairs. – Jason casaubon
5. TV Repair Center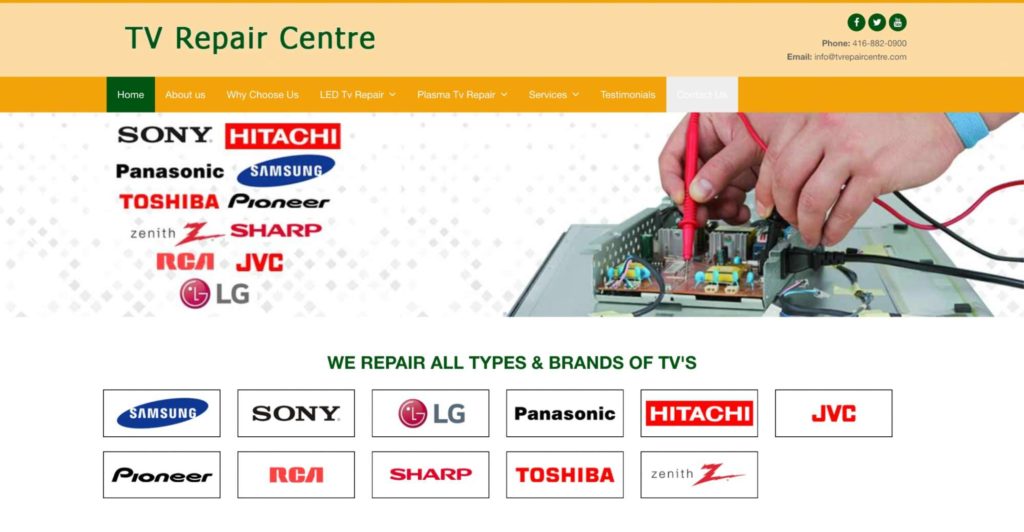 After looking into TV Repair Center, we believe that they have all the solutions to solve most TV problems. In fact, their team of technicians is always up-to-date with tech, to help them deal with any defects.
One of the advantages here is that they serve both commercial and residential clients. So, they're good whether you need a repair for your home or for your business.
They also service many areas in Toronto. On the topic of accessibility, they're also open 7 days a week, so you don't have to worry about when you should contact them.
Another thing we like is that they have a free online estimate request up on their site. Senior clients can also get 10% discounts on repairs, which is pretty much the standard by now but still welcome.
Service quality is also guaranteed with their 90-day (3-month) warranty to all customers. They're also available 24 hours for in-home services.
Services both residential and commercial clients
Services many areas in Toronto
Available 24/7 for in-home services
Free online estimate
10% discount for seniors
90-day warranty on parts and labor
Can be busy during business hours
Customer Reviews
Great experience
Overall great experience and recommended! They do in-home repair, so that was great for my 65-inch. Came back a day early with the new part and stayed to make sure the reset and software update process finishes properly, as well as shared tips to prevent the same problem from happening again. I hope I won't need to see them again, but if I run into other problems in the future, I will very likely find them again. Thank you! – Yolanda Liu
Exceptional service and great communication
Exceptional service. Came within 24hrs to assess the problem with our TV and took the pieces that required repairs. Communicated very well with us to let us know when parts would be in and when they could return to repair the TV. Came back to the house to repair the TV onsite and make sure it was operating correctly – including helping me reconnect it to our entertainment system. Great customer service. Thank you. – Rob Buchanan
Factors to Consider When Choosing a TV Repair Service
Having a hard time choosing a TV repair service? Consider the factors below to make the right choice:
Skills
Repairing electronics demands a set of skills to diagnose and fix the problem. You might find yourself trying to fix the problem on your own, but only a skilled technician can truly get to the root of the issue.
Apart from skills, it's also good to look into the set of equipment that they have and if they match the model of your TV. After all, even the most skilled technicians need the right tools too.
Specialty
The next thing you need to consider is their specialty, whether they're good at replacing LCDs or fixing dead pixels on a TV. This allows you to know which professional can help you with the problem you have with your unit.
In addition, you need to know whether they are knowledgeable about multiple TV brands. Other TV brands might not show the same problem as others, so you should find a TV repair service that can provide a service for such brands.
Availability
It's very time-wasting to wait for a TV repair service that can't actually provide a service to fix your problem, thus leaving you with a still-broken TV and hours of time wasted.
Maybe they do have the service, but what if their employee happens to be absent at that time or on a leave? Make sure you call ahead of time or check their operating hours to see their available periods.
Equipment
A good repair service has a complete set of equipment that is ready to be used on the call. As we said, they must have the tools to match the model and make of your TV.
If possible, try to check if the technician is using the right gadget or parts for the job. If you can't, then at least search for a reputable company that provides a reliable service – check what others say about them.
FAQs About TV Repairs in Toronto
---
With the best TV repair services in Toronto, the show never stops! In case you have more items at home that need fixing, check out our list of the best appliance repair shops in Toronto to see your options.