Where to Get Party Bus Rentals in Toronto
Parties in big groups are always fun. In times like these, friends usually rent out clubs, bars, and surprisingly, even party buses.
Here are the top places where you can get party bus rentals in Toronto. We gathered information such as their selection of units and certain pros and cons.
Where to Get Party Bus Rentals in Toronto
The following factors were used to determine the top places to get party bus rentals in Toronto:
How much do party bus rentals cost in Toronto?
Throwing a party comes with setting a budget. We provided this sample table to give you an idea about the cost of renting a party bus.
We note that these are all estimates and that they are all subject to change.
| Party Bus Rental  | Average Cost |
| --- | --- |
| Low-end bus | CAD 195 to CAD 390 |
| Average bus | CAD 685 to CAD 805 |
| High-end bus | CAD 1,165 to CAD 1,355 |
1. Circusbus Party Bus Toronto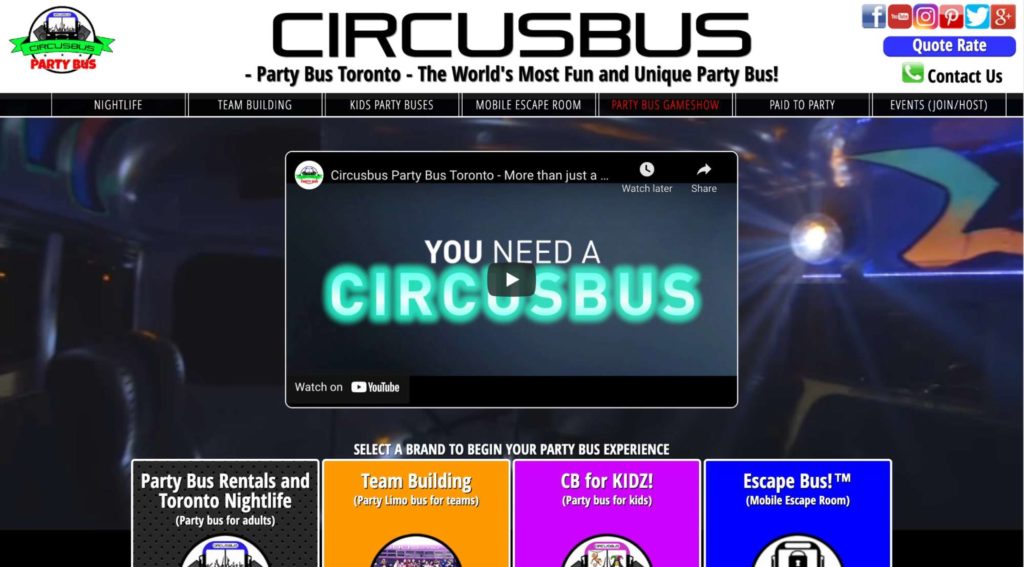 | Test | Info |
| --- | --- |
| WEBSITE | https://www.circusbus.com/ |
| ADDRESS | 313 Rumsey Rd, Toronto, Ontario |
| CONTACT INFORMATION | +1 647-909-4791 |
| OPERATING HOURS | Open 24 hours  |
| | |
| --- | --- |
| SELECTION OF UNITS | ★★★★☆ |
| PACKAGES | ★★★★★ |
| BOOKINGS AND INQUIRIES | ★★★★★ |
| SECURITY | ★★★★☆ |
In 2015, Circusbus opened and decided to change the way people party. They are one of the most popular party bus rentals in Toronto, having partnered with party-famous brands such as Tequila Jack, Orchid, and Esc Room Addict.
The best thing about this service is the diversity of their packages. They have buses and promos for different kinds of groups, be it an all-out party or just a fun gathering.
Probably the most popular package is Nightlife, which is their party bus for adults who love to put on loud music and drink. These can come with add-ons such as ball pits, karaoke, foam, and more.
They also have packages for kids, where kids can celebrate their parties inside a mobile. This can be a point-to-point experience, a drive-around party, or even just a day of fun with various games and food.
For more laid-back gatherings, Circusbus also offers a team building package. Offices and companies can use their team bus, which is specifically designed to take teams to and from their destination.
We do note that this service usually has a minimum of 4 to 5 hours per package and that they charge per person. Prices aren't that affordable as well, adding that they cost extra for additional time, people, and services.
Circusbus is perfect for those who love to party and are willing to spend on making each party fun, memorable, and extra.
More than 5 years in the business
Has packages for both adults and kids
Has a service for team buildings
Great selection of additionals such as ball pits, foams, and karaoke
Has only 1 bus for team buildings
Prices are charged per person and aren't that affordable
Customer Reviews
Amazing time
"Amazing time using the Circus bus service for our staff outing! Nicole was an amazing driver, punctual and easy to work alongside! Definitely recommend her as a driver to anyone!" — Sahia Saakan, via Google
It made the day
"We had a fantastic time at my brother's bachelor party. It made the day. Our driver Brenda was fantastic. Would highly recommend this service for your next event!!" — Colin McDonald, via Google
2. Party Bus Rental VIP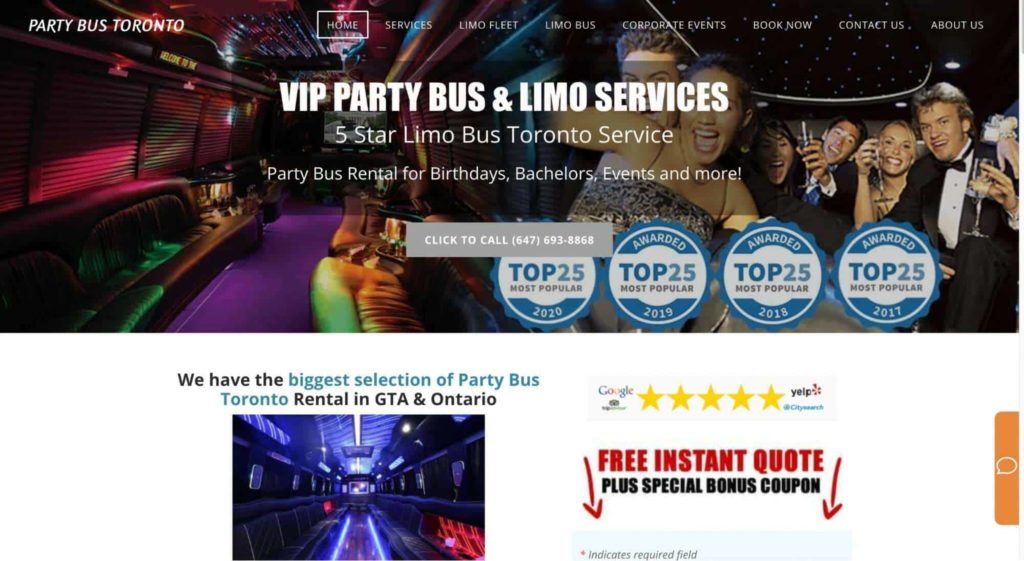 | | |
| --- | --- |
| SELECTION OF UNITS | ★★★★★ |
| PACKAGES | ★★★★★ |
| BOOKINGS AND INQUIRIES | ★★★★☆ |
| SECURITY | ★★★★☆ |
With over 15 packages, Party Bus Toronto VIP will definitely give you a taste of the VIP life. They have various activities and can host different events for small and large groups.
They are known for their fleet of limo buses that are dressed in style and equipped with high-class technology. The lighting inside their units really gives off that party atmosphere and their seats are also very comfortable.
Their buses come in a 25-seater party limo bus, a VIP party bus that can house 35 people, and an XL VIP party bus that fits their maximum of 50 people.
We like the fact that this place even does Niagara tours and sightseeing tours. This gives them a plus as most party bus rental companies offer event hosting and other related activities.
They also provide luxurious wine tours and they have a good number of fleet for corporate tours and events. Limousines are also available for the usual events such as weddings, proms, and even funerals.
Getting a quote is quite meticulous, as you will have to enter details such as the number of hours you'll need the unit, the number of people in your party, type of trip, and more. We also note that their customer service sometimes takes a while to respond.
All said, we recommend Party Bus Toronto VIP as they have unique packages and can customise their unit for any occasion you have in mind.
Has over 15 packages for various events
Party buses come in 25-seater, 35-seater, or 50-seater options
Offers Niagara tours and sightseeing tours
Getting a quote can take a while
Customer service is sometimes delayed in responding to queries
Customer Reviews
Made our day of wine tasting so easy and enjoyable
"Excellent bus service with good rates. They made our day of wine tasting so easy and enjoyable. Our driver was so helpful with everything. He was organized and timely. The bus was stocked with champagne, water and pretzels.
Everything that we agreed on up front we received in our service for the day. No hidden costs. I will recommend this company to all my friends and encourage anyone reading this review to check out owner for yourself." — Sandra Lella, via Google
Outstanding service
"Our driver, was amazing! He arrived early to make sure we had our maximum time with him, he greeted my daughter as if he knew her and made her and her friends feel comfortable and safe.
He worked with us to ensure we arrived at each stop on time, and he patiently waited and was extremely flexible throughout the evening. He made our night and made our daughter's birthday one of her best.
She is still talking about it, and it is an evening she will never forget. Thank you, PBTV company, for your outstanding service. Looking forward to booking you for my next event!!!" — Anthony Johnson, via Google
3. Party Bus Rentals Toronto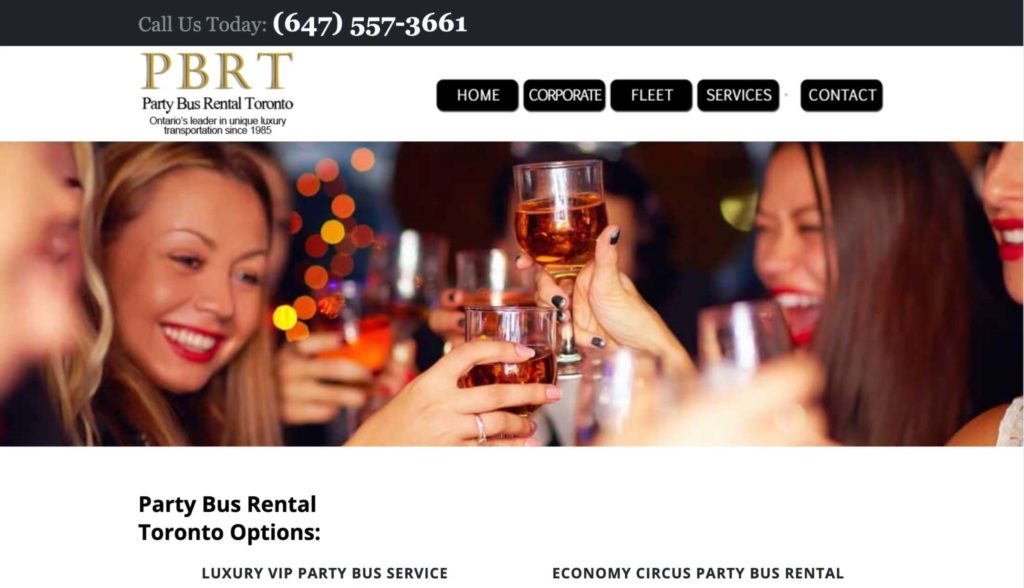 | | |
| --- | --- |
| SELECTION OF UNITS | ★★★★★ |
| PACKAGES | ★★★★★ |
| BOOKINGS AND INQUIRIES | ★★★★☆ |
| SECURITY | ★★★★☆ |
Providing unique luxury transportation in Ontario since 1985 is Party Bus Rentals Toronto. They have a good selection of vehicles that customers can choose from.
Their buses come in school bus types and limo types, making options more versatile. Their party buses range from 20- to 50-passenger units, with some having Plasma TV, coolers, leather couches, and other elite features.
We like their list of events as they are able to host quite a lot. They even have options to host their school buses for both sports events and after-game celebrations.
Even simple road trips can be booked with this service and they also have a Niagara Falls tour. Corporate events and team buildings can also be hosted in their units.
We also like how their fleet list is very detailed, telling customers what they can expect from each unit. This is a good show of their integrity and transparency.
They even have a programme for students and promoters, where participants can get paid with cash along with free beer if they get to persuade people to buy tickets for a party hosted by this service. This honestly makes a good marketing strategy.
With all these, there isn't really anything alarming about Party Bus Rentals Toronto. However, they have a few reports about rude staff members, which is never a good thing.
We also find that some of their units are quite old, so some may resort to services with more brand new units.
Still, we recommend Party Bus Rentals Toronto for their tenure and experience in the vehicle renting industry. They can definitely host a fun and safe party for you and your loved ones.
Has been in the vehicle renting industry for over 35 years
Buses come in school bus or limo bus types
Many party buses come with plasma TV
Has a programme where promoters can get paid
Some staff members are reportedly rude
Some vehicle units are quite old
Customer Reviews
The vehicles impressed our guests
"We used Party Bus Rentals for a large corporate event. The vehicles impressed our guests, the drivers were on time and wonderful with our staff and the administrative process was hassle free.
Would definitely use them again!" — Heather Smith, via Google
We enjoyed ourselves all night long
"Great party buses, exactly what they list on their website, rented a party bus for 20 friends to go down to Niagara Falls and we enjoyed ourselves all night long!" — Justin Swifter, via Google
4. Platinum Party Bus Toronto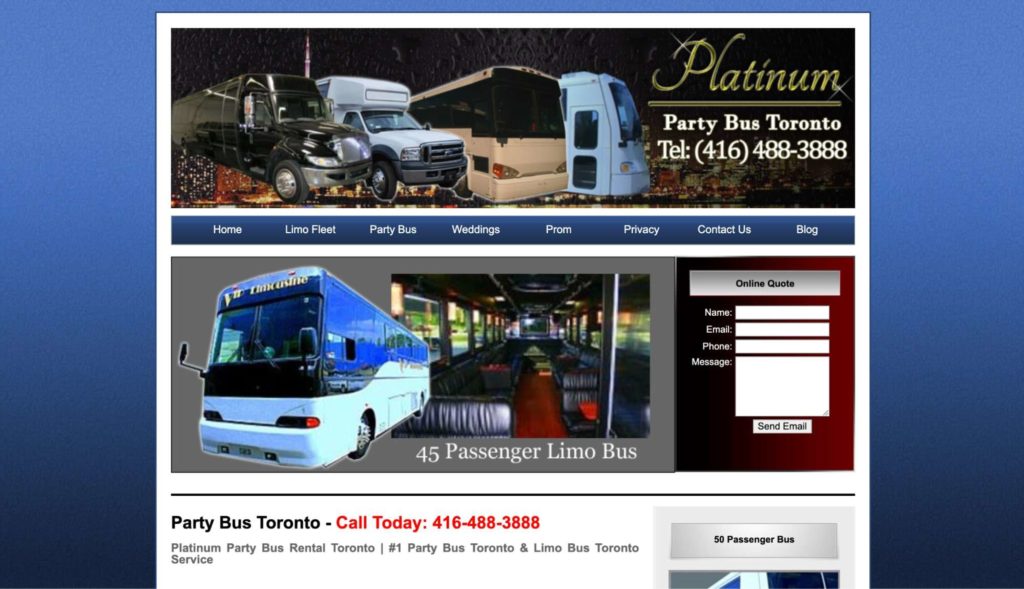 | | |
| --- | --- |
| SELECTION OF UNITS | ★★★★★ |
| PACKAGES | ★★★★☆ |
| BOOKINGS AND INQUIRIES | ★★★★☆ |
| SECURITY | ★★★★☆ |
Platinum Party Bus Toronto is one of the recognised party bus rentals and limousine rentals in the Greater Toronto Area. They are best known for hosting parties, weddings, and proms.
Their regular party bus limo seats 18 to 26 passengers. Larger and more luxurious party bus limos are also available, with those having a 20- to 50-seat capacity.
They usually book and accept advances for special occasions so as to reserve the vehicle right away and avoid mishaps later on. We also like how they have coloured limos such as pink ones that are definitely popular with the ladies.
In addition, their party bus limo comes with a mirror ceiling with lighting that sets the entire mood of the space. They also have options for blue star lighting, fibre optics, and star lighting.
Flat screen TVs can be found in most of their units, along with music players and digital surround sound. Some buses also come with strobe lights or even washrooms.
We do note that this service is strictly for rental purposes. They don't have additional activities and will directly provide you with a unit for your party.
Some of their competitors offer activities and programs for customers, so we note that they are lagging a bit on this aspect.
Nonetheless, we recommend them for their wide range of options for bus rentals. Their organised and advanced booking system makes them a safe and trustworthy party bus rental service.
Has a great fleet of party buses and limousine buses
Has coloured limos
Various options for bus ceiling lighting
Some bus rental units have washrooms
Does not have additional services or activities for guests
Can be difficult to book
Customer Reviews
We enjoyed the party bus so much
"I had a superb birthday party and one that is very memorable thanks to an evening with my friends in the party bus. It's a brilliant deal in my opinion. I had a great driver, awesome music and a lot of party drinks for me and my gang.
There were 10 of us and we had an absolute blast that evening. We enjoyed the party bus so much that my friends and I have actually used the services of Platinum Party bus a few times in the last few months. Great service !" — steven smith, via Google
The limo bus was in great shape and very clean
"Last week I booked a party limo bus from Platinum. The whole experience was great. The price was competitive. The driver was courteous and showed up on time. The limo bus was in great shape and very clean.
It was a hassle-free process from beginning to end. I am looking to book a bus again this year and my first choice will again be Platinum party bus. I am expecting great service and a clean bus and a courteous driver.
I am confident my updated review will be the same when I hire them!" — Donna Joseline, via Google
5. Titanium Party Bus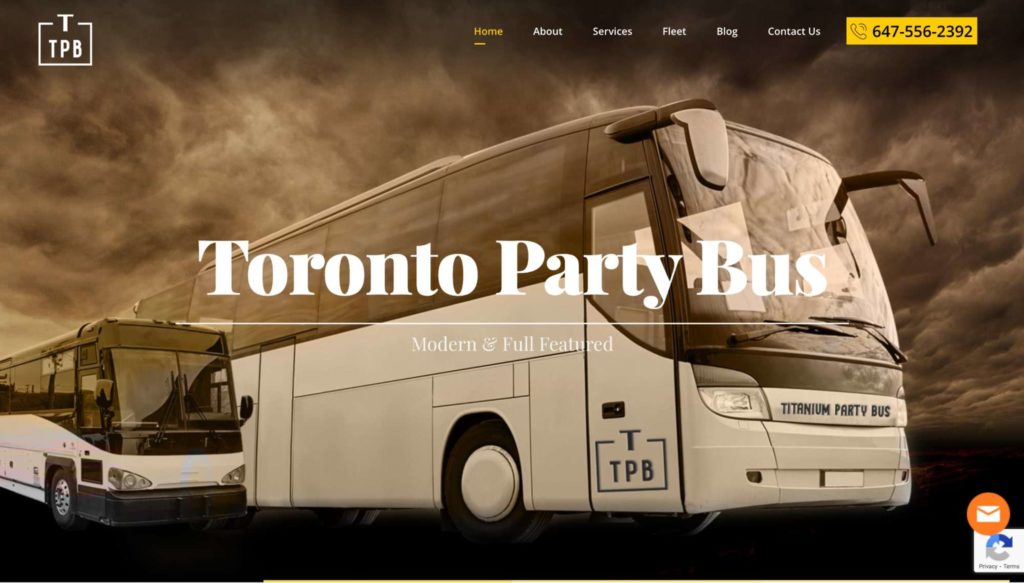 | | |
| --- | --- |
| SELECTION OF UNITS | ★★★★★ |
| PACKAGES | ★★★★☆ |
| BOOKINGS AND INQUIRIES | ★★★★☆ |
| SECURITY | ★★★★☆ |
Titanium Party Bus Rental has been serving Toronto and its surrounding areas for over 15 years now. They are one of the leading party bus rentals given their sleek party buses.
Their packages range from wedding party buses, prom party buses, and Niagara falls party buses. They also host usual night life parties and corporate events.
One of the best things about this service is the presence of their striking limo buses for extravagant night outs. These are well-maintained units, both interior- and exterior-wise.
We also like how their chauffeurs are very nice and friendly, but are also very professional. They drive with safety especially for those buses where alcohol consumption is allowed.
Their buses come in different sizes and seating capacities. The minimum seating capacity of their party buses is 20 and the maximum is 50.
We like how their buses are so diverse as you can really choose a unit depending on the number of people who will attend your party. We also note that their long limousines can also be used for parties, especially for those with a small group of guests.
While there isn't anything to really dislike about this service, we note that they aren't the most affordable out there. They are also very strict with bookings as they keep their records tidy.
If you're looking for a party bus rental that will provide you with a lot of vehicle options, then Titanium Party Bus Rental should definitely be one of your first stops.
Wide selection of party buses
Chauffeurs are friendly and professional
Units are well-maintained and have extravagant appeals
Very strict with bookings
Some quotes are expensive than most
Customer Reviews
Buses are clean, drivers are friendly and our party had a great time
"We are very happy we chose Titanium Party Bus. Their buses are clean, drivers are friendly and our party had a great time. I would definitely use them again and would highly recommend them for birthday parties!" — Stephanie Madison, via Google
Fantastic service
"Marvelous party for my 10-year old son and his friends … the driver was very well mannered and pleasant. He let us take pictures. The hummer was clean and beautiful. The boys enjoyed it very much.
Fantastic service, would recommend to anyone! Thank you again for making my son happy." — John Dunbar, via Google
FAQs about party bus rentals in Toronto
---
We hope that this article was informative and entertaining at the same time.
For those of you who like to party on the beach or near the waters, we also have a review on the best yacht rentals in Toronto.