THE 5 BEST CLINICS FOR DERMAL FILLERS IN TORONTO
Dermal fillers are like a touch of magic — one shot, and poof! Wrinkles bid adieu, replaced by plump, youthful skin! This non-surgical wonder is administered by qualified practitioners by injecting a gel-like substance under the skin, adding volume to facial areas lacking fullness and softening laugh lines, scars, and under-eye hollows.
The procedure takes no more than an hour, and depending on the type of product, its effects can last from 6 months up to 2 years.
Ready to fill the lines? These experts have got your back — and your face!
How We Chose the Best Clinics for Dermal Fillers in Toronto
How Much Do Dermal Fillers Cost in Toronto?
The cost of dermal fillers falls within the range of $600 to $1500 per syringe. This rate will vary based on factors such as the type and amount of filler needed, the practitioner's experience, and the reputation of the clinic.
1. The POUT Clinic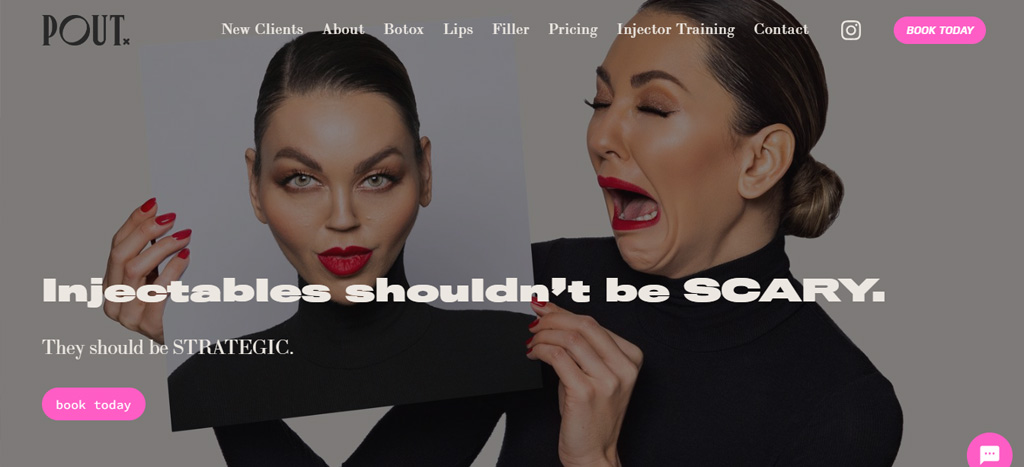 Test
Info
WEBSITE
https://www.thepoutclinic.com/
ADDRESS
258 Adelaide St E unit 301, Toronto, ON M5A 1N1
SOCIAL MEDIA
INSTAGRAM
CONTACT DETAILS
(647) 350-5475
OPERATING HOURS
Tuesday - Friday: 1:00 AM - 7:00 PM

Saturday: 10:00 AM - 3:00 PM
The POUT Clinic in Downtown Toronto stands out as a specialised medical spa dedicated exclusively to cosmetic injections. Certified aesthetic injector Megan Kozak, blends her expertise as a registered nurse and former model when she established the clinic in 2018.
In a few years, POUT has earned widespread acclaim for redefining dermal fillers and Botox standards with their tailored treatments. It's important to note, you won't find quick fixes here as they don't offer isolated fillers. Kozak and her team conduct a thorough assessment to pinpoint the root of the problem, followed by her signature step-by-step protocol for a holistic face treatment.
With brands like Revanesse, Juvederm, and Stylage, they tailor a complete face treatment spanning 6 to 12 months across multiple sessions. After the procedure, POUT diligently follows up with an annual injection, ensuring not just their brand's integrity, but the enduring radiance of your face!
Comprehensive and personalised care
Has an impressive track record of results
Highly-attuned to the client's needs
Warm and personable team
Adheres to the highest industry standards and practices
Premium starting rate
Doesn't offer ala carte dermal fillers
Customer Reviews
Made me look more enhanced yet natural!
"I would highly recommend the Pout Clinic! This was my first time getting any type of filler and I had a great experience! I met with Megan and she did an amazing job explaining the process which made me feel more relaxed. The results have me speechless! She made me look more enhanced yet natural! I will definitely be going back and can't see myself trusting anyone else with my face!" – Haley Patterson, Google Reviews
Meticulous and pioneering in [their] technique
"I have had the distinct pleasure of being one of Megan's patients since late 2015, and have been to POUT for both wrinkle relaxers as well as for under-eye filler and can say that I look forward to each appointment more than the last! Not only is Megan meticulous and pioneering in her technique – ensuring natural and harmonious results – experience is always so much fun!" – Adam Haroun, Google Reviews
2. New You Cosmetic Centre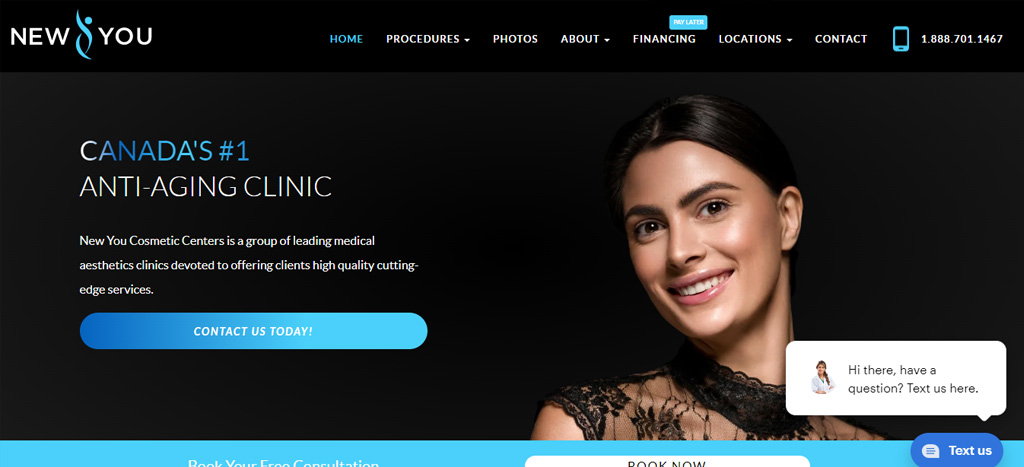 Test
Info
WEBSITE
https://www.newyouspas.com/
ADDRESS
248 Queen St W, Toronto, ON M5V 1Z7
SOCIAL MEDIA
INSTAGRAM
CONTACT DETAILS
(888) 701-1467
OPERATING HOURS
Monday - Friday: 9:00 AM - 7:00 PM

Saturday: 10:00 AM - 6:00 PM
New You Cosmetic Centre is a Canadian chain of medical aesthetic clinics with global recognition. Since its establishment in 2012, the clinic has expanded to eight convenient locations across Greater Toronto, ensuring accessibility to a wider audience. They offer an array of over 30 procedures catering to the entire body and have successfully treated around 400,000 dermal filler patients using cutting-edge products.
Based on your facial assessment, they expertly employ hyaluronic acid (HA) Fillers such as Amaliane and Perlane, or Bio-Stimulatory Fillers like Sculptra or Bellafill to perform these procedures. Among their notable offerings are the Russian Lip Technique, Barbie Facelift for eye areas, Five Point Facelift, and Jawline Contouring.
Their process, akin to many clinics, is swift with minimal downtime. During each session, their team of highly-qualified aesthetic injectors ensures your comfort by applying a topical numbing cream before every filler application.
Wide range of dermal filler products
One-stop medical spa
Offers financing plans
Proven track record of dermal filler treatments
Accommodating and friendly practicioners
Some reports of upselling services
Unreliable post-treatment support 
Lapses in availability of booked treatments
Customer Reviews
Definitely going to be the place I go to for any future fillers
"Had an exceptional experience here. The receptionist was so pleasant and offered me water as I waited. Nurse Paige was so attentive, sweet, and understood exactly what I wanted. She was also open and friendly with me and provided me her contact information if I had any questions about the filler later. She was also very responsive in calming my anxiety about it. Definitely going to be the place I go to for any future fillers." – Mav S., Google Reviews
Very accommodating and truly want you to have the best outcome
"Had the best experience at this location! Lovely staff who are very accommodating and truly want you to have the best outcome. Very pleased with the facial and my laser hair removal results! Nurse Paige is also amazingly talented with filler and Dysport. Thank you!" – Jasmine Farthing, Google Reviews
3. Therapeutic Aesthetics of Toronto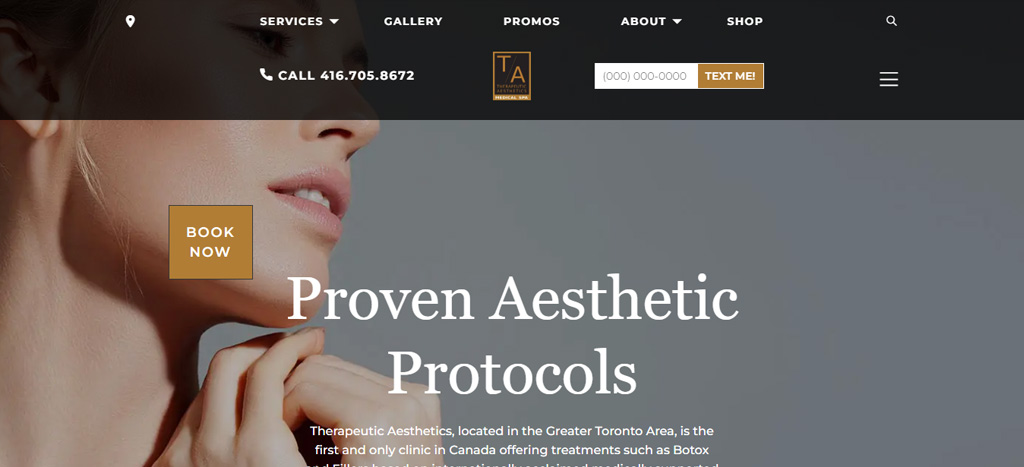 Test
Info
WEBSITE
https://therapeutic-aesthetics.com/
ADDRESS
500 King St W Unit #302, Toronto, ON M5V 1L9
SOCIAL MEDIA
INSTAGRAM
CONTACT DETAILS
(416) 705-8672
OPERATING HOURS
Monday - Friday: 10:00 AM - 6:00 PM

Saturday: 10:00 AM - 5:00 PM
Therapeutic Aesthetics of Toronto was founded by Dr. Nitin Chauhan, a board-certified ENT specialist, and Ashley Haydarian, a registered nurse, in 2017. Leveraging their medical expertise, they implement evidence-based protocols standardised by the Canadian Association of Medical Aesthetics (CAMA). This ensures that all treatments are medically proven and supported by scientific research for optimal results.
This approach, coupled with their commitment to building enduring client relationships, has established them as a highly trusted medical spa in Southern Ontario. Across their four clinics, they offer a range of permanent, semi-permanent, and temporary dermal fillers, each procedure taking 20 to 45 minutes.
Their primary services include Injectable Volume Replacement, Wrinkle Smoothing, and Facial Contouring, with the use of HA Fillers like Restylane Silk (thin gels) and Juvederm (thick gels). Ahead of injections, a skin compatibility test is conducted, followed by the application of numbing cream for your comfort.
Employs evidence-based protocols
Strictly compliant with health and safety standards
Client-oriented treatment plans
Specialises in correcting botched cosmetic procedures
Maintains a loyal client base
Unwilling to address post-treatment complications for some
Complaints of rude receptionist
Few reports of appointment scheduling lapses
Customer Reviews
This clinic truly stands by its philosophy of natural over excessive
"It's been two years since I've recognized myself in the mirror after a botched filler application from another facility. I did not believe there was much hope for correction but put my faith in Maryam and am so grateful I did – this clinic truly stands by its philosophy of natural over excessive. After one session with Maryam, who put me at ease with her therapeutic plan, I instantly recognized my face again." – Julie Barbati, Google Reviews
Her technique is quick, with minimal pain and she is very professional
"Therapeutic Aesthetics is an amazing medspa in Toronto and is the place I keep coming back to get filler injections and Botox/Dysport done. Maryam is the the nurse I book in with and she always does an outstanding job with my face! Her technique is quick, with minimal pain and she is very professional." – Zoe Bustard, Google Reviews
4. Sovereign Skin
| Test | Info |
| --- | --- |
| WEBSITE | https://sovereignskin.com/ |
| ADDRESS | 59 Hayden Street, Suite 701 Toronto, ON M4Y 0E7 |
| SOCIAL MEDIA | INSTAGRAM |
| CONTACT DETAILS | (647) 343-0801 |
| OPERATING HOURS | Monday - Friday: 8:00 AM - 5:00 PM |
Sovereign Skin is a mighty collective of skilled doctors, nurses, and aestheticians, each highly-trained and certified in the realm of cosmetic care. The clinic's expertise shines brightest in dermal fillers and Botox injections, with a commitment to remaining at the forefront of the latest innovations.
At the helm of this team is Dr. Cory Torgerson, an esteemed facial plastic surgeon and injector, renowned within the country's cosmetic enhancement landscape. Together, they provide honest, ethical, and tailor-made treatment plans following your consultation.
Procedures often take as little as 30 minutes using only top-tier brands of HA fillers, including the Teosyal line, as well as Voluma and Volbella which can yield results that endure for up to 18 months. Their areas of specialisation include jawline contouring, cheek and chin augmentation, alongside non-surgical nose jobs.
Competitive rates
Highly-vetted practitioners
Quick procedures with proven lasting results
Hospitable and helpful clinic staff
Strong focus on dermal filler procedures
Unreliable in rectifying inadequate treatments for some 
Limited availability
Few reports of unresponsive reps
Customer Reviews
The happiest treatment I've ever done
"I've been very happy with the result of my injectable filler performed by Dr. Torgerson. The advanced device, equipment, techniques, and product used are incomparable to any other clinics I've been to before… The happiest treatment I've ever done. Will go back here for the best technology and product as well as amazing doctors with a high level of expertise." – Delaney M, Google Reviews
Extremely kind, knowledgeable, and made me feel very comfortable.
"My experience at Sovereign Skin was amazing from the very start when Alessia and Laura greeted me in a very friendly and professional manner! The office is beautiful and felt very luxurious. I booked an appointment to get lip filler and Nurse Sasha was extremely kind, knowledgeable, and made me feel very comfortable." – Cassandra Roach, Google Reviews
5. HealthOne MediSpa & Skin Clinic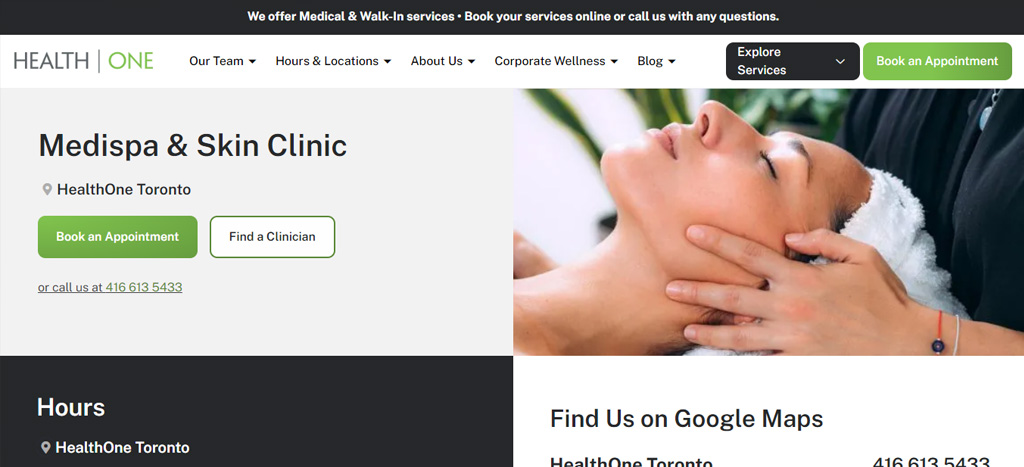 Test
Info
WEBSITE
https://healthone.ca/toronto/skin-clinic-to/
ADDRESS
110 Harbour St Level 3, Toronto, ON M5J 0B7
SOCIAL MEDIA
INSTAGRAM
CONTACT DETAILS
(416) 613-5433
OPERATING HOURS
Monday: 10:00 AM - 6:00 PM

Tuesday & Thursday: 9:00 AM - 7:00 PM

Wednesday & Friday: 9:00 AM - 6:00 PM

Saturday: 10:00 AM - 4:00 PM
HealthOne stands out as a comprehensive medical and wellness clinic since 2017, offering a diverse range of services aimed at enhancing your well-being on multiple fronts. From mental health and dental care to optometry and rehabilitation, their offerings cover a wide spectrum. If you're seeking more than surface-level treatments and are inclined towards a holistic health approach, HealthOne could be the perfect fit.
At their MediSpa & Skin Clinic located at the Lake Ontario shoreline, you'll find a dedicated team of aestheticians and practitioners specialising in an array of facial and body treatments.
Adopting a "less is more" philosophy, they primarily utilise HA dermal fillers due to the body's natural production of the same substance. This ensures a naturally subtle outcome, achieved with precise injections for the best results. Popular treatment areas include laugh lines, cheeks, under eyes, chin, and jawline, addressing sagging, hollow areas, and refining fine lines.
Attentive and informative practitioners
Gentle and precise injections
Detailed and transparent with treatment options
Excellent track record 
Specialises in subtle enhancements
Elegant, state-of-the-art clinic
Limited range of dermal filler brands
Frequent minor delays in appointments
Customer Reviews
Everyone made me feel immediately comfortable and at ease
"I had a wonderful experience at the Skin Clinic. It was my first experience with dermal filler, and everyone made me feel immediately comfortable and at ease. Nurse Ada took the time to walk me through the procedure and understand the type of look that I was hoping for – and she achieved exactly that. Not only is she incredibly skilled, but she also truly cares about her clients. I am so happy with the end result." – Imaan Kara, Google Reviews
Amazing work and pays close attention to detail
"Ada does amazing work and pays close attention to detail. She is knowledgeable in technique and in human anatomy. I am so happy with my dermal filler results. Did not feel a thing and had no bruising!!! Can't wait to return in the near future for treatments." – Elyse Poulin, Google Reviews