Amazing Patios to Have a Relaxing Time In Toronto
Toronto is a beautiful city with lots of vibrant outdoor spaces, including patios which have become increasingly popular sites for locals and tourists to relax.
There are so many patios in Toronto, each having unique themes that cater to different tastes making it hard to find the right one for you. That being said, read on to find the best patios in Toronto that will surely leave you amazed.
1. Miku
Address: 100 Queen St W, Toronto, ON M5H 2N1, Canada
Miku is the perfect restaurant for family and friends to have delicious Japanese food and sake. The restaurant is well known for its view of the waterfront and beautiful interior.
The interior of Miku is vibrant with warm lights, the same can be said for their patio which is decked with cozy sofas, plants, and lanterns. Nothing beats the feeling of having a juicy wagyu steak while sipping on sake on a hot summer's day! 
Pro tip:

We suggest ordering the Miyazaki and Oni No Chi cocktails, they are perfect to sip on while enjoying the breeze on a hot summer day by the waterfront.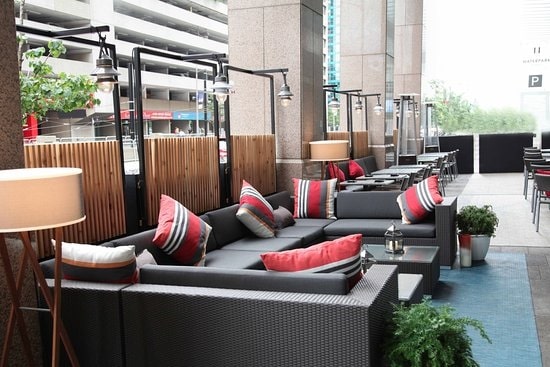 2. Amsterdam BrewHouse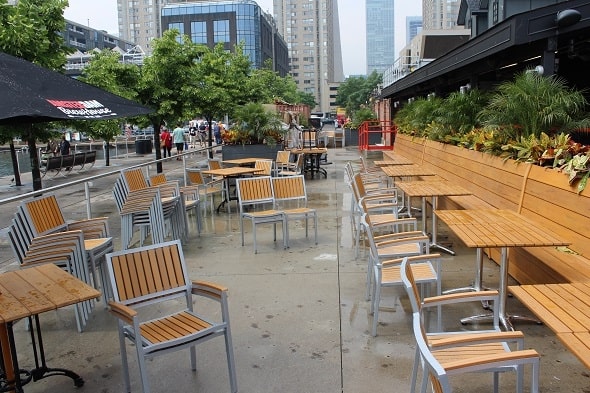 Address: 373 Front St E, Toronto, ON M5A 1G4, Canada
Amsterdam BrewHouse is a contemporary pub known for their refreshing selection of brews, drinks, and selection of food! The restaurant sits right beside the harbour and has 3 patios to hangout in.
With 3 patios, the restaurant can house up to 300 more customers which makes for a lively al fresco environment. And the best part, each patio is unique, with one directly having wooden muskoka chairs right above the water! 
Pro tip:

Try to arrive early to get a seat at the patio that sits above the water! Despite having 3 patios, Amsterdam BrewHouse is always packed, so come early if you want the best seats on the waterfront. 
3. The Goodman Pub & Kitchen
Address: Casa Loma, 1 Austin Terrace, Toronto, ON M5R 1X8, Canada
The Goodman Pub & Kitchen is a huge restaurant and bar with captivating views of the waterfront. There is a huge focus on contemporary dishes and a huge selection of cocktails, beer, and other drinks on their menu.
The restaurant has an L-shaped patio featuring cabana-style seating and umbrellas scattered around the perimeter. It's a great place to have trendy burgers and fruit cocktails while having widespread views of Lake Ontario. 
Pro tip:

You can bring any of your furry pals with you to this patio, since they are animal friendly! The best thing is, they also have a dog menu for you and your pooch to enjoy some food while overlooking the waterfront!
4. Superpoint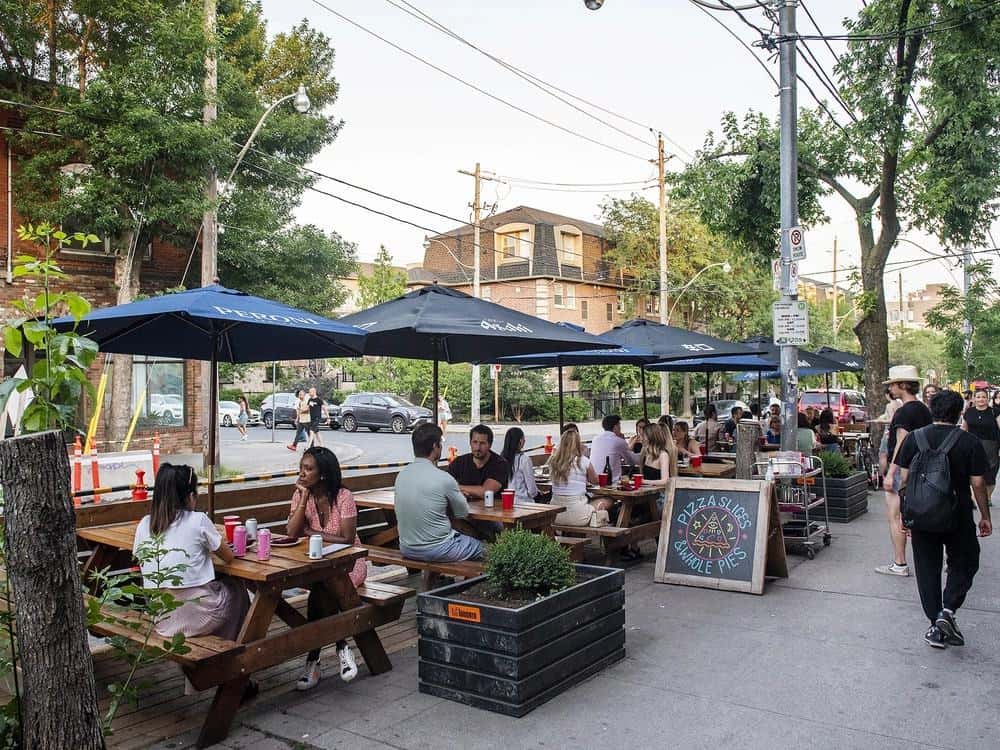 Address: 184 Ossington Ave, Toronto, ON M6J 2Z7, Canada
Superpoint is a trendy pizza joint loved by locals for their Italian food and selection of drinks. During the day, they mainly serve pizza but offer drinks and Italian fare at night.
The restaurant has a warm and inviting patio that features stained-wood picnic tables, large enough for huge groups of patrons to dine in and enjoy some great food! 
Pro tip:

Make sure to try their Capcollo pizza and their steak and mushroom salad, these two dishes are super tasty and really enhance the al fresco dining experience!   
5. Auberge du Pommier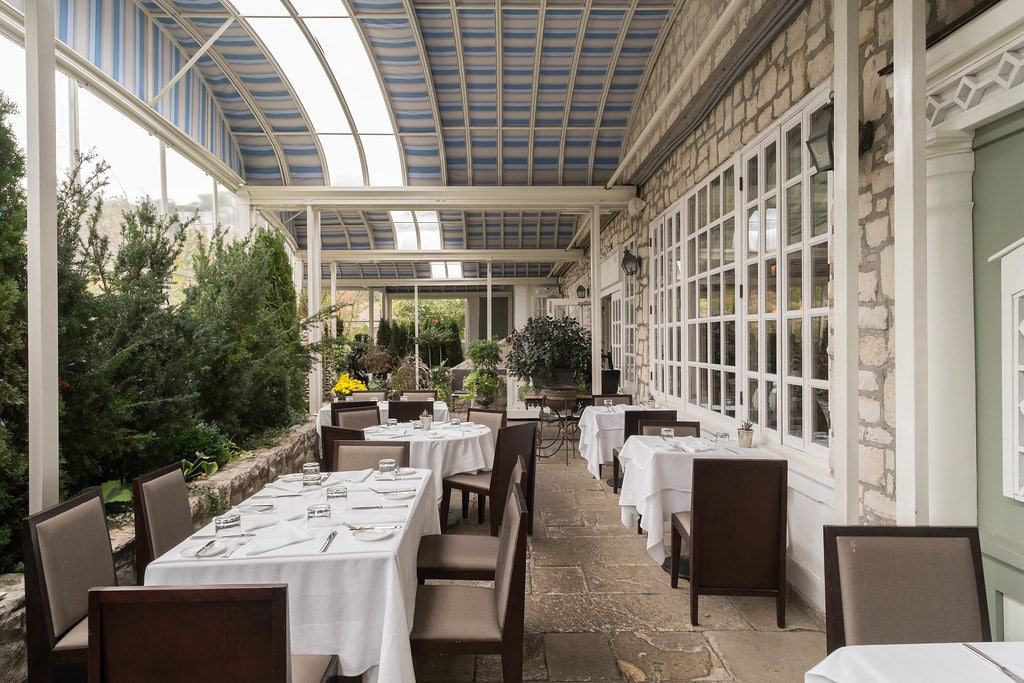 Address: 4150 Yonge St, North York, ON M2P 2C6, Canada
Auberge du Pommier has gained a reputation as one of the best French fine dining restaurants in Toronto because of their great food, wine, and elegant set up. Although somewhat pricey, the dining experience is well worth the price.
The patio of Auberge du Pommier is just as sophisticated as the interior, blending elements like stone, plants, and trees to create a classy yet inviting space. The patio is also covered with ceiling fans ready for use at any time.  
Pro tip:

Remember: This patio can be heated, so if you want to dine here with your partner or your family on a chilly night, just ask the staff to activate the patio heater and you're all set!
6. Chotto Matte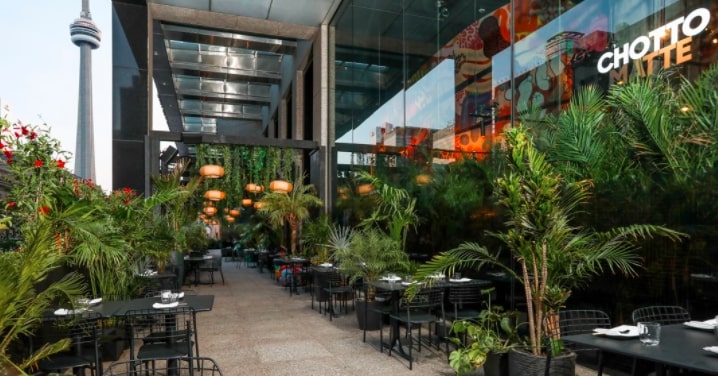 Address: 55 Avenue Rd Suite 2250, Toronto, ON M5R 3L2, Canada
Chotto Matte is a unique restaurant that takes inspiration from both Japanese and Peruvian cuisine. The restaurant serves both Peruvian and Japanese dishes but their fusion dishes are the real deal, with combined flavors leading to interesting dishes.
One of the best things about Chotto Matte is the patio, which is decorated with ornamental plants in pots, sleek black chairs and tables, and oriental lanterns. Best of all, the patio is located in the heart of the city and is very spacious. 
Pro tip:

Chotto Matte's patio provides one of the best ground views of the CN tower, it's also covered so you can dine here and appreciate the beautiful view even when it rains.
7. Kost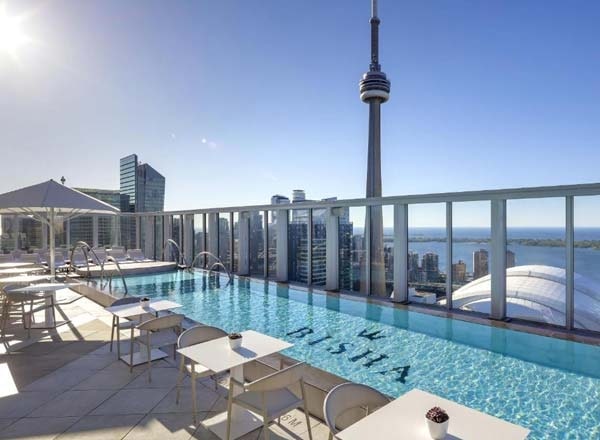 Address: 80 Blue Jays Way 44th Floor, Toronto, ON M5V 2G3, Canada
Located on the 44th floor of the Bisha hotel, Kost provides a Bajan restaurant that shines when it comes to outdoor dining. Kost is known for serving seasonal dishes inspired by food from the Baja peninsula.
The restaurant is great but their outdoor patio is where the magic really is. This rooftop patio is decked out with comfortable chairs and roomy tables, umbrellas, chaise chairs, and an infinity pool overlooking the city skyline and the CN tower.
Pro tip:

If you happen to be a guest at the Bisha hotel, you can freely use the outdoor infinity pool. Likewise, the patio is extremely close to the CN tower making it great for interesting pictures. 
8. Lavelle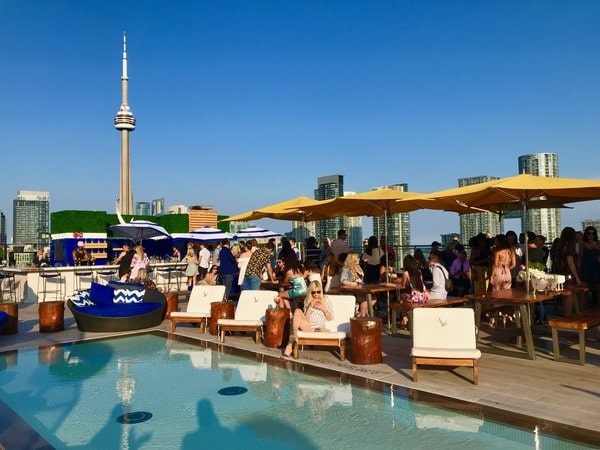 Address: 627 King St W, Toronto, ON M5V 1M5, Canada
Lavelle, is a unique rooftop restaurant located in the King West neighborhood of downtown Toronto. Sitting 16 stories above the city, patrons are surrounded by a breathtaking 360-degree view of the Toronto skyline.
The place is a popular venue for parties that take place in both day and night, because of its charming beach vibe aesthetic. There are also annual summer events hosted here and the patio is decorated with cabanas, outside bars, and several pools.
Pro tip:

You can purchase a season-long membership which includes benefits like towel service, early access, and meal discounts.