THE BEST ROMANTIC DINNER SPOTS IN TORONTO
From cozy hideaways with fairy lights to chic bistros serving up delectable dishes, Toronto has a smorgasbord of mouthwatering options for your next date night.
A romantic dinner spot should have these key elements: an inviting ambiance, diverse food selections, and value for money. With these in mind, here are our top picks! Just be warned: you may fall in love all over again—with both your special someone and the city.
How We Chose the Best Romantic Dinner Spots in Toronto
How Much Does a Romantic Dinner Cost in Toronto?
In Toronto, the price of a romantic dinner for two can vary significantly, ranging from $50 to $600. Fine-dining establishments in particular charge an average of $500 for such dinners.
1. Canoe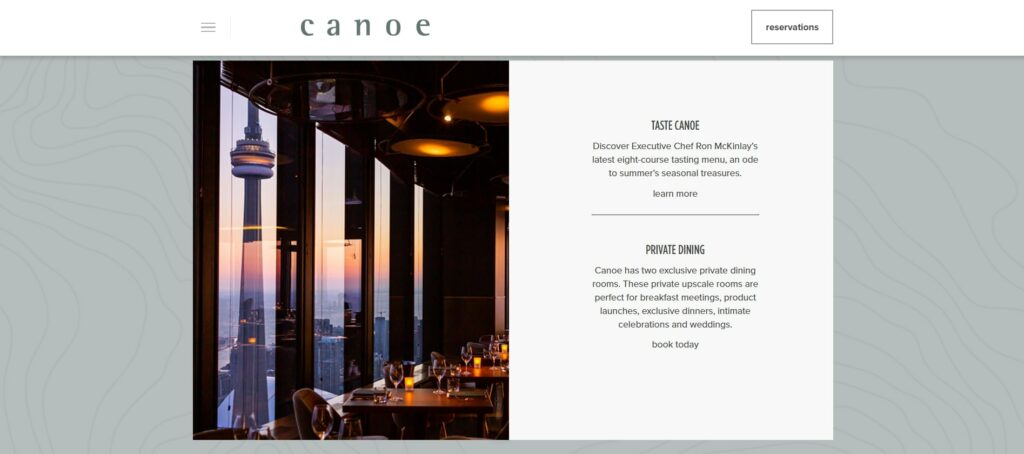 | Test | Info |
| --- | --- |
| WEBSITE | https://www.canoerestaurant.com/ |
| ADDRESS | 66 Wellington St W 54th floor, Toronto, ON M5K 1H6 |
| SOCIAL MEDIA | INSTAGRAM |
| CONTACT DETAILS | PHONE: (416) 364-0054 |
| OPERATING HOURS | Monday - Friday: 11:45 am - 11:30 pm |
Perched high atop the TD Bank Tower, Canoe offers a breathtaking view of Toronto's cityscape and Lake Ontario, making it the perfect spot for a memorable date night.
Executive Chef Ron McKinlay's farm-to-table approach ensures fresh, local ingredients are the real heroes of their regional Canadian cuisine-inspired dishes, which they offer with a contemporary twist.
Canoe's tender venison tartare is a true star, with crispy bacon topped with puffed bannock and sprinkled with pink peppercorns and wild mustard.
Another popular treat is their sweet and savoury s'mores foie gras, which features crumbled graham crackers, rich chocolate sauce, and perfectly torched marshmallow cream on top.
To secure your dream date night, simply make a reservation online using your credit card up to 31 days in advance.
Farm-to-table approach
Wheelchair accessible 
Breathtaking view of CN tower and the cityscape
Vegan and vegetarian options 
Closed on weekends
Reservations can only be done online 
Food quality was good and delicious
"Great food, nice staff and satisfying service and the Ace is the view if you can get there at the sunset. We asked our server to change our table two times and he was so patient and helpful. The food quality was good and delicious and we would definitely go back there soon. Note we didn't take the experience menu and general menu was good enough."
Armin P, Google Review
Great for a date
"Wow! Food was just amazing. Service was excellent. The views would normally be better but due to the forest fires it was hard to see much. Just an absolutely fantastic experience. Great for a date or business meeting. Ingredients were fresh and very high quality. Loved that you could see the full kitchen – so clean and really neat to watch."
Jeremy Hanlon, Google Review
2. Scaramouche Restaurant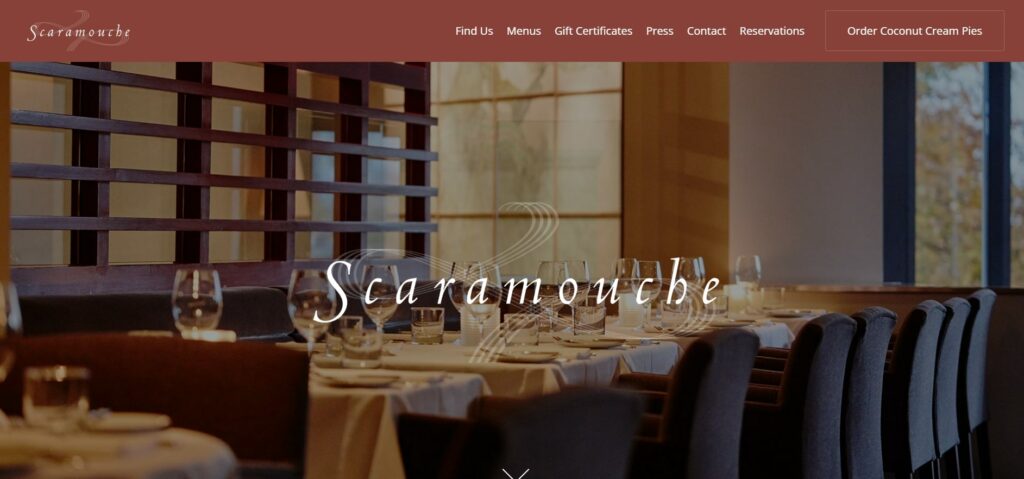 In 1980, Morden Yolles founded Scaramouche, which quickly gained a reputation as a discreet dining spot frequented by movie stars, politicians, business tycoons, and other notable clients.
Now, after four decades, the family-owned restaurant continues to win hearts with its French elegance, contemporary charm, diverse menu, and swoon-worthy views of the Toronto skyline.
Led by talented Executive Chef Keith Froggett, Scaramouche celebrates local and seasonal ingredients, catering to health nuts and foodies alike. Bestsellers include lobster, rack of lamb, smoked and roasted duck, and filet mignon.
Couples can choose from two dining options. For those looking to indulge in a sophisticated and upscale dining experience, the French cuisine section awaits; while the pasta bar and grill are for more laid-back dinners.
Complimentary valet service
Fine dining or casual dining options
Discreet and quiet location
Service is great and the views are gorgeous
"You have to try this restaurant at least once in your life, I'm serious. I had one of the most delicious fish ever!! The food is amazing, the service is great and the views are gorgeous. From now on this is one of my favourite restaurants in Toronto."
Alessandra Da Rocha, Google Review
Excellent service, ambiance, and skyline view
"Very good meal – start to finish – with excellent service, ambiance, and skyline view. The PEI oysters may be the best oysters I have ever had. The winter vegetable carrot salad (?) was also an unexpected standout. Very nice wine options."
Chris Quinn, Google Review
3. Aloette Restaurant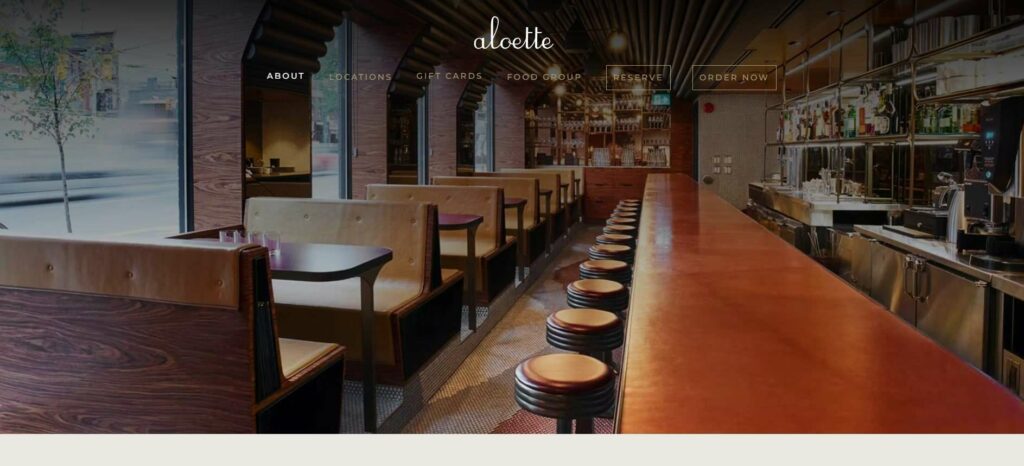 Test
Info
WEBSITE
https://aloetterestaurant.com/
ADDRESS
163 Spadina Ave. 1st Floor, Toronto, ON M5V 2A5
SOCIAL MEDIA
INSTAGRAM
CONTACT DETAILS
PHONE: (416) 260-3444
OPERATING HOURS
Monday - Wednesday: 5:00 pm - 11:00 pm

Thursday - Sunday: 11:30 am - 3:00 pm, 5:00 pm - 11:00 pm
Chef Patrick Kriss was 14 when he landed his first cooking job at the burger chain Lick's, but it was during his time at Rosedale Golf Club that he discovered his true passion for cooking. Years later, Patrick was offered a stage at Daniel in New York City, eventually rising to the position of sous chef.
Following the success of his now-Michelin-starred Alo Restaurant, Chef Patrick opened the Aloette, a 38-seat diner that resembles an old-school train car on Spadina, with dishes that fuse haute cuisine and comfort food cravings.
The bestselling Aloette Burger is served on a housemade bun topped with fried Beaufort cheese. They also serve classic favourites like lobster rolls, fried chicken, and their popular lemon meringue pie.
On September 13, 2022, Aloette also earned a spot in the Toronto Michelin Guide as a recommended eatery, solidifying its place among Canada's elite dining establishments.
Takeout and delivery options 
Gender-neutral restrooms
Competitive pricing
Limited seating
Limited vegetarian and vegan options
Service was prompt
"This was a great experience overall. The food selection was great for a smaller menu.
Each dish we tried had levels of flavour, and most importantly you definitively taste all flavours out into the dish… nothing got lost, The presentation of each dish was photo worthy as you can see the care of how each dish is created. The service was prompt and gave great recommendations for our group. No complaints here."
Mathieu Sousa, Google Review
So glad we booked
"Excellent. Good vibes and oh my.. the lemon meringue pie was AMAZING. We agree these are small plates so we recommend to get a main and a side. The wedge was a great sharer with 2 mains. And of course with that we had room for an incredible dessert. So glad we booked. Loved it."
Daniele Phillips, Google Review
4. Richmond Station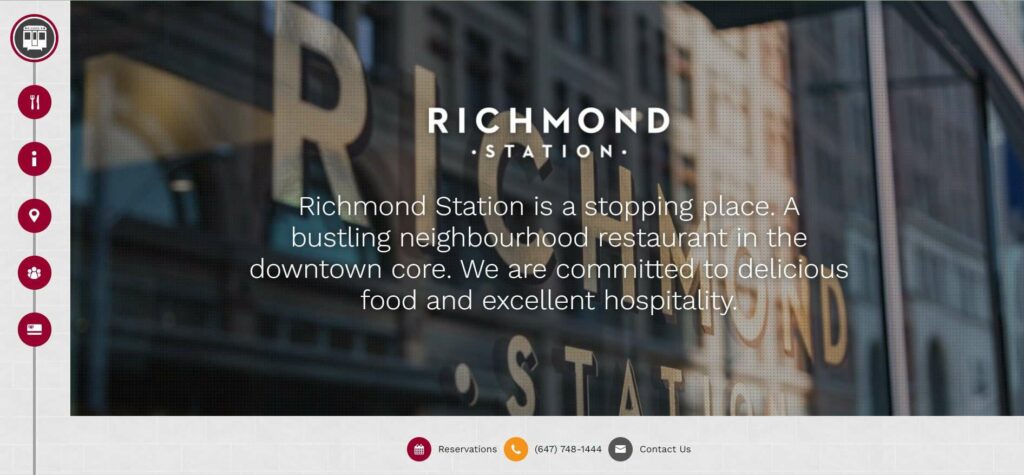 Test
Info
WEBSITE
https://richmondstation.ca/
ADDRESS
1 Richmond St W, Toronto, ON M5H 3W4
SOCIAL MEDIA
INSTAGRAM
CONTACT DETAILS
PHONE: (647) 748-1444
OPERATING HOURS
Monday - Thursday: 4:30 pm - 10:30 pm

Friday - Sunday: 3:30 pm - 10:30 pm
After winning season two of Top Chef Canada, Carl Heinrich opened Richmond Station in 2012. Since then, people have been swooning over this date-night spot in the heart of Toronto's Financial District.
You'll feel a sense of nostalgia when you walk into this cozy tavern with high ceilings, classic white subway tiles, and walls adorned with photographs that pay homage to the historic TTC groundbreaking in the early '40s.
Every two weeks, Richmond Station delights its guests with an ever-changing tasting menu, thoughtfully crafted to showcase the finest local and seasonal produce from their own 1-acre garden in Creemore, Ontario.
Crowd favourites include their slow-roasted suckling pig and muscovy duck. For veggie-loving peeps, they have delectable options like the grilled leek and chickpea burger and roasted maitake mushroom. And if you've got dietary restrictions, just give them a holler 48 hours before, and they'll sort you out like champs.
Farm-to-table ingredients
Tips are already included in the sticker price
New menu every two weeks 
Pricier than competitors 
Limited seating
Overall food was excellent
"Best beef tartare ever! Their house-made charcuterie was delicious. I enjoyed a duck confit salad for my main which was super tasty. Overall food was excellent. You feast with your eyes and your stomachs at this place. Everything is presented so immaculately. Service was incredible as well. Obvious to see why they are successful. Definitely a must try restaurant in Toronto. We went a la carte tonight, but would be curious to try the tasting menu next time."
Kyle Yamasaki, Google Review
Cozy and modern
"Went for the winter tasting menu at the chef's table and had such a memorable experience. The atmosphere of the restaurant is cozy and modern. The bar seating facing the kitchen made for an entertaining meal as we received very attentive service throughout the night. Each dish was better than the last. Would highly recommend!"
Genevieve Malleck, Google Review.
5. Byblos Downtown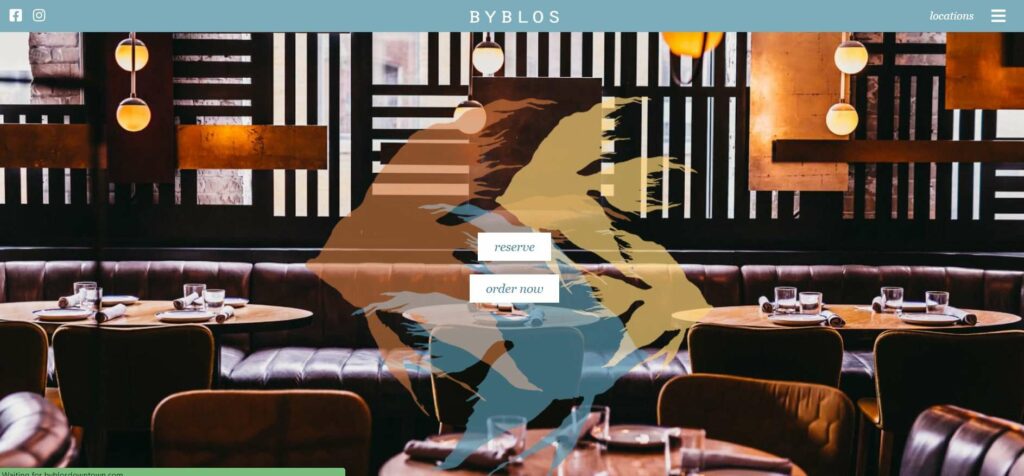 Test
Info
WEBSITE
https://byblosdowntown.com/
ADDRESS
11 Duncan St, Toronto, ON M5V 3M2
SOCIAL MEDIA
INSTAGRAM
CONTACT DETAILS
PHONE: (647) 660-0909
OPERATING HOURS
Sunday - Wednesday: 5:00 pm - 10:00 pm

Thursday - Saturday: 5:00 pm - 11:00 pm
Conveniently located in downtown Toronto, Byblos is great for grabbing a bite before hitting the theatre or for a cozy weeknight date.
Shining a spotlight on Eastern Mediterranean cuisine, Byblos promises the most authentic flavours by importing olives, oils, and spices from Israel, Morocco, and Turkey.
The lamb ribs are to die for—so tender and juicy, the meat literally falls off the bone! Other must-tries include the Turkish manti dumplings that combine tender eggplant, creamy yoghurt sauce, and a drizzle of luscious date molasses; and the 17-ounce dry-aged bone-in ribeye topped with a charred green onion chimichurri and peppercorn.
They're also known for their delectable desserts, like the orange blossom mousse and baklava, cocktails infused with exotic fruits and flowers, and carefully curated Greek wines.
Large entree servings
Authentic spices and homemade ingredients
Large seating capacity 
Amazing hand-crafted cocktails
"Excellent service, delicious food, and great vibes. Special shout-out to Alexandra – she was fantastic and detail oriented (when it comes to explaining the dishes). They also have amazing hand-crafted cocktails and a decent wine collection. I highly recommend this place, no walk-ins.. We were so full that we didn't have apetitie for desserts, but I was told their baklava's are really good!!"
Mazhar Khan, Google Review
Excellent food, excellent service
"An interesting take on middle eastern flavours. The food was excellent throughout. We found lamb ribs to be a tad fatty but that isn't the restaurant's doing. The fat however was rendered very nicely. The cocktails were unique and felt exotic – esp with the rose petals. The pide was amazing. Jewelled rice was much better than expected. Excellent food, excellent service, the ambiance is good too!
"
Inderpreet Chhabra, Google Review
---