The 5 Best Places for Happy Hour in Toronto
Your search for the perfect happy hour spot ends here!
The best place to relax and unwind after a long day is where you can enjoy discounted food and drinks, a comfortable space, and excellent service.
Make the most of your night with the top places for happy hour in Toronto!
Top Places for Happy Hour in Toronto
We paid close attention to the following factors in order to choose the top-rated places for happy hour in Toronto.
How much do happy hour deals in Toronto cost?
The table below lists the most common menu items and their prices at the best places for happy hour in Toronto.
| Menu | Price |
| --- | --- |
| Cocktails | $4.00 to $12.00 |
| Beer | $4.00 to $8.00 |
| Wine (glass) | $4.00 to $9.00 |
| Fries, fritters | $9.00 to $13.30 |
| Burgers, sliders | $14.00 to $18.90 |
| Meatballs | $8.00 to $18.00 |
| Salads, pickled vegetables | $5.00 to $27.30 |
Happy hour deals at bars and restaurants differ in the city. The cost of happy hour specials depends on factors such as the location, demand, and popularity of the establishment.
For example, a bar in a busy downtown area is likely to charge more for its happy hour specials than a bar in a less-populated area. Similarly, a popular bar is likely to charge more for its happy hour specials than a less popular bar.
1. Famoso Neapolitan Pizzeria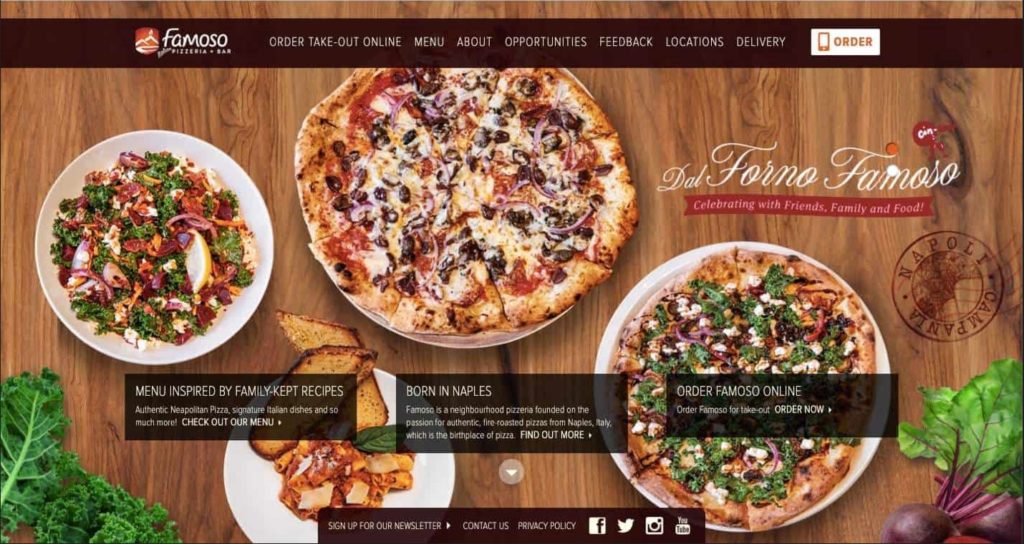 Test
Info
HAPPY HOUR SCHEDULE

Afternoon

Mon–Sun: 2:00 PM–5:00 PM

--------------------------------------

Late night

Mon–Thu, Sun: 8:00 PM–11:00 PM

WEBSITE
https://famoso.ca/
ADDRESS
386 Bloor Street West, Toronto, ON
CONTACT INFORMATION
Phone: 647-748-2333
| | |
| --- | --- |
| MENU VARIETY AND QUALITY | ★★★★☆ (4.5/5) |
| > Drinks | ★★★★★ (5/5) |
| > Food | ★★★★☆ (4/5) |
| VALUE | ★★★★☆ (4/5) |
| SERVICE | ★★★★★ (5/5) |
| ATMOSPHERE | ★★★★★ (5/5) |
| > Entertainment | ★★★★★ (5/5) |
| > Décor and space | ★★★★★ (5/5) |
| CLEANLINESS | ★★★★★ (5/5) |
If you're out for a happy hour hunt around Toronto and craving for Italian food, you can check out Famoso Neapolitan Pizzeria.
They offer all their wide range of wines and beers in the promo! What a way to live up to the true spirit of happy hour!
They have red, white, rosé, and sparkling wines. It's impressive that they have both locally-made and imported wines from France, Italy, and Argentina.
For beers, you can choose from their benchmark craft lager and pale ale, rotating taps, and Italian Shandy.
Moving on to snacks, with the passion to offer genuine Neapolitan pizza, this restaurant uses authentic ingredients and processes to create their food.
At happy hour, they offer a variety of food including pizzetta, bruschetta, meatballs and more.
Considering that they have over ten pizza flavours available on their regular menu, they could have offered more flavors during happy hour to give customers a taste of everything.
When ordering, just remind them that you want your meals served hot as we've talked to some customers who have apparently experienced receiving soggy and lukewarm pizza.
For the prices, you get a generous serving of your order and good cocktails. A mere $6.00 will already get you a pizzetta and drinks cost $4.00 to $5.00 only!
A pizza with personality is what the restaurant claims to be and with their friendly and attentive staff, they can brag about it all they want!
They wanted to be a neighbourhood pizzeria and have been successful in doing so by making sure everyone feels at home with their casual atmosphere.
It's not enough to only make people comfortable, but they should also feel safe and this restaurant does this by making sure everything is clean with sanitation kits used for every table.
Famoso Neapolitan Pizzeria has a fresh and clean feel, letting everyone enjoy their food with the security of leaving happy and healthy.
Wide selection of food and drinks
Generous serving for the price
Friendly staff
Welcoming atmosphere
Great sanitation measures
Soggy and lukewarm pizza
Limited pizza flavours
Customer Reviews
Highly recommend for happy hour, extremely good value
"Went here for happy hour from 2-5. Ordered a small margarita for $6 and a beer for $4. The pizza was shockingly good. Super authentic Italian pizza. Amazing fluffy dough, cooked to perfection and plenty of basil. Highly recommend for happy hour, extremely good value! Service from the Asian guy and girl with glasses was also excellent and super friendly." —Jordan Leovic, Google Reviews
Good casual Italian spot
"My friends and I were happy with the $4 pints of ale and lager during their happy hour. I also enjoyed the chicken alfredo. The way they sliced the garlic bread into a heart-shape was pretty cute and something I hadn't seen before. Good casual Italian spot with plenty of outdoor patio seating as well." —Janna Marano, Google Reviews
2. Hy's Steakhouse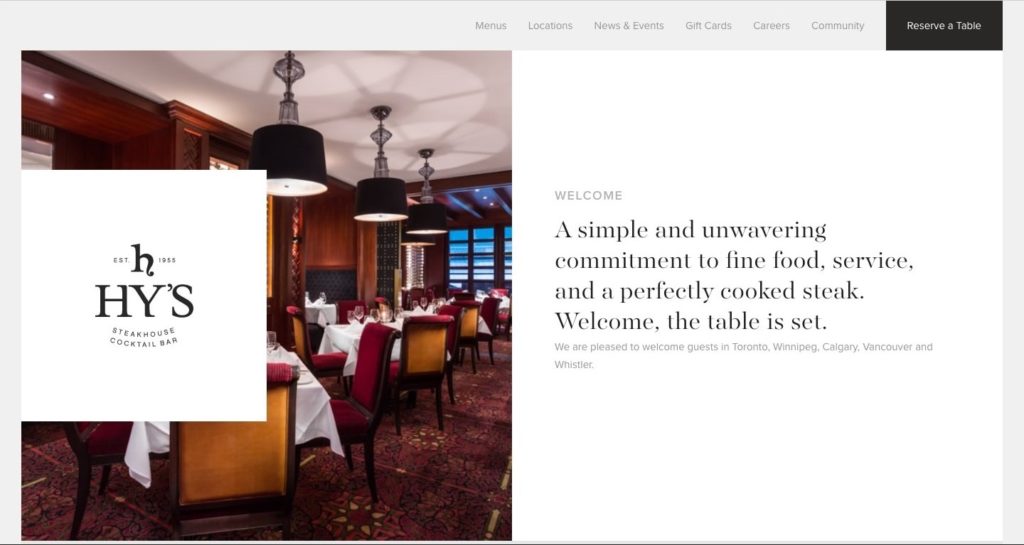 Test
Info
HAPPY HOUR SCHEDULE

Afternoon

Mon–Sun: 3:00 PM–6:00 PM

--------------------------------------

Late night

Mon–Sun: 9:00 PM–11:00 PM

WEBSITE
https://hyssteakhouse.com/
ADDRESS
365 Bay Street, Toronto, ON
CONTACT INFORMATION
Phone: 416-364-6600

EMAIL: [email protected]
| | |
| --- | --- |
| MENU VARIETY AND QUALITY | ★★★★☆ (4.5/5) |
| > Drinks | ★★★★☆ (4/5) |
| > Food | ★★★★★ (5/5) |
| VALUE | ★★★☆☆ (3/5) |
| SERVICE | ★★★★★ (5/5) |
| ATMOSPHERE | ★★★★★ (5/5) |
| > Entertainment | ★★★★★ (5/5) |
| > Décor and space | ★★★★★ (5/5) |
| CLEANLINESS | ★★★★★ (5/5) |
Hy's Steakhouse is also an option to consider for happy hour, especially if you're looking for a place that's a little more high end.
This steakhouse offers live entertainment, special drink deals, and even a 30% discount on their food.
At happy hour, they offer featured cocktails, red wine, and white wine. They also have highballs, local draught beer, and Veuve Clicquot champagne.
While the selection may not be as many as other establishments, the quality of the drinks is very good and upscale.
All meals for sharing and snacking are placed at 30% off which gives customers numerous options like steaks, lamb, chicken or many more. Even their seafood menu offers a lot to choose from such as scallops, prawns, and lobsters.
Guests shared with us how they find the atmosphere beautiful and relaxing because of the live contemporary music. Combine this with the remarkable service they provide, Hy's Steakhouse is living up to their reputation of being a top-end place.
The design and cleanliness of the restaurant are also factors that give the atmosphere a luxurious vibe.
With all the talk about their elegance, you do have to pay a more expensive price as compared to other restaurants offering happy hour. Cocktails are priced from $7.50 to $10.50 and individual snacks start at $20.00 on average.
The amount of serving can lead some customers to be pleasantly surprised but the pricey food has left others underwhelmed by not receiving what they have expected when it comes to flavour and presentation.
Wide variety of food selection
Friendly and knowledgeable staff
Great atmosphere
Helpful service
Available live entertainment
Clean venue
Snacks and some drinks may be too pricey
Underwhelming food
Customer Reviews
Exceptional food and friendly service
"High-end restaurant in the heart of Toronto's financial district. The food is really exceptional and service very friendly. Whether it's a business lunch or family dinner, this place lives up to all occasions."—Ria Madan, Google Reviews
Amazing music and beautiful place
"I love this steakhouse, and I visit for dinners or happy hour. The food is delicious, the music is amazing, the place is beautiful but above all of the staff are the best, especially the bartenders." —Stephanie P., Google Reviews
3. Liberty Commons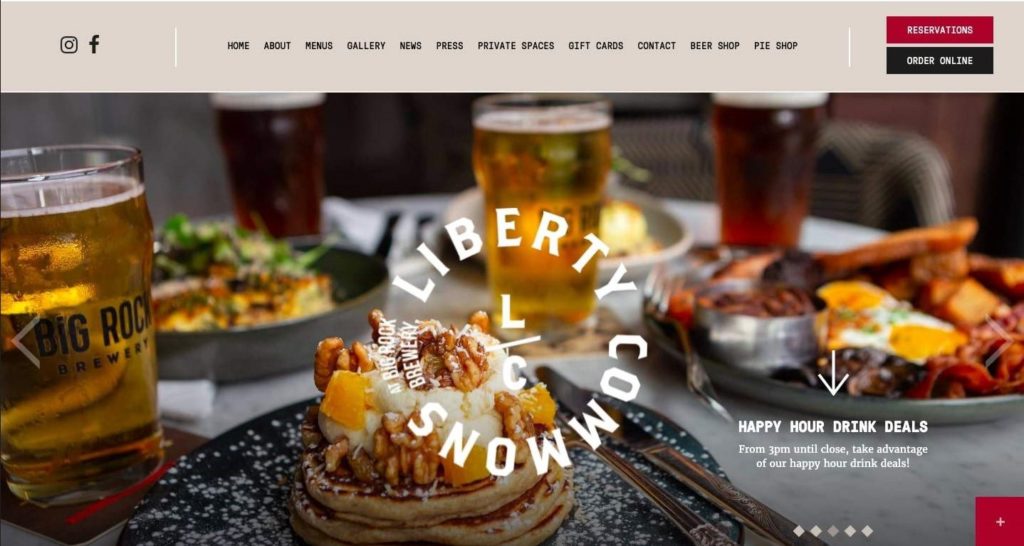 Test
Info
HAPPY HOUR SCHEDULE

Afternoon to late night

Tue–Thu: 3:00 PM–11:00 PM

Fri–Sat: 3:00 PM–12:00 PM

Sun: 3:00 PM–10:00 PM

WEBSITE
https://www.libertycommons.ca/
ADDRESS
42 Liberty Street, Toronto, ON
CONTACT INFORMATION
Phone: (416) 304-9403
OPERATING HOURS
Mon–Fri: 8:30 AM–5:00 PM
| | |
| --- | --- |
| MENU VARIETY AND QUALITY | ★★★★☆ (4/5) |
| > Drinks | ★★★★☆ (4/5) |
| > Food | ★★★★☆ (4/5) |
| VALUE | ★★★★★ (5/5) |
| SERVICE | ★★★★★ (5/5) |
| ATMOSPHERE | ★★★★★ (5/5) |
| > Entertainment | ★★★★★ (5/5) |
| > Décor and space | ★★★★★ (5/5) |
| CLEANLINESS | ★★★★★ (5/5) |
Another place worth checking out is Liberty Commons, a modern brewpub that offers drink and snack specials at happy hour.
The happy hour drinks they offer are their signature beer, spiked lemonades, red and white wine, and cocktails.
Customers especially love their beers, citing their quality and good value for money.
Snacks at Liberty Commons include fries, calamari, beef sliders, cauliflower, and nachos. However, these specials are only available from Tuesdays to Fridays, 3:00 PM–6:00 PM.
Drinks start at $5.00 and individual snacks are generally priced at $13.00. Prices for food are a little higher than usual especially considering that their portion sizes could still be improved.
You can expect a great and enjoyable atmosphere in Liberty Commons, especially with their nice spacious patio. A number of customers excitedly shared with us their experiences with the friendly and welcoming staff.
The servers of Liberty Commons go above and beyond by giving time to customers to discuss the food and drink choices and checking their tables from time to time, ensuring that they have a good time.
When it comes to cleanliness, surfaces are sanitised between seating and common areas are deep-cleaned. Sanitizers and contactless payments are also made available to customers.
For the food, atmosphere, and service you get at this Liberty Commons, you do get the value that you pay for.
Delicious food
Good quality beer
Great atmosphere
Remarkable servers
Cleaned surfaces and available sanitizers
Limited time for happy hour snack specials
Relatively small food portions
Customer Reviews
Amazing drinks and food, very cool place
"The drinks are amazing! The food is also amazing! And it's a very cool place for anytime you decide to visit. Professional accommodation, they really care about your experience. Is this the best spot in Liberty Village? Could be." —K. R., Google Reviews
Good menu selection and quick service
"Lively atmosphere… efficient and friendly staff (host, waitress, food and drink runners).. great flavours, good menu selection.. quick service… all around a hit and I am definitely coming back. Thank you." —Alisha McLauchlin, Google Reviews
4. Melrose on Adelaide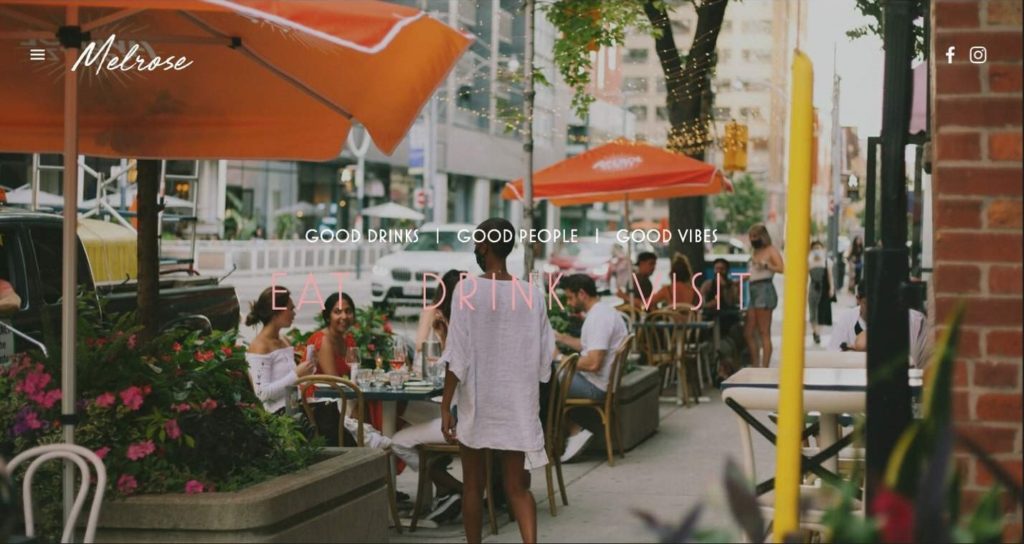 | | |
| --- | --- |
| MENU VARIETY AND QUALITY | ★★★☆☆ (3.5/5) |
| > Drinks | ★★★★☆ (4/5) |
| > Food | ★★★☆☆ (3/5) |
| VALUE | ★★★★★ (5/5) |
| SERVICE | ★★★☆☆ (3/5) |
| ATMOSPHERE | ★★★★★ (5/5) |
| > Entertainment | ★★★★★ (5/5) |
| > Décor and space | ★★★★★ (5/5) |
| CLEANLINESS | ★★★★☆ (4/5) |
Melrose on Adelaide is a laid-back modern cocktail bar that offers charcuterie and booze made for hanging out, especially during happy hour.
The bar is a classy place where you can choose between a lager, a featured cocktail, or red or white wine for a drink.
Customers rave about how delicious their drinks are, particularly their special happy hour cocktails.
For food, you have the option of olives, pickled vegetables, hummus and pita, and charcuterie.
Having only a few food and drink options to choose from may be a problem, but when we talked to customers, they said nothing but good things about the quality of the cocktails and charcuteries.
It seems that customers can just choose among these specials and leave satisfied, and more so when happy hour prices kicks in, the discounted values are what makes them worth it.
The price of drinks ranges only from $5.00 to $11.00, and the most expensive food you can order, which is the charcuterie board for sharing, does not cost more than $20.00.
They even offer unique deals, like Wine Wednesdays, wherein bottles are 50% off all night!
Melrose on Adelaide is perfect if you're looking for a cosy relaxing time for happy hour. They also have a lovely patio for outdoor dining.
The chill and loose theme of this place may have affected their staff a little too much which shows in some remarks made by customers of the slow and disappointing service.
Aside from a needed updating of their furniture, this bar is a clean and comfortable place to be.
Delicious food and drinks
Great atmosphere for relaxation
Unique deals on Wednesday and Sundays
Beautiful patio
Clean venue
Food and drinks are worth the happy hour prices
Limited food and drinks selection
Slow service
Needs updating of furniture
Customer Reviews
The featured drink was soooo good and charcuterie board was fantastic
"Love the vibe and atmosphere! Reminds me of Old Montreal. Loved the natural light coming in and only having candles on the table, so cute. [The] Melon margarita featured drink was soooo good, they definitely need to add it to the menu because I want it again for sure. Charcuterie board was fantastic too! Definitely recommend for their happy hour!" —Taylor Duwyn, Google Reviews
Friendly, genuine staff
"Went for the happy hour, stayed for the friendly staff and unique atmosphere. Jess greeted us with a warm and friendly smile and got us seats at the bar without a reservation. Thanks Jess. The bartenders, Naomi, Jake and Graham were extreme warm and not in the way that they were trying to up sell us. It was genuine. We were also lucky to meet Ashley the Manager. She topped off the experience by making us feel like we were part of their very tight knit family. They were crazy busy but still made time to interact and chat. Drinks were good, but then we ordered the charcuterie board, well, that just put it over the top. So good. Thanks to "Carleton" in the kitchen. 😆 go, you won't be disappointed. 👍🏻" —Shelley Toland, Google Reviews
5. The Carbon Bar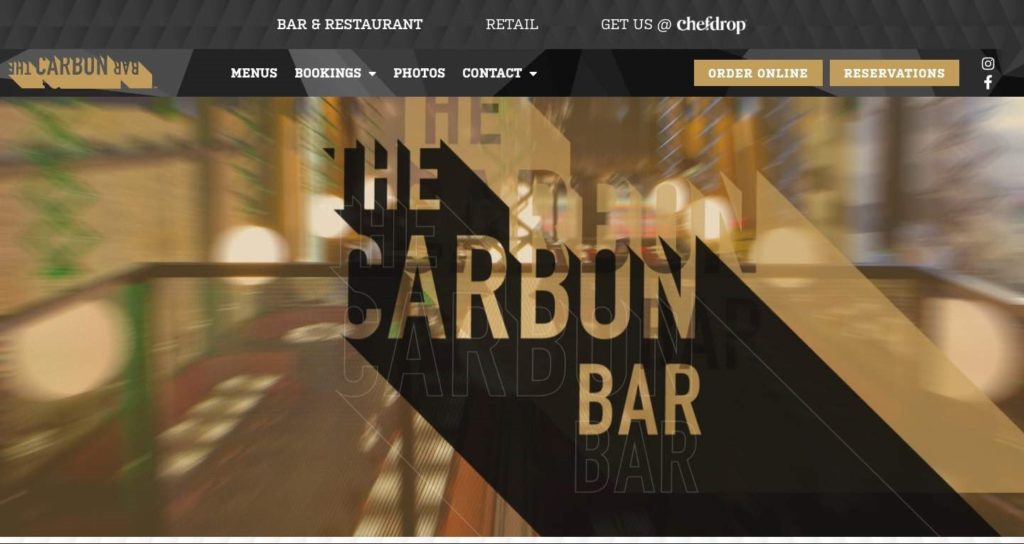 | | |
| --- | --- |
| MENU VARIETY AND QUALITY | ★★★★★ (5/5) |
| > Drinks | ★★★★★ (5/5) |
| > Food | ★★★★★ (5/5) |
| VALUE | ★★★★★ (5/5) |
| SERVICE | ★★★★☆ (4/5) |
| ATMOSPHERE | ★★★★★ (5/5) |
| > Entertainment | ★★★★★ (5/5) |
| > Décor and space | ★★★★★ (5/5) |
| CLEANLINESS | ★★★★★ (5/5) |
The Carbon Bar is a Texas barbecue joint and cocktail bar with an elevated dining place which also has a happy hour deal.
They offer drinks ranging from beer to cocktails and wine. The "Pitfire Old Fashioned" drink is one of the things that make them unique because whisky is rarely offered during happy hour.
Furthermore, we like that a range of classic bar rail drinks is available, such as rum, gin, and vodka.
You also have a lot of food options to choose from to pair with your chosen drink! They have ribs, fried cauliflower, tacos, oysters, and more.
Drinks start at $8.00, and snacks included in the happy hour cost $10.00 to $30.00. Prices may be a bit more expensive than usual but you do get the value you pay for with the delicious and generous portion size they give you.
The simple and sophisticated decor mixed with the massive space of the place creates a good atmosphere for happy hour. They even play music with just the right amount of volume for conversations to be possible.
Overall, the place emits a high-end feel, making sure that customers arrive in a clean and organised setting with everything in the right place.
Helpful and friendly servers can also be expected in this place. However, a few customers have told us there were some nights where service was slow and inefficient.
If you're interested in a simple and relaxed happy hour with family or friends, The Carbon Bar is worth the trip!
Unique offer of whisky
Wide range of food selection
Amazing decoration
Great atmosphere
Friendly servers
Clean and organized venue
More expensive than usual
Comments on slow service at times
Customer Reviews
Delicious and unique drinks
"Had a great experience with this restaurant! Drinks were delicious and unique. Shoutout to Jo for taking great care of us 🙂 10/10 would recommend." —Ghazal Kharazmi, Google Reviews
Wonderful ambiance, knowledgeable bartender
"I went here one time after work and sat at the bar. Wonderful ambiance and the guy behind the bar was so knowledgeable, nice, attentive and lovely. He definitely made me want to come back again with friends. Which I have! He made the whole dining experience so special and he went above and beyond with his service even with me sitting there by myself. If you ever get a chance to go to The Carbon Bar, I hope you get served by Pablo! He is an absolute gem of a guy and keeps me coming back time and time again. This place is definitely worth checking out." —Brett Littlefair, Google Reviews
FAQs About Happy Hour in Toronto
---
Get ready to come for the drinks and stay for the good vibes! Hopefully, you were able to choose a couple of places from this list worth trying with your friends.
If you want to explore more of the hottest hangout spots for drinks, take a look at our review of the best bars in Toronto!