The 6 Best Property Management Companies in Toronto
If you're looking to reduce your workload as a property owner, the best property management companies in Toronto can handle anything from rent collection to enforcing evictions.
We'll take you through a list of them today. Check out the folks who can do a stellar job at looking after your property on your behalf!
How Much Does Property Management Cost in Toronto?
Let's go over this query, since it's usually top of mind.
The quick answer is anywhere between 5%-12% of your annual rental revenue. If you really want to be hands-off, then it's going to cost you extra.
The longer answer is it depends on the types of services that you want to employ. You will have to pay a premium for things like property inspections and a dedicated tenant online portal.
Unfortunately, pricing is largely variable for those, so we can't provide decent averages. Still, it's relatively safe to make decisions based on the upper end of the range we mentioned earlier.
The Best Property Management in Toronto
That should give you an idea of what you're in for if you hire a property management company. Now onto the companies!
1. Property Management Toronto
SERVICES
Tenant selection, real estate, 24/7 maintenance, tenant relation, reporting, marketing
WEBSITE
https://www.propertymanagementto.com/
ADDRESS
477 Richmond St. W Unit 502, Toronto ON M5V 3E7
CONTACT DETAILS
(416) 451-9499


[email protected]

OPERATING HOURS
Monday to Friday: 9:00am-6:00pm
If you think you can't work with anything less than a pillar in the property management industry, PMT is your best option. They even nabbed the business name "Property Management Toronto", for crying out loud!
More seriously, though, PMT has over a quarter-century of experience in real estate, and their managers are landlords themselves. They know the ins and outs of what it takes to buy, sell, and manage Toronto properties.
What we like about PMT is that they're transparent about their rates. Hiring them means you get all their services included, with no hidden fees.
For condos, apartments, and townhouses, their rate is $99+HST. That's a pretty sweet deal if you ask us.
This means that, for an all-in price, you get services you have to pay extra for with other companies like inspections, in-house emergency response, and investment consultations.
Plus, if you're currently not a property owner, PMT can help you take your first steps in the rental business by finding properties within your budget. You get the deed, lay back, and reap the benefits.
Industry standard
Transparent rates
All-inclusive packages
Can be a little finicky with documentation for vetting tenants, according to some people
Customer Reviews
Here's what two clients of Property Management Toronto have to say about their performance:
"PMT has been managing my downtown condo for a couple of years now and I am extremely pleased with their service. The team is knowledgeable, professional, and responsive. More recently, they worked tirelessly in obtaining a reliable tenant with good credentials. They wouldn't settle for anything less. The process was absolutely seamless. Dana and the entire team, thank you!"
– Gina Markovic
"I've been using Property Management Toronto for about two years now and they have always been wonderful and professional. The communication is consistent and response times are quick. They manage repairs and conduct inspections. They really take all the worry and stress away that would normally occur when managing a rental unit. The rates are great too! I highly recommend them!"
– Karthika B.
2. Buttonwood Property Management
SERVICES
Online portal for landlords and tenants, bookkeeping, bill payments, inspections, collections, 24/7/365 emergency calls, repairs, renovation
WEBSITE
https://buttonwood.ca/
ADDRESS
2212 – 10 Yonge St. Toronto, ON M5E 1R4
CONTACT DETAILS
(416) 835-7191


[email protected]

OPERATING HOURS
Monday to Friday: 9:00am-5:00pm
The best adjective for Buttonwood Property Management is "competitive." This team is dead set on giving their clients the best deals around.
This is reflected in their rent guarantee program. It's a failsafe plan for both landlords and tenants.
They know that tenants are not always able to pay rent for economic and health reasons. They also know that landlords are dependent on rent collection for mortgage payments, utilities, and property taxes.
So what's Buttonwood's solution? They will reimburse your portion of monthly rent payments for up to seven months or until the problem is resolved, whichever comes first.
They also cover the eviction cost if mediation doesn't work. So if payment insurance is what keeps you up at night, BPM makes sure that clients unfailingly get monthly revenues.
Plus, they have an online portal where landlords can oversee their services and where tenants can make payments. We like this added convenience because bookkeeping and communication channels are all in one place.
Rent guarantee program
Price match guarantee
Online portal
60% growth by customer referrals
Customer Reviews
Buttonwood Property Management has a 5-star rating on Google Reviews.
Why? Because of reviews like this:
"I was terrified because I was going to have to find tenants for my first investment property during a pandemic. The Buttonwood team was amazing in being reassuring and answering all my questions. They found amazing tenants. Not only could I tell they had my best interests in mind, but I also felt that the tenants would be well taken care of as well. Happy tenants, happy landlord. What more could you ask for? I would recommend them!"
– Nancy H
"I have been a Buttonwood customer for almost five years. As I live in another province, Sabine and Rebecca have taken care of all issues relating to my rental property, from finding new tenants to dealing with different maintenance issues, among other things. They are competent, reliable, and very organized. True professionals. I would recommend their services without hesitation to any prospective landlord."
– Alexander Alvarez
3. LandLord Property & Rental Management Inc.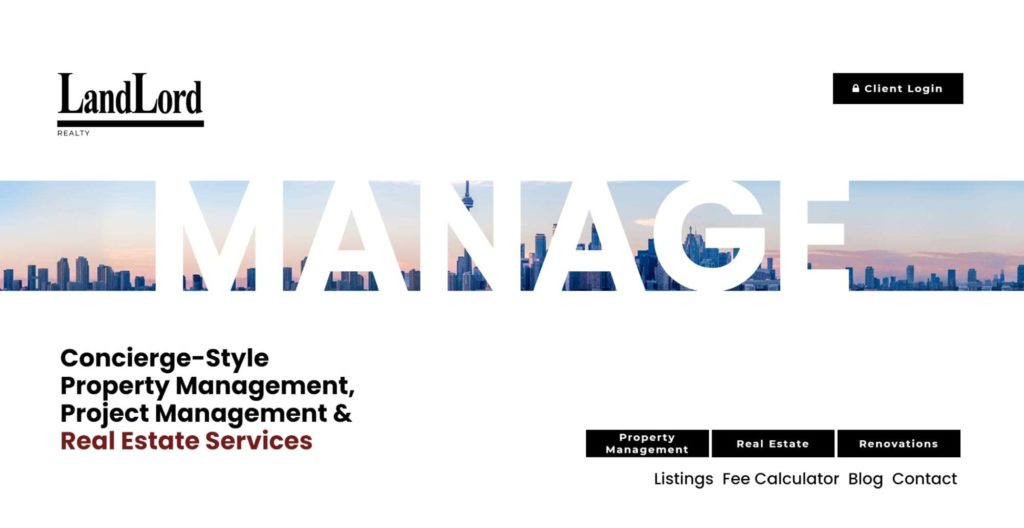 | | |
| --- | --- |
| SERVICES | Property maintenance, rent collection, bills payments, tenant search & screen, tax services, paralegal services, property insurance |
| WEBSITE | https://landlord.net/property-management/ |
| ADDRESS | 515 Logan Ave, Toronto ON M4K 3B3 |
| CONTACT DETAILS | (416) 462-3800 |
| OPERATING HOURS | Monday to Friday: 9:00am-5:00pm |
LandLord is a concierge-style property management company, meaning, much like a five-star hotel, it goes above and beyond when troubleshooting for landlords and tenants alike.
We can confidently say that if you're the type of investor who just wants to relinquish all superintendence to a property management company, LandLord is your best bet.
Aside from the usual services like rent collection and property maintenance, LandLord can also deal with your taxes and represent you at the Landlord & Tenant Board.
This means you can be out of the country and still be sure that your affairs will be handled for you. The only drawback of going with LandLord is that they don't offer an all-inclusive package.
With a standard package, you don't qualify for a rent warranty program, and all inspections and paralegal services are to be paid for separately.
That means you always have to pay a premium for concierge-level services. That's part of why we recommend LandLord to seasoned property investors in particular, as they're better-equipped to deal with the cost.
Comes with an app (client portal)
Comes with tax and paralegal services
Best partner for building a real estate investment portfolio
Customer Reviews
The fact that LandLord delivers its guarantees is evident in these reviews:
"They are very professional and reliable. I find them very responsive and even my lawyer said that dealing with them was a very professional experience. My only complaint is that you must be specific in terms of how involved you want to be, otherwise they make all the decisions."
– Gary Carlos
"They provided excellent property management service including advertising the property and selecting good quality tenants, conducting communications with tenants, and arranging for maintenance and repairs as needed. It was easy to forget that I had a property to manage as they took care of day-to-day landlord responsibilities and there were no hassles or concerns. My account manager May was exceptional, and she was my point of contact for anything that arose for the property. I always felt that I was in good hands. She responded promptly to all inquiries, and communicated options which enabled me to proceed with good information and instruction. I enjoyed the experience and would highly recommend this service for others looking to have their property professionally managed."
– Tanya Nishman
4. Performance Property Management
SERVICES
Tenant selection, leasing & tenant placement, rent collection, inspections, maintenance, communication, evictions, accounting, HST rebates
WEBSITE
https://performancepropertymanagement.ca/
ADDRESS
470 Wellington St W, Toronto ON M5V 1E7
CONTACT DETAILS
(416) 645-3755


[email protected]

OPERATING HOURS
Monday to Friday: 9:00am-5:00pm
If you're a new rental owner, Performance PM can handle everything you might overlook. For example, you might not know that newly developed housings and condos are eligible for up to $30,000 in HST rebate.
Similarly, you're supposed to file non-resident taxes if you live outside of Canada and have rental properties in Toronto. These are things that you might miss because new investments are generally overwhelming.
Plus, Performance PM offers one of the lowest rates around, only 6% per month, to manage your property! That includes maintenance issues, tenant issues, monthly statements, an online portal, and more.
The reason their package is so affordable is that they've established connections in the industry. They work with efficient and highly-rated vendors, who in turn provide them with significant discount rates.
We like that Performance PM is also thorough when picking out tenants. They do credit checks, social media background checks, previous rental history, and employment verification.
Affordable
All-inclusive package
Includes 3D renderings when putting up listings
Employees are a little inconsistent, according to some clients
Customer Reviews
Here are reviews from two of Performance PM's happy clients:
"I have been using Performance Property Management for over two years now, and I have to say that I am extremely grateful for the meticulous and personal attention they have given my condo, and the tenants that they have managed to find for me,
Mathew and his associates have always been very easy to get a hold of, and they are very proactive in suggesting any improvements to my condo or furnishings that might be required. They also take the time to find a good tenant, which in my case (being a furnished unit) is especially important.
I am very happy that I engaged their services two years ago, and I hope to have an ongoing relationship with them for many years to come!"
– Dan Low
"We are a small building of only 73 units. We felt as though we were never a priority with our old company. With Performance they always send us a bi weekly report which helps keep us involved. For the first time in 6 years we feel as though work is actually getting done. Can't say enough good things about Jess!"
– Janet Wood
5. Bridgeway Property Management
SERVICES
Property marketing, tenant screening, rent collection, maintenance, inspections, financial reporting, evictions, legal guidance
WEBSITE
https://www.bridgewaypm.com/
ADDRESS
70 Nina Street, Toronto ON M5R 1Z6
CONTACT DETAILS
(866) 604-8807


[email protected]

OPERATING HOURS
Monday to Friday: 9:00am-6:00pm
If you want straightforward property management that can tick off all the usual boxes without spending too much, Bridgeway PM could be a fantastic option for you.
We had to include Bridgeway in this list for those looking to rent out individual condo units and single-family homes. We assume you want a no-frills approach because it's not a high-volume job.
Since this is Bridgeway's specialization, they understand that every property that they manage has to perform well; otherwise, they can't make profits. So you're likely going to be treated as a business partner as well as a client.
Tenants, on the other hand, won't be treated like mere assets. Their team can address your tenants' concerns, so you have a pristine reputation as a landlord.
They're real estate experts, so they can make suggestions to maximize your property's potential. We're sure the last thing you want is for your investment to go down the drain.
Even if you don't plan on being too collaborative, Bridgeway is still a great choice solely based on their services and rates. You can expect to pay them around 6%-7% of your monthly revenue.
Of course, this doesn't include extra property inspections and a rent guarantee, which are added $149 and $39 fees, respectively. Honestly, 39$ is not bad if you don't want to pay for the premium plan.
No hidden fees
Does tax reporting
Family-owned
Less experienced in multiple-unit properties
Customer Reviews
Take a look at these customers gushing over Bridgeway's services:
"We absolutely love having Bridgeway Property Management as a part of our team. They have truly made it worry-free for us to rent out our previous residence in Toronto while living in another city. Shirley has made a great relationship with our tenant to ensure they are happy and the place is well looked after."
– Melissa Venkatesan
"As renters, we have had such a great and positive experience with Bridgeway Property Management. Shirley is very professional, caring, and always looks out for what is best for her renters and property owners. She is very quick to respond to any phone call or email and always addresses any questions or concerns we have in a timely fashion. We feel very welcomed into our new home and appreciate all that Shirley and Bridgeway have done for us. I would highly recommend their services to any property owner or renter.
– Jami Lynne Harper
6.   CPO Management
SERVICES
Accounting and financial management
Administrative and day-to-day operations
Maintenance and preventative maintenance
Project Management
WEBSITE
https://www.cpomanagement.ca
ADDRESS
7250 Keele street, Suite 420
Concord, ON, L4K 1ZB
CONTACT DETAILS
416 797 6982
[email protected]
OPERATING HOURS
Contact company for more information
CPO is a property management company that offers an extensive set of services to their clients. They are capable of managing properties of various types, such as condominiums, buildings, centres, and more.
Their services include, but aren't limited to, accounting and financial management, administrative operations, maintenance, and project management. They have a team of experts that specialise in each of those areas.
With more than 10 years of experience in the industry, there's no doubt that they know what they're doing when it comes to property management. Moreover, they strive to keep their technology and information updated in order to serve their clients reliably even in the long-term.
Finally, they are a company whose management has heart. Behind their strategic approach lies the intent to continue providing the ideal of condo living to their residents.
Full-service property management
Unparalleled expertise
Tailored management approach
Forward-looking mindset
Working hours aren't stated on website
How to Pick the Right Property Management Company
You now have five excellent options for your property. Here's how to zero in on the perfect property management team to make your investment flourish.
1. Check for specializations.
Property management has many aspects and companies have to comply with federal laws. You also want a company that has a proven record and can accommodate your specific needs.
Let's say you have an apartment building on your hands. Choose the property management company with extensive experience in that type of investment.
They're more likely to know the relevant regulations, for one thing, as well as how to solve common problems for such properties. Experience can count for a lot here.
2. Read the property management agreement thoroughly.
The property management agreement establishes the working relationship between you and the property manager, as well as the duties of the management team.
Given the gravity of the contract, it is your responsibility to read it thoroughly and make any required changes before signing it. Verify that it includes everything you want and that there are no provisions that you don't agree with.
3. Be wary of unreasonably low fees.
The team that you employ will be in charge of one of your most valuable assets, and the last thing you want to do is choose them entirely because they have the lowest prices.
If a company undervalues its services across the board, it's likely that they'll try to make up for it by cramming as many properties in their portfolio as their management can (or can't) handle.
4. Remember that your tenants' needs are just as important as yours.
One of a property management company's main responsibilities is to preserve and, ideally, increase the value of your property. Tenant demands should be responded to quickly, and owners should have access to a transparent system that allows them to monitor how their money is spent.
Make sure that your chosen team treats your tenants the same way you would. Otherwise, it's going to reflect poorly on you, the actual owner.
FAQs about Property Management
---
We hope this list helps you significantly lighten your load as an investment property owner. Investments should be taken care of but should not leave you stretched out too thin.
If your chosen company doesn't have legal services included, you can pair them with the best real estate lawyers in Toronto, by the way.