The 5 Best Bars in Toronto
There's no better way to unwind after a stressful day at work than by having a drink with friends and colleagues. If you're on the lookout for the perfect hangout spot after work, we have you covered!
Today, we're revealing our picks for the best bars in Toronto that working professionals in the area swear by. These bars have a great crowd, cool ambience, and a wide selection of drinks and bites to choose from.
Check them out below to see which one matches your ideal post-work hangout place.
1. Birreria Volo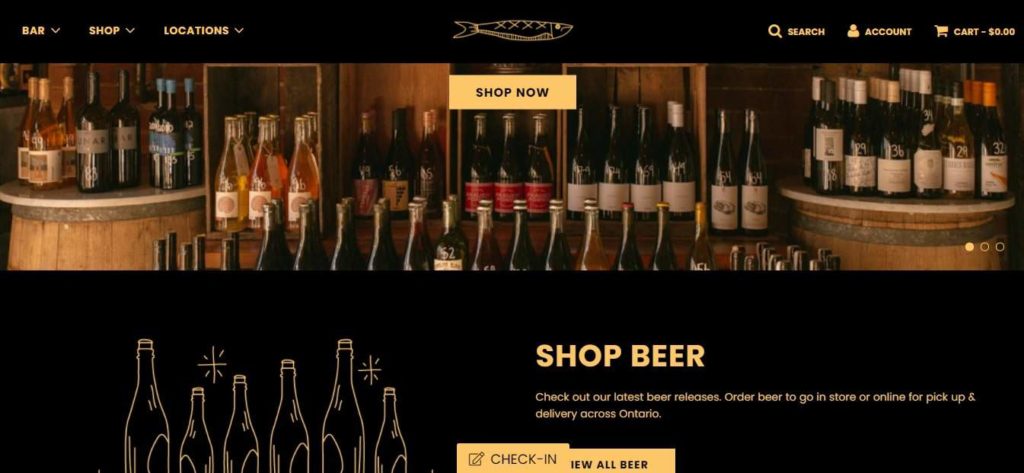 | | |
| --- | --- |
| BEST SELLERS | Sourdough, Rainbow Trout, Revel Mithras, Revel Sonata, Volo x Willibald Purple, Willibald Pinky, and Negroni |
| DELIVERY | No |
| PRICE RANGE | $6 and up |
| WEBSITE | https://birreriavolo.com/ |
| ADDRESS | 612 College St, Toronto, ON M6G 1B4, Canada |
| CONTACT DETAILS | 416-531-7373 |
| OPERATING HOURS | Wednesday to Saturday: 2:00 PM – 12:00 AM |
If you're looking forward to a quick bite and drink with friends after work, we recommend stopping by Birreria Volo for an hour or two. It closes by exactly midnight, so it's the perfect spot for an early nightcap.
It may be a small, quaint bar located along College Street, but it does have an impressive food and drink selection. Most of its meals are classic Italian snacks, like Sourdough, Olivi, Marcona Almonds, Boquerones, and Guildillas.
For those who want something heavy, there's something for you here as well. We appreciate that most of its bar foods are designed to complement the taste of its white wine, red wine, beer, and cocktails.
Most of its diners come back for its beer collection, which is considered one of the most extensive in Toronto. If you're a huge fan of beer, there's no better place for you than Birreria Volo.
It does get a bit crowded here during weekdays, as it's one of the go-to spots for office workers around the area. The good news is, there's no reservation basis, so customers can simply drop any time after work.
There's a huge chance that you're going to come back because of its excellent customer service. If you partner that with its variety of alcoholic drinks, your post-work stress will definitely go away.
Italian meals
Large collection of alcoholic drinks
Great crowd
No delivery
Early closing time
Customer Reviews
Take a look at what past diners had to say about it:
"This is one of the best craft beer bars in the city and in Canada for quality and selection. The Moranas and their staff are friendly and super knowledgeable about beer and wine. Every time I visit I have a great time and receive first class service." -Joshua Cheng
"Recently discovered this place while walking by it the other day. Really lovely ambiance and decor. The patio is really nice and they are also heated. Amazing selection of beers and wines. I have yet to try any of the food items yet but will definitely be back for more. Great place for a date night." -Daniella Aguanno
2. Bar Hop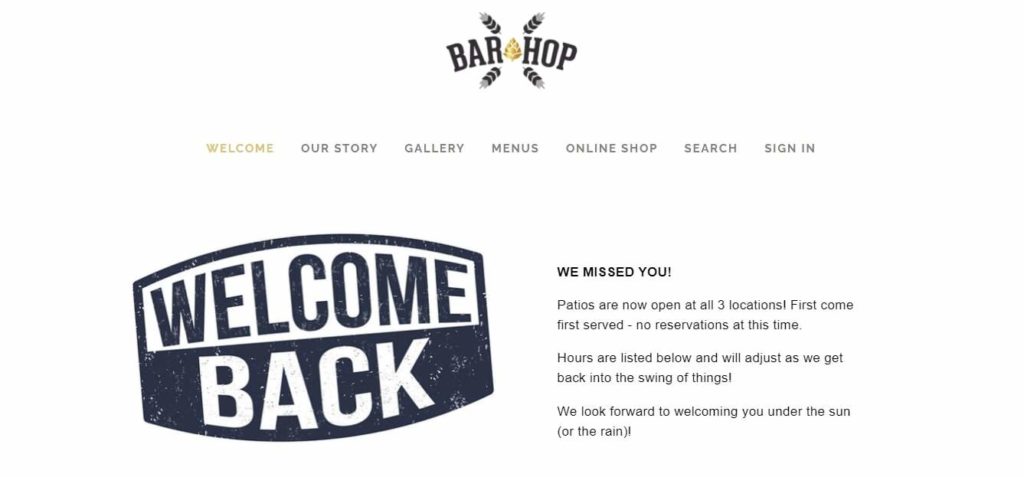 BEST SELLERS
Avling Pilsner, Bellwoods Cat Lady, Bellwoods Grisette Gamay, Brolly Jaunty, Pepperoni Crisps, Chicken Wings, Peanut Butter Bacon Burger, and Fresh Cut Fries
DELIVERY
Yes
PRICE RANGE
$6.50 and up
WEBSITE
https://www.barhopbar.com/
ADDRESS
391 King St W, Toronto, ON M5V 1K1, Canada
CONTACT DETAILS
416-531-7373
OPERATING HOURS
Monday to Thursday: 4:00 PM – 11:00 PM
Friday to Saturday: 11:00 PM – 1:00 AM
Sunday: 1:00 PM – 9:00 PM
Established in 2012, Bar Hop was one of the first bars in Toronto that pioneered the craft beer scene. It's a bar that was envisioned to be a haven for lovers of beers, so expect no less than high-quality local beers here.
Its curated beer menu changes on a weekly basis, so every dining experience here always feels like your first time. That includes one-off or artisanal brews that you would be pressed to find anywhere else in Toronto.
If bottles of beer aren't enough for you, there are wines, ciders, and cocktails here as well. But if you're dropping by here as a beer aficionado, we're sure that you're not going to ask for anything else.
When it comes to snacks, Bar Hop knows that beer lovers want nothing more than greasy burgers, so it serves four variations of them. Diners can supplement that with chicken wings, poutine, and pepperoni crisps as well.
Even if you know nothing about craft beer though, worry not as its friendly and knowledgeable staff will help you pick one that suits your taste. See, it's not just a place for long-time beer drinkers.
Lastly, Bar Hops comes with a cozy and relaxing atmosphere that's perfect for hanging alone or catching up with friends. No matter what your mood is, the vibe here can match that!
Artisanal craft beers
Cozy atmosphere
No reservations needed
Open the entire week
Closes early on Mondays to Thursdays
Customer Reviews
Here are some comments left by first-time and repeat customers:
"Good beer, good food and great service. Bar Hop is one of the most popular bars on King West and I'm so happy they finally have a "patio" area so I can enjoy their beers again! They have a small list of cocktails here but I wouldn't recommend it, you don't go to Bar Hop to drink cocktails, you go here to drink beer. I would also recommend their butter donuts and dry rub chicken wings, they're absolutely delish when served straight out of the fryer!" -Anna P.
"Stumbled upon this cool bar while visiting Toronto. Very friendly service, great wine and beer selection plus full bar. Quaint atmosphere. Reminded me of bars in Quebec, old and dark in the best way possible. Even on a random Tuesday afternoon, great music!!" -Kendra Komp
3. Mahjong Bar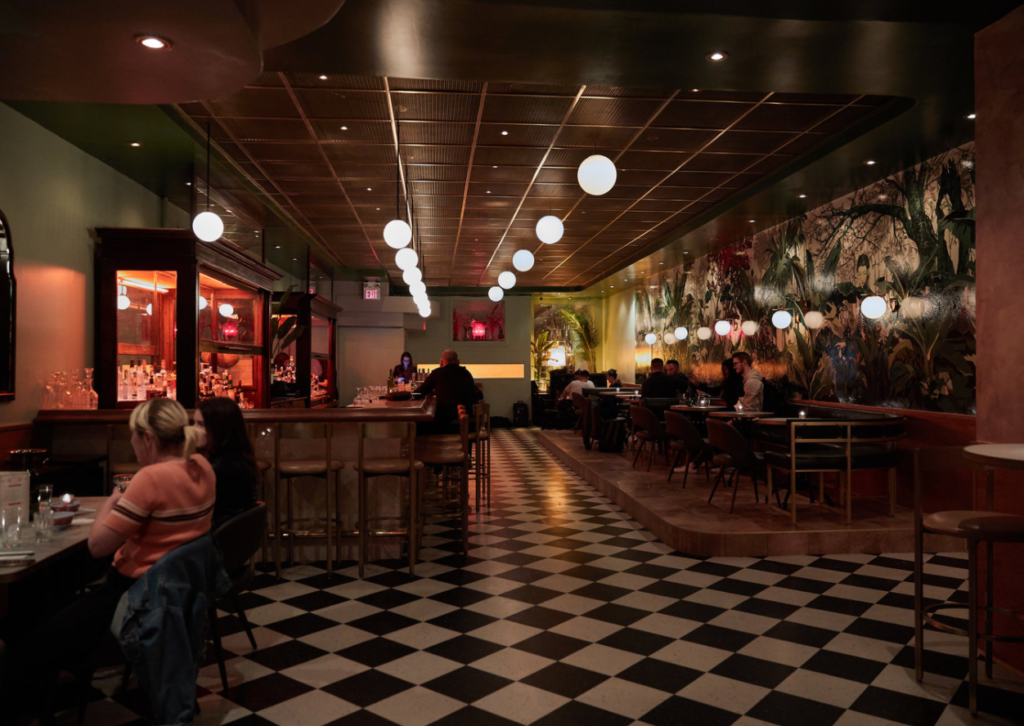 BEST SELLERS
Tame Impala Cocktail, Tropic Thunder, Japanese Highball, Burdock Lora, White Bean Salad, and Pan-fried Dumpling
DELIVERY
Yes
PRICE RANGE
Call their hotline for more details
WEBSITE
http://www.mahjongbar.com/home
ADDRESS
1276 Dundas St W, Toronto, ON M6J 1X7, Canada
CONTACT DETAILS
647-980-5664


[email protected]

OPERATING HOURS
Monday to Sunday: 6:00 PM – 2:00 AM
If you prefer drinking at a speakeasy, Mahjong Bar might be the spot for you. It's a 2000-square foot space pink, neon-lit bodega that seems like a place detached from Toronto – so a perfect place for those who want to unplug from the world.
In terms of interiors and atmosphere, Mahjong Bar takes the top spot, if you ask. It's designed with tropical murals, tall ceilings, and checkered floors, something that makes it stand out from other speakeasies in the area.
It's not as crowded compared to other bars too, allowing customers to relax on their own and catch up with friends without distractions. Even on weekends, there are relatively fewer people.
Despite being a speakeasy, Mahjong Bar's menu doesn't fall short. There are 10 types of cider and bar, on top of the impressive selection of cocktails and wine, some of which are named after bands and film characters.
All in all, Mahjong Bar stands as a decent option for those who are looking for a quiet, simple hangout spot with decent drink selections, nothing fancy of any sort.
Gorgeous interiors
Usually not crowded
Open the entire week
Limited meal options, mainly Chinese food
Customer Reviews
Take a look at what customers had to say about Mahjong Bar:
"Me and my sister went here for some drinks and some nice snacks. We tried the egg rolls and the wontons. They were so good. They offer a lot of dishes that you can share with your friends. They play music in a large area with a good vibe that you can dance or just sit and enjoy drinks with your friends. Great music variety especially the 90s tracks. I love the fact that the front of this bar looks like a convenience store."-Calle Mancini
"Amazing. Great hidden bar concept. Excellent vibe going on and perfect atmosphere. The noodles, half moon and dumplings left me drooling for more… I really enjoyed our stay. Downfall: wish there was more seating — or just larger all together. Highly recommend it!" -Steven Branco
4. Reservoir Lounge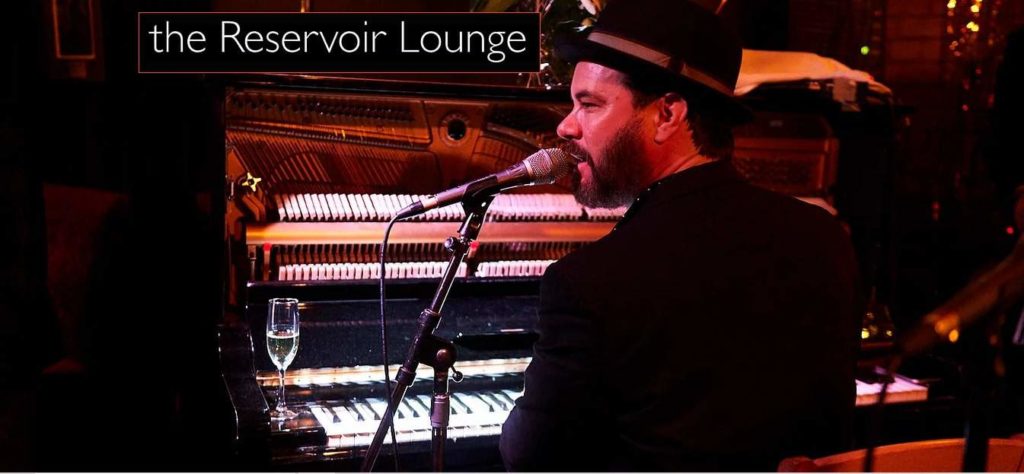 BEST SELLERS
Ruby Elixir, Asian Pear, Strawberry Coconut, Hendrick's Gin, Papa Mojito, Bloodhound, and Spicy Chicken Pot Stickers
DELIVERY
No
PRICE RANGE
$11 and up
WEBSITE
https://www.reservoirlounge.com/
ADDRESS
52 Wellington St E, Toronto, ON M5E 1C7, Canada
CONTACT DETAILS
416-955-0887


[email protected]

OPERATING HOURS
Tuesday to Saturday: 7:30 PM – 2:00 AM
Reservoir Lounge is the perfect spot for lovers on a date because of its chill and romantic atmosphere. If you're struggling to find the right bar to bring your partner to, you might have just hit the jackpot with this one.
It's an underground bar where guests can enjoy live music from a jazz band, adding to its already intimate atmosphere. Plus, there's a space for dancing, so if you ever feel like grooving to the music, don't hesitate to dance it out!
That said, it's not exactly the most budget-friendly among our picks, so we can only recommend it for special occasions. Its cheapest meal starts at $11, but the fact that every dish is prepared by very experienced chefs makes up for them being pricey.
Reservoir Lounge isn't limited to romantic dates, by the way. It can be the perfect spot for group hangouts and birthday celebrations as well, so you might want to consider holding your next birthday here.
Live jazz band
Excellent customer service
Space for dancing
Intimate and chill vibe
Expensive meals and drinks
No delivery
Customer Reviews
Here are some glowing reviews shared by customers:
"Came here to celebrate birthday of my friend and was pleasantly surprised! Didn't know this place is that good, otherwise would have visited much sooner. Red hot rumble is an amazing band, btw! Very nice ambiance, half dark rooms, candles on the tables. Very romantic. Multiple couples sitting around, enjoying the music. The bar has a good list of drinks and cocktails. Food was good as well, not overpriced, good selection. Very nice place for a date, but mind it – when the band is playing – music gets loud, so if you expect to catch up with your friends – probably not gonna happen." -Olga Hnat
"This has been my favorite place for a decade. Love the music & the vibe. All-ages show up here. The exposed brick walls and the warm glow from low lights give a lovely romantic setting… if you want a quiet night listening to music with your Boo, come sit on the red velvet couch and lose yourself in a sense of being at a speakeasy." -Ana Anjema
5. Bar Raval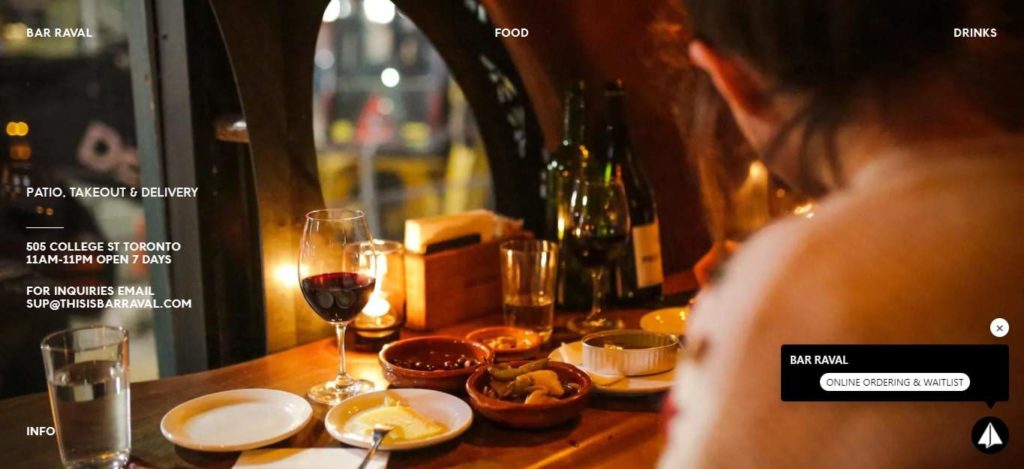 | | |
| --- | --- |
| BEST SELLERS | Spanish Fizz, Coconut Limoncello and Soda, Negroni, Margarita, Aperol Spritz, Raval Martini, Tuna Belly, Scallops, Razor Clams, Smoke Mackerel, and Patatas Bravas |
| DELIVERY | Yes |
| PRICE RANGE | $13 and up |
| WEBSITE | https://www.thisisbarraval.com/ |
| ADDRESS | 505 College St, Toronto, ON M6G 1A5, Canada |
| CONTACT DETAILS | 647-344-8001 |
| OPERATING HOURS | Monday to Sunday: 11:00 AM – 11:00 PM |
As it's one of the most prominent bars in Toronto, there's no way we're not adding Bar Raval to our picks. It's truly a well-known spot in the GTA that you and your friends have probably visited it at least once.
Bar Raval is another perfect spot for an early nightcap with friends as it closes down an hour before midnight. It's already open at 11 in the morning, though, so it could stand as a brunch spot as well.
Much of its popularity as a bar is attributed to its comprehensive menu and great location. It might not have the cheapest meals and drinks out there, but each one is guaranteed to be prepared with fresh ingredients.
If you want a meal that doesn't miss, we recommend anything from its Spanish tapa menu. Every dish is prepared with dry-cured ham, fresh bread, and olives, which can be partnered with any wine from its collection.
Lastly, if you have intentions to widen your network, Bar Raval could be the perfect place for that. Every weekend night, there's a diverse array of people here, ranging from business professionals to freelance creatives.
During September, Bar Raval becomes even more alive because of its proximity to Bell Lightbox, the place where the Toronto International Film Festival is held. Who knows, you might catch a glimpse a celebrity here then!
Great crowd
Diverse drink selection
Cool atmosphere
Open seven days a week
Customer Reviews
Curious what regulars have to say about Bar Raval? Check out these comments:
"My go-to patio in Toronto, the most incredible and friendly team in the city, and the best vibes. Cocktails and food 10/10, I will be living here this summer! Taylor and Monique shout out ladies!! Thank you for amazing summer nights" -Kelly Salive
"First drink post the pandemic – Bar raval was all I wanted. A breezy evening, a peaceful patio, gazing into the rustic interiors with an LCD soundsystem humming in the background. Leather jackets, neon lights, clattering plates, shattering glasses (the occasional one), hushed murmurs, some splendid vermouth and a remarkable patatas bravas later, I returned home satisfied, being optimistic about the future." -Venkat Iyer'
FAQs about Bars in Toronto
---
And that's the end of our picks for the best bars in Toronto. If you ever feel like drinking alone or with friends, don't hesitate to stop by any of these hangout spaces.
As there are hundreds of bars in the area, we sure that we missed some worth checking out as well. If you have some bar recommendations, drop their names here!
Looking for a healthy dining spot before heading out to drink? Try our picks for the best vegan restaurants in Toronto!