A Guide to the 6 Best Vegan Restaurants in Toronto
If you're searching for the best vegan restaurants in Toronto, consider yourself lucky because we have a list of what you're looking for.
We put together a comprehensive guide to the top vegan dining spots in the area based on variety of dishes, price range, accessibility of location, and customer reviews. You'll even know some of their best-selling dishes to help you figure out what to order.
For those who have questions about vegan restaurants and vegan meals, you'd want to read the FAQs towards the end of this restaurant guide.
1. The Vegan Extremist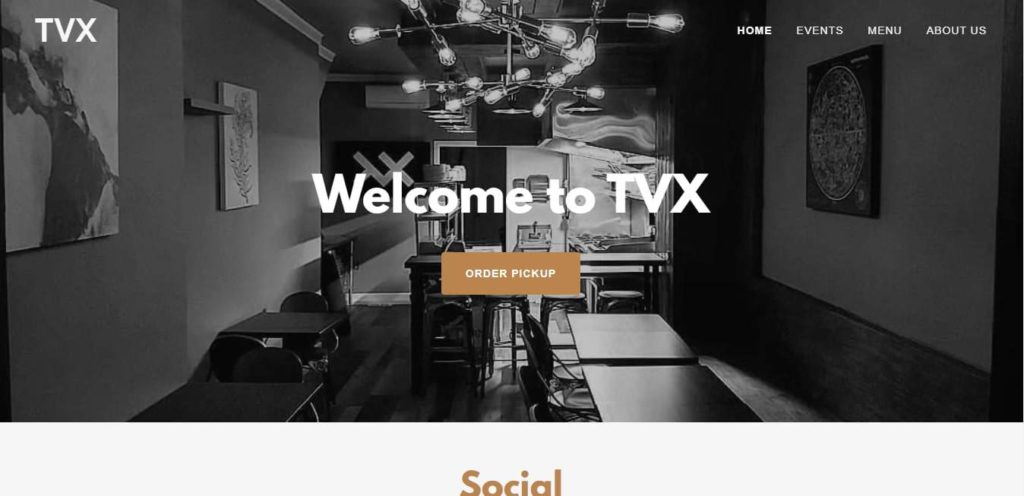 BEST SELLERS
Panang, Nyonya, Chole, Bharta, Basmati Rice, and Oyster Mushrooms
DELIVERY
Yes
STARTING PRICE
$2 to $14
WEBSITE
https://tvxto.ca/
ADDRESS
291 Augusta Ave, Toronto, ON M5T 1N9, Canada
CONTACT DETAILS
647-914-0779


[email protected]

OPERATING HOURS
Wednesday to Sunday: 12:00 PM – 8:00 PM
There aren't a lot of vegan restaurants in Toronto that mainly serve South Asian dishes, so we couldn't help but add The Vegan Extremist to our list.
It doesn't have the most sizable vegan menu considering that it's a small restaurant, but it does serve some of the most famous South Asian food, such as panang, nyonya, chole, bharta, biryani, and even basmati rice. These classic dishes are given a vegan twist.
For dessert, its customers love the ube mousse, which is made with pandan whipped cream and almonds. No worry about consuming too much sugar with this best-selling dessert!
We highly recommend dropping by The Vegan Extremist if you're craving vegan Asian food but don't want to go beyond your budget. Its cheapest meal starts at $2, so it definitely won't hurt your pockets.
Due to the pandemic, though, its indoor dining is currently limited, so customers are encouraged to opt for pick-ups and deliveries. Its delivery rates differ depending on your location.
Specialises in South Asian food
Affordable menu
Inviting restaurant atmosphere
Closeon Monday to Tuesday
Limited menu
Customer Reviews
Check out these comments to see why customers love The Vegan Restaurants:
"First time eating here and all I can say is WOW !!!! I am vegan however my daughter is not; we ordered the chole with paratha, and fried oyster mushrooms. The flavours were incredible ! Like nothing I have ever tasted before. My daughter enjoyed it all too. Super delicious, good portions at a fair price! Will definitely be returning for more. My only advice is to order double portions of paratha because the main dishes are a bigger portion size than they seem. Thanks for the amazing food"
-Donna Eder
"An awesome little place to drop by in Kensington Market! I ordered their vegan "butter chicken" which was amazing. The sauce was very vibrant and complex and they really did a great job on the texture of the "chicken" (cauliflower). I'll definitely be coming back again!"
-Mike Dockstator
2. The Hogtown Vegan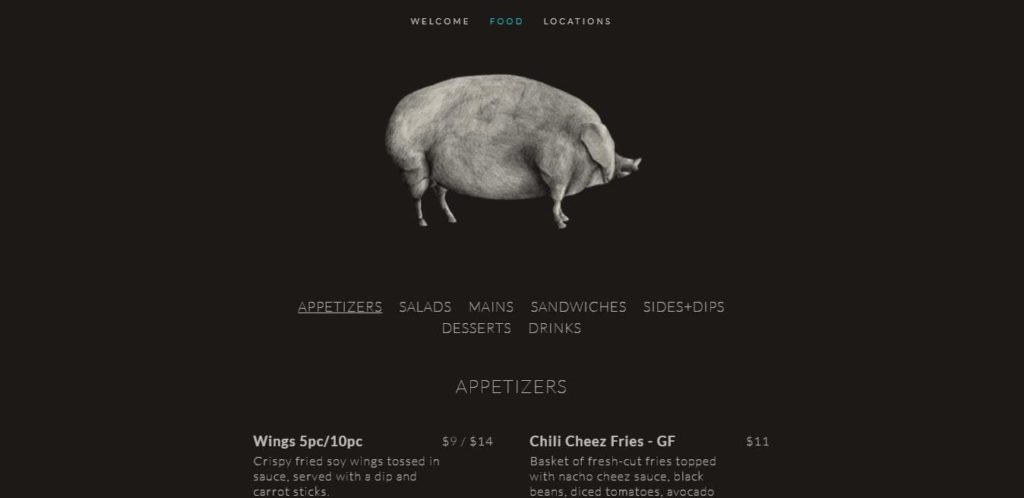 | | |
| --- | --- |
| BEST SELLERS | Phish 'n Chips, unChicken + Waffles, Seitan Chicken-Fried Steak, Mac 'n Cheez, and Southern Combo |
| DELIVERY | Yes |
| PRICE RANGE | $5 to $15 |
| WEBSITE | https://www.thehogtownvegan.com/ |
| ADDRESS | 382 College St, Toronto, ON M5T 1S7, Canada |
| CONTACT DETAILS | 416-546-7900 |
| OPERATING HOURS | Wednesday to Saturday: 4:00 PM – 9:00 PM |
If you're looking for a dining spot that puts a vegan twist on Southern-style comfort food, then you might want to consider dropping by The Hogtown Vegan. It's located along College Street, so it's not that hard to find.
One of its most popular dishes is the unChicken, which is a dish that tastes like chicken but isn't chicken. You can order it with a waffle, mac and cheese, a bucket of fries, quesadilla, or even as a sandwich.
The Hogtown Vegan serves vegan burger options as well, such as the Hogtown Burger, Bacon Cheeseburger, Philly Cheesesteak, and Big Hog. These are made with soy-beef patties usually topped with onion, pickles, and other healthy greens.
For lovers of sweets, you'll have a variety of desserts to choose from, including bourbon apple pie, ice-cream sandwich, and chocolate cheesecake parfait, among others.
To make your meal even better, you might want to pair with it a nice cocktail and local draft beer. Luckily, The Hogtown Vegan has a good selection of these, on top of local wine and non-alcoholic drinks.
Like most restaurants in Toronto, its dining options are restricted due to the pandemic, but customers can still enjoy its meal through take out and delivery.
Vegan take on Southern dishes
A good selection of non-meat dishes
Accommodating staff
Accessible location
On the pricey side
Only serves lunch and dinner options
Customer Reviews
Here are some comments shared on Google Reviews:
"DELICIOUS food, super friendly service, quick turnaround, great cocktails and good beer selection. Really loved their bacon cheeseburger. Easily the best vegan burger I've had to date. Buffalo wings were also good! We had a dark and stormy cocktail and it was really good – refreshing and super limey. Will definitely be back"
-Richard Makin
"Junk vegan food located not too far from Spadina. Good options and the portions are huge! Highly recommend this place to everyone and not just vegans. Make sure you try the chicken and waffles."
-Karen T
3. Rosalinda Restaurant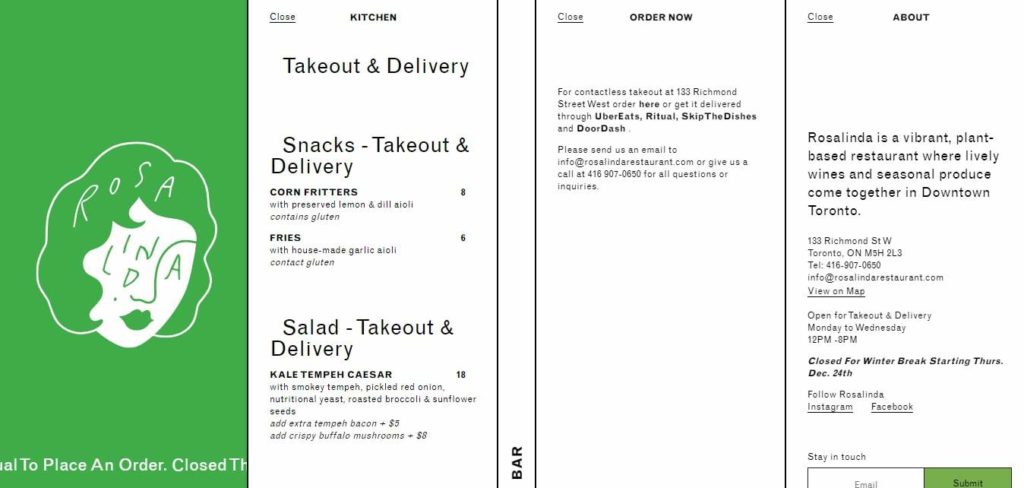 | | |
| --- | --- |
| BEST SELLERS | Corn Fritters, Kale Tempeh Caesar, Crispy Buffalo Mushroom Sandwich, Eggplant Parm, Mushroom Pizza, and Ontario Pumpkin Pie |
| DELIVERY | Yes |
| PRICE RANGE | $8 to $19 |
| WEBSITE | http://www.rosalindarestaurant.com |
| ADDRESS | 133 Richmond St W, Toronto, ON M5H 2L3, Canada |
| CONTACT DETAILS | 416-907-0650 |
| OPERATING HOURS | Monday to Wednesday: 12:00 PM – 8:00 PM |
Rosalinda Restaurant is a plant-based dining spot based in Downtown Toronto with a long list of vegan dishes and alcoholic and nonalcoholic drinks. It's quite hard to visit though, given that it's open only from Monday to Wednesday.
Even though it operates for only three days a week, it's open for takeout and delivery to anywhere in the Greater Toronto Area.
If what you're after is gluten-free meals, then you're going to have a treat at Rosalinda Restaurant. Its entire menu can be made gluten-free, upon the request of the customer, with the exception of cake, churros, and burger.
Rosalinda Restaurant mainly serves pasta, pizza, sandwiches, and salads, so it's a perfect brunch or dinner spot. Its best-selling pizza is the mushroom pizza, made with roasted mushroom, rosemary, chili onion jam, and cauliflower.
Its selection of nonalcoholic and alcoholic drinks include tonic water, soda water, sparkling water, draft beer, and wine.
With parking space
Gluten-free menu
Wheelchair-friendly dining place
A bit expensive
Only only from Monday to Wednesday
Customer Reviews
This what past customers had to say about their dining experience at Rosalinda Restaurant:
"Very nice relaxing ambiance. Sort of Mexican touch. Unlike other downtown restaurants this one was lit up. Lots of natural light. Perfectly fits the theme of the restaurant. Food was all vegan but very delicious. Everything we tried was fresh and tasty. Servers and reception were welcoming and courteous. And last sitting arrangements were not tight. Had enough space to stretch ;). I will definitely give it a try again."
-Syed Ramiz
"For the record, I am not even Vegetarian so Vegan is even further off. Having said that, a friend of mine invited me to Rosalinda and all I can tell you is that I was simply amazed. Great food, wonderful atmosphere, very kind and caring staff and did i say great food? Well beyond great. LOVED this Vegan restaurant in our lovely proud downtown area!"
-Imad Jawadi
4. Veggie D'Light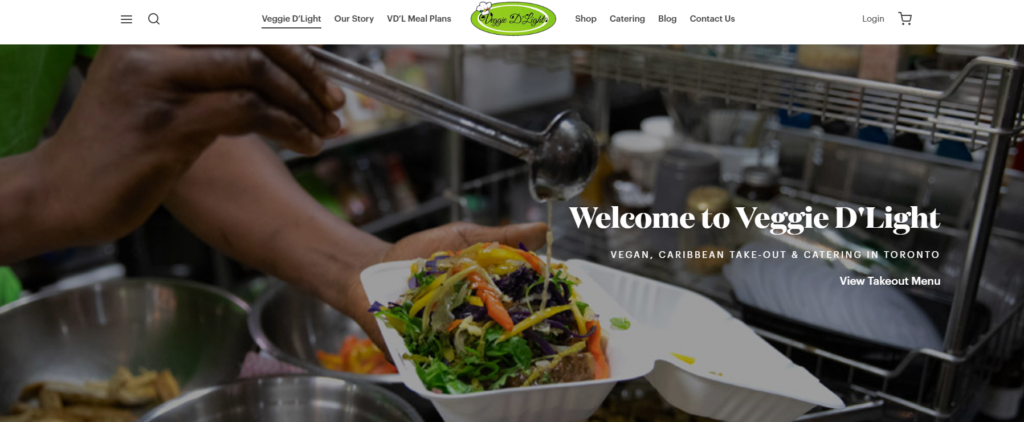 BEST SELLER
Vegan Carribean and Vegan Jerk Roti
DELIVERY
Yes
PRICE RANGE
$5.00-$17.00
WEBSITE
https://veggiedlight.com/
ADDRESS
160 Baldwin St #3, Toronto, ON M5T 3K7, Canada
CONTACT DETAILS
647-352-7581


[email protected]

OPERATING HOURS
Friday to Sunday: 12:00 PM – 6:00 PM
Veggie D'Light is one of the top-rated vegan restaurants in Toronto, carrying a near-perfect rating of 4.9 out 5 based on more than 300 reviews on Google Reviews. It landed on our list for two main reasons:
First, it specialises in vegan, organic, and gluten-free Caribbean dishes, making it one of the only dining spots in Toronto that serves primarily Caribbean cuisine. It puts a vegan twist on the otherwise meat-heavy fusion cuisine.
Second, its head chef is Peter McKenzie, an international chef who's perfected countless Caribbean and vegan dishes. He embraces the plant-based lifestyle himself, so he knows what vegan customers are looking for.
Veggie D'Light is perfect for group diners because it can serve both in small and large portions. Its rice bowl and soup meal in particular, which changes on a regular basis, is mainly served in small portions, good only for one person.
Its bulk food trays, on the other hand, can feed up to a family or a group of friends. You can even choose what type of proteins, carbs, and organic veggies go into the food tray.
Veggie D'Light is open only from Friday to Saturday, from 12pm to 6pm, so we can only recommend it if you want a light but nutritious brunch or early dinner.
Serves small and large portions
Mainly Caribbean dishes
Uses organic-veggies
Non-GMO and gluten-free
Customer Reviews
Here's why some customers believe that Veggie D'Light is one of the best vegan restaurants in Toronto:
"The food here is so good, my only regret is that I don't get enough when I take out. However, the box they serve it in is always the perfect size to fill you!! My other regret is that they are not open on Monday and Tuesday. I often have a craving on those days. It's good to learn patience, though, right? The ingredients are fresh and seasonal, cooked to perfection. The flavours are exquisite and demonstrate the true care that's put into this home-cooked meal. The service is kind, quick and efficient in a lunchtime rush. If you've never tried vegan, this is a perfect plant-based start. Highly recommended – easily the best cooked vegan food in the Market!!"
-Vee MO
"Glad I tried this place out during my time in downtown. Hidden in Kensington market away from the sort of appealing (unhealthy) food of tacos and burgers, you'll discover such a gem. Bought 2 meals for my partner and I to try. The rocket was my favourite. Super friendly folks who are eager to answer any questions, fresh ingredients made right in front of you and a clean small place. Great for a quick bite or just away from the hustle of the market."
-Cee Kim
5. Buddha's Vegan Restaurant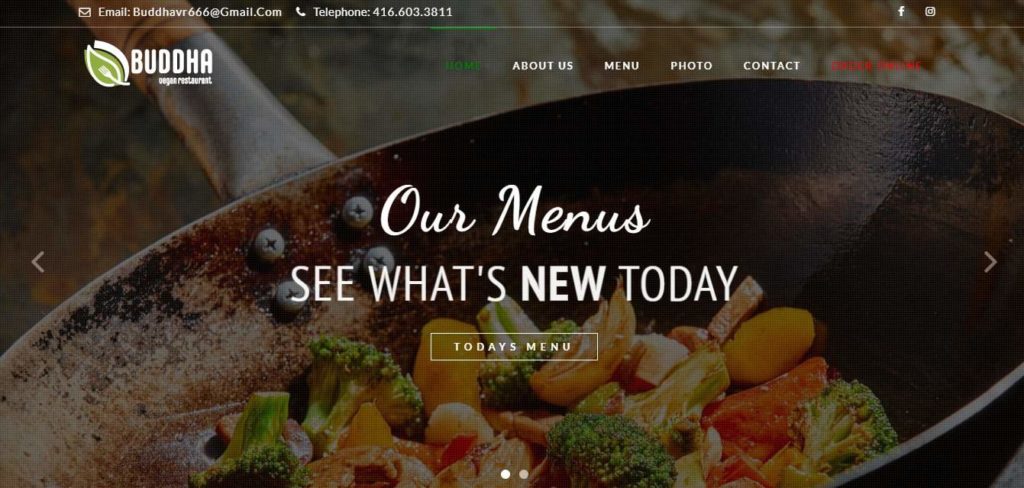 | | |
| --- | --- |
| BEST SELLER | Crispy Veggie Chicken, Fried Rice Noodles with Veggie Beef, Imitation Duck, Mixed Mushrooms with Tofu, Fried Vermicelli Singapore Style, and Crispy Ginger Veggie Beef |
| DELIVERY | Yes |
| PRICE RANGE | $4.50 to $16.95 |
| WEBSITE | http://www.buddharestaurant.ca/ |
| ADDRESS | 666 Dundas St W, Toronto, ON M5T 1H9, Canada |
| CONTACT DETAILS | 416-603-3811 |
| OPERATING HOURS | Monday to Sunday (except Tuesday): 11:00 AM – 6:00 PM |
Buddha's Vegan Restaurant is another vegan dining spot that serves mainly vegan Asian dishes. Unlike our first pick, its food selection is larger and more diverse, so customers will have more options to choose from.
Its menu tends to change regularly, but there will always be vegetable dishes, soup, fried noodles, and rice noodles in soup. Most dishes on its menu can be served in small, medium, or large portions, so it's perfect for those dining alone and in groups.
We're actually quite impressed with how rich its vegetable menu is, which includes mixed mushrooms with greens, fried cashew nuts and diced green vegetables, braised veggie beef and tofu, and assorted vegetables on imitation duck.
The only downside with Buddha's Vegan Restaurant is the lack of desserts, which isn't good news for those who always want something sweet after a heavy meal.
Among our picks, it's the only vegan restaurant that operates six times a week, and with longer operating hours. This means that customers can get their vegan fix multiple times a day now, without having to worry if their preferred restaurant is open for the day.
If you don't have time to personally dine in at Buddha's Vegan Restaurant, you can opt for its delivery services. Almost every corner of Toronto is covered, charged only with a small delivery fee.
Diverse food menu
Open six times a week
Small delivery fee
Reasonable prices
Customer Reviews
Here's what customers had to say about it:
"How could I forget to review this amazing restaurant after being its long-term customer for many years? I have frequented this place since first year in University. Their food tastes amazing and the portions are huge. The price is cheap. Servers are heartwarming and always come with a smile. This is the kind of restaurant that deserves support amidst the pandemic."
-Jayvis Wan
"Ok, this 666 Dundas street diner is a fine vegan choice. Their bean curd dish called Imitation Duck is truly delicious, granted it is made out of NA soybean. The star of attraction is their King Mushroom soup, the giant spring rolls with delicious sweet orange coloured sauce, and their General Tao Chicken."
-Duke Maximus
6. Govinda's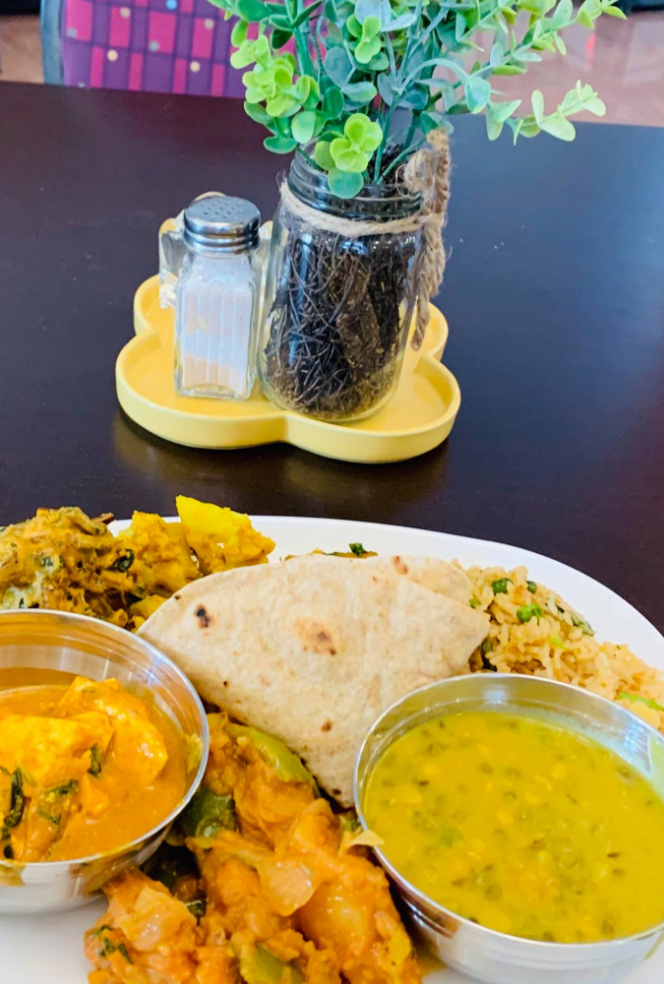 | | |
| --- | --- |
| BEST SELLER | Northern Indian Cuisine |
| DELIVERY | Order through DoorDash, UberEats, or SkipTheDishes |
| PRICE RANGE | Dependent on weekly menu |
| WEBSITE | https://www.govindas.ca |
| ADDRESS | 243 Avenue Road Toronto, ON M5R 2J6 |
| CONTACT DETAILS | 1-888-218-1040 | [email protected] |
| OPERATING HOURS | Contact for more information |
Good vegan or vegetarian dishes need not be boring or tasteless. With quality ingredients and an experienced chef, even the most regular of vegan and vegetarian dishes can be made into something more.
This is where Govinda's enters the picture. Govinda's is a humble restaurant cafe with a wide array of menu items on its list. They have a regular menu as well as a weekly menu that features plenty of vegan and vegetarian dishes to choose from.
A great example of these are the North Indian dishes one can order, like Rajma, Aloo Bhindi, Mattar Paneer, Samosas, and many more. Aside from respecting vegan and vegetarian diets, the shop also takes into consideration out dietary restrictions; all customers need to do is inform the staff.
Now, as a final note, it's also worth bringing up that Govinda's also does takeouts and catering for events. Event catering may entail a different menu, so be sure to check it out if you're interested.
Large location
Followed dietary restriction requests
Wide array of mouthwatering food
No operating hours online
FAQs about Vegan Restaurants
---
And that's it for our list of the best vegan restaurants in Toronto. If you've tried any of these dining spots in the past, share with us your recommended dishes!
Vegan restaurants are a great option if you want to change your current lifestyle and eat cleaner and healthier meals.
If your favorite vegan restaurant isn't on the list, don't hesitate to share their name with us. If we find them worthy, we'll definitely add them here.