The 5 Best Architecture Firms in Toronto
Eager for your dream home to come to life? Luckily for you, you're on the right page to get started!
Having a well-designed space that gives you comfort and freedom is a must for every home. That's why we've provided you with a list of the best architecture firms in Toronto for today's article.
We selected the top firms that we found able to deliver residential solace that's on the next level. You'll learn what makes them great, what we think of them, and what they can offer.
The Cost of Hiring Architects in Toronto
Not too fast there! Before we get into the list, we'll give you an overview of how much you'll have to pay for architectural fees.
We'll give it to you straight - calculating architectural fees is a complex process because of the various factors involved. But in general, the rate of architecture can be either of these two terms: hourly rate or percentage of the construction costs.
The first factor that affects the cost is the type of service. Are you planning on building a custom house, renovating a space, or adding a home extension?
The second one is the complexity of the job. As a rule of thumb, the longer and harder it takes to finish, the more expensive it will be.
Third, you may take advantage of architecture design packages. Architecture firms often offer service packages depending on the needs of the customer - most are on a negotiation basis.
All that said, the hourly rate for an architect in Toronto ranges from $100 to $200. For percentage-based calculations, architects often take home 5% to 20% of the total construction costs.
For architectural drawings, the costs are often based on the square foot of the project. A basic design usually starts at $6 per square foot while more complicated, bigger designs can go up to $15 per square foot.
Top Architecture Firms in Toronto
Now that you have an initial understanding of the costs, we can move on to the best architecture firms in Toronto. As mentioned, we picked them based on how good their residential projects are, so we'll focus more on those to give you an idea of what they can achieve.
1. Bortolotto Design Architect Inc.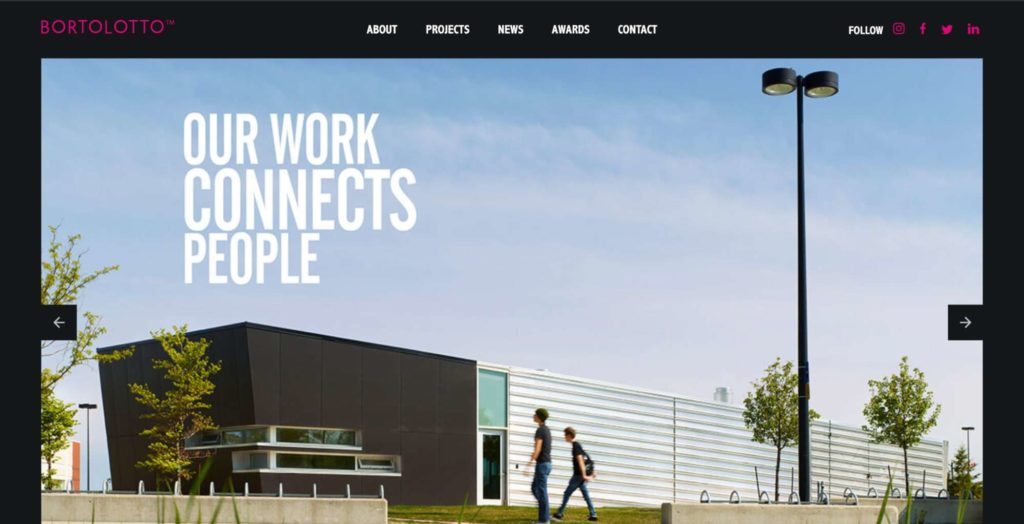 SERVICES
Design assistance, client brand representation, media and digital, integration, community consultation, functional programming, sustainable designs, feasibility studies, WELL building standard integration
WEBSITE
https://www.bortolotto.com/
ADDRESS
4 Clinton Place, Toronto, ON M6G 1J9, T. 416 324 9951×21
CONTACT DETAILS
+1 416-324-9951


[email protected]

OPERATING HOURS
Monday – Friday: 9:00 AM – 6:00 PM
We're not surprised that we found so much praise for this firm. In fact, despite being relatively young (even at 20 years in the business), it was able to bag quite a number of esteemed awards, which in our opinion is the best reflection of top-quality service.
For starters, it earned the Canadian Interiors Best of Canada Awards with its "Off-the-Wall" project. It's also a holder of various titles from the ARIDO Awards, which is a tough feat to emulate.
For residential architecture, this firm holds a high place in our book with its process. We liked that it developed its own eight-stage procedure to deliver elite quality to its customers.
The many notable residential projects under its name can't be faulted either. Our favorite was the Ravine House, with its emblematic mirrors taking 4,000 square feet of land in Summerhill.
In our opinion, the Ravine House is an icon for what this firm can deliver to residential owners. With a concept that embraces the stunning skyline and lush forests, we reckon it's the best firm for eco-conscious homeowners.
The home's design features openness with spaces illuminated by natural light and translucent spaces. So, if you're looking for a similar approach, contracting this firm is a smart move.
However, it's not such a smart move if you're looking to build a "more standard" custom home (if that's not an oxymoron). Plus, buying its services may even cost more than your house and lot itself.
Multi-awarded company
20 years of experience
Outstanding residential projects
Customer Reviews
Take a look at what past clients have said about this firm:
Simply the best. They take your dream and expand and enhance in ways you could not have imagined. – Kanan Patel
After years of great work together, I wanted to extend my thanks to you, the Bortolotto design team, on the creation of Student Central. We are open and students have nothing but great things to say about the new space. Thanks for everything and hopefully we have the chance to work together again sometime in the future! – Andrea Tarsitano
2. Sustainable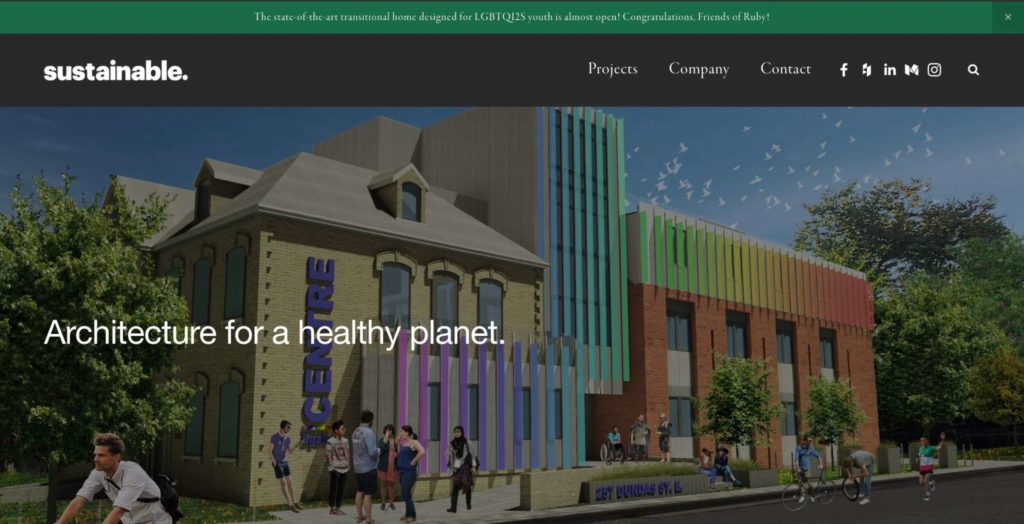 SERVICES
Residential, commercial, institutional, laneway, civic impact
WEBSITE
https://www.sustainable.to/
ADDRESS
943 Queen St E #200, Toronto, ON M4M 1J6
CONTACT DETAILS
+1 416-619-0848


[email protected]

OPERATING HOURS
Monday – Friday: 9:00 AM – 5:00 PM
Sustainable wins our standards by implementing science-backed strategies in its designs. Plus, we love that they help customers achieve long-term gains by saving money and reducing their carbon footprint.
One of the things we liked about this firm is its transparencies with its green strategies. So, if you're a bit skeptical about its eco-initiatives, it can present you with an honest guide.
For instance, they have a strategy called "Site Optimization", which aims to reduce land disturbance and preserve any life on a plot of land. It's an absolute plus point for us and for mother nature as well.
We have a lot of favorites on its long list of residential projects, but its Willowdale Passive Solar House stood out to us. The project itself won the CMHC Healthy Housing Award, which already speaks a lot about, well, sustainability.
In our opinion, the house is the perfect representation of this firm's mission. With a 91% energy reduction, we can't complain about the quality of this eco-home.
So, with all these things in mind, this firm is perfect for families who "want to save the planet" in their little ways. But it's not too perfect for those who are on a tight budget.
Actually, almost every sustainable home is about 10% more expensive to build than a standard home. So keep that in mind before transforming your basic residence to a zero energy house.
On the bright side, it does mean lower energy costs down the line, as well as an overall reduction in the total cost to the environment for our society. To us, that still makes sense, so we have no problem recommending this company to most people.
Science-backed strategies
Projects proven to reduce energy up to 91%
Awarded residential projects
Customer Reviews
Here's what past clients have said about this architecture firm:
We're currently working with Sustainable.TO to build our life home and it has been great. We chose the firm based on their sustainability practice, completion of successful builds and, above all, their design. So far the project is not without its obstacles as a ravine property, but they have been great at guiding us through the process. – Jason Agar
Thank you to Paul and his team at Sustainable.TO. Our project involved the conversion of a small 3-bedroom semi in The Beaches, to re-invent the existing space and add another 2 bedrooms. This was no small feat, considering challenges posed by a complex roof-line, limited yard space and our primary design goal of minimizing the impacts to the symmetry of the entire building. Sustainable was able to address all of these challenges and design a home that will meet our needs for many years to come. In a neighbourhood where growing families and 3-bedroom semis are the norm, Sustainable's design should serve as a template for future development. – Craig Barbisan
3. Lorne Rose Architect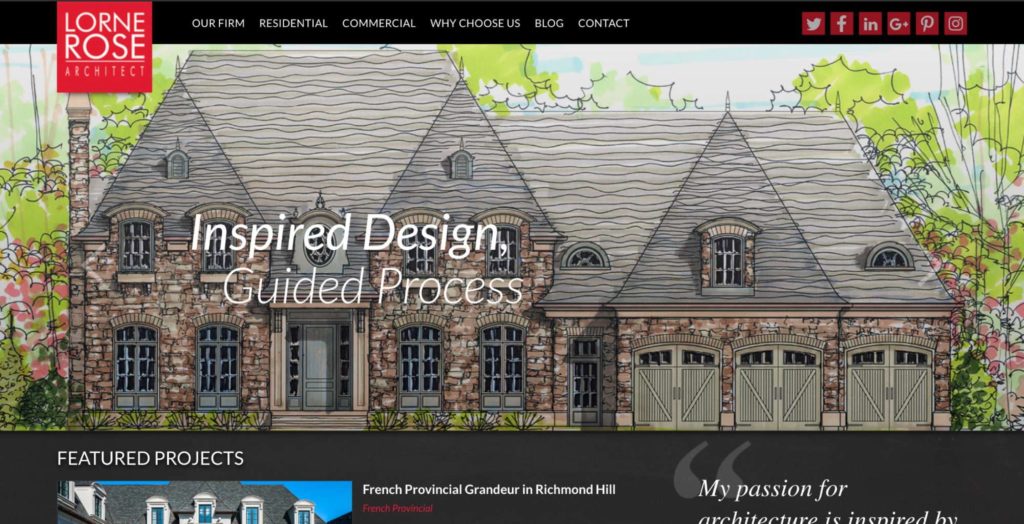 SERVICES
Commercial spaces; residential spaces with styles including English Country, English Georgian, English Manor, English Tudor, French Country, French Provincial, modern, transitional
WEBSITE
http://lornerose.com/
ADDRESS
388 Spadina Rd, Toronto, ON M5P 2V9, Canada
CONTACT DETAILS
+1 416-398-9300


[email protected]

OPERATING HOURS
Monday – Thursday: 8:30 AM – 5:00 PM
Friday: 8:30 AM – 4:00 PM
Lorne Rose Architect makes our list with its style-centric services perfect for meticulous owners. So, if you're looking for a specific architectural style for your home, check this firm out.
For starters, they have done an extensive list of styles in their projects, from an English Tudor to modern residences. And what we liked about this is that every project hit the bull's eye.
One project that we loved combined the French Provincial charm with modern allure. The end result was a sight to behold with French-themed furniture modernized for a younger appeal.
So, if you like to mix and match home styles to suit your taste, a visit to its office is a nice move.
However, they won't just follow whatever design you want – they'll actually share their expert insights with you to give you the best outcome. This is, of course, a plus in our book because every client needs a second opinion, even with their own preferences.
While the projects are outstanding, we do have some qualms about its customer service. A past client even said that "they make you feel like you're not worthy of their time".
On the bright side, that's just one client testimony against many positive others. In our opinion, working with this firm is still an absolute delight.
Works with various architectural styles
Offers expert insights to clients
Issues with customer service, according to a few
Customer Reviews
Here's what other customers have said about this company:
We had a wonderful experience with both Lorne and the rest of the team at the firm. They were always ready to help out with whatever it is that we needed through the process. Now that our house is built, we get stopped all the time to find out who the architect was! It's a wonderful feeling knowing that so many love our house as much as we do! – Kate Kasekas
Both my new house and last house were designed by Lorne Rose. It is amazing. When I was looking for a architect for my new house, I visited some new houses for sale. My wife and I loved two of them and found both were Lorne's works. During the design for my new house, he asked us where we lived at that time. Surprised my last house was his work too. Now we have moved in new house. It is perfect. What I loved most it is his space feeling, very comfortable and measurable. – Yong Lin
4. Memar Archictects Inc.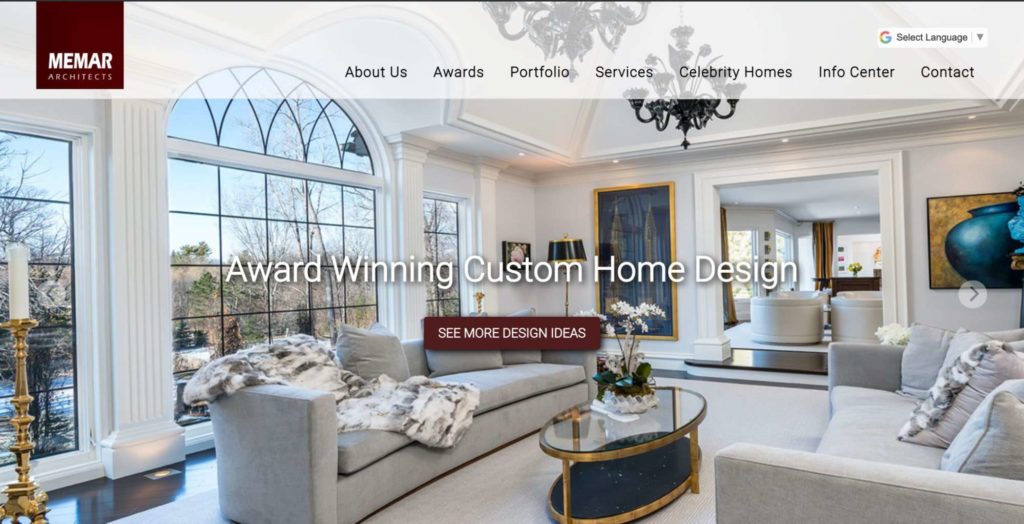 SERVICES
Land development and severence, design and building permit, construction administration, sun shadow study, as built, BOMA area analysis
WEBSITE
https://memararchitects.com/
ADDRESS
2323 Yonge Street, Toronto, Ontario M4P 2C9
CONTACT DETAILS
(416) 551-5764


[email protected]

OPERATING HOURS
Monday – Thursday: 9:30 AM – 6:00 PM
Friday: 9:00 AM – 5:30 PM
If you have the budget to get stellar architectural services, look no further than Memar Architects. Here are some top reasons we think it's worth every penny.
First, they've worked with many celebrities including Ellen DeGeneres, Keanu Reeves, and Julia Roberts. So if you want to have that kind of bragging right, feel free to enjoy the privilege.
Second, it offers many services that make your life much easier. For example, if you already have a design that you want, they can skip the pre-design phase and move you to the building permit phase.
It also offers another service called Construction Administration, which we like because it covers project management duties. This means they'll locate the site for you, design the structure, and handle every process.
Third, it's a four-time winner of the Best of Houzz Awards for service, which speaks a lot about its customer satisfaction rate.
Finally, we love the wide variety of homes they've worked on. We took a look at some of its residential projects and we found modern box-type mansions to quaint humble homes in the city.
With a perfect 5-star rating on Google Reviews, it's hard to find fault with this firm. However, one client shared dissatisfaction with its services and said that his plans contained errors that cost him more money.
Nonetheless, the firm has strong ratings across various platforms. That complaint seems to be in a very small minority, as far as we can see.
Wide-variety of residential styles among its portfolio
Offers many helpful architectural services
Award-winning architecture firm
Issues with planning errors, said one client
Customer Reviews
Take a look at what past customers have said about this firm:
I got designs, drawings, and permits through this company. They were fast, reliable, and very fair in price. They have a great team which were able to build my house from scratch. I'm very happy with them and will recommend them to my friends and family. – Joao Pereira
Great job by Mercedes at memar on our modern house. We bought a small lot in Lawrence park and mercedeh helped us woth a great design. – Ali Arshad
5. Post Architecture Inc.
SERVICES
Schematic design, design development, permit application drawings, interiors and millwork drawings, construction review
WEBSITE
https://www.postarchitecture.com/
ADDRESS
32 Albany Ave, Toronto, ON, M5R 3C3
CONTACT DETAILS
+1 416-516-6064


[email protected]

OPERATING HOURS
Monday – Friday: 9:00 AM – 6:00 PM
If you're looking for a modern home integrated into a traditional context, you may want to look into Post Architecture. This architecture firm in Toronto shows a lot of promise, and we have many reasons to recommend it.
For starters, we liked how easy it is to book an on-site consultation with them. You can simply visit its website, choose your available date and time, and pay the fees.
While we favor this feature (as it's not very common among other firms), the consultation is a bit steep. The 1-5 hour consultation is around $446.35 dollars – which is higher than the hourly rate average we stated earlier.
Still, we believe it's worth every penny for a 13-time Best of Houzz Winner with a perfect 5-star rating on Google Reviews. We assessed all client testimonies and they were nothing but praise – especially for the customer service.
Plus, its portfolio is a wonderful mosaic of urban homes elevated for maximized space and bright lighting. One of our favorites is their kitchen remodel in Albany which opened to the yard to let light in.
Easy online booking of on-site consultation
Multi-awarded firm
Great customer service
Expensive on-site consultation fee
Customer Reviews
Here are some client reviews about this architecture firm:
Gloria Apostolou and post Architecture are highly recommended. Gloria clearly understood our vision for the extensive renovation of our mid-century modern home and produced extraordinarily comfortable living spaces and a home that we are proud to call our own. She was quick to respond to and address our concerns providing sound recommendations and design solutions, she worked well with the contractor and subs, her attention to detail was simply excellent, and she deftly managed the interface between achieving the design vision and the practical resolution of construction realities and site conditions. And her ability to achieve the fine balance between cost efficiency and design excellence is to be commended. Gloria was an absolute gem to work with. – Jeff Seider
I don't have enough great things to say about Gloria and Post Architecture. We are beyond grateful that we found her on Houzz. She was a delight to work with and our project was definitely elevated because of her. I can't imagine doing our kitchen and basement without her. She had incredible ideas and worked out any arising issues calmly and with grace. She was always available when we needed her and such a pleasure to be around. The drawings were virtually identical to the finished product and her recommendation of contractor was also invaluable to us. The level of quality they practice is second to none. She took my fragments of dreams and ideas and made them come to life in a way I couldn't have imagined. Post Architecture definitely exceeded our expectations, we had a great experience and would most definitely use them in the future. – Lauren Sellen
6. Lakeside Architecture Inc.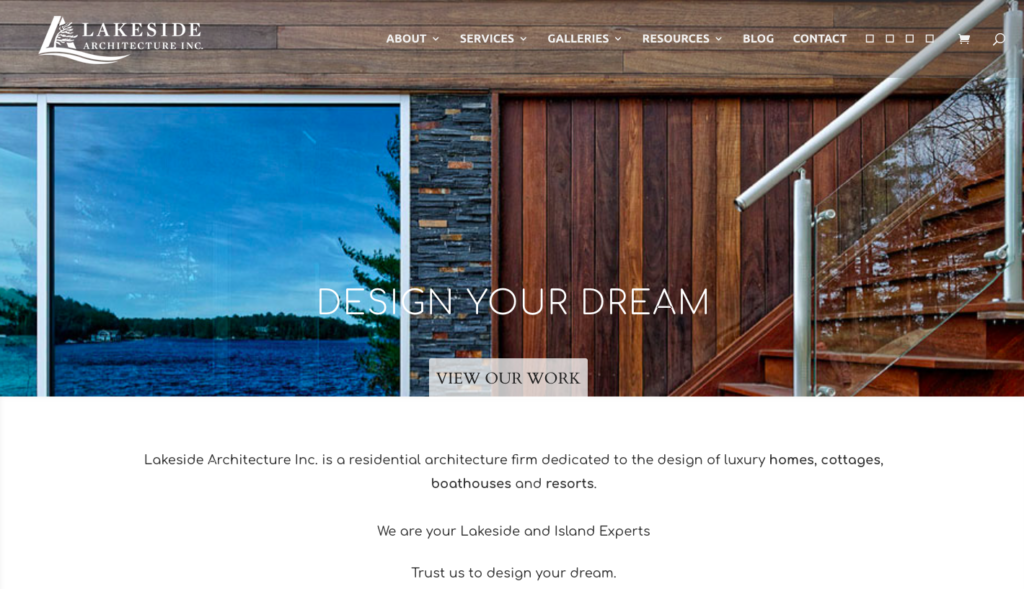 SERVICES
Design Process, Consultation, Assessment, Construction Management
WEBSITE
https://lakesidearchitecture.ca/
ADDRESS
255-2255B Queen St. East Toronto, ON M4E 1G3
CONTACT DETAILS
Phone: 647-226-9860
Email: [email protected]
OPERATING HOURS
Open 24 hours
Lakeside Architecture Inc. is a modern design firm that focuses on luxury homes, cottages, boathouses and resorts. The team consists of principal architect James C. Pitropov and his wife Susan who manages the office's administration needs.
James is a Registered Architect in Ontario and Alberta and was awarded the Gold Medal in Architecture and nominated for the School's Governor General Silver Medal. As a student, The Royal Architecture Institute of Canada recognized him as the most likely to be an Architect of Distinction.
What makes Lakeside Architecture one of our top picks in Toronto is their core philosophy of merging man-made structures with its environment. They aim to "not fight the site" whether it's designing a lakeside home or a luxury cottage.
Staying true to the site's natural surroundings, each design by Lakeside Architecture contains inspiration from the elements, thus blending your private space indoors with nature. His multi-awarded designs can be found all across Ontario's cottage country, which include Lake Huron, Muskoka Lakes, and Kawartha Lakes.
Aside from designing a home or room from scratch, Lakeside Architecture can also provide site assessments, construction management and consultations. So whether you need to see your build options for a property or are ready to get building and need a site manager, this firm has you covered.
Specializes in lakeside homes
Multi-awarded firm
Focuses on merging nature with structures
Provides construction management and consultation services
Customer Reviews
Let's take a look at what their clients have to say:

"Creative, Innovative, Professional, Stylish and Considerate are some of the words we would use to describe James and his team. We are more than thrilled with our design! James has totally change the way we live in our house and has vastly increased our enjoyment of our home." Gay and Stan Thompson

"James has a fantastic crew of tradesmen, that produced a beautiful, yet complex remodel of our deck. James was always in good contact, and very transparent with costs, and whether we were able to stick to budget or not. The nice part with working with Lakeside was that he was able to pull drawings required for permits all within the scope of the contract. Our project did go over budget, but that was mainly due to the logistics and our preferences in materials and design. Having a crew of trades that actually showed up on time and left on time in Huntsville is few and far between, they were professionals and very skilled at their craft. Thanks again!" – Ryan McKeeman
How to Know if You Need Architectural Services
Even if you're not building a custom home, you may have many other purposes for hiring an architect. Here are some of them:
You need more space.
A talented architect can make a home design that utilizes every space in your home. If you're uncomfortable with the tight spaces and small areas in your home, get an architect to sort it out.
Services from an architecture firm can help you envision the right remodeling work perfect for your home. The best part is that they'll also find ways to maximize your space without compromising on function and aesthetics.
You need to follow the law.
Depending on your area, your local building department may require a building permit. This is required to start the construction or renovation of your home.
To get a building permit, you need a house plan, and this house plan needs the signature of an engineer or an architect. This is where an architect can help you by providing your permit services.
You need a change of style.
If your home doesn't suit your taste anymore, get an architect to redesign it according to your preferences. You can also get an architect if you want your home to follow recent home style trends.
It's always best to get an architect who specializes in the home style you're going for. This ensures that your ideas will be implemented well.
You're scared of financial risk.
Getting an architect is a hefty investment, even in residential homes. But it would cost you more money in the long run if you don't get one.
To illustrate, an architect ensures that your home has a solid structure to support any design changes. Without an architect, you wouldn't know these design principles, risking future deterioration.
FAQs About Architecture Firms in Toronto
---
Did we help you find the best architecture firm in Toronto? Share your thoughts with us and tell us what you think about our list.
For more home building matters, take a look at our list of the best interior designers in Toronto. You're one click away from building the perfect home for you!