The Best Late-Night Scenic Drives in Toronto
During the day, Toronto is a beautiful city with amazing views. But as the sun goes down the city turns into a vibrant escapade of shining lights and unbelievable sceneries waiting to be discovered!
If you want to find some spots to drive around at night, then check out this list of our favourite scenic drives in Toronto at night!
The Best Late-Night Scenic Drives in Toronto
1. Broadview Ave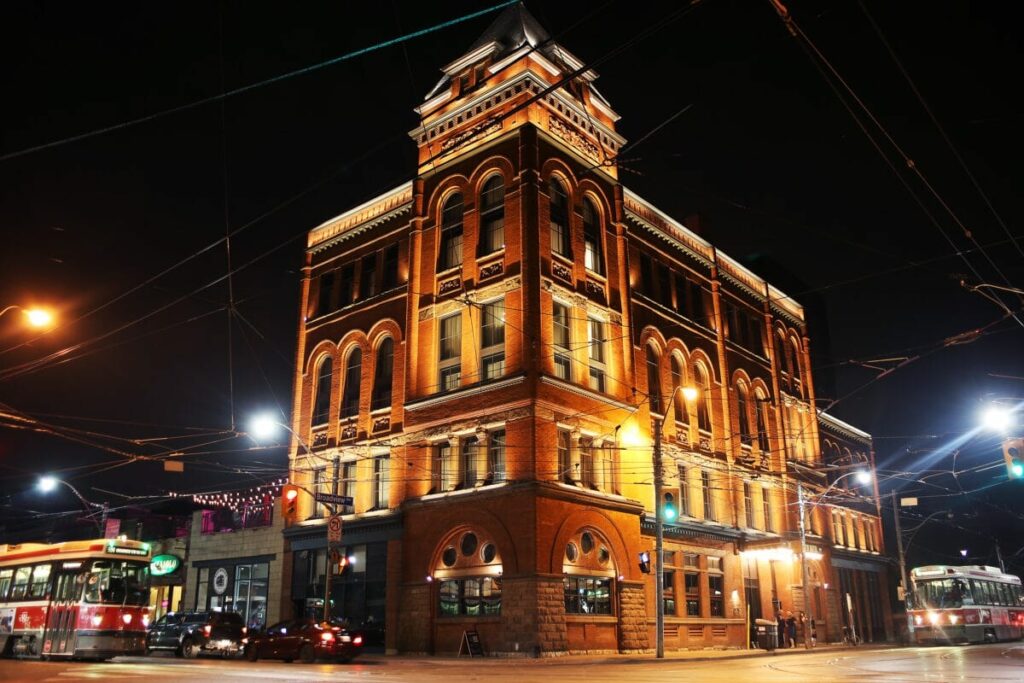 Address: Broadview Ave, Toronto, ON, Canada
One of our favourite spots for a relaxing night drive are the historic roads of Broadview Avenue. Gems like the Toronto Public Library and the archaic Broadview Hotel add to the charm of this route.
This scenic road isn't too long but it sure is packed with spots to take in the beautiful views of the city skyline. Despite being in the centre of the city, there are several parks along this path that provide a serene atmosphere.
Pro tip:
Slow down once you see Riverdale East Park. It's a great place to take in an expansive view of the brightly lit city skyline at night and it provides a good view of the Don River as well.
2. Convair Drive East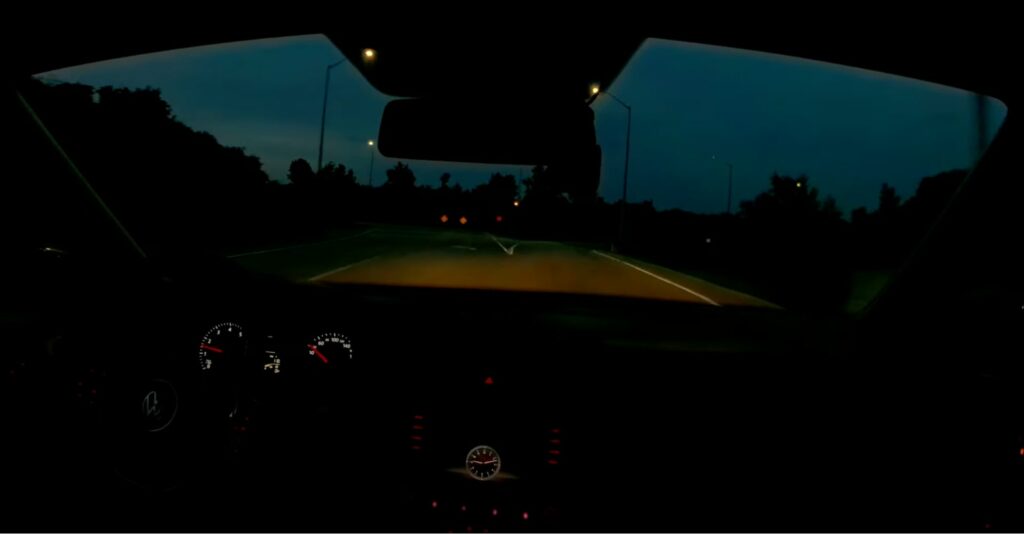 Address: Convair Drive East, Toronto, Etobicoke, ON, Canada
Convair Drive is a lesser known road leading to Pearson Airport. It's a great route because its low-key reputation means there won't be any cars to slow you down.
We love Convair Drive because of the many dips and turns it takes you on around the airport's property. The road makes you feel like you're in a movie, as you navigate a long pathway in between a brightly lit airport dock and nature.
Pro tip:
You can spot airplanes in the night sky taking off and landing around Convair Drive. You'll also pass by Renforth on this route which is also a good spot to watch planes come and go from the runway.
3. Yonge St.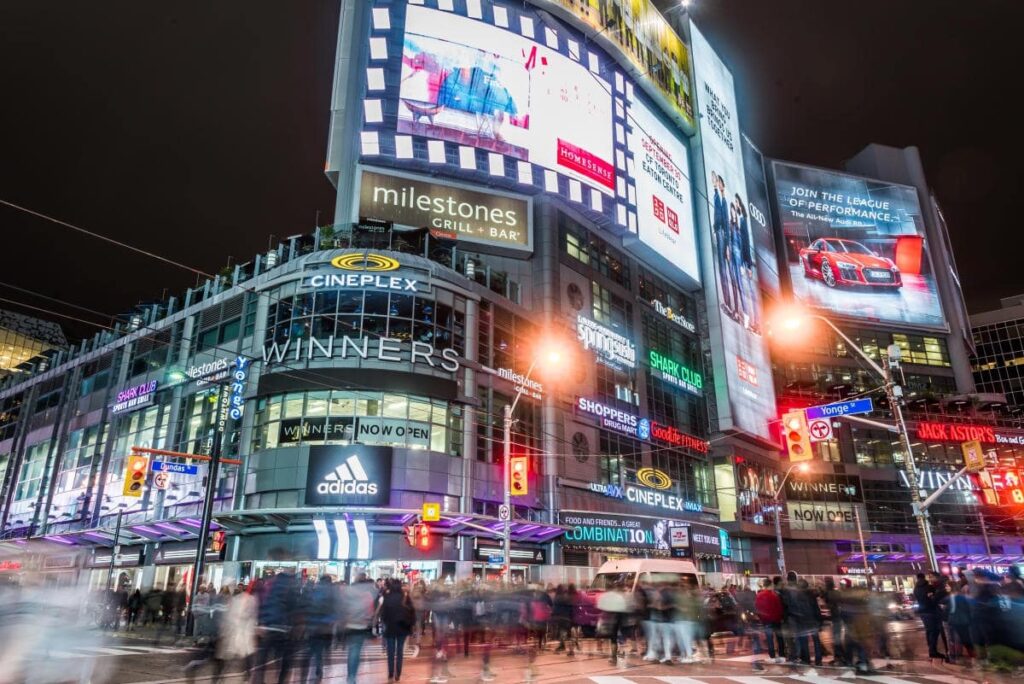 Address: Yonge St, Toronto, ON, Canada
A great place for a late-night drive not many people think of is along Yonge Street. It's one of the best areas to take in the bright city lights that define Toronto's nightlife and culture.
The drive may start off rather dim but the streets gradually get brighter the more you drive, which is all part of the experience. In fact, this is one of the most well-lit places for a night drive anywhere in Toronto!
Pro tip:
Once you make it near Yonge and Dundas, slow down so you can appreciate nearly hundreds of bright billboards everywhere.
4. Unwin Avenue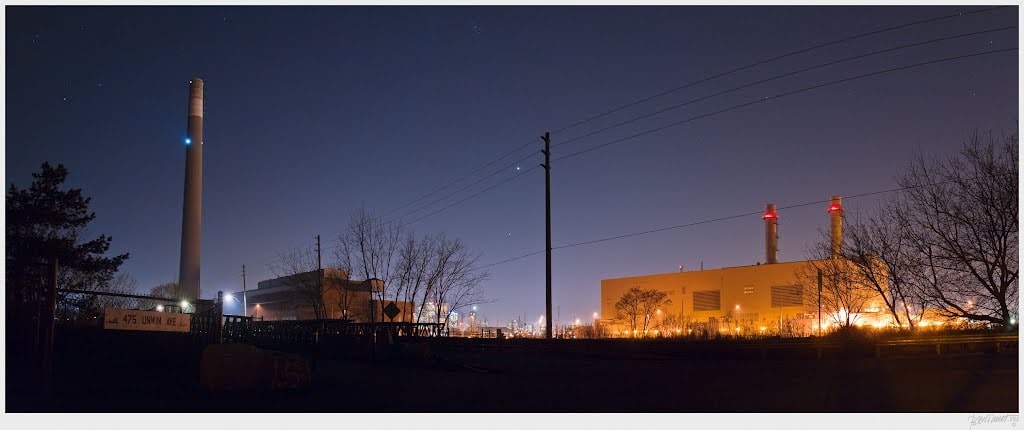 Address: Unwin Avenue, Toronto, ON, Canada
Unwin Avenue is another late night drive spot that flies under the radar. The avenue has lots of commercial buildings like the iconic Hearn Generating Station.
The main reason we love Unwin Avenue in particular is because it's situated along the waterfront. It's hard to beat the picturesque view you get when driving by the Hearn Station's blinking lights as it peacefully sits by the waterfront's shores.
Pro tip:
Unwin Avenue passes by Tommy Thompson Park, a bird sanctuary and wilderness zone. It's a great place to catch a glimpse of owls and nocturnal animals hanging around the trees at night.
5. Port Lands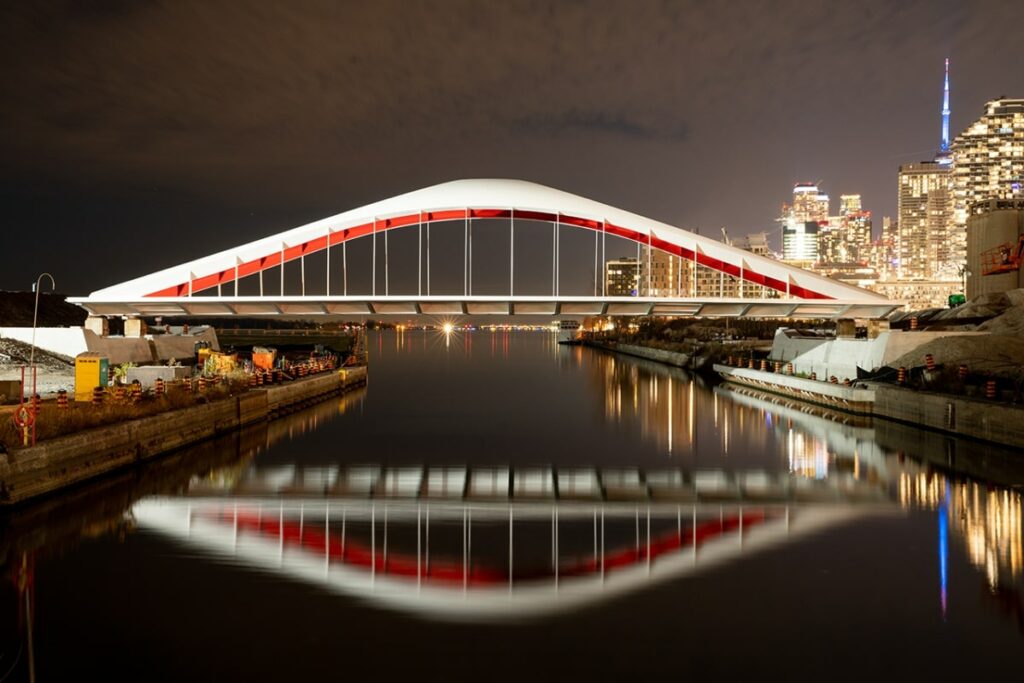 Address: Port Lands, Old Toronto, Toronto, ON, Canada
The Port Lands is one of the most well known scenic spots in the city. Once known as a shipping hub, the place is now being redeveloped into a vibrant neighbourhood with lots of green spaces.
Despite undergoing development, the spirit of the Port Lands can still be felt with the abundance of cargo ships, glimmering bridges, and old film studios. We suggest passing by Polson and Cherry Street for a good view of the harbourfront.
Pro tip:
Cruise by Pinewood Toronto Studios for some Hollywood magic. At night, the giant hangar-like film studio is brightly lit!
6. Lake Shore Boulevard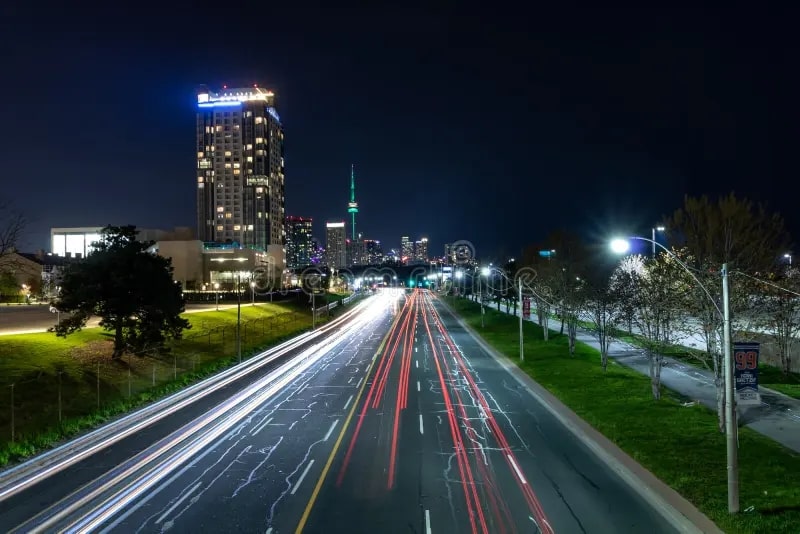 Address: Lake Shore Boulevard, Toronto, ON, Canada
Anyone who has driven along Lake Shore Boulevard will tell you about the lovely blend of rural and urban elements the area offers, which can still be enjoyed at night.
Located underneath Gardiner Expressway, the boulevard will take you from the bustling concrete jungle to the lovely waters beside the lake in a snap. It's a great place to observe the drastic change in scenery without too many cars on the road as well!
Pro tip:
Make sure to slow down and appreciate the view of the lake at night! Nothing in Toronto compares to the scenic view of the brightly lit lake as the water reflects the city lights.
7. Don Valley Parkway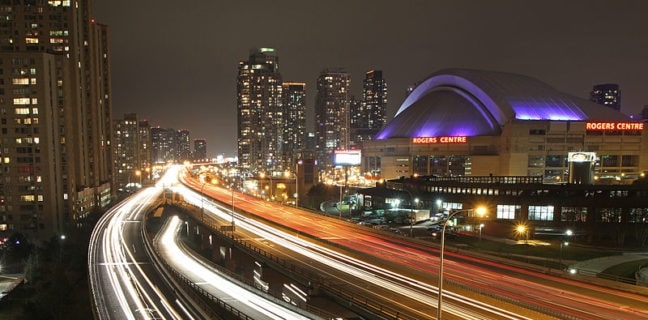 Address: Don Valley Parkway, Toronto, ON, Canada
When all the traffic is gone, Don Valley Parkway (DVP) is a peaceful expressway with captivating views of the city you've never seen before. It stretches 15 km from Gardiner to Downtown Toronto.
If you head south on DVP you'll see skyscrapers light up the sky and get a stunning view of the city before reaching Gardiner. Likewise you'll also pass by the Don Valley ravine system where you can get glimpses of nature.
Pro tip:
DVP is one of the best places to get a picturesque view of the CN Tower while it lights up the dark sky.
8. St. Andrews Road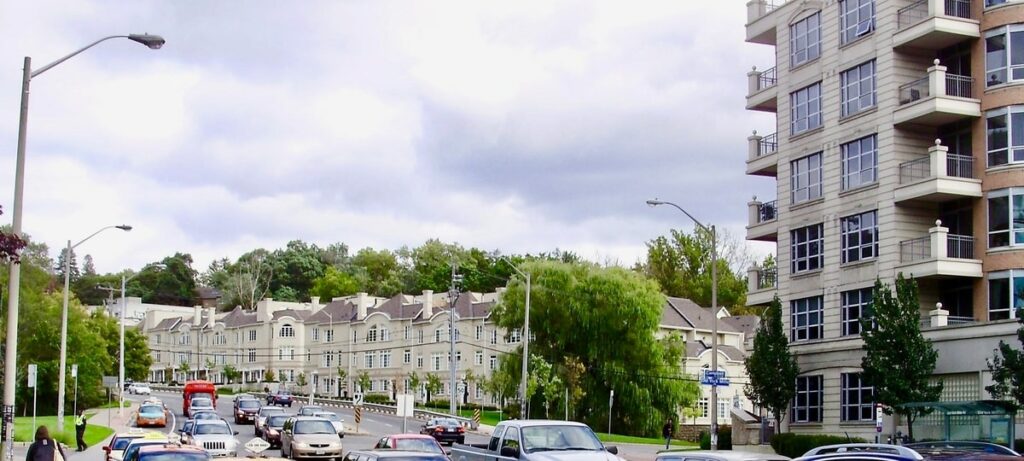 Address: Saint Andrews Road, Toronto, ON, Canada
St. Andrews road is the perfect street for a refreshing drive after a long day. Situated in the neighbourhood of St. Andrews-Windfields, you will see tonnes of upscale homes and buildings with interesting architectural styles like St. John Anglican Church.
The road is surrounded by green spaces like the Windfields Park and Dunlace Park. Although there's no crazy views of the city, it's difficult to ignore the uniquely designed buildings surrounding you while you drive through this road.
Pro tip:
If you get tired of driving, head over to Windfields Park and take a seat. The well-lit park is open 24 hours and always has benches to sit on.
9. Twyn Rivers Drive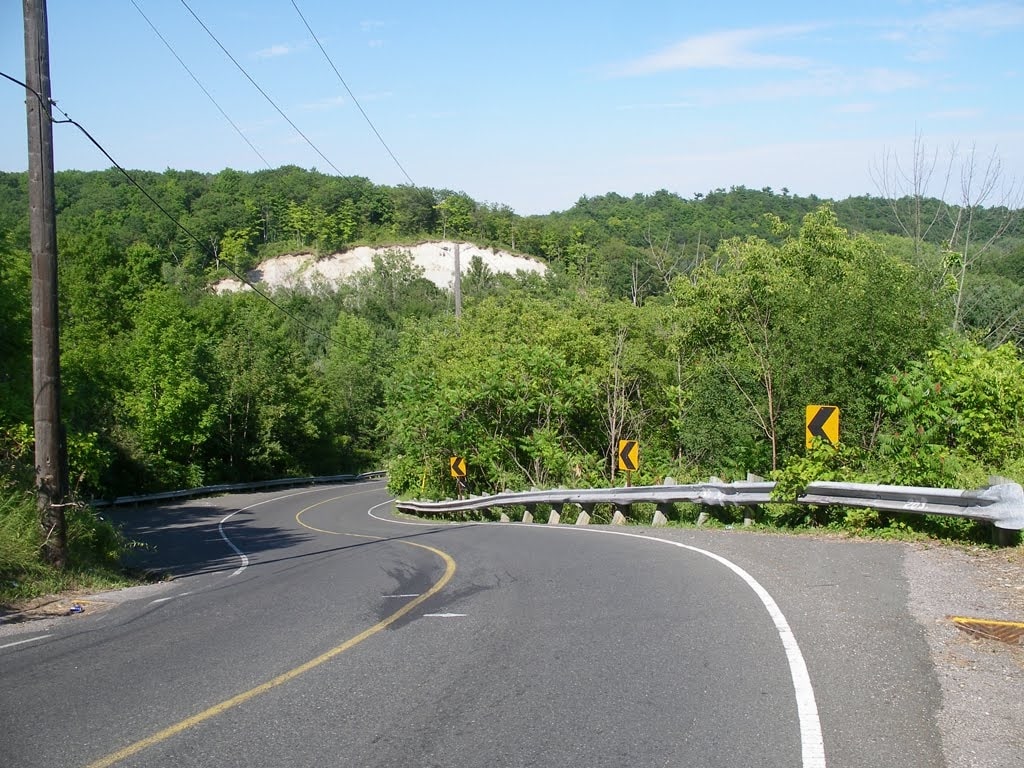 Address: Twyn Rivers Drive, Scarborough, ON, Canada
If you love nature and are looking for a quiet place to drive at night, consider going through Twyn Rivers Drive. Unlike other locations on this list, this road is surrounded almost entirely by nature!
Twyn Rivers Drive is admirable for its scenic views and extensive spaces where animals roam freely. The road connects to landmarks like Rouge Park and Rouge River Valley.
Pro tip:
Nothing beats driving here with the windows down and hearing the sounds of nature. Since the road is situated in the middle of Toronto's rural areas, appreciate the relaxing sounds of crickets and nature around you.
10. Zoom along Gardiner Expressway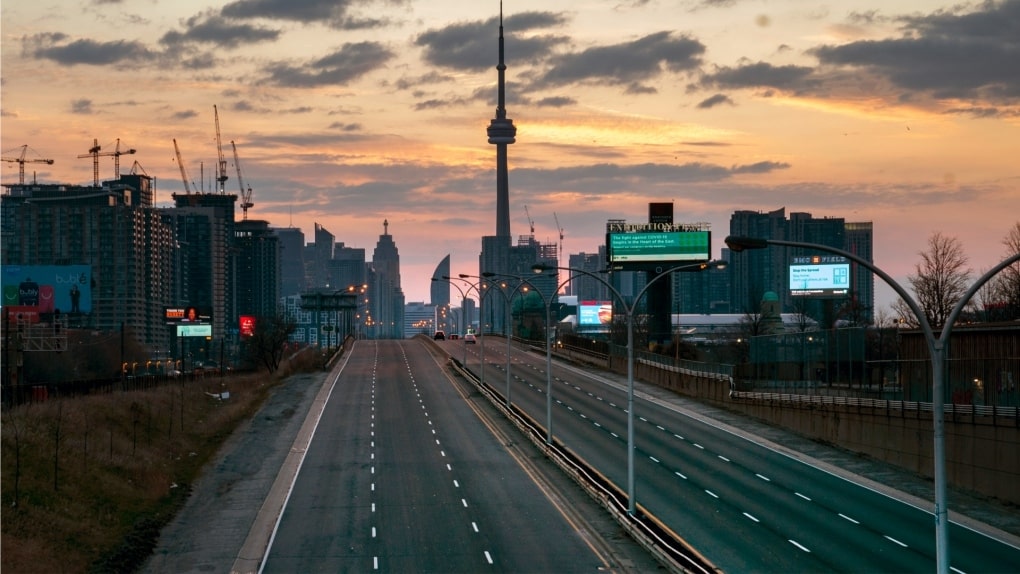 Address: Gardiner Expressway, Toronto, ON, Canada
Gardiner Expressway is our favorite place to drive in Toronto at night. The expressway stretches 11 miles, leaving you lots of time to take in the city's beauty as it gets closer.
It's our favorite place for a night drive because it's the only way to see the iconic landmarks that define Toronto in one go. You can catch the CN Tower, Rogers Center, and the Billy Bishop Airport in all their night time glory.
Pro tip:
Nothing beats seeing Harbourfront Centre from the expressway. At night, it's teeming with lights that reflect on the lake's waters.