The 7 Best Psychics in Toronto
Psychic readings are said to bring about positive elements into our lives, like inspiration and closure. Do you want those things to further your spiritual journey?
Well, you're in luck! The best psychics in Toronto are here to boost your emotional and mental health so you can face life with a positive outlook.
We've compiled a list of the finest psychics around so you can be sure that the person you consult is legit. Let's get to it.
How Much Does a Psychic Cost in Toronto?
It might interest you to know that, although rare, it's possible to find a psychic who just wants to offer their services for free. However, we advise you to be wary of their work should you come across one.
For a reasonably priced psychic reading, you can expect to pay anywhere between $1 to $5 per minute. In-person sessions may cost you more.
Because the "product" of a psychic is so subjective, higher rates don't always equate to a psychic's ability. It's always best to check out what past clients have to say about a psychic's services, which is why we've included reviews on this list.
The Best Psychics in Toronto
Now that you can't get bamboozled by common fortune peddlers, take a look at the highest-rated psychics around.
1. Psychic Toronto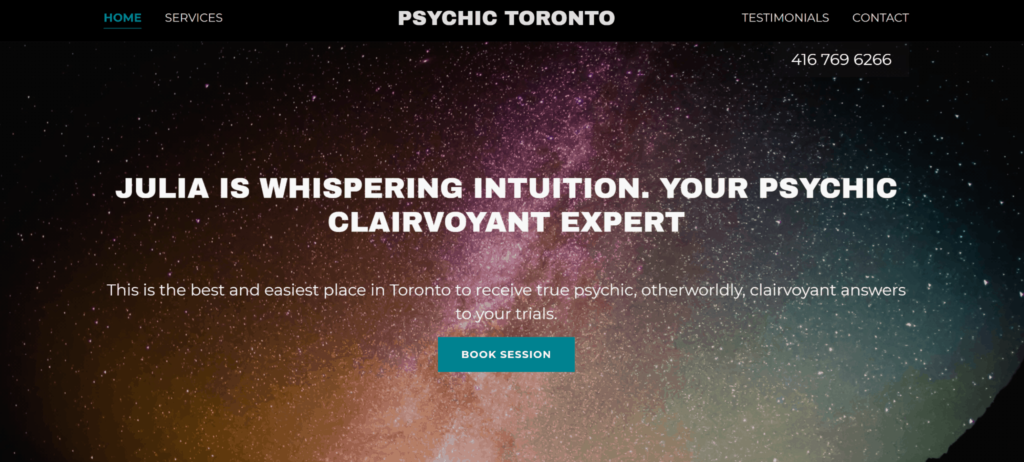 | | |
| --- | --- |
| SERVICES | Palm, tarot, crystal ball, picture readings, spiritual cleaning, chakra balancing, guardian angel readings, house blessings, love candles, protection oils, spiritual healing |
| WEBSITE | https://psychictoronto.ca/ |
| ADDRESS | 63 Keele St. Toronto, ON M6P 2J8 |
| CONTACT DETAILS | (647) 293-5719 |
| OPERATING HOURS | Monday to Sunday: 9:00am-5:00pm |
Julia has been practicing as a clairvoyant psychic for over 20 years. Her gift of clairvoyance has been passed down through three generations, so you know it runs deep.
We like that Julia's offerings are pretty well-rounded, from common services like palm reading to more specialized services like chakra balancing. In all cases, it looks like she takes an extremely personal approach.
Julia goes as far as to aid people through anxiety, depression, physical and mental abuse, breakups, and general confusion.
Much like a therapy session, she claims that her extrasensory perception can open negative energy channels and fill them with peace and clarity. So no, she doesn't just get rid of bad juju.
She can help you navigate your emotions as long as you're willing to be open to the process. That would be a pretty fair trade-off, if you ask us.
Holds online and phone sessions
Personable and accurate
Prominent figure in the psychic industry
Customer Reviews
Check out these glowing reviews for Julia and her services:
"Julia is remarkable. After FaceTiming with her on two occasions now, she has helped me immensely to understand that I am never alone. This is such a comfort to me on a daily basis. She is a true professional psychic and I consider her to be a friend because of everything she has done for me. I would truly recommend her to anyone wishing to gain hope, closure, and love from the other world."
– Ryan Delisle
"Connecting with Julia recently was a beautiful experience and has changed my life for the better. I felt that I needed to affirm my path on the next leg of my journey to enlightenment. The messages she conveyed were crystal clear and delivered with great care, understanding, and empathy. Much gratitude for our paths to have crossed at this time.
– Kevin Gates
2. Mina's Psychic Studio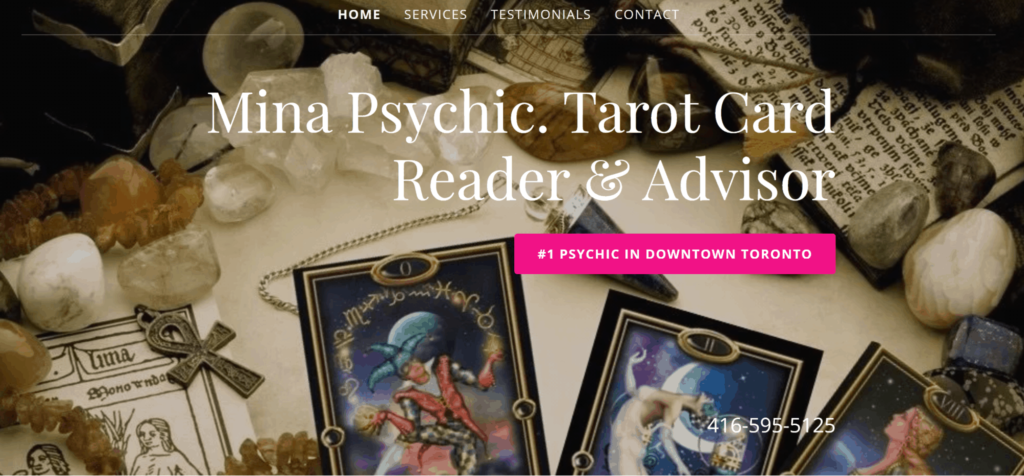 SERVICES
Spiritual healing, compatibility reading, tarot card reading, angel card reading
WEBSITE
https://minapsychicstudio.com/
ADDRESS
308 Adelaide St W, Toronto, ON M5V 1P6
CONTACT DETAILS
(416) 595-5125
OPERATING HOURS
Monday to Friday: 2:00pm-9:00pm
Saturday: 2:00pm-8:00pm
Mina has helped all sorts of clients with her psychic reading abilities for over 30 years. She's particularly known for her compatibility and angel reading skills.
Do you want to confirm if you and your partner are the right fit? By consulting Mina, you can assess your relationship and see if it's meant to last.
And this goes beyond putting in your names and birth dates in a compatibility calculator. She goes as far as to teach couples how to make their unions stronger and direct them towards a positive direction.
If you also believe in the angelic realm and would like to communicate with otherworldly beings, Mina can be your direct line. This might be your chance to reconnect with the ones that have gone from the earthly plane.
Lastly, if crystals are your thing, then you're in for a treat. Mina can project healing energy from crystals onto you during a 1-hour etheric healing session.
Transparent about rates
Reasonable rates
Studio has great atmosphere
Customer Reviews
Let's take a look at what Mina's past clients have to say about her services:
"This tarot card experience is a must when visiting psychic reader MIna. I had only been to a psychic once before and was still somewhat skeptical before entering. The atmosphere and Mina made me instantly feel comfortable. Mina instantly connected with me and provided a very accurate, thorough reading. The information she drew from me without any prior knowledge was shocking. I would highly recommend visiting Mina. This experience was truly amazing. Trust me, it's worth it!"
– Simi Rumina
"What an amazing experience! I first went for a tarot reading and Mina was so accurate. Her insight was very helpful and gave me direction on the issues happening in my life. I went back for a pyramid healing session, which was a wonderful experience. I feel more balanced and calm since then, which really helped me say goodbye to certain aspects of the past that prevented me from moving forward."
– Normand G.
3. Michaels Visions

SERVICES
Tarot & palm reading, angel card reading, life coaching, chakra balancing, guided meditation, soul therapy, crystal healing, past life healing, house blessings, psychometry, numerology, intuitive readings, spiritual guidance with archangels and ascended masters
WEBSITE
https://michaelsvisions.com/
ADDRESS
592 A Yonge St, Toronto ON M4Y 1Z3
CONTACT DETAILS
(416) 732-4543
OPERATING HOURS
Monday to Saturday: 10:00am-10:00pm
Sunday: by appointment
Michael is a well-known psychic reader throughout Canada, Europe, and the US. We think he deserves a spot on this list because he has two distinct offerings: Psychometry and Numerology.
Psychometry power, also known as token-object reading, is the ability to touch objects and sense their history and relevance. It's also a powerful tool for mediumship.
If you ever want to connect with someone who has already passed, you can bring Michael relevant objects to make the connection stronger. Psychometry is also used to determine if an object emits positive or negative energy.
Now, many people follow Numerology, which is why Michael is so in-demand. Numerology is the belief that numbers have a mystical connection to events.
Closely related to astrology and the divinatory arts, Numerology can help you uncover your hidden talents, holistic health, strengths and weaknesses, master cycles, and your life's purpose.
While some are skeptical about assigning meaning to charts and numbers, at its very core, Michael believes Numerology can reveal a map of yourself. That would be pretty handy if you're feeling a bit lost.
Does readings over the phone
Unique services
Reasonable rates
Doesn't offer video sessions
Customer Reviews
These two reviews from former clients confirm the authenticity of Michael's gifts:
"Michael truly has a gift, which is so rare to see in this city. He was able to connect with a very deep part of my calling, struggles, and gifts. He knew how to dig deep and offered genuine advice. Being in his presence made me feel comfortable and even emotional because I felt heard before speaking. I would definitely recommend him. He is wise with a very big heart. I feel clearer regarding my life's purpose and higher self."
– Kamalika Barua
"Michael is the real deal. The first session I had with him left me in happy tears. There is no denying his abilities. I have been going to him over the last 18 months and my life has been improving because of his insight. I feel blessed to have such a pure light shone on my journey and I urge anyone to experience the same. Prepare to be moved to your core."
– Marla Ruthless
4. Psychic Ralph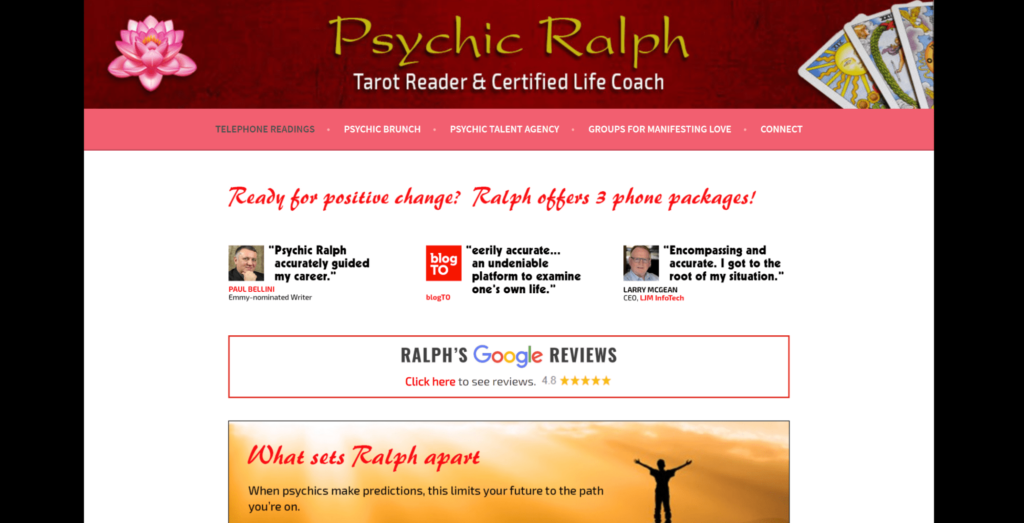 | | |
| --- | --- |
| SERVICES | Career path reading, relationship path reading, life path reading, tarot reading |
| WEBSITE | http://www.psychicralph.com/ |
| ADDRESS | 650 Parliament St. Toronto, ON M4X 1R3 |
| CONTACT DETAILS | Contact through site |
| OPERATING HOURS | Depends on booking |
If you're still on the fence about going to a psychic, then we suggest someone who welcomes a healthy amount of skepticism. Ralph is actually a professor and a certified life coach with extensive knowledge in Buddhism, Feng Shui, Astrology, and Tarot.
You're not going to hear about spells and curses from Ralph. However, he's still going to take a spiritual approach as he steers you towards the right life path.
We appreciate how forthright he is about his services. Unlike other Psychics, he avoids predictions because the solution to every problem starts with a better understanding of the here-and-now.
One of the things he does to help clients achieve such a feat is guide clients through the examination of their life and giving them notes on how to improve it. So far, numerous people have commended this method.
In fact, Emmy-Nominated writer Paul Bellini and CEO Larry Mcgean can vouch for the efficacy of his services.
If you prefer an experience that's more akin to counseling, then Ralph is someone who can easily identify your negative patterns and might even give you homework. He's definitely a good choice for first-timers.
Transparent about rates
Certified life coach
No pressure to make follow-up appointments
Does readings over the phone
Doesn't offer video sessions
Customer Reviews
Here's what two people had to say after consulting with Ralph:
"Ralph's reading felt very aligned with my current situation and where I'm heading. He also nailed the crossroad I'm at and gave valuable advice on how to navigate it. I like that he wasn't telling me what I wanted to hear but was focused on providing me with the messages that were coming through so I felt it was honest. I'll definitely read with him again!"
– Natasha Bolvin
"I recently had a reading with Ralph. His humor and attention to details made the reading fun and informative. His guidance was well met and relevant to my questions. I would recommend his work to those seeking answers."
– Laurie Anne Kaufmann
5. Tara Greene Tarot Astrology Consultant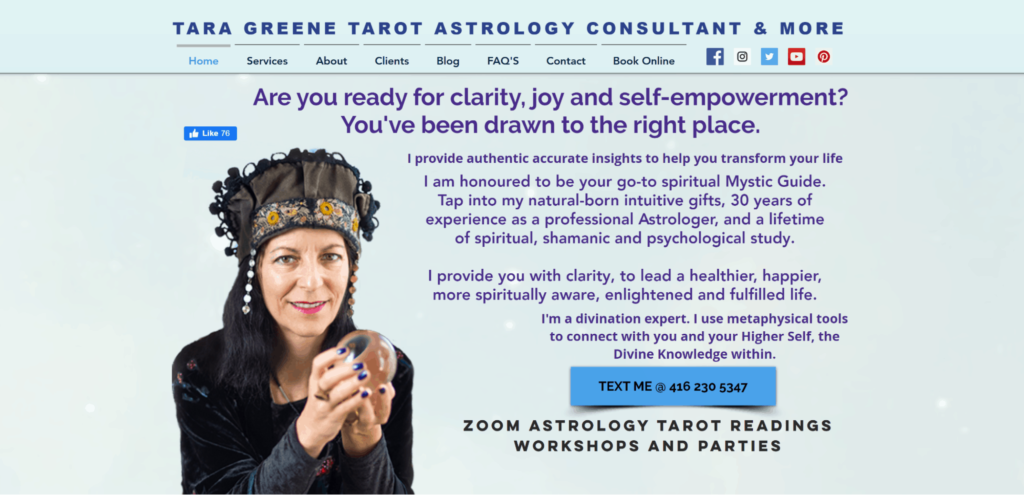 | | |
| --- | --- |
| SERVICES | Tarot, numerology, tea leaves reading, astrology, crystals, horoscopes |
| WEBSITE | https://www.taratarot.com/ |
| ADDRESS | 1792 Dundas St E, Toronto ON M4L 1M3 |
| CONTACT DETAILS | (416) 230-5347 |
| OPERATING HOURS | Monday to Saturday: 1:30pm-8:30pm |
If you're heavily into astrology and the mysticism of psychics, Tara might be a good fit for you because she identifies as an oracle with shamanistic gifts.
With 30 years of experience in her field, she's a favorite among those who believe in the signs of the universe.
From reading tea leaves to analyzing birth charts, Tara has techniques that date back to Ancient China and Babylonian times.
While some might think these are just party tricks, Tara's readings are excellent tools that help clients get their life in order. Some clients have cited Tara's help when identifying areas for self-growth.
Tara, with her wide array of tools, figures out the whats and whys and empowers clients so that they can fix things that need fixing in their lives.
Another area Tara can help address is relationships. With her readings, clients can figure out their purpose in life as well.
Plus, at the end of the day, it's nice to acknowledge that you have a place in the universe and that your birth has meaning. Tara can access all that information about yourself that you'd have a hard time uncovering on your own.
Professional astrologer
Trained transformational psychotherapist
Holds online and phone sessions
Holds workshops for groups
Gives out gift certificates
Lengthy credentials
Teaches and manages women's spirituality workshops and zoom workshops for over 30 years
Customer Reviews
Here are two glowing Google reviews left for Tara:
"As a professional Tarot reader with some knowledge of astrology myself, I am selective about who I go to for personal readings. Tara is my first choice and someone who I have annual readings with to support my wonderful life."
– Katrina Tarot
"My mom gifted me a reading with Tara for my birthday and it was insightful, relevant, and very helpful. Tara's approach was perfect. I can't wait to check in with her again in a few months. Highly recommended."
– Amber Walton-Amar
6. Angel Morgan Pet Psychic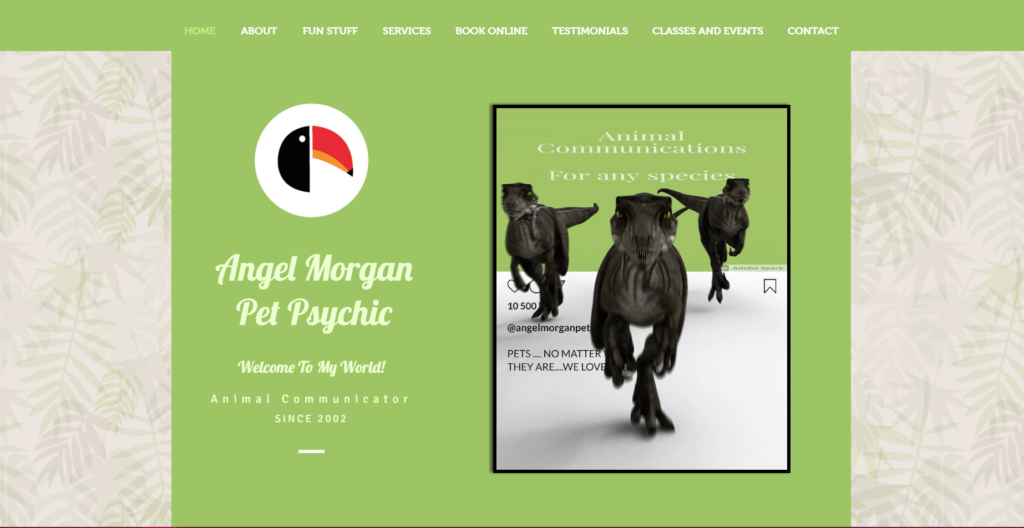 Communicating with your pets seems like an impossible idea, but you can do it with the help of Angel Morgan Pet Psychic. They offer a wide range of services that are suited for improving the relationship between owners and their animals.
Most clients hire them for their pet reading services and their home and facility animal readings. However, they can also heal animals' energies and help grieving people or pets.
Angel Morgan is their animal communicator, an expert who has many years of experience in animal communication. Given her natural ability to understand animals, she's capable of handling any case her clients may bring to her.
Under normal conditions, Angel Morgan can go to where the client is to lend her assistance. For now, however, she does her bookings mainly through Phone, Zoom, Skype, Messenger, Instagram, or Facetime.
Expert professional
Accurate readings
Responsive and considerate
Reasonable rates
Unavailable during weekends if not contacted in advance
7.   Psychic Janey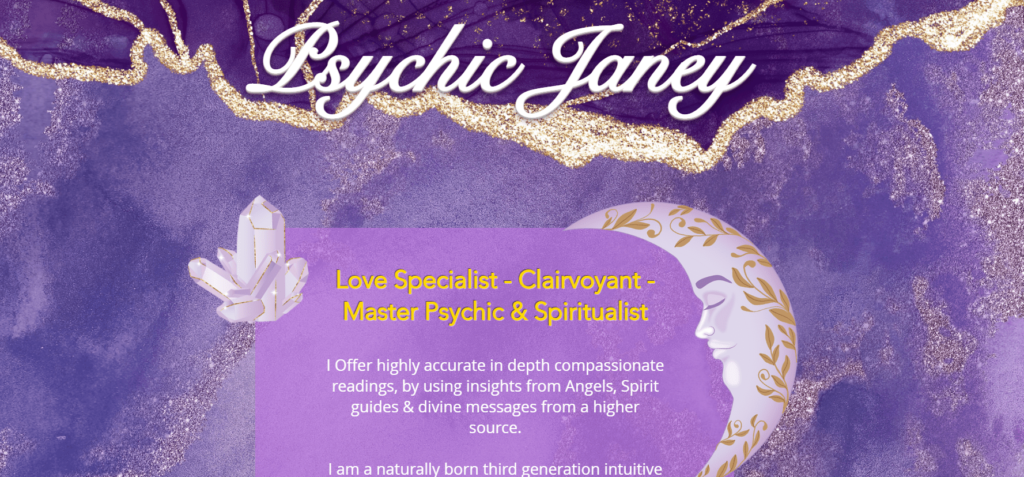 SERVICES
Tarot, Psychic, Palm, Aura, Chakra & Past Life Readings, Protection Salts & Sprays, Dream Catchers, Candles, Crystals Prayer Beads, Angels, Evil Eye Protection, Jewellery, Pendulums
WEBSITE
https://www.psychicjaney.com/
ADDRESS
1999 Avenue Rd, North York, M5M-4A5 (Avenue Rd. & Wilson)

807 Queen St. W. M6J-1G1 (Queen St. W & Bathurst)
CONTACT DETAILS
Tel: 647.970.2276


[email protected]

OPERATING HOURS
Mon-Sun: 9AM to 9:30PM
Are you stuck in a love dry spell or need protection from all things harmful? Look no further because we've got the right service here for you.
Psychic Janey is a love specialist, clairvoyant, master psychic, and spiritualist specializing in spiritual guidance using tarot.
She also does palm readings and aura healing, with her most popular service being psychic readings. With a background in angelic studies, she works with your spiritual guides and angels to guide you along the path to enlightenment.
What we love the most about Psychic Janey is how in touch she is with her spirit guides and her clientele. She's known to clear the anxieties of her customers while also offering them support throughout the consultation process. In fact, some of her customers would liken her to being a life coach.
Even though they have two locations in Toronto, it is best to book an appointment ahead of time because they can get quickly booked at times. But if you can't visit them physically, you can always give them a call for over-the-phone consultations.
When it comes to you being receptive to your emotions and their respective coping skills, she can help you make sense of situations.
Multiple specializations in one-stop
Detailed readings
Protection amulets are available in-store
Rates can be a little expensive
Customer Reviews
Here are two glowing Google reviews left for Janey:
"I have been to Janey many times Janey is a truly gifted individual, her readings are very clear, detailed and insightful. Her readings have helped me tremendously she is a true blessing to have met! her space is so beautiful and positively charged! Thank You!"
– Rosina Pasino
"Janey is wonderful! If you're looking for someone to guide you in the right direction in any area of your life, she is the person to go to! She will never steer you wrong and will always tell you like it is. She has helped me through different obstacles in life and I am forever grateful to her for it! Love you Janey thank you!"
– Christina Arruda
How to Make the Most Out of a Psychic Reading
Now that we've narrowed down your choices for whom to consult, let's get into how you can make your reading as impactful and worthwhile as it can be.
1. Make a list.
Before you go to a psychic, think about the areas of your life that you're most concerned about. Instead of coming up with things to talk about on the fly, it'll save you some time if you're armed with a list.
Sessions are charged by the minute or the hour, so you might as well get to the issues that need immediate addressing.
2. Be realistic about your expectations.
A psychic's reading is rarely ever going to be 100% spot-on. You're likely to change from moment to moment, and no one can really make your choices for you.
If you go in for a reading determined to test the psychic, you close yourself off to opportunities for self-improvement. Instead of trying to find proof of whether the psychic is legitimate or not, be present and get your money's worth.
3. Ask specific questions.
A psychic reading is supposed to be extremely personalized, so it's in your best interest to be clear about your agenda. Ask specific questions that apply to your issues.
However, we also advise you not to give away too much information because you might just hear your thoughts thrown back at you.
4. Be open-minded.
Half of the success of your reading depends on your willingness to be honest and receptive. Of course, the other half depends on the psychic's skills.
That said, you still have to reserve some skepticism going into a reading. You wouldn't want to be tricked into paying for coerced follow-up sessions.
FAQs about Psychics
---
We hope that stumbling upon this list turns out to be your first step back to enlightenment. The best psychics in Toronto aren't going to quell all your questions, but they can give guidance so you can answer them yourself.
And if your body is just as in need of a tune-up as your mind, check out where you can get the best physiotherapy in Toronto.