THE BEST FAST FOOD RESTAURANTS IN TORONTO
When hunger beckons or boredom strikes in the dining room, fast food is the way to go. Who can say no to a juicy sandwich and a platter of crispy fries on a Friday night?
This classic combination, of course, is but one of many choices in the vibrant fast food industry. The next time you're craving for a quick snack or meal, check out these five establishments.
How We Chose the Best Fast Food Restaurants in Toronto
How Much Does a Fast Food Meal Cost in Toronto?
Expect to pay anywhere between $9-19.99 for a typical sandwich or burger. Factors that affect the pricing of menu items include the ingredients used and the nutritional value.
1. Banh Mi Boys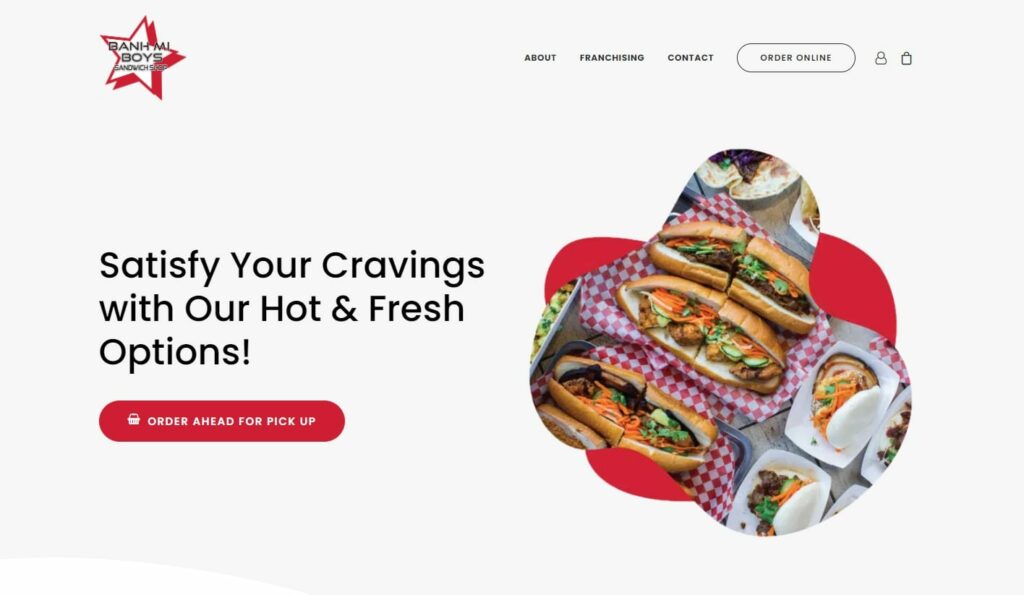 Test
Info
WEBSITE
https://banhmiboys.com/
ADDRESS
392 Queen Street W

399 Yonge Street

2365 Yonge Street

SOCIAL MEDIA
INSTAGRAM
CONTACT INFORMATION
Phone: 392 Queen Street W (416) 363-0588, 399 Yonge Street (416) 977-0303, 2365 Yonge Street (647) 345-3585
OPERATING HOURS
Mon-Fri: 11:00am – 10:00pm

Sat: 11:00am – 9:00pm

Sun: 12:00pm – 7:00pm
Banh Mi Boys started out as a fast food spot specialising in Vietnamese cuisine. When the restaurant was launched in 2011, it was a humble eatery run by three brothers at Queen Street West and Spading Avenue.
As the name suggests, banh mi—that is, cold cuts and vegetables served in short baguettes—was the highlight of the restaurant's menu. In the years since it opened, Banh Mi Boys introduced various types of tacos, including grilled chicken, squid, and lemongrass tofu. It also brought steamed bao buns, kimchi fries, and tofu kimchi fries into the mix.
In its first 12 years of existence, Banh Mi Boys has been featured in media outlets like Food Network, The Washington Post, and The Star. Aside from in-store dining, Banh Mi Boys accommodates online orders and even requests for catering.
Specialisation in banh mi
Great choice for takeout orders
Exceptionally quick service
Reports of untidy facilities
Taste is as good as ever
If you can believe it, Banh Mi Boys popped onto the TO food scene a decade ago. Their myriad of affordable offerings include banh mi, tacos, steamed bao and of course kimchi fries! It's been years and the taste is as good as ever.
Kimchi fries' served warm smothered under pulled pork, fresh kimchi, scallions, mayo. The huge box is huge as a perfect lunch fill-up or late night snack. Add jalapeño as I did if you like a bit of extra heat.
The Boys' banh mi is nothing to scoff at either: it's among the best in the city! 5 spice pork belly is the most popular. This time, I opted for grilled pork. Its lemongrass flavour melded perfectly with sweet pickled carrots, cilantro & spicy mayo in fresh baguette.
Mikey, Google Reviews
Delicious and unique sandwiches
Yummy! Delicious and unique sandwiches. It's a cool combination of the Asian and Western cuisine. The sandwich is served in a baguette with some veggies – tasty, fresh and perfect size.
The store is tiny so ordering to go is a good option.
The staff is nice!
Affordable prices
Donny, Google Reviews
2. Burger Factory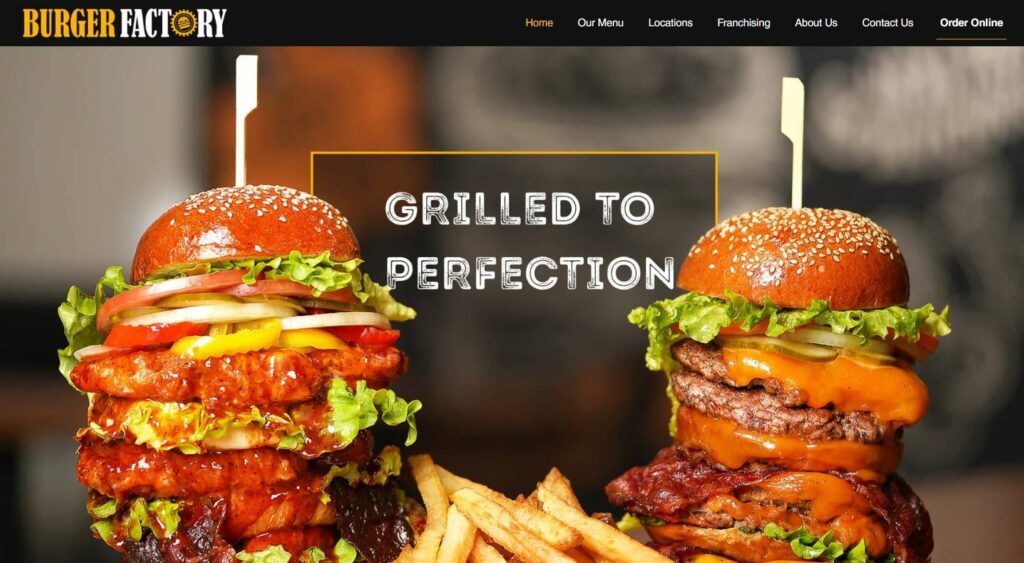 Test
Info
WEBSITE
https://burgerfactory.ca/
ADDRESS
437 Yonge Street
SOCIAL MEDIA
FACEBOOK
CONTACT INFORMATION
Phone: (647) 544-7318
OPERATING HOURS
Sun-Thu: 11:00am – 11:00pm

Fri-Sat: 11:00am – 1:00am
If you're looking for freshly crafted burgers, Burger Factory is the place to be.
This restaurant's signature line of burgers is called the Lucy series, which consists of sandwiches with fresh ingredients and cheese variations. Perhaps the most flavourful in this set is the Juicy Lucy on Fire, which packs a punch with its jalapenos and mozzarella.
For your sides, you can grab tornado fries, poutine, onion rings, or mac & cheese bites. If you have a sweet tooth that you need to satisfy, wash it all down with a strawberry, vanilla, or chocolate milkshake. As for dessert, Burger Factory offers Funnel cakes: deep-fried batter drizzled with sweet delights like ice cream, caramel, and Oreos.
Well-executed burgers
Topnotch fries
Multiple sweet treats
Reports of poorly rendered veggie burgers
Reports of subpar poutine
My go-to burger place
100/100. I tried their "Cheesey Lucy Burger Combo" and I just loved it. Remember this is coming from a guy who has lived in downtown for a year now and have tried every burger place in downtown. I ordered a side of hand cut fries with the delicious burger which were great too.
This is a new place so the ambiance is perfect. Neat and clean environment with exceptional customer service. I even remember the names of the staff members: Abdullah and Diksha. They were so friendly and welcoming. I have a feeling that this place is going to be my go to burger place.
Definitely Recommend.
P.S. This place is Halal as well.
Farhan Ali, Google Reviews
Wonderful experience
It was a wonderful experience to have a meal there … and the new Nashville Burger is awesome .. Suggested by the employee (Sumit)…He was very good at his work … knows very well and understands what customers asking for…
Everything was good .. Thanks Burger Factory
Jay Salunke, Google Reviews
3. Chaska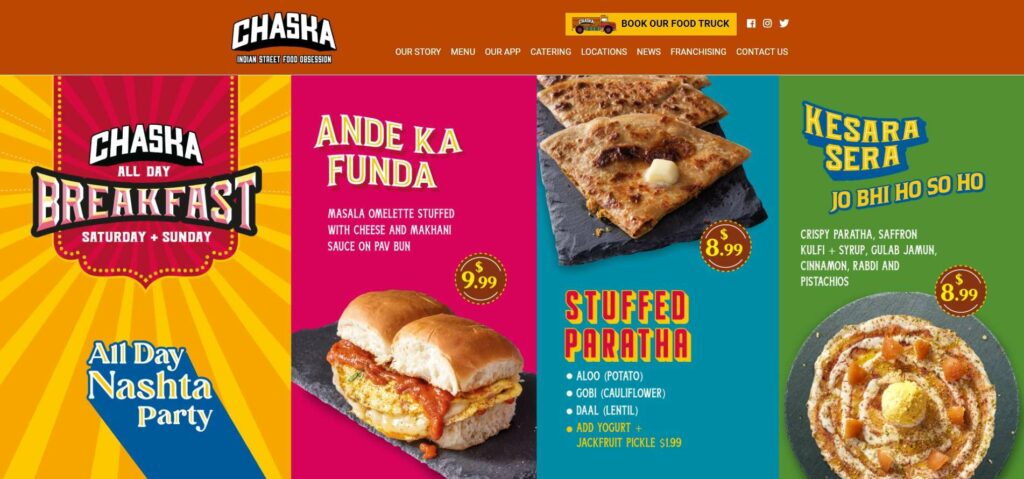 Test
Info
WEBSITE
https://chaska.com/
ADDRESS
218 Adelaide St. W

16 Richardson St. Unit 2

SOCIAL MEDIA
FACEBOOK
CONTACT INFORMATION
Phone: 218 Adelaide St. W (647) 475-1279, 16 Richardson St. Unit 2 (647) 475-1278
OPERATING HOURS
Mon-Sat: 11:00am – 9:00pm
At the core of Chaska are the exuberant colours of Indian cuisine.
For one, Chaska offers various types of Indian-style rolls, including lamb kathi, chicken naan, and fish kathi. The restaurant also serves rice bowls with an assortment of toppings, as well as sliders and salad bowls.
The Indian heritage of this restaurant comes from its owner Naveen Seth, who envisioned Chaska as a go-to spot for Indian fast food. Essentially, Seth hoped that Chaska would recreate the sights and sounds of the India he came to know in childhood. Thanks to dishes like samosas, chaat, and tava chicken, Chaska has become a leading name when it comes to Indian street style dishes.
Freshly served Indian delicacies
Quick service
Multiple locations in the GTA
Customers' dissatisfaction with pricing
Reports of limited options on weekdays
I am almost in heaven
Just 7 mins from my hotel room, this place screamed at me from Google Maps.
I ordered Bhel chat, Pav Bhaji and Rose Lassi. Let's say I am almost in heaven. The chaps working here are very welcoming. I had my doubts but glad they proved me wrong. Plus, their portions are perrrfect!!
Try it for yourself.
Vegetarian options: Lots of options
Sanj Sukerkar, Google Reviews
Worthy place to hang out with your friends and family
It was a great place to eat fusion Indian chat. It's right in the heart of Toronto. We tried their samosa sliders, pav bhaji and gulab jamun. All 3 were tasty especially the hot gulab jamun that too with a reasonable price. Worthy place to hangout with your friends and family when you take a trip to Toronto.
Smrithi Raghu, Google Reviews
4. Odd Burger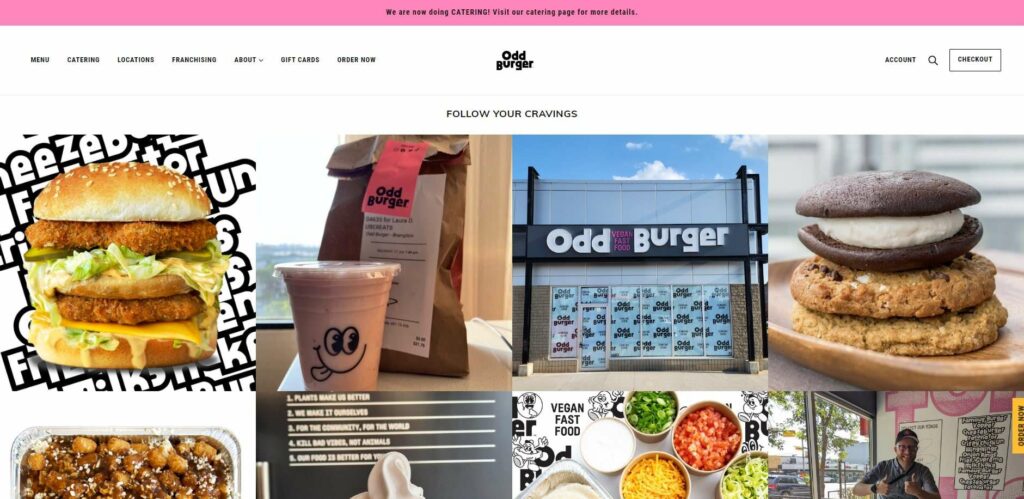 Test
Info
WEBSITE
https://oddburger.com/
ADDRESS
492 College Street
SOCIAL MEDIA
FACEBOOK
CONTACT INFORMATION
Phone: (416) 546-9849
OPERATING HOURS
Mon-Wed: 11:00am – 9:00pm

Thu-Fri: 11:00am – 11:00pm

Sat: 10:00am – 11:00pm

Sun: 10:00am – 9:00pm
Odd Burger opened in 2017 as the one and only vegan fast food restaurant in Canada. The brainchild of James and Lia McInnes, Odd Burger allows customers to enjoy their all-time fast food favourites with a vegetarian twist.
The Famous Burger, clearly, is intended to be a direct response to the Big Mac. Customers have sung the praises of the Famous Burger, and they have also left stellar reviews for sides like French fries and onion rings. In addition, Odd Burger offers guilt-free wraps, tacos, wings, and nuggets.
Breakfast items like hash browns and BLTs are available throughout Odd Burger's operating hours. And—as you would expect—there's a caesar salad on the menu as well.
Vegan equivalents for popular fast foods
All-day breakfast menu
Well-reviewed French fries and shakes
Reports of dryness in sandwiches
Reports of long wait times
Everything tasted really good
I came here with my friend for their grand opening event a few weeks back. It was probably one of my first full experiences trying plant-based food and I was really pleased with the taste of everything.
First off, their menu offerings are really impressive… not only is there a huge selection of foods (burgers, loaded fries, desserts, breakfast food, sammies), but each are also offered in a wide range of flavours too! This made decision making a bit difficult but my friend and I finally settled on getting 2 combos- the Vopper burger, and the chick'un cordon bleu. To go with it, we got the famous style fries and fries supreme, with the strawberry and orange creamsicle milkshakes.
Everything tasted really good. The burgers were tasty, the fries were extremely flavourful, and the milkshakes were sweet and refreshing. The price is a little on the higher end of the spectrum- understandably so when you're using a higher quality of healthy ingredients. Our 2 combos came out to just over $47.
Holly K., Yelp
Super nice experience
Staff was super kind and helpful, I went the opening day and it's good to see they are busy! I had the Famous Burger which resemble the BigMac. I would say it's more like a higher quality of BigMac. First time I eat a burger good as that since I went vegan 10 years ago so I am going back home in Montreal crying we don't have Odd Burger back there. Thanks guys for the super nice experience. Come to Ottawa please, we will drive there for you.
Joanie L., Yelp
5. Mad Radish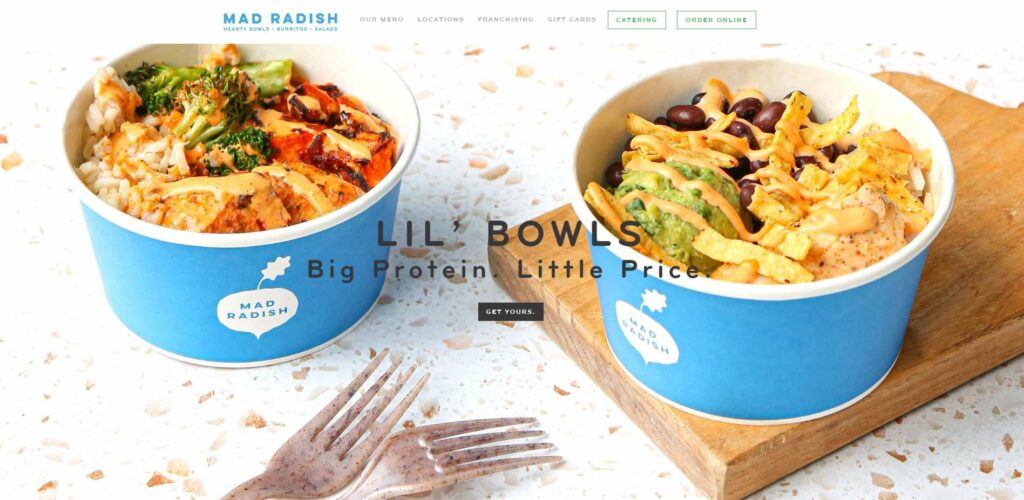 Mad Radish promises healthy offerings for those on the go. Though fast food is frequently associated with dietary hazards, Mad Radish defies expectations by coming up with a plethora of healthy options.
A good number of this restaurant's offerings consist of high-calibre ingredients mixed in a bowl. One popular variation is the Piri-Piri Bowl, which is comprised of spicy chicken, brown rice, sweet potato, corn nuts, and slaw. The Thai Curry salad, Bibimbowl, and crispy taco salad are must-tries as well.
Still looking for that classic fast food lair? Grab one of Mad Radish's burritos, such as the guacamole-laced Smoking Gun or the crunchy Fish 'N' Chips. Alternatively, you can go for the Tofu Banh Mi—a sandwich that's loaded with multiple layers of nutrition.
Filling, nutritious meals
Customization option
Well-reviewed customer service
Customers' issues with portion sizes
Reports of poorly seasoned dishes
So much flavour
Have been here twice already and both times had the Piri Piri vegan bowl. Usually eating healthy/vegan means getting bland food, but not with this dish! So much flavour with all of the different ingredients and the portion size is filling. I was blown away the first time, and was worried it wouldn't be as good the second time, but it was just as awesome. Staff have been friendly too, will definitely be back.
ryan traps, Google Reviews
One of my favourite spots in the city
Honestly this has unexpectedly turned into one of my favourite spots in the city to order from. Food is so fresh and flavourful, tofu is always fabulous, sauces on point too. Love love love mad radish 🙏🏼
Vegetarian options: So so so many.
Dietary restrictions: EXTENSIVE vegan options. Tofu is SO GOOD
Maggie Tammik, Google Reviews