The Top 5 Business Consulting Firms in Toronto
Every business has its own ups and downs. Be it for finances, strategies, team management, or any other concern, consulting with a third party or expert can be one's best bet.
If you're curious about how business consulting firms in Toronto operate or you're looking for someone to give you guidance and good advice, then this review is for you.
The Top Business Consulting Firms in Toronto
To ensure that the following firms in our selection are worth it, we evaluated them according to the following:
How much do business consulting services cost in Toronto?
Consulting is often regarded as expensive and some business owners can be hesitant to get them. Take a look at these prices so you have an idea of how much you're likely to spend on a consultant.
We placed the best average rates possible, but we would still recommend for you to take a look at each of the company's prices for more specific costs and packages.
| Consultant experience | Average Cost |
| --- | --- |
| Brand new consultant | $50 - $75 per hour |
| Experienced (over 20 years) | $100 - $200 |
1. McKinsey & Company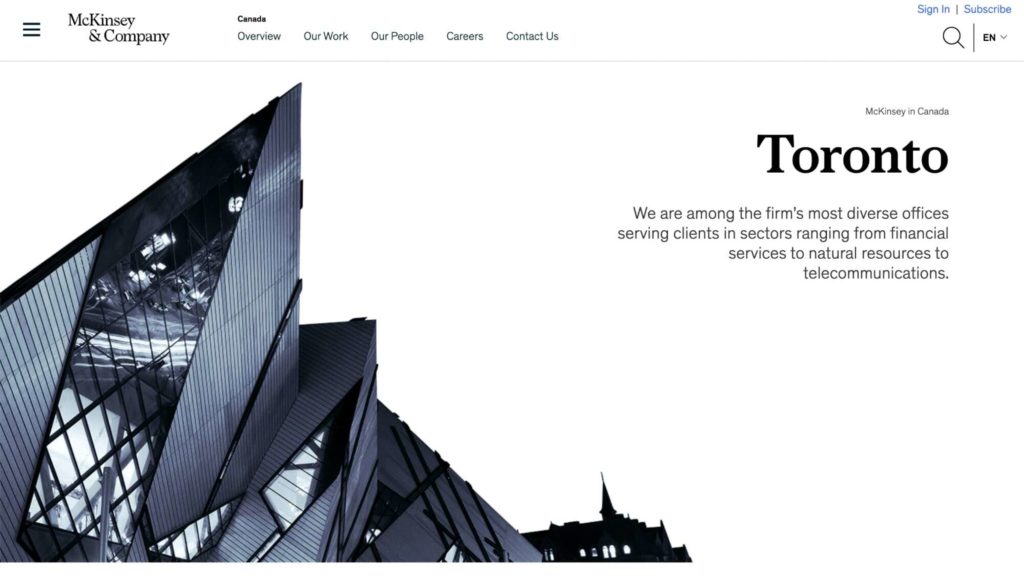 | Test | Info |
| --- | --- |
| INDUSTRIES | Aerospace & Defense, Consumer Packaged Goods Education, Electric Power & Natural Gas, Financial Services, Metals & Mining, Oil & Gas, Paper & Forest Products, Private Equity & Principal Investors, Public & Social Sector Retail, Technology, Media & Telecommunications |
| WEBSITE | https://www.mckinsey.com/ca/toronto |
| CONTACT DETAILS | +1-416-313-3700 |
| OFFICE ADDRESS | 110 Charles St W, Toronto, Ontario |
| | |
| --- | --- |
| EXPERIENCE | ★★★★★ |
| SERVICES | ★★★★★ |
| PERFORMANCE | ★★★★☆ |
| PRICES | ★★★★☆ |
Being in the business for more than 50 years, McKinsey & Company has grown to be one of the most prestigious and most trusted business consulting firms around the world.
Its Toronto branch is said to live up to the company's reputation given that many of McKinsey's good leaders started working here. They have also been extending their services to the Toronto community through extensive board memberships, volunteer engagement teams, and pro bono work.
In terms of their services, McKinsey & Company focuses on two main aspects: digital and analytics. We honestly think that this is a smart strategy as these two are driving factors for a business, especially in this day and age.
The industries they cater to are also quite impressive, as their list ranges from technology to paper and forest products. Not many companies have diverse experts and knowledge to actually pursue various industries.
A few comments online claim that working for them can get extremely tiring given the culture, so we believe that it is important to address this. While providing services for clients is of utmost importance, taking care of a team should also be prioritized as performance would go down if they aren't treated well.
Service-wise, they take on a lot of business functions as well. They even provide services and give advice regarding sustainability, which can sometimes be forgotten by other companies out there.
We do note that given its prestige, McKinsey & Company can be more expensive compared to others in the industry. However, we still see them as arguably the gold standard in terms of management consulting.
Apart from their Toronto office, the company also has 3 other Canadian branches: Calgary, Montréal, and Vancouver. They have a total of more than 130 offices worldwide.
More than 50 years experience
One of the largest, most prestigious, and most trusted around the world
Wide range of services
Diverse selection of industries
Can be costly
Can do better in terms of work-life balance for employees (according to 1 employee review)
Customer Reviews
The best consulting firm in the world
Describe the project or task the provider helped with: They helped us a lot especially designing the business model off our new segment of making the polymers and plastics from waste.
What do you like best?
They have a clear plan about each and every process that has to be done perfect factual data also the approaches are very advance in respect to the technologies used and the approaches are way ahead of time. — Manager/Operations in Oil & Energy, via g2.com
Innovative
Describe the project or task the provider helped with: They helped me during my project for a real estate development.
What do you like best?
Professionalism, expertise and honesty. They are ready to work on any challenge and deliver it on time. — Guruprasad V, via g2.com
2. Deloitte Consulting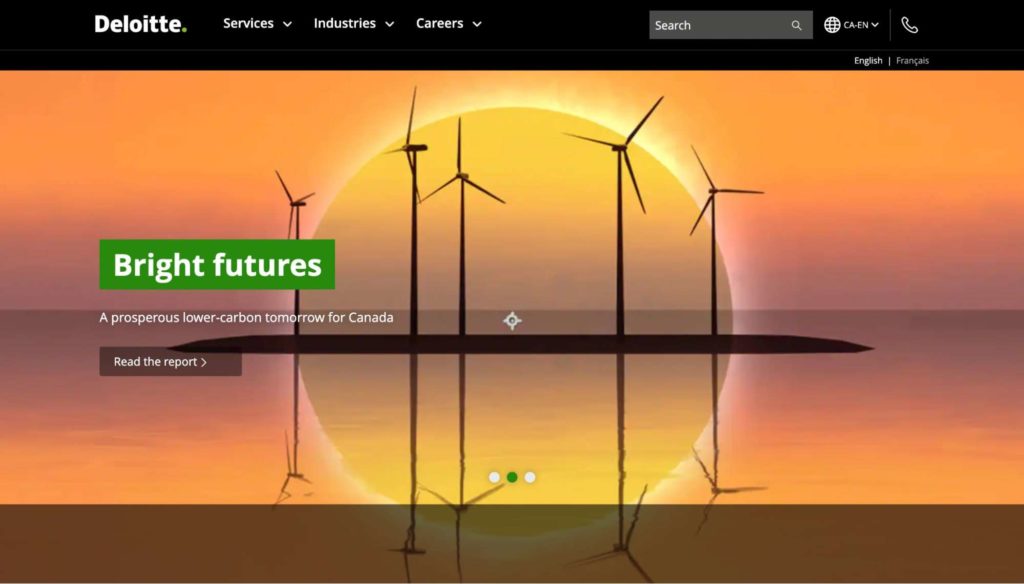 | Test | Info |
| --- | --- |
| INDUSTRIES | Consumer, Energy, Resources & Industrials, Financial Services, Government & Public Services, Technology, Media And Communications |
| WEBSITE | http://www.deloitte.ca/ |
| CONTACT DETAILS | 1-416-601-6150 |
| OFFICE ADDRESS | Bay Adelaide East, 8 Adelaide Street West, Suite 200, Toronto, Ontario |
| | |
| --- | --- |
| EXPERIENCE | ★★★★★ |
| SERVICES | ★★★★☆ |
| PERFORMANCE | ★★★★☆ |
| PRICES | ★★★★☆ |
Deloitte is a global network of firms that gathers multiple professionals to render services relating to audit, consulting, financial advisory, risk management, tax, and more. Their Canada branch performs audit & assurance, consulting, financial advisory, risk advisory, tax and related services.
The firm caters to both public and private companies and to various industries. They take pride in having more than 900 partners and 11,036 professionals.
Experience-wise, Deloitte was established more than a hundred and fifty years ago. This is a testament to how much work they have done over the years and all the lessons they have learned.
Their record is pretty convincing, with plenty of services performed from usual consulting down to legal and even analytics. Recently, they also placed 10th in LinkedIn's top companies list.
What we appreciate about their website is that they also added a portion where they provide insights on issues that matter. This makes a good plus point as it means that they keep tabs on corporate news and other business in Canada, which can be a reflection of how much they research and study.
Of course, Deloitte isn't perfect. Very few testimonies online claim to have experienced faulty auditing services from them, with calculations messed up.
Their prices are also relatively high, but reviews say that you often get what you pay for.
All in all, Deloitte still remains as one of the most reliable and most established consulting firms. Their years of experience guarantees good service and fruitful transactions.
More than 150 years experience
Award-winning
More than 900 partners
11,036 professionals 
Has a few bad records in terms of auditing services 
Can do more in terms of consistent check-ins and organizations of meetings (according to a review)
Customer Reviews
Professional and courteous staff
Great place, professional and courteous staff — Assimilator Sandhu, via Google
Awesome company with best ethics
Describe the project or task the provider helped with: EDiscovery consulting service, analytics and reporting consulting
What do you like best?
Awesome team with great skill, always give best out of best to give the gold output with great work culture with positive attitudes and always helping nature, best company for any financial process — Analyst/Journalist in Computer Software, via g2.com
3. Accenture Canada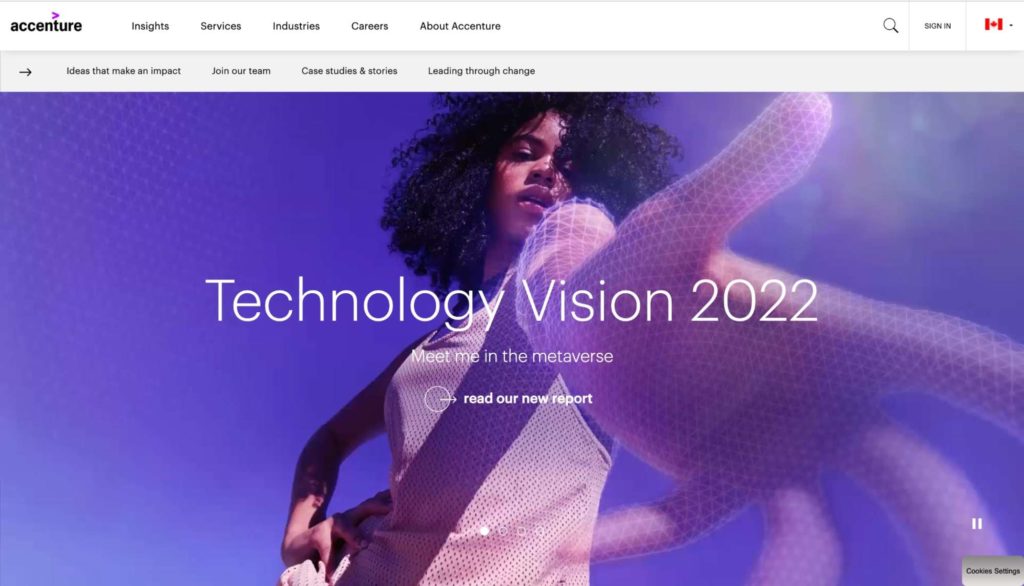 | Test | Info |
| --- | --- |
| INDUSTRIES | Aerospace and Defense, Automotive Banking, Capital Markets, Chemicals, Communications and Media, Consumer Goods and Services, Energy, Health, High Tec, Industrial Insurance, Life Sciences, Natural Resources, Public Service, Retail, Software and Platforms, Travel, Utilities |
| WEBSITE | https://www.accenture.com/ca |
| CONTACT DETAILS | +1-416-641-5000 |
| OFFICE ADDRESS | Scotia Plaza Tower, 40 King Street West, Suite #3000, Toronto, Ontario |
| | |
| --- | --- |
| EXPERIENCE | ★★★★★ |
| SERVICES | ★★★★☆ |
| PERFORMANCE | ★★★★☆ |
| PRICES | ★★★★☆ |
Accenture is one the leading information technology companies globally. They are usually among the top lists of companies in every country given their service and good employee compensation.
On the consulting side, Accenture Canada assists clients through various services such as business strategy, financial consulting, technology consulting, supply chain management, and even sustainability.
They do not only focus on becoming a place for customer service but they establish relationships with their clients, which is really impressive. However, a few previous customers claim that Accenture can be too much at times.
Given their desire to deliver a powerful service, they often suggest systems and strategies that clients don't actually ask for. People also say they sometimes go over budget and timeline, which we believe should be addressed and refrained from moving forward.
On the bright side, their end-to-endless customer service really proves to be effective. Many testify that Accenture has helped them in their many needs and that the company is always responsive.
We believe that in terms of consulting, building trust and healthy communication is vital. This company's focus on that, accompanied with accurate data and analytics makes them a trusted place for consulting services.
What we see most convincing about Accenture Canada is how it can be a place for more than consulting. It can assist businesses not only in terms of growing and thriving, but also in analyzing and studying their data, establishing their principles, and even in marketing.
A leading information technology company globally
Caters to an average of 20 industries
Trusted by many around the world 
Can be too pushy (according to a review)
Sometimes goes over budget and timeline (according to a few reviews)
Customer Reviews
Best consulting company with digital capabilities
Describe the project or task the provider helped with: Accenture has a unique set of digital capabilities embedded in its Consulting work. One of the few Consulting companies that have end-to-end capabilities.
What do you like best?
Team quality, excellent communication and resources seniority. — Ana Carolina B, via g2.com
Excellent customer service
Good people, serene environment, excellent customer service and adequate security. — Onyewuchi, via Google
4. PwC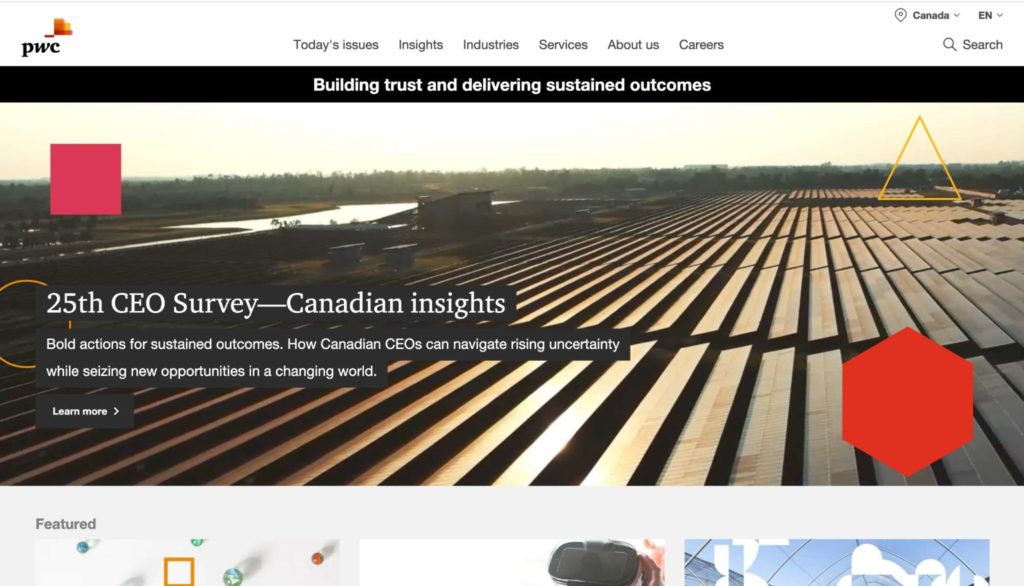 | Test | Info |
| --- | --- |
| INDUSTRIES | Asset management, Automotive Banking & capital markets, Cannabis, Consumer markets, Energy, Engineering and construction, Entertainment and media, Financial services, Government and Public Services, Healthcare, Industrial manufacturing, Insurance, Mining, Power & utilities, Private equity, Real estate, Technology sector, Telecommunications innovation, Transportation and logistics |
| WEBSITE | https://www.pwc.com/ca/ |
| CONTACT DETAILS | +1-416-863-1133 |
| OFFICE ADDRESS | 18 York St #2600, Toronto, Ontario |
| | |
| --- | --- |
| EXPERIENCE | ★★★★★ |
| SERVICES | ★★★★☆ |
| PERFORMANCE | ★★★★☆ |
| PRICES | ★★★★☆ |
Taking pride in its 110-year history of helping Canadian businesses, pwc or PricewaterhouseCoopers is known for delivering future proof cloud strategy that enables companies to have better operational models. More than 7,300 partners and staff are distributed around their offices in Canada.
Future proof cloud strategies are infrastructures that address network, security, and storage services of a business. Many businesses use this and pwc is among the leading professional services who are regarded as experts in the matter.
PwC ensures that their services are industry-focused. They even cater to industries such as cannabis, mining, energy, and telecommunications innovation, reflecting their versatility and expertise.
Most of their services revolve around audit and assurance, tax, deals and consulting. They are known to be good at coming up with solutions for cybersecurity, privacy, financial crime, workforce of the future, finance transformation, value creation, strategic reassessment and cost optimization.
What we can see this company lagging on is how they respond to customers and how they update their systems. A few have experienced delayed responses from their representatives and some say they still lack experience in a few fields, which can be really alarming.
Other than those mentioned, there isn't much to dislike about PwC. This company has been around for a while and their offices around 155 countries are living proof of their expertise.
110-year history
Future proof cloud strategy
Diverse set of catered industries 
Delayed responses
Lacks experience in provisioning and deprovisioning the netsuite system through fastpath (according to a review)
Customer Reviews
Very reasonable prices
Amazing service and very reasonable prices. Very happy with my machine it never ran this good till I brought it here. — Martin, via Google
One of the best partners!
Describe the project or task the provider helped with: We've had PwC for multiple projects in past and they have been one of the best partners we've worked with. They understnd business problems in best way possible and bring in some of the best talent with them to work with. They ensure cost optimization, lean TATs and overall delivery.
What do you like best?
Understanding of business objectives, overall cost optimization, timely delivery. Though being the experts, all their team is very down to earth and ensure inside out understanding of work with the team they work with. — Raj V, via g2.com
5. Satori Consulting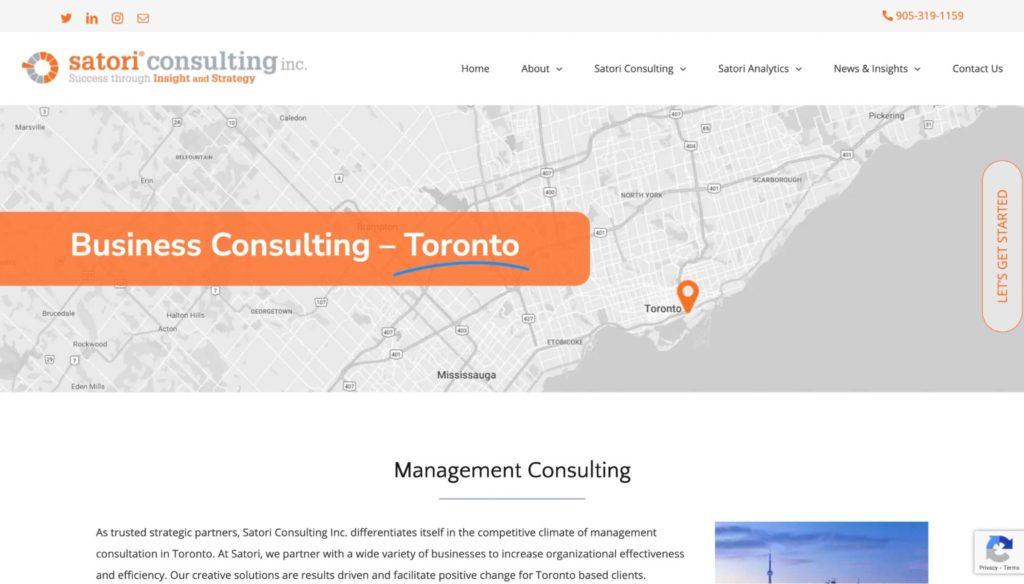 | Test | Info |
| --- | --- |
| INDUSTRIES | Banking, Insurance, Non-profit, Logistics, And Pharmacy |
| WEBSITE | https://www.satoriconsultinginc.ca |
| CONTACT DETAILS | +1 647-931-7353 |
| OFFICE ADDRESS | 1 Yonge St #202A, Toronto, Ontario |
| | |
| --- | --- |
| EXPERIENCE | ★★★★☆ |
| SERVICES | ★★★★☆ |
| PERFORMANCE | ★★★★☆ |
| PRICES | ★★★★☆ |
Satori Consulting is one of the leading Canadian owned management consulting firms. It services 11 areas in Canada and was established in 2004.
What we like most about this company is how it sets itself as a friendly-service that does not only provide business advice to its clients. Their partnership philosophy promises to deliver bespoke solutions to bring change and solve problems.
They also partner with organizations of all sizes, which is a good plus point in terms of inclusivity. We also note that most of their previous customers claim to have experienced excellent service from them.
This company particularly focuses on nourishing businesses by harnessing the best practices in analytics, strategic planning, governance, organizational effectiveness, executive coaching, talent acquisition and leadership development.
Honestly, the only negative thing we can say about Satori Consulting is that their services are for general management and not much industry-focused. This can be a disadvantage as companies which speak to specific markets often look for consultants who are experts in their industries.
On the other hand, Satori Consulting's experience is usually with banking, insurance, non-profit, logistics, and pharmacy companies. They have helped strategize and develop companies like this for more than a century and we are hopeful that they can do more as they go.
Good working relationship with clients
Friendly-service
One of the leading Canadian management consulting firms
No financial consulting services
Lacks/no expertise in other industries
Customer Reviews
They build real relationships
So many consulting businesses vying for attention and time…what makes Satori stand out?
It's simple. Relationships. When you partner with Sandi and her team they build real relationships. They are genuinely invested in the success of your company and your membership. They go beyond simply providing your company insight from your data, they dovetail your company strategies to accomplish goals offering tangible advice on how to get there. Truly experts in many facets of business, we have engaged them on a number components of our business including our Board and Tactical plans, Everything DISC and data analytics. It is so easy to connect everything since they already understand the big picture and time is not wasted by explaining to various companies what we need help with and explaining our story multiple times. They are just as passionate about our success as we happen to be. — Cat Hereber, via Google
We really enjoyed our session
Sandi did a great job supporting our team through the OGSM model – we ended up with a clear plan and sense of direction for the year. In a follow up session we were able to roll the plan down into goals for each senior leader and then have further refined that into team goals. Sandi is an engaging facilitator who uses tools and her experience to push you into achieving what you need. She's also a lot of fun and we really enjoyed our session. — Helen Long, via Google
FAQs about business consulting firms in Toronto
---
We hope that this review helped you learn about consulting firms and where you can find the best ones in Toronto. Leave your comments below and let us know if you have other trusted consulting firms in the area!
If you're specifically concerned with handling your personal and professional finances, check out this financial planning guide we have prepared.