A Review of the 8 Best Handyman Services in Toronto
Need a good all-around handyman? Fortunately, you won't have to look any further because we have the best handyman services right here!
Each of these companies was carefully selected for convenience and first-rate workmanship. We'll also talk about the range of services they offer plus availability and fair charges.
The Cost of Hiring a Handyman in Toronto
Let's look over the potential costs of handyman services first.
The first thing you must consider is the size of the job and the hourly rate of the handyman.
A small job takes about 1 to 2 hours to finish and costs about $100 to $200. Medium jobs take 2 to 4 hours to complete and will cost around $200 to $400.
Large jobs can take anywhere from 4 hours up to a few days. For this, you need to prepare at least $400 for the project.
In general, the cost of hiring a handyman in Toronto is $75 to $125 per hour. But there's usually a minimum fee of at least $50 depending on the skills and expertise of the handyman.
Some handymen may give you a flat rate or charge depending on the type of service. Take a look at the table below to see the estimated costs for certain handyman services:
| | |
| --- | --- |
| Service | Estimated Cost |
| TV wall mount installation | $125 – $190 |
| Hall light installation | $85 |
| Repairing cracked drywall | $125 – $275 |
| Garbage disposal installation | $125 – $275 |
| Toilet bowl installation | $196 |
| Ceiling fan installation (normal height) | $131 |
| Drywall ceiling water damage repair | $200 – $500 |
| Changing of toiler valve | $98 |
| Caulking interior trim | $125 – $350 |
| Kitchen sink installation | $327 |
| Bathroom faucet installation | $118 |
The Best Handyman Service in Toronto
Whether it's general repairs or common household maintenance, these teams of handymen can come to the rescue. See what we think of them and find out they satisfy your own standards.
1. Fix-It Friend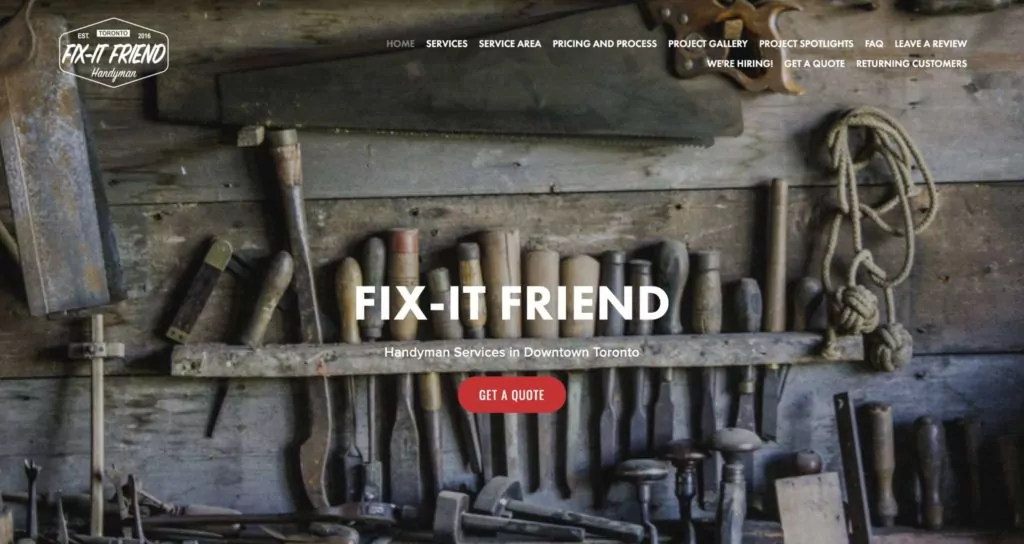 | | |
| --- | --- |
| SERVICES | Commercial and residential handyman services |
| WEBSITE | https://fix-it-friend.com/ |
| ADDRESS | 208 Gerrard St E, Toronto, ON M5A 2E6, Canada |
| CONTACT DETAILS | +1 416-910-2003 |
| OPERATING HOURS | Monday – Friday: 9:00 AM – 5:00 PM |
In a nutshell, Fix-It Friend undercuts the competition with its seamless communication, fair pricing, and incredible workmanship.
For starters, they cater to all types of services, both big and small, simple and complex. They can do everything from simple towel bar installation to furniture assemblies and drywall repair.
The first thing that made a lasting impression on us was how effortless it was to communicate with them. The booking process was seamless plus the handyman keeps you updated via email, call, or text.
Of course, we can't talk about handyman services without leaving a word on their workmanship. And if you don't want to take our word for it, we'll let hundreds of satisfied customers do the talking.
As a telling example, one client shared that the handyman met challenges during a wall mount installation since her property was already old. But lo and behold, the handyman worked his way around the issues and didn't charge more for the extra time it took.
Speaking of projects, if they make a mistake, they'll come back and fix it for free. Obviously, they only warranty their work and materials so if you did additional work on your own, it's not covered anymore.
Finally, we love the pricing, which many clients agreed was favorable. However, you'll still need to request to receive a quote which is a downside for us because it breaks the convenience – though we do get why they do it, as jobs are highly variable.
Fortunately, they also work from High Park/Roncesvalles and as far north as Eglinton. We'll let that make up for their few drawbacks for now, at least.
$2 million of general liability insurance
Offers property management solutions for regular maintenance
Easy process of requesting a quote
Seamless communication and update via phone, call, or text
Quotes are honored
Warranty on their work and materials
Favorable pricing according to past clients
Services many areas
Rates are only available upon request
Closed on weekends
No live person to call for general queries, you must send a request form first
Customer Reviews
Stunning and secure installation
Jeremy mounted an incredibly heavy mirror for my home that I wasn't confident in hanging myself. I needed someone I could trust and he more than delivered. His service was fast, professional, and it looked exactly how I wanted. The mirror placement is stunning and more importantly secure. He did an amazing job and I appreciated his expertise, kindness, and humour throughout the process. I'd highly recommend Fix-it Friend! – Luke Lopez
Excellent communication and transparent pricing
If you are looking for a handyman service in downtown Toronto, look no further than Fix-It Friend. They offer amazing customer service with excellent communication and fair and transparent pricing. Working with Jeremy and his team was a wonderful experience from beginning to end: he delivered high-quality solutions for various projects both inside and outside of my Cabbagetown home. Jeremy is extremely skilled and knowledgeable as well as courteous and reliable. I highly recommend Fix-It Friend and won't hesitate to call them again for future home repairs and projects. – Daniel Sojat
2. Mr. Handyman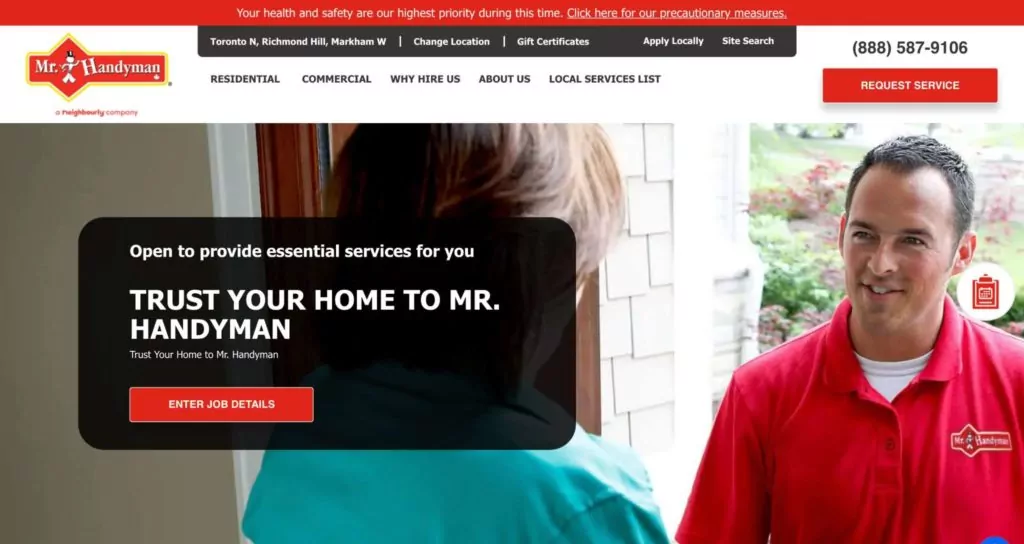 SERVICES
Repairs, assemblies, carpentry, drywall and walls, installations, maintenance, windows
WEBSITE
https://www.mrhandyman.ca/
ADDRESS
9640 Bayview Ave. Unit 4, Richmond Hill, ON L4C 9P7
CONTACT DETAILS
+1 416-800-8763
OPERATING HOURS
Monday – Friday: 8:00 AM – 5:00 PM
Sunday: 9:00 AM – 5:00 PM
Mr. Handyman has all the services you can expect from experienced craftsmen. They can assemble furniture, install mounts and cabinets, and even baby-proof your home!
One of the things we liked about them is their industry-specific handyman service.
For example, if you own a restaurant and you need a door installation, they'll know how to properly install one that follows building regulations for commercial establishments.
Another thing worth talking about is their punctuality, which many past customers also praised. From what we've heard, they're always on time.
In case you'll need extra materials, you can pay them a fee to source the items themselves or look for one on your own. Honestly, we recommend that you do the former, especially if you have zero construction knowledge.
The company also has a "Done Right Guarantee", meaning if there's a problem with the service, they'll come back to fix it. On top of that, they also have various franchise offices in 25 areas in Toronto.
Many clients also shared that their prices were reasonable. However, as with the others, you have to request a quote first to be sure and compare.
On the bright side, they're open every Sunday, which is a nice time to accommodate handyman services. You can have a short family time and return to an improved home after the project.
Offers special promos for certain service discounts
Wide range of commercial and residential handyman services
Industry-specific handyman services
Offers safety and mobility home modifications for your aging family members
Ability to choose whether to source additional on your own or let them do the work for an extra fee
Offers a "Done Right Guarantee"
Has 25 offices in Toronto and surrounding areas
Reasonable rates according to past customers
Open on Sundays
Rates are only available upon request
Customer Reviews
Spectacular handyman services
This is the third time I have used Mr. Handyman. Every time the service has been spectacular. Everyone I have dealt with at Mr. Handyman has been personable & knowledgeable. I will most certainly use Mr. Handyman again for future projects. – Angelo Koliopolos
Affordable price
Mr. Handyman and his team is really great and amazing. I gave them few Jobs for our home likes drywall repair, caulking, painting, Bath renovation, door repair, deck repair, fence repair and they did wonderful job within a few hours. One of their technician Ardit always helped me by providing wonderful information. He is a highly skilled person ever I seen. Price was also affordable. I appreciate their professionalism. I will definitely use them again and want to recommend them to everyone. – James Haynes
3. The HandyForce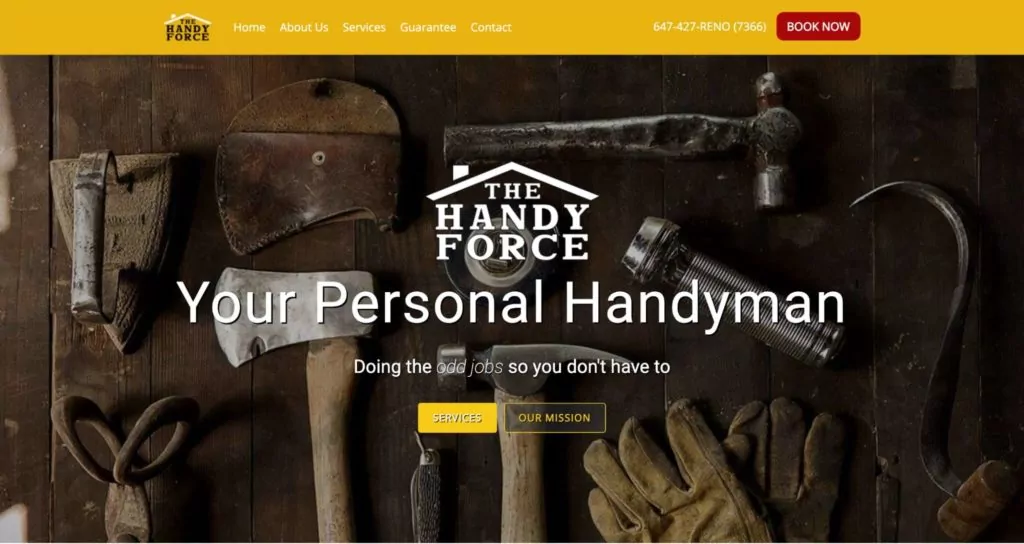 | | |
| --- | --- |
| SERVICES | Handyman services, home care plans, home renovations |
| WEBSITE | http://thehandyforce.com/ |
| ADDRESS | 1352 Woodbine Ave, East York, ON M4C 4G1, Canada |
| CONTACT DETAILS | +1 647-427-7366 |
| OPERATING HOURS | Monday – Friday: 9:00 AM – 5:00 PM |
The HandyForce can take on any handyman job, from changing your faucets to assembling your backyard shed. They also offer a complete home care plan, which is perfect for home maintenance.
Depending on the size of the job, they'll let you choose between hiring one handyman or a team of handymen. Afterward, they'll ask you if you'll need them for four or eight hours.
We like this simple, no-hassle process because it ensures that it gets the job done in the time that you set. Plus, you'll get a fair price that falls within the average in Toronto.
A four-hour job and an eight-hour job will cost you $350 + HST and $525 + HST respectively. And once the job is done, you're eligible for a One-Year No Hassle Guarantee.
What we liked best about this guarantee is that it's one of the longest warranty periods we've encountered. Moreover, you can be sure that they're rectifying the mistakes at no extra charge.
Speaking of charges, we favor the fact that this company honors their quotes. They won't force you to pay any extra if it's not stated in your initial quote.
We'll also recommend its home care plan, which we reckon is one of your best options for home maintenance. A full year of work only costs $2,800 + HST and you'll already get complete cleaning in Summer, Spring, Winter, and Fall.
Option to choose one handyman or a team of handymen
Can settle between a four-hour or eight-hour job
Upfront costs that fall within Toronto's average
One-Year No-Hassle Guarantee
Comprehensive home care plan
Limited service area (East York and North York only)
Closed on weekends
Customer Reviews
Great attention to detail
I can't speak highly enough about the work done for us at our home by Ying. He was professional, did outstanding work and showed great attention to detail in all the of repairs he completed. Michael was very patient with me as we worked to arrange a convenient date/time for the work to be done, and showed up at the end of the day to ensure we were happy with the work that had been done. He even followed up with several emails afterwards to send information about some other possible ideas we had discussed for future projects. Michael also helped with getting some small roof repairs done for us that other roofing companies would not take on. I would happily recommend The HandyForce for professional, reasonably priced repairs/odd jobs you need taken care of around your home. – Cheryl Fullerton
Honest, upfront, and provides realistic time frames
Handyforce has done a number of jobs for us and we are happy with their service. They are a pleasure to work with; very honest and up front. They provide realistic time frames. James has great time management skills and customer relations. – Wanda Lougheed
4. Mike the Downtown Handyman
Mike the Downtown Handyman is the type of guy who gets the job done with grit and great skills. In fact, while looking through his project history, we found many repeat customers who now consider him their go-to handyman!
The first thing we liked about him were his upfront and reasonable charges. For small tasks, he'll charge $100 for the first hour and only $50 for the following hours.
For large jobs that may require another handyman, each worker costs $70 per hour, for a minimum of three hours. Simply put, it meets the average in the city so you'll know he's not ripping you off for anything.
Communicating with Mike is an absolute dream for lovers of convenience like us. After filling out their contact form, Mike will reach out to you in just a matter of minutes, or a couple of hours during busy days.
We didn't like how their website doesn't have a systematic booking system, but it's all good since they're responsive. Plus, they're prompt and work fast, potentially saving you any extra costs for extra hours.
If we can only highlight one project of his, it's the wall-mount installation for flatscreen TVs. The end result is super-clean with zero wires in sight, making the TV seem to only float on air.
Unfortunately, Mike doesn't seem to offer guarantees for his work and materials, which is a big drawback. Though the good news is, based on the many satisfied customers in his list, he always gets it right the first time.
Affordable hourly rates
Favorable costs of large jobs even with an extra worker
Prompt response via email
Fast services as per past customers
Especially good at TV wall mount installations and paint
Open 12 hours daily
No online booking system
Doesn't offer guarantees on labor and materials
Hard to contact especially during busy seasons
Customer Reviews
Incredibly professional and thorough
I've used Mike (and the lovely Sue) multiple times for various projects including, painting my entire apartment, wall papering my son's room, assembling furniture and hanging many many items in my home. The work is always incredibly professional and thorough. There is nothing that won't get done. As a single mom, having a service like this on hand has been lifesaving. And the very reasonable price never hurts either. I'd highly recommend Mike and crew. It's an absolute pleasure having them around. The nicest people who can tackle anything you need! – RD
Flexible pricing options and reasonable quotes
Words cannot describe the attention to detail and diligence of Michael. Working with our small grass-roots company, Michael finds flexible pricing options for us ~ the quotes are always reasonable and the work is always amazing! Versatile and friendly!!! – Eytan Tobin
5. Odd Job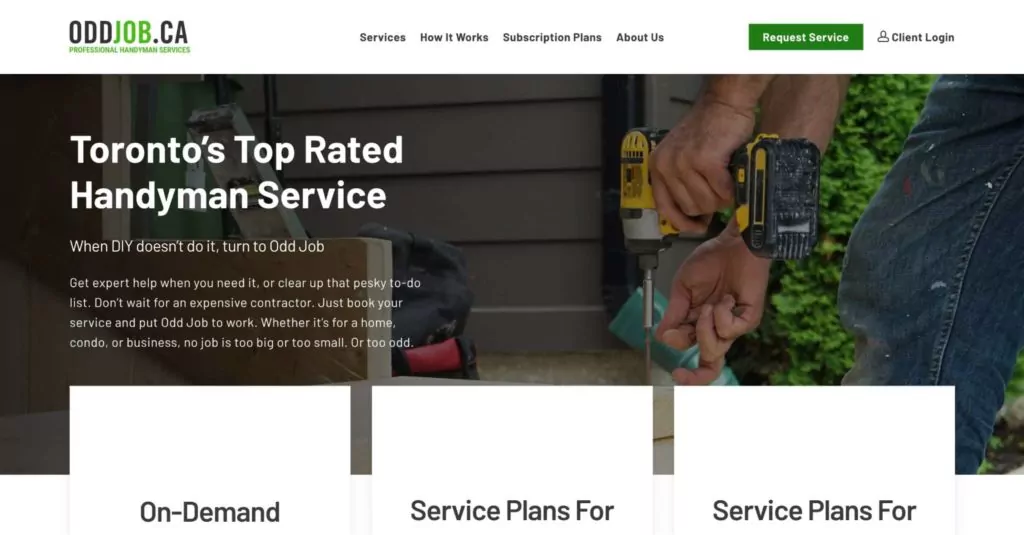 | | |
| --- | --- |
| SERVICES | General handyman services, drywall and painting, plumbing, carpentry, tile, outdoor |
| WEBSITE | https://oddjob.ca/ |
| ADDRESS | 46 Noble St #107, Toronto, ON M6K 2C9, Canada |
| CONTACT DETAILS | +1 416-520-1161 |
| OPERATING HOURS | Monday – Friday: 9:00 AM – 5:00 PM |
Just like their catchphrase, there's nothing odd about choosing Odd Job. And this is especially true when they offer insanely affordable rates, guarantees, maintenance packages, and top-tier workmanship.
Let's discuss their rates first, which we love because theirs are the most affordable we've come across. Their prices are based on the experience level of the handyman and types of projects.
Hiring a junior handyman will cost you $55 per hour, while a general technician will cost you $80 per hour. A senior handyman will cost you $95 dollars per hour, which is still $5 less than Toronto's average.
They can also give you estimates based on the time and materials needed for repairs. For replacement and installation projects, they'll offer a flat rate based on project size.
Another thing worth noting is their guarantee, which takes the spot for the longest warranty period in our book. They have a two-year guarantee for their work that goes beyond the typical three months to a year period.
By the way, they provide their own materials for the project they'll work on. But we do recommend buying fixtures on your own if you already know what you want.
Alternatively, if you don't have the time to purchase materials, you can ask them to do the sourcing for you. Just make sure that you provide enough details to specify what you like.
$5 million in general liability insurance
One of the most affordable rates in Toronto
Offers flat-rate pricing on certain projects
Two-year guarantee on their services
Provide their materials or source them based on your preferences
Comprehensive home improvement and maintenance plans
Closed on weekends
Reaching out to a customer service representative is hard
Customer Reviews
Clear estimates with analytical details
My kitchen sink fell off from the top casing and I searched and used this company for the first time. The website was clear and easy to use with downloading photos of the problem, and their response was within the hour. Estimate was done very clearly with analytical details and I only need to wait a few days for the availability. Communications was really good and the team arrived promptly and the work was done efficiently with great care. The clear up was good and the manners were great. Rate is the going rate for call out work and reasonable. I would highly recommend them. – PL
Excellent services and spectacular results
We've used Odd Job for a few small projects around our home. Their service is excellent, their people professional, and the results are always great! Our last project was to prepare our home for the arrival of our newborn. We trusted the professionals at Odd job to help secure items around the home and hang various items! As always, the results were spectacular and we'll continue to use Odd Job going forward! I'd highly recommend Odd Job for any home improvement projects your considering. – Thomas Robertson
6. Handld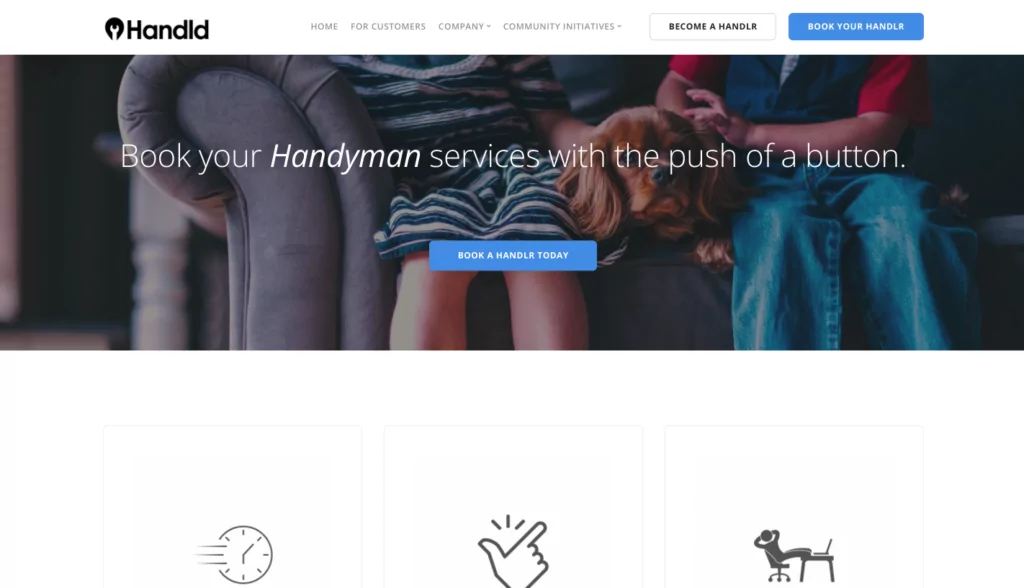 This next entry is a little bit different from the others on our list but rightfully earns its spot. Handld, simply put, is a user-friendly application that connects handymen to clients.
What makes Handld one of our top choices is how quick and easy it is to sign up and start searching for a "Handlr" to help you with your project. Only a few pieces of information are needed from you and booking only takes a minute to complete.
While the entire process is smooth and automated, what we like best is that you can speak to a "real" person at any point. Customer service representatives are on standby ready to answer any of your questions.
Since experienced professionals are onboard Handld's online community, you can expect to find somebody for any project you post. Each Handlr is insured and will arrive at your location with all of the necessary tools and equipment to complete the job.
Whether you need help mounting a TV on the wall or are looking for an extra set of hands to move your furniture around, Handlrs can "handle" it all.
With flat rates and transactions done completely within the app, Handld is easily one of our top picks for "handymen" in Toronto.
All transactions and payments done through app
Handlrs are insured
24-hour customer service (on weekdays)
Limited to the community of Handlrs
7. My Go-2-Guy Handyman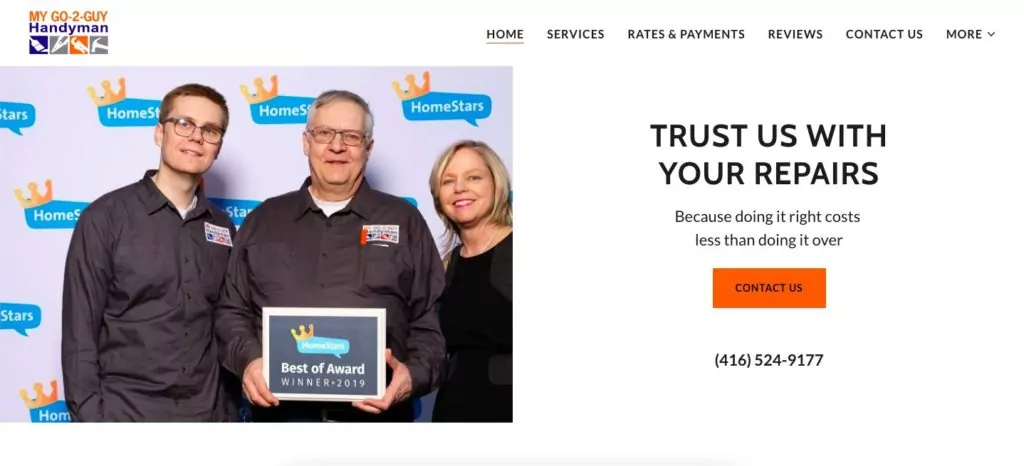 We've got another great company for handyman services to share with you.
Some things about this company that makes us trust them and their services is that they're part of the Association of Certified Handyman Professionals, as well as a HomeStars Verified company.
All this means that they're properly licensed, fully insured and have good credit.
What's more is that they've received the HomeStars Best of Award for 7 years in a row, which shows that they're truly something.
We like that they have a wide range of services and can do virtually all sorts of handyman services possible.
Another thing we appreciate about them is that they have a to-do list available, which lists different work that needs to be done around the house. With this, you won't miss out on anything that needs to get done.
Once you've filled out the to-do list and added a brief description of the work that needs to be done, you just need to contact them and they'll take care of the rest.
All their past customers agree that the team at My Go-2-Guy Handyman is one of the best in the area, and they've garnered an average rating of 10/10 from more than a hundred reviews.
Received multiple awards
Part of the Association of Certified Handyman Professionals
HomeStars Verified company
Wide range of handyman services
No operating hours available
8.  High Park Handyman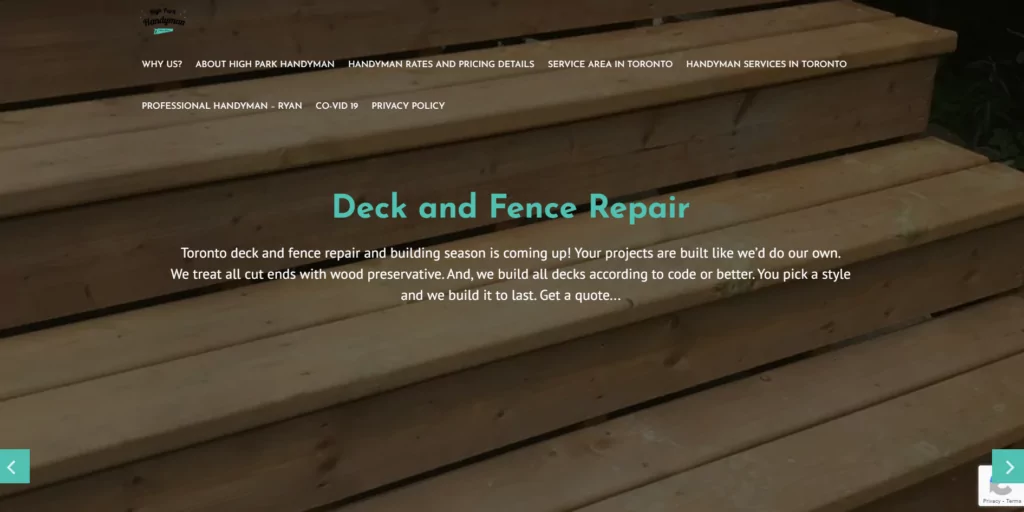 | | |
| --- | --- |
| SERVICES | Sink install and repair, deck and fence repair, locksets and door handle installation, window installation and screen repair, painting and priming |
| WEBSITE | https://www.highparkhandyman.com |
| ADDRESS | 140 Howard Park Ave, Toronto, ON M6R 1V6, Canada |
| CONTACT DETAILS | +1 647 370 3800 |
| OPERATING HOURS | Monday – Saturday, 8:30 AM – 6 PM |
If you're looking for a handyman that can handle a great variety of your handyman needs, then look no further way from High Park Handyman. Their rates are affordable, and they can help you with just about almost everything that you can for that needs repairing in your home.
The first thing we loved is their superb attention to detail, especially with jobs that require it like bathroom tiling, painting and priming, and caulking. They also show up on time and carries out the work to a high standard.
They're also great for small to medium sized projects and are quick and efficient when it comes to work. Not to mention their friendly and approachable personnel are willing to answer any questions you may have.
However, if you're not available during the weekdays, your only choice is to book on a Saturday, since they're not open on Sundays.
Nonetheless, we highly recommend High Park Handyman. They've got excellent ratings and reviews, and you surely won't regret trusting them with your project.
Affordable rates

Great attention to detail
Friendly and approachable personnel
Customer Reviews
Tremendous attention to detail
"Ryan has a tremendous attention to detail and is a real professional. He helped with some tiling in our basement bathroom, caulking in a couple of places, and painting our front steps. He's fantastic and friendly. We look forward to offering him more work in the future." – Andrew Fletcher Cole
Great guy and a real pro
We did a number of services with Ryan including shelves, fixing gate, caulking work. Ryan is a great guy and a real pro. Shows up on time. Does the work to a high standard and really cares about your needs. – Pouya Hamidi
Services That a Handyman Provides
Handyman services involve various specialties to meet clients' needs. Here are some examples of handyman services that you might be looking for or might need in the future:
Drywall Installation
A common task that handymen do is installing new drywall. Whether it is because of water damage or because the old one just isn't holding up, they will be there to replace it and place a new one.
In general, handymen are often equipped with the necessary materials for measurements, cuts, and installations.
Plus, they have experience-based knowledge, training, and certifications about this simple installation so you shouldn't worry about it messing up.
Fixture Replacement
As they say, nothing lasts forever, and the more you use your faucets, cabinets, or lighting systems, the more they wear out. So, calling a handyman to replace them is a good idea.
Though you can easily replace these fixtures on your own, there are still some things that require a specialized handyman to take over. There are certain fixtures, especially involving electricity, that require a licensed handyman.
Smart Home Installation
Deciding to upgrade your home into a smart one can be a bit confusing, so you would want to call for a handyman to help. With this service, a specialized person will come into your home and install a number of devices such as voice-activated lights and sensors.
It is important to check the handyman to make sure that they are certified in installing such devices. There are handymen who aren't knowledgeable enough to transform your home into a smart one.
Interior and Exterior Painting
One of the most common jobs that handymen offer is the interior and exterior painting of a house. Some homeowners hire for a paint job before selling the house to make it look more appealing
A painting job is a very popular service, which is why many handymen specialize in this service. Just make sure to select one with a great history of past painting projects.
FAQs About Handyman Services in Toronto
---
Did our reviews help you find the best handyman in Toronto? Let us know what you think so we can expand our criteria to meet your demands!
While we're in the talks for general home or commercial services, check out our choices for the best electricians in Toronto. These people specialize in more technical electrical projects so they can keep your home up and running again.