Top 5 Options for the Best Washing Machine Repair in Toronto
Looking for a service center that will bring your washing machine back to life? We have just what you need!
Today's review will be about the best washing repair services in Toronto and how they can help you as a client. We'll also talk about their workmanship, speed, and availability to meet your needs.
The Cost of Washing Machine Repair in Toronto
Before we get into the reviews, let's start with prices first.
To keep things simple, you'll have to spend around $100 to $500 per repair. It also depends if you need replacement parts for your washing machine.
If you need to replace the washing machine drum, you have to spend $150 to $225. For washing machine bearings repair and replacement, you'll need $300 to $575.
Below are other common washing machine issues and the cost to repair them:
| | |
| --- | --- |
| Repair | Estimated Costs |
| Broken machine belt | $90 – $145 |
| Broken suspension springs | $65 – $185 |
| Defective motor | $100 – $250 |
| Water leaks | $100 – $225 |
| Diagnostic fee | $115 – $135 |
| Labor (per hour) | $80 – $100 |
The Best Washing Machine Repair Services in Toronto
Now that you know the cost of common washing machine repairs, it's important that you get the best value for your money. See each of our reviews to find out which repair centers offer the kind of excellent service you're looking for.
1. Canada Appliance Repair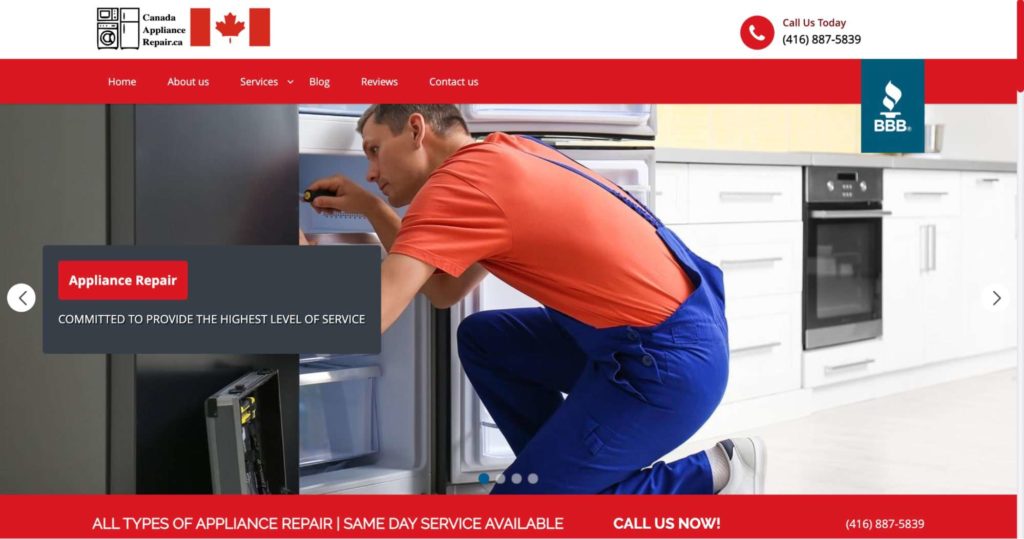 SERVICES
Washing machine repair, cooktop and oven repair, gas stove repair, dryer repair, dishwasher repair, refrigerator repair, etc.
WEBSITE
https://canadaappliancerepair.ca/
ADDRESS
325 Bogert Ave, Toronto, ON. Canada M2N1L8
CONTACT DETAILS
(416) 887-5839


[email protected]

OPERATING HOURS
Monday – Sunday: 9:00 AM – 11:00 PM
There are many reasons Canada Appliance Repair is opening this list. And it's all about great services at competitive costs done by expert technicians.
The first noteworthy thing we'll highlight is its daily working hours from 9:00 AM to 11:00 PM. This work window allows them to perform same-day services for clients in need.
We also love how responsive they are whether you're an emergency or by-appointment customer. By the way, if you have a scheduled appointment, you can get service in as early as the next day.
The best part about hiring them is that they service all washing machine brands. And if you need replacement parts for your machine, you can get it in as fast as three days.
Using thorough diagnostics, they can identify problems such as vibrations, water leaks, and defective tubs. They're also polite, professional, and prompt, which is always a plus in our book.
Quality assurance for work done
Open daily with a flexible work window
Offers emergency and same-day services
Service after 24 hours for scheduled appointments
Services all washing machine brands
Sources replacement parts in as fast as three days
Competitive rates according to past customers
Limited time availability for certain technicians
Issues with follow-up communication
Customer Reviews
Flexible with times
Taras fixed my washing machine quickly and was very flexible with times. I highly recommend his services and will use him again anytime I have an appliance to be repaired. Thank you! – Candice Fraser
Fast work at fair pricing
I called Canada appliance repair for the first time to fix my washing machine. I expected to have to wait a few days for an appointment, but technician was at my house within an hour. He was very knowledgeable of the appliance and he fixed the washer within 30 minutes. He charged a very fair price. He also explained what he was doing and why he was doing it. He also gave me tips on how to extend the life of the machine. The overall experience was great and I would definitely call Canada Appliance Repair again if I needed a repair. – Vaha
2. Prime Appliance Repairs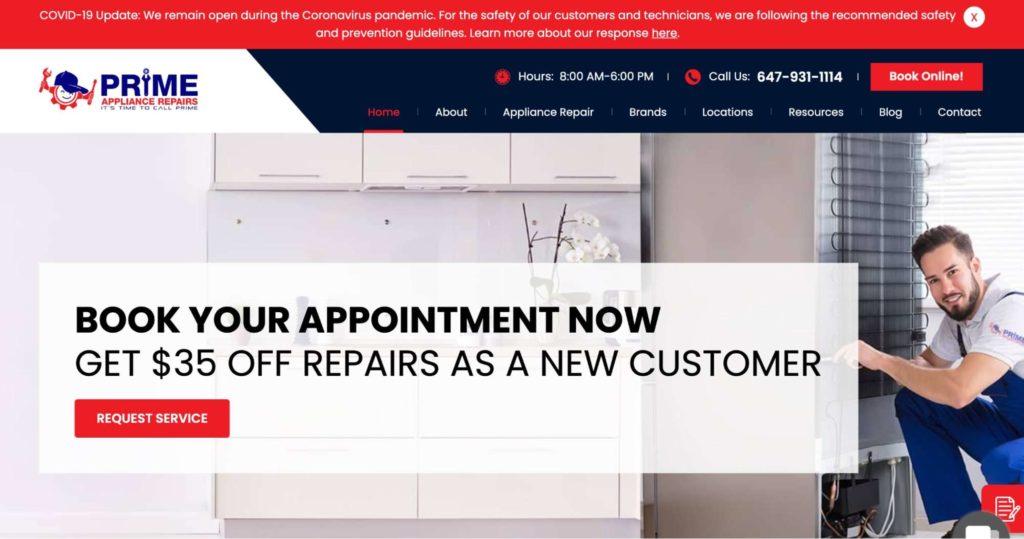 SERVICES
Washing machine repair, refrigerator repair, stove repair, freezer repair, dishwasher repair, dryer repair, etc.
WEBSITE
https://primeappliancerepairs.com/
CONTACT DETAILS
+1 647-490-6155
647-931-1114
OPERATING HOURS
Monday – Sunday: 8:00 AM – 6:00 PM
We're big fans of transparent costs ourselves that's why we love Prime Appliance Repairs. Apart from this, you also get top-quality service with a reasonable warranty.
The company offers same-day services without the hassle of waiting around. They send a technician out quickly to immediately troubleshoot your machine.
Speaking of troubleshooting, their diagnosis fee only costs $89, which is lower than the city average. The fee is also waived if you decide to proceed with the repair.
Since we brought up the price already, note that you can request a quote for parts needed. And if you're not too pleased with your price quote, you can also take advantage of their promotions.
One of the things we like is how their free service call coupon can be used multiple times. As per other discounts, you can get $35 off if you're a new customer or $40 off if you're a senior.
As of writing, they service 12 major washing brands, making them a versatile option. The best part is that you get a six-month service warranty so they can fix any issues at no extra cost.
Technician sent out immediately for same-day services
Below average diagnosis fee
Can request a quote for parts needed
Free service call coupons can be used multiple times
Offers discounts to new customers, seniors, and more
6-month service warranty
Complaints about troubleshooting times
No emergency services
Customer Reviews
Impressive quality of service
I called Prime Appliance Repairs to inspect my leaking washing machine. I was impressed with the quality of service throughout the experience. My technician Jack was very thorough and informative regarding the fault with the washing machine and quickly diagnosed the problem and the cost of repair. He was very pleasant and performed the repair and tested the machine to ensure all was working before he left. I would certainly recommend Prime Appliance for their work and quality of service! – James Foreman
Great after service care
I had a service technician look at my faulty washing machine. He was extremely professional, and made sure to explain what was wrong. What I appreciate the most is that the Manager called to make sure I was satisfied with the service. Not many companies out there are truly there for the customer. I would like to send a kudos out to Daniel (manager) for making my experience with Prime a fantastic one. If you are looking for an honest and knowledgeable company to perform any of your appliance repairs, then you are at the right place. – Reno Capano
3. Max Appliance Repair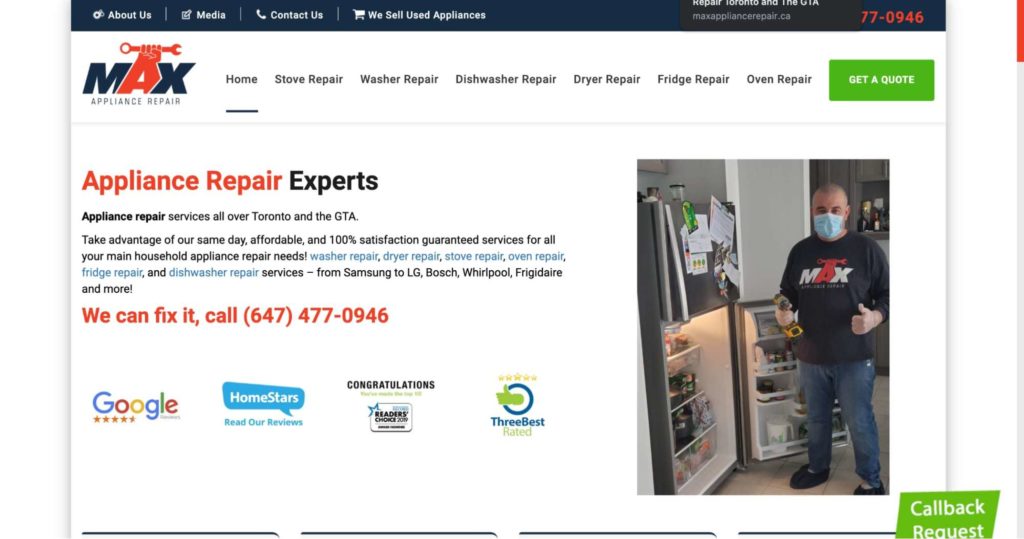 | | |
| --- | --- |
| SERVICES | Stove repair, washer repair, dishwasher repair, fridge repair, dryer repair, oven repair |
| WEBSITE | https://maxappliancerepair.ca/ |
| ADDRESS | 314 Torresdale Ave, North York, ON M2R 3N3, Canada |
| CONTACT DETAILS | +1 647-477-0946 |
| OPERATING HOURS | Monday – Friday: 7:00 AM – 10:00 PM |
Max Appliance Repair made our cut with its broad experience in the field of repairs. Plus, on Google Reviews alone, they have more than 700 reviews, making them the most-reviewed center on this list.
With over 15 years of experience, they've dealt with various washing machine problems. At this point, we reckon that they already have enough experience to fix any type of machine issue.
Like most repair centers, they also same-day services or schedule appointments as early as the next day. And if you book them online, you'll get $25 off on your repairs.
One thing we like, in particular, is that they always come prepared. Their technicians arrive at your door carrying tools and parts for common washing machine problems.
Most of their replacement parts have a three-month warranty. They also service 35 washing machine brands so it's more likely that they can repair your machine no matter the make.
Just a heads-up, they don't calculate the labor cost based on the hours rendered. So basically, whether your repair took two hours or ten minutes, you'll pay the same, which is an issue if you want to save.
15 years of experience
Same-day and next-day repairs
Offers $25 off discount for online bookings
Technicians come with parts and tools used for common repairs
Three-month warranty on most parts
Services 35 washing machine brands
Services 40 areas in Toronto and GTA
The cost of labor is not calculated per hour
Difficult to book
No emergency services
Customer Reviews
On-time services
My washing mashing wasn't draining. I thought it might me clogged with a piece of clothes and tried turning it on over and over, but had no luck. Found Max Appliance online, called them and scheduled an appointment. The technician came on time. He tested the machine, then removed the panel and tested the pump directly. Nothing was clogged, but drain pump was malfunctioning. Luckily, he managed to find a place to buy the new pump and next day he came back to replace it. Very pleased with the service. Max, the technician was very professional, punctual and polite. Will definitely recommend to my friends. – Dmytro
Time-efficient and professional service
Vlad was fantastic at spotting the issue with my washing machine. There were no cracks and no obvious signs of where a small leak was coming from, til he investigated and got to the source and addressed the issue. Professional, time efficient and a pleasure to deal with. Would recommend!! – Robyn Crosby
4. Maydone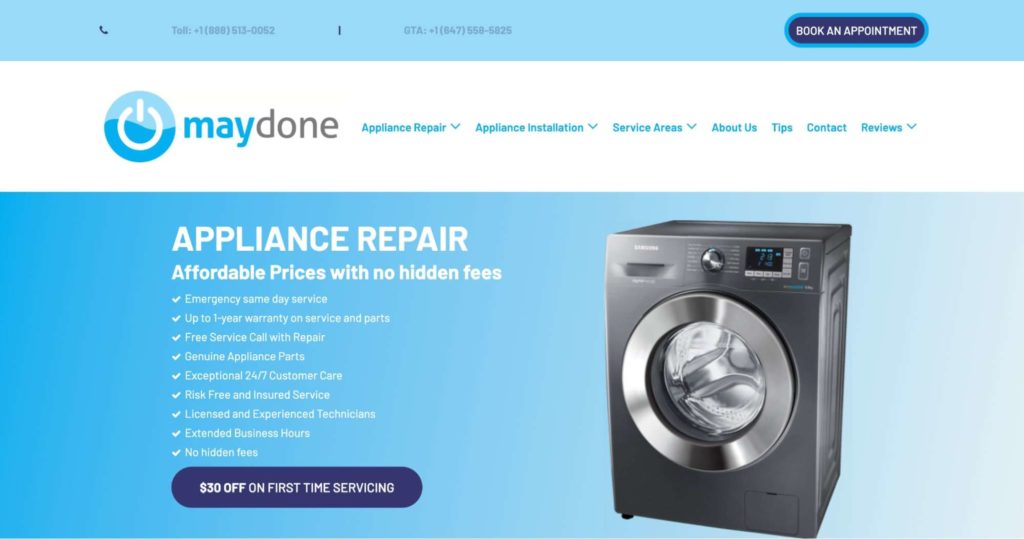 SERVICES
Installs and repairs fridges, washing machine, dryers, ovens, cooktops, microwaves, range hoods
WEBSITE
https://maydone.com/
ADDRESS
70 Angelina Ave, Woodbridge, ON, L4L 8N9
CONTACT DETAILS
+1 (289) 801-7857
+1 (888) 513-0052
OPERATING HOURS
Monday – Friday: 8:00 AM – 10:00 PM
If we could only recommend one company for great services with a rock-solid warranty, it would be Maydone. The cost of their services may be quite high, but you get all the value you deserve.
Now that we've mentioned the costs, there are certain ways to make this as low as possible. If it's your first time, take advantage of the $30 off discount for first-time customers.
And if you need any more repairs, get their services so you can be a loyal customer. Through this, you can get a $20 discount on all repairs.
But of course, we know that value isn't all about fair pricing, it involves quality assurance too. This is why we love their one-year service and parts warranty on all repairs.
They're also available 24/7, making emergency services possible. Even their same-day services are prompt and we had no qualms with it.
By the way, in case they can't repair your washing machine anymore (say if it has already reached the height of its lifetime), they'll dispose of it for you. That way, you can use the time and money you saved to get another washing machine.
Offers discounts to loyal and first-time customers
One-year service and parts warranty
Available 24/7 for emergencies
Below average cost of service call (waived if repair is done)
Waste-free washing machine disposal
Services can be expensive
Difficult to book at times
Customer Reviews
Great attention to detail
I had a great experience with talented technician Alex, He fixed my Washing machine . Highly recommended for anyone who wants to repair washing machine . He attention to details and excellent problem solving skills. Thank you Alex. – Nasim Salamati
Timely and efficient repair
I had a very professional experience with Maydone Appliance Repair. James and Max were a huge help to our family and repaired our washing machine in a timely and efficient manner. I highly recommend Maydone Appliance Repair for any washing machine repair jobs. – Thals Gill
5. Star Appliance Repair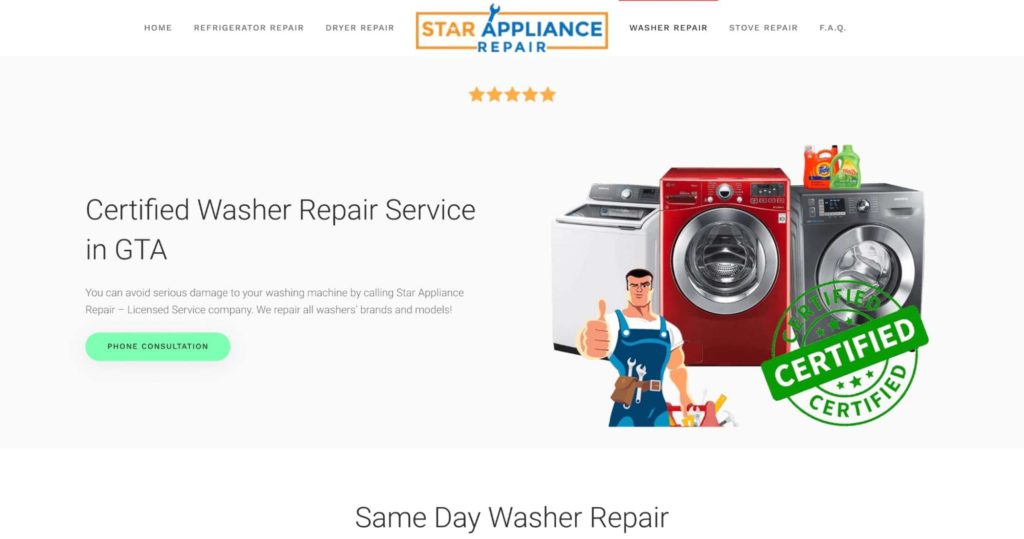 | | |
| --- | --- |
| SERVICES | Refrigerator repair, dryer repair, washer repair, stove repair |
| WEBSITE | https://starappliancerepair.ca/ |
| ADDRESS | 19 Bathurst St, Toronto, ON M5V 2P1, Canada |
| CONTACT DETAILS | +1 647-847-8774 |
| OPERATING HOURS | Monday – Saturday: 7:00 AM – 9:00 PM |
Star Appliance Repair made our list by providing excellent services and after-service tips to customers. Here are a few more reasons to consider this company:
For starters, it's easy to get started with a phone consultation with them. According to past clients, you can also get them in as soon as 24 hours after you've booked a service.
Of course, same-day services are also available. And we love how punctual they are and how fast they work, making sure clients can go back to their daily routines easily.
If you want to save a bit on repairs, they offer a $35 discount for first-time customers. Plus, their prices are within the Toronto average anyway so you won't have to worry about ridiculous fees.
Apart from all these, we also like the company's flexible three-month to a one-year warranty on labor and parts. On top of that, they'll also give you maintenance tips to ensure that your washing machine gets the best care after the repair.
Easy phone consultation setup
Same-day or next-day services
$35 discount for first-time customers
Three-month to a one-year warranty on labor and parts
Provides maintenance tips for optimal care
No emergency services
Not open daily
Customer Reviews
Honest diagnosis and quick response
Great service and quick response. I had an idea of what the issue may have been with the washer and was grateful that Vlad was truthful and didn't try to tell me the issue was something else. Vlad was honest and made sure I was connected on the issue, fix and cost before doing anything. The problem was fixed in 15 to 20 mins. Its hard to find good affordable contractors in downtown Toronto. Glad I called Star Appliance. – Lisa Chan
Above and beyond service
I called Star Appliance to send a technician out to repair my washing machine. They ended up promptly sending out Vlad who did an amazing job. He kept me up to date during the entire process and explained to me what he would fixing, replacing and charging me for in an easy to understand and professional manner. He went above and beyond to ensure he provided me with top notch service. Would highly rcommend Vlad and this company to anyone who needs their services. – Ethan Gough
Signs That You Need Washing Machine Repair Services
There are certain washing machine issues that seem to be normal at first, but turn out to be serious issues. Take a look at some common signs that you might need a washing machine repair service:
You have a leaking washing machine.
One sign that your washing machine has a problem is when you see that there is too much leakage coming out of it. This happens either due to a loose or damaged water supply hose, a bad seal on the door of your front-loader, or a damaged tub.
Although this isn't really a very big problem, it might turn into one if you just ignore it. Leaks get bigger and bigger with every use, so if you aren't able to solve the problem while it's still small, there's a big chance that you'll end up paying a lot more.
It's making strange noises.
Washing machines naturally make noises when used, but they can sometimes make strange sounds that they never have before. This could be the cause of overloading, or improper placement of the clothes in the dryer (if there is one).
However, if you think that the cause of those strange noises wasn't one of the aforementioned reasons, then you might have a problem with the motor of the machine. This kind of problem can easily be solved in a cost-effective manner once you find a trustworthy and efficient washer repair service.
It's not filling up completely.
Issues like not filling up completely may be overlooked by people who use the newer, high-efficiency washer because they use less water to clean your clothes. But, if you start to find sporting detergent stains after a normal wash, then you might have a water problem.
Because newer washing machines are now computerized, there might come a time when your machine's programming or control is damaged by power surges. Also, note that you wouldn't necessarily see leaks outside of your machine since your particular water issue may actually be due to problems with cycles progressing correctly.
The washing machine is not staying in place.
Oftentimes, when your machine doesn't stay in one place, it is due to a motor problem or some loose components. The vibration of the motor while being used can cause the washing machine to move dramatically from where it was.
Although this isn't such a big issue, it will become a problem if the hose that is pouring water inside the machine becomes loose and wastes water. To prevent this from happening again, you might want to consult a repair service.
FAQs About Washing Machine Repair in Toronto
---
Broken washing machines can be a great inconvenience in your life, but not with the best washing machine repair in Toronto. In case you need to see more repair centers in the future, start with our review of the best fridge repair services in Toronto or browse our reviews!