The 5 Best Foundation Repair Services in Toronto
Keeping the structural integrity of a house or building is always a priority in construction and maintenance.
If you're looking for foundation repair, then this review is for you! We curated a list of the best foundation repair services to give you pertinent information on what they do, how they can help, and how much they usually cost.
How much does foundation repair cost in Toronto?
Repair costs usually depend on the gravity of the situation. These can range from minor cracks to heavy leaks to needing to seal a small portion or doing a full seal.

Generally, the bigger the damage, the higher the cost will be.
Here are average prices to give you an idea:
| Foundation Repair | Average Cost |
| --- | --- |
| Minimum cost | 700 CAD |
| Minor cracks | Approximately 800 CAD |
| Leaks | 3,000 CAD to 5,200 CAD |
| Settling/Sinking | 1,500 CAD to 1,700 CAD per pier |
| Bowed Basement Walls | 5,000 CAD to 15,000 CAD |
The Best Foundation Repair Services in Toronto
We used the following factors as criteria for foundation repair services:
1. Nusite Contractors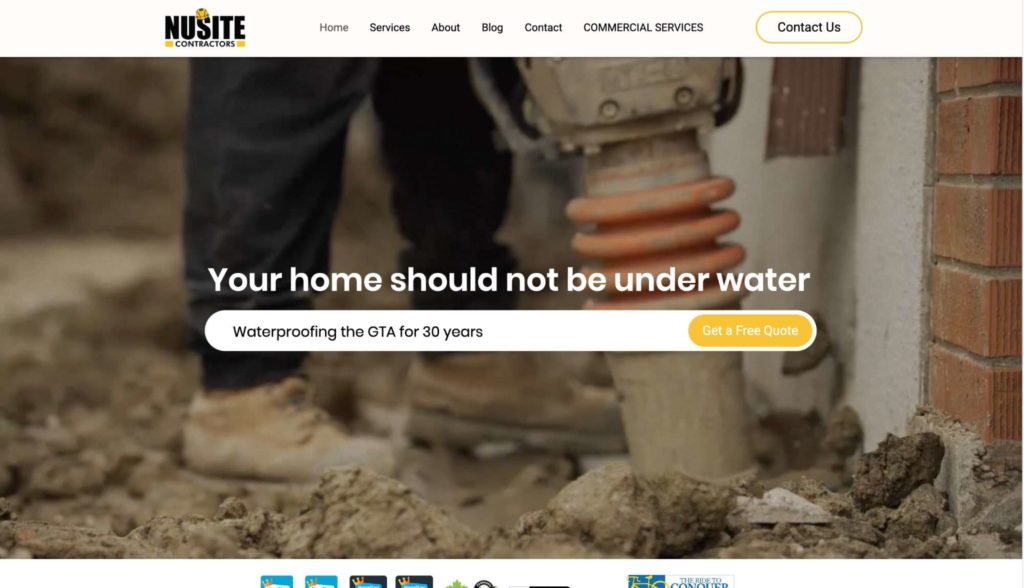 Test
Info
WEBSITE
ADDRESS
24 Rivalda Rd, North York, Ontario
CONTACT INFORMATION
+1 416-622-7000
OPERATING HOURS

Monday to Friday

9:00 AM to 5:00 PM




Saturday and Sunday

Closed
| | |
| --- | --- |
| KNOWLEDGE | ★★★★★ |
| SKILLS | ★★★★☆ |
| BUILDING PRINCIPLES | ★★★★☆ |
| COMMUNICATION | ★★★★★ |
Serving the Greater Toronto Area for more than 30 years, Nusite Contractors is a reliable service for waterproofing and foundation repairs. They are a BBB Accredited business and are members of both BILD and Renomark.

They have also won the Best of HomeStars Waterproofing award for four years (2015, 2016, 2019, and 2020). On top of this, they are also supporters of the Ride to Conquer Cancer Foundation.
In terms of foundation repair, Nusite Contractors performs a wide array of services. We find it impressive that they work on cracks, slabs, crumbling or sinking foundations, openings, delaminating concrete, and more.
This service applies the latest methods in foundation repair and strives to maximize technology in every possible way.
Given their specialization in waterproofing, we can say that Nusite Contractors is extremely reliable in terms of foundation leak repair methods. They are also highly recommended in terms of foundation crack repair.
We do note that this service is closed during weekends, so you cannot rely on them during those days. However, a contact form is available on their website for any concerns and they will respond with an initial estimate that is free of charge and obligations.
Overall, we would say that Nusite Contractors is a proven and tested place for foundation repair. Their expertise makes them one of the top choices for your structural needs.
More than 30 years in the business
Award-winning
Specializes in foundation leak and foundation crack repairs
Closed during weekends
Does not get the job done within promised period (according to a review)
Customer Reviews
5/5 without a doubt
Top notch work from NuSite, I was very impressed with the response time. Also provided two options to fix the cracks in my basement foundation. The quotes were affordable and I think the reliability of the staff member Lee Hollander made me feel comfortable to go with Nusite. I also went with Nusite since they dig by hand and don't use heavy machinery around my house. I would highly recommend using Nusite and dealing with Lee to any of my friends or colleagues that need waterproofing done. 5/5 without a doubt. — Bryan, via Google
We are pleased with the outcome
We worked with Milton F. from Nusite who was great – responsive and informative. We had deterioration of the foundation of our home, and water seepage in the basement. Nusite did a terrific job repairing and waterproofing the foundation. From the initial coordination of a structural engineer assessment to identify the approach that the repair need to take, through to the dig and repair, the work was done in a timely and in a professional manner. We are pleased with the outcome as we have had a number of rainstorms with a nice and dry basement! The work was exceptional although the coordination in the back office could be improved. However, they were responsive to our feedback, which was great. — J Benett, via Google
2. Aquatech Basement Waterproofing Toronto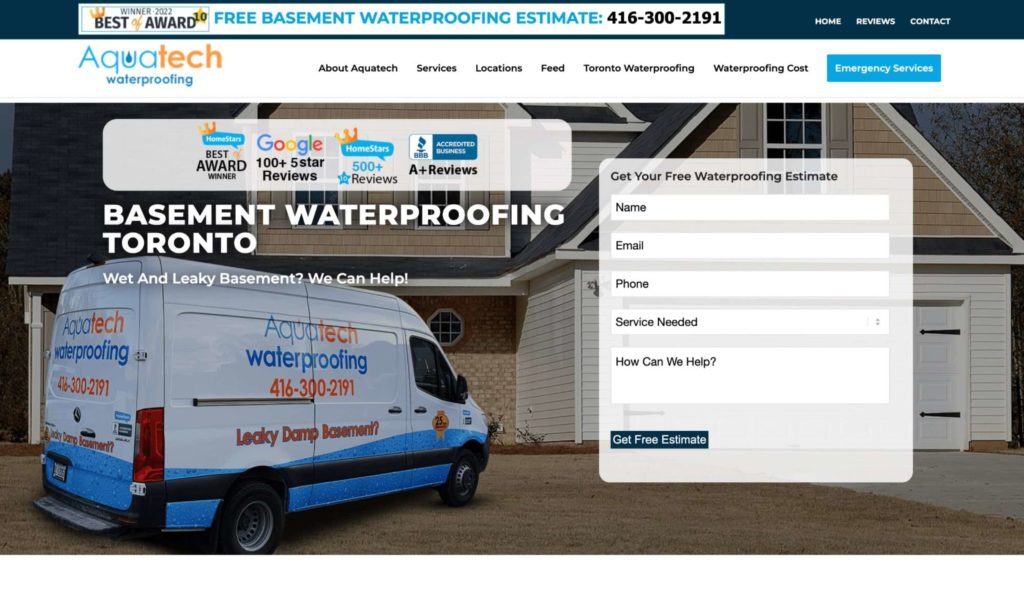 Test
Info
WEBSITE
ADDRESS
20 Hyde Ave, Toronto, Ontario
CONTACT INFORMATION
+1 416-300-2191
OPERATING HOURS

Monday to Friday

8:00 AM to 8:00 PM




Saturday

9:00 AM to 3:00 PM




Sunday

Closed
| | |
| --- | --- |
| KNOWLEDGE | ★★★★★ |
| SKILLS | ★★★★☆ |
| BUILDING PRINCIPLES | ★★★★☆ |
| COMMUNICATION | ★★★★★ |
Aquatech Basement Waterproofing Toronto is an award-winning basement repair service that was established in 1996 with only 5 people in their team. Their high-quality services helped them grow their brand and they are now known as one of the most popular basement services in the Toronto area.
What we like most about this service's approach in foundation repair is their careful assessment of the crack or damage. They evaluate cracks by checking shapes or sizes to know how they can seal the space and prevent water penetration.
Their process is very thorough as well – they perform cleaning, cementing, and sealing a structure's foundation. Their solutions are touted to last for years and they aim to provide a waterproof foundation for every client's home.
We do note that they do not perform other specific foundation repairs on top of sealing cracks. However, they are very easy to communicate with so you can rest assured that they will find you the best solution.
For estimates, you can leave an inquiry through their website. They also perform emergency services to avoid flooding and other heavy water problems.
In short, we like Aquatech Basement Waterproofing Toronto because they have one of the most affordable rates and are a BBB Accredited business.
Over 25 years experience
Performs a careful assessment
Affordable rates
Only provides foundation crack repairs
Shorter hours on Saturdays, closed on Sundays
Customer Reviews
Offered me a price that no one else could beat
Last january i noticed a leak in my basement from the winter thaw. Couldnt find where the leak was comimng from. Called a around a dozen companies to figure out the problem. Majority of the other companies stated that i needed to have my entire house water proofed and it would cost between 10 to 15 thousand dollars. Andrew from aqua tech came by and diagnosed where my leak was comming from in 2 minutes. He said i only needed to repair a foundation crack. He offered me a price that no one else could beat. He advisd me to call other companies and get quotes. I did call other companies and no one else best his quote. I called him to do the repair and he repaired it a few days after while i was at work. Now i have a dry basement. Thank you aqua tech. A few months later after very heavy rainfall i noticed some water entering my basement again from another location. I called andrew again and he founf a crack by my a/c unit. Again he repaired the crack within a few days. If i ever need any waterproofing done i am only calling aqua tech. Whenever anyone is looking for a waterproofing company i always pass on andrews number thanks again. — Kelvin Mahadeo, via Google
High-quality work, a fair price, and all done as scheduled
We had a minor water leak damaging the interior finished walls in our family room. Eugene inspected the home, gave us a quote and yesterday, an amazing team came out to locate and repair the fault. They worked tirelessly, digging down 9½ feet to expose the foundation, found and fixed the crack, covered the entire surface with various layers of protective and waterproof membranes, replaced everything, including plants, and when they were done, the area looked exactly as it did before they began. High-quality work, a fair price, and all done as scheduled. This is an excellent company to work with. — VOLODYMYR KRYVDA, via Google
3. Royal Work Corp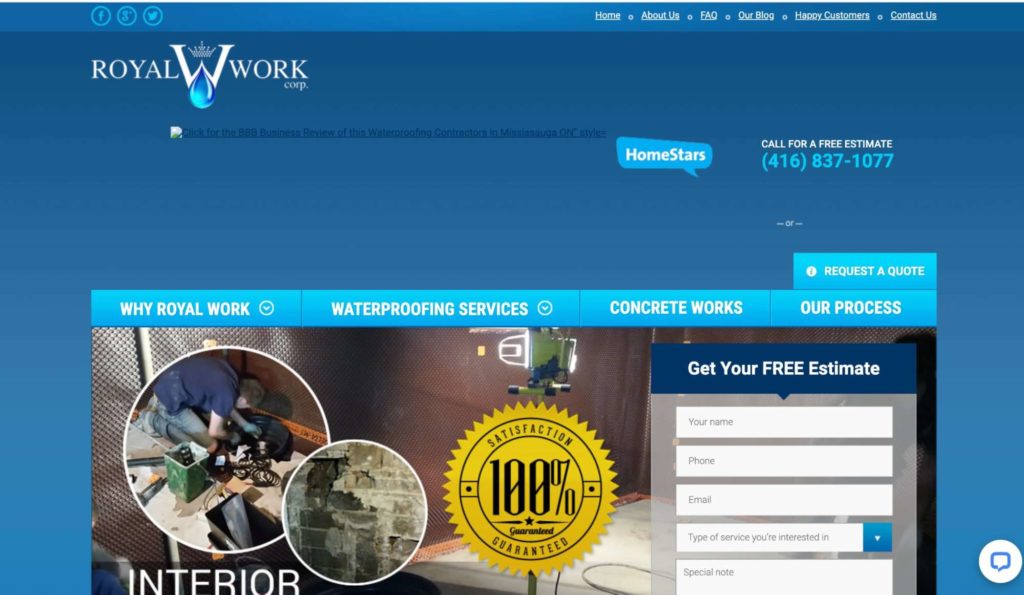 Test
Info
WEBSITE
ADDRESS
230 Queens Quay W, Toronto, Ontario
CONTACT INFORMATION
+1 416-837-1077
OPERATING HOURS

Sunday to Saturday

7:00 AM to 10:00 PM
| | |
| --- | --- |
| KNOWLEDGE | ★★★★☆ |
| SKILLS | ★★★★☆ |
| BUILDING PRINCIPLES | ★★★★☆ |
| COMMUNICATION | ★★★★☆ |
Royal Work Corp was established in 2013 and currently has four locations all over Ontario. This service has 15 licensed waterproofing experts and 25 years of collective experience in basement and foundation works.
We like the fact that they always provide a 25-year fully transferable warranty on every waterproofing job they perform. They are also very honest in terms of the work that needs to be done.
What makes them different is the friendly-neighborhood approach, making them one of the go-tos for anything waterproofing related.
Their foundation repair services are mainly focused on determining leaks and cracks, sealing them, and raising and stabilizing the foundation. We also note that they are very particular with determining the problem, whether it's a crack, seal, discoloration caused by moisture, a mold, or any other damage.
Honestly, there isn't really anything alarming about this service. They may be younger than their competitors but they have been doing a good job so far.
We also note that they are open everyday and go beyond the usual work hours. This makes them a convenient option for those that have busy schedules.
All said, we believe that Royal Work Corp is a reliable foundation repair service. Their effective communication with customers and good assessment skills put them at par with established waterproofing and foundation repair businesses.
Licensed waterproofing experts
Friendly-neighborhood approach
Open for more than 8 hours daily
Relatively younger than competitors
Only performs solutions for foundation cracks or leaks
Customer Reviews
Fast and efficient
Royal Works sent Stano, Maros and Paco. They are really professional and did a very good job repairing the foundation cracks. They were Fast and efficient and they clearly knew what they're doing. very satisfied with the results. — Saleem Niaz, via Google
4. Draintony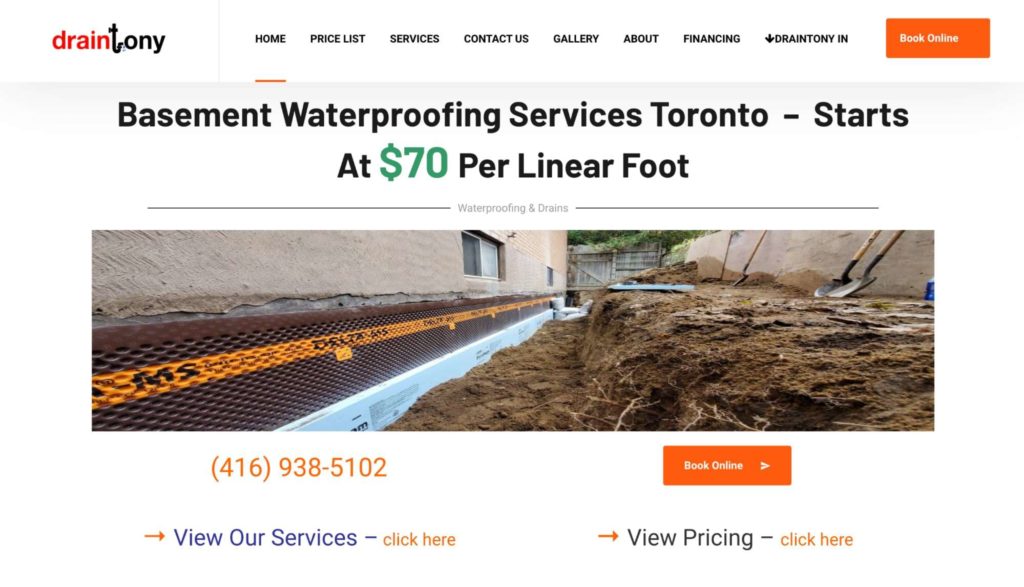 Test
Info
WEBSITE
ADDRESS
452 Rimilton Ave, Toronto, Ontario
CONTACT INFORMATION
+1 416-938-5102
OPERATING HOURS

Monday to Friday

8:00 AM to 6:00 PM




Saturday

8:00 AM to 5:00 PM




Sunday

8:00 AM to 3:00 PM
| | |
| --- | --- |
| KNOWLEDGE | ★★★★☆ |
| SKILLS | ★★★★☆ |
| BUILDING PRINCIPLES | ★★★★☆ |
| COMMUNICATION | ★★★★☆ |
Another young waterproofing business is Draintony, which is a locally owned and operated waterproofing company that offers reasonable pricing.

Their foundation repair services cater to minor cracks and major foundation issues. They also offer free estimates on all foundation reinforcement inspections.
They promise to deliver a permanent solution to any structure's foundation or slab heave. They perform the corrections by undercutting cracks and altering their shape.
Part of their procedure is removing all debris from the crack, filling up the crack, flattening the surface, and letting the composite alleviate as directed.
We like that they are very transparent about their repair process and that they provide different solutions depending on their clients' needs.
Honestly, we don't find anything negative about this service. We do acknowledge that they are behind in terms of experience and that they can still do a lot in terms of growing their brand.
However, we believe that this service is still worthy of the recommendation. They hold a pretty good reputation and have fixed problems for homeowners so far.
Draintony is rated A+ by the BBB, offers 25 years warranty, and is a licensed and insured business. They make use of top-rated waterproofing products and are available for inquiries and questions 24/7.
Free foundation inspection
24/7 customer service
Very transparent in terms of the repair process
Around 5 years experience
Shorter work hours during weekends
5. Dryshield Water Solutions Corp.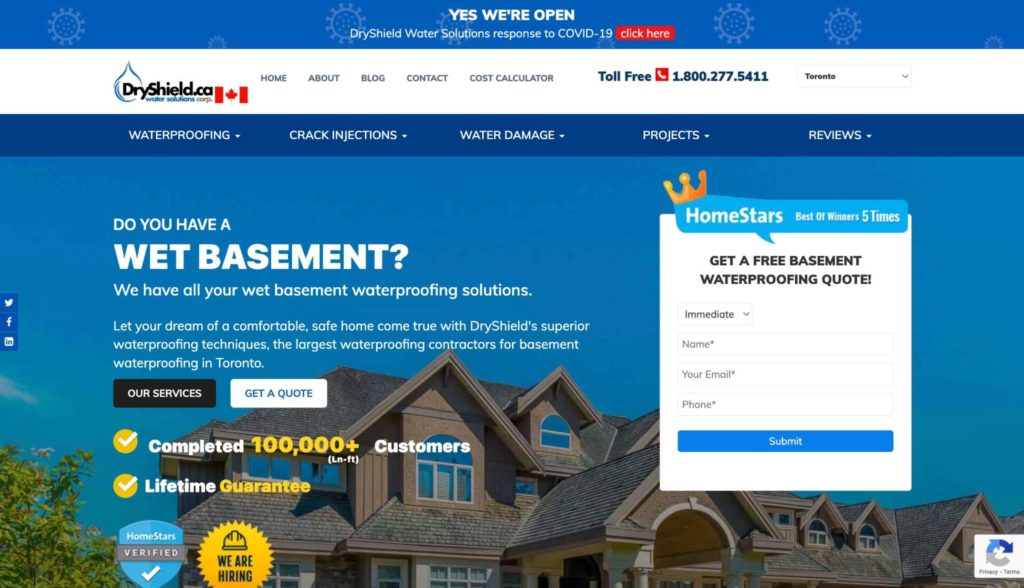 Test
Info
WEBSITE
ADDRESS
60 Millwick Dr, North York, Ontario
CONTACT INFORMATION
+1 416-361-3323
OPERATING HOURS
Sunday to Saturday

Open 24 hours
| | |
| --- | --- |
| KNOWLEDGE | ★★★★☆ |
| SKILLS | ★★★★☆ |
| BUILDING PRINCIPLES | ★★★★☆ |
| COMMUNICATION | ★★★★☆ |
Dryshield Water Solutions has delivered their services to more than 100,000 customers since their establishment in 2002. They are certified by the Institute of Inspection, Cleaning and Restoration (IIRC).
Their over 25 years of collective industrial expertise allows them to effectively protect homes and offices. Their projects are accessible through their website and they even provide videos for service transparency.
In terms of foundation repair, they perform both foundation wall and floor cracks repairs. Their background of working even on buildings allows them to have expert knowledge on repairing cracks and avoiding further damage.
They mainly focus on basement crack repairs and basement crack injections in commercial as well as residential buildings. Crack injections are done by inserting a liquid into a very narrow crack at a very high pressure and are guaranteed to protect a structure's integrity.
Given these solutions, we really can't say anything negative about Dryshield. We do note that there are a few complaints about them leaving their workplace dirty or unattended, which can be a deal breaker.
In conclusion, we believe that Dryshield Water Solutions is a fair service that offers good rates and quality solutions for foundation repairs. They are also open 24/7 to accommodate various requests.
IIRC certified
Open 24 hours
Performs crack injection
Leaves workspace dirty (according to a few reviews)
Customer service cannot be reached sometimes (according to a review)
FAQs about foundation repair in Toronto
---
And that's it for the best foundation repair services in Toronto. Let us know if you have other suggestions in the comments below.
If you're looking for more contractors for water damage, check out our list of the best water damage services in Toronto here.