Top 8 Contractors for the Best Water Damage Services in Toronto
Need to restore your home after serious water damage? Don't fret - we've listed key things you'll need to know for this type of service!
We selected contractors that offer the best water damage services in Toronto, whether it's for restoration or basic flood clean-up. Each company was carefully reviewed for rapid response, customer satisfaction, and quality of work.
Let's break down the potential costs of these services first so you'll have an idea of what to spend, though.
The Cost of Water Damage Services in Toronto
The cost depends on various factors apart from labor. This includes the extent of the damage and the type of service you need to fix it.
For instance, drying out a property will cost around $2,800 - that is, if the area wasn't damaged. With severe damage that needs repair (e.g. carpet or drywall repair), it usually starts at $7,800.
You can also calculate the estimated cost based on the size of the area. In general, the average cost per square foot in Toronto is $3.70 without damage and $7 with damage.
Another thing to consider is the type of water that has flooded or affected the property. Black water is seen as dangerous as it may have come from a contaminated source, therefore is more expensive to clean.
Grey water usually comes from home appliances but is less dangerous than black water. For this, you can expect to spend $4.5 per square foot for a clean-up.
The Best Water Damage Services in Toronto
Now that we've got the basics out of the way, let's get into each company next. Take the time to see what each one offers so you can compare based on the services you need.
1. Restoration Mate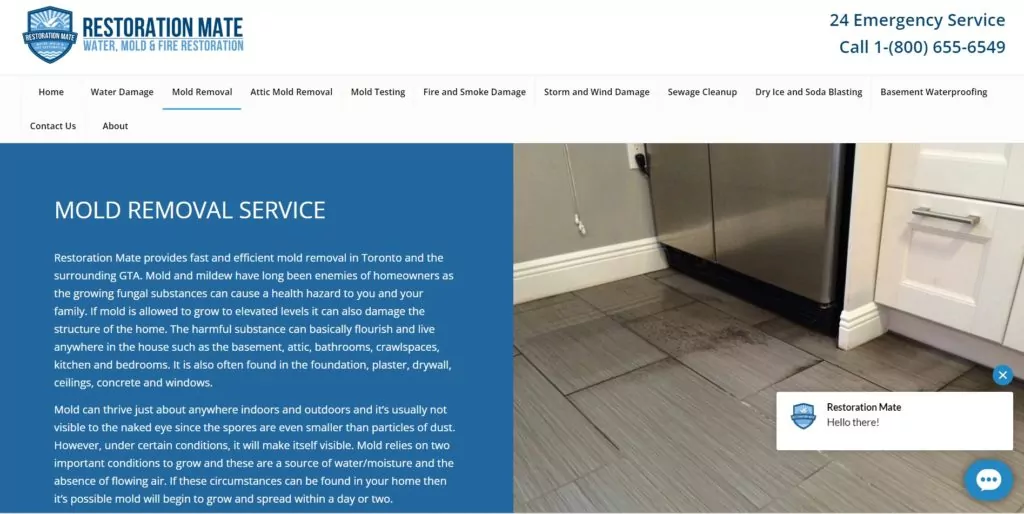 Restoration Mate provides fast and efficient mold removal in Toronto and the surrounding GTA. The reviews people have left them definitely speak for themselves, and we can attest to their impeccable service ourselves.
They even have a 125-point quality assurance checklist, which shows just how serious they take their jobs. We also like that they talk to your insurance company (if needed) so you don't have to, which means you can sit back and relax as they handle all there is to your repair job.
The fact that they also have a 24-hour fast response is also a plus.
We can recommend them for any emergency situations where you need immediate action to be taken. Restoration Mate has someone on their end to ask you regarding your concerns, regardless of what time it is.
Seeing as they've been in business for more than 15 years, it's no surprise that there aren't many cons when choosing to work with them.
However, it is important to note that they currently have no physical offices in Toronto.
24-hour fast response
IICRC Certified Firm
15+ years of experience
Reasonable prices
Offers free estimates
Negotiates directly with insurance provider
Customer Reviews
Take a look at what past clients have said about this company:
I hired Justin and his crew to help me build a custom wall in my condo, paint and replace doors. They did a beautiful job. They were clean, efficient and friendly and completed the job ahead of schedule. I would definitely recommend this company for any work and would use them again.
When I found water damage in my new home, I called Restoration Mate and Justin was at my house inspecting in a few hours. He had one of his crews come and start working on repairs within a few days. Him and his crew were very professional and communicated with me throughout the whole process. The price was the best (by far) and the process was incredibly smooth. I would highly recommend this company!
2. CPR24 Restoration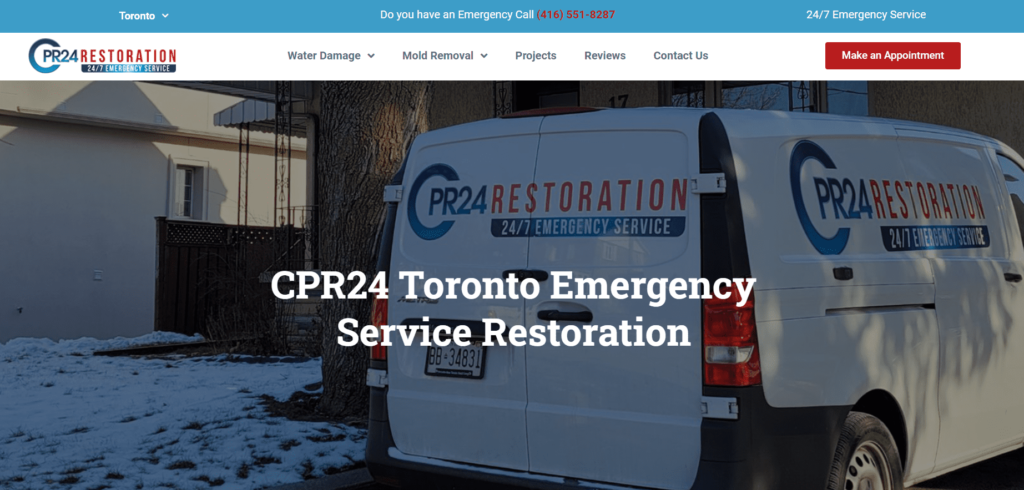 | | |
| --- | --- |
| SERVICES | Flood Clean Up, Water Damage Restoration, Flood Damage, Flooded Basement, Sewer Backup Cleanup, Emergency Water Damage, Leak Detection, Commercial Water Damage, Water Damage Burst Pipes, Mold Removal |
| WEBSITE | https://cpr24restoration.ca/ |
| ADDRESS | 40 West Wilmot St Unit 8, Richmond Hill, ON L4B 1H8, Canada |
| CONTACT DETAILS | +1 416-551-8287 |
| OPERATING HOURS | Open 24 hours |
If you are in need of contractors that deal with water damage somewhere in Richmond Hill, Ontario, you might want to check out CPR24 Restoration.
Equipped with a specialized and experienced team that deals with emergency and non-emergency situations, CPR24 Restoration provides effective restoration solutions for residential and commercial properties.
Emergency situations such as flooding, mold remediation, and other residential or commercial issues needs an immediate response. They also provide 24-hour emergency services to ensure that they can reach and effectively respond to their clients at any time of the day.
They provide a wide array of water damage services such as flood clean up, flood damage repairs, flooded basement, and sewer clean up, among many others. Their restoration projects are also well-reviewed by their past clients, making CPR24 Restoration the best fit for your restoration and repair needs.
Aside from their water damage restoration services, they provide others such as the provision of fire gear and equipment and other contingency measures to ensure the protection of their clients.
What makes CPR24 Restoration one of the best is due to their fast action for their 24/7 emergency contact and fair pricing of their services.
Overall, CPR24 Restoration provides quality and active water restoration projects and other services, making it one of the best companies to contact when you are in need of water damage solutions in both residential and commercial areas.
Well-reviewed, quality and responsive work
Open 24/7
No stated flat services rates
3. 5 Star Cleaning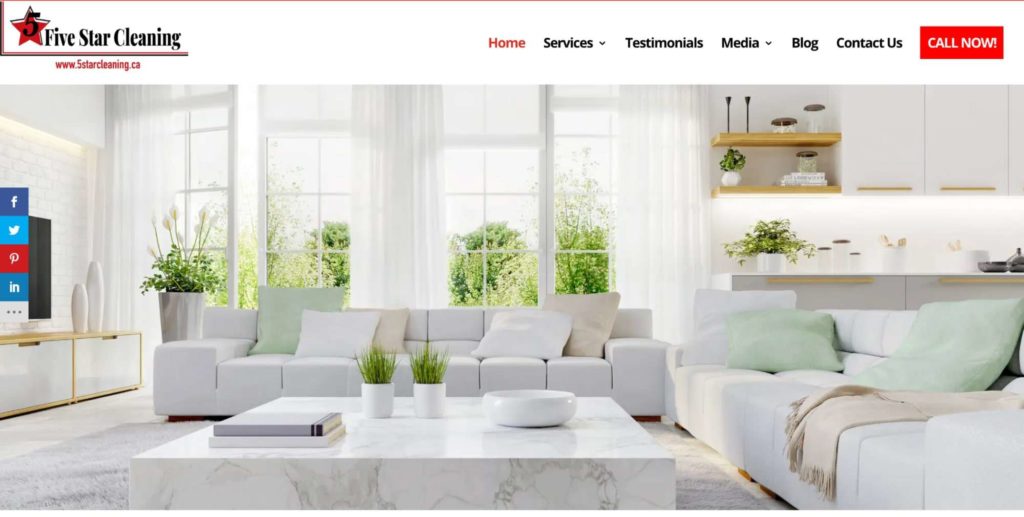 SERVICES
Emergency water damage, post renovation cleaning, rug cleaning services, carpet cleaning services, moving in/out cleaning services, house cleaning services, upholstery cleaning services, scotch guarding services, 24/7 Flood Emergency Toronto, Water Damage Restoration GTA
WEBSITE
https://5starcleaning.ca/
ADDRESS
Head office: 24 Glenhurst Rd, Richmobd Hill, L4B 2C8

107-6021 Yonge Street , North York, M2M 3W2
CONTACT DETAILS
416.315.7562


[email protected]

OPERATING HOURS
24/7 for water damage
8.00 am to 8.00 pm for Cleaning Services 7 days a week in GTA and Toronto areas
Few companies live up to their names better than 5 Star Cleaning for quality and customer satisfaction. And they even go above and beyond to turn your home back to its tip-top shape.
The first thing that earned our approval is their 24/7 emergency service. With unexpected water leaks, you can simply put them on speed dial and they'll be right at your doorstep.
Their response time is another thing worth noting as past clients have praised their speed, often arriving in under an hour. Of course, this still depends on your location and other factors, so manage your expectations.
Speaking of expectations, they didn't let us down with their remarkable customer service. They're accommodating over the phone and even more so in-person, which is a definite plus for us.
We also have to highlight that they provide invoice accepted by insurance companies, which is more convenient for clients. Plus, they have a complete set of equipment like x-ray cameras so they don't have to destroy your property to see leaks – quite standard, but still pretty cool.
Overall, they can service all water damage big and small, whether it's toilet or sink overflows, or damaging floods. But if you want to tackle the issue on your own, you can also rent their equipment – delivery is free!
All in all, we highly recommend 5 Star Cleaning. They have great reviews on Homestars, Google, Yellow-pages, and Alignable, so you can be assured they're trusted by many locals.
IICRC certified firm for water damage
Insured 
Has workers' compensation
Open 24 hours
Offers emergency services
Direct billing to insurance
Free delivery for equipment rental
Customer Reviews
Take a look at what past clients have said about this company:
We had lots of water come through the foundation during a heavy rain storm. 5 Star Cleaning answered and arrived to our home very fast. They explained the process in detail and were very helpful. Danial made sure everything was dry and safe before the project was complete. I recommend their services for water damage.
5 star cleaning was great. I walked into my kitchen and there was lots of water. Right away I called 5 star cleaning and they were at my house under an hour. COVID wise they were safe and took excellent precautions in terms of gear and sanitation. They put equipments and completely dried my house. The pricing was fair and easy to communicate. I would recommend 5 star cleaning, they were a fantastic company to work with.
4. Canada's Restoration Services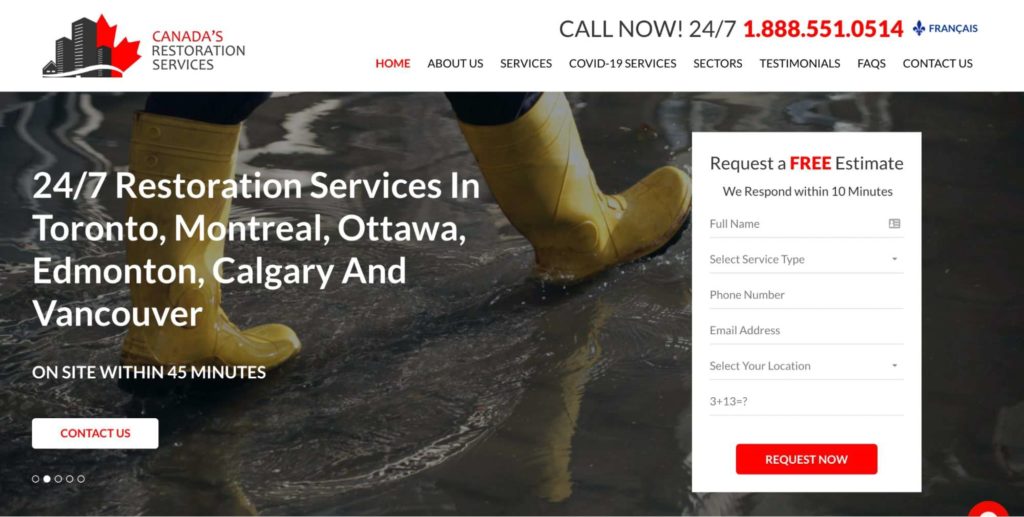 SERVICES
Restoration services including mold testing, mold removal, asbestos testing, asbestos removal, water damage cleanups and emergency water damage restoration, fire and smoke damage, demolition and construction services.
WEBSITE
https://www.canadarestorationservices.com/
ADDRESS
30 MacIntosh Blvd #6, Concord, ON L4K 4P1, Canada
CONTACT DETAILS
Toronto Office: (416) 479-9210


[email protected]

OPERATING HOURS
Open 24 hours
Canada's Restoration Services offers a wide range of services, from restoration to asbestos removal. But of course, their water damage services are the ones really worth looking into.
One of the highlights of their business is their 24/7 emergency service model, where they promise to be on-site within 45 minutes. Many clients attested to this, particularly highlighting their punctuality regardless of their area.
We also have to note their honesty in the business. Not only do they honor their quotes, but they also won't perform any repairs if they find it unnecessary, potentially saving you thousands of dollars.
If insurance is your concern, you won't have to worry either: they work with major insurers in Canada. They'll even invoice your insurance directly and take over the hassle of communicating back and forth.
Another thing we liked, in particular, is their set of equipment designed to speed up water restoration. Plus, their humidifiers are also powerful enough for high-velocity drying – a bonus point for speed!
Finally, we love their in-housing financing options, which are perfect if you're short in cash. You can opt to pay $21 bi-weekly or pay in 12 to 14 at a zero interest rate and no down payment.
Fortunately, we've yet to encounter a serious complaint about their water damage services. There was only one client who shared that they failed to find the source of a water problem and some customers noted that they suspected some trainees to be among the workers sent to their sites (these were the minority, however).
IICRC-certified
Insured 
Has workers' compensation
Open 24 hours
Offers emergency services
On-site within 45 minutes
Direct billing to insurance
Flexible in-house financing option
A few reports from customers about trainees being used for their projects
Customer Reviews
Here's what past customers have said about this company:
I can not say enough about the level of service that was provided to us by the team in Ottawa. We arrived home to a basement full of sewage, called our insurance company who gave us the runaround to get a company out to clean up the mess so we decided to google a company that could help us. Paul and Jean-Michel answered the call and had teams onsite within 45 mins! They kept us informed as to what to expect then worked with our insurance to make sure we were taken care if. We cannot say enough about this company. Thank you, Paul and Jean Michel. Hopefully we won't need them again but if we do, they are the only company we will call. – Natalia Kabongo
My grandmother's basement had flooded. By time I found out the damage was severe. I called CRS and got an immediate response. The staff were lovely to deal with. Alex and his team were amazing! They were so professional at communication and keeping the site clean. It was a difficult scenario and they handled the situation with kid gloves. I was very impressed and so grateful for their help.
5. IBX Services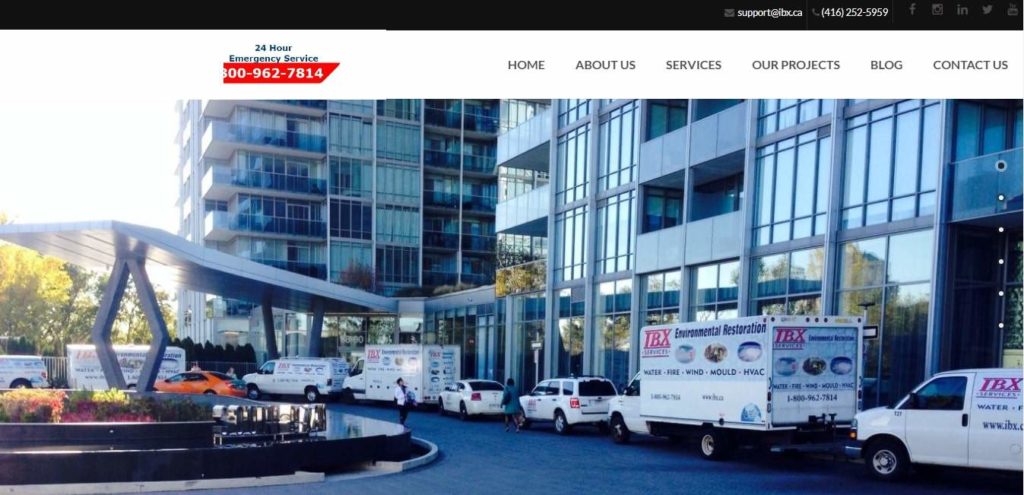 IBX Services is a firm that provides 24-hour restoration and catastrophe response services. Bringing their 20 years of industry knowledge to work, they have subsequently garnered several recognitions such as the Top Choice Award for Business Excellence for years.
We believe their team of employees is highly qualified and certified for the work since they are not only driven by greatness but are also appropriately licensed and insured to provide clients with a safe and secure experience.
They are able to react to clients in as little as 30 minutes all week and use only the best equipment and goods for each project to guarantee that everything they offer meets industry standards.
Another thing we admire about them is their exceptional team of diverse specialists, with whom clients may consult for credible information and practical solutions to a healthier and safer home and surroundings.
Furthermore, they make certain to obtain the necessary certification in order to examine the damage and condition so that they can ensure consumers that their services have answered all of their issues and have eliminated any immediate hazards to the family.
Open 24/7
Experts readily available
Licensed staff
Standard equipment used
Rates and packages unavailable
Customer Reviews
Here are some reviews from their clients:
"They came over to our place and did an excellent job right after we had a slab leak and water damage to our walls! The technician was very honest and explained the whole process since the beginning. Was also a pleasure to deal with them on the phone, making sure our Insurance Company was properly billed for their services!! I will definitely recommend them and will use them again if another issue like this happens again." – Samy G
"Great company to work with. The team was very responsive any time I called them. Their workers were friendly and respectful. They were there when they said they would be there and always on time. I ran into problems with my insurance company. The Project Manager was extremely patient and understanding while waiting to get paid as I worked to resolve the issues. Great guy…great company." – Louis N
6.  The Restorators: Cleaning and Restoration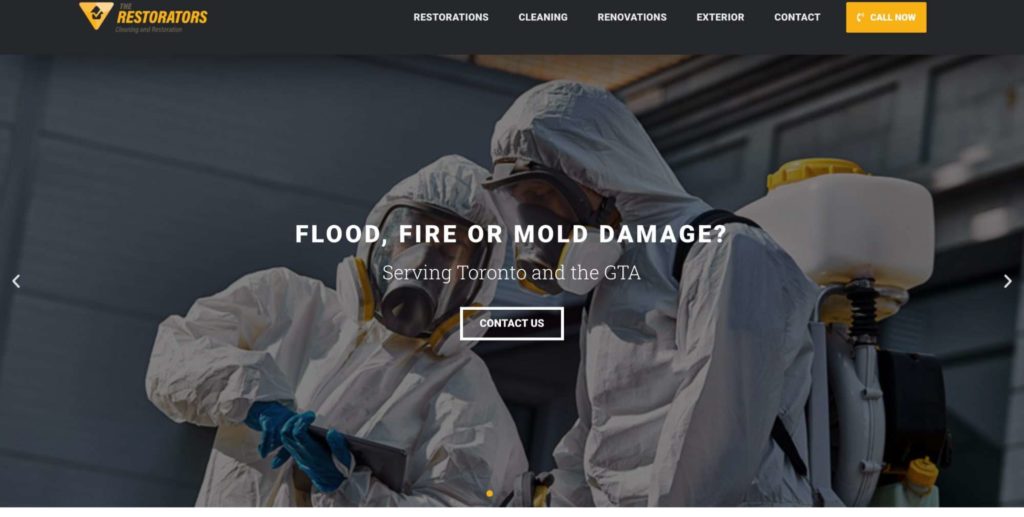 SERVICES
24 hours emergency water, flood damage clean up restoration, flooded basement from sewage backup, fire damage, black mold removal, asbestos abatement removal, odor removal, bed bug removal, smoke damage, emergency board up services, applied structural drying, wind and hail damage, emergency roof repair, sewage remediation, trauma cleanup, content restoration, inspection services
WEBSITE
http://therestorators.com/
ADDRESS
1 Yonge St, Unit 1801, Toronto, Ont, M5E 1W7
CONTACT DETAILS
416.835.3885


[email protected]

OPERATING HOURS
Open 24 hours
The Restorators land on the sweet spot between remarkable customer service and prompt work. Here are some reasons why we believe you'll love working with them:
For starters, they're open 24 hours and provide emergency water services in Toronto. If you give them a call, they'll be on your site in as short as one hour, which isn't the fastest in our list but still pretty good.
Other than promptness, we love the way they keep their clients in the loop. They'll talk you through what they're doing and even give out recommendations to avoid future problems.
Unfortunately, they don't have an x-ray camera to see through surfaces without destroying them. On the bright side, if they need to lift your floor, wall, or ceiling, past clients say that they do it with as little damage as possible.
We also like to note the level of effort they go through to make sure everyone's at ease while they're working. One client shared that they gave her daughters crafting supplies to keep them distracted – pretty cool in our opinion.
Finally, this company offers an all-in-one solution to your water damage problems. This means that they can find the source of the problem and try to address it using various methods, including waterproofing windows.
As the cherry on top, the company's perfect 5-star rating on both Google Reviews and Homestars says a lot about customer satisfaction. By the way, they offer flexible payments too that you can pay in installments if needed.
IICRC-certified
Insured 
Has workers' compensation
Open 24 hours
Offers emergency services
On-site within an hour
Flexible financing options
Offers all-in-one water damage solution
No x-ray cameras to see leaks without damaging surfaces
Customer Reviews
Here are some reviews left by past clients on Google Reviews:
I recently noticed water damage under the bathtub in the main floor. I contacted The Restorators Water Damage and Mark was super friendly and professional. Based on the picture that I sent, he said what the probable issue is, how to fix it and provided ball park estimate. He described steps that he is going to take to fix the issue. The crew was in my place in no time, they immediately fix the issue, checked for molds, fix the plumbing, air vented the place. All these time they were super careful and made sure house is not getting messy. Overall very satisfied with Mark and The Restorators Water Damage. Highly recommended! – Nurlan Karimov
The company was smooth and comfortable to work with. Mark was available for feedback, even at late hours. That is important- to have both work and customer management skills. Work was done around the time, that I was given estimate. Work was done professionally and carefully, no rushing. I would certainly recommend this company for handsoff project work, as they manage professionally and technically solid. The air test passed on work completion smoothly. They are not pushy on payment and provide couple weeks staggered payments if needed. That should be appreciated by customers. – Tom Tom
7. PuroClean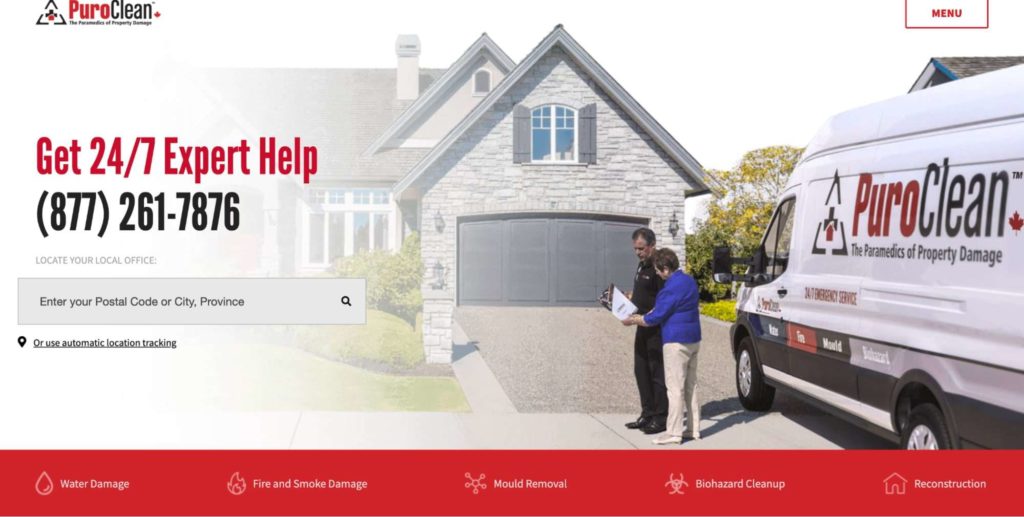 | | |
| --- | --- |
| SERVICES | Water damage, fire and smoke damage, mold removal, biohazard clean up, reconstruction |
| WEBSITE | https://puroclean.ca/ |
| ADDRESS | 311 Bay St. Unit 5602, Toronto, ON M5H 4G5, Canada |
| CONTACT DETAILS | +1 416-264-6565 |
| OPERATING HOURS | Open 24 hours |
PuroClean has many success stories up its sleeves, making them one of the best in Toronto. Let's start with the details first so you'll know the scale of their services.
Here's a fun fact to get you started – did you know that this company and its fleet of franchise offices responded to over 2,500 properties during a flood in Ontario in 2018?
This remarkable response set this company apart by showing them rising to meet a tough situation. And this isn't the only thing that they can offer for their patrons.
Like every contractor on this list, they also offer a 24/7 emergency service. Plus, they'll leave your home sparkly clean after dealing with your water damage problems.
We're also big fans of its fancy collection of high-end equipment, which ensures you get top-tier results after the job. For instance, they use sensors and hygrometers to see beyond surfaces.
Our favorite is their QuickDry System™, which ensures that the property gets back to normal in three or fewer days. Through this technology, the drying process is much faster, eliminating the risk of mold build-up.
Lastly, they'll collaborate with your insurance and send an estimate of damaged materials in as fast as 24 hours.
We wish to see more flexible financing options in the future but so far, we like nearly everything here – enough to say we believe they're worth every penny.
IICRC-certified
Insured
Has workers' compensation
High-tech equipment and drying technology
Open 24 hours
Offers emergency services
Sends estimate of damaged materials to insurance within 24 to 48 hours
Customer Reviews
Take a look at what past customers have said about this company:
My husband tried to fix our hard wood floor and hit a pipe with one nail so we had a water leakage from the top to the bottom of our house. PuroClean was absolutely amazing and not only found where the actually leak is but quickly dried our walls and fixed everything within short period of time. We had so many bad experiences with bad contractors before but PuroClean was very professional and they have done a great job! – Mia Deluca
We (unfortunately) have had a couple unrelated leaks and floods over the years in our basement apartment. PuroClean had reps over almost immediately, and did not waste any time in fixing the problems. They were prompt, professional, friendly, and answered all questions we had. One thing I found particularly impressive was how clean everything was as they left for the day or when the job was finished. I would highly recommend their services to anyone who needs them. – Kevin Speare
8. On Side Restoration Services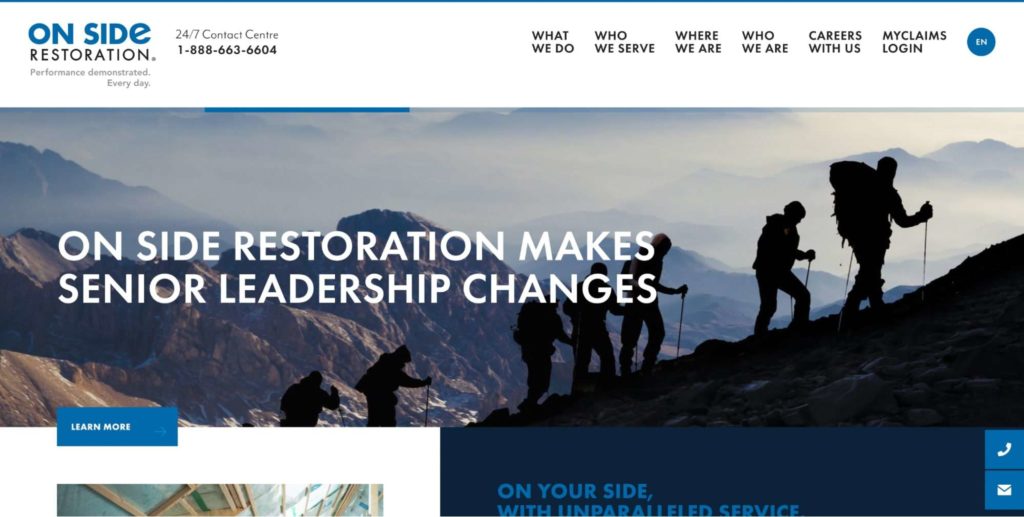 | | |
| --- | --- |
| SERVICES | Water, storm, flood damage, mold remediation, fire restoration, storm damage, catastrophic property loss, bio-hazard remediation, content pack out, pack in, restoration. |
| WEBSITE | https://www.onside.ca/en/ |
| ADDRESS | 5595 Finch Ave E unit 4/5, Scarborough, ON M1B 2T9, Canada |
| CONTACT DETAILS | +1 905-474-3710 |
| OPERATING HOURS | Open 24 hours |
On Side's quality shines through whenever you need it the most. And many past clients can vouch for their first-rate customer service that extends beyond the expected.
First, they provide a 24/7 emergency service in Toronto and are known for working fast to dry and clean the property. In fact, many past clients shared that the project was either done on time or ahead of time.
Second, their support and communication are just faultless. One client said that the company was with her all throughout the process when she needed to move out for the cleaning, and that's in line with what we experienced.
Third, they collaborate with your insurance company so you won't have to worry about doing the work yourself.
Finally, we also like that they service 13 more areas in Ontario besides Toronto. So, in case you plan on moving homes in the future, you can still reach out for their services.
The only downside with their trade is that some have alleged occasional overcharging, with costs tending to be higher than the city average, according to past customers. But all-in-all, the quality of their work is undeniably among the best.
IICRC-certified
42 years of experience
Insured
Has workers' compensation
Open 24 hours
Offers emergency services
Collaborates with insurance companies
Services 13 more areas in Ontario
Issues of overcharging in some custom jobs 
Higher rates than average
Customer Reviews
Take a look at what past clients have said about this company:
When I had a chimney disaster this winter I was referred to On Side to fix the damage. On Side was always there for me – first to reassure me that the problem was repairable, then when they arranged the contractors to do the work. Throughout the process On Side kept me up to date on any unforeseen delays and provided accurate timelines for completion. Considering the timing within the height of the pandemic the work was done quickly and correctly.
Our roof leaked and water damaged our walls and carpet. On Side was quick to come in, assess, work with our insurance company and then quickly cleaned and repaired the area's. They were great to work with.
Open 24 hours
Offers emergency services
Collaborates with insurance companies
Services Toronto and GTA
Signs of Water Damage to Look Out For
Water damage happens a lot more times than you'd expect. Any leak due to faulty plumbing, a leaky roof, and other issues, could cause a ton of damage in your house.
Take a look at these common signs to find out when you'll need the best water damage services in Toronto by your side:
1. Dark or wet spots on the ceiling
If you're starting to see blotches of dark spots in your ceiling, with droplets hitting your head, this could be a sign that you have water damage in your house.
There are many water damage restoration services that are open 24 hours a day, so you shouldn't have to wait too long to call for one. Have someone check the pipes on your ceilings and if you have cracks as well.
2. Drywall that begins to flake or crack
Encountered a musty scent from your room? Or even feeling that it's become more humid?
Better look out, then! Wall cavities affected by water damage are vulnerable to mold growth, which also gives off a musty odor.
In addition, if you see that your paint is peeling off and cracks are forming around the area, this is another sign that you have water damage.
3. Hearing water though the fixtures are off
So you've turned off all the faucets and fixtures, sat down, then moments later, you hear your water running. This could be because of a faulty valve faucet.
You can try to turn your main water source off to shut down the running sound, but it won't solve the problem completely. You require someone to change and fix your valves if this is the issue.
4. A sudden increase in utility bills
You might not notice the things mentioned before, but the moment you see your bills, you may be surprised by the large increase. There are a lot of reasons for it to happen, including some of the signs we've listed before.
You wouldn't want to pay more than you actually use, so we advise getting someone to fix those problems. If you're worried that getting a water damage repair service will be expensive, then just think about how expensive it will be if you end up ruining your house.
FAQs About Water Damage Services in Toronto
---
The best water damage services in Toronto can provide you with rapid response and a satisfactory quality of work. If you need more services like this, you can check out some of our other homeowner and utility lists – start by looking into the best emergency plumbers in Toronto to learn more.