Top 5 Real Estate Investing Companies in Toronto
Toronto's real estate market has a lot to offer, whether you invest in a house or a condominium. However, finding the right property will take time and effort and can be difficult if you do it on your own.
This is where real estate companies can help. They will make the process easier and hassle-free.
We have narrowed down the top real estate investing companies in Toronto. Their agents are licensed, professional in dealing with clients, and have a lot of experience to find the best property for you.
The Best Real Estate Investing Companies in Toronto
The majority of homes in Toronto are sold with the help of a real estate agent or broker. They are licensed to help buyers and sellers find the best possible deal for the property.
Below are the guidelines we used to find the top real estate investing companies in Toronto.
How much does real estate investing cost in Toronto?
The cost involved in a real estate investment includes more than just the purchase price. There are after-closing costs that investors have to take into consideration.
The payment of these costs is either shouldered by the buyer or seller. For example, a seller pays for the real estate commission while a home inspection is paid by the buyer.
Closing costs may include transfer taxes, legal fees, title insurance, home inspection, and real estate commission. Below are the average fees you need to know about.
| Service | Fees |
| --- | --- |
| Home Inspections | $300 – $750 |
| Appraisal | $300 |
| Real Estate commission | 5% – 6% of purchase price |
| Title Insurance | $400 |
| Ontario Land Transfer Tax | .5% – 2.5% of purchase price |
| Toronto Municipal Land Transfer Tax | .5% – 2.5% of purchase price |
| Land Survey | $500 – $2000 |
| Legal Fees | $500 |
1. Andrew Ipekian Real Estate Group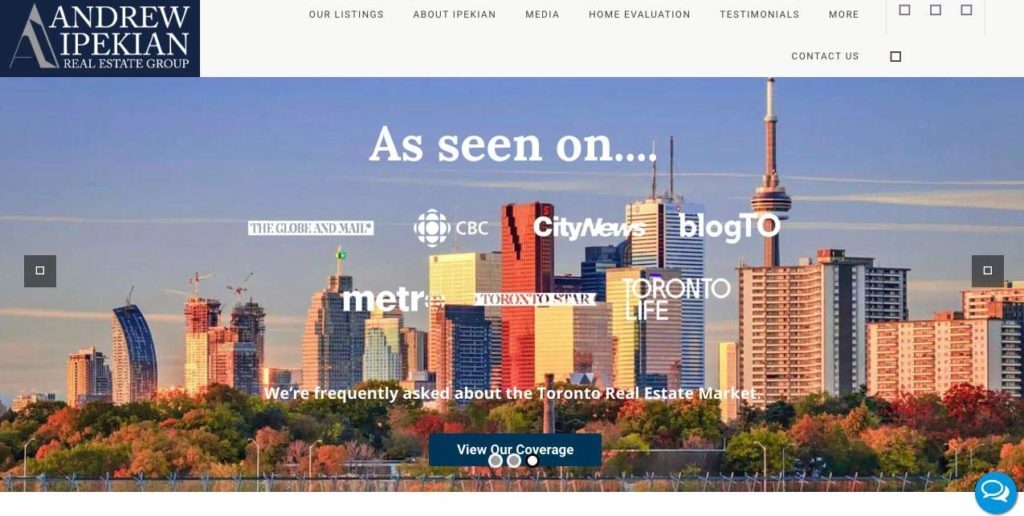 Test
Info
Services

Real Estate

Broker

Home Evaluation

Market Analysis

Website
Address
624 King St W Lower Level, Toronto, ON M5V 1M7
Contact details

416-572-1016

Operating hours
Monday – Sunday: 7am – 9 pm
| | |
| --- | --- |
| Expertise | ★★★★★ |
| Availability | ★★★★★ |
| Services | ★★★★☆ |
| Communication | ★★★★☆ |
Andrew Ipekian Real Estate Group, which was voted for 4 consecutive years as the number 1 real estate group, is helping sellers in Toronto and GTA connect with buyers all over the world.
Its priority is to find the perfect dream home for clients by pouring time into multiple properties showings.
Andrew and his team are great at negotiating to get the best value for each property. Also, they listen to clients' requests and are pleasant to deal with.
Buyers looking for a property will be happy to work with this group because the agents have been responsive and accommodating. We were happy to get honest advice on the properties we were interested in.
Its services, though, are limited to brokering properties between buyers and sellers. Unlike other companies who offer services like relocation or selling redeveloped land.
Its attention to detail is commendable. We understood the terms of the transaction with ease because the agents explained these patiently.
Furthermore, all aspects of selling a property were covered, from home staging and food events to active promotions on social media. We were surprised so many came to the open house.
However, sales skills can sometimes be overbearing. Also, the team can be disorganized, especially when dealing with a lot of clients.
Despite that, we appreciate that the team respects our time and they are a pleasure to work with. There are no surprises as they provide all the information to help clients make the best decision.
Consistent real estate awardee
Great negotiation skills
Provides honest advice
Complete marketing campaign
Overbearing sales skills
Disorganized team
Limited real estate services
Customer Reviews
Knowledgeable staff
We had a wonderful experience with the Andrew Ipekian team. Erin McDonald worked with us to secure a lovely townhouse. Without her help I don't believe we could have made it happen. She is knowledgeable and a really great person to work with. – Brooke
Great support team
Our experience with Shelley Shaw was better than we could have imagined. We outlined what we wished to accomplish, and Shelley gave us all the advice needed to make our goal happen. There wasn't an issue she couldn't handle. And there is a great support team behind her. We would recommend Shelley and the Andrew Ipekian Group to anyone wanting to make a real estate transaction, regardless of the circumstances. – Andrew
2. Core Assets Real Estate (CARE)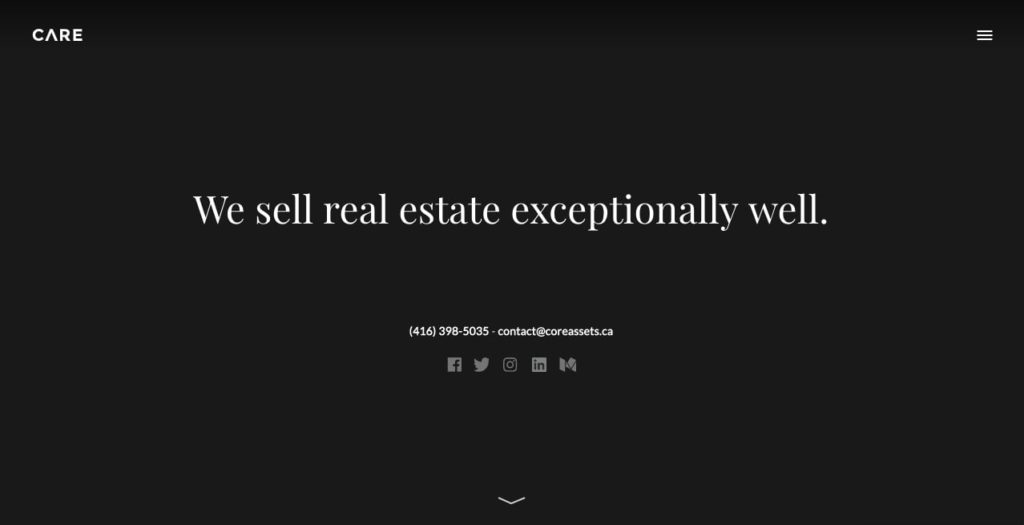 Test
Info
Services

Selling / Dispositions

Buying / Acquisitions

Leasing / Client Rep

Investment Services

Development Services

Relocation Services

Website
Address
142 King St E, Toronto, ON M5C 1G7
Contact details

416-398-5035

Operating hours
Monday – Sunday: 9 am – 6 pm
| | |
| --- | --- |
| Expertise | ★★★★★ |
| Availability | ★★★★★ |
| Services | ★★★★★ |
| Communication | ★★★★☆ |
Core Assets Real Estate (CARE) is composed of an elite group of agents who always find ways to meet clients' needs. Its solution-based brokerage business started in 2012 and has consistently provided advice and layers of support for clients.
Its success is due to the team's collaboration in sharing its resources and knowledge. Furthermore, the agents support, learn and motivate each other so they can deliver the highest level of service.
What we appreciate about this team is its ability to deliver beyond expectations. They perform with integrity and always do the right thing for their clients, themselves, and the business.
CARE's reputation for giving its best in what it does is unmatched. For one, the agents were accommodating by adjusting to our busy schedule and showing all the properties we wanted to see.
The agents also were trustworthy and dependable. We liked that they encouraged us to continue looking for the best place and not settle for less.
Added to this, the agents' responsiveness to our inquiries is commendable. Clients who are new to real estate investing appreciate this.
However, miscommunication can happen. Some customers have experienced receiving no advice that their appointment was not pushing through and the property they were interested in has been sold.
In spite of this setback, the company strives to maintain its high standard of service. Also, the immense support of the agents is incomparable.
Elite group of agents
Solution-based brokerage
Collaborative team
Flexible schedule
Miscommunication in schedules
Lacks updates on properties
Customer Reviews
A real lifesaver
Gavin at Core Assets is STELLAR. He is professional, dependable, trustworthy and at the same time very personable. Gavin offers great relief during the stressful process of looking for a place to rent, or to buy or to lease. Highly recommended. I personally met Gavin by sheer luck and coincidence as a first time Toronto condo-renter. Gavin is a real lifesaver. Gavin helped me navigate the complex and competitive Toronto rental market, and was superb at accommodating my schedule that is not-at-all easy to accommodate. Gavin was also a great support in helping me become a first-time Condo-Owner. He understood my likes and dislikes, and was professional in selecting the right options for my considerations which saved me a great amount of time and stress, and helped me find my property and close within a month! Gavin continues to provide me with great support in finding suitable tenants as I lease my condo out, and always respond promptly with any queries from my end. Highly recommended. – Fran
Helpful insight
We were recommended Miranda through a friend of ours. We were looking for a condo in Toronto that fit our very specific criteria. Miranda was extremely professional through her responsiveness, her organization, her work ethic, and kind/calm demeanour. She provided plenty of helpful insight and things to look out for, and even got our rent below asking price. She guided us through the entire process, start to finish and made everything easy for my partner and I. I would highly recommend Miranda if you are looking for a place in Toronto, ON. She was great! – Ian
3. Elevate Realty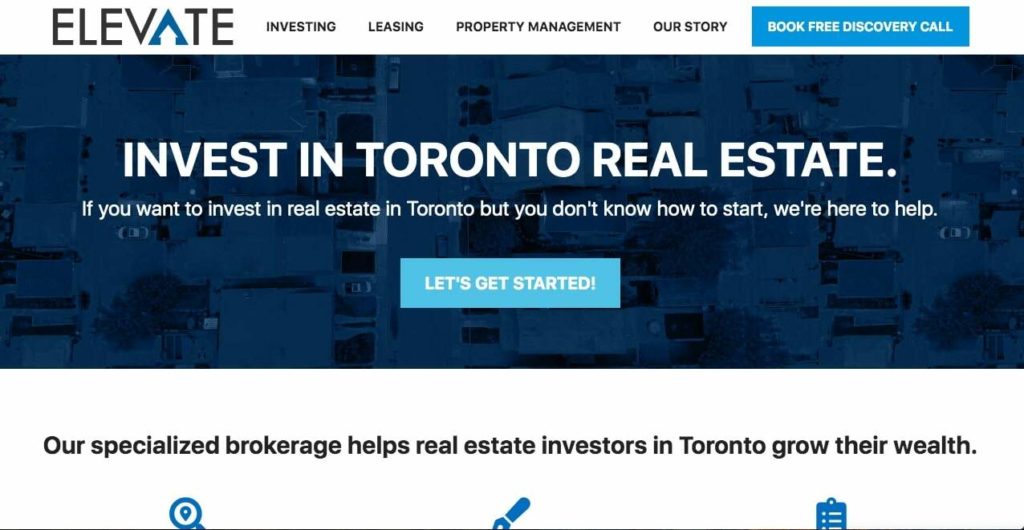 Test
Info
Services

Real Estate Investing

Leasing

Property Management

Website
Address
228 Oakwood Ave, Toronto, ON M6E 2V4
Contact details

416-889-2222

Operating hours
Monday – Sunday: Open 24 hours
| | |
| --- | --- |
| Expertise | ★★★★★ |
| Availability | ★★★★☆ |
| Services | ★★★★★ |
| Communication | ★★★★☆ |
Elevate Realty is a specialized brokerage company that helps clients grow their wealth through real estate investing. It offers a complete line of real estate services that help clients realize investment goals quicker.
It offers real estate sales, leasing, and property management because of the belief that these services can unlock financial freedom. In addition, it conducts market research to help clients understand the property market.
We appreciate the agent's openness to share data insights and financial projections. Furthermore, it was easy to deal with Elevate because they offer end-to-end investing services — from buying to selling property.
These have allowed us to build and grow our real estate portfolio. The team goes above and beyond in helping clients find a great property.
The company's service does not end with the purchase of the property. It has a pool of mortgage brokers, legal experts, contractors, and accountants that clients can tap for reliable advice and service.
A 30-minute discovery call is available to clients to know more about Elevate and how it can help with their concerns. This also helps to know the client's requirements and give preliminary recommendations.
The agents are knowledgeable and professional in the way they carry out phone conversations. They are available anytime to answer queries and give valuable insights into the market and property.
However, there have been instances when appointments were canceled at the last minute. We also did not like the agent's use of high-pressure sales tactics even before showing a property.
As a whole, what we like about this company is the time and effort it puts into researching the properties before they are shown to us. In addition, the agents' knowledge and experience have guided us in finding the right property to invest in.
End-to-end real estate services
Conducts market research
Pool of experts in related fields
30-minute discovery call
Knowledgeable and professional agents
Last-minute cancellation of appointment
High-pressure sales tactics
Customer Reviews
Amazing service
I cannot say more positive things about our experience with Elevate Realty Inc. This is our first investment project with them. We had a very good intro meeting with Simon and Spiro to walk us through the available services from realtor assistance to leasing and property management. Our realtor Spiro was highly knowledgeable and truly listened to our preferences. Kate went above and beyond to get the property in excellent shape for leasing and has been amazing at quickly securing great tenants for us. Everyone is experienced, professional and very courteous and attentive. We are now happily working with our property manger Nicholas. We have been so pleased with the process for this investment property so far and would recommend Elevate Realty services to anyone looking to purchase or lease a property. – Kim
Staff is always available
We started our investment property search in August 2021 and had purchased and leased a property by January 2022! Nick was knowledgeable, helpful, always available for any questions we had and the consummate professional. Wonderful experience for us as we became investors for the first time. Highly recommend Elevate Realty for all of your investment property needs. – Roberta
4. Kevin Yu Team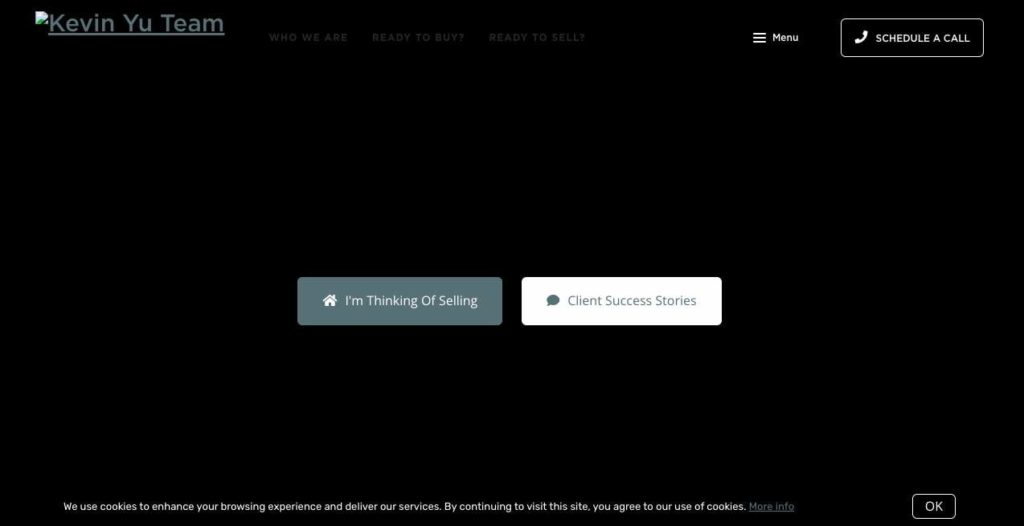 Test
Info
Services

Reall estate buying and selling

Digital marketing services

Home staging

Website
Address
10 Yonge St Unit 113-115, Toronto, ON M5E 1R4
Contact details

416-894-8729

Operating hours

Tuesday – Friday: 10 am – 4 pm

Saturday: 9 am – 4 pm

Sunday – Monday: Closed
| | |
| --- | --- |
| Expertise | ★★★★★ |
| Availability | ★★★★☆ |
| Services | ★★★★★ |
| Communication | ★★★★☆ |
Kevin Yu Team is helping clients in their real estate investments through the use of digital marketing strategies. It has partnered with Curaytor, one of the fastest-growing companies in America.
With the help of Curaytor, the company has access to email marketing tools and advertising tactics. It is also able to make stunning websites to showcase and help make the property stand out.
The limited operating days of the company are not a problem as it makes custom online property pages that can be viewed anytime. These websites have had remarkable results as we got multiple viewings and offers above the bid price.
Facebook and Instagram are also used to promote and show the best features of your home. To reach out to potential clients, it also uses email blasts as well as Youtube video marketing.
The company sends free home valuations to sellers while initial meetings with buyers focus on determining what you need for a property. Information is communicated well and explained thoroughly so there are no surprises.
Despite instances of late replies to email inquiries, the team is a pleasure to work with as they are helpful, patient, and attended to every detail.
Working with Kevin and his team is a seamless process from beginning to end. They also remain in communication until the paperwork is complete.
Digital marketing strategies
Stunning websites for properties
Free home valuation 
Seamless process
Late email replies
Limited operating schedule
Customer Reviews
Excellent customer service
Kevin and his team were great to work with for our first time buying a home. He was patient and helpful every step of the way. His knowledge of the market and understanding of our needs/wants for the perfect place were superb. And he generally was great to visit homes with and showed enthusiasm for us finding the right place. His office team and Stacy were great too, very organized and a delight to connect with. We will definitely use Kevin and his team for our future real estate plans. – Matt
Fast process
Recently bought our first property with the help of Kevin and his real estate team. The whole process was faster than we expected. We worked with Kevin to choose our must haves and we only saw the properties that had exactly what we were looking for. After seeing about 5 properties, Kevin's team helped us find the one and within a month we were moved in! Can't thank them enough for all the hard work and we are so happy we found our perfect home. Highly recommend Kevin's team if your looking to buy a home in Toronto! – Bree
5. Re/Max Real Estate Solutions – The Sundeep Bahl & Tim Yew Team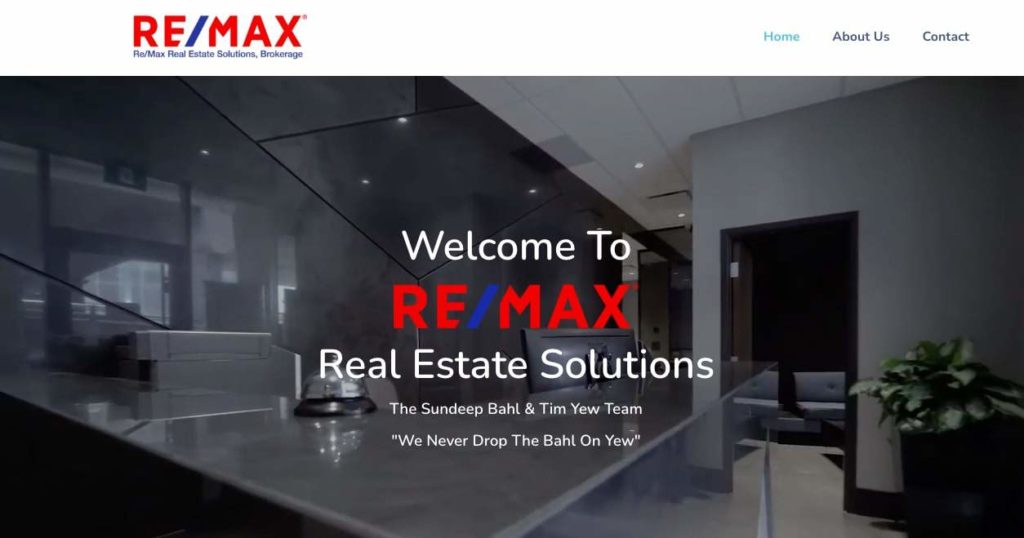 Test
Info
Services

Real estate brokering

Leasing

Property Management

Website
Address
14 Harbour St, Toronto, ON M5J 2Y4
Contact details

647-259-8806

Operating hours

Monday – Thursday: 9 am – 5 pm Friday: 8 am – 5 pm

Saturday: 10 am – 5 pm

Sunday: Closed
| | |
| --- | --- |
| Expertise | ★★★★★ |
| Availability | ★★★★★ |
| Services | ★★★★★ |
| Communication | ★★★★☆ |
Re/Max Real Estate Solutions under the Sundeep Bahl & Tim Yew Team provides professional advice to help clients make a good return on their investments. Clients have been loyal since 2002, which made this team rank as one of the top 15 producers in Re/Max Canada.
As a real estate brokerage offering full services, its focus is for clients to buy property at the lowest prices and sell at the highest value possible. These are achieved with the least hassle to the clients.
The team helps and supports each member to be able to share with clients their expertise, knowledge, and experience. In doing so, they have helped investors be able to successfully sell, lease, and buy properties.
We have encountered, however, poor people skills from some of the agents. But this doesn't generalize the entire team.
Most of them, in fact, always put the client's needs first as they are patient and walked us through the process of real estate investing. It was wonderful to work with them because of their knowledge and advice on the current market.
The team's competence made it easy for us to grow our portfolio. They are on top of every detail and discussed both opportunities and solutions.
Professional experience
Full-service real estate brokerage
Hassle-free process
Supportive team
Competent and knowledgeable agents
Some agents have poor people skills
Customer Reviews
Very professional
I was looking to buy a condo and Neve Dowey was my realtor. I not only relied on her to find the right properties but depended on her advice as well. She was able to understand my requirements and was patient in going through viewings and finding the right property. I found her to be very professional and responsive. Due to time constraints on my move, I did not end up buying a condo but ended up renting and she helped me find the right rental unit. – Nazia
Everything was made easy
Love this agency! They make everything so easy, which I am grateful for! I work with them several times and I'm always a happy customer where is. The professionalism is second to none.Tim, Jefferey were fantastic. They are attentive, preemptive and responsible. Recommended. Thanks guys. – SJ
FAQs about Real Estate Investing in Toronto
---
Real estate investing is one way to make your money grow. There are a lot of real estate investing companies in Toronto that can help you find the best property to invest in.
For more information on real estate, check these out: