Top 6 Upholstery Cleaning Services in Toronto
Over time, your furniture will collect dirt and allergens. You will see spots and stains with constant use, especially if children and pets are around.
Added to this, without you noticing it, the fabric absorbs odor from smoke and sweat, among others. Also, the jagged edges of dirt and dust particles can cut and break the fabric.
You can do spot cleaning and maintenance on your upholstery. However, stubborn stains and dirt that have penetrated the layers of fabric can only be removed by professional cleaning services.
To help you with your furniture maintenance, we have found the top upholstery cleaning services in Toronto. The companies that offer these services are all experts in the field.
If you want to know whose service to get for the best upholstery cleaning in Toronto, read on further.
The Best Upholstery Cleaning Services in Toronto

Upholstery cleaning is best done by professional cleaners who have the skills and proper tools. We have a set of criteria that helped us find the best upholstery cleaning services in Toronto.
How much does upholstery cleaning cost in Toronto?
When you talk to the best upholstery cleaning companies in Toronto, they will normally ask you the kind of fabric and type of furniture you need to be cleaned. They do this as the price of service is highly dependent on these factors.
We have listed down a few types of furniture with their range of prices. Do take note that each company will have to assess your furniture and the extent of work needed before they can give an actual cleaning cost.
| Item | Price range per item |
| --- | --- |
| Leather Couch | $200 – $500 |
| Sofa | $100 – $300 |
| Loveseat | $60 – $120 |
| Recliner | $60 – $80 |
| Armchair | $40 – $80 |
| Office Chair | $20 – $40 |
| Dining Chair | $10 – $30 |
| Ottoman | $20 – $50 |
1. Victoria & Co.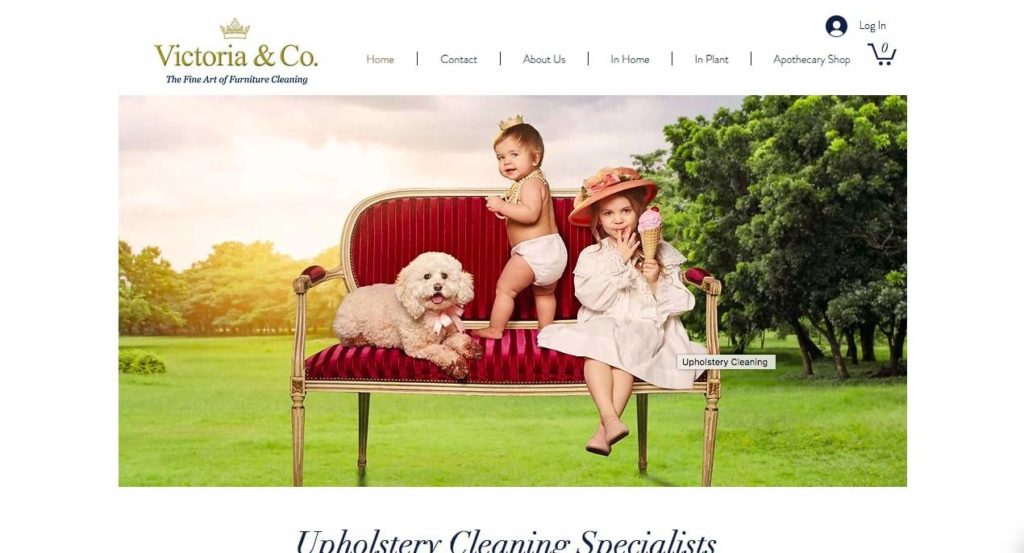 Test
Info
Services

360 Cleaning System

Eco-dry cleaning

White and Off-white Oxygenation

All Green Fabric Protection

Fast Drying Circulation

Website
Address
19 St. John's Rd, Toronto, ON M6P 1T7
Contact details

416.604.9299

Operating hours

Monday – Saturday: 9 am – 5 pm

Sunday: 11 am – 5 pm
| | |
| --- | --- |
| Price | ★★★★☆ |
| Customer Service | ★★★★★ |
| Cleaning Services | ★★★★★ |
| Staff | ★★★★★ |
| Availability | ★★★★★ |
Victoria & Co. has 30 years of experience cleaning upholstery under its belt. It specializes in delicate fabrics and fine upholstery.
The team of specialists provides maintenance of sofas, chairs, pillows, area rugs, and carpets. What we like about Victoria is its capability to also clean upholstered walls, tapestries, and even antique needlework and textile that are delicate.
The professionalism of the team is what we noticed first. We saw that they really cared about us and ensured that our furniture is well-taken care of.
Victoria provides both cleaning on-site and pick-up of furniture for cleaning in its facility. Service and communication are excellent, making the pick-up service and price quotation smooth and hassle-free.
However, drop-off items can only be done by appointment, and the quotation is only given when the item has been assessed.
Victoria's store is open the whole week and the staff is very welcoming and pleasant to talk to.
Furthermore, the 360-degree cleaning system it uses shows how meticulous its service is. This system starts with breaking up dirt on the upholstery and then using a custom blend solution to treat the fabric.
As if this cleaning process is not enough, the system also uses an oxygen blend solution to remove stubborn stains. Added to this, heated air and liquid fusion systems are used to ensure that remaining dirt and stains are removed without wetting the upholstery.
Victoria also offers to remove impurities and gently deep cleans delicate fabrics like silk and rayon. On the other hand, it has a cleaning system that will restore your white upholstery.
Its cleaning tools allow quick-dry so you can use the furniture right away. We also appreciate that it has a special heatwave technology that will protect your upholstery from spots and stains.
The magic Victoria does on the upholstery is exceptional. We were happy to see that our sofa, which we thought was ruined, was brought to life, stain-free and looks even better than when we bought it.
Overall, as it advocates the fine art of upholstery cleaning, Victoria is a great place to have your well-loved furniture cleaned. Highly recommended are its quick turnaround time and the friendly and helpful team.
Exceptional cleaning system
Professional team
Excellent service
Quick turnaround
Drop-off service is by appointment only
Price only given upon assessment
Customer Reviews
Fast and efficient
I worked with Victoria and Co to clean our fabric rocking chair in the nursery. It was very dirty and they got out all the stains and completely sanitized it. Fast and efficient and responded to us immediately! Very happy with their service would work with them again. – Kate
Good as new
We have been incredibly happy with the cleaning services provided by Don and his company Victoria & Co. He is very professional, and communicating with him was very easy. We are thrilled with the work he has done- he has provided cleaning and treatment on multiple couches and rugs for us over the years. His cleaning is always extremely effective, particularly in our household with dogs/kids, including a large white sectional and white Moroccan rug that are prone to getting dirty/stains, and he always makes our furniture look good as new. We have also been happy with the quality of what he uses for the cleaning. Overall would highly recommend! – Chris
2. Reliable Carpet & Upholstery Care, Inc.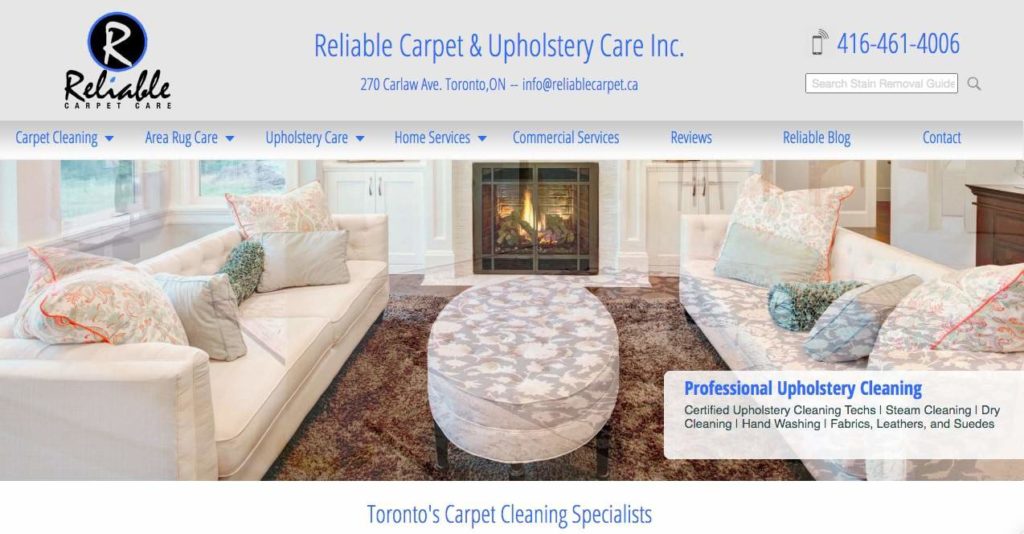 Test
Info
Services

Upholstery Cleaning

Stain Removal and Protection

Sanitizing Services

Area Rug Care

Carpet Cleaning

House Cleaning

Duct Cleaning Services

Website
Address
270 Carlaw Ave, Toronto, ON M4M 3L1, Canada
Contact details
416-461-4006
Operating hours

Monday – Friday: 9 am – 5 pm

Saturday: 10 am – 1 pm

Sunday: Closed
| | |
| --- | --- |
| Price | ★★★★☆ |
| Customer Service | ★★★★★ |
| Cleaning Services | ★★★★★ |
| Staff | ★★★★★ |
| Availability | ★★★★☆ |
Reliable Carpet and Upholstery Care, Inc. is one of the trusted cleaning companies in Toronto and the GTA. It has been serving this area for the past 20 years, offering exceptional cleaning of carpets, area rugs, and upholstery.
The highest standard of service is done by its professional team that is well-trained to clean and restore upholstery to its original state. Its upholstery cleaning system is known to be the most advanced and thorough service in Toronto.
Its state-of-the-art equipment and techniques are proven to remove, stains, dirt, odor, and allergens. Furthermore, the extraction cleaning system has successfully made upholstery look new and feel like it has been deeply cleaned.
At Reliable Carpet Care, your upholstery will be cleaned by steaming or dry cleaning. For delicate fabrics, its skilled technicians use natural sponges and specially designed brushes to ensure the fabric won't get destroyed.
For leather materials, the company offers a tri-step method of cleaning, conditioning, and protecting the material. In addition, antique and rare fabrics are well taken care of with special treatments and restored through the dry-wet-dry technique.
We are happy with Reliable's upholstery cleaning because, once again, we can smell and feel the furniture's cleanliness. Added to this, it has removed allergens and dust mites so the air in the house is cleaner and we can breathe safely.
The team's excellent skills have not only made the furniture clean but also extended the useful life of your well-loved items. Their efficiency, tidiness, and professionalism in finishing the work are also commendable.
Reliable's cleaning services can be quite expensive. However, we were happy with the quality care in making our furniture look new again, making the cost all worth it.
Added to this, dealing with the staff is smooth and stress-free. They are knowledgeable and give helpful information to best take care of our furniture.
The convenience of the provider's pick-up and delivery system more than makes up for its limited operating hours. The staff's way of scheduling is fantastic and the items are delivered on time and look clean and fresh.
As a whole, Reliable is a great recommendation if you want to have your upholstery undergo deep cleaning and keep it looking beautiful for a long time. The team has been keeping its promise of making your furniture look new again.
Furniture looks new
Efficient team
Pick up and delivery
Smooth and stress-free service
Expensive service
Limited operating hours
Customer Reviews
Very efficient
This is my first time using a cleaning service for my couch and I am so glad we hired this company. Especially happy with my request for Dan to give my couch the quality care and maintenance it needs. Our couch had a lot of water stains along with our dogs continuous licking which left water marks on the surface of our new couch.
Dan was amazing and very efficient. It was expensive but certainly worth it. My couch looks new again. I'd definitely recommend him and this company. – Lina
Impressive service
Great experience using Reliable. They picked up our carpet that was really looking quite disgusting, and brought it back looking brand new. So impressed. Service: Area rug cleaning – Shannon
3. Toronto Steam N' Clean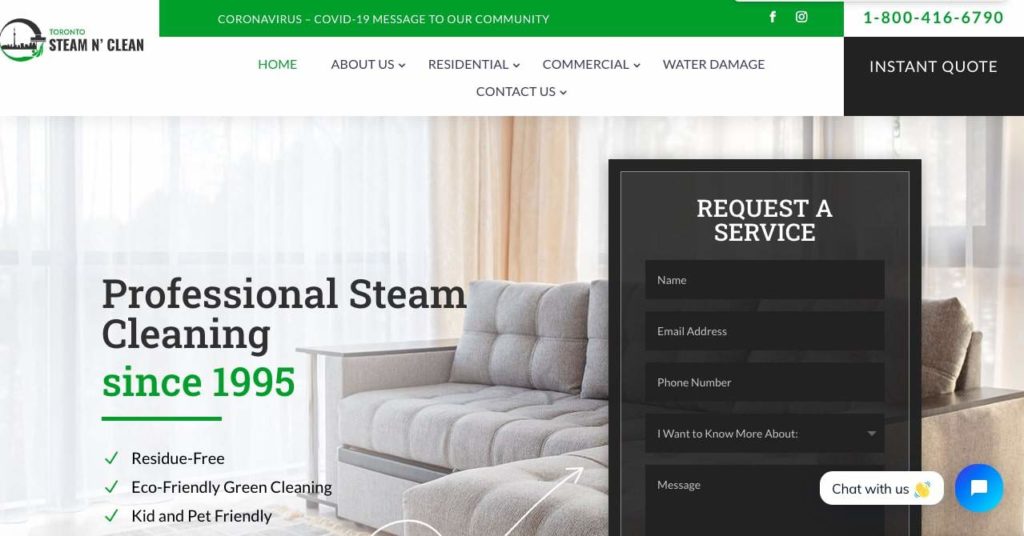 Test
Info
Services

Carpet Cleaning

Upholstery Cleaning

Area Rug Cleaning

Area Duct Cleaning

Floor Cleaning

Website
Address
18 King St E Suite 1400, Toronto, ON M4C 1C4
Contact details
800-416-6790
Operating hours

Monday – Friday: 9 am – 6 pm

Saturday: 9 am – 3 pm

Sunday: Closed
| | |
| --- | --- |
| Price | ★★★★☆ |
| Customer Service | ★★★★★ |
| Cleaning Services | ★★★★★ |
| Staff | ★★★★★ |
| Availability | ★★★★☆ |
Toronto Steam n' Clean has been in the upholstery cleaning industry since 1995. Over the years, it has grown and thrived in providing quality upholstery cleaning services.
What has helped its growth is its team that is trained and certified by the Institute of Inspection, Cleaning and Restoration Certification (IICRC) in upholstery cleaning and water damage restoration.
To give your upholstery a clean look and feel, the Toronto Steam n' Clean method starts with a thorough assessment to know what is the best way to clean the furniture. In addition, it uses a pH-balanced formula to loosen fabric fibers and prepare them for the extraction of dirt.
Furthermore, a concentrated solution is used to remove spots and stains. It also uses the most recommended method of using hot water, pressure, and steam to penetrate dirt in the deep layers of the fabric.
What we like about Toronto Steam n' Clean is it offers additional services too, which include odor removal and sanitation to prevent allergens. To protect your furniture from stains, it applies a protective layer to the fabric, which repels water spills.
All of the cleaning services it offers though are quite expensive but within industry standards. Getting its services will still give you your money's worth because it does pick up and delivery and the cleaning service is excellently done.
However, it has limited operating hours and days. We do think, though, that great customer service more than makes up for this.
We appreciate its 100% satisfaction guarantee promising to redo the cleaning of your upholstery if you inform the staff within 24 hours after the service.
Also, the team's great customer service comes with pick-up and drop-off options for your furniture. Our experience has been great — there was even an instance where the delivery guy brought the furniture to our door instead of just in the lobby.
We are also happy about its staff's politeness and friendliness as they listened to our concerns regarding our furniture. Also, they pay attention to details, do efficient work and make quick deliveries.
As a whole, the professional and excellent service have made clients continue to engage this company's services.
Certified staff
Excellent service
Thorough cleaning method
Satisfaction guarantee
High-priced service
Limited operating schedule
Customer Reviews
Pleasant to work with
I have vintage couches that were cleaned by Nick and Wendy and they did a phenomenal job. The whole set looks nearly new apart from a couple hardened stains. They were pleasant to work with and arrived on time. I will happily recommend them to any one seeking these services. – Samantha
Spectacular results
My broadloom was in very bad need of cleaning. It had been a few years since the last time it had been professionally cleaned, and then there was the lock-down. I was hoping for improvement but the results were spectacular. Dirt and stains gone! I am very happy with the work that was done. Big shout out to Mark and Wendy who provided excellent service! I won't wait so long next time. – Irwin
4. Vivid Cleaning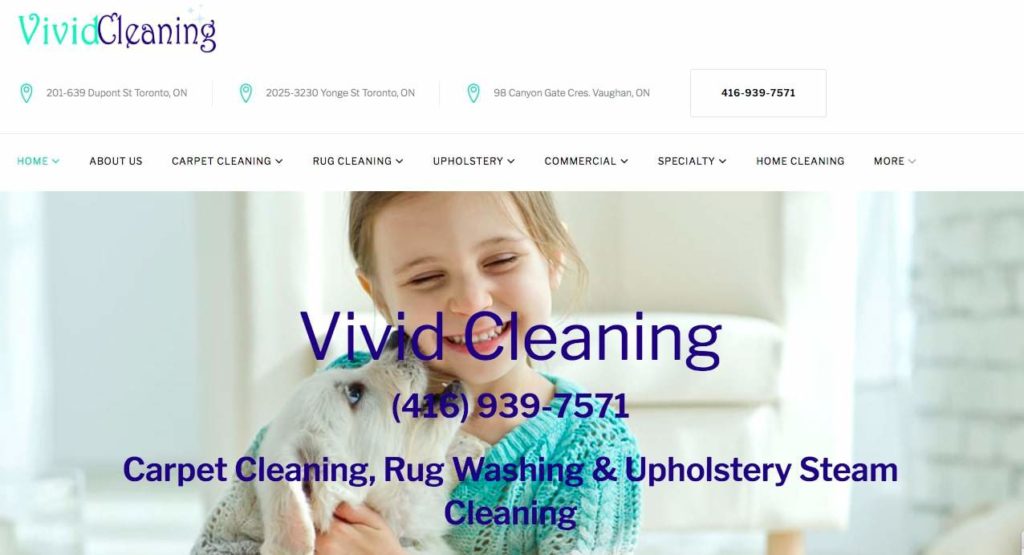 Test
Info
Services

Carpet Cleaning

Rug Cleaning

Upholstery Cleaning

Commercial Spaces Cleaning

Pet Stains and Odor Removal

Disinfecting

Allergy Treatment

Home Cleaning

Website
Address
639 Dupont St, Toronto, ON M6G 1Z4
Contact details
416-939-7571
Operating hours

Monday – Friday: 8 am – 8 pm

Saturday – Sunday: Closed
| | |
| --- | --- |
| Price | ★★★★★ |
| Customer Service | ★★★★★ |
| Cleaning Services | ★★★★☆ |
| Staff | ★★★★★ |
| Availability | ★★★★★ |
Vivid Cleaning has over 10 years of experience in upholstery cleaning in Toronto. It uses steam cleaning, which allows it to clean different types of fabric.
This method of cleaning can penetrate the deep layers of dirt and grime in your fabric, unlike other cleaning techniques.
The staff is well trained and has continuously delivered fast and friendly service to their customers.
Vivid's expertise in cleaning upholstery ensures not only that your furniture is clean, but also that the vivid colors and intricate designs are preserved.
In addition, it uses eco-friendly cleaning products, which the cleaning technicians are trained to use on fabrics including synthetic and microfiber.
Convenience is also offered by Vivid through its equipment that can clean upholstery even in condominiums and apartments. On the other hand, it has truck-mounted steam cleaning equipment that its cleaners bring to houses.
We appreciate the kind of thorough work that the staff does. Added to this, Vivid is the most affordable option among the upholstery cleaning companies we found.
It is also available for projects 24/7, which we love.
We highly recommend it as the staff comes on time, does thorough work, and leaves without any mess. The quality of work is astounding and customer service is incredible.
Eco-friendly cleaning products
Available 24/7
Trained staff
Flexible in cleaning areas
Limited to steam cleaning only
No add-on services
Customer Reviews
Impressive work
Vivid did an outstanding job cleaning my carpet and sofa. They were also very responsive when I initially contacted them. You can't beat their rates, either.
It's now one year later and they have now completed a second job and I'm equally impressed with their service and quality of work. My house is immaculate! As with any good business, consistency and reliability are key. They have nailed both. You won't be disappointed. – Melanie
Details are explained
Very professional. Had my patio furniture (L-shaped couch) done earlier today. The gentleman (Richard I believe was his name) was wonderful. He showed up 10 minutes early, explained everything in detail, took his time to do the job right, and left me with a very rejuvenated couch. Honestly top notch service. Would recommend. – Fadie
5. Pamir Carpet Cleaning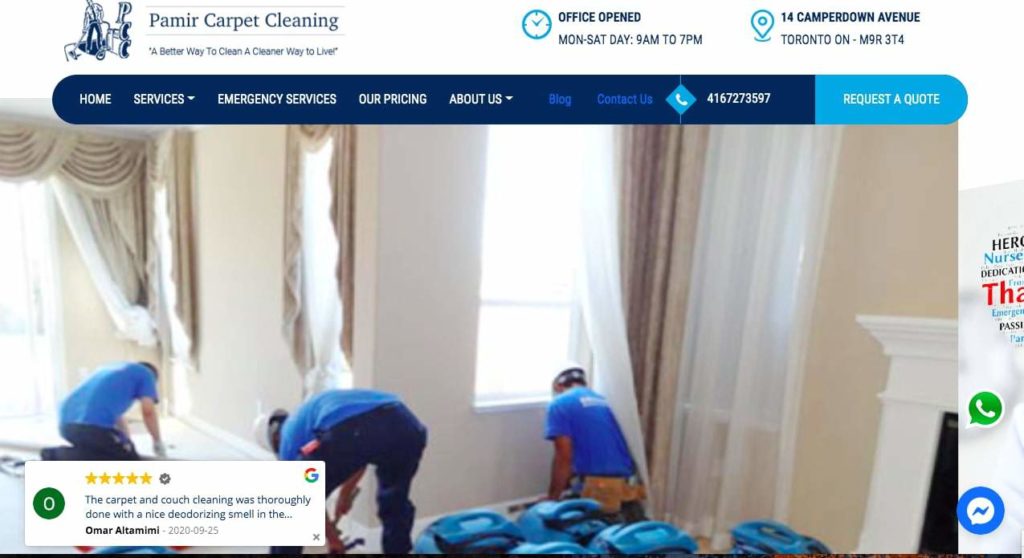 Test
Info
Services

Official Cleaning

Commercial Carpet Cleaning

Floor Cleaning

Specialty Cleaning

Kitchen Restaurant Cleaning

Construction Clean-up

Carpet Cleaning

Upholstery and Mattress Cleaning

Stain Removal

Marble Polishing and Restoration

Tile and Grout Cleaning

Oriental Rug Cleaning

Shower Cleaning Regrouting

Rug Repairing

Website
Address
14 Camperdown Ave, Etobicoke, ON M9R 3T4
Contact details
416-727-3597
Operating hours

Monday – Friday: 8 am – 9 pm

Saturday: 8 am – 7 pm

Sunday: 10 am – 6 pm
| | |
| --- | --- |
| Price | ★★★★★ |
| Customer Service | ★★★★★ |
| Cleaning Services | ★★★★☆ |
| Staff | ★★★★★ |
| Availability | ★★★★★ |
Pamir Carpet Cleaning started in 2000 and has been a sought-after cleaning company in Toronto and GTA. It provides top-notch cleaning services using high-quality tools and techniques.
It has one of the best upholstery cleaning services in the area and we can attest to how its specialists deep cleaned our sofa.
The provider's prices are cheap and cleaning is done quickly but thoroughly.
The staff's professionalism is commendable as they thoroughly discuss the fees before the service even starts. So we knew how much and what kind of work will be done on our furniture before we agreed to engage the company's services.
In addition, the technicians arrive on time — oftentimes even early. We appreciate that they started right away and did an amazing job in a short span of time.
We love that its website has information on how to clean your upholstery before calling for professional help. It shows us that they won't rip you off and have you spend on something you can do yourself.
However, the company's process of cleaning upholstery is not specified on its website. We had to call to inquire.
Overall, Pamir's great work has made our cleaning experience excellent. The staff does not promise they can totally eliminate stains but they overdeliver in the quality of their work.
Reasonably priced
Professional staff
Punctual 
Provides advice on cleaning
Long operating hours
Method of cleaning not specified
No guarantee of complete stain removal
Customer Reviews
Service excellence
Excellent service and excellent work. We have used Pamir Carpet Cleaning before and we continue to use their services because we know we can count on them. They are friendly, professional and courteous. They always show up on time and provide an amazing job. Highly recommended. – Eric
Punctual Staff
The technicians from Pamir Carpet Cleaning were quick to answer to my call. The team showed up on time and completed the work within the estimated time frame. The end result of my carpet is amazing and even the stains that I did not expect to come off all disappeared! I will definitely use them again if needed. – Charlie
6. Dynamik Carpet Cleaning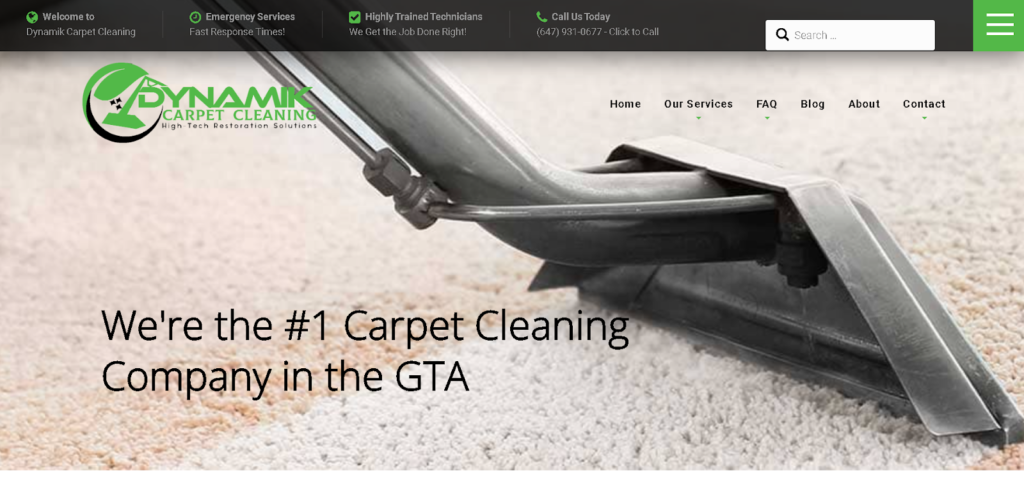 SERVICES
Carpet Cleaning
Rug Cleaning
Upholstery Cleaning
Mattress Cleaning
WEBSITE
dynamikcarpetcleaning.com
ADDRESS
1550 S Gateway Rd #326, Mississauga, ON L4W 5G6, Canada
CONTACT DETAILS
Twitter
(647) 931-0677
OPERATING HOURS
Monday – Sunday, 24 hours
| | |
| --- | --- |
| Price | ★★★★★ |
| Customer Service | ★★★★★ |
| Cleaning Services | ★★★★☆ |
| Staff | ★★★★★ |
| Availability | ★★★★☆ |
Dynamik Carpet Cleaning is one of the most preferred companies to provide carpet, rug, upholstery and mattress cleaning in Toronto. Warren Clark established Dynamik Carpet Cleaning in 1992 with the sole purpose of providing professional, cost-effective, high-quality carpet cleaning services. For almost 30 years, their firm has cleaned thousands of carpets in people's homes and businesses. They have several satisfied clients around Toronto and the GTA.
Among the services they provide we particularly like their upholstery cleaning. Upholstery cleaning may be a time-consuming and painful task if you don't know what you're doing. Because upholstered furniture has numerous layers beneath the surface, it's not just about the cloth. Their cleaners are highly educated and know exactly what equipment, techniques, and chemicals to use on different types of upholstery to make them look fantastic. It is nearly hard to clean a piece of furniture correctly without the necessary tools and knowledge.
This is why professional upholstery cleaners are recommended. They will deep clean your furniture using specialist tools and materials to eliminate any dirt, dust mites, allergies, marks, and stains that have formed over time. They provide a comprehensive service that will expertly clean your furniture, leaving no sticky residue or residual odor. Their professional specialists employ cutting-edge technology, safe goods, and suitable practices to guarantee the task is done correctly.
Experienced cleaners
Uses quality cleaning materials
Environmentally friendly
Available 24/7
Customer Reviews
Great to work with.
"Dynamik Carpet Cleaning was great to work with. It's been years since the last cleaning we did, and we have a house full of pets. The price was the best of any competitor ion Mississauga and included the same service. I appreciated the fact that there aren't several levels of service e.g. pet treatment, sanitize, and deodorizer. It was all included for a good price." – Grace Hart
Dynamik Carpet Cleaning did a great job cleaning my very dirty carpets.
"Dynamik Carpet Cleaning did a great job cleaning my very dirty carpets. They looked good when they left. They were very safe also, they wore masks indoors at my request. I know we don't have to anymore but I get sick easy and they were happy to use them. Best in Mississauga." – Elizabeth Marsh
FAQs on Upholstery Cleaning
---
An upholstery cleaning project done by professionals will ensure that your furniture is thoroughly cleaned so you can enjoy using it for a long time. The best upholstery cleaning services we found can do this job excellently.
For other cleaning services in your area, check these out: