Top 6 Gutter Cleaning Services in Toronto
Eavestrough, more commonly known as a gutter, catches water during a downpour and allows it to flow to the downspout. This will prevent water from overflowing, hence, avoiding damage to your home.
It is important that the gutter undergoes regular maintenance to get rid of leaves, twigs, and other debris that it collects. These have to be removed to ensure that water flows freely to the downspout and does not clog the gutter.
With that said, gutter cleaning is best left to professional cleaners as it can be dangerous for the inexperienced. Also, they are more equipped with the right tools and knowledge on how to best address problems that might arise.
We have found the top gutter cleaning services in Toronto. Read on further to know more about the companies that offer this service.
The Best Gutter Cleaning Services in Toronto
Hiring a professional gutter cleaning company will be easy if you follow the set of criteria we have. The best gutter cleaning services we found around Toronto have met the following:
How much do gutter cleaning services cost in Toronto?
The cost for gutter cleaning services varies with the different companies that offer this kind of maintenance work. The cost estimate is usually based on the size of the house or the extent of work needed.
The cost will likely increase if repairs are needed after cleaning the gutter. It can also change if gutter covers or any protective layer will be installed.
Here is the estimated price range of gutter cleaning services in Toronto based on the size of the house.
| Type of House | Price Range |
| --- | --- |
| Single Story House | $75 – $200 |
| Two-Story House | $250 – $275 |
| Three-Story House | $300 – $320 |
| Mansion & Extensive Properties | $450 – $550 |
1. New View Window Cleaning
SERVICES
Window cleaning and eavestrough cleaning
WEBSITE
http://windowcleaningtoronto.ca
ADDRESS
2100 Bloor St W #6157, Toronto, ON M6S 5A5, Canada
CONTACT DETAILS
(416) 531-8439
[email protected]
OPERATING HOURS
Monday – Friday, 9:00 AM – 9 PM
Saturday, 10:00 AM – 5 PM
| | |
| --- | --- |
| Customer Satisfaction | ★★★★★ |
| Availability | ★★★★☆ |
| Quality of Work | ★★★★★ |
| Price | ★★★★★ |
New View Window Cleaning has been providing top quality services all throughout Toronto for 30 years. Brian Finlayson, the founder of Toronto's New View Window Cleaning Ltd., began his career in window cleaning at the age of 18 while working for a buddy. 
The next year, he became a franchisee of a student company and was quickly on his way to being named Manager of the Year. He earned an Honors Degree in Business Management from the University of Western Ontario in 1990.
New View Window Cleaning was founded in 1993. A 150-client base has already expanded to nearly 5000! Brian is delighted to attribute this to his wonderful workers and the many years they have spent working with New View. It would be remiss not to highlight New View Window Cleaning's reasonable cost, high quality, dependability, and courteous service as further reasons for its success.
They specialize in residential window washing in Toronto. This quality stems from the pride they have in their accomplishments. With a combined expertise of over 100 years, their personnel can easily resolve difficulties with vintage aluminum or wooden storm windows. Additionally, since they want to be your Toronto window cleaners, they keep their prices low despite their excellent quality of service.
Another service they provide that is particularly booming recently is their eavestrough cleaning. Every homeowner should clean their gutters on a regular basis. Ignoring this duty may result in costly water damage, thus it should not be avoided.
Their Toronto gutter cleaning service does everything. They'll begin by clearing debris from the eavestroughs and thoroughly inspecting all downspouts to ensure water flows smoothly. They will recommend the installation of leaf strainers at the top of each downspout hole as needed to avoid future blockages.
If issues have already developed, they will unscrew the downspout elbows or carefully clean the downspouts to eliminate any clogs. They will then dispose of any organic debris correctly in leaf bags or your compost.
Affordable rates
Over 100 years of combined experience
Great customer support
100% client satisfaction guaranteed
Customer Reviews
I have used New View for over 10 years and have been very happy with their service.
"I have used New View for over 10 years and have been very happy with their service. Brian has always got back to me in a timely fashion to set up an appointment. His crew are very respectful and polite and there has never been an issue with them. Also most importantly they do a great job of cleaning your windows." – Lynn jewell coon
Will definitely be calling Brian again!
"Brian spent an afternoon at our house cleaning 4 floors of interior and exterior windows, and exterior glass railings. Not only is his work impeccable, but he is a pleasure to do business with. The booking and payment process was easy and efficient. He graciously handled two barking dogs and offered up recommendations based on things he observed during his clean. Will definitely be calling Brian again!" – Taryn Huyer
2. Tip Top Trough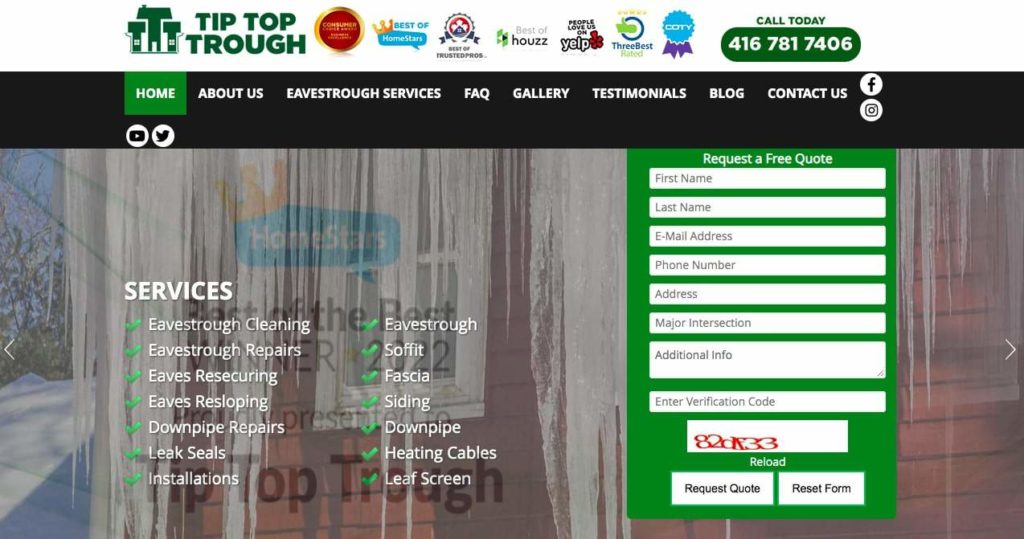 Test
Info
Services

Eavestrough Cleaning and Repairs

Eaves Resecuring and Resloping

Downpipe Repairs

Leak Seals

Installations

Website
Address
4000 Steeles Ave West Unit 18 Vaughan Ontario L4L 4V9
Contact details
416-781-7406
Operating hours

Monday – Friday: 9 am – 5 pm

Saturday – Sunday: Closed
| | |
| --- | --- |
| Customer Satisfaction | ★★★★★ |
| Availability | ★★★★☆ |
| Quality of Work | ★★★★★ |
| Price | ★★★★★ |
Tip Top Trough is an award-winning gutter cleaning company that has been serving Toronto and GTA since 1996. In fact, it was awarded Homestars' Best of the Best Award this 2022.
It offers full-service gutter cleaning, repair, and installation. In addition, it has a step-by-step process to ensure that the assessment is thorough and covers all the work needed to keep your gutter in good condition.
What we appreciate with Tip Top is its safety priority when cleaning your gutter. The cleaners use a ladder stabilizer so the ladder does not rest on the eaves when accessing the roof and won't topple when cleaners are on it.
Its cleaning process goes beyond removing debris from the gutter. A high pressured water flush eliminates items that block the flow of water, as well as helps to see if there are any leaks.
What is great about Tip Top's service, aside from cleaning, is it can repair the gutter as well, from leaks to damages over time. In addition, the staff reinforces nails and brackets that could have loosened, making them more secure.
Even if it is a family-owned company, the professionally trained team has continually worked on giving clients 100% guaranteed satisfaction. They are even certified to work at heights, thus giving you the assurance that they will conduct work safely and professionally.
We are happy with the cleaning service as the staff arrived on time, worked right away, and did an excellent clean-up of the gutter. We saw how they all worked hard and put in long hours just to complete the job.
The staff is very thorough in explaining the problem and gave suggestions on what repair work can be done. They even went above and beyond to find the best and safest way to solve the problem by taking a video and showing us what was causing it.
The gutter cleaning service of Tip Top is reasonably priced, but it sometimes takes a while before a quotation is given for the scope of work. The wait was worth it as when we finally got to talk to the staff, they were efficient and patient with all our questions.
We know that it is closed on weekends. But at the time we needed immediate work on our gutter, its specialists were able to come and fix it.
We really appreciate how they were able to fit us into their busy schedule and we could not be happier with the excellent work they did.
All in all, Tip Top is an excellent gutter cleaning company from start to finish. We don't have any hesitation in recommending its service to anyone because of its courteous and helpful staff.
Prioritizes safety
Thorough work
Provides a video explaining the problem
Reasonably priced
Closed on weekends
Have to wait for a quotation
Customer Reviews
Great customer service
The cleaning was done on time, the team took great care of the roof and home and cleaned up after themselves. The office was very nice and professional, answering all my questions. My inspection report was sent shortly after and detailed. I would defiantly use TTT again! – Edan
Happy with repair work
We hired Tip Top to replace all our eavestroughs and upgrade the downpipes a few weeks ago. Since then we've been through one major storm and the new system worked very well. It is a relief after years of expensive repairs that would always result in leaking. We were especially happy with their recommendation on rerouting the downspouts and installing leaf guards. The office team was very friendly and helpful, and the installation crew very professional, efficient and courteous. I would definitely recommend them. – Yesim
3. Sunnyside Window & Eaves Cleaning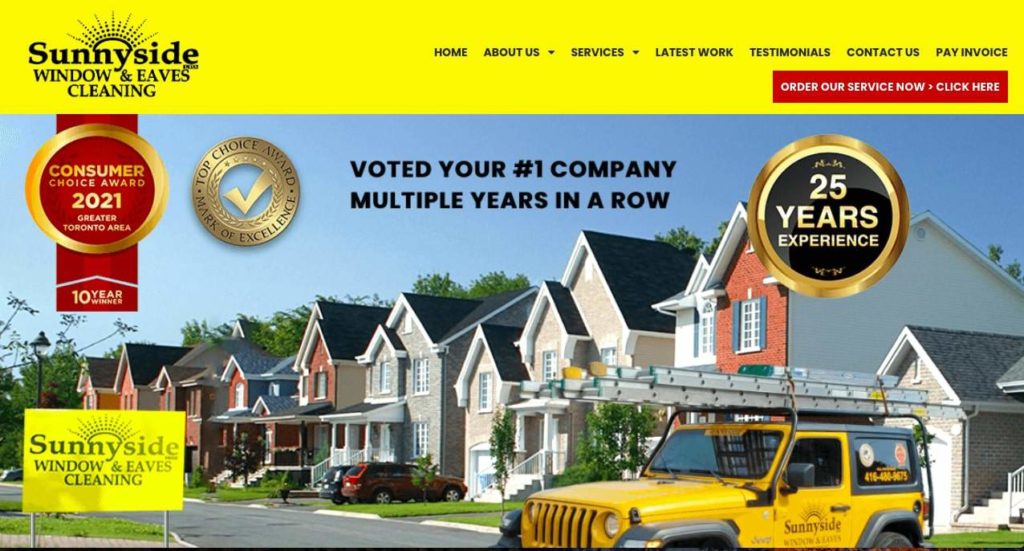 Test
Info
Services

Exterior and Interior Window Cleaning

Eavestrough Cleaning and Repair

Power Washing

Deck Cleaning

Snow Removal

Website
Address
2300 Yonge St #567, Toronto, ON M4P 3C8
Contact details
416-480-9675
Operating hours

Monday – Friday: 7 am – 9 pm

Saturday: 9 am – 3 pm

Sunday: Closed
| | |
| --- | --- |
| Customer Satisfaction | ★★★★★ |
| Availability | ★★★★★ |
| Quality of Work | ★★★★★ |
| Price | ★★★★☆ |
Sunnyside Window & Eaves Cleaning has been serving Toronto and its neighboring areas since 1981. With 25 years of excellent service, it has built a solid reputation as a company that offers the highest quality of work, as well as professional customer service.
Furthermore, Sunnyside strives in helping clients' homes be in their best condition with the external cleaning services it offers, such as window and gutter cleaning. We have tried its services and are happy with the amazing cleaning job.
The company has been recognized by different industry award-giving bodies, which is proof that it exceeds the expectations of quality work and service. Sunnyside ensures that its work will keep your house protected with your gutter and downspouts free-flowing all the time.
We appreciate that Sunnyside's team is dependable and thorough. They come on their scheduled date on time and the cleaning work was done carefully and completely — they even bagged the debris.
The team also followed instructions well when we asked them to thoroughly clean the difficult areas on our second floor. They were polite and professional in their manner of speaking, which made communication pleasant.
We also like that the company's price quotation is fair. We have compared its cost with other gutter cleaning services and we found that Sunnyside's rates were competitive.
In terms of booking a schedule, its representatives are very easy to talk with, hence making it easy to schedule an appointment. However, it is closed on Sundays and only has limited hours on Saturdays.
Our experience has always been a positive one, so we definitely recommend Sunnyside. Its team does an excellent job in cleaning gutters as well as dealing with their clients.
Excellent service
Dependable team
Thorough cleaning work
Competitive pricing
Closed on Sundays
Limited hours on Saturdays
Customer Reviews
Respectful staff
Great crew for cleaning out our eaves after noticing two downspouts were clogged. Respectful, efficient and polite. Thanks so much guys! We will definitely call on you again! – Helena
Easy booking
The team at Sunnyside were a breeze to work with. Booking was easy, price was good. The team arrived on time and were polite, friendly, fast and clean with the work. We'll be hiring them next year for sure. – Denice
4. Shine Window and Eaves Cleaning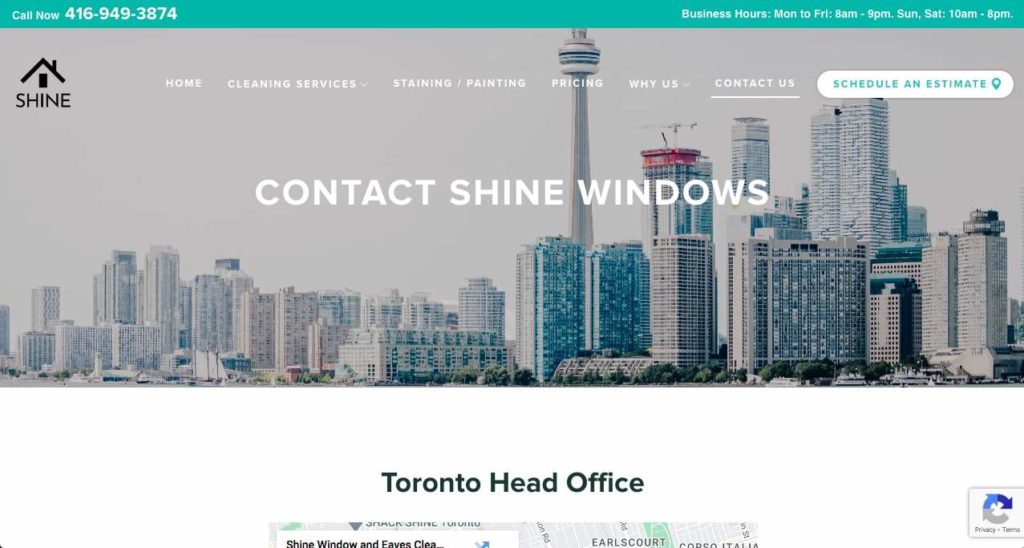 Test
Info
Services

Window Cleaning

Gutter Cleaning

Deck Cleaning

Pressure Washing

Polymeric Sand

Gutter Guards

Estate Cleaning Services

Website
Address
2967 Dundas St W #731, Toronto, ON M6P 1Z2
Contact details
416-949-3874
Operating hours

Monday – Friday: 8 am – 9 pm

Saturday – Sunday: 10 am – 8 pm
| | |
| --- | --- |
| Customer Satisfaction | ★★★★★ |
| Availability | ★★★★★ |
| Quality of Work | ★★★★★ |
| Price | ★★★★☆ |
Shine Window and Eaves Cleaning is a full-service window cleaning specialist in Toronto. One of the services within its expertise is gutter cleaning.
What is great about Shine is the staff undergoes ladder, harness, and heights training. Furthermore, they are covered under WSIBand Liability.
They are also organized and communicate well about the scope of work and the cost of the service. Moreso, we did not feel that we were shortchanged with the quality of work they did.
What we like about Shine is its crew does a fantastic job in cleaning not just the gutter but also the windows and trims. Cleaning work is done quickly but the quality is not compromised.
The crew is friendly, efficient, and the best people to work on your gutter. However, we noticed that the price of this company's cleaning service is a bit more expensive than its competitors.
Prices for cleaning work are tailored according to your specific needs and part of the estimate quotation are different options that will fit your budget. However, to secure the schedule, you need to give a 25% deposit.
For customers' convenience, the provider has a one-stop signing and payment system that allows communication to be easy and quick. This system will also notify you that the service is done to remind you that payment has to be made.
With our exceptional experience with Shine, we will engage its services again. A plus is definitely how it takes care of your property to avoid any damage.
Crew undergoes skills training 
Has insurance coverage 
One-stop singing and payment system
Tailor-fitted service
Efficient and friendly crew
High-priced service
Requires 25% deposit
Customer Reviews
Excellent work
Shine is the first Window and Gutter cleaning service i have used – and I will be a repeat customer thanks to Jeremy and Nash – they were friendly, efficient, respectful of my home – I was on a few work calls and they worked around me. With all the construction on my street I had not realized how dirty the window screens were – now I don't even see them! The gutters are white again and draining properly, and the windows truly shine. The deck was power washed and looks new. The work and cost were clearly defined by Dan, Charlotte was efficient with the scheduling, and Jeremy and Nash did excellent work. I appreciate how easy the team is to work with. – Barbara
Professional and patient crew
Second time using Shine… great service from Chris, Eric and Miguel! Dan runs a solid business. Windows look great inside and out, and the crew was professional and patiently worked around me. Mateo was there too and he did a good job collecting the money. – Jeff
5. Wipe It Down House Washing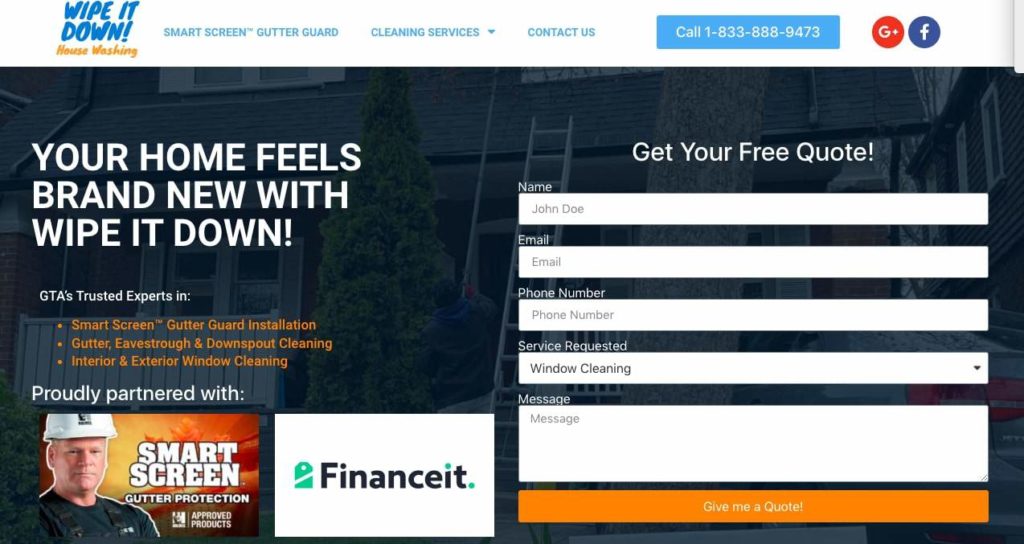 Test
Info
Services

Eavestrough and Gutter Cleaning

Gutter Installation and Replacement

Window Cleaning

Smart Screen Gutter Guard

Website
Address
2 St Clair Ave W 18th Floor, Toronto, ON M4V 1L5
Contact details
833-888-9473
Operating hours

Monday – Saturday: 9 am – 6 pm

Sunday: Closed
| | |
| --- | --- |
| Customer Satisfaction | ★★★★★ |
| Availability | ★★★★☆ |
| Quality of Work | ★★★★★ |
| Price | ★★★★★ |
Wipe It Down House Washing has over ten years of experience cleaning windows and gutters. It's a locally owned and operated business that has been doing excellent cleaning work and helping make houses in Toronto look new again.
Furthermore, we appreciate that it has a 100% satisfaction guaranteed policy for its services. And if you are not satisfied, it also has a money-back guarantee.
The quality work by the expertly trained, fully licensed, and insured cleaners shows its focus on this kind of customer satisfaction. They not only clean the gutter but also thoroughly inspects it to ensure it is working properly.
We found out that they can install a new gutter using aluminum as well. They use a seamless gutter with a 3-year warranty to ensure that your house is protected from any damage.
In addition, to prevent dirt from further accumulating in your gutter, the company offers to install gutter guards. This will help lessen maintenance work, which translates to savings in the long run.
As for the prices of its services, we found them reasonable. Furthermore, the booking process is hassle and stress-free.
Also, the efficiency and hard work of the crew more than make up for their unavailability to do work on Sundays. We noticed that they only took 1 break during their 7-hour job washing and cleaning our gutters and windows.
Overall, we recommend Wipe it Down for its prompt communication and professional crew. On top of this, its focus on customer satisfaction is commendable.
100% guaranteed satisfaction
Trained, fully licensed, and insured crew
Gutter guards installation
Stress-free booking
Customer Reviews
Happy with the gutter work
I used Wipe it Down last fall to remove leaves from my gutters. I casually mentioned that I need to clean my gutters twice a year, due to a tree on a nearby property. In February, Wipe it Down reached out with a solution to my gutter problem… the installation of the Smart Screen Gutter Guard.
I was really happy with the gutter cleaning in the fall and thought that I would consider their recommendation. I am very pleased with the Smart Screen Gutter Guard, but it pales in comparison to the installation process. I was kept updated each step of the way. The workmanship was neat and professional. Wipe it Down is a company of integrity and did not sign off on the job until their high installation standards were met. As a repeat customer, I highly recommend Wipe it down! – Diane
Excellent installation
New gutters and downspouts done. Arrived on time. Excellent installation and clean up. Everything that was to be done was completed as discussed. I would recommend them to friends. – Gerry
6. Silverlight Windows and Eaves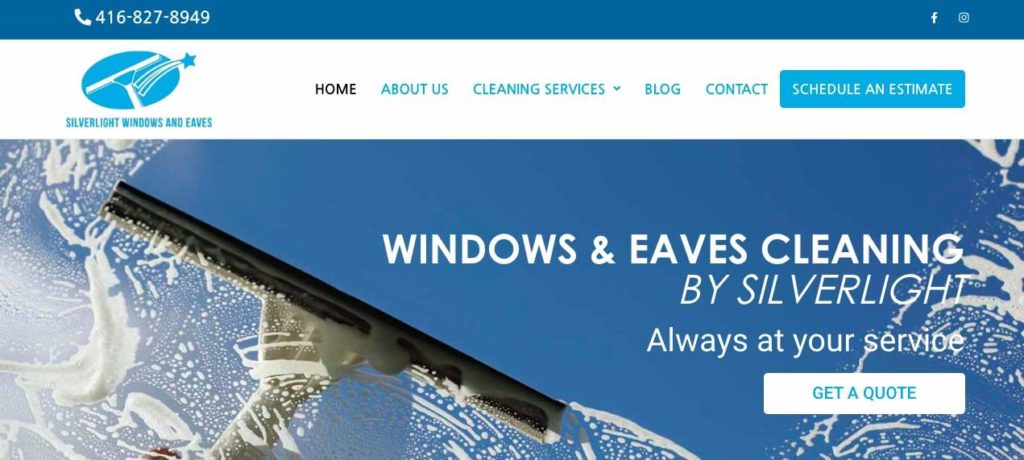 Test
Info
Services

Window Cleaning

Eavestrough Cleaning

Gutter Guards Installation

Pressure Washing

Snow Removal

Website
Address
177 Pendrith St, Toronto, ON M6G 1S1
Contact details
416-827-8949
Operating hours
Monday – Sunday: 7 am – 9 pm
| | |
| --- | --- |
| Customer Satisfaction | ★★★★★ |
| Availability | ★★★★★ |
| Quality of Work | ★★★★★ |
| Price | ★★★★☆ |
Silverlight Windows and Eaves offers exceptional house exterior maintenance in Toronto and GTA. Its work in cleaning gutters has been outstanding and we couldn't be happier.
Silverlight uses power tools and a specialized retractable ladder to better equip its team. This increases the efficiency of the cleaners and allows them to finish work quicker.
The cleaning service of Silverlight is reliable and done in a professional manner. Furthermore, its top-notch work has not given us any problems long after they have cleaned the gutters.
The team is composed of professional cleaners who communicate well with clients. We got updates on how the services were going and when they were done.
At Silverlight, you are assured of getting honest and upfront prices for the work it will do. Also, the payment process was easy, which we found an added convenience to its exceptional customer service.
What is commendable about the company is making its services available all the days of the week. Furthermore, the office staff we talked to was very adaptable, fitting us in last minute, unlike other companies who told us they can do the work in two weeks' time.
There was an instance, though, when the team of cleaners did not arrive at the appointed time and there was no advice from the office staff. Misunderstandings like this are few, however.
We appreciate that it considers client satisfaction a priority. Silverlight does not consider the work done until the client is 100% satisfied.
Specialized tools and equipment
Top-notch service
Reliable staff
Professional cleaners
Easy payment process
Has instances of non-arrival on appointed time
Has cases of schedule misunderstanding
Customer Reviews
Friendly and professional
I love this company. They are so friendly, and so professional. Everything was cleaned up afterwards to the point where I couldn't even tell they were there! I've had them three years in a row now, and wouldn't hire anyone else. They did my windows too – far better than I've ever been able to do myself. Thank you Silverlight. I really appreciate you. – Valerie
Punctal and thorough
Silverlight did a fantastic job cleaning our eavestrough and exterior windows. They were on time and very thorough with the work they do. Have been using them for several years. I would definitely recommend them for these services. – Andrew
FAQs on Gutter Cleaning
---
Cleaning the gutter is important to prevent water from overflowing and causing damage to your home. Yearly maintenance is recommended — and the best gutter cleaning services we found can do this job excellently.
There are other ways to keep your home in good working condition for a long time. Check out the best cleaning services in Toronto.