The 11 Best Painters in Toronto
Are you considering painting the interiors of your home? Instead of painting every room yourself, why not just hire the best painters in Toronto to do a professional job on it?
Luckily for you, we've got you covered! We combed through the entire Greater Toronto Area in search of painters who can deal with houses of all forms and sizes.
Before we get to that, we're also going to share the average cost of painting a house in Toronto, along with the factors that influence that price.
The Cost of Painting a Home in Toronto
Every home painting project is different. The expenses spent by your neighbor on his painting expenditure will not be the same as yours, even if your houses share the same structure.
On average, the cost of painting a 1500 square foot is somewhere around $2,000 – $6,000, while painting the exteriors can be in the range of $2,000 – $4,000.
It will all depend on the current condition of your home, its size, the number of rooms covered, raw materials, and labor of the painters.
It surely will not be a cheap venture, so make sure that you've saved enough before considering the options.
Anyway, let's take a look at what goes into totalling the cost.
1. Labor costs
Most homeowners wonder how painting companies come up with an estimate for a painting project and how their personal rates are calculated.
First of all, you need to go with a painting company that's provided interior and exterior painting services for many years now. Senior painters usually charge more than younger ones, but hiring an experienced one comes with the guarantee that the work will be excellent.
Most painters charge clients by the day, while some charge by the hour, the number of rooms, or by square feet. The larger the house, the longer it takes to finish painting everything, resulting in higher labor fees.
The average cost of hiring a painter in Toronto for an eight-hour workday can range between $250 to $600, excluding raw materials and painting tools.
Painters who charge per square foot usually have a rate of $1.00 to $4.00, while those who charge per room charge about $150 to $450.
2. Condition of your home
When you're considering hiring home painters, it's usually because you believe that your property isn't in top condition.
However, when consulting with painting companies, you must be objective in describing the condition of your home. A relatively new home that doesn't need extensive painting work can be painted for a low price, obviously.
If there are few to no repairs needed, the painter will come up with a much more budget-friendly quote. Otherwise, the prices can escalate significantly, especially if there are damaged drywall, wood root, and popcorn ceiling removal involved.
To keep everything as cheap as possible, we recommend avoiding extensive custom work and sticking to basic painting jobs. Another way to maximize a limited budget is to select an accent wall and avoid any custom work on the walls.
3. Raw materials
Generally, paint costs make up about 15% of the overall painting budget. Many homeowners believe that the paint budget is the most flexible of all because there are several ways to go about selecting paint.
Some tend to purchase painting materials in bulk, which cuts down the costs, while others opt for the cheapest supplies without even considering their quality.
There are low-quality paints that cost about $15 per gallon at handyman stores. Paint can go up to almost $200, depending on the brand and finish you end up picking up, excluding the cost of primers.
In terms of choosing a paint brand, make sure to consider the cost based on home measurements instead of gallon.
High-quality paints from well-known brands are definitely more expensive, but they often provide more coverage and last longer than cheaper ones.
4. Number of rooms covered
It can cost about $1,000 – $1,500 to paint the average-sized hallway of a Toronto home, assuming that it's around 1,500 square feet.
It can go all the way up to $3,000 – $4,000, if you have larger hallways that need minor repairs.
It's worth noting that the spaces where most people tend to gather are usually similar in size. The average cost for painting living rooms, dining rooms, and kitchens ranges from $400 – $500, depending on size and square footage of the space.
When it comes to bathrooms, painting smaller ones can cost about $250 – $300, while larger bathrooms cost slightly higher, somewhere between $400 – $500.
Lastly, painting an average-sized bedroom can cost homeowners about $400 – $500. Master bedrooms, on the other hand, are priced around $700 – $800.
The Best Painters in Toronto
Now that you know how much money is involved when painting a house in the Greater Toronto Area, it's time to move on to our picks for the companies that house the best painters in Toronto.
Check them out below to see how each painter can improve the interiors and exteriors of your home.
1. WOW 1 Day Painting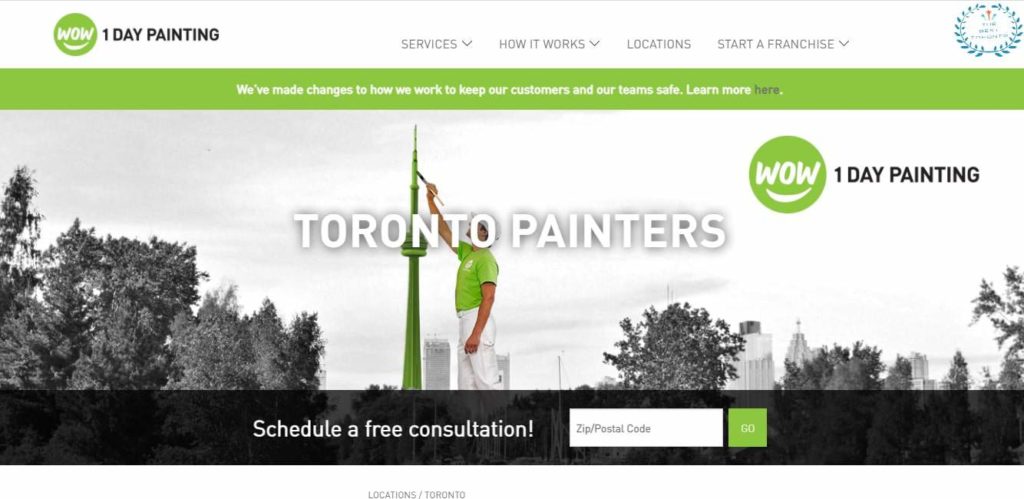 BEST FOR
Residential and commercial services
SERVICES
Exterior painting, interior painting, drywall repair, fence painting, basement painting, brick painting, deck painting, door painting, and wallpaper removal
ADDRESS
46 North Queen St Etobicoke, ON M8Z 2C4
CONTACT NUMBER
(437) 703-2702


[email protected]

WEBSITE
https://www.wow1day.com/
OPERATING HOURS
Monday – Sunday: 7:00 AM – 7:00 PM
WOW 1 Day Painting is a Toronto-based painting company that services most residential areas in Leaside, Lawrence Park, Rosedale, Riverdale, East York, Honey Harbour, Leaside, Liberty Village, and Parry Sound, among others.
It's a full-service company that provides a broad range of painting services, including interior and exterior painting, drywall repair, basement painting, deck painting, door painting, garage painting, and even wallpaper removal.
It only takes one day for WOW 1 Day Painting to finish most painting projects, making it a perfect option for clients who are in a rush. Its painters use a proven technique and system that allows them to finish the task as soon as possible.
Though WOW 1 Day Painting focuses on residential painting services, it accepts commercial clients every now and then. It's painted several retail and corporate spaces in the Greater Toronto Area.
One-day working time
Insured painters
Free estimates
Large team of painters
Open seven days a week
Commercial spaces covered are limited
Customer Reviews
Here are some comments shared by its clients:
"Wow 1 Day Painting certainly lives up to its name! I was amazed how they managed to paint my 3000 square foot home in a day and half. The crew leader, Raj, was extremely accommodating, attentive and friendly. Raj and his crew were always on time and worked hard to meet our deadline. When the job was finished, we took a walk through to make sure everything was to my satisfaction. Our home looks fantastic!! If you are looking for a professional crew that does an outstanding job and truly cares about customer satisfaction, then look no further. I can guarantee you that you will not be disappointed. A big thank you to Ben and Raj for accommodating my last minute request to paint a few additional rooms. As for the quote and booking process, it was super quick and easy. I will definitely be using Wow 1 Day Painting for my next project, and highly recommend them to anyone who is looking for a company that offers flawless painting and competitive prices."
-Cristina Arantes
"We hired Wow 1 Day Painting to do our living room, hallway and stairwell. George was very helpful in providing an estimate and answering all of our questions virtually. Marco and Zsolt arrived on time and were very thorough and responsive. They did an amazing job and listened to/addressed all of our concerns. Would definitely recommend it!"
-Sara Bull
2. Royal Home Painters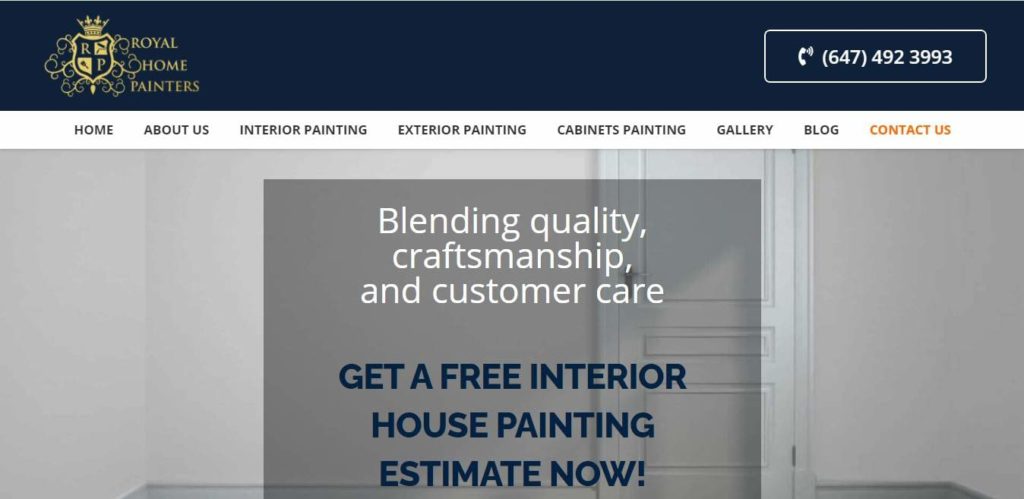 BEST FOR
Excellent customer service
SERVICES
Exterior painting, interior painting, condominium painting, staircase painting, popcorn ceiling removal, aluminum siding painting, deck painting, front porch painting, and cabinet painting
ADDRESS
44 Jackes Ave. Toronto, ON M4T 1E5
CONTACT NUMBER
647-492-3993


[email protected]

WEBSITE
https://www.royalhomepainterstoronto.ca/
OPERATING HOURS
Monday – Friday: 7:00 AM – 7:00 PM Saturday– Sunday: 7:00 AM – 5:00 PM
If you're looking for a painting company with reliable customer service, then look no further than Royal Home Painters. It services almost every residential address in the Greater Toronto Area, from Richmond Hill to East York.
Royal Home Painters is one of the top-rated and most well-known painting companies in the GTA. In fact, it's painted and renovated close to a thousand residential spaces in Toronto alone.
Unlike most painting companies, it focuses only on painting residential properties. However, it can cater to all types of homes, including small apartments, condominiums, and even large residential spaces.
Every interior painting project is protected by a three-year warranty that covers most painting issues. You won't have to spend money anymore in case your walls and ceilings need minor retouches.
It also has a team of friendly painting consultants who are always more than willing to help clients find the right painting solutions that their home needs.
Free estimate
Friendly painters and painting consultations
No pushy sales strategies
Bonded, insured, and trained painters
Three-year warranty on interior painting projects
No warranty for exterior projects
Works only with residential clients
Customer Reviews
Here are some samples of customer feedback we found on Google Reviews:
"My kitchen was very simple and bland before coming across Royal Home Painters. Now, after their hard work and determination, my kitchen looks amazing and welcoming. Royal Home Painters have done an amazing job transforming my kitchen with excellent quality work. I'd like to thank Sam and his team for this amazing work. :)"
-Gul Shafqat
"They are a great, very organized company. I have booked the estimation Online on their website, and everything started from there without any issue. Their estimator, Sam, came to my house, evaluated everything and gave me a very detailed quote. Their painters are very great, polite and professional. They cleaned up every night after finishing their job and in 10 days they have finished the whole kitchen cabinets painting and painting the house interior. Very effective, high quality."
-Zo Ryan
3. Home Painters Toronto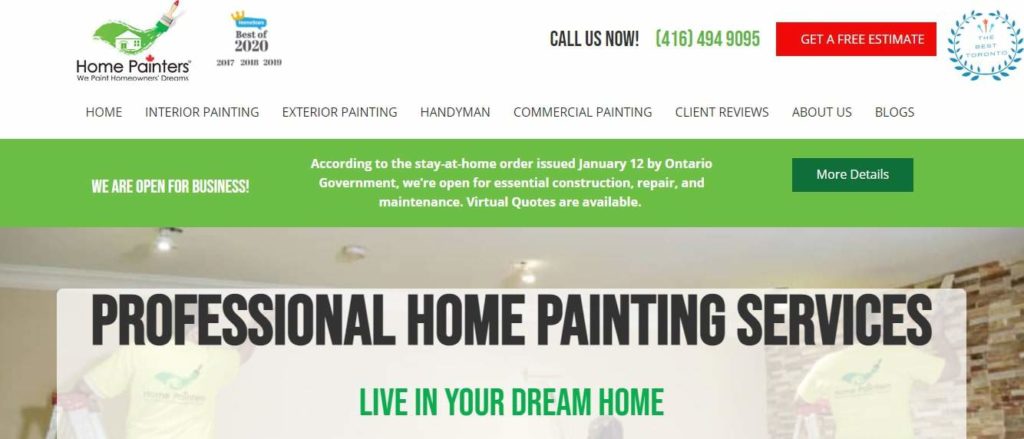 BEST FOR
On-site or virtual home painting consultations
SERVICES
Exterior painting, interior painting, condominium painting, kitchen cabinet painting, drywall installation and repair, stucco ceiling repair, wallpaper installation and removal, exterior brick painting, and handyman services
ADDRESS
16 Yonge St Unit 2612, Toronto, ON M5E 2A1, Canada
CONTACT NUMBER
(416) 494 9095


[email protected]

WEBSITE
https://www.homepainterstoronto.com/
OPERATING HOURS
Monday – Sunday: 6:00 AM – 11:00 PM
Established more than 30 years ago, Home Painters Toronto has grown into one of the most in-demand painting companies in Toronto, servicing both residential and commercial spaces.
It's known for housing some of the best painters in Toronto, all of whom are capable of painting and renovating different types of homes and commercial establishments.
Home Painters Toronto caters to apartments, condominiums, upscale properties, food establishments, and even retail spaces. Other industrial spaces are covered as well.

Home Painters Toronto even has virtual painting consultations for clients who can't drop by its shops. Its consultations are offered free of charge, regardless if they're on-site or online.
Home Painters Toronto collaborates with trusted brands such as The Home Depot, HomeStars, HGTV, and House and Home Magazine in order to provide clients with high-quality painting materials.
All interior paintings are covered with a lifetime warranty, while exterior painting projects come with a three-year warranty. Customers who avail of its brick staining service will get to enjoy a 15-year warranty as well.
Finally, they also offer carpentry and handyman services.
30 years of experience
Free-site and virtual consultations
Warranty for painting and handyman services
Customer Reviews
As one of the top painting companies in Toronto, it's received hundreds of positive comments from clients. Here are some of them:
"Home painters were so reliable and friendly. I was looking for a professional painting company to do my interior walls ( living room, kitchen and bed rooms ) and also do some handyman in my basement and no doubt that this company is perfect for it. The price is very reasonable and they made sure that i feel comfortable with this pandemic going on while they are doing the job. I highly recommend them to all."
-Rej Gabon
"Super pleased with the results and customer service. We had a complicated job removing wallpaper/wood paneling that required the drywall to be fixed and it looks perfect now. The paint job throughout the house looks really professional too. I found the company super responsive and organized, which made the process really easy. Would definitely work with them again for that reason alone."
-Irene Hawkings
4. CAM Painters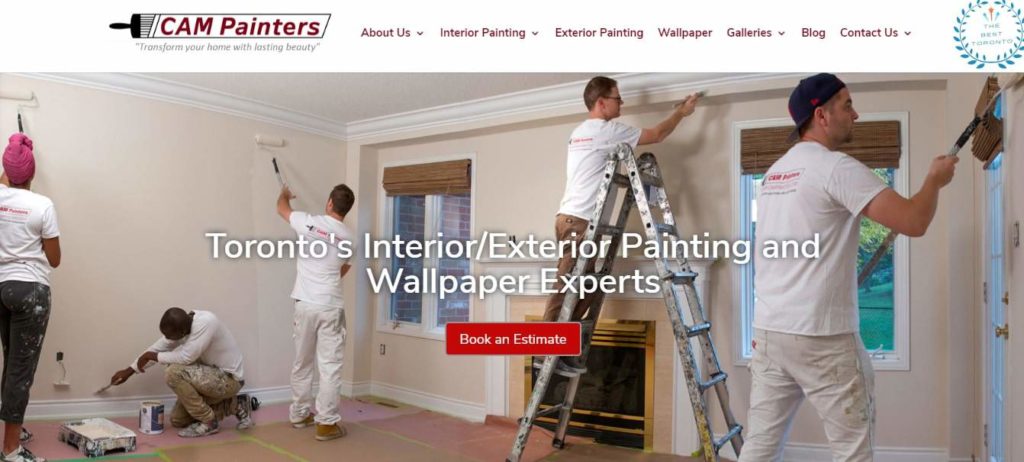 BEST FOR
On-site or virtual home painting consultations
SERVICES
Exterior painting, interior painting, condominium painting, and wallpaper installation and removal
ADDRESS
2703-5 Concorde Pl. North York, ON M3C 3M8
CONTACT NUMBER
(416) 499-6120


[email protected]

WEBSITE
https://campainters.com/
OPERATING HOURS
Monday – Saturday: 9:00 AM – 9:00 PM
Another top-rated painting company in the Greater Toronto Area is CAM Painters. Founded in 2001, it's become one of the most trusted renovation companies here due to its high-quality but affordable services.
CAM Painters services mostly small to mid-sized neighborhoods in Toronto and in surrounding areas. It offers interior painting, exterior painting, condominium painting, and wallpaper installation and removal.
Before its painters start any work, they do a thorough inspection of the work to be completed to make sure that the estimates are accurate. What you see on the initial bill will be close to what will appear on the total bill.
CAM Painters is known for being transparent when it comes to rates, so expect that there will be no last-minute and hidden charges.
It has a service called "Painter for a Day", which is for houses that need freshening up in a few areas, not an extensive painting job. It's cheaper than its regular house painting service and is usually done in less than eight hours.
Competitively priced services
No hidden charges
Perfect for homes that only need retouches
Small company, so limited services
Doesn't accept commercial clients
Customer Reviews
CAM Painters boasts a perfect rating of 5 on Google Reviews. Here's what some clients had to say about its services:
"From the first moment interacting with Craig to see if he could install wallpaper in my home, he was incredibly professional, a clear communicator and offered a high level of detail in researching the specific installation requirements of the paper I had chosen. Given the paper was very expensive, it made me super confident in choosing Craig. The finished product is gorgeous and he went to great lengths to ensure I was completely happy. I was also super comfortable with his level of care during a pandemic! Thank you Craig!!"
-Jane Clapp
"I was recommended to use CAM Painters for a client's listings. Craig was prompt, professional and his work was very impressive. He was quick to respond when needed and did a very thorough walk-thru to prepare the quote. He explained the process, prep work and all steps involved. The color selection he recommended was perfect for the space. The process was very smooth and he kept me updated as each step/day progressed and the final product felt like a brand new condo! His work timeline was very accurate which was important to me as I had to coordinate other services before listing the property. He went above and beyond and touched up additional spots/trim work he felt was needed to ensure the job looked flawless. I highly recommend Craig and CAM Painters and will be using this service again"
-Karen Tsan
5. The City Painters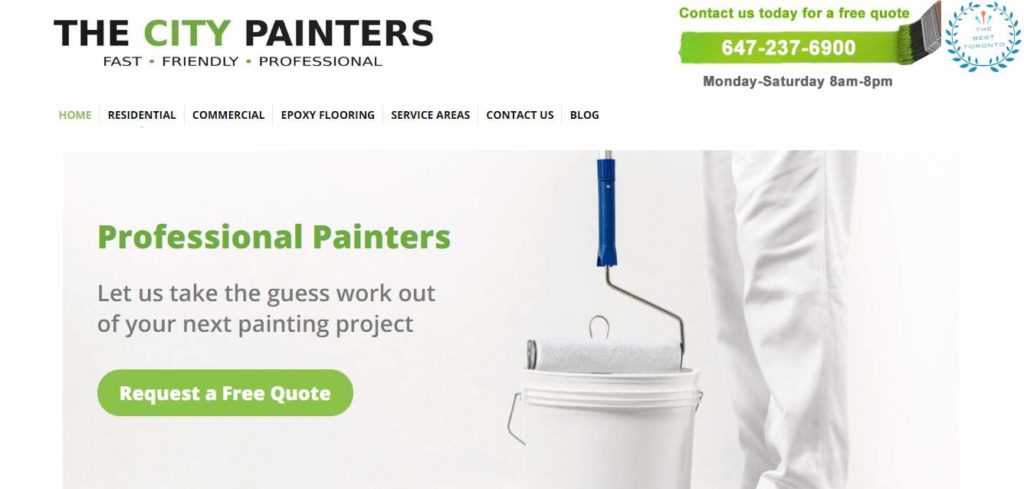 BEST FOR
Eco-friendly painting services
SERVICES
Exterior painting, interior painting, stucco painting, garage painting, deck staining, fence staining, condominium painting, apartment painting, and epoxy flooring
ADDRESS
10 Navy Wharf Ct, Toronto, ON M5V 3V2, Canada
CONTACT NUMBER
647-237-6900


[email protected]

WEBSITE
https://www.thecitypainters.com/
OPERATING HOURS
Monday – Saturday: 8:00 AM – 8:00 PM
The City Painters provides professional painting services to residential and commercial spaces. They cover most areas in the Greater Toronto Area, including Toronto, Ajax, Aurora, Markham, Scarborough, Richmond Hill, and Whitby, among others.
Its painting services include interior and exterior painting, condominium painting, apartment painting, garage painting, deck staining, fence staining, and epoxy flooring.
The City Painters only hires skilled and trained painters to ensure that it consistently provides services of the highest quality, completed within the shortest amount of time possible. Its painting services mostly take less than a day to finish.
On top of that, all of its painters are ensured and certified under the Workplace Safety and Insurance Board. Each painter is covered by a $2 million liability insurance.
Another thing worth noting about The City Painters is that it focuses on providing eco-friendly services, so clients can be sure that their loved ones and pets aren't being exposed to harmful chemicals.
Eco-friendly painting options
Competitive prices
Services most of the Greater Toronto Area
Insured and certified painters
Open until Saturday
Customer Reviews
Here are some comments shared by previous clients:
"John, Matt, and the rest of their team were amazing to work with. Everyone I talked with was patient and took the time to answer my (many) questions. When we settled on work to be done I felt like I was making the best choice. They were very responsive both by phone and by email. On the day-of they arrived on time (actually, a little early!) and started right away. I'm thrilled with the work the painters did – it looks great."
-Talia Pankewycz
"Thank you to The City Painters and the gentleman that tirelessly completed our project, Samim and Gurvi!!! We had a big job as our new home is full of tall ceilings. Samim and Gurvi brilliantly completed our project with perfection. Not only do they do great work, but they were always on time, focused on completion, and brought a great aura and energy to our home. They were professional, friendly, and there was very little interference with our move and family while they were here. Thank you Samim and Gurvi for everything you did for us and we HIGHLY recommend The City Painters!!!!! We greatly appreciate your hard work!"
-Monica Macdonald
6. House Painters Vaughn
BEST FOR
Multi-city painting services
SERVICES
Interior Painting
Exterior Painting
Cabinet Painting
Commercial Painting
Restaurant Painting
Professional Office Painting
Deck Repairs and Staining
Aluminium / Cedar Siding Replacement
Water Damage Repair
​Metal Siding Paint and Replacement
Flooring Installation
​Kitchens Installed
ADDRESS
Vaughan,
Ontario – L4H 2S1
Canada
CONTACT NUMBER
Tel: 289-807-3577
Email: [email protected]
WEBSITE
https://www.housepaintersvaughan.ca
OPERATING HOURS
By appointment only
Considered as one of the best painters in the area, House Painters Vaughan is a painting contractor that specialises in both commercial and residential painting. The company's team consists of expert painters with keen eyes used for careful observation of walls and trim and potential repairs that may be needed.
Given this, and the extent they go through to thoroughly study the property before giving a final quote, clients can expect accurate (and often affordable) pricing from House Painters Vaughan.
The price of their services isn't the only thing that has endeared House Painters Vaughan to the local community.
No, at its core, what makes House Painters Vaughan one of the most sought after painters in Vaughan and surrounding areas is their passion for painting and dedication to get the work done right the first time around. They're prompt, professional, and thorough regardless of the property they work on.
Experienced and trained painters
Accurate quoting
Post-job cleanup included
Caters to various areas
Customer Reviews
Here are some comments shared by previous clients:
"Have tried many other painters and never had a more pleasant experience than I did with House Painters Vaughan. Always come through on their deadlines, always professional, always meticulous, and always a pleasure to work with. High quality work and competitive pricing every time."
"Fantastic job and Andy and his team were very accommodating. The team was able to do the job after hours so as not to disrupt business. We were extremely pleased and would highly recommend."
7. Emerald Painters

BEST FOR
Quick, quality painting services
SERVICES
Residential painting services (house, condo, custom homes), commercial painting services (office, restaurant, retail, new developments) interior painting, exterior painting, cabinet refinishing, staining (deck staining, fence staining), brick painting and staining, spotlights, and light fixture installation, popcorn ceiling removal, parking lot lines & traffic signs, siding painting, plastering and drywall repair, colour consultation and design ideas
ADDRESS
Toll free: 1-866-909-3946
Local: 647-909-3946
[email protected]
CONTACT NUMBER
Numerous locations: Toronto, Scarborough, Pickering, Ajax, Whitby, Oshawa, Courtice, Bowmanville, Uxbridge and the GTA
WEBSITE
https://www.emeraldpainting.ca
OPERATING HOURS
Mon: 5:00 AM – 10:00 PM
Tue: 5:00 AM – 10:00 PM
Wed: 5:00 AM – 10:00 PM
Thu: 5:00 AM – 10:00 PM
Fri: 5:00 AM – 10:00 PM
Sat: 5:00 AM – 10:00 PM
Sun: 5:00 AM – 10:00 PM
Next on our list is Emerald Painters, a painting company that caters to both residential and commercial paint job requests. Their team consists of expert painters who have years of experience in the field and access to high-quality paints, resulting in excellent, long-lasting paint jobs for clients.
It's worth noting that Emerald Painters has one of the largest service areas on this list, consisting of Toronto, Durham Region, York Region, and everything in between. The company also operates seven days a week, allowing customers access to expert painters regardless of the day.
Lastly, Emerald Painters is also dedicated to providing honest and transparent work. Clients will find that Emerald Painters' crew is very thorough in each quotation, breaking down the estimates in a neat manner so that clients can see where there money is going to.
In the end, it's safe to say that Emerald Painters is a great choice for quality painting services without breaking the bank.
Virtual quotation sessions available
Transparent estimates
Professional painters
High-quality, environment-friendly paints used
Customer Reviews
Here are some comments shared by previous clients:
"I was very impressed with Emerald Painting. They were the first ones to come and quote, were in & out taking measurements. Their pricing came in most competitive with a high quality paint. Andy and his team were very professional and did an excellent job. Took 2-1/2 days to complete repainting office/lunchroom over the weekend. Came into a fresh new look on Monday! I would highly recommend Emerald Painters."
"They were very professional from the time of the quote right through to the time of completion. Painting work was outstanding. They are very covid careful and completely cleaned up when finished. Very happy with their work and would highly recommend them!"
8. English Painter

BEST FOR
Prompt Painting Services
SERVICES
Painting – Interior and Exterior, Staining, Drywall Repairs, Lathe Repairs, Putty Replacement, Power washing, and Plaster
ADDRESS
Toronto
CONTACT NUMBER
(416) 422-3532
[email protected]
WEBSITE
https://englishpainter.ca
OPERATING HOURS
Monday to Saturday, 9:00AM to 5:00PM
English Painter is a family-run business that has been serving the Toronto area for over 20 years now. Its team comprises trained, highly skilled, and experienced workers and painters that have fountains of knowledge when it comes to painting and similar services.
Aside from having an expert team, English Painter is also known for using top of the line paint products. If not that, they use the products that clients would like to be used for their properties.
The English Painter is one of the best choices in the area primarily because of these reasons. Plus, the company also promises prompt work that starts and finishes on time.
Fully insured
Quality workmakship
Detailed quotes
Friendly, uniformed workers
9. Prestige Painting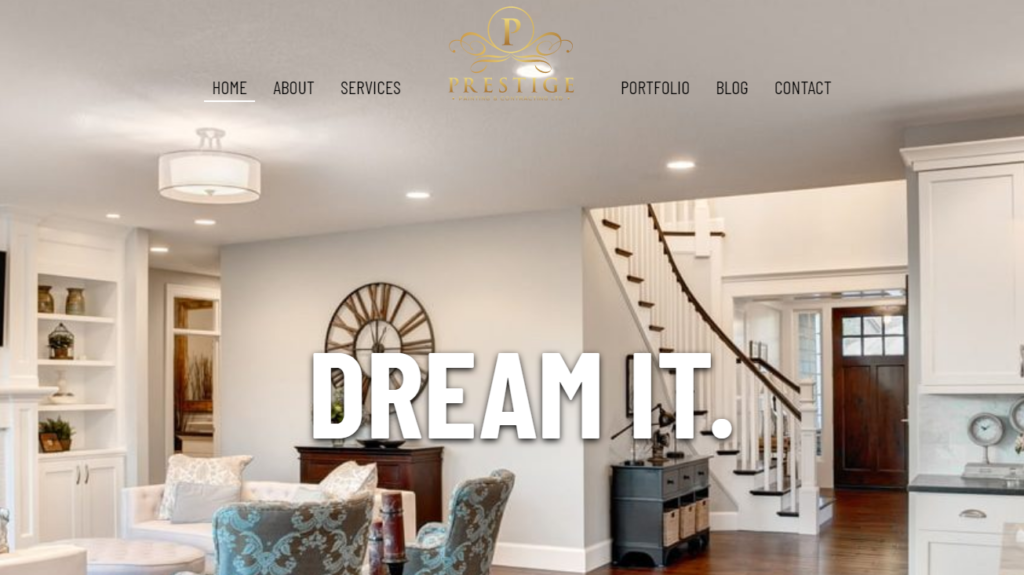 BEST FOR
Luxury Walls
SERVICES
HOME PAINTING
INTERIOR PAINTING
EXTERIOR PAINTING
DRYWALL INSTALLATION
POPCORN CEILING REMOVAL
WALLPAPER INSTALLATION
TRIM & DOORS
LUXURY WALLS
ADDRESS
7250 Keele Street, Unit 204,
Concord, ON L4K 1Z8
CONTACT NUMBER
[email protected]
Phone: +1 905-264-6222
WEBSITE
https://www.prestigepaintinggta.ca/
OPERATING HOURS
Monday – Sunday: 8:00 am to 6:00 pm
Prestige Painting & Contracting offers extensive painting services to Toronto and the GTA. These services include painting of interior and exterior walls, installation of drywalls and wall papers, and even the removal of popcorn ceilings.
Another service the company is known for is its Luxury Walls. Crafted with the finest materials and uniquely designed, these walls transform any dull or regular living space into something noteworthy.
It comes in several wall finish designs, and can even be made with 3D wall panels — everything is dependent on the clients' tastes and budgets.
Another thing worth mentioning about Prestige Painting is its team. The company has in-house experts and is known to work with home builders, renovators, ICI Builders and more.
Prestige Painting's years of experience in the field has allowed the company to amass the necessary skills, expertise, and connection that allows it competently and confidently provide the painting services any homeowner would need for their property.
Free quote
Excellent customer support
Luxury designs at competitive rates
Accepts major credit and debit cards, and e-wallets
10. Chromatist Painting & Decor

Following up is Chromatist Painting & Decor, a company that takes pride in its extensive employee background checks and rigorous training process.
The focus that they put in these areas has allowed Chromatist to build up a team that they and the clients can trust. Every expert that is sent on jobs are vouched for in terms of character, professionalism, skills and expertise, resulting in a typically smooth job process and excellent work results.
Chromatist offers a wide array of painting services, including interior and exterior painting, color consultations, and handyman services. Regardless of the job they take on, the Chromatist team strives to fulfill the clients' requests and attain a minimum of 99% satisfaction rate.
It's also worth noting that projects done by the Chromatist team have 3-year warranties and are all done with top of the line, environment-friendly products and equipment.
3-year warranty
Free quote
Trained and background-checked team
Uses environment-friendly materials
Prompt services
11.   JXF Painting Service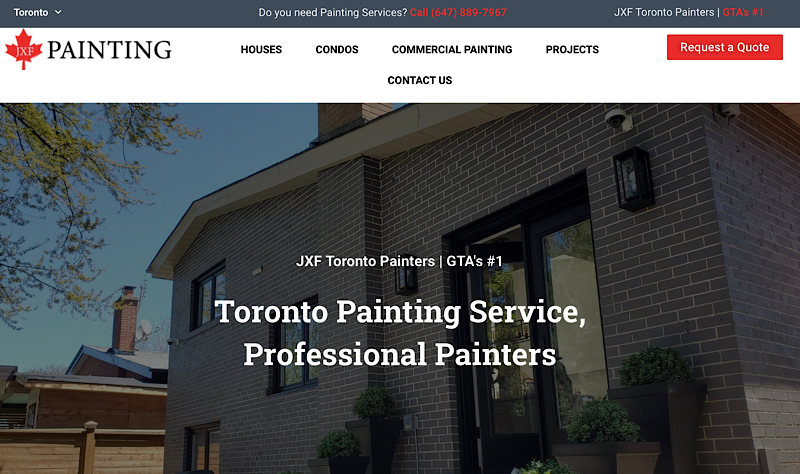 BEST FOR
Professional painting services
SERVICES
Interior house painting, Exterior house painting, Industrial commercial painting, Basement painting, Brick painting, Cabinet painting, Underground garage painting, Metal pipes painting, etc.
ADDRESS
33 Bond Ave. Toronto, Ontario M3B 3R3
CONTACT NUMBER
Email:

[email protected]


Phone: (647) 889-7967
WEBSITE
https://jxfpaintingservice.ca
OPERATING HOURS
Monday to Saturday: 7:30 am – 8:00 pm
Sunday: 10am – 4pm
For over 25 years, JXF Painting Service has been
providing professional painting services in the Greater Toronto Area. Today, they are one of the leading companies in the industry since they
Their team consists of trained painters who have gained experience through their work. Aside from having experts, they use high quality paints, primers, and other materials in their projects.
Based on their track record, JXF Painting Service also provides quality services to their clients. The company would not have thrived if it weren't for the satisfaction that they received throughout the years.
Some of their services include interior and exterior house painting, industrial commercial painting, and more. We like that they can also accept any kind of painting projects whether it may be for commercial or residential purposes.
Since seeing is believing, they have a portfolio available for viewing on their website. There, interested clients can judge whether the painting company can keep up with their demands.
Over 25 years of experience
Team of certified professionals
Offers various painting services for both residential and commercial needs
Portfolio on website
Free quotation
Serves many areas aside from GTA
Customer Reviews
Here are some Google Reviews from their previous clients:
"I recently needed my whole house painted. I called
JXF Painting and they were very friendly and efficient. They provided us with a very detailed estimate for all the work that was required.
JXF Painting did an excellent job painting the house.
They were professional, efficient, organized, and on time daily.
I would highly recommended JXF Painting to everyone that needs a professional and smooth process." – Monika Bine
"Chris and his team were awesome. We called this company based on the positive reviews and they lived up to it. We got our whole condo painted and removed popcorn ceiling. The paint looks great and our ceiling looks amazing. Thank you Chris and team!" – F A
Important Questions to Ask a Painting Company Before Hiring One
One good way to gauge the capacity of a painting contractor is by asking essential questions about their crew, products, warranties, and project management.
Here are some questions that can help homeowners and business owners separate the professional painting contractors from the ones they should stay away from.
---
And with that, we conclude our list of the best painters in Toronto. Already decided which one to hire? Tell us all about it!
If you know other painting contractors that offer high-quality painting services, share their names with us! We'll check if they're worthy of being added to our list.
Check out our other handyman and home service lists, by the way. For instance, have you seen pests inside your home? If so, we strongly suggest checking our out list of the best pest control companies in Toronto.