The 7 Options for the Best Garage Door Repair in Toronto
When was the last time your garage door was checked by a professional handyman? If it's been a while, there's a huge chance that some parts already need to be repaired or replaced.
If that's the case, then you certainly need to ask for help from repair companies with the best garage door repair in Toronto to make sure everything's working properly. Luckily, we've listed the most trusted ones here for your convenience.
We've also put together a guide to show the average cost of garage door services in Toronto and the commonly asked questions about them.
The Cost of Garage Door Services in Toronto
Let's set the record straight: repairing a garage door doesn't cost a lot of money, but when yours needs to be replaced with a new one, make sure that you have a flexible budget in order to cover any additional and unexpected expenses.
The average cost of garage door repair in Toronto ranges from $100 to $250, while getting a new one can cost as much as $2,000.
A regular garage door service and adjustment typically costs $95 to $150. This can already save homeowners a lot because it can help prevent mechanical issues by fixing potentially major problems early on.
The most common garage door repair to consider is weatherstripping, which usually costs around $170-$250, depending on the materials used.
As a whole, even the most expensive garage door repair in Toronto wouldn't cost half as much as getting a new garage door and having it installed by a professional.
Speaking of installation, that's also another expense to consider when deciding to get a new garage door. Most contractors in Toronto charge somewhere between $1,400 to $1,700 for installing basic single-door units, while it can cost as much as $2,200 for basic double models.
If you only want to improve the appearance of your garage door, here's a table of things you need to consider along with their prices.
| | |
| --- | --- |
| MATERIALS | COST |
| New windows to a single-door garage | $200 to $500 |
| New windows to a double-door garage | $450 to $800 |
| Additional wood grain paint | $150 to $450 |
| Additional composite trim | $450 to $8,000 |
| Additional remote controls and external keypads | $100 to $180 |
| Increasing the door's insulation value | $260 to $600 |
The Options for the Best Garage Door Repair in Toronto
Any of these repair contractors can help, whether you need to install a new garage door or someone to do the annual maintenance on your current door.
Check them out below to see which one can properly address your concern.
1. Garage Door Repair Toronto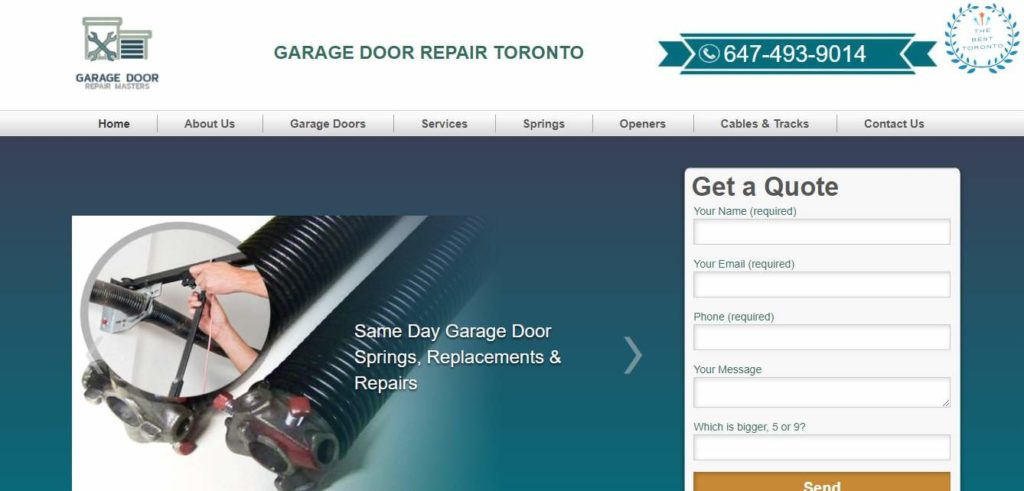 | | |
| --- | --- |
| SCOPE OF SERVICES | Repair, maintenance, installation, replacement, weatherstripping, cables repair, track repair, and keypad repair and installation |
| WEBSITE | https://www.garage-repairs-toronto.ca/ |
| ADDRESS | Toronto, ON 26 Springhurst Ave M6K 1B3 |
| CONTACT DETAILS | 647-493-9014 |
| OPERATING HOURS | Monday to Sunday: 7:00 AM – 9:30 PM |
One of the top-rated garage door companies in the entire Greater Toronto Area is Garage Door Repair Toronto. It's trusted by both homeowners and business owners.
Garage Door Repair Toronto services almost every corner of Toronto, including residential spaces and business establishments. You're free to hire its technicians as long as you're based in the Greater Toronto Area.
No matter the extent of help you need, its technicians can deliver, as they're trained in all sorts of garage door services, from doing annual maintenance down to installing a new one.
Another thing we like about Garage Door Repair Toronto is that it operates 24 hours a day, seven days a week, allowing its technicians to accommodate customers with emergency concerns. You can call even during the wee hours of the night.
It can do same-day services as well, so there's no need to wait for a couple of days to have your garage door checked. However, it can be a bit more expensive compared to competitors.
Aside from typical garage door repairs and tune-ups, it can also help customers source the right type of garage door for their homes or business.
Reasonable rates
Operates 24/7
Widened service areas
Accepts all major credit cards
Same-day services come at a higher price
Customer Reviews
Here's what past customers had to say about its services:
"I requested the service of Garage Door Repair Toronto because it was time to do our routine garage door maintenance. The technician they sent for the job was kind and reliable. He got everything done and assured us that the entire garage door system was in excellent condition."
-Debbie Horton
"When I noticed that the garage door opened and closed too quickly, I knew it had to be looked into by an expert. I called the garage door repair company that my friends recommended. Their service expert listened to the problem, and he agreed to help me out immediately. He took care of the tune-up easily and got our door working correctly again."
-Claribel Rosalez
2. Garage Life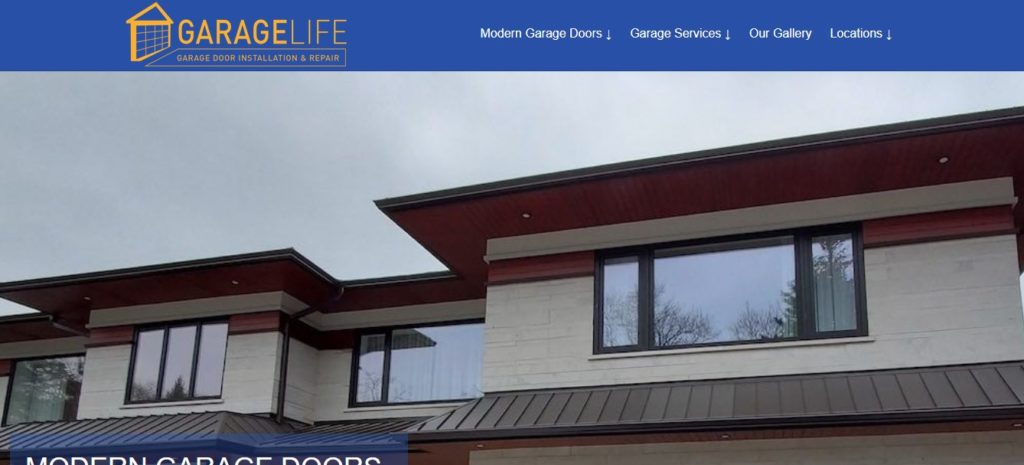 Old-looking garage doors are out, and contemporary garage doors are in!
If you want to make your home's front facade extra applying consider getting your garage door from Garage Life. We will give you more than enough reasons why you should trust them.
Unlike other companies, they have been designing and installing garage doors for over 20 years. Given their years of experience, if you have something specific in mind but cannot find it in the market, get it customized at Garage Life since they are one of the few who custom-build doors.
Another reason why we prefer them over other companies is how they only supply and install North America's Leading Garage Door Brands.
In addition to all of these, if you do not know what the most appropriate modern garage door for your home is, their staff members can help. Aside from just giving you a list of options, they will let you know the pros and cons of each type of door.
Talking about garage door repair, this is now the time to make them your go-to company because no matter what type your door is, they can fix it for you. However, if you are not sure of what the problem is, simply let them know what you have observed and they will inspect it.
This is another reason why we love them. They are very hands-on with every customer and they make sure that they are satisfied with their service.
Multi-year and lifetime warranties available
All of their installation, service, and repair work is covered by a multi-year warranty
Free quote
Base rates are unavailable
3. Homeland Garage Door Repair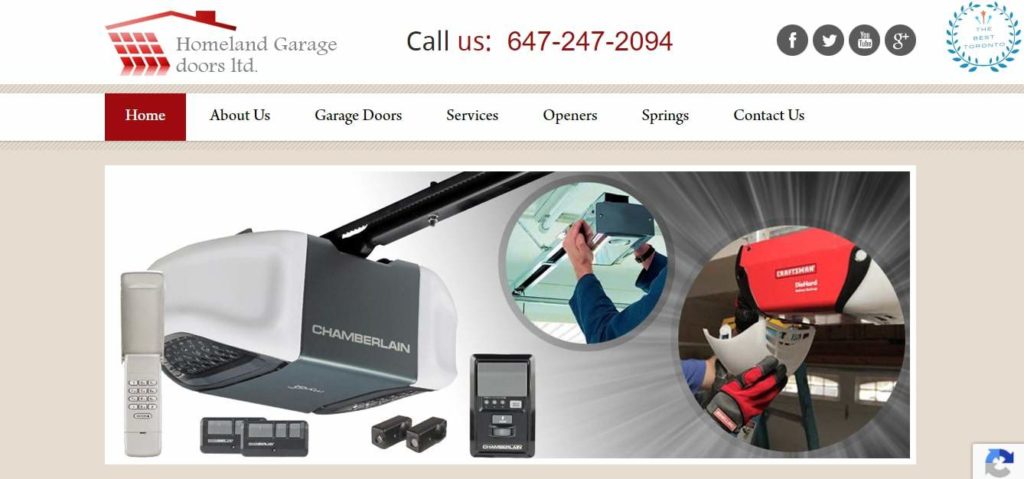 SCOPE OF SERVICES
Single and double car garage doors, roll up doors, glass doors, aluminum doors, wood doors, repairs, maintenance, tune-ups, weatherstripping, troubleshooting, and emergency release
WEBSITE
https://www.homeland-garage-toronto.ca/
ADDRESS
4548 Dufferin St Toronto ON M3H 5R9
CONTACT DETAILS
647-247-2094


[email protected]

OPERATING HOURS
Monday to Sunday: 7:00 AM – 10:00 PM
Homeland Garage Door Repair is a repair company that services both residential and commercial clients in Toronto, providing them with an extensive range of garage-door-related services.
The variety of its repair services includes maintenance, tune ups, replacements, weatherstripping, and installation. You can basically get any type of garage door service here.
If you're after a repair contractor that can deal with all types of garage doors, then we highly recommend hiring this one. Its technicians are trained in fixing garage doors made of steel, glass, wood, aluminum, and even those single and double-car door models.
Homeland Garage Door Repair sources its replacement and repair parts from the world's most reliable manufacturers, so there's an added guarantee that your garage door won't be breaking down any time soon when its technicians are involved.
In terms of rates though, we can't say that it has the most budget-friendly rates, but we believe that it can make your hard-earned money worth it, down to the last cent.
Can fix all types of garage doors
Open to residential and commercial clients
Responsive customer service
Equipped with durable repair and replacement parts
Rates are slightly above average
Customer Reviews
Take a look at these comments shared on Google Reviews by previous customers:
"I was very much upset when I couldn't get my overhead garage door to open. From my initial inspection, I thought that the problem was caused by the opener. But, after calling Homeland Garage Door Repair, I learned that another defective component caused the issue. On the same day of the service, the technician managed to restore the normal function of my garage door. His garage door service worked! The best part is that it didn't cost me a lot of money. I am happy with how it turned out. In case another issue comes up, I will call the same company to help me out."
-Arthur Paras
"When I needed garage door service for the complete maintenance of my garage door, I was really fortunate to have gotten in touch with Homeland Garage Door Repair. My garage door wasn't functioning as efficiently as it used to. I could hear funny noises when I opened or shut it down. I realized I had not had it serviced since we moved into our new house, and it was about time to get it done. Upon a friend's recommendation, I found the perfect people to handle the maintenance work, and I couldn't be happier. My garage door is as good as new!"
-Bobbie Stam
4. Garage Door Geeks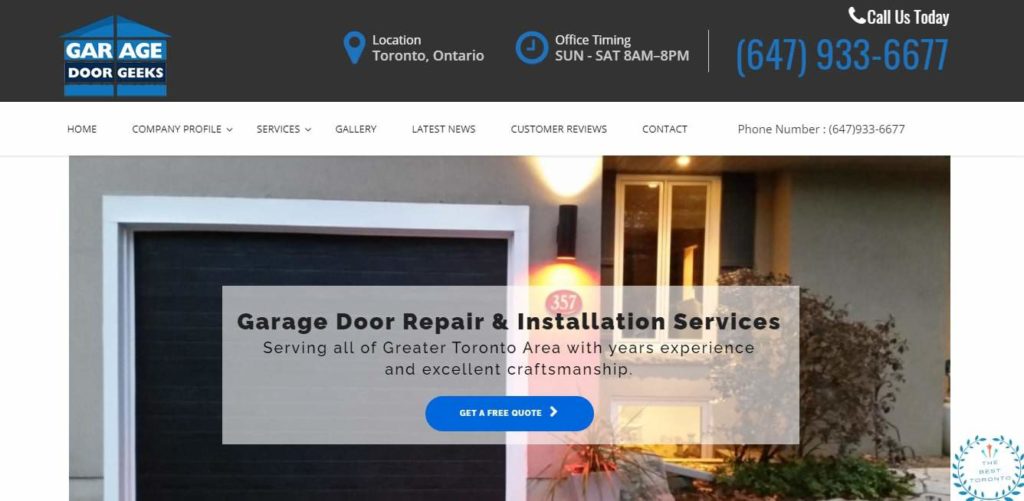 SCOPE OF SERVICES
Repair, maintenance, installation, and opener installation
WEBSITE
https://garagedoorgeeks.ca/
ADDRESS
1701-77 Huntley St, Toronto, ON M4Y 2P3, Canada
CONTACT DETAILS
(647) 933-6677


[email protected]

OPERATING HOURS
Monday to Friday: 8:00 AM – 9:00 PM
Another top-rated garage door repair company in Toronto is Garage Door Geeks, carrying a near-perfect rating of 4.9 out 5 on Google Reviews. It landed on our list for three main reasons.
First, it services most of the Greater Toronto Area, including rural areas in Georgina, Newmarket, Oshawa, Richmond Hill, and Aurora, among others. It can accommodate both residential and commercial spaces as well.
Second, its technicians and repair services are both covered by an unbeatable warranty. In case you're not satisfied with the results, its technicians will come over to do everything again free of charge.
Lastly, before starting any work, its technicians will go over what needs to be maintained regularly so customers will be aware of what should be done after the repair. You'll know which minor repairs you can do on your own, so there's no need to spend money to hire a professional.
Unlike other repair companies, Garage Door Geeks works its way around the schedule of its clients, which explains why it operates seven days a week. If your free time is only on weekends, then there's nothing to worry about.
Comes with warranty
Operates until Sundays
Competitively priced services
Fast response to queries
Shorter operating hours on weekends
Customer Reviews
Here are some comments shared by past customers:
"Amazing service. We accidentally broke our garage door late on a Sunday and called a bunch of companies who couldn't make it out til next day – which was a problem because our door was jammed wide open. Finally we found Garage Door Geeks online and so glad we did. They turned up fast and fixed our problem within the hour. Great price and excellent service. Did a good job of explaining what happened and put in prevention to stop it happening again. Thanks so much! Would 100% recommend and will absolutely use again if we ever have garage door problems."
-Alice Ralph
"Nazar and Oleg helped me right out with repairing my garage door. The Torsion spring came right out of the wall and Oleg got the door back to working order. Oleg secured the torsion spring and replaced the brackets on the sides of the door. So happy I went with GarageGeeks I was going to go with another company who was going to quote me ridiculous figures as I was unsure who to go with, happy I chose GarageGeeks in the end. Affordable and friendly service!"
-Johnathon Medeiros
5. The Door Master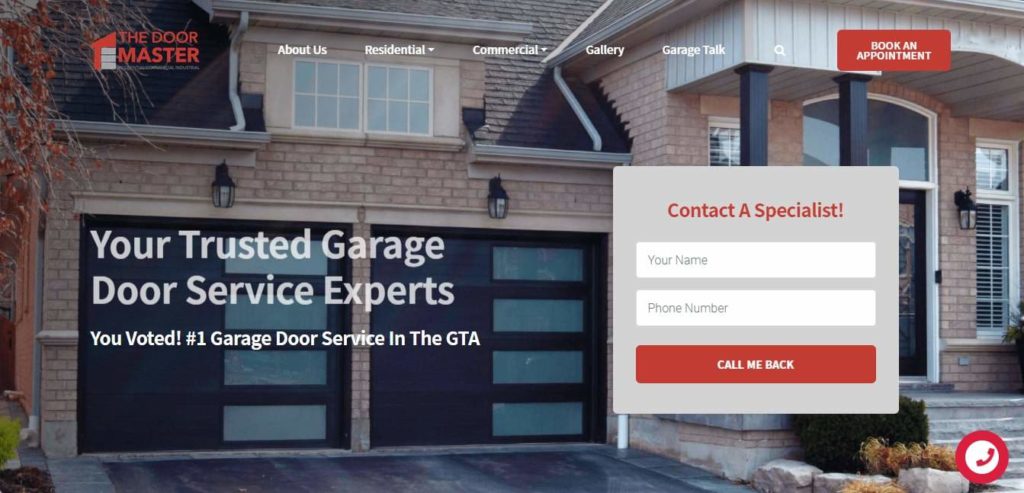 SCOPE OF SERVICES
Residential and commercial garage door repair, springs repair, cables repair, new garage door installation, panel replacement, and preventive maintenance services
WEBSITE
https://thedoormaster.ca/
ADDRESS
452 Queen St W, Toronto, ON M5V 2A8, Canada
CONTACT DETAILS
+19053265800


[email protected]

OPERATING HOURS
Open 24 hours
As one of the most in-demand garage door repair companies in Toronto, The Door Master handles more than 500 repairs per month. Here's why both residents and business owners trust its services:
For one, it employs a large team of licensed technicians who are experienced in doing all types of garage door repairs, including broken weather sealants, damaging rust formations, cosmetic damage, and cable failure, among others.
More than that, all of its technicians are fully insured, so in case any of them get injured while working on your garage door, you won't have to worry about being legally liable for their medical expenses.
Another thing customers like about The Door Master is that it has ;;;;;honest and transparent rates. It may not have the lowest rates in the entire GTA, but it can guarantee that no customers will be charged with hidden and last-minute fees.
The Door Master operates 24 hours a day, from Monday to Sunday, so customers can ask for help any time of the day. No customer with emergency concerns will have to wait for the next business day before a technician comes over.
Those who don't have enough to pay for the repair and replacement may avail of its financing options. The total bill will be split into 12 months of equal payments with no interest.
Installment basis is available
Quick response time
Operates 24/7
No hidden fees
Customer Reviews
The Door Master has an average rating of 4.9 out 5 based on 688 reviews, making it one of the top-rated garage door contractors in Toronto. Here's what previous customers had to say:
"These guys are the best in town. Very professional, honest, prompt, pleasure to deal with and workmanship and customer service is top notch. Forget the rest 'The Door Master' is the best! Simply amazing service and great job. Very pleased. Highly recommended!! They also donated and installed my old garage door to a family in need … such a wonderful experience!"
-Joe Lapolla
"The response from Doormaster was efficient, with an initial review to assess the damage and to return a few days later to perform the repairs quickly and accurately. It turns out the door was never installed properly (arranged by previous owner) and we suffered the results of poor equipment + installation. Thanks Jack/ Amos for getting things in fine working order."
-Paul Backewich
6. Fix It Right Garage Doors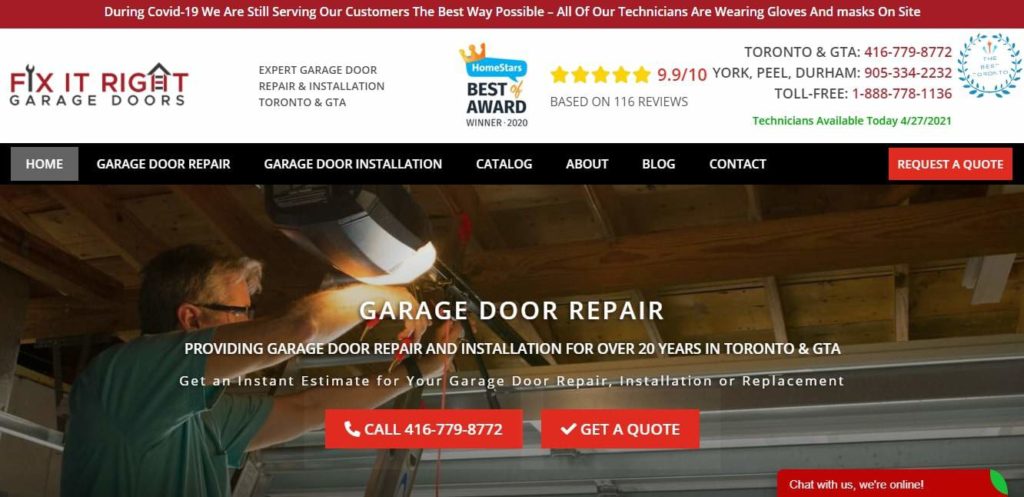 SCOPE OF SERVICES
Garage door spring repair, opener repair, parts repair, panel replacement, keypad repair, emergency repair, and garage door installation
WEBSITE
https://fixitrightgaragedoors.ca/
ADDRESS
3 Goldfinch Ct, North York, ON M2R 2C1
CONTACT DETAILS
416-779-8772


[email protected]

OPERATING HOURS
Monday to Sunday: 8:00 AM – 9:00 PM
Established more than 17 years ago, Fix It Right Garage Doors has grown into one of the most reputable garage door repair companies in the entire GTA. Its services are open to both residential and commercial spaces.
When it comes to service areas, almost every corner of GTA is covered, including Woodbridge, Vaughn, Oshawa, Nobleton, Markham, and Thornhill, among others.
Not only can it repair garage doors of all materials, it can deal with a wide range of garage door brands as well, such as Amar, Chamberlain, Garaga, Craftsman, and more. You can hire its services even if you have an outdated garage door model.
As for its commitment to customer satisfaction, all of its services are covered by a lifetime warranty, so in case your garage door starts acting up again, there's no need to worry about the cost of the repair.
The reliable customer service at Fix It Right Garage Door partnered with its competitively priced services stands as an additional reason for customers call it one of their top choices for the best garage door repair in Toronto.
Wide service area
Competitive rates
Lifetime warranty
Excellent customer service
Accepts credit cards, Google Pay, and Apple Pay
Handles multiple customers every day, so delays are expected
Customer Reviews
Take a look at these comments posted on Google Reviews:
"The technician that came was excellent! Very friendly and explained the repair options, the pros and cons of each and the cost. Once he finished the job he did a thorough job of inspecting the garage door to make sure it works. Fast service same day as I called. Appointment window was 3-5pm but the technician was able to come 2 hours earlier. I highly recommend Fix it Right!"
-Jason Ebrahim
"One of the springs on my garage door snapped, so I needed professionals to come in and handle it. Daniel and Josh from Fix It Right Garage Door Inc. had the door back up and operating within a few hours of arrival.These guys are fast, clean and courteous. They even recommended some maintenance tips as well. 100% recommended for sure. Great experience."
-Shawn Greene
7. Universal Doors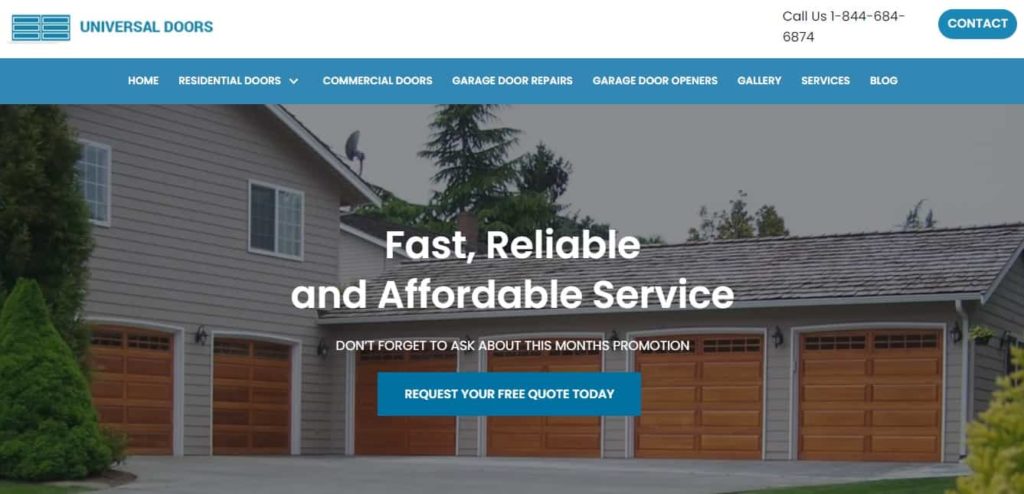 Universal Doors is a company that provides clients with professional garage door repairs and maintenance. Ever since their founding, they have since then built a positive reputation and are known for their quality work in the area.
We like that they are able to offer clients certified professionals and experts for the job to ensure that each door is resolved properly both in the interest of the client and the budget agreed upon.
They recognize that such issues may happen at any time and so they offer same-day services to better accommodate the immediate need of the client at the times that are available to the client.
Apart from offering affordable rates, clients can be sure that from the diagnosis of the issue down to its repair- that all materials and equipment used in the project are of quality parts and reliably sourced as well.
However, they can still improve their services by offering garage door installation.
Overall, with the right experts on the job and with flexible fixing schedules, we highly recommend them to clients in the area who are experiencing emergency garage door issues among many other similar problems.
Affordable rates
Free quote available
Accommodates emergency services
Do not accept Credit Cards or offer financing
FAQs about Garage Door Repairs
---
And that concludes our list of repair companies that offer the best garage door repair in Toronto. Any of these companies can definitely put an end to the problem of your garage door!
We're also open to adding other garage door companies, as long as they meet our standards… so if you know other repair contractors, don't hesitate to share them with us.
If you have a busted appliance sitting at home, you might want to check out our picks of the best appliance repair in Toronto. Our list features the top appliance repair companies trusted by hundreds of Toronto residents and business owners.