The 7 Best Bed Bug Exterminators in Toronto
Yearning for good sleep without the nightmare of a bed bug infestation? Today might end your tragic tale because we have the best bed bug exterminators in Toronto for you.
We chose them for their methods and quality of work. But before we get to them, we'll present you with a pricing guide to get an idea of how much you need to shell out.
The Cost of Hiring Bed Bug Exterminators in Toronto
Like most services, the price you'll pay depends on many variables. These include the type of bed bug treatment, size of the home, and number of rooms.
In most cases, there will be initial inspections with fees ranging from $100 to $800. Make sure to communicate with the company because some waive the inspection fee if you'll proceed with the treatment.
The industry average in Canada is $0.50 to $2 per square foot. In general, you would have to pay $500 up to $1,400 depending on your home's size.
Regarding the treatment type, there are two major kinds you can choose from: Heat and Chemical. Of the two, a heat treatment costs higher because of the manpower and skills it requires.
Expect from $1,200 to $2,500 for heat treatment. Meanwhile, a chemical treatment usually starts at $175.
Another important variable to consider is the number of rooms that need treatment. Take a look at the table below to see an estimate of the costs:
| | |
| --- | --- |
| Number of Rooms | Estimated Cost |
| 2 | $500 – $600 |
| 3 | $600 – $800 |
| 4 | $800 – $1,000 |
The Best Companies for Bed Bug Extermination in Toronto
Now that you know the potential cost of bed bug extermination services, let's dive into the best companies in this field. Here are our top picks:
1. Pestline
SERVICES
Pest Control: Bed Bugs, Mice Removal, Rats Removal, Cockroaches, Ant removal, Wasp Removal, Bees, Centipedes, Spider Removal, Mosquito Control, Earwigs, Beetles, Flies, Moths, Fleas, and Termites.
Animal Control: Raccoon Removal, Squirrel Removal, Birds, Bats, Skunks, Snakes, Chipmunks, Possums, and Condo Pest Control.
WEBSITE
http://pestline.ca
ADDRESS
89 Shetland Crescent, Maple, ON L6A 3B8
CONTACT DETAILS
[email protected]
(416) 567-1135
OPERATING HOURS
Monday – Saturday, 9:00 AM – 7 PM
Pestline provides reliable and trustworthy pest control services to customers in the Greater Toronto Area and surrounding regions.They were established in 2019 and are an eco-friendly firm that takes an Integrated Pest Management approach to pest control.
Its organization employs cutting-edge technology and techniques to rid their clients' homes and businesses of pests, all while maintaining a high level of health and safety for their customers, their families, and their assets.
They know how difficult it may be to have bugs in your house or company. This is why their professionals work tirelessly to get you pest-free and comfortable in your home as quickly as possible.
Checking their services, they are known as an all-in-one pest company since they are fully capable of providing a full-range of services. Among those services, they particularly excel on their bed bug removal.
Their approach in combating bed bugs is simple, yet very effective. They first identify the location of bed bugs on your property. Next, all clothes and beddings should be washed and placed in plastic bags. Finally they will do their thing using their high-end pest removal technology.
High-end equipment
Provides a wide range of pest and animal control services
Affordable rates
Customer Reviews
I would highly recommend Pest Line and Jaz for his willingness to help
"We had a great experience with Pest Line given how stressful of a situation it can be to have pest issues in your home. I would highly recommend Pest Line and Jaz for his willingness to help and especially his honesty, in times where stresses are high and gullible customers are vulnerable" – Mudabber Ahmad
It was such a pleasure working with their team.
"It was such a pleasure working with their team. I called them they were very friendly, gave us a quote right away and showed up on time. Very happy with the service overall." – Sadaf Ahmad
2. Thermokill
SERVICES
Residential and commercial bed bug treatments:
Bed Bug Heat Treatment
Bed Bug Conventional Treatment
Bed Bug Apprehend Treatment
Vacuum & Steam Treatment
WEBSITE
https://thermokill.ca/
ADDRESS
180 west beaver creek Rd, Richmond Hill, ON L4B 1B4
CONTACT DETAILS
416 2721323


[email protected]

OPERATING HOURS
Monday – Friday, 8:00 AM – 7 PM
Saturday, 8:00 AM – 4 PM
If you suspect you have a bed bug infestation, call Thermokill, Toronto's finest bed bug heat treatment exterminators. They will eliminate bed bugs from any location in the home, as they may hide in crevices as small as nail indentations.
They are known for providing conventional bed bug treatments including heat treatments. Heat treatment exterminators are the only ones who can completely remove bed bugs, no matter how carefully you've prepared.
First and foremost, their rates may vary depending on the amount and kind of therapy required. Feel free to speak with their professionals and they will advise you to begin treatment and preparation as soon as you notice bed bugs.
Heat treatment for bed bugs is the most efficient means of controlling these pests. They can, for example, utilize a hot box, which is meant to give a consistent amount of heat to kill bed bugs.
The box can hold everything from suitcases to blankets to shoes. They can also use a specialized drier to assist heat penetrate small, difficult-to-inspect cracks. Their technique keeps the temperature at 115 °F since this kills all bed bugs, regardless of stage of life.
Aside from their superior services, they also have many years of experience and expertise. Their team has helped clients in the GTA for more than two decades and they also provide a 60-day warranty that can be expanded to 120 days.
Free no obligation quotation
Experienced exterminators
Provides a 60 day warranty (can be expanded to 120 days)
Free inspections in the GTA
The Leading Company in Bed Bug Heat Treatment
Customer Reviews
Thermokill is definitely a company I would recommend to anyone dealing with bed bug issues.
"Thermokill is definitely a company I would recommend to anyone dealing with bed bug issues. We went for heat treatment and were very happy with the easy prep they asked us to do. All other companies were asking for a lot of prep work which would've have taken weeks to complete. After two weeks, the owner of the company himself came to do an inspection to make sure everything was good. So far so good!" – Michelle Soares
Excellent, professional service
"Excellent, professional service. They are a top notch company and we have been nothing but impressed by their work. We had Sam as our main contact and he was quick to respond with any questions we had during the process. Their guarantee also shows that even after the treatment is done, they stand by their work and will continue to assist you to ensure that the problem is completely remedied. I highly recommend this company " – Ramn Baniqued
3. Addison Pest Control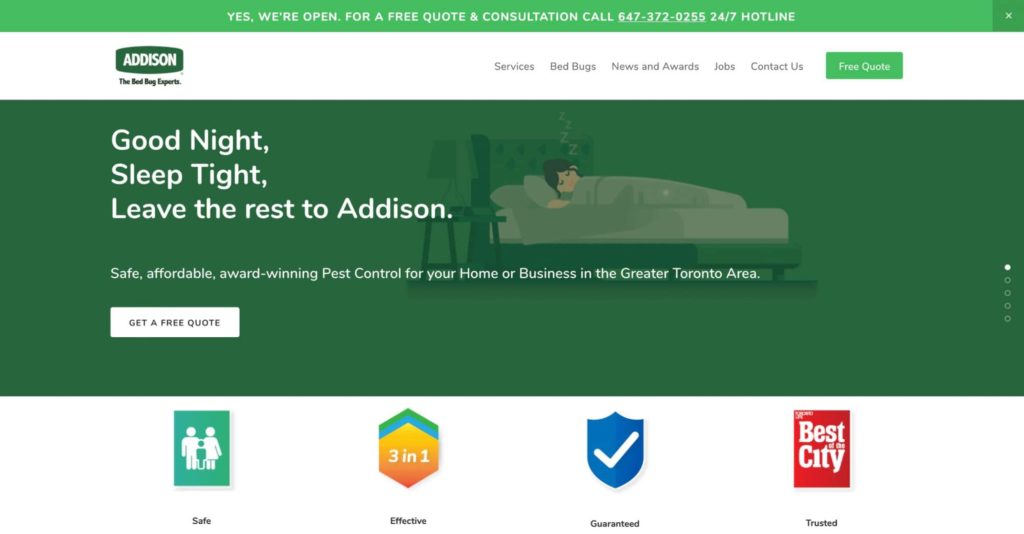 SERVICES
Extermination of various pests including bed bugs, ticks, cockroaches, ants, centipedes, earwigs, rodents, carpet beetles, fleas, squirrels, termites, and house flies
WEBSITE
https://www.addisonpestcontrol.com/
ADDRESS
41 Baldwin St, Toronto, ON M5T 1L1, Canada
CONTACT DETAILS
416-628-6963


[email protected]

OPERATING HOURS
Open 24 hours
We're giving Addison Pest Control two thumbs up for its 3-and-1 treatment and customer service. Here are the reasons we think you should have it on your list for bed bug removal services:
For starters, it's open and accessible 24/7, which is great if you're in the middle of a bed bug emergency. Second, you can quickly get a free quote over the phone with no strings attached.
We hate undisclosed charges too so we appreciate its transparency. They guarantee no hidden charges or follow-up costs – the perfect combination for honest pricing.
Speaking of honesty, if they give you a quote through a call, that's exactly what you'll pay for. And by the way, if you don't like their service, they'll return to your place and redo the treatment at zero cost.
Another thing that we liked is the level of customer support they extend to clients. Give them a ring and they'll answer your questions whether or not you proceed with the treatment.
In line with customer service, the actual conduct of the job, in our opinion, is close to faultless. Apart from their notable 3-in-1 treatment, they also sit down with customers to explain the process and discuss how to manage future infestations – and it's all done in one day!
While it's close to perfect, we didn't like how we can't choose what type of treatments to get. Other companies will let you pick between heat or chemical treatments – this one only uses the same treatment for all exterminations.
Still, it's a wonderful company if you're looking for prompt and patient customer service with 24/7 access. It's great for you too if you want transparent pricing and treatments done in just one day.
Open 24/7
Free quote over the phone
No hidden charges
Treatment complete in one day
Excellent customer service
No freedom to choose the type of treatment
Customer Reviews
Here are some customer notes about them from Google Reviews:
I probably brought back a bed bug to my condo unit from a trip to the states, and didn't realize what it was until 3 months later. Once I saw a bed bug on my blanket, I knew the infestation is more than what I can handle by myself. Contacted Addison and they were super quick to respond. The guys showed up quickly and were very professional. The first time didn't wipe out all the bugs, but they offered a second time service with no extra cost. And this time the bugs were completely gone. 2 years later now, still no bed bugs. Highly recommend! – Laura
Addison Pest Control was awesome at helping me manage the bedbug situation in my home. Conner was so helpful on the phone and I think the other person's name was Mike. I can't say it enough how grateful I am to have found this company. I was literally in a state of panic. They answered all of my questions and were so down to earth. Their calmness really helped me and I will forever be thankful to the whole team. Worth every penny! – Ashley Watts
4. Pestend Pest Control Toronto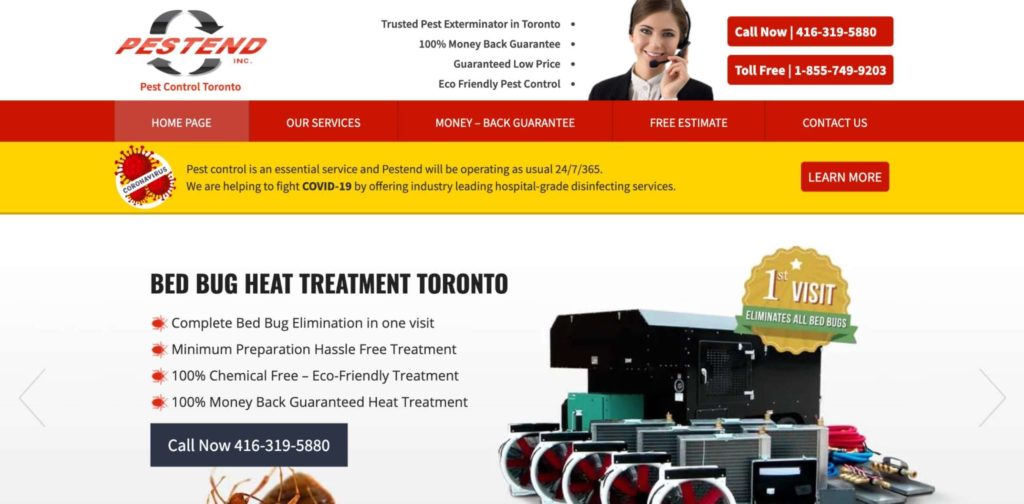 | | |
| --- | --- |
| SERVICES | Bed bug heat treatment, commercial and residential pest control, humane wildlife control, K9 bed bug inspection |
| WEBSITE | https://www.pestend.ca/ |
| ADDRESS | 415 Oakdale Rd. Toronto, ON M3N 1W7 |
| CONTACT DETAILS | 416-319-5880 |
| OPERATING HOURS | 24/7/365 |
In our honest opinion, Pestend Pest Control Toronto has all you need to fix your bed bug situation. And we love it for the extra mile they go through to provide excellent service.
To start, you can try their call hotline to request a free estimate of the extermination cost. There are no obligations at this point yet so don't freak out and feel free to ask questions.
We also like its fleet of unassuming service trucks that don't give any hint that it's a pest control vehicle. Bed bug infestation can be embarrassing – so it's nice that they'll save you from the shame factor around the neighborhood.
It also earned a star from us with its K9 bed bug inspection. This makes inspections faster and more affordable — plus you'll have a cute K9 dog around (so we're suckers for cute dogs, sue us!).
For quality, we'll allow their certifications to do the talking.
This business is Rated A+ By BBB, Quality Pro Certified, and ACE Certified Entomologist. In addition, the products they use are also approved by the Ministry of Environment.
As the cherry on top, you get a 100% money-back guarantee if you're unhappy with the service. There's a catch here though because you must follow the guarantee period and recommendations of its technicians to be eligible for the money-back guarantee – so actually, it's not really guaranteed.
Despite that little drawback, it's open every day, all day throughout the whole year. So, you can definitely ring them up anytime you need.
Open 24/7/365
Free quote over the phone
Industry-certified services
Ministry of Environment-approved products
Unmarked pest control trucks
Affordable and fast K9 bed bug inspection
Conditional money-back guarantee
Customer Reviews
Here are some customer reviews posted on Google Reviews:
Got a 4 Step Bed bug treatment with them. Price was competitive. Was provided with excellent quote with multiple options for treatment and detained instructions for preparation for them. Their technician Zach was professional and answered any questions I had. Zach gave specific information for my situation. Zach also informed me of additional services I wanted but was not aware of. I would highly recommend Pestend Pest Control. – Dwayne Persaud
Faraz was so great! I called Saturday and he was there Sunday! This was such a great feeling, because as you can imagine, dealing with something like bedbugs is shocking and you want help right away. So professional, and made you feel better about the unfortunate situation. I would recommend to everyone! – Nicole Alves
5. Pesticon Pest Control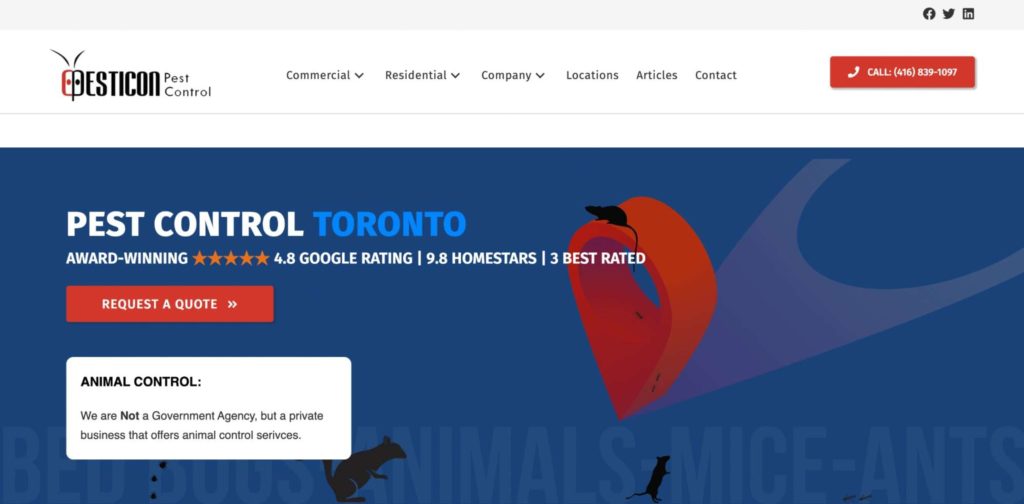 SERVICES
Bed bug removal, ant control, bee removal, cockroach removal, fleas control, hornet nest removal, mice control, rodent control, spider removal, termite control, wasp nest removal, wildlife removal
WEBSITE
https://www.pesticon.com/
ADDRESS
100 Rexdale Blvd, Suite 301 G, Etobicoke, ON, M9W 1N7
CONTACT DETAILS
(416)-839-1097


[email protected]

OPERATING HOURS
Monday – Sunday: 8:30 AM – 10:00 PM
Pesticon Pest Control carries its own set of aces in the bed bug extermination business. For starters, compared to other businesses in this list, this one has remarkable media mileage.
Other than grabbing the attention of Huffpost, Global News, and Toronto Life, it also has an A+ rating with BBB. This means many reputable sources can vouch for its services.
However, right off the bat, you'll see a notable setback that'll make many patrons think twice. Though it's open every day, it has limited hours compared to services that are open 24/7.
Obviously, this already means that you can't ping them up anytime you want and need them. On the bright side, they open at 8 and close at 10 – which is a usual business time for most people anyway.
We like how they have a certified technician to entertain calls and give you a quote. They also earned a thumbs up from us with their six-month service warranty – so you're guaranteed to be pest-free for half a year.
In contrast, its emergency services, in our opinion, are inaccessible and downright snobbish. You need a quick bed bug fix that warrants an emergency? You have to buy one of their three plans first.
What we like are the reasonably-priced services for the bed bug treatment. The inspection is also worth noting because you can send them a picture via email for a quick diagnosis (of course, they'll get more in-depth in-person).
Six-month warranty
Reasonably-priced bed bug treatment
A+ BBB rating
Quick inspection through email
Not available 24/7
No emergency services
Customer Reviews
Here are some customer reviews from past customers:
Best pest control company ever. They were so knowledgeable and helpful. They came ii and found the bed bugs in no time. They told me all the steps I need to take in prep for the wall extermination. They were even available to answer my annoying questions after they left. Words can't even describe how amazing and quick they were, I would strongly recommend them to anyone who's concerned about bed bugs. – Peter Edward
My daughter came home and brought bed bug – they came in and sprayed our home and explained the bprocess in detail – Pesticon warranty is there for peace of mind as well. – Kevin Enyeart
6. Orkin Canada Pest Control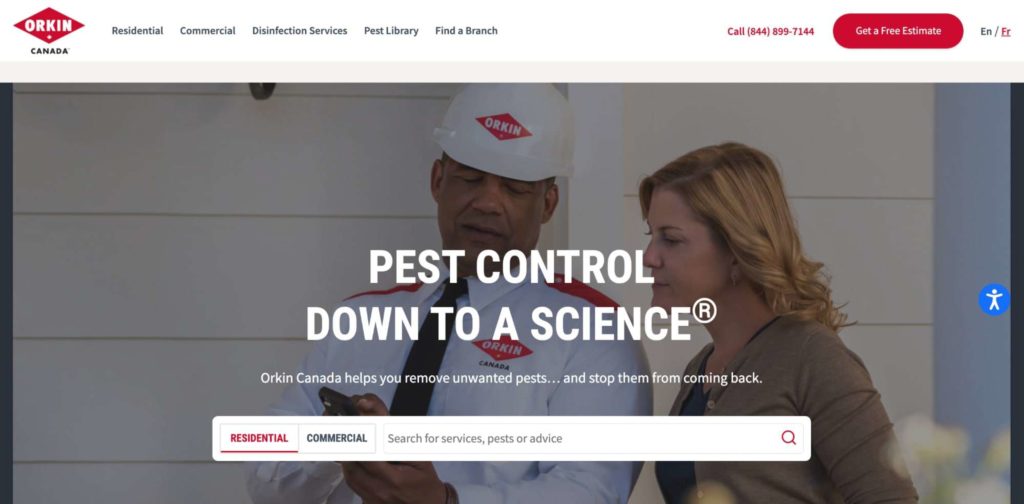 SERVICES
Bed bug extermination, ant treatments, mosquito control, wasp and hornest removal, rodent control, spider programs, wildlife removal, flea extermination, termite control, disinfection services
WEBSITE
https://www.orkincanada.ca/
ADDRESS
Address: 1361 Huntingwood Dr Unit #3, Scarborough, ON M1S 3J1, Canada
CONTACT DETAILS
(416) 332-3932
OPERATING HOURS
Monday – Friday: 8:00 AM – 5:00 PM
Saturday – Sundy: By appointment
Straight away, our favorite thing about Orkin Canada Pest Control is its team of technicians as they make customer service solid. Every technician is punctual, patient, professional, and proactive in dealing with pest issues.
We also liked how fast the inspection process was, again with the assistance of a nice canine friend around. Plus, documentation and reporting are at par with industry standards concerning business establishments.
If you don't like their work, they'll give you a 100% refund, which is a definite plus for us. But of course, this money-back is not absolute for all cases – you need to check with them if you're eligible.
On the plus side, if you need re-treatment, they'll offer the services at no extra cost. Just contact them via call or email and they'll respond at a satisfactory speed.
We wished it offered emergency services though since it has a good roster of prompt technicians. In line with that, we also disliked the limited working hours on weekdays and the by-appointment setup every weekend – really kills the punctuality they offer.
However, if quality and friendliness are more of your lane, check this company out. With all the positive testimonials we got from their past customers, we think they're a pretty good option.
Great team of technicians
Fast inspection process
Re-treatment at no extra cost
100% refund on certain cases
No emergency services
Limited hours on weekdays
By-appointment setup on weekends
Customer Reviews
Here are some customer reviews of the company:
Orkin responded to our call quickly and professionally. Our service associate Justin was knowledgeable and highly professional, and our rodent problem now seems to be well under control. Within the first month, almost all evidence of any infestation was gone and it's been that way for almost a year. Thank you Justin! – Mary-Louise Prosen
From the call to the service all of the people whom I dealt with were very professional and nice. Miles was thorough and explained everything. The second service which was an overview was done by Justin. Again it was done well. I will recommend them highly. – Mary Jeganathan
7. The HUG Group Pest Control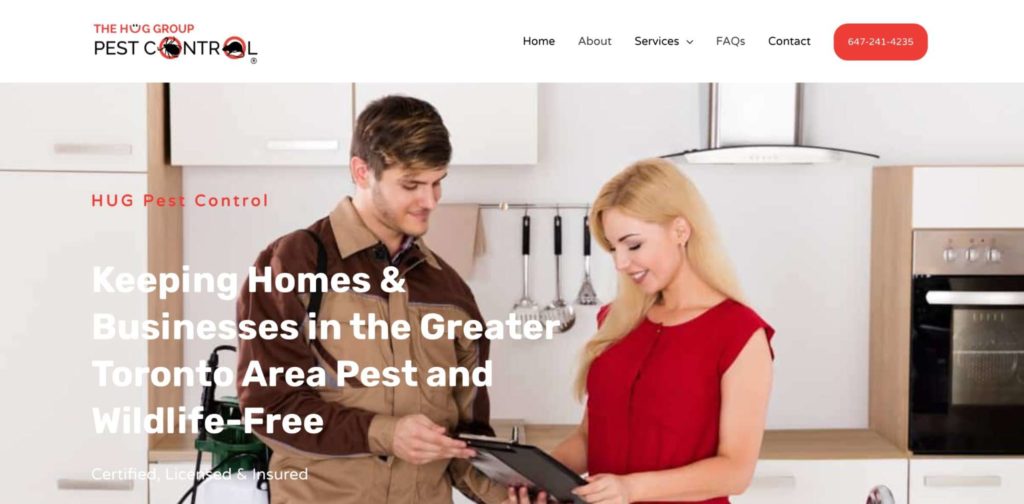 SERVICES
Extermination and control of bed bugs, roaches, mice, insect, wildlife, mattress encasement
WEBSITE
https://hugpestcontrol.ca/
ADDRESS
Address: 1154 Warden Ave. Suite 138, Scarborough, ON M1R 0A1, Canada
CONTACT DETAILS
647-241-4235


[email protected]

OPERATING HOURS
Monday – Sunday: 7:00 AM – 11:00 PM
24/7/365 (For emergency services)
The HUG Group Pest Control met our standards for a lot of notable reasons. Most of which are about its excellent customer service, starting from the quote request to the actual performance.
First, its office operates on set hours, but at least it's open for a pretty good length of time every day. We also like that you can reach them 24/7/365 for emergency services – including statutory holidays!
Second, requesting a quote is a breeze, with expert consultation from its technicians. If that's not enough for you, note that it's also possible to get your booking on the same day after proceeding with the service.
Finally, we appreciate that they're among the companies that arrive at your place in an unmarked vehicle for that hint of privacy. After all, who would want their neighborhood to know that they have a bed bug infestation?
In addition to these three major reasons, we definitely like that they reach out to customers who are dissatisfied with their services. We found multiple instances of this in our survey of their past clients.
By the way, on Google Reviews, we only found four reviews under five stars, so we know that its 4.9 rating is serious business.
We didn't find much to bemoan in terms of service quality and range, by the way. But we wish there had been an option to attach photos on their quote request form, which would help to diagnose the bed bug situation faster.
Available for emergency services 24/7/365
Open everyday
Unmarked pest control vehicle
Values customer feedback
No option to attach a photo to the quote request
Customer Reviews
Here are some reviews posted by past clients:
Recently moved to new home. On there I found there's a lot of bed bugs. When I contact them, theor service is so fast that they came immediate and started the procedure for removing then. As a result, it's been 8 months that I haven't seen any bed bugs. – Gurkaran Singh
I highly recommend this company; they were very very helpful and professional. I have had problems for a long time but they brought relief. I am most grateful they also were great teachers on how to prevent the problem in the future. HIGHLY recommended. – Patrick Slaney
came the following week as well to follow up with the situation. Professional throughout the whole process. Would recommend." – J.D.
Signs of Bed Bugs Infestation in Your Home
Need help spotting a bed bug infestation? Here are some signs that you have some:
You wake up with bite marks and red spots.
The first signs aren't usually on your bed or sheets but on your skin. If you woke up with your face, arms, or legs covered in red spots and bite marks, it might be a bed bug infestation.
The red spots are typically small, but they're slightly inflamed and terribly itchy. The bites, however, tend to form a pattern that is a line across your skin – that's how you can tell that those are bed bug bites and not from mosquitoes.
There are blood stains on your sheets.
During your sleep, you might accidentally squash a bed bug, causing tiny blood spots on your sheets. But you can also see these stains on your pillowcases and even the pajamas you're wearing.
If you wake up with these stains on your clothes and beddings, be alarmed. Call an exterminator immediately so you can get an expert diagnosis.
There are dark or rusty spots on the mattress or walls.
These dark, rusty spots are usually stains of the bed bugs' fecal matter. It could also mean that a large number of bed bugs got squished together on the same spot.
If you see spots on your mattress, check your walls as well. Another telling sign is the smell they produce in these areas.
You find bed bug shells in your mattress or couches.
Bed bugs like fabric, so you're more likely to find their shells on pieces of your couch and mattress. So, if you start seeing their shells, take action.
The shells are white and they have husk-like specks. If you see a significant number of them, reach out for help immediately.
FAQs About Bed Bugs Exterminators in Toronto
---
Getting sleep is easier when you don't let the bed bugs bite. Tell us about your experience and if the bed bug exterminators we recommended above helped with your situation!
If you need a hand with pest control in your home, see our guide to the best pest control in Toronto as well! It'll help you see other notable businesses that may be able to cater to your needs.