Choosing from the 6 Best Mattress Stores in Toronto
A mattress that offers a good night's sleep is a hefty investment, sure – but a terrible sleeping pattern is costlier. If you want to score the best mattress for your needs, we'll help!
In this review, we evaluated the best mattress stores in Toronto for that ultimate sleeping upgrade. See the shops that made our list so you know where to start looking!
The Cost of Mattresses in Toronto
There are various factors that affect the price of a mattress. Some of these factors are:
Mattress type
Size
Shipping fee
Material and construction
Warranty and return terms
The table below shows the average costs of mattresses based on size:
| Type of Mattress | Queen Size | Twin Size |
| --- | --- | --- |
| Foam mattress | $1,050 | $500 |
| Innerspring mattress | $1,050 | $600 |
| Latex mattress | $2,000 | $1,100 |
| Hybrid mattress | $2,050 | $1,500 |
Prices can also vary depending on the category of the pricing structure. The estimated costs are show below:
| Category | Queen Size | Twin Size |
| --- | --- | --- |
| Budget | $600 | $400 |
| Mid-Range | $1,000 | $600 |
| Luxury | $1,800 | $1,300 |
Top Mattress Stores In Toronto
We used the following metrics to evaluate the best mattress shops in the city:
1. Dozy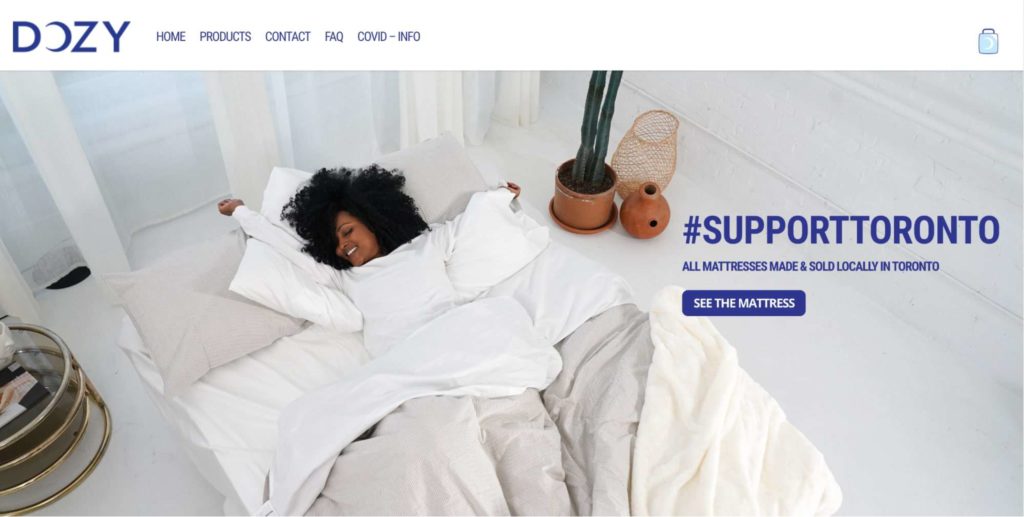 Test
Info
PRODUCTS
Davisville, Summerhill, Richmond, Essential, Osgoode, foundation, frame, platform bed, adjustable bed
WEBSITE
https://dozysleep.ca/
ADDRESS
290A Queen St W Toronto, Ontario M5V 2A1
CONTACT DETAILS
416-840-0224 |

[email protected]

OPERATING HOURS
Monday - Sunday: 11:00 AM - 7:00 PM
| Name | Rating (stars) |
| --- | --- |
| Warranty | ★★★★★ |
| Delivery service | ★★★★★ |
| Range of mattress types | ★★★☆☆ |
| Ease of return and refunds | ★★★★★ |
| Buying process and communication | ★★★★☆ |
Starting off this list is Dozy, which in our opinion is a great example of what a mattress shop should be.
Whether you're looking for a cell-infused memory foam mattress or a standard box spring mattress, they have it here. And if you can't find anything in their collection, you can visit any of their two showrooms so you can "test" various mattresses.
However, you can only choose among five different mattresses. This leaves little room for options but at least, it isn't too overwhelming, especially if you're in a rush – and the mattresses they do stock are all amazing ones.
In case you're unhappy with your purchase and want to exchange, the process is completely trouble-free. We like that they don't charge extra for returns, except for certain add-ons in case you're switching to a more expensive mattress.
On top of this, another one of their biggest strengths is their rock-solid 10-year warranty. To make things even better, they offer free in-house delivery within 2 to 6 days of purchase.
Speaking of delivery, we're pleased to note that this is one of the areas where the shop gets the most praise. To sum up the opinions of its past customers, the delivery was fast, with delivery guys going above and beyond to ensure they arrive on time.
But of course, there were also instances when customers weren't too happy with the services they got, based on our survey. We noted this in terms of their communication lines: it is sometimes difficult to get connected to them or get back to them after the initial contact.
There were also complaints about the level of knowledge representatives have over the types of mattresses they sell. But, those seemed to be mostly isolated incidents, so we think you can still generally expect a great experience here.
Option to shop online or on-site
All mattresses come with 10-year warranty
125-night comfort guarantee
Free in-home delivery
Stress-free return/exchange process
Carries four 5-star mattresses
100% Canadian made mattresses
Can try mattresses in the showrooms
Poor communication at times
Only five mattresses to choose from
Customer Reviews
Great service and high-quality products
If your looking for great service, top product quality, and a team you can trust, this is the place. Dave and his team are there to help you. I got the Richmond a few months back, waited to write a review to be sure it kept it's comfort/firmness and it sure has! To add, the 125 night comfort guarantee sure feels like a white glove service. – Thomas Grabowski
Exceptional service
Stopped by the downtown storefront on a Friday. The sales person was exceptionally helpful in choosing a mattress and foundation. Delivery was scheduled for Saturday evening. Will, the delivery driver, showed up when he said he would, unloaded the mattress and foundation quickly, and put it exactly where I wanted it. He was friendly and professional. I would 100% buy from Dozy again. – Cynthia Cameron
2. National Mattress Outlet Plus+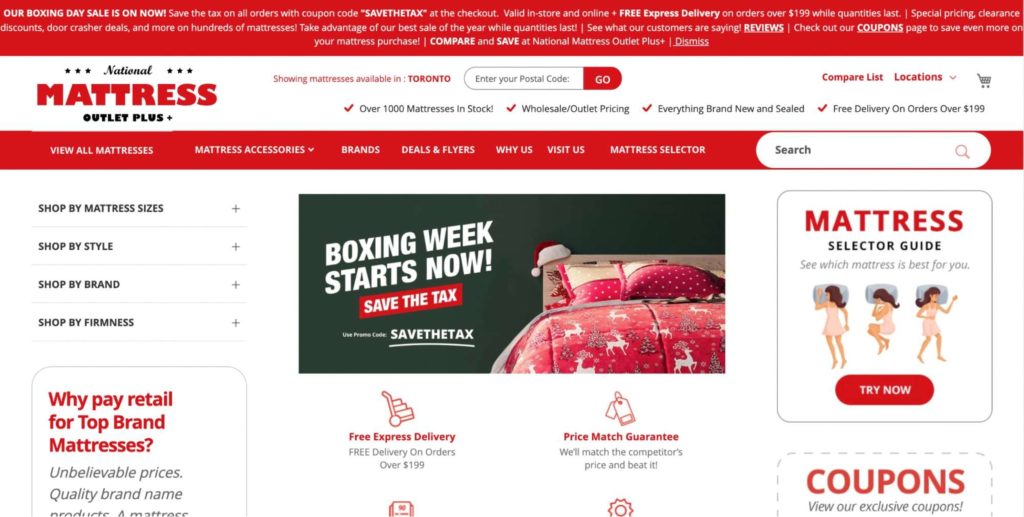 Test
Info
PRODUCTS
Mattress toppers, box springs, bed frames, pillows, mattress protectors
WEBSITE
https://www.nationalmattress.ca/
ADDRESS
33 Belvia Rd, Toronto, ON M8W 3R2
CONTACT DETAILS
+1 905-565-0885
OPERATING HOURS
Monday - Friday: 10:00 AM - 8:00 PM

Saturday: 11:00 AM - 6:00 PM

Sunday: 12:00 PM - 5:00 PM
| Name | Rating (stars) |
| --- | --- |
| Warranty | ★★★★☆ |
| Delivery service | ★★★★☆ |
| Range of mattress types | ★★★★★ |
| Ease of return and refunds | ★★★★★ |
| Buying process and communication | ★★★★☆ |
National Mattress Outlet Plus+ would be difficult to beat when it comes to range of options. Out of all the stores on our list, they carry the largest selection at over 1,000 mattresses to choose from.
What makes it even better is that they offer wholesale pricing due to a warehouse system. You can basically score expensive mattress brands for about half the price versus big-box retailers.
This also means that they don't have showrooms, which is a bit of a downer for us. You can't try the mattresses for yourself and it can be an overwhelming browsing experience in tightly packed warehouses.
To make up for this short drawback, we found that their return and refunds policy is pretty flexible. They offer a 90-day guarantee, which isn't the longest on this list but is still pretty good seeing that it's a standard timeframe.
Just a head's up, though: there may be additional fees for returns and exchanges, especially once you've opened the package. And if you want a refund, just make sure to request within 14 days of purchase (merchandise must be unopened).
The mattresses you buy come with a manufacturer's warranty, so it's different depending on the model you get. We like the warranty, of course, we just hate that you'd still have to contact the store just to fully understand the terms of your warranty.
On the bright side, warranty claims are processed with ease. There's absolutely no hassle and the representatives are really hands-on in the processing.
To wrap it up, the store offers free delivery for orders over $199. They also have options for curbside pickup in their warehouse.
Over 1,000 mattresses to choose from
Warehouse pricing
Hassle-free warranty claims process
Express delivery or pick up
Offers a wholesale program
Manufacturer's warranty
Flexible returns, refunds, and exchange policy
Financing options available
Issues with customer service
No showrooms for convenient "trials"
3. Endy
Test
Info
PRODUCTS
Mattresses, pillows, bed frames, bedding, sofa, rug
WEBSITE
https://ca.endy.com/
ADDRESS
60 Adelaide Street East, Suite 800, Toronto, ON M5C 3E4
CONTACT DETAILS
+1 866-304-3639
OPERATING HOURS
Monday - Friday: 10:00 AM - 10:00 PM

Saturday - Sunday:10:00 AM - 6:00 PM
| Name | Rating (stars) |
| --- | --- |
| Warranty | ★★★★★ |
| Delivery service | ★★★★☆ |
| Range of mattress types | ★★★☆☆ |
| Ease of return and refunds | ★★★★★ |
| Buying process and communication | ★★★☆☆ |
As it's the winner of the 2021 Best Mattress in Canada award, we had a lot of high hopes for Endy even before dealing with the store. Fortunately enough, it did meet our expectations for top-quality products and remarkable customer service.
Endy manufactures and sells Endy mattresses only, so the range of options already isn't the best. But as for quality, everything from the sleep technology to the quality of make matched our requirements satisfactorily.
Just to give you a bit of background, the Endy mattress uses open-air cell technology. This means that the mattress is super-breathable and responds well to the body.
However, though it's advertised as a not-too-soft, not-too-hard type of mattress, others still complain about the firmness. It still boils down to personal preference though, so do take advantage of their 100-day trial to test the mattress.
Each mattress comes with a 10-year warranty, which we love. Plus the delivery service makes the overall shopping experience feel like you're getting real bang for your buck.
Unfortunately, their logistics do experience a lot of challenges too, especially during busy seasons. It's also a time where connecting with them can be a struggle, so do keep that in mind.
There are still a lot of good things here: for example, there's their solid returns and exchange policy. Of course, you have to process the returns or exchange within the given trial period to be eligible.
Overall, it's a wonderful choice if you don't want to be overwhelmed with too many options. Sales agents are generally helpful too, so you'll have a great time comparing your options.
Offers a 100-day trial period
10-year limited warranty
Fast and free delivery
Award-winning mattresses
Solid returns and exchange policy
Over 300,000 mattresses sold
Issues of poor customer service
Complaints on delivery during peak seasons
Customer Reviews
Helpful and attentive service
Such an amazing company!! I had some concerns regarding my mattress being a little to firm for my liking. They sent me a topper the next day! I am so happy with my new mattress. And Bernadette in customer service was SO helpful & attentive. I've been telling everyone about my amazing experience with Endy and how much I love my new mattress!!! – Keri Garon
Fast and seamless orders
I ordered the Endy mattress and the Endy bed frame on Sunday morning. Then I received my tracking number saying that it will arrive on Friday by the end of the day. The FedEx employee was here on Thursday morning. At least, my neighbour called me and I was able to come home. In less than 5 days, I had my new bedroom done! The bed frame is really easy to assemble! Between, I also bought the Endy pillow and it is very comfy! – Anthony Laberge
4. The Brick Mattress Store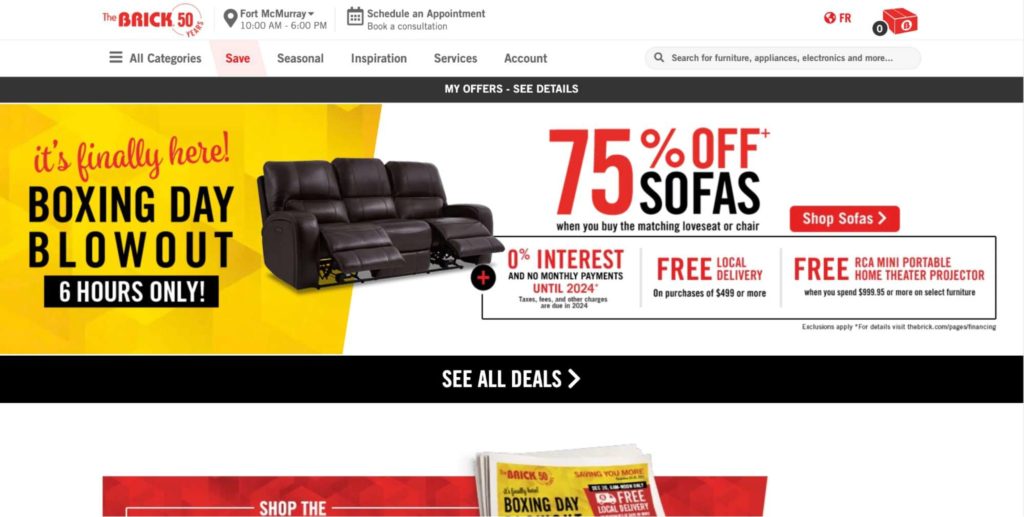 Test
Info
PRODUCTS
Mattresses, furniture, appliances, electronics, home decor
WEBSITE
https://www.thebrick.com/
ADDRESS
1015 Lake Shore Blvd E #3, Toronto, ON M4M 1B4
CONTACT DETAILS
+1 416-461-4222
OPERATING HOURS
Monday - Friday: 10:00 AM - 9:00 AM

Saturday: 10:00 AM - 6:00 PM

Sunday: 8:00 AM - 8:00 PM
| Name | Rating (stars) |
| --- | --- |
| Warranty | ★★★★★ |
| Delivery service | ★★★★★ |
| Range of mattress types | ★★★★★ |
| Ease of return and refunds | ★★★★☆ |
| Buying process and communication | ★★★★★ |
The Brick Mattress Store is a relatively small furniture shop. However, it's an absolute giant when it comes to services and the overall shopping experience.
One of the first things we lived upon seeing their store was their large selection of mattresses from various famous brands and firmness types. But at the same time, it isn't so large that it's hit the point where it becomes too overwhelming to choose.
And if you do experience shopper's shock, their sales agents are always ready to help. In fact, in our opinion, they have the most helpful team of staff we've run into – informed, patient, and super easy to connect with.
Another thing that we liked is that you have the options for in-home room-of-choice delivery or contactless delivery. This, of course, will depend on your tolerance for exposure to COVID-19 vs. your need to ensure a safe and protected delivery.
On top of that, they can also take your old mattress away so you don't have to think about it. All that convenience coupled with amazing prizes means we find it hard to spot a flaw in this 50-year old business.
There were only a few instances wherein there were issues with customer service and delayed deliveries too. But overall, nothing seems to be such a problem here that it taints the overall experience.
Their warranties and trial periods are also among the best we've encountered. Other than the manufacturer's warranty, customers also get a lifetime mattress guarantee on qualifying purchases.
Mattresses can be tested for 90 days but if you buy a mattress protector, this period will extend to 180 days. Making warranty claims is also convenient online on the store's website.
anufacturer's warranty
Lifetime mattress guarantee from the shop
Up to 180 days of trial
Takes your mattress away
Convenient delivery options
Easy warranty claims process online
Financing options available
Minor issues with customer service and delays
Customer Reviews
Highly recommended
Fantastic experience and would highly recommend. Othman was very informative and patient during the selection process. Provided helpful input to narrow down what I was looking for and customized the order to fit my needs. The knowledge and effort provided was much appreciated. – Max Figaro
Experience beyond compare
What a wonderful experience! I went to the store full of anxiety having to buy a new mattress and I was quite emotional. Ali was there to kindly guide me through the process, and when I asked if he had any information about an older mattress I liked, he took a couple days to look into it and find a mattress that was comparable. He was patient and generous with his time, and I now have a new mattress that I love! Thank you Ali! – Adrienne Kress
5. Sleep Masters Mattress Store Toronto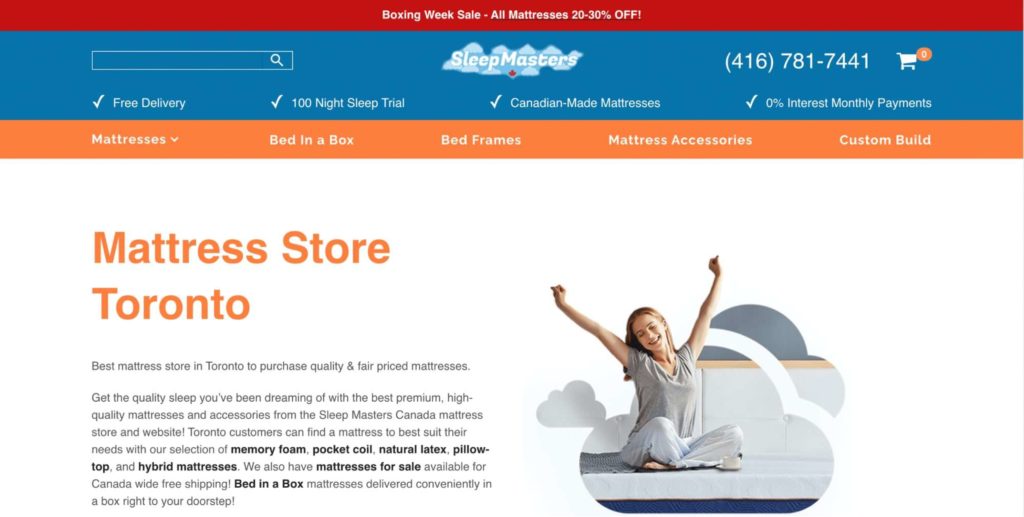 Test
Info
PRODUCTS
Custom mattress order, bed frames, mattress accessories, pillow top mattresses
WEBSITE
https://www.sleepmasterscanada.com/
ADDRESS
1285 Caledonia Rd, North York, ON M6A 1Z4,
CONTACT DETAILS
+1 416-781-7441
OPERATING HOURS
Monday - Friday: 9:00 AM - 7:00 PM

Saturday: 9:00 AM - 5:00 PM

Sunday: 10:00 AM - 4:00 PM
| Name | Rating (stars) |
| --- | --- |
| Warranty | ★★★★☆ |
| Delivery service | ★★★★★ |
| Range of mattress types | ★★★★☆ |
| Ease of return and refunds | ★★★★☆ |
| Buying process and communication | ★★★★☆ |
In terms of the range of options, Sleep Masters can easily rival most stores on our list. From memory foam to natural latex mattresses, they have an abundant collection ready for shoppers.
Aside from their in-stock mattresses, we also love that they can accommodate customized mattress builds. They are the only ones to offer this service on this list, so that's a definite edge for customers.
All of their mattresses come with the manufacturer's warranty, so the terms are different. If you need to make a claim, you can communicate directly with the store so you don't have to do any of the leg work.
Like other shops, they also offer a trial period of 100 days. That is already enough time for us to give clients sufficient testing on their purchases.
As per exchanges and returns, their policies are as good as the other shops. Just note that you have to exchange within 30 days to qualify for the process.
And if you need a full refund, you'd have to pay $75 for the restocking fee. It's quite a large fee in our opinion (since others don't charge for this) so we highly recommend thinking through it before proceeding.
Some of the other things that we love about this shop are their free delivery and competitive prices. In fact, you can even opt to pay in monthly installments with 0% interest.
Accommodates customized mattresses
Manufacturer's warranty
100-day trial period
Comprehensive exchange and return policy
Free delivery
Option to pay in installment with 0% interest
Minor issues with customer service
Customer Reviews
Simplifies the buying process
Ali and his brother Baris at Sleep Masters are friendly, knowledgeable and pros at what they do. It was a pleasure dealing with them both. Mattress buying can be complicated but Ali simplified things and helped me find the mattress of my dreams! I ended up buying two more for my family. – Jonnie Karan
Exceptional quality
Purchased the Savoy mattress. The service was exceptional from beginning to end. Mattress came exactly on the day we requested, the delivery team was very efficient and pleasant, and set up was completed very well. Would definitely recommend this place to others. – Danny B.
6. Queensway Mattress Store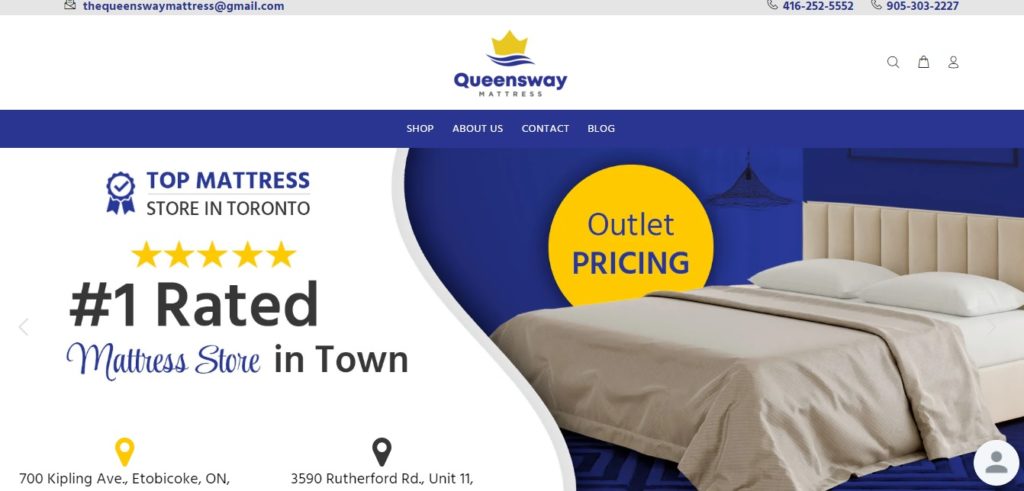 | | |
| --- | --- |
| Warranty | ★★★★★ |
| Delivery service | ★★★★★ |
| Range of mattress types | ★★★★★ |
| Ease of return and refunds | ★★★★★ |
| Buying process and communication | ★★★★☆ |
Queensway Mattress Store is among the top-rated mattress stores which have been in the industry for over 30 years already and were only formally established this 2016. Answering the demand for economically priced mattresses, they have since then been offering locals a wide range of mattress options that are of quality and sourced directly from both local and national manufacturers.
We think that the features given to clients are impressive since not only do they enjoy free delivery regardless of the purchase size but also a 100-night sleep trial to further ensure that clients get the right bed for their tastes.
All of their products also have a warranty that can range from 2 to 15 years and they also accept return and exchange within the first 30 nights should the client be unsatisfied with their mattress.
Clients can also ask for guidance from their mattress experts should they feel the need to have a professional opinion regarding their purchase or to narrow down their selection of quality mattresses to fit their needs.
Note however that there might be a limited selection when it comes to international brands since all their products are sourced from local to national manufacturers only.
Assistive customer service
Consistent mattress quality
Reliably sourced
Sleep trial available
Limited international brands
Customer Reviews
Here are some reviews from their clients:
"You can't get any better than this place. Amazing customer service with the help in choosing our new mattress at the store and prompt delivery just a couple of days later. Amazing value for a quality mattress. 10/10 would recommend."
"My family has purchased 5 mattresses from here and today I bought the 5th one myself. We always come back because of the quality and comfort. Not only that but the amazing experience with every visit. Exceptional customer service and affordable prices."
FAQs About Mattress Stores in Toronto
---
Now that you know the best places for your new mattress, you're one step ahead to completing a more comfortable lifestyle!
Check out these store reviews to find certain items that will make up a more beautiful life and home: