Top 6 Places to Get the Best Kitchen Cabinets in Toronto
Kitchen going through a complete overhaul? We have just what you need to give your cabinetry a lift!
In this article, we'll review places to get the best kitchen cabinets in Toronto, both stock and custom. We'll look into their rates, craftsmanship, and level of customer service.
To start, we'll go over the costs of buying or customizing cabinets first. This way, you'll get an idea of how much to save for your new set of kitchen cabinets.
The Cost of Kitchen Cabinets in Toronto
When calculating the costs of kitchen cabinets, the following factors are considered:
If you need custom cabinets as a part of a complete kitchen remodeling, the cost is 30% to 40% of the total renovation cost. That is if you have a kitchen contractor.
But if you only need the cabinets themselves, you can refer to the table below to see estimated costs:
| | |
| --- | --- |
| Type | Estimated Cost Per Linear Foot |
| Stock | $60 - $200 |
| Custom | $500 - $1,200 |
| Semi-Custom | $100 - $650 |
Let's say that you need custom kitchen cabinets for a 25 linear feet space. The total would cost you $12,500 to $30,000.
The materials also affect the total cost of your kitchen cabinet job. See the average prices based on the most common materials used:
| | |
| --- | --- |
| Material | Estimated Kitchen Cabinet Work Cost |
| Stainless Steel | $25,000 - $38,000 |
| Laminate | $4,000 - $15,000 |
| Acrylic | $5,000 - $20,000 |
| Wood | $5,000 - $25,000+ |
| Wood Veneer | $2,000 - $15,000+ |
The Best Kitchen Cabinets in Toronto
Now that you know the costs of kitchen cabinets in Toronto, lets see some of the best stores that can provide them:
Dimensions
Type and grade of the cabinet (stock, custom, semi-custom, ready to assemble)
Percentage of the total kitchen remodel cost
1. Kitchen Nation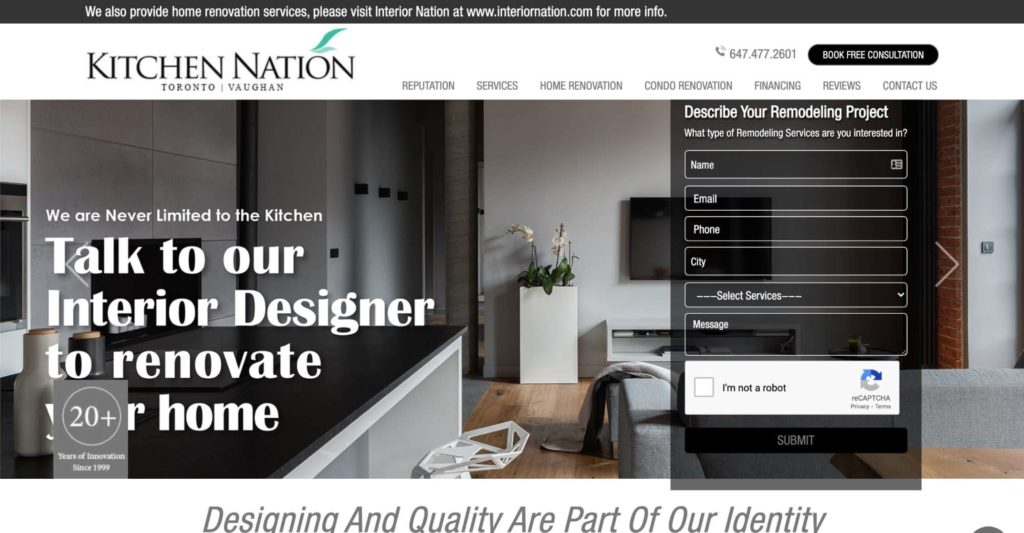 SERVICES
Home renovation, condo renovation, custom kitchens, builders, architect and designers, other rooms, bar, laundry vanity
WEBSITE
https://www.kitchennation.ca/
ADDRESS
77 Samor Rd. Unit # 3, Toronto, ON M6A 1J2
CONTACT DETAILS
647.477.2601


[email protected]

OPERATING HOURS
Monday – Friday: 9:00 AM – 5:00 PM
Saturday – Sunday: By appointment
Kitchen Nation is your one-stop-shop for all kitchen and home renovation years. Apart from more than 20 years of experience, they also have rock-solid warranties on their work.
One of their greatest strengths is completing projects on time with a price lock on the total costs. You can be sure that your project gets done on the deadline, paying only for the amount you were quoted for.
In terms of kitchen renovations, they help you produce more design ideas to complement your needs. The best part is, they're also affordable even with high-end projects.
If the costs are still beyond your means, they may make it possible through financing options. You can take an unsecured renovation loan at zero interest or low-interest credit.
They also don't kid around with their solid five-year warranty on all renovations and interior design. For the kitchen cabinetry, you get an impressive one-year to a lifetime warranty, giving you peace of mind.
To sum it up, they're a great company for affordable, high-end kitchen cabinets and unbeatable warranties. Just don't expect much of their customer service, as we also found it a bit underwhelming.
Provides high-end services at a reasonable cost
Five-year warranty on renovation and design
One-year to a lifetime warranty on kitchen cabinetry
Flexible financing options
Price lock on your total costs
Hard to reach at times
Weekends are by appointment only
Customer Reviews
Tiptop workmanship
Wonderful job and experience from start to finish! Our kitchen renovations were carried out in a timely, professional manner. Workmanship was tiptop and of the highest quality; and clearly the team was knowledgeable and very experienced. The team, led by Deepak kept us continually updated on the status of work. He listened carefully to our needs and met those well. We are completely satisfied with the cabinets and counter tops. We wholeheartedly recommend Interior Nation without reservation! – James Hanoman
Eye for aesthetics and sensibility
I want to express our appreciation to Kitchen Nation for the fine job done on our kitchen renovation. The work was done exactly as promised and installer who came was pleasant. Our special appreciation to Deepak for the aesthetic & sensibility he bought to the task and his excellent suggestions, which seemed appropriate and not aimed at driving up the price. We like the fact that cabinets are made to custom dimensions eliminating unused area, I am comparing with some pre-fab sizes which other companies were doing. Project was completed to our satisfaction. – Bradley Swift
2. Devix Kitchens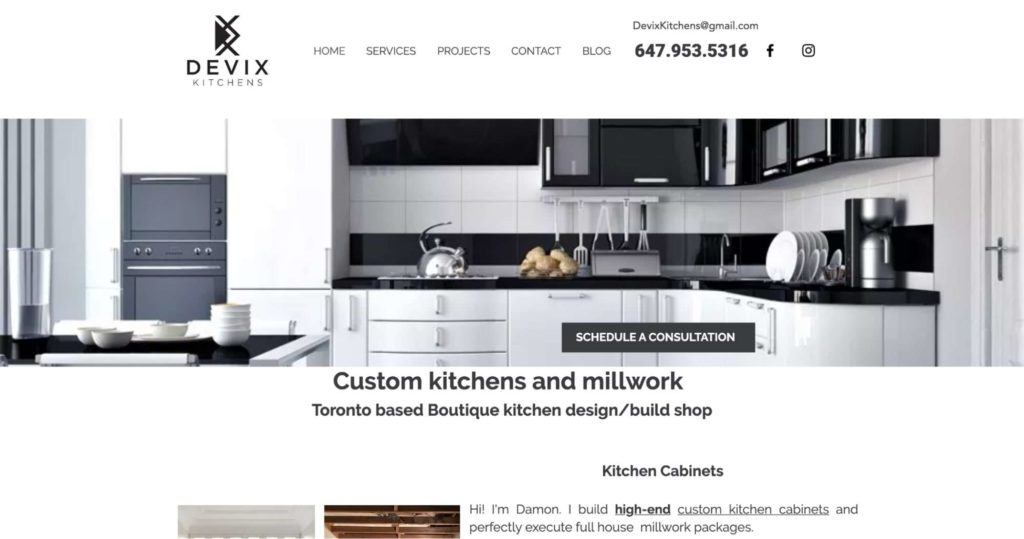 SERVICES
Custom kitchens, face frame cabinets, kitchen cabinet refacing, accessories, kitchen renovation
WEBSITE
https://www.devixkitchens.ca/
ADDRESS
55 Bloor St E, Toronto, ON M4W 1A9, Canada
CONTACT DETAILS
+1 647-953-5316


[email protected]

OPERATING HOURS
Monday – Friday: 10:00 AM – 5:00 PM
Devix Kitchens offers premium services for custom kitchen work and renovation. They're also transparent with the costs as you'll get good value out of the end product.
If they use mid-range materials for your custom kitchen cabinets, you'll have to pay $20,000 to $25,000. But even the high-end ones don't exceed Toronto's average by a lot as they cost $30,000 to $35,000.
One of our favorite services is the kitchen cabinet refacing, which gives your still sturdy cabinet a second chance. As the name suggests, it gives your cabinets a new face to match the style of your kitchen.
We recommend going for kitchen cabinet refacing if your cabinet's structure is still intact. This is cheaper as it only starts from $12,000 and you'll still get a visual upgrade.
But if you really want to go for a complete kitchen or cabinet transformation, get customized services instead. They can do everything from modern to transitional kitchen cabinets.
In addition to these, they also do fixed frame cabinets for around $40,000 – $50,000. This is great for hiding plywood lamination, perfect for those with a meticulous style.
Overall, we and the many customers that gave it a 5-star score on Google Reviews like what they offer. The only downside is that they don't seem to offer warranties and if they do, it's difficult to assess the terms.
Mid-range and high-end custom kitchen cabinets at average prices
Offers kitchen cabinet refacing services
Works with face frame kitchen cabinets
Punctual and responsive to customers
Unclear warranty terms
Closed on weekends
Customer Reviews
Creative and collaborative work
Damon's work on our new cabinetry was beautiful. He was creative and collaborative. He mixed a very specific colour of paint and was extremely patient through design and install. Worked well with our contractor. We will recommend him to all our friends. Rates were fair and we got great value for what we paid. We'd made a measurement mistake which affected one of the drawers, Damon insisted on re-cutting to make everything symmetrical. A small example of the quality of work and attentiveness. – Natty Zavitz
Makes kitchen cabinets look brand new
We recently bought a home that had custom cabinets throughout. Although the kitchen was not old, the previous homeowners damaged many of the cabinets. Devix Kitchens was able to make brand new cabinet fronts to perfectly match the colour and style of our existing cabinets. They also provided new hinges and drawer pulls to make my kitchen brand new! The customer service provided by Damon was amazing as he was always responsive and on time and made the installation process a breeze. I highly recommend Damon and Devix Kitchens for anyone wanting to reface or rebuild a new kitchen. – Ashley Afshar
3. Eureka Assembly and Installations Inc.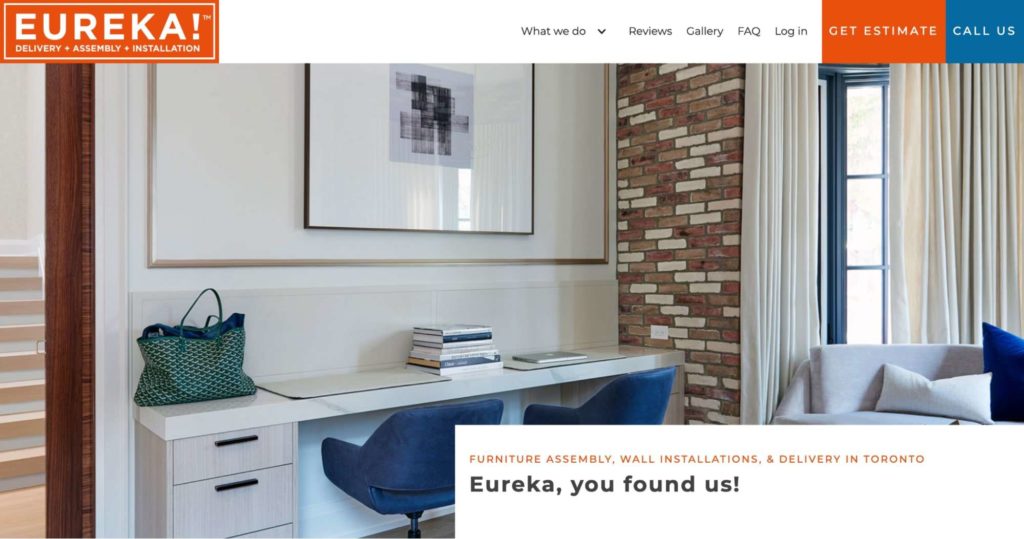 | | |
| --- | --- |
| SERVICES | Furniture assembly or disassembly, art & wall installation, custom kitchen cabinet |
| WEBSITE | https://eurekaassembly.com/ |
| ADDRESS | 2 Bloor St E, Toronto, ON M4M 3G3, Canada |
| CONTACT DETAILS | +1 416-666-6672 |
| OPERATING HOURS | Monday – Friday: 9:00 AM – 6:00 PM |
Eureka's services will have you raving about what they do best – exceeding expectations. Plus, you won't have to pay towering costs just to enjoy top-notch services.
For starters, they're a full-service enterprise that ties activities from planning to delivery. So, you can simply sit back and relax while they do all the leg work for you.
Another thing we liked, in particular, is their furniture assembly services with a minimum charge of $285. This is great for you if you have a ready assembly kitchen cabinet and are unsure about which pieces go where.
Now, their end-to-end custom kitchen services are also exceptional, in our opinion. They sit down with you to discuss your budget and your plans while giving specialized advice to make your cabinets stand out.
Of course, the actual performance of the service is also noteworthy. They don't just do simple cabinet tear-out and prepping: they also do ESA-certified electrical and plumbing work.
Apart from all these, we also like how smooth it was to communicate with them, even for basic queries. But we also struggled with their warranty services as it's difficult to assess the terms.
Great value according to past customer
Furniture assemble available for ready to install kitchen cabinets (e.g. Ikea cabinets)
Full-service shop from planning to pickup or delivery of services or items
Exceptional end-to-end custom kitchen services
ESA-certified electrical and plumbing services
Fantastic communication lines
Seamless payment procedures
Strictly by appointment only (as of writing)
Unclear warranty terms
Closed on weekends
Customer Reviews
Seamless and stress-free process
After ordering new kitchenette cabinets from IKEA we began searching for a company that could do demo, install as well as hooking up the sink. (As someone who isn't' familiar with using contractors this was surprisingly hard to find!) Enter Eureka who were able to do all of the above
Everyone we had the pleasure of working with from Eureka was helpful, friendly and made the entire process seamless and stress free. Their pricing was very competitive and they really went above and beyond my expectations. I'll definitely recommend Eureka to friends and family who are looking for kitchen or shelving install etc. (I might even consider purchasing some fun pieces for my own apartment and have Eureka install them!) – Nadine Sandhu
Goes above and beyond
Thanks Eureka for the great work on our kitchen and vanities. From the detailed quote to the quick response, it was seamless. George was was patient and went above and beyond to make it right, despite missing and damaged pieces. He's a great carpenter and his customization of our Ikea cabinets makes our kitchen and vanities look great. Word to future customers: everything goes smoother if you make sure a) you have all your pieces ready at the beginning and none are damaged and b) your drawings are accurate. Eureka made it work anyhow for us and I appreciate it, but it's better to have this stuff organized at the beginning. – Cristina Simonetto
4. Blue: Kitchen Cabinet Refacing & Ikea Kitchen Installers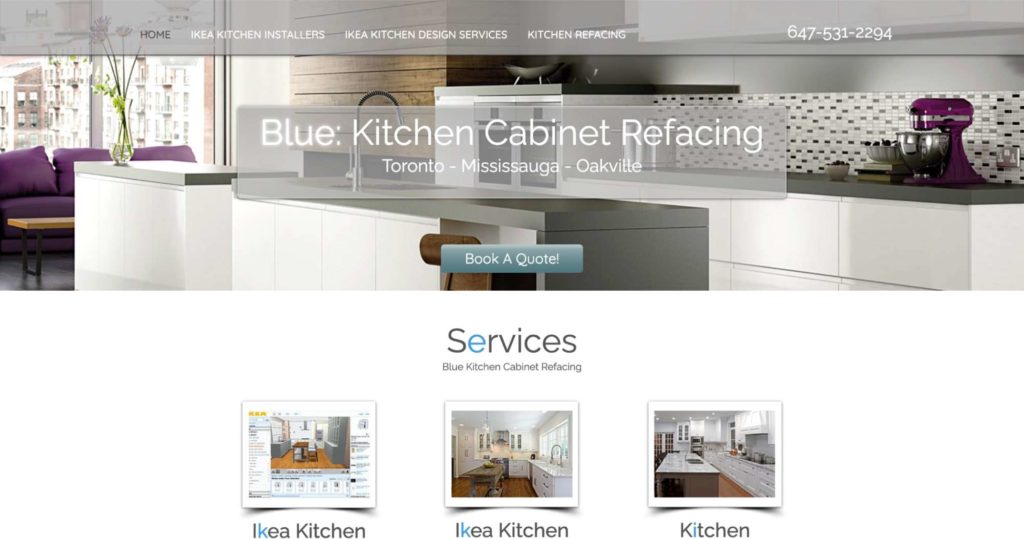 | | |
| --- | --- |
| SERVICES | Ikea kitchen installations, Ikea kitchen design services, kitchen refacing |
| WEBSITE | https://bluekitchenrefacing.com/ |
| ADDRESS | King St West, M5V0A8 Toronto, ON, Canada |
| CONTACT DETAILS | +1 647-531-2294 |
| OPERATING HOURS | Monday – Friday: 9:00 AM – 5:00 PM |
Blue offers three major services focused on Ikea kitchen services and refacing. They landed on our list by providing a highly personalized collection and great costs.
Their Ikea kitchen installations are best if you want timely assembly minus the costly mistakes. Plus, they cover you with a service warranty that gives you a safety net in case something goes wrong.
Apart from this, they also have dedicated Ikea kitchen installers. So if you're ever having trouble with the cabinets you bought, they can come to the rescue.
Our favorite service from them is kitchen refacing, which can save you about 35% to 45% less compared to changing your cabinets. Compared to other stores that get their suppliers from the US, they get theirs from Canadian manufacturers.
What this does is reduce lead times from four to five weeks to two weeks only. Plus, they make it compatible with other Ikea kitchen services so you can easily integrate new kitchen systems.
They've been in the business for 15 years too. Over that time, we hear they've provided clients with great choices from cabinet door types to color.
However, they don't provide custom or stock kitchen cabinets not from Ikea, which is a bit of an issue for some customers. But based on their store name anyway, it's expected.
Professional installation of Ikea kitchens 
Has warranty on Ikea kitchen installation
Kitchen refacing costs 35% to 45% less than custom cabinet work
Shorter lead times of up two weeks only
Versatile Ikea kitchens best for new kitchen system, integration
Highly personalized options for kitchen cabinet resurfacing
Doesn't sell non-Ikea custom or stock kitchen cabinets
Closed on weekends
Customer Reviews
Professional and creative crew
We could not be happier with Thomas and his wonderful team. They went above and beyond to create our beautiful kitchen. They did not just refaced our kitchen cabinets, but they were able to overcome with ease the problems created by builder's quality design and size, but also our last minute changes. Very friendly, very professional and creative crew, a real pleasure to work with. Highly recommended, no doubt Blue kitchen will create your dream space! – Alex Stoev
Incredible kitchen work
Tomasz was recommended by a friend and I couldn't be happier. From the initial quote provided electronically to him and his team coming over to take measurements and finalize choices, to the installation, Tomasz and his team were amazing. The coutertops installers were clean, quick and professional, as were the cabinet installers Rob and Matthew. Incredible work all around and my new kitchen looks amazing! – Shawn Robley
5. Olympic Kitchens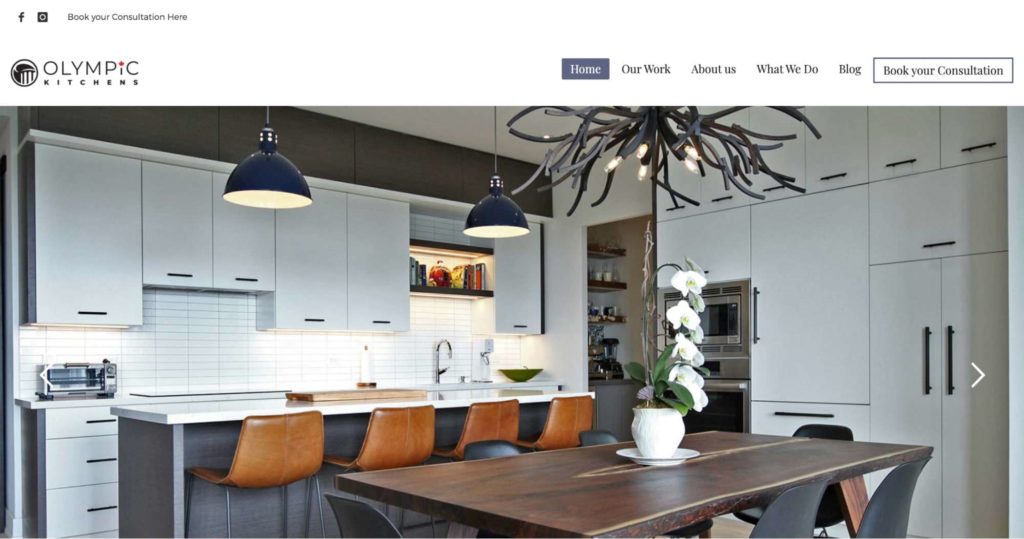 SERVICES
Custom cabinetry
WEBSITE
https://olympickitchens.ca/
ADDRESS
150 Nugget Ave, Scarborough, ON M1S 3A7, Canada
CONTACT DETAILS
+1 416-266-8851
OPERATING HOURS
Monday – Friday: 8:00 AM – 5:00 PM
Saturday: 9:00 AM – 3:00 PM
Olympic Kitchens takes the gold for top quality service at a reasonable price. The company's products are also environmentally friendly, which is always a good thing for us and nature.
For over 40 years, the store has been manufacturing cabinets for various clients in Toronto. They can also work with your architect or interior designer to achieve a truly unique design for you.
Their custom cabinets cost around $25,000, which is within the median price in Toronto. However, you may need to prepare more as larger, more high-end projects can go up to $350,000.
But before you get nervous about that pricing, note that they also do other home renovations and that's just a rough maximum estimate. For custom cabinets alone, it's best to have a budget of around $30,000 to $50,000 if you want higher-quality materials.
What we liked in particular is that they use eco-friendly products and finishes. For instance, they use a formaldehyde-free MDF that is non-toxic and made out of rice stalks.
They also have an in-house manufacturing facility tailored to any millwork project. This ensures that all your cabinets are expertly made by their trained craftsmen.
40 years of experience
Can work with your architect or interior designer 
Custom cabinets start at the average cost in the city
Uses eco-friendly, non-toxic products and finishes
Open on Saturdays
Customer Reviews
Exceeds expectations
It was great experience to work with the professional team at Olympic Kitchens Inc. They really took the time to ensure all our kitchen needs were understood and came up with the right design plan. They were also very responsive and on time; delivering on their promise of customer satisfaction. The results exceeded my expectations. I would highly recommend this company! – Chrisoula Giannaris
Outstanding design that offers form and function
We are extremely pleased with the final results of our kitchen remodel with Olympic Kitchens. From the onset of the kitchen redesigns Andreina took the time to listen and understand the functional requirements of our kitchen remodel. She then turned our ideas into an outstanding design that offered both form and function. Andreina also demonstrated exceptional customer service skills whereby she responded patiently to all our questions/concerns. Her meticulous design and several onsite visits by the Olympic team ensured the project was implemented successfully. The end result is a spectacular high quality kitchen which surpassed our expectations. Thank you Olympic for an outstanding kitchen remodel! – Zaheda Sufi
6. UNICA Concept Cabinetry and Millwork Products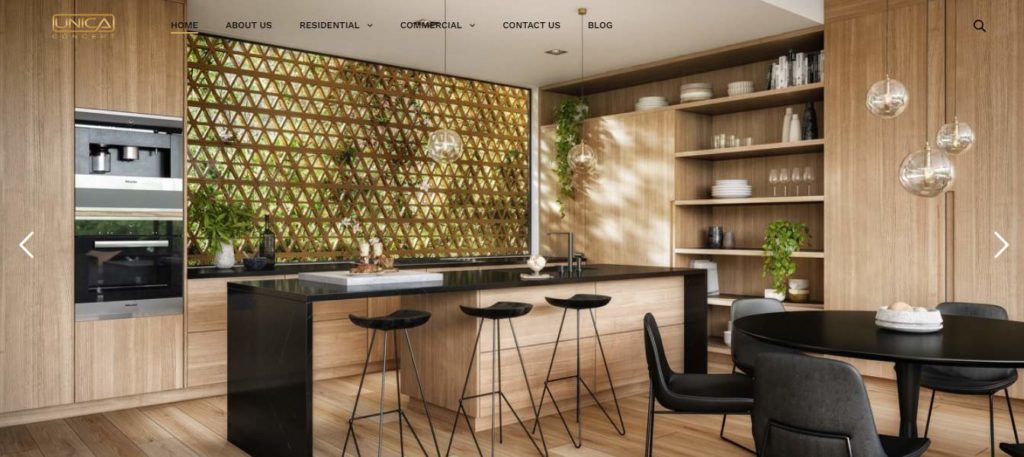 SERVICES
Residential and Commercial Projects
WEBSITE
https://unicaconcept.ca/
ADDRESS
700 Garyray Dr, North York,
ON M9L 1R3, Canada
CONTACT DETAILS
Toll Free: (844) 746–2226
Toll Free Fax: (866) 746-7020
Phone: 416-746-2226
E-mail: [email protected]
OPERATING HOURS
24/7
UNICA Concept Cabinetry and Millwork Products is a company that accommodates a wide range of custom-made cabinet products that is ideal for both residential and commercial settings. With over 17 years of experience in the field, they have since then had diversified ideas when it comes to crafting and brainstorming the best style for every home and office.
We like that their furniture makes smart use of space so that clients can not only enjoy their lifestyle to the fullest but also utilize as much space as they can in their quarters.
Furthermore, they are ably equipped with various resources and supplies to be able to build just about any cabinet that the client intends for their home and also give reliable advice for clients who are quite lost with the process.
Though note that they have limited pre-made cabinets and clients may need to wait for some time before receiving their customized cabinet.
Overall, with their diverse experience, professional craftsmanship, and reliable customer support, we highly recommend them to clients in the area who are in need of cabinets among other interrelated furniture.
Common Types of Kitchen Cabinets
There is a lot going on with kitchen designs, from outlets to tables and cabinet work. That's why choosing the right things for the right decor goes a long way.
This might not be a known fact to everyone, but as much as there are many types of faucets, there are also different types of kitchen cabinets.
Here are some of them:
Shaker
The shaker is the most common type of cabinet out there. It's composed of 5 flat panels creating a frame with four pieces and with a single flat center panel as the fifth piece.
This type of cabinet is rather popular due to its simple design and fits traditional and contemporary styles.
When it comes to materials, most shaker cabinets are made with high-quality American wood, mostly the ones found in the northeast of the UK. Other woods that are used for shaker cabinets are cherry, maple, hickory, and quartersawn oak.
Louvered
Louvered cabinets come with wooden slats on their design, which is often found on window designs. Although this type of cabinet comes at a hefty price, it adds a unique feature to your kitchen as well as added ventilation to your cabinets.
If you ever need ventilation for a specific product or food you usually put in a normal cupboard, then having a louvered cabinet is perfect for you. The slats found on the doors allow the passage of air to the cabinet.
Flat-Panel or Slab
The flat panel cabinets are also called slabs for the reason that they look like a single straight slab of wood. This type of cabinet, though simple, could fit in contemporary and modern designs.
Some flat-panel cabinets come with a handle and some other designs are just one whole slab. Other cabinets have indentations that are used instead of metal handles.
Inset
Inset cabinets, just as the name suggests, are cabinets with an inset door set inside the cabinet frame. Each door is designed and built using precise measurements to make sure that the wood sits inside the cabinet completely and closes correctly,
The inset cabinets are considered to be the most expensive in the market, but this also means that they last for a long time. This type of cabinet is easy to personalize, and you can choose between beaded or non-beaded inserts.
FAQs About Kitchen Cabinets in Toronto