The Top 5 Nursing Homes in Toronto
Are you looking for the best nursing homes in Toronto? You've landed on the right page.
In this piece, we take a look at a few outstanding options in the city. Whether you require assisted or independent living, short-term stays or long-term care, you should find something here that best fits your needs.
To help with the search, we've also included helpful pricing information, answers to frequently asked questions, and pro/con lists for each one of our entries.
What is the average cost of living in a nursing home in Toronto?
There are many different options for retirement living at nursing homes in Toronto, and costs can vary for each one. According to our research, some of the factors that can determine whether you pay more or less are:
Check out the table below for a list of the most common choices for retirement living at nursing homes in Toronto. In general, rent at these communities is inclusive of three meals a day, utilities, a registered nurse, and access to medical services located on site.
| | |
| --- | --- |
| Independent Living | $1924 - $3600 |
| Assisted Living | $2400 - $3565 |
| Memory Care | $5400 - $6500 |
| Long-Term Care | $1620 - $2167 |
The Best Nursing Homes in Toronto
Now that you have a general idea of how much it costs to live in a retirement or nursing home in Toronto, read on below for our picks. We've included everything you need to make an informed decision, as well as contact information for each of our standout selections.
The type of housing
Amenities
Optional add-ons
1. Cheltenham Care Community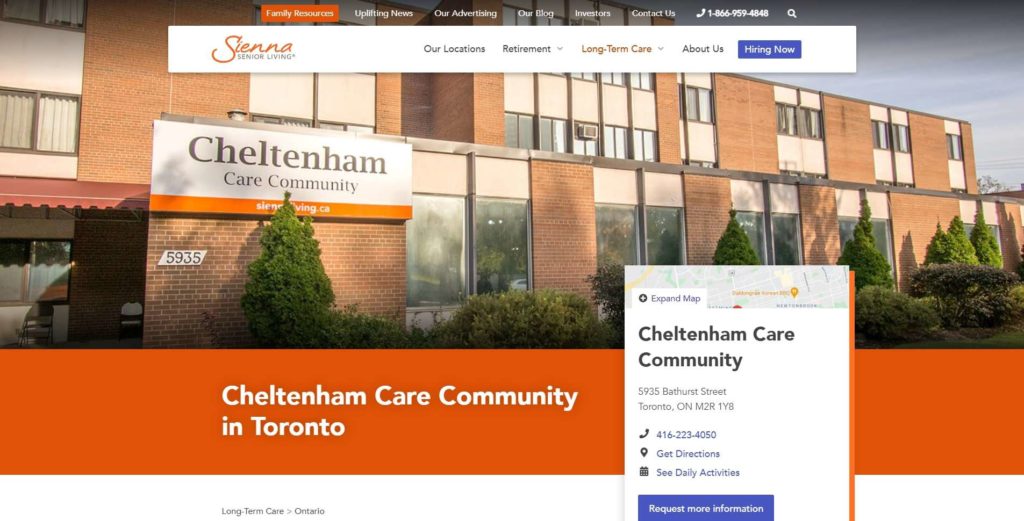 Cheltenham Care Community is Sierra Senior Living's only long-term care facility in Toronto. Opened in 1966, it is located at the heart of the city's Jewish community, on Bathurst Street.
Its unique North York location has given it deep ties to the neighborhood around it, making this facility a popular choice among seniors who belong to the Jewish faith. Residents who practice Judaism are never too far from a synagogue, as there are 4 within walking distance of the center.
As it's a member of the Sienna Senior Living group, residents here enjoy the same high quality of service offered at all their other locations. We especially love how varied their offerings and amenities are.
In addition to 24/7 nursing and personal care expected at all nursing homes in Toronto, residents of Cheltenham Care Community will also receive skin and wound care, palliative care, and rehabilitation, as needed. The facility is also known for its physiotherapy programs that help keep seniors active, mobile, and pain-free.
Cheltenham Care Community also cares about their residents' diets. Everyone receives 3 nutritious meals and 3 snacks daily, all prepared exactly as they like it.
That leads us right to another of this home's strengths. The seniors at Cheltenham have a lot of influence over the menu, which isn't something commonly seen at other nursing homes in Toronto.
They have a food committee and can give feedback to the kitchen on what they'd like to see on the menu, as well as the food services. We enjoy these little touches that give seniors a sense of control and independence, especially in their golden years.
Housekeeping and laundry services are also complimentary at Cheltenham. Since these chores are tedious and can possibly be dangerous, we love that the seniors here don't have to mind them.
All in all, we think that Cheltenham Care Community is an excellent choice for seniors with their focus on comfort, safety, and security. However, the experience offered here can seem rather limited if you opt for the basic package only.
To have access to some basic creature comforts such as cable television and Internet access or medication and pharmacy services, residents are expected to pay additional corresponding fees. Even self-help equipment such as toilet aids and the like come with a charge.
Otherwise, we think that living here is a viable option for any senior, Jewish or not, looking for a caring place to call home. It may even be a superlative one for the senior who doesn't need a lot of bells and whistles.
Located in a Jewish neighborhood; programming reflects its culture
Can accommodate a wide variety of care needs
Fully furnished rooms 
Additional charges apply to some basic services
Customer Reviews
Compassionate and saintly caring
"I wish to thank you all for the kindness and love you showed my father these past many years. The compassionate, saintly, caring way in which you helped [my father]… came from hearts full of love and a spirit of service. He was made to feel at home, and it brought great comfort to me to know that he was in a place where he felt secure and loved." -Stephen F.
2. The Briton House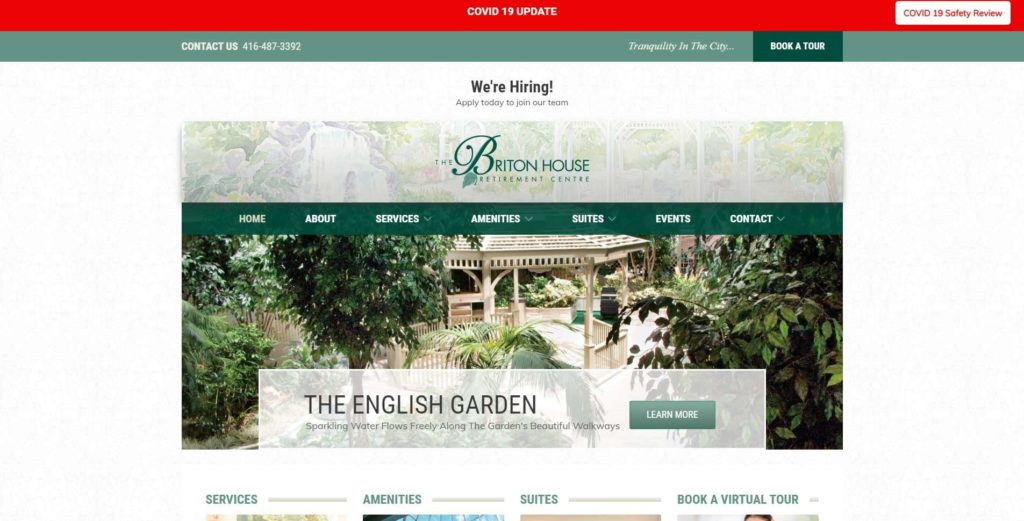 One of the things we love most about The Briton House is how residents can enjoy the best of both worlds here in more ways than one. The facility itself is a tranquil oasis that happens to be centrally located in the Mount Pleasant and Eglinton neighborhood of Toronto, close to a plethora of restaurants, shops, and services.
With its old-world ambiance and charming interiors, living here can feel as though you've been transported to the peaceful English countryside. The center's standout feature is a 15,000 square foot indoor English garden, complete with waterfalls, a gazebo, and café-style seating that residents can enjoy year-round.
For those who prefer to be out in the fresh air, there's an outdoor garden too. You can sit outside and have a barbecue with your loved ones on comfortable patio furniture, surrounded by seasonal plants and beautiful flowers.
Our favorite amenities by far, though, are the indoor beach and indoor swimming pool. We think that the residents here are lucky, as they can enjoy eternal summer without ever having to leave the premises!
The indoor beach, "Thai Breezes", makes use of state-of-the-art Swedish technology to provide safe artificial sunlight in an area that's been made to look like a resort straight out of the Caribbean, complete with fine white sand and tiki bar. Meanwhile, the indoor pool is filled with saltwater that's gentler on the skin and better for the environment too.
Seniors who choose to live out their retirement here get all of these, as well as all the standard services provided by The Briton House. These include 3 scrumptious daily meals prepared by their in-house chef and nutritionist, weekly housekeeping with linens service, and attentive care from friendly and knowledgeable staff members.
Overall, we think that The Briton House is a great option for the senior looking to stay active and occupied. Unfortunately, the center does not seem to provide for individuals who practice Judaism.
Jewish members of the senior community would probably be best served elsewhere.
Wide selection of suites
One of the few retirement centers in the city with an indoor pool
One-of-a-kind sun simulation room
Diverse activities for seniors
No accommodations for Jewish seniors
Customer Reviews
It has become a home for me
"I have enjoyed my time spent with the people at the Briton House. I like having my own suite which has a great south facing view. The indoor garden is my favourite place to spend time and socialize with the friends I have made here. When it gets too cold in the winter I go to the indoor beach which makes me feel like I am laying in the sun in Florida. I am happy I found the Briton House, it has become home for me." -Ina Ashmead
"My husband I have been living here for a long time. We like to walk, we walk every day in the outside garden, usually after breakfast and after lunch. You see friends and have a chance to say hello, it is social community.
We have a good sized balcony in our unit. I have pots of flowers there and can satisfy my green thumb by caring for them, In this nice weather it works as another room..
There is a beautiful salt water swimming pool. I try to swim twice a week. We are fortunate to have such a nice place to exercise. Just outside the pool there is a balcony and when I swim , my husband walks there.
The staff are very accommodating, Interested, concerned , helpful and happy.
Briton House was the right move for us at this time." -Anne F
3. Main Street Terrace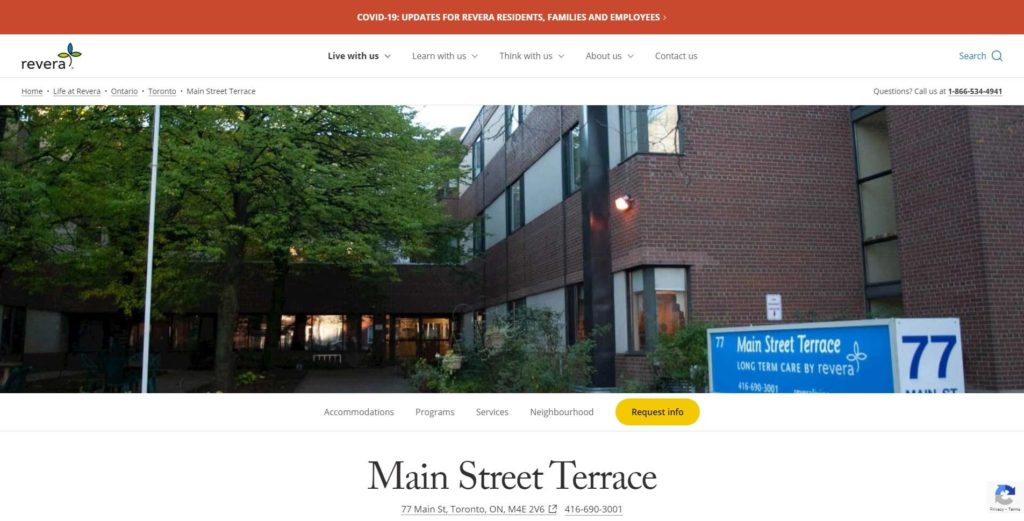 One of the things we like the most about Main Street Terrace is its central location. As the name suggests, this long-term care home is right on Main Street, just a few steps away from great places to eat, shop in, and sightsee.
With it being a member of the Revera senior living group of residences, you can expect a high level of quality in the services provided here. As with other nursing homes in Toronto, residents receive 24/7 personalized care and have all their needs attended to here.
What impressed us the most, though, was their programming. Main Street Terrace offers an incredibly diverse range of programs that seniors can enjoy, from exercise and physical activities to more introspective ones like art classes or horticultural pursuits.
The facility makes an effort to provide something new for everyone every single day, with daily, evening, and weekend programs that rotate constantly. Main Street Terrace also arranges recreational outings for their residents, allowing seniors to experience interesting sights around the city and not feel confined to the home.
Another thing we love is Main Street Terrace's extensive list of services.
A registered dietitian oversees all meals served to the residents, and there is a psycho-geriatrician on hand to see to everyone's mental health. Main Street Terrace also provides physiotherapy, occupational therapy, and even hairdressing/barber services to their residents, among many others—all included in the base monthly accommodation fee.
We think that's worth highlighting, since these services can be considered add-ons at other places and are therefore subject to corresponding fees at other nursing homes.
To sum it up, we think that Main Street Terrace is a superb choice for seniors looking for a nursing home where they won't have to worry about anything. Those who wish to stay within the city for whatever reason should also find the facility's location a plus.
However, we would be cautious about signing up for admission here at this time. News reports suggest that the facility tallied a high number of active COVID-19 cases as late as November 2020.
This may speak to a certain lack of prudence when it comes to preventing outbreaks and making sure that the home is kept safe and healthy for everyone there. We hope their vaccination gets up to date soon.
Very comprehensive list of services and amenities
Certain perks are included in the base rent
Centrally located
Was recently the site of a COVID-19 outbreak
4. The Village of Humber Heights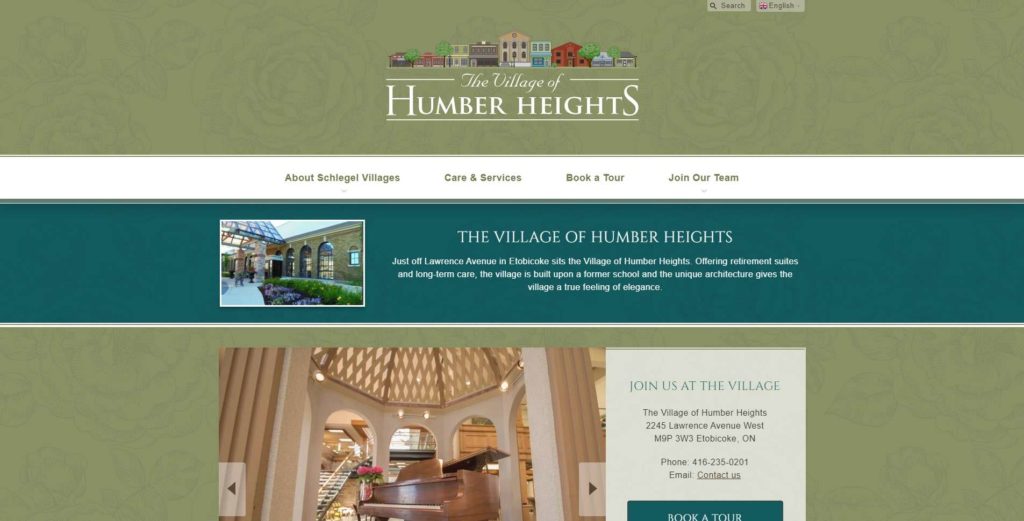 Most places for senior living offer either retirement residences or long-term care. The Village of Humber Heights sets itself apart from the others in this category by having both.
Built on a former school just off Lawrence Avenue in Etobicoke, this facility is a member of the Schlegel Villages group of retirement and long-term care residences. They offer full service retirement suites and apartments, assisted care, memory care, and long-term care, all on a single property.
We think that the way the facility is designed is one of its standout features. The Village of Humber Heights lives up to its name by being made up to look like a quaint countryside village, complete with a Town Square and Main Street.
These indoor common areas are home to the Village's Town Hall, Café, and Community Center—venues intended to promote social interaction among the residents. To help improve their quality of life, seniors can enjoy natural light year-round here, rain or shine, through the skylights and windows.
We also think that the Village of Humber Heights is notable for its integration with the community around it. It isn't just physically close to places of worship and community centers: the neighborhood and the facility are closely connected as well, through the Village's Community Connections program.
All of these, on top of top-notch care and services provided by a family that have made it their personal mission to care for the elderly in as loving and dignified a manner as possible, make The Village of Humber Heights a standout selection in our book.
To wit, these services include regular housekeeping, laundry, and linens services, as well as an impressive mix of social and recreational activities like group outings and in-house entertainment. We think these are worth highlighting, because these services are not offered for free at other long-term care homes.
It's also worth noting that out of all the nursing homes we took a look at, The Village of Humber Heights is the only nursing home on this list that is proud to say that it is LGBTQ+ friendly.
However, we did also notice that the Village may not be equipped to accommodate certain cultures, such as practitioners of Judaism. Reviews for the facility also suggest that the food here may not be up to snuff, despite the site's claim that they employ qualified chefs.
Offers both retirement living options and long-term care
Close ties to the neighborhood
Comprehensive list of amenities and services
LGBTQ+ friendly
May not be equipped to accommodate some cultures
Food quality leaves a lot to be desired
Customer Reviews
Here's what people are saying about The Village of Humber Heights on Google Reviews:
"Fabulous place. Clean surroundings. AMAZING staff who really care and appear to enjoy their jobs. My mother has had better care there then she had with all the doctors she had before when she lived on her own. I leave there after every visit knowing she is safe and cared for" -canadianshadowrider
"Staff is very nice and cooperative. Residents are looked after very well. Excellent services." -Satinder Kaur
5. Chester Village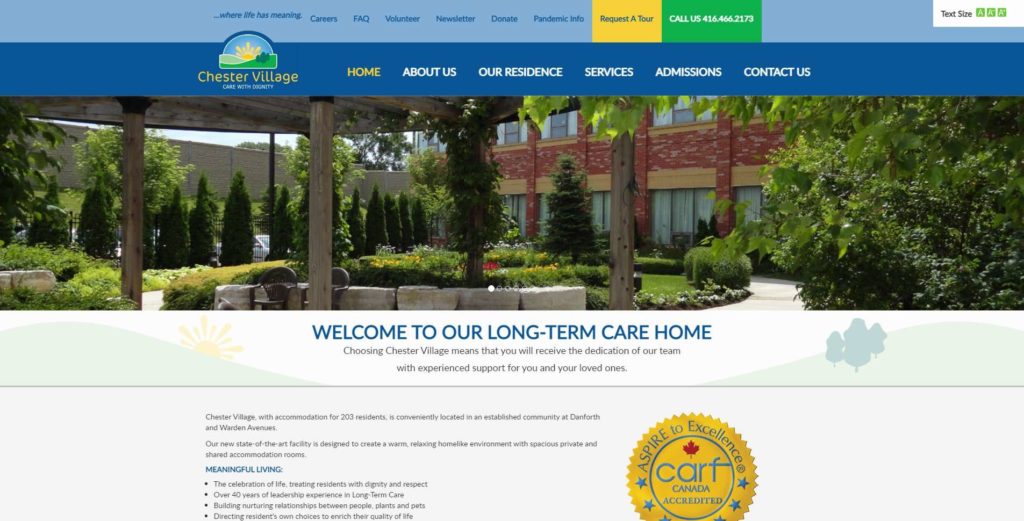 Situated on a breathtaking property at Danforth and Warden Avenues, Chester Village is an all-inclusive long-term care facility that any senior would be glad to call home. This community-style nursing home truly lives up to its tagline of "Where Life Has Meaning" by providing its residents with all of the modern comforts needed to keep them safe, secure, and cared for.
This expansive facility has enough room to comfortably accommodate up to 203 residents. For two seniors who wish to live together, all of their shared accommodation rooms can easily be converted into deluxe couples' suites, and we love that.
We also like Chester Village's village concept a lot. It puts everything that a resident might need within the confines of the compound, with many key services situated in the same area.
At the lobby, residents and their guests can pick up items at the gift shop, have a bite to eat at the cafe, or have their personal care needs taken care of at the barber/beauty salon. There is also a Client Service Center here, equipped with banking and postal facilities, allowing them to run common errands themselves.
We really like the inclusion of these amenities, given how important they are to maintaining an elderly individual's sense of independence. Those who need more help don't have anything to worry about, though, as Chester Village's friendly staff members provide assistance in all essential daily activities.
Another thing we like about living in Chester Village is how comprehensive their basic package is. In addition to meals and round-the-clock care, laundry and linens services are included in the monthly fee, as well as housekeeping.
Seniors who choose Chester Village will be delighted to know that their rent includes access to medical, ambulation, and personal hygiene supplies, as well as medical care, physiotherapy, and occupational therapy, if needed.
The facility also offers a variety of optional services for corresponding additional fees. Any resident who needs dental care, a new pair of eyeglasses, or hearing aids can simply approach one of the staff to have an appointment set.
All in all, we think that Chester Village's inclusive list of amenities and services make it an outstanding nursing home. However, unlike other places of this nature, family pets are not allowed at the facility.
Those who own furry friends will have to leave them behind should they wish to come live here, though, and we think that's a major downside.
Basic package is very comprehensive compared to other nursing homes
Banking and postal facilities available on-site
Avowedly not a pet-friendly nursing home
Customer Reviews
Hear about Chester Village firsthand from their reviewers on Google Reviews:
"This is a very good nursing home and the place is very clean and lots of space to move around. Me and my family went to visit my aunt and we were so happy to see her was very happy that she has been taken care of very well. The nurses are staff are very friendly and helpful. 😊👏❤" -Johnita Joachimpillai
"Amazing Manager, Amazing stuff, amazing residents. I am a student from George Brown who works in Chester Village. Chester Village is hands down THE BEST placement and work place i have ever seen. It's a pleasure working here with all the amazing, ever friendly and helpful stuff members and residents. I wasn't told by anyone to write a good review, i am simply being honest. I hope i work here one day" -Tawkir Rahaman
FAQs about Nursing Homes in Toronto
---
The best nursing homes in Toronto are the ones that focus on their residents and make sure that everyone that lives there is kept safe and healthy. We hope our list of such homes helps!
If you are considering transferring someone or yourself to one of these long-term care facilities, by the way, check out this list of the best movers in Toronto. They should be able to make the transition much easier.