The 7 Places with the Best Laser Hair Removal in Toronto
Looking for an effective way to get rid of unwanted hair on your arms and legs? There are aesthetic clinics with the best laser hair removal in Toronto that can help with that!
For today's article, you'll get to know everything about them, from the range of their services down to what customers think about them.
Before we get to that though, we're going to share the cost of laser hair removal in Toronto. We've answered a few questions about laser hair removal services as well, which you can find near the end of this article.
The Cost of Laser Hair Removal in Toronto
A single laser hair removal session in Singapore typically costs somewhere between $50 to $400. It usually depends on the amount of hair, which part of the body will be treated, and the type of laser that will be used.
We can assume that laser hair removal isn't cheap for most, though. Consider that there are multiple sessions required for the treatment to work effectively and completely stop hair growth, so sessions add up!
Generally speaking, laser hair removal for smaller areas such as the face and underarms is cheaper compared to hair removal for larger areas such as the back and legs.
Here's a more detailed look into how much it'll cost to remove unwanted hair on certain parts of the body:
| | |
| --- | --- |
| AREA | EXPECTED COST PER SESSION |
| Areola | $50 |
| Belly button | $50 |
| Hands and fingers | $55 |
| Feet and toes | $60 |
| Underarms | $65 |
| Upper arms | $105 |
| Lower arms | $90 |
| Chest | $150 |
| Abdomen | $130 |
| Upper legs | $155 |
| Lower legs | $115 |
| Lip and chin | $115 |
| Whole face | $175 |
| Full back and shoulders | $230 to $250 |
| Full back, chest, shoulders, and abdomen | $340 to $370 |
| Anal | $80 |
| Bikini line | $77 |
| Brazilian style (women) | $140 to $220 |
| Brazilian style (men) | $202 to $260 |
| Buttocks | $115 to $125 |
The Clinics with the Best Laser Hair Removal in Toronto
We won't make you wait any longer, so here are our picks for the clinics with the best laser hair removal in Toronto. Check them out below to see which one can accommodate your concern.
Our list is in no particular order, by the way.
Newskin Laser Clinic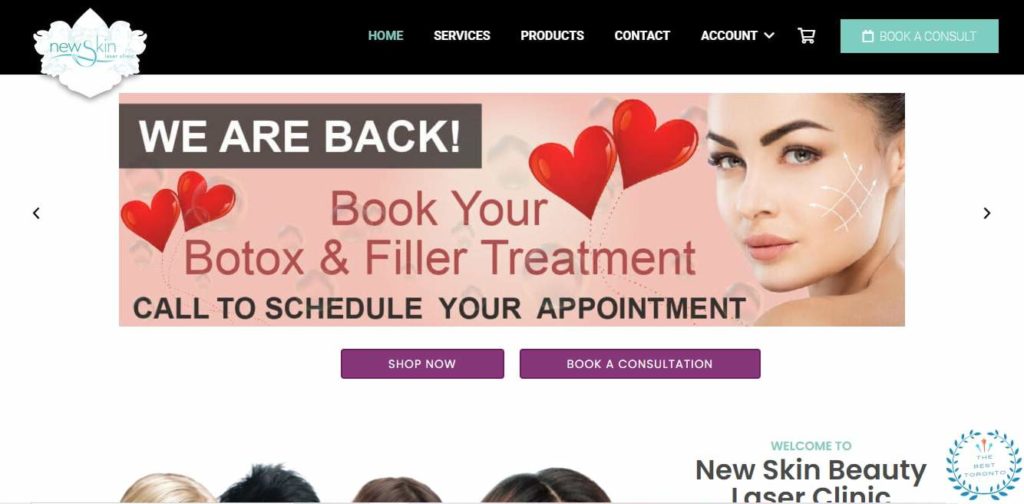 SERVICES
Laser hair removal, facial treatments, microneedling, chemical peel, body contouring, microblading, vaginal rejuvenation, tattoo removal, skin tag removal, carbon peel, botox, dermal fillers, and teeth whitening
WEBSITE
https://newskinbeauty.ca/
ADDRESS
2355 Yonge St, Toronto, ON M4P 2C8, Canada 2234 Queen St East, Second Floor Unit 5, Toronto, ON, M4E 1G2
CONTACT DETAILS
416-400-3747
416-317-6696


[email protected]

OPERATING HOURS
Monday – Friday: 10:00 AM – 7:00 PM
Saturday: 9:00 AM – 7:00 PM
Newskin Laser Clinic has a near-perfect rating of 4.9 out of 5 on Google Reviews, making it one of the top-rated aesthetic clinics in Toronto. Most of the comments shared by customers were about how affordable and effective its beauty treatments are.
Its aesthetic procedures are suitable for all skin types, so no need to worry even if you have sensitive skin. Every treatment is also performed by a licensed and trained aesthetician who knows his/her way around different types of skin problems.
Some of the treatments customers can get at this clinic are facials, chemical peels, body contouring, vaginal rejuvenation, tattoo removal, microblading, skin tag removal, and laser hair removal — which is its most in-demand procedure.
For its laser removal service, it uses a system called GentleMax Pro. This is an award-winning laser system with a 755-nm Alexandrite laser, which is one of the fastest and most powerful lasers to date.
Aside from getting rid of all types of body hair, it works well regardless of the color of your skin. It doesn't hurt too, so there's no feeling of discomfort during the entire course of the treatment.
You might want to visit its website regularly because it frequently offers discounts and promos to new and repeat customers. There's a code that will usually be posted on its website, so watch out for that.
Regular promos and discounts
Convenient locations
High-end laser hair removal system
Affordable beauty treatments
Questionable tracking of patient progress
Customer Reviews
Here's what customers had to say about their experience with Newskin Laser Clinic:
"Amazing service, professional and friendly. Taslim is a great professional with a lot of experience and offering great treatments. I've done 4 treatments of Forma facial and I see amazing results already. I recommended all my friends and family and they are all happy with her service. Taslim takes ample amount of time on the body part to be treated- Gentle and caring. Top of the line machines with excellent customer service, I highly recommend NEWSKIN LASER to anyone who wants quality service , and profound results."
-Mena Alemy
"Wonderful experience overall. Beautiful clean and fresh clinic. Both Tom and Erica are very lovely to deal with. Highly recommended for anyone that would like a nurturing and welcoming cosmetic experience. Erica will walk you through what to expect. So only pleasant surprises!"
-Janet Hanway Fleming
Satisfaction Spa and Skin Therapy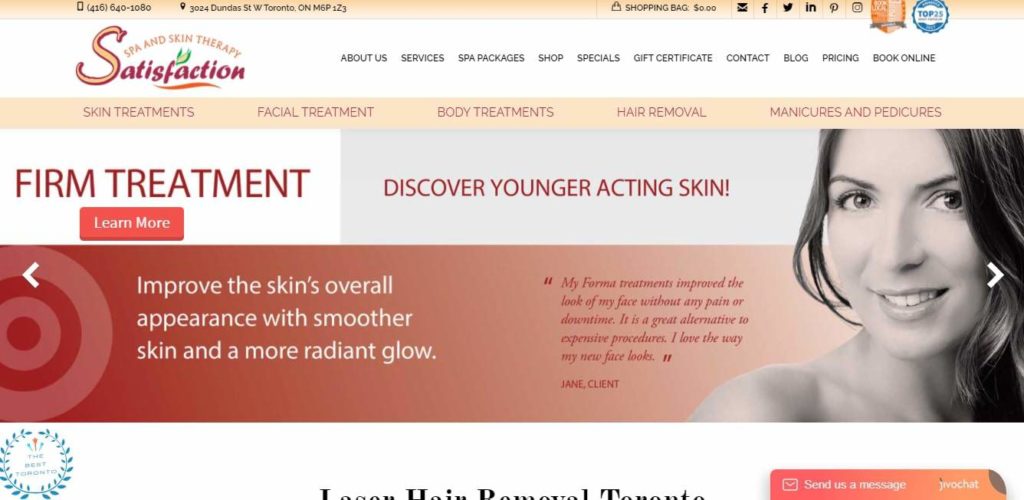 SERVICES
Laser hair removal, facial treatments, threading, spray tanning, massages, green peel, hydrafacial, body waxing, electrolysis, manicure and pedicure, and laser vein removal
WEBSITE
https://www.spaandskin.com/
ADDRESS
3024 Dundas St W, Toronto, ON M6P 1Z3, Canada
CONTACT DETAILS
416-640-1080
OPERATING HOURS
Tuesday – Friday: 9:00 AM – 7:00 PM
Saturday: 9:00 AM – 5:00 PM
Sunday: 11:00 AM – 4:00 PM
Satisfaction Spa and Skin Therapy functions as a wellness spa and aesthetic clinic, offering a wide range of advanced beauty treatments. It's known for its pleasant and peaceful vibe, which puts every customer at ease upon entering its premises.
What makes it stand out from our other picks is that its treatments are designed to improve the face and body's condition and flush away stress and fatigue. We recommend visiting it if you want a short beauty treatment paired with a relaxing massage.
Its cheapest laser hair removal treatment starts at $50, which is well within the average price. It uses a system called IN-Motion technology that slowly heats the hair follicles under the skin until they're no longer capable of producing new hair.
It's suitable and perfect for all skin types and colors – even tanned skin as well as different hair types. It also requires fewer sessions compared to most laser hair treatments.
Another thing we like about it is that it takes no more than an hour to finish, so you can undergo this treatment during your lunch break from work. It's virtually pain-free too, which is good news for those with low pain tolerance.
Perfect for all skin types
Fewer sessions required
Works with different types of body hair
Quick treatment, usually under an hour
Pain-free, no medication required
Customer Reviews
Take a look at these comments shared on Google Reviews:
"It was a great experience!!! The entire staff at Satisfaction Spa and Skin was friendly and the environment is very relaxing. I was referred to make a visit for a few services including my first full back wax, which isn't as painful as i thought, Thank you !! Staff was very nice, professional and did an AMAZING job! I felt like a brand new person when I walked out! I highly recommend Satisfaction Spa and Skin to anyone."
-YMG Contracting
"Natalia is a lovely and knowledgeable esthetician! Brazilian wax took 10 minutes max and virtually painless, the spa was spotless and well maintained, and I was given a post wax care plan . Lots of services to go back for – I'll be doing facial and laser treatments! Would highly recommend it!"
-Tiana McBride
Distill Laser Clinic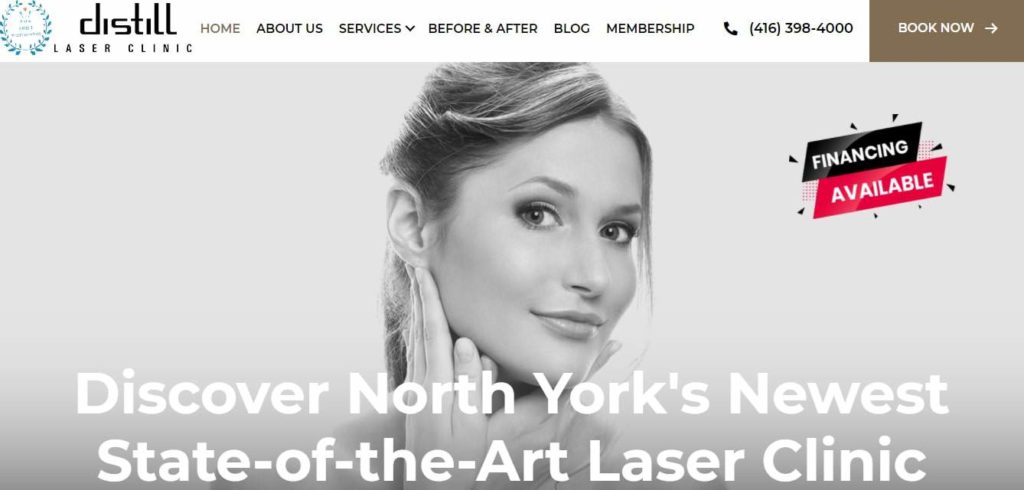 SERVICES
Laser hair removal, skin tightening, facial rejuvenation, microneedling, microdermabrasion, botox, dermal fillers, stretch marks removal, laser vein removal, hair loss treatment, chemical peel, and scar removal
WEBSITE
https://www.distilllaserclinic.com/
ADDRESS
1275 Finch Ave W Suite 407, Toronto, ON M3J 2G5, Canada
CONTACT DETAILS
416-398-4000
OPERATING HOURS
Tuesday – Friday: 10:00 AM – 8:00 PM
Saturday: 10:00 AM – 4:00 PM
With more than 20 years of experience, Distill Laser Clinic has grown into one of the most trusted aesthetic clinics in the GTA that can address all forms of skin problems, from severe acne down to unwanted body hair.
It's headed by Dr. Swaleen and Dr. Sarwat, both of whom have a total of 35 years of experience in the medical aesthetics industry.
If there's one thing to know about this clinic, it's that it's armed with medical-grade and gold-standard laser technologies. It specialises in non-surgical procedures such as chemical peels, scar removal, dermal fillers, and laser hair removal, among others.
For its laser hair removal service, it uses a technology called GentleMAX laser, which is dual-wavelength laser equipped with a 755 nm Alexandrite laser and 1064 nm Nd:YAG laser.
The combined power of these lasers results in even more effective hair removal for all treatments, regardless of the type of body hair. It's safe for all skin types as well, so no worries about having adverse reactions to the lasers.
To make the treatment even more comfortable, a Dynamic Cooling Device will be used. It's a device that prepares the skin for the treatment by briefly cooling it before the laser pulse.
There are also different types of membership that allow frequent customers to gain access to more treatments at a discounted price. The cheapest membership starts at $99 per month.
20 years of experience
Specialises in non-surgical procedures
Equipped with cutting-edge medical tools
Memberships are open to frequent customers
Headed by two experienced aesthetic doctors
Customer Reviews
Here's what past customers had to say about its services:
"I have been a hairy person due to hormone problems because of my Lupus. I never wondered that my skin could look so appealing and smooth. All thanks to Sweden and her staff. I must say she is the best person I could find for laser hair removal treatment in the region."
-Shayne Marsh
"It was a never-before feeling to see the effects of laser hair removal treatment, right from the first session. The team at Distill Laser Clinic is very professional and generous enough to manage appointments according to my availability. Thanks for your support and for making things easier for me."
-John Wilson
Medica Laser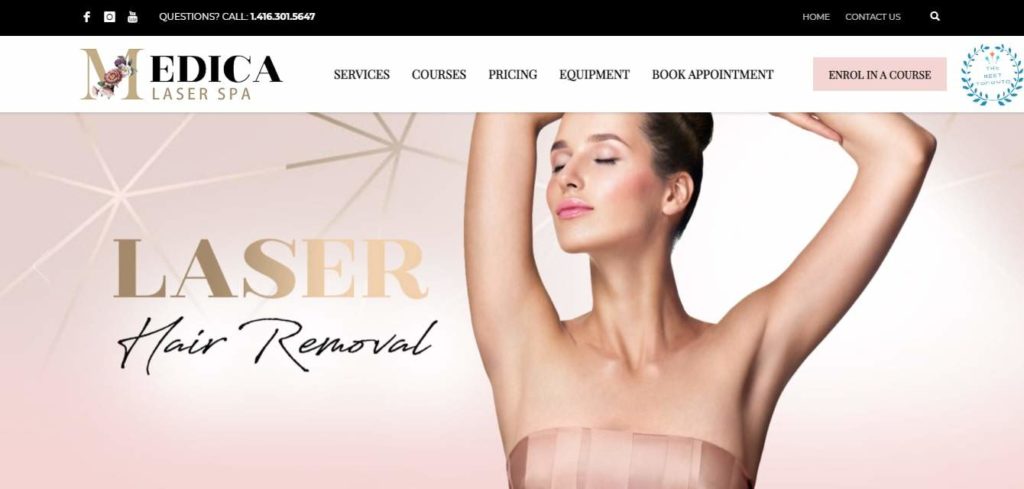 SERVICES
Laser hair removal, hydrafacial treatment, microdermabrasion, botox, dermal fillers, microneedling, body contouring, capillary removal, face lift, coolsculpting, eyelash lift and tint, and DNA testing
WEBSITE
http://www.medicalaserspa.ca/welcome/
ADDRESS
20 Eglinton Ave W #1403, Toronto, ON M4R 1K8, Canada
CONTACT DETAILS
416-301-5647


[email protected]

OPERATING HOURS
Monday: 8:30 AM – 8:00 PM
Tuesday – Friday: 9:00 AM – 8:00 PM
If you want budget-friendly aesthetic treatments partnered with discounts, then you might want to drop by Medica Laser Spa. It offers discounts as huge as 50% off on all services and 20% off on selected beauty products.
Aside from the regular promos, Medica Laser Spa is known for having a variety of aesthetic procedures targeting almost every part of the body, so it can help whatever skin or body problem you're currently dealing with.
Some of the treatments available are laser hair removal, facials, chemical peels, microneedling, microdermabrasion, body contouring, face lift, botox, dermal fillers, and even DNA testing.
One thing we like about its laser hair removal is that it's suitable for individuals of all ages and skin types, including teenagers with sensitive skin.
In Medica Laser Spa, areas like upper lips, cheeks, chin, ears, and neck require four sessions while the legs, lower back, thighs, and shoulders would need six sessions in total.
There's no need to worry about the cost of multiple sessions because it offers one of the cheapest laser hair removal treatments in Singapore.
Since it deals with a large volume of clients every week, we suggest booking an appointment beforehand to avoid inconvenience.
Budget-friendly treatments
Discounts as huge as 50% off
Medical-grade laser technologies
Easy booking of appointment
Customer Reviews
Here are some testimonials from their clients:
"Amazing laser!! got a couple sessions done and these results are phenomenal!! very comfortable!! I tried other places and this place is by far exquisite. The owner is an amazing lady who has put a lot of time in this place, and greeted me. She made sure I was comfortable and I had everything I needed! The prices are great!"
-Marina Yacub
"I was referred to Medica Laser Spa by a friend, I decided to purchase a laser hair removal package and I am so happy that I did! My results have been incredible so far, the staff are all so great and welcoming and the service itself is so affordable! I will be looking into the other services that they offer and I will definitely recommend them to others."
-Alexandra Santos
IGBeauty Laser & Skin Clinic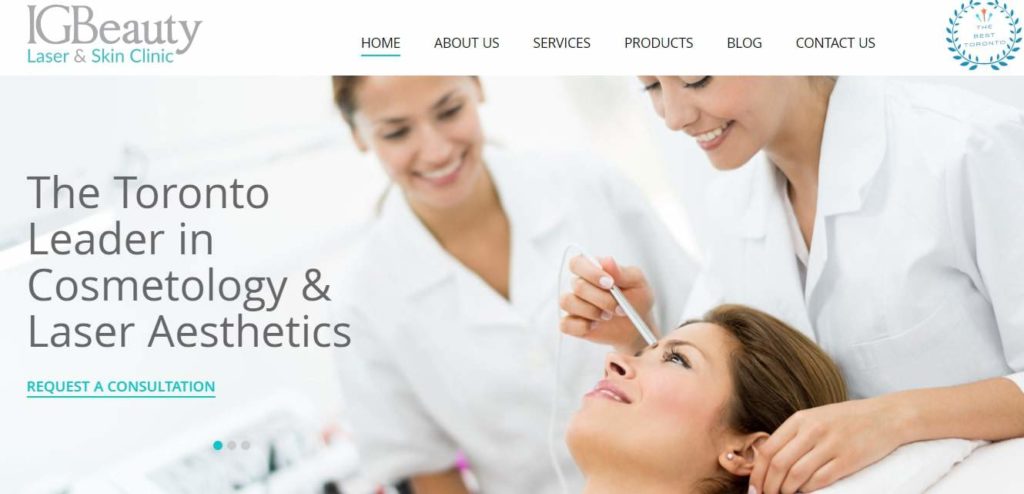 SERVICES
Laser hair removal, non-surgical face lift, body contouring, deep cleansing facial, acne treatments, injectables, body waxing, manicure and pedicure, laser acne treatment, laser pigmentation treatment, and laser vein treatment
WEBSITE
https://www.igbeauty.com/
ADDRESS
605 Eglinton Ave E, Toronto, ON M4P 1P8, Canada
CONTACT DETAILS
416-484-4884


[email protected]

OPERATING HOURS
Monday – Saturday: 10:00 AM – 7:00 PM
IGBeauty Laser & Skin Clinic is considered the leader in cosmetology and aesthetic lasers in Toronto – but of course, it wouldn't have that title for nothing.
For one, its team is made up of experienced medical doctors, registered nurses, laser technicians, and medical aestheticians, all of whom know how to deal with different types of skin and body conditions.
In terms of range of treatments, it also doesn't fall short. Some of these treatments include botox, dermal fillers, oxygen facial, skin rejuvenation, body contouring, fat burning, cellulite reduction, stretch mark reduction, and of course, laser hair removal.
For its laser hair removal services, it uses two systems called Lumenis® LightSheer® DUET™ and the GentleMax PRO.
When these systems are combined, they effectively stop the growth of hair on the concerned area permanently. It requires at least five to seven sessions though, which is a bit longer than the average number of sessions of most treatments.
Another reason to avail of its laser hair removal is the safe procedure and long-lasting results, as it's certified by the FDA and Health Canada. No need to worry about spending money on a treatment whose results are only apparent for the first few weeks.
Long-lasting results
Full-equipped aesthetic clinic
Longer operating hours
Highly trained staff
Rates are slightly above the average
Customer Reviews
Here are some comments we found posted on Google Reviews by satisfied customers:
"I have been a client of IGBeauty clinic for a few years. I have found the clinic staff friendly, professional and expert. The clinic itself has a very calm and clean environment. Ira has vast knowledge of procedures and products and she has always provided me with the best option for skin care procedures. Ira does whatever is needed for your health and beauty and she would not provide or sell you any product or procedure that you do not need. I am very satisfied with laser hair removal, microneedling and collagen induction therapy. I am very satisfied with the outcome and would definitely recommend the clinic to others."
-Lily Sorkhab
"As a black woman with coarse hair, I've struggled with having successful laser hair removal treatments in the past. I've been to other places that have told me that I will never achieve 100% hair removal, so I was very discouraged, but I'm so happy that I found this place. I have been seeing Irina for over a year now and I can honestly say that she provides the best laser hair removal for my stubborn hair. Her attention to detail is amazing. I can't thank you enough!"
-Danielle Carter
6. Laserlicious
SERVICES
Laser hair removal, laser vein treatment, laser pigmentation treatment, electrolysis, electrocoagulation, intimate lightening, facials, microdermabrasion, back or booty facial & exfoliation, micro needling, skin tightening, cosmetic injectables, body contouring
WEBSITE
https://laserlicious.ca/
ADDRESS
1735 Kipling Ave Unit 208, Etobicoke, ON M9R 2Y8
CONTACT DETAILS
(647) 409-0089 |

[email protected]

OPERATING HOURS
Monday, Friday: 10:00 AM – 4:00 PM
Tuesday, Wednesday: 10:00 AM – 8:00 PM
Thursday: 11:00 AM – 7:00 PM
Saturday: 9:00 AM – 4:00 PM
Laserlicious houses everything one may need for pampering as it is a medical spa for both men and women. As its name suggests, it uses medical-grade lasers for a number of reasons, particularly for hair, skin, and even vein treatments.
When it comes to laser hair removal, it uses a variety of technologies including diode, Alexandrite, ND:Yag lasers. Laserlicious also only has skilled aestheticians who continuously undergo training for laser treatments.
With a variety of laser equipment and highly skilled aestheticians, Laserlicious can thus cater to just about any skin type and any hair colour without causing any pigmentation.
Another great thing about this medical spa is that it offers financing options to make its services more affordable and accessible. Speaking of accessibility, Laserlicious also makes its aesthetic treatments more accessible thanks to its free initial consultations offer.
It's worth noting, however, that some services, like their laser treatment, require multiple sessions, and that each and every option comes with a different price tag. Fortunately, the price is no bother as the clinic strives to provide the best results possible to all of its clients.
Winner of the Top Choice award for 2021
Financing options available
Caters to all skin types and hair colours
Free consultations
Wide range of aesthetic services
Customer Reviews
Laserlicious may have pricey services, but most of its customers continue to praise it for offering good value for their payments. Here are reviews that have said so:
"It was a pleasure to step in and get my appointment. They give a safe , healthy, and pleasant atmosphere. Seeing that they only offer laser hair removal, it helps them to improve in only that so that they can offer their customers with the right care and, in exchange, the greatest outcomes. Every time I go in for my appointment, I feel very comfortable and the technicians are really friendly and have a lot of information regarding the laser hair removal process."
—Kate John
"My first laser hair removal experience started here about 3 months ago and I've been coming to my appointments consistently ever since. I noticed results right away on my chin and upper lip area! Areas where I would have thicker hair has nearly disappeared, or if it grows back it's so thin I can barely notice. I still have a few more sessions to go. The service here is awesome. They book your appointments ahead of time which immediately get sent to your phone so you won't forget. The ladies here are super friendly too. Thankfully, I have Janine as my aesthetician and I couldn't have asked for anyone better. She's very knowledgeable about laser and skin care and gives great advice to help maintain your results. I would definitely recommend this clinic to others. It's worth every penny!"
—Freda Agyekum
7. VS MedSpa Laser Clinic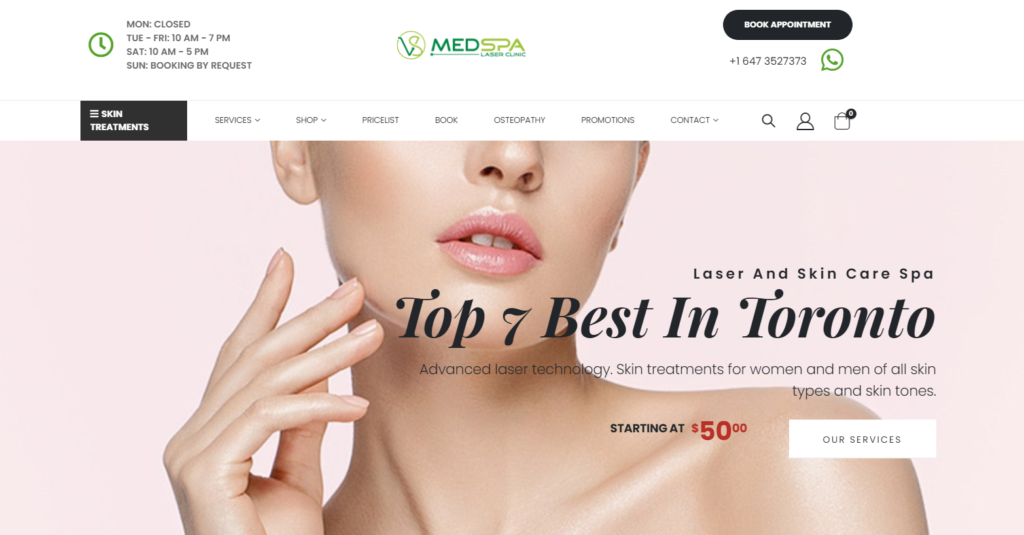 When looking for a laser clinic, it's important to keep in mind the people that make up the clinic alongside its services. With a procedure as delicate as laser clinic, it's only right that we visit one that's headed by experienced medical professionals.
Fortunately, we don't have to look further than the next clinic on our list.
VS MedSpa is one of the leading professional laser and skin clinic in Toronto. The clinic consists of dermatologists, general surgeons, and plastic surgeons with years of experience under their belt.
Knowing this, it's safe to say that all clients that come in are in good hands.
Aside from being knowledgeable and skilled in their chosen fields, the doctors at VS MedSpa are also personable, professional, and extremely friendly. One of their goals in running the clinic is to enhance patients' natural beauty, defy aging with state-of-the-art equipment and technology, all while boosting their patients' confidence.
Now, to end things off, VS MedSpa comes highly recommended for more than its staff. We also commend the extensiveness of its services, which features treatments such as full body laser hair removal, Brazilian for men and women, acne treatments, microneedling, microdermabrasion, and more.
It's also worth noting that the clinic is closed on Mondays and requires bookings on Sundays, but the operating hours for the remaining five days are long enough to accommodate multiple patients.
Convenient location
Free underground and outside parking available
Cash, debit, or credit cards accepted
Wide array of laser and skin care treatments offered
Closed on Mondays and requires bookings on Sundays
8. Aroma Waxing Clinic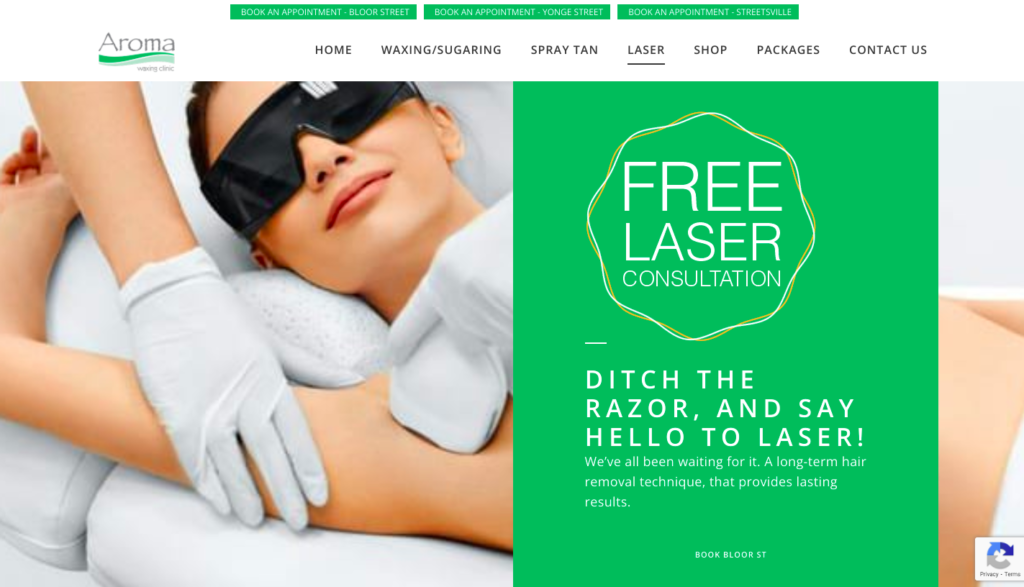 SERVICES
Waxing, Sugaring, Spray Tan, Laser
WEBSITE
https://aromawcs.ca/
ADDRESS
Head Office:
588 Bloor Street West, Toronto, ON M6G 1K4

Yonge Street:
2028 Yonge St (Yonge & Davisville), Toronto, ON M4S 1Z9

Streetsville:
239 Queens St, South Mississauga, ON L5M 1L7
CONTACT DETAILS
Head Office:
416-505-5222
[email protected]

Yonge Street:
416-901-1190
[email protected]

Streetsville:
905-812-9299
[email protected]
OPERATING HOURS
Monday: 10:00am – 7:00pm
Tuesday to Thursday: 10:00am – 9:00pm
Friday: 10:00am – 8:00pm
Saturday: 10:00am – 6:00pm
Sunday: 11:00am – 6:00pm
Aroma Waxing Clinic has been operating for over a decade and offers one of the most reasonably priced waxing and laser treatments in downtown Toronto.
What makes their service unique is that they use a custom made signature wax that promises to be gentle on your skin. They even invite potential customers with sensitive skin to have a complimentary test patch.
Even though they are better known as a waxing clinic, they offer exceptional laser treatments as well. Consultations are free so customers can address any of their questions or concerns before getting the procedure.
With expert waxologists on staff, each customer is educated on the proper and improper procedures of waxing. So not only do you get a great wax, but you'll leave their clinic knowing more about it than when you entered.
Aroma Waxing Clinic offers several packages and a special 15% discount every Tuesday and Wednesday. They offer monthly specials on laser treatments as well to help customers increase their savings.
Offers discounts and specials
Free consultations
Inconsistent operating hours
FAQs about Laser Hair Removal
---
And that's it for our list of the clinics and spas with the best laser hair removal in Toronto. If you've been dealing with rapid unwanted hair growth recently, all you need to do is drop by any of these places!
If you know any other clinic or spa that you feel may fit into our list, share us their names and we'll do our best to look into them!
If you're interested in other medical services, we recommend checking out our list of the best chiropractors in Toronto. Any of these specialists can put an end to any body pain or injury!