Top 5 Structural Engineers in Toronto
One of the most important aspects of building is making sure that the structure is durable. Everybody wants a house, an office building, or a commercial edifice that will serve its purpose while promising safety for its users.
We have gathered here a list of the top structural engineers in Toronto. We hope that this will help you in ensuring the structural integrity of whatever it is you're eyeing to build.
Top Structural Engineers in Toronto
Choosing a structural engineer is very technical. We based our selection from the following factors:
How much does it cost to hire a structural engineer in Toronto?
Calculating engineering fees is very complex. There are many factors that one must consider.

It's not only about service, duration, or the complexity of the job. Engineering fees depend on many other factors, down to the details of each drawing or plan.
Here is a quick look at average prices for hiring structural engineers in Toronto.
| Range | Cost |
| --- | --- |
| Low-end cost range | $25 / 7pcs |
| Average cost range | $5 / 3pcs |
| High-end cost range | $23 / 6pcs |
1. Blackwell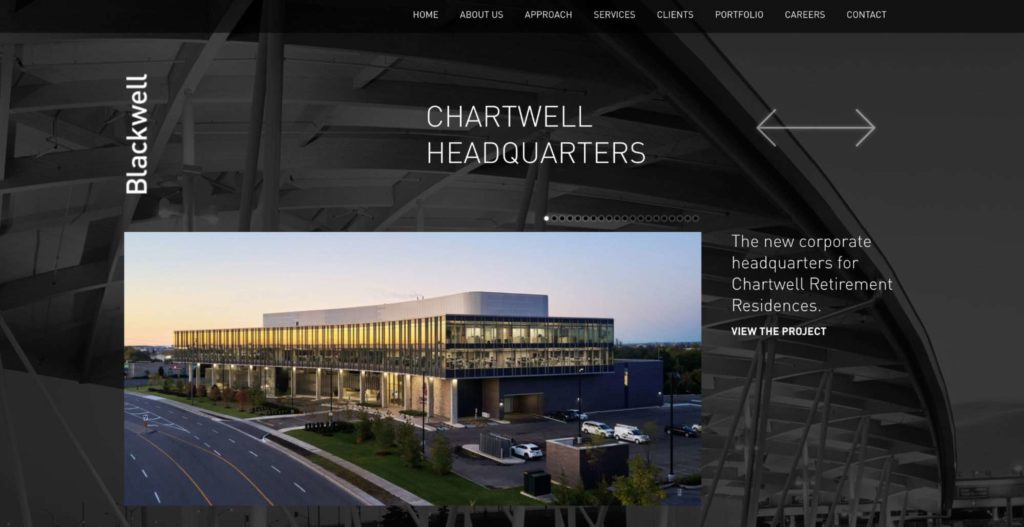 | Test | Info |
| --- | --- |
| SERVICES | Structural Engineering Services on a consultative basis, covering any or all phases of project models, including Schematic Design, Design Development, Contract Documentation, Shop Drawings and Contract Administration, and Site Visits and Reviews |
| WEBSITE | https://blackwell.ca/ |
| ADDRESS | 134 Peter Street, Suite 1301, Toronto, Ontario |
| CONTACT INFORMATION | +1 416 593 5300 |
| | |
| --- | --- |
| SCOPE OF SERVICES | ★★★★★ |
| DESIGN STANDARDS | ★★★★☆ |
| ENGINEERING PRINCIPLES | ★★★★☆ |
| COMMUNICATION | ★★★★★ |
Blackwell has been in the structural engineering industry since 1987. The firm has established a legacy of delivering design solutions that are culturally and environmentally respective.
They have a total of 4 offices in Canada: Toronto, Waterloo, Victoria, and Halifax.
Aside from their years of experience, what makes Blackwell standout is its list of LEED projects and team members.
LEED stands for Leadership in Energy and Environmental Design, a building certification program under the U.S Green Building Council. Having this certification, be it for a project or a person, means good design standards and principles.
Blackwell says that they work on all types of structures and this is evident in their portfolio of previous works. This gives a huge plus point as they are able to cater to the entire structural engineering market, not just a portion of it.
Most of their projects are beautiful and obviously built with the right materials. Their portfolio is a mixture of public and private infrastructures, as well as private residences.
The website of the firm is also quite impressive – at first glance, one would immediately know that it is an engineering website given its layout and design. Navigation is quite easy as well and most of the information answers many usual questions.
The firm takes pride in its expertise in sustainable building technologies and wood design. They also claim to be one of the only Canadian engineering firms to work in tensile (fabric) structures.
Honestly, the only thing Blackwell should improve on is growing its online presence. Despite its tenure, the firm only has 7 reviews in Google and more than a thousand followers on Instagram.
Growing an online presence is important for design and engineering firms now as it enables them to reach more people and showcase their portfolio. However, we do note that most of their online reviews come with 4 to 5 star ratings.
A few testimonials also claim that Blackwell can be costly. This is honestly expected but is arguably understandable given their expertise. However, this means losing a portion of the market who sticks to a certain budget.
Wide scope of services
Have 4 offices across Canada
LEED-certified projects and team members
Costly
Needs to improve online presence
Customer Reviews
★★★★★
"Blackwell has been great to work with through the ten years that I have worked with sustainable building projects and research in Ontario." — Sarah S, via Google
★★★★★
"Highly recommend. Very experienced." — Ron Gilbeau, via Google
2. Moses Structural Engineers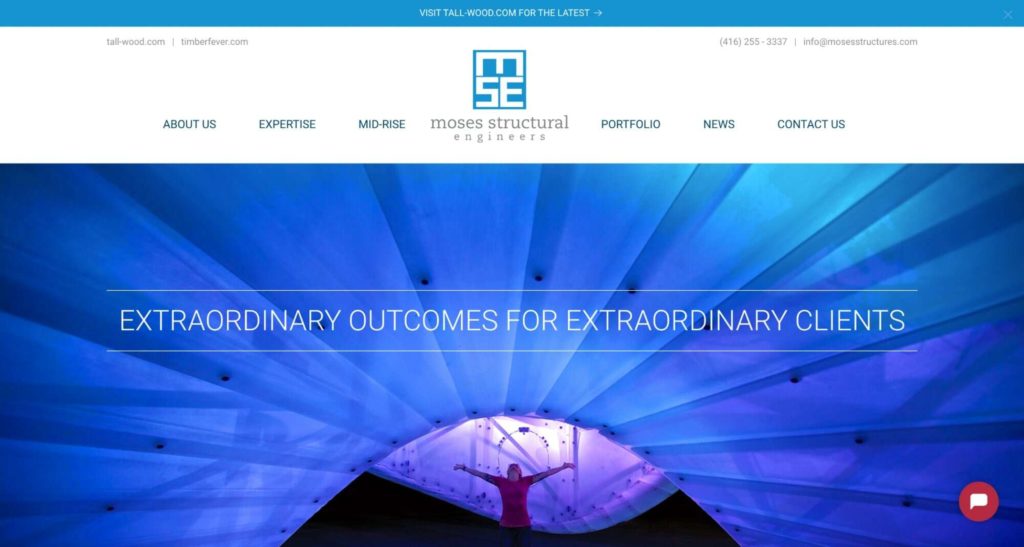 | Test | Info |
| --- | --- |
| SERVICES | Residential (Custom & Multi-unit), Industrial, Commercial, Institutional (ICI) (Steel, Wood & Concrete), R&D for New Products, New Construction, Retrofits & Renovations, Feasibility Studies, Inspections & Assessments, Third Party Review, Timber, Glulam & CLT Specialty Design, Unconventional Structures (Sculptures, Pergolas, Domes, Fabric, Submerged), Mid-Rise Buildings |
| WEBSITE | https://mosesstructures.com/ |
| ADDRESS | 366 Adelaide Street West, Suite LL04, Toronto, Ontario |
| CONTACT INFORMATION | +1 416 255 3337 |
| | |
| --- | --- |
| SCOPE OF SERVICES | ★★★★☆ |
| DESIGN STANDARDS | ★★★★☆ |
| ENGINEERING PRINCIPLES | ★★★★☆ |
| COMMUNICATION | ★★★★☆ |
Moses Structural Engineers has expertise in cutting edge wood design. They are an established firm with over 40 design awards and a number of professional affiliations.
What seems to be most impressive about them is how they even perform structural engineering relating to engineered wood, including glued laminated timber. Timber and engineered wood are slowly becoming prominent durable construction materials.
One of the downsides, obviously, is that they don't directly appeal to the non-wood market. While wood is considered a primary material, there are many big clients who prefer concrete, cement, or even stone.
Wood is prevalent in their portfolio of previous works, especially in their flagship projects. However, there are featured projects which do not carry wood as their base material.
The firm has been around for over 20 years. They have been able to make a name in Canada and the United States and hold licenses in both countries.
Online-wise, they only have Twitter and Youtube accounts where they get to post updates about related events and their projects. Their website is up to date, but can still do more in terms of layout and content organization.
All said, Moses Structural Engineers proves to be a reliable place for woodwork. This identity is their biggest strength but could also be one of their weaknesses.
Award-winning firm
Expert in wood
Wide range of projects
Not good at unconventional builds (according to 1 review)
Cannot be found on Instagram or Facebook 
Customer Reviews
★★★★★
"Moses Structural Engineers are one of the leading engineering firms in North America for mass timber design and we value David Moses' expertise in this area on our current project, a 6 storey midrise office building which will be one of the first in Toronto." — Greg Latimer, via Google
3. K.H. Davis Engineering Consultants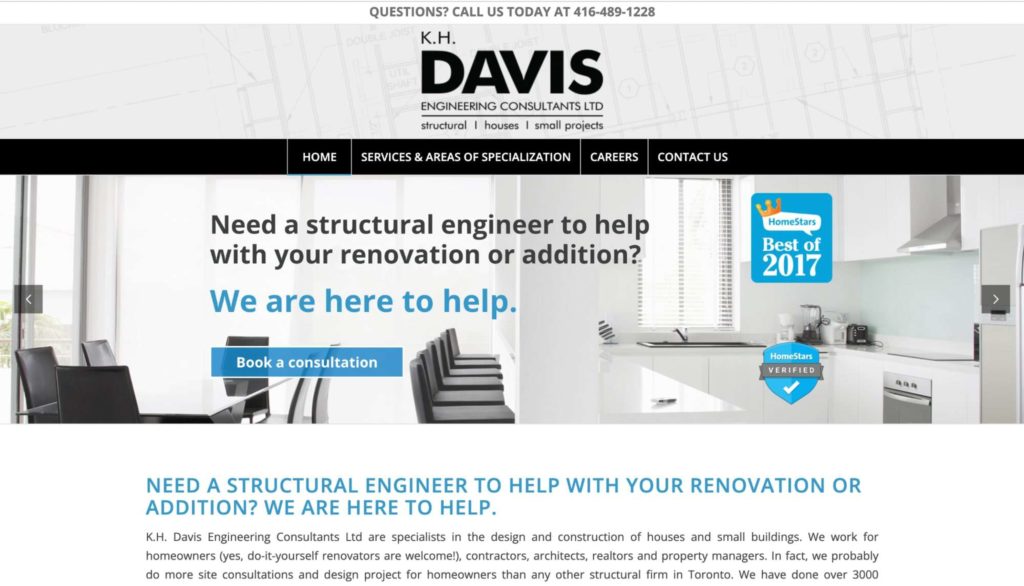 | Test | Info |
| --- | --- |
| SERVICES | Site Visit and Report, Load Bearing Wall Removal, Architectural Drawings and Additions, Interior Renovations, Basement Lowering, Underpinning and Basement Renovations, Structural Mark-ups |
| WEBSITE | https://khdavis.com/ |
| ADDRESS | 1468 Danforth Avenue, Toronto, Ontario |
| CONTACT INFORMATION | +1 416 489 1228 |
| | |
| --- | --- |
| SCOPE OF SERVICES | ★★★★☆ |
| DESIGN STANDARDS | ★★★★☆ |
| ENGINEERING PRINCIPLES | ★★★★☆ |
| COMMUNICATION | ★★★★☆ |
Since 1999, K.H. Davis Engineering Consultants Ltd. has been specializing in design and construction of houses and small buildings.
They take pride in doing site consultations and design projects for homeowners more than any other structural firm in Toronto. They are also a member of a few professional affiliations such as the Professional Engineers of Ontario and the Canadian Home Builders' Association.
K.H. Davis Engineering Consultants Ltd. has been featured in several home improvement shows and has completed over 3,000 projects since their establishment.
While all these are pretty impressive, the firm does not display a copy or even just a glimpse of its portfolio online. Nowadays, an online portfolio is one of the most effective ways to showcase a design firm's skills and workmanship.
On top of that, all you can find on their website are a list of services, available jobs, and contact details. There should be more than just those for an engineering firm's website, in our opinion.
However, a submission form is available on their website. This makes it easy for people to contact them about queries, which in a way reflects how reachable they are.
The firm is a trusted friend for homeowners, aspiring home builders, and anybody wanting to make improvements to their homes. We believe it's automatic to think that this is both a strength and weakness –there are plenty of big clients out there who look for structural engineers for public infrastructures and other buildings.
Trusted and established firm
Experts in home building and improvement
Good service for a fair price (according to a review)
Does not cater to public infrastructures and other big projects 
No available online portfolio 
Cannot be found on social media 
Customer Reviews
★★★★★
"I am pleased to recommend Ken Davis and his business, KH Davis Engineering Consultants without any reservations. Ken has provided us with expert and reliable engineering advice regarding structural issues in a residential setting. Ken is not only greatly professional and experienced, he is patient, considerate, and thoughtful. We will not hesitate to call on his services in the future." — Hugo Leal-Neri, via Google
This company has a real grasp on communicating with their clients
KH Davis Engineering Consultants Ltd. were quick in their response to my enquiry, an appointment was made in a very reasonable amount of time to attend and provide a site inspection. The report that I received and the follow up after the site visit was both thorough and efficient. This company has a real grasp on communicating with their clients and ask all the right questions all the while providing a response to each of the clients concerns. I would definitely recommend KH Davis Engineering to anyone that I know." — Anna T., via K.H Davis website
4. RJC Engineers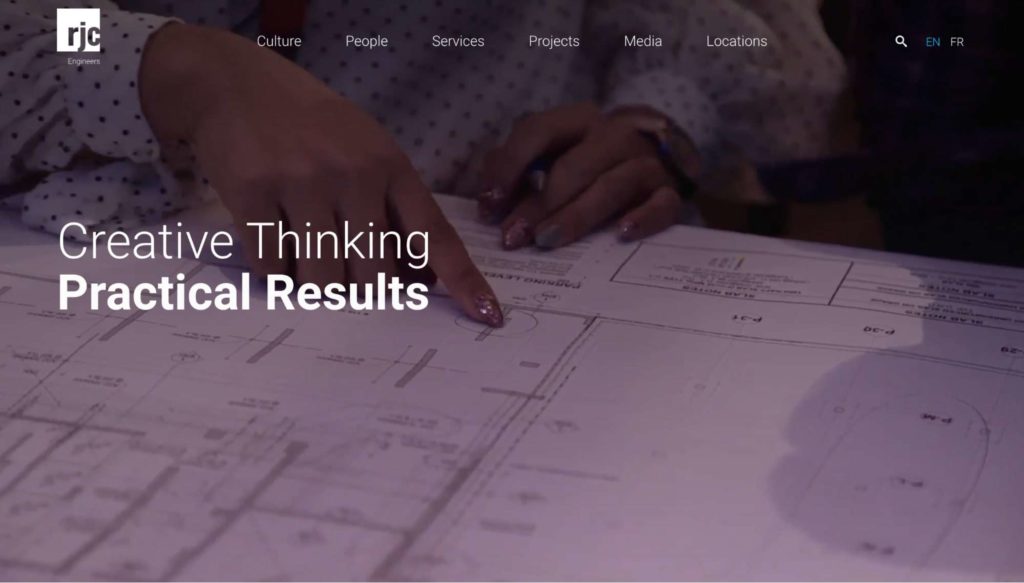 | Test | Info |
| --- | --- |
| SERVICES | Structural Engineering, Building Science, Structural Restoration, Structural Glass Engineering, Parking Facility Design, Building Energy Modeling, Audits & Studies, Heritage Conservation, Rendering and Interactive Visualization, Seismic Risk Mitigation, Waterproofing, Sustainable Design, Cold-Formed Steel Design, Wood Design |
| WEBSITE | https://www.rjc.ca/ |
| ADDRESS | 100 University Ave, North Tower, Suite 300, Toronto, Ontario |
| CONTACT INFORMATION | +1 416 977 5335 |
| | |
| --- | --- |
| SCOPE OF SERVICES | ★★★★★ |
| DESIGN STANDARDS | ★★★★☆ |
| ENGINEERING PRINCIPLES | ★★★☆☆ |
| COMMUNICATION | ★★★★☆ |
RJC Engineers has locations throughout Canada, with 14 offices to be exact. Their main office is in Vancouver but their Toronto office promises to deliver the same quality of service.
Being around for more than half a century, RJC is known as the oldest and largest consulting engineering firm in Canada that specializes in structural engineering. Their level of specialized knowledge allows them to stand out from the rest.
RJC's services cover a vast selection of projects. Not only do they perform all structural engineering services, they also tend to other building and maintenance requirements.
They even perform structural restoration and heritage conservation, which are very sensitive undertakings that require a lot of skill and extensive experience. They also highlight the importance of sustainable design.
Moreover, while many engineering firms offer Audits & Studies, only the best firms can point to this as one of their flagship services. This is because it takes a lot of precision, accuracy, and critical thinking.
Probably the only negative thing we can say about RJC is that they are quite expensive. This is actually common for prominent names in the industry, though.
RJC's portfolio is composed of big and branded projects as well, so the big rates almost seem to be part of the package.
There are also a few comments from their previous employees online which touch on company politics. While this doesn't directly affect their service to clients, this is a major red flag in terms of integrity.
Wide range of services
More than 60 years of experience
Active and updated online accounts
Has several bad online reviews from previous employees 
Has a number of customer complaints via Google
Quite expensive
Customer Reviews
★★★★★
"RJC provides great service and excellent advise. Highly recommended." — James Krucik, via Google
★★★★☆
"Excellent group of engineers." — Dale Wilson, via Google
5. Entuitive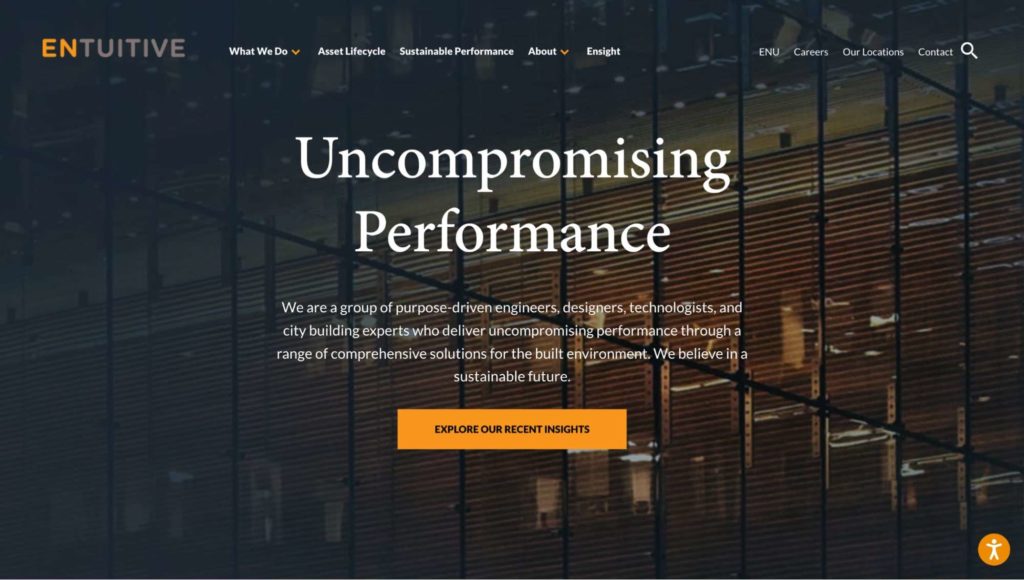 | Test | Info |
| --- | --- |
| SERVICES | Structural Assessments, Structural Engineering, Structural Feasibility Studies, Structural Glass Design, Structural Mass Timber & Engineered Wood Design, Building Envelope, Building Restoration Services, Special Projects, Fire Engineering, Timber Engineering, Transportation Engineering, Bridge Engineering, Construction Engineering, Sustainable Performance, and Pedestrian Modelling |
| WEBSITE | https://www.entuitive.com/ |
| ADDRESS | Sun Life Building, 200 University Ave, 7th Floor, Toronto, Ontario |
| CONTACT INFORMATION | +1 416 477 5832 |
| | |
| --- | --- |
| SCOPE OF SERVICES | ★★★★☆ |
| DESIGN STANDARDS | ★★★★☆ |
| ENGINEERING PRINCIPLES | ★★★★☆ |
| COMMUNICATION | ★★★☆☆ |
Entuitive references its name from engineering and intuition. The firm has been striving to deliver innovative service since its inception in 2011.
In all fairness, this innovative characteristic is reflected in the list of services they offer. They perform more than 200 services mainly for new builds, maintenance, and renewal.
Structural engineering is just one of the many general services that they touch on. It is also interesting to note that they also perform insurance claim support and litigation support.
Sustainability and Net-Zero Design are also championed by Entuitive. Having these as part of a firm's undertakings means a high regard for the principles of sustainability.
Honestly, there isn't much to dislike about Entuitive. Their wide range of services basically capture the market and their standards and principles meet with most quality firms out there.
The only thing we can see it improving on is making a name for itself online. It has been a decade since its establishment but it is still behind in terms of online interactions and searchability.
Thanks to its scope and previous projects, it got to this list. If this firm really wants to set itself apart from the rest, it really has to show more of what it can offer aside from its numerous services.
Performs more than 200 services
Covers more than 10 sectors 
Fair experience
Poor communication (according to 1 review)
Small online presence
Customer Reviews
★★★★★
"Great company culture! Innovative and forward thinking" — Kenechi "Kehnehchi" Chidolue, via Google
FAQs about structural engineers in Toronto
---
For whatever sector it is that you're building, we hope this review was able to inform you about structural engineers in Toronto!
If you are still looking for anyone to design your house, office, or any other project, you may check out our list of the best architecture firms in Toronto.