The 5 Best Funeral Homes in Toronto
During times of loss, we understand how difficult it is to even think of finding a funeral home. So, in this set of reviews, we did the research and evaluation to find the best funeral homes in Toronto on your behalf.
Let's start with a rundown of the costs first before moving onto the reviews for each company.
Top Funeral Homes in Toronto
We evaluated the funeral homes based on the following:
The Cost of Funeral Homes in Toronto
A funeral in Toronto can easily go from $1,500 up to $12,000 for bigger ceremonies. But there are also instances where the total cost of service can exceed $15,000 due to additional features and services.
One of the biggest factors that affect the cost is visitation hours. Each additional hour can start at $200, while each additional day starts at $700.
Below is a table that shows the standard costs of a funeral based on visitation hours:
Duration
Estimated Cost
2 Days

(4 Hours of Visitation)

$6,360
1 Day

(2 Hours of Visitation)

$5,575
1 Hour of Visitation
$5,345
Memorial Service

(1 Hour of Visitation Prior to a Ceremony)

$5,250
1. Brampton Crematorium & Visitation Centre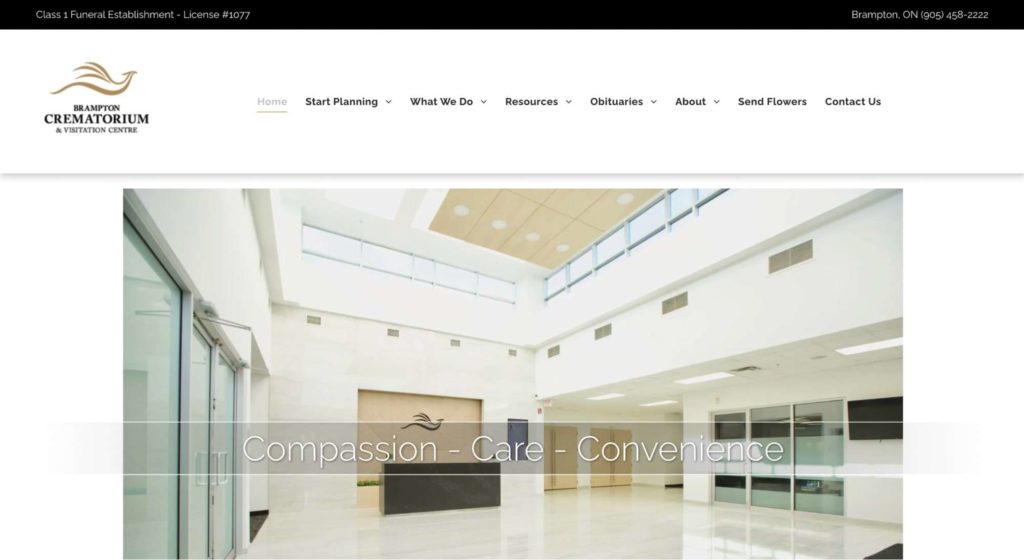 | Test | Info |
| --- | --- |
| SERVICES | Burial, cremation, personalized funerals, funerals, cultural funerals |
| WEBSITE | https://www.bcvc.info/ |
| ADDRESS | 30 Bramwin Ct, Brampton, ON L6T 5G2 |
| CONTACT DETAILS | +1 905-458-2222 |
| OPERATING HOURS | Open 24 hours |
| | |
| --- | --- |
| Services | ★★★★★ (5/5) |
| Plans and personalization | ★★★★★ (5/5) |
| Grief resources | ★★★★☆ (4/5) |
| Religious and cultural accommodation | ★★★★★ (5/5) |
| Location | ★★★★☆ (4/5) |
| Amenities | ★★★★☆ (4/5) |
| Size and accessibility | ★★★★☆ (4/5) |
| Staff | ★★★☆☆ (3/5) |
| Pricing | ★★★★☆ (4/5) |
Brampton Crematorium & Visitation Centre is a family-owned funeral home that started in 2012. One of their business missions was to open a funeral home that accepts all religions and cultures, so it's no surprise that they cover a wide range of rituals.
The funeral home offers standard services from direct burial and graveyard service to memorials and traditional funerals. And of course, they offer the ability to personalize the funeral, which is a famous approach today.
This personalization is actually where they specialize. They'll even put together ideas for clients for custom touches to the service.
Some of their recommendations include creating a memory table filled with the loved one's hobbies. They also encourage more interactive personalizations such as book giveaways and tree planting.
They also have a respectable grief resource that offers two modes of frequency: 365 Days of Healing and 52 Weeks of Support. The former is a daily email support program while the latter is a weekly newsletter with insights, quotes, and the like.
Beyond this, we like its supportive after-care program where they do all the paperwork while the clients grieve. In this program, clients sit with an aftercare specialist to fill out all necessary government documents to gain the benefits.
They can also assist in the cancellation of credit cards as well as other pre-planning needs. We recommend going through this program if you want to take most responsibilities off your hands so you can focus on the service.
In terms of its location, it's a sprawling 28,000 square feet with 3 suites and 2 reception lounges. In our opinion, it's a bit limited, but it's also sufficient for most… as long as you're able to book early.
Each suite is ideal to seat a large number of guests so you may want to look somewhere else for a more intimate suite. As per the facilities, everything is standard and nothing too fancy, although the chairs are really nice and extremely comfortable.
The only problem we've had is related to the staff and the performance of the actual funeral. In most cases, they're very empathetic and compassionate to the grieving families.
But we also found instances of people saying management was done poorly, which can be stressful to the guests. And we didn't appreciate the ads on the online viewing at all, as it's just downright annoying and can be quite disrespectful.
Still, with a strong set of personalized and traditional plans at reasonable prices, comprehensive aftercare, and a great location, the funeral home remains among the top options. Just skip the online viewing optionor demand that they make it ad-free if you have to use it.
Options for traditional or personalized plans
Comprehensive aftercare program
Accommodates Hindu, Sikh, Buddhist, and Christian funerals
Receptions come with a dedicated hostess
Options for additional hours or days of visitation
Issues with staff management
Ads appear on online viewing
Customer Reviews
Compassionate and helpful
I would definitely without any hesitation use the services of this facility and their staff especially Puneet and Rachel. Very compassionate and helpful individuals. I read some of the reviews and it certainly does not correspond in any way to the treatment we received a month ago. – Tara Balgobin
Easy and accommodating process
Thank you to the staff at Brampton Crematorium & Visitation Centre. During the pandemic they have made funeral preparation/execution simple, easy, and accommodating. The staff was extremely understanding, caring and treated my family with so much respect. During the hard times they were able to assist and provide comfort. Our coordinator Karen was very kind and took us through this process with confidence when we needed it the most. Thank you for your services, from Das and Dey family. – Sonya Dey
2. Rosar-Morrison Funeral Home & Chapel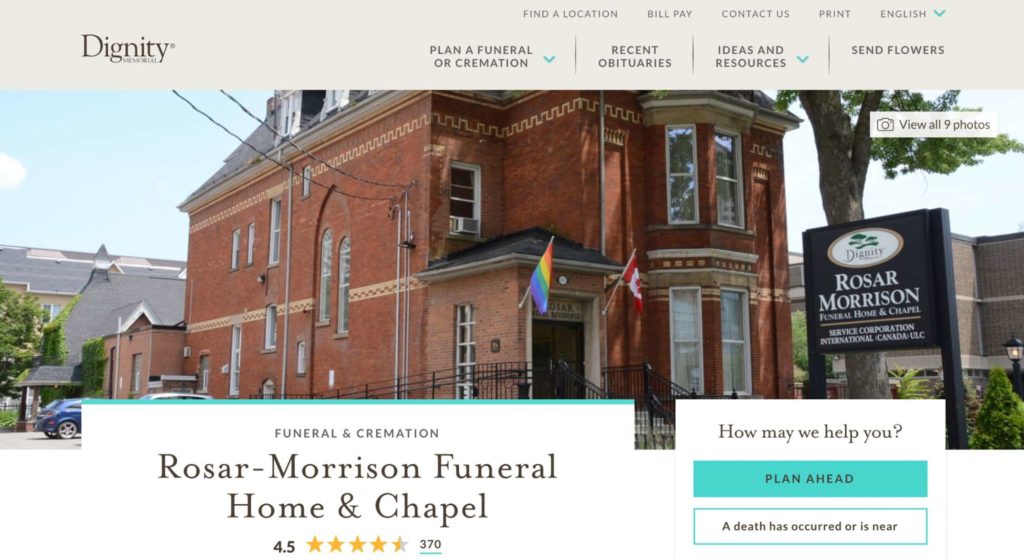 | | |
| --- | --- |
| Services | ★★★★☆ (4/5) |
| Plans and personalization | ★★★★★ (5/5) |
| Grief resources | ★★★☆☆ (3/5) |
| Religious and cultural accommodation | ★★★★☆ (4/5) |
| Location | ★★★★★ (5/5) |
| Amenities | ★★★★★ (5/5) |
| Size and accessibility | ★★★★★ (5/5) |
| Staff | ★★★★★ (5/5) |
| Pricing | ★★★☆☆ (3/5) |
Rosar-Morrison Funeral Home & Chapel has been in the funeral and cremation business for more than 150 years. They're also a member of the Dignity Memorial network of over 1,600 service providers.
One of the biggest strengths is the flexible space they offer. This allows families to host small to large viewings and personalize the event to their taste.
The location boasts a chapel, a coffee lounge, plus a piano on site. Overall, it's everything you can expect in a funeral home with that level of experience.
Another thing that they excel in is their comprehensive packages. Each one comes with complete funeral services from supervision to limousines and catered options.
What's even better is that each one comes with options that clients can decline if they don't find it necessary. This enables the clients to customize their plans and potentially save more for the service.
The one thing you must take note of is that these packages fall on the more expensive side. You can end up spending anywhere from $12,000 to $18,000 and even more.
But, as we said, the services are customizable and we recommend speaking to them to fully itemize the services you need.
We also have to note that the funeral home offers tribute video production as well as Livestream services. With their reliable tech and overall great response from the clients, we consider them the best in this area.
What they lack, on the other hand, is solid grief support. Yes, they have resources available online but clients still have to come to the content rather than have the content come to them.
On top of that, they also deal with multicultural funerals, but we just aren't sure what they specialize in. But at least it seems like you'll be treated just the same regardless of your faith and religion, clients have attested.
Pros
150 years in business
Flexible space for all guest sizes
Complete with basic and extra amenities
Comprehensive and customizable funeral packages
Catered options available
Offers tribute video production service
Lacks in grief and aftercare support
Expensive packages
Customer Reviews
Highly recommended
Rosar-Morrison provided comfort and compassion from the moment we met with funeral director Melissa. To the closing day of the funeral with Katelyn. They added many personal touches at our request. All safety measures were followed with Covid. Our family highly recommends Rosar-Morrison. – Denise Bowes
Comfortable and smooth arrangement
I lost a good and close friend recently and Rosar was the place we chose for his service. Melisa was very kind and professional. We went over everything and on the day of the funeral all went smoothly. The staff at Rosar help us set up our equipment and arrange our room comfortably. Highly recommended. – Maya Nd
3. Kane-Jerrett Funeral Homes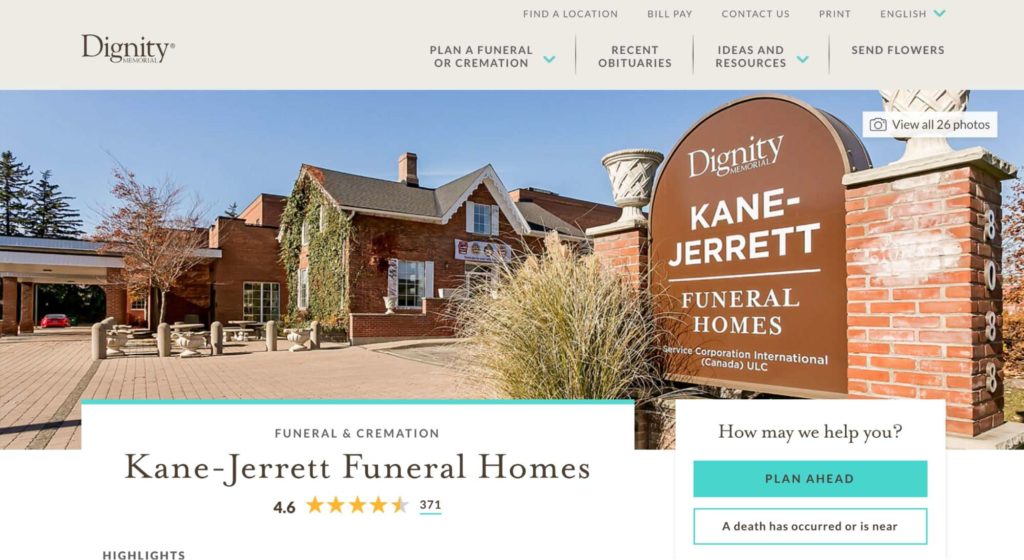 | | |
| --- | --- |
| Services | ★★★★☆ (4/5) |
| Plans and personalization | ★★★★★ (5/5) |
| Grief resources | ★★★☆☆ (3/5) |
| Religious and cultural accommodation | ★★★★★ (5/5) |
| Location | ★★★★★ (5/5) |
| Amenities | ★★★★★ (5/5) |
| Size and accessibility | ★★★★★ (5/5) |
| Staff | ★★★★★ (5/5) |
| Pricing | ★★★★☆ (4/5) |
With over 25 years of experience, Kane-Jerrett Funeral Homes is a wonderful choice for flexibility and top-quality services.
The funeral home specializes in international shipping arrangements. This makes them the ideal provider for clients who need to repatriate their loved one.
In addition to this, they have one of our favorite locations on our list. Their 200-seater chapel boasts an open concept that allows for either solemn or bigger gatherings.
Apart from this, there are also adjoining rooms for the families to collect or entertain guests. In terms of styling, the layout of the room makes it versatile for all types of preferences in decor.
Another thing that caught our attention was its reception area. It's comfortable with new furnishing, giving it a more modern look without losing its antique charm.
Since it's also a member of the Dignity Memorial network, the packages are essentially the same as our previous entry. The only difference is that their burial and cremation services cost much less.
The best highlight of this funeral home is their staff and the care that they provide. We were happy to find out that they speak various languages including Mandarin, Tagalog, Korean, Spanish, Vietnamese, and more.
On top of that, we found that their funeral directors are experienced in various religious funeral rites. This fact earned our trust in their ability to deliver culturally-sensitive ceremonies for a diverse range of clients.
The only thing missing in the picture is readily-accessible grief support. But other than that, everything else is as good as can be.
Specializes in international shipping arrangements
200-seater, open-concept chapel
Spacious reception area
Comprehensive funeral packages
Staff speaks various languages
Experienced in various religious and cultural funeral rites
Lack of accessible grief support
Customer Reviews
Professional and respectful
From the moment of first contact everyone at the Kane Jerrett Funeral Home made a rather difficult situation and time proceed smoothly and with little effort on my part. Each staff member acted professionally and were respectful, kind and empathetic. – Louise Mate
Outstanding service and management
Kane-Jerrett Funeral Homes provided outstanding support to our family during the difficult time immediately following the loss of a loved one. The staff were courteous, professional and sympathetic. The coordination and management of all funeral related services including the viewing/visitation, funeral and burial services were excellent. I highly recommend Kane-Jerrett Funeral Homes based on my very positive experience. – Andrew Dobrei
4. Cardinal Funeral Home – Bathurst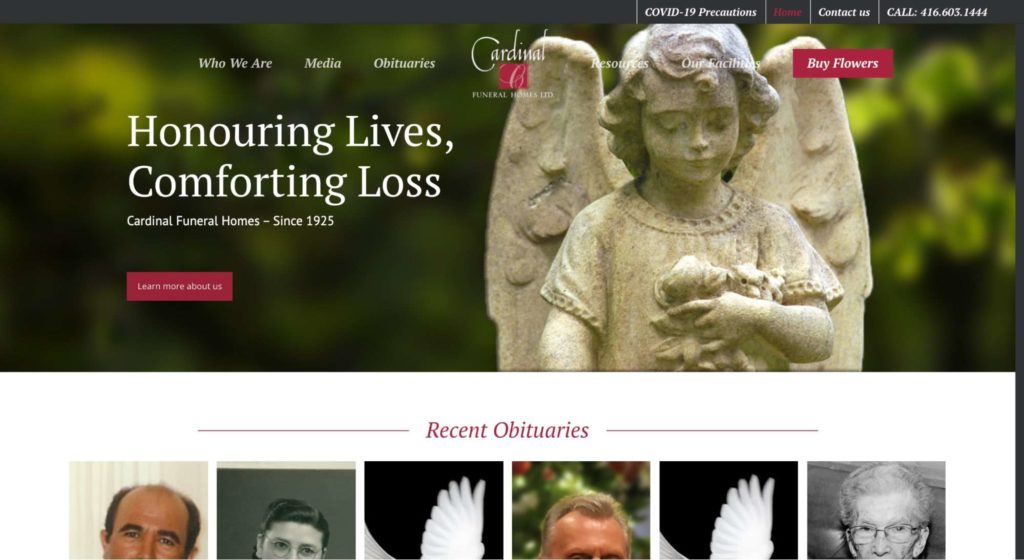 | | |
| --- | --- |
| Services | ★★★★☆ (4/5) |
| Plans and personalization | ★★★★☆ (4/5) |
| Grief resources | ★★★★★ (5/5) |
| Religious and cultural accommodation | ★★★☆☆ (3/5) |
| Location | ★★★★★ (5/5) |
| Amenities | ★★★★★ (5/5) |
| Size and accessibility | ★★★★★ (5/5) |
| Staff | ★★★★★ (5/5) |
| Pricing | ★★★★★ (5/5) |
Cardinal Funeral Home combines the experience of having a great location and compassionate care. Here are some highlights that landed them among the best in the city.
First, its Bathurst location offers six different rooms at very sizes. Clients can choose from seating capacities of 40 up to 180.
Not only are the spaces ultra-comfortable, but they're also tastefully decorated. Plus, there's a children's playroom in this location which we think will be a pleasant addition for families with young kids.
Second, they offer so many complimentary items in their services that other funeral homes would've charged for. Some of these items are a personalized legacy book and video, various sorts of food and refreshments, and personalized memorial candles.
Third, all the services that you need can be customized according to your budget. You can sit down with their specialist to arrive at a quote that works best for you and your family.
Additionally, the people that take care of you aren't only highly experienced, but also speak in various languages. This is, of course, ideal if you have foreign friends and extended family members who are more comfortable in their mother tongue.
Fourth, in our opinion, they have the best extended family care program. Through this, their counselors do all the paperwork involved in the deceased's circumstances.
This includes document work in personal information, insurance policies, military discharge, death certificate, stocks, property titles, deeds, pensions, and a lot more.
On top of that, they also host the Annual Christmas Season Candlelight Services of Remembrance. And they also mail a booklet called Messages of Hope to families to help them cope with the loss.
All-in-all, the only things we want to see more of are religious and cultural funeral rites as well as more comprehensive packages. But so far, everything else wins our favor.
Offers 6 rooms at various sizes
Children's playroom available
Many complimentary services and products
Staff speaks in various languages
Free extended family care program
Free post-funeral services and paperwork management
Annual remembrance events and booklet
Customizable funeral based on budget
Lacks experience in religious and cultural funerals
Lacks plans and packages for traditional funerals
Customer Reviews
5. Affordable Burials & Cremations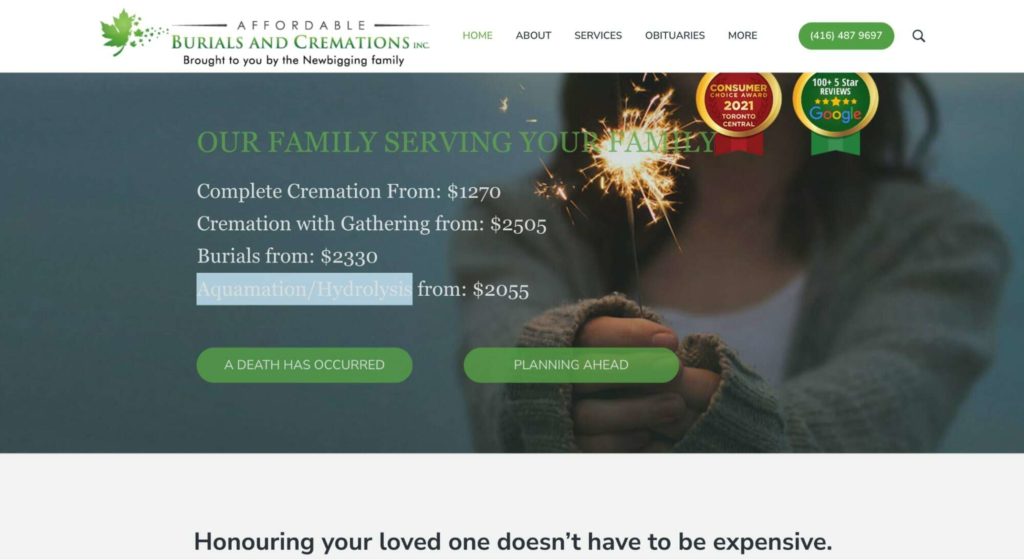 | Test | Info |
| --- | --- |
| SERVICES | Complete cremation, cremation with gathering, burials, aquamation/hydrolysis |
| WEBSITE | https://www.affordableburialsandcremations.ca/ |
| ADDRESS | 41 Industrial St Unit #102, Toronto, ON M4G 0C7 |
| CONTACT DETAILS | +1 416-487-9697 |
| OPERATING HOURS | Open 24 hours |
| | |
| --- | --- |
| Services | ★★★★☆ (4/5) |
| Plans and personalization | ★★★★★ (5/5) |
| Grief resources | ★★★☆☆ (3/5) |
| Religious and cultural accommodation | ★★★★☆ |
| Location | ★★★☆☆ (3/5) |
| Amenities | ★★★★☆ (4/5) |
| Size and accessibility | ★★★☆☆ (3/5) |
| Staff | ★★★★★ (5/5) |
| Pricing | ★★★★★ (5/5) |
Affordable Burials & Cremations is a great place to start if you're looking for affordable funeral plans. Plus, you can make arrangements online, making it convenient for every client.
As of writing, the company already has 50 years of experience in the business. They also boast a perfect 5-star rating on Google Reviews, the only one in our list to have to have this.
What sets them apart from the competition are their affordable rates. Burial services here start at $2,200 which is the lowest among the companies on our list.
Under this plan, you already get all the essential services you need. This includes rites and coordinating activities, documentation, transportation, and more.
Do note that the cost of this service will go up as you customize your plan. You still need to add your choice of casket plus other additional services which will double the costs of the initial service.
The company specializes more in traditional and straightforward funeral services. So they're a wonderful choice if you're looking for a simple process and a simple burial.
As per location, the gathering service involved here is for graveside burials only. Technically, you'll only be gathering in the cemetery of your choice.
Still, the level of care that they offer is just as good as you would expect. Plus, with a strong reputation among the community, you know you're in good hands.
Comprehensive cremation plans
Customizable burial services
Build services online or in-office
One of the most affordable prices
Customer Reviews
Always available and compassionate
I have worked with Affordable Burials and Cremations when both of my parents passed away. They were very compassionate and provided me with guidance throughout the process. I am so grateful to the entire staff and especially to Amanda who was always available when I needed anything! I highly recommend their services. – Melissa Gelinas
True honest service
We had a sudden death in our family, Affordable Burials took care of everything we needed done in a very personal and professional manner. They are a family run business, which gives you true honest service. When you need them, they will be there. – Mike Irwin
FAQs About Funeral Homes in Toronto
---
The loss of a loved one is truly a heart-breaking experience – that's why we're here to help you in the best way we know.
To ensure that you only get the best level of service and compassion, seek out our list of the best cremation services in Toronto to assess your options.