A Guide to the 5 Best Landscaping Companies in Toronto
Building a new deck, installing a new patio, or simply looking for regular lawn care? This review is just what you need!
Today, we picked out the best landscaping companies in Toronto that can deliver everything you need. We chose companies with various landscaping specializations, from regular lawn care maintenance to extensive hardscaping.
Start with our guide to the costs first so you'll have an idea of having much to spend.
Top Landscaping Companies in Toronto
Hand-picking these companies involved looking into the following criteria:
The Cost of Landscaping Services in Toronto
The cost depends on the type of project and other factors such as:
Property size
Additional features
Plants and other needed materials
Xeriscaping
Water and irrigation system
Refer to the table below to see the estimated costs of common landscaping jobs:
| Task | Average Costs |
| --- | --- |
| Deck building | $5,000 - $10,000, |
| Pond installation | $2,200-$3,200 |
| Water fountain installation | $2,000 |
| Patio or pathway installation | $1,000 - $4,000 |
| Interlocking Brick | $6,559 |
| Sod installation | $3,055 |
| Lawn seeding | $500 |
| Landscape drainage | $2,000 - $4,000 |
| Curbing installation | $800 - $1,500 |
| Sprinkler system installation | $2,240 |
| Lawn Care | $449 |
| Retaining wall installation | $3,000 - $7,000 |
| Tree Trimming | $1,019 |
| Yard Cleanup | $1,044 |
1. My Landscapers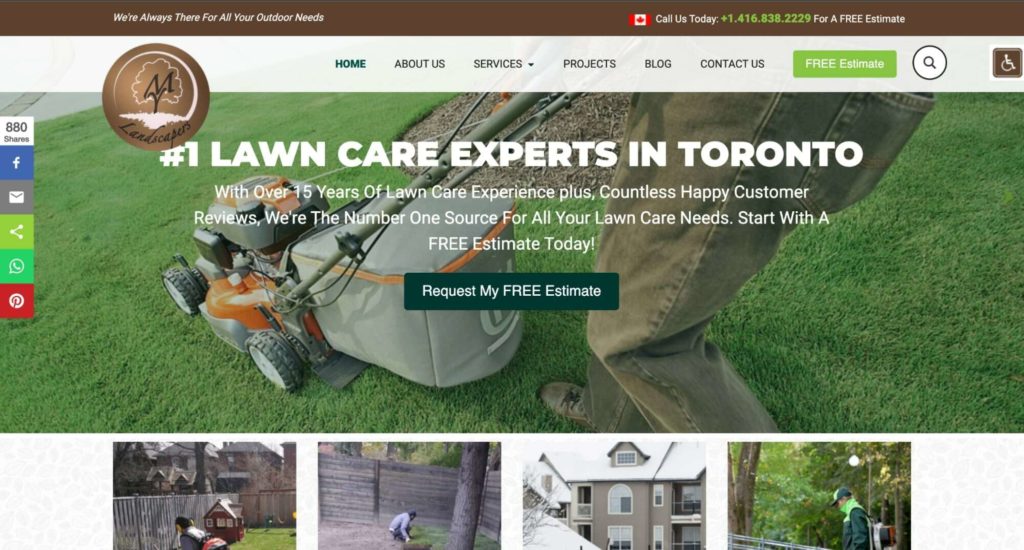 Test
Info
SERVICES
Lawn care & landscaping, sodding & lawn replacement, snow removal, fall & spring cleaning, commercial maintenance
WEBSITE
https://www.mylandscapers.ca/
ADDRESS
49 Alexis Blvd, North York, ON M3H 2P5
CONTACT DETAILS
+1 416-838-2229
OPERATING HOURS
Monday - Thursday: 7:00 AM - 6:30 PM

Friday: 8:00 AM - 4:00 PM
| | |
| --- | --- |
| Services offered | ★★★★☆ (4/5) |
| Track record | ★★★★★ (5/5) |
| Customer satisfaction | ★★★★★ (5/5) |
| Years in business | ★★★★★ (5/5) |
| Portfolio | ★★★★★ (5/5) |
| Qualifications and experience | ★★★★★ (5/5) |
| Staff and equipment | ★★★★☆ (4/5) |
| Project management | ★★★★☆ (4/5) |
| Communication | ★★★★★ (5/5) |
Turning disaster into beauty seems to be My Landscapers' top expertise. And their solid portfolio and top-notch services speak of this in great volume.
The company dubbed themselves as "sodding experts in GTA". Truth be told, we can't complain because they have 14 years of experience in this field with hundreds of happy clients.
But that might be a problem for you if you want a different solution. Sodding is different from seeding – the latter costs less, has a deeper root system, and gives more grass variety.
Still, sodding is more accessible, is weed-free, and develops faster. We're just letting you know in case you actually prefer seeding in your lawn.
Moving on, their track record can easily turn other companies green with envy. With a perfect rating on both Google Reviews and our survey, all we encountered was 100%, satisfied customers.
One of the things we can associate with this positive response is their project management.
Everything starts with an in-depth estimate, which is free by the way. Then they connect with the clients to draft initial plans, provide expert recommendations, and finalize extra touches.
To be honest, the process is nothing spectacular and quite standard in our opinion. But we respect how they're always responsive to questions and are actually willing to work around your tight schedule.
Perhaps the most stand-out thing that we loved about them is their portfolio. The range is important to us and we're glad to find mini backyards to sprawling lawns in the picture.
To give you an idea, they've already done patches of green around swimming pools to extensive sod installations in the front and back yards.
In addition to sodding, the company also offers general lawn care & landscaping, snow removal, fall & spring clean-up, and commercial maintenance.
Specializes in sod installations
15 years experience in lawn care
Treats lawns with organic materials
Free estimate on all projects
Care resources available through staff tips and blogs
Customized organic lawn fertilization for lawn care
Certain services may not bring expected solution
Customer Reviews
Exceptional from start to finish
Refael and his team were exceptional from the very beginning! They were very responsive and had everything completed within 3 weeks of our initial call. I was very impressed with everything they did and would recommend them to anyone looking for a reliable landscaper! – Zack Goldenberg
Clear communication and prompt process
Refael was very responsive and was able to complete the job earlier than anticipated. His communication was clear and prompt throughout the process. The work was completed professionally and neatly. – Kumaresan Yogeswaran
2. Precision Landscaping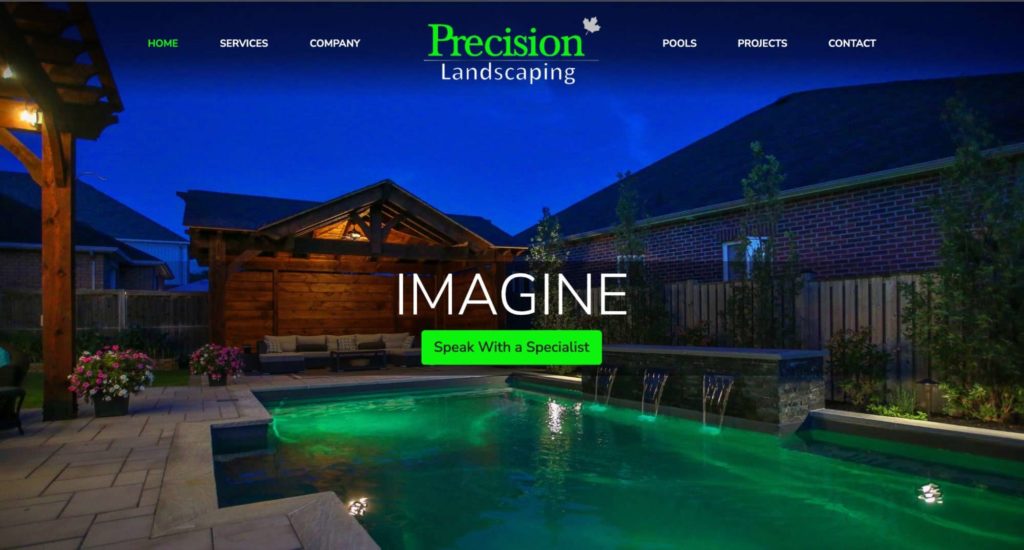 | Test | Info |
| --- | --- |
| SERVICES | Backyard studios, cabanas, carpentry, design, entranceway, fire features, gardens, outdoor kitchens, sports courts, stonework, urban spaces, commercial |
| WEBSITE | https://precisionlandscaping.ca/ |
| ADDRESS | 730 Garyray Dr, Toronto, ON M9L 1R3 |
| CONTACT DETAILS | +1 416-704-3637 |
| OPERATING HOURS | Monday - Saturday: 7:00 AM - 8:00 PM |
| | |
| --- | --- |
| Services offered | ★★★★☆ (4/5) |
| Track record | ★★★★★ (5/5) |
| Customer satisfaction | ★★★★☆ (4/5) |
| Years in business | ★★★★★ (5/5) |
| Portfolio | ★★★★★ (5/5) |
| Qualifications and experience | ★★★★★ (5/5) |
| Staff and equipment | ★★★★★ (5/5) |
| Project management | ★★★★☆ (4/5) |
| Communication | ★★★★★ (5/5) |
If you want a touch of luxury in your landscape overhaul, Precision Landscaping is our best recommendation. That is if you're willing to splurge thousands of dollars and deal with minor mishaps along the way.
The company specializes in turnkey landscaping with more than 15 years of experience. This essentially means that the project is move-in ready after completion which everyone looks forward to.
Looking through their portfolio, we encountered many stunning projects. They did work on these gorgeous entranceways, pools, cabanas, fire features, and urban spaces.
To sum it up basically, they're a great choice for intensive upgrades in your lawn spaces. Plus, the project outcomes tend to be low maintenance as past clients shared.
What allowed them to achieve these memorable creations is their comprehensive project process.
It starts with the design stage where they provide clients with 3D renderings of the design package. Then, they move on to permit application and management with also includes architectural drawings, grading, and more,
Finally, construction starts where clients are always kept in the loop for updates. And during the process, specialists give suggestions for improvements in the project.
Unfortunately, not everyone is ecstatic with the results and even complained of poor outcomes. To be fair, most of these concerns were raised at the height of COVID where materials run low in supplies.
So we will cut them some slack in that area but we won't dismiss other concerns. In some cases, clients get staggering increases in their quote due to additional work required.
Overall, these are relatively small issues compared to their positive work. And the projects really speak for themselves – polished, picturesque, and precise.
Specializes in turnkey landscaping
Over 15 years of experience 
Comprehensive project process
Daily updates provided to customers
Multi-awards landscaping company
ve issues
Minor issues with project quality
Customer Reviews
Stunning results
We worked with precision in the summer of 2020 and are stunned with the results of our new lawn. Our project manager was detail oriented and appreciative of our concerns. Overall we would definitely support Precision again and would happily recommend their team. I've attached a photo of the lawn. – Brianna Lawrence
Skillful work on tough jobs
Excellent work by professional tradesmen on my lawn and patio. It looked like a tough job but the labourers handled it skilfully. I wish I took a before and after pic. Awesome job all around. Now I know why I see their trucks and signs everywhere. – Krista Papaconstinou
3. Gardenzilla Lawn & Garden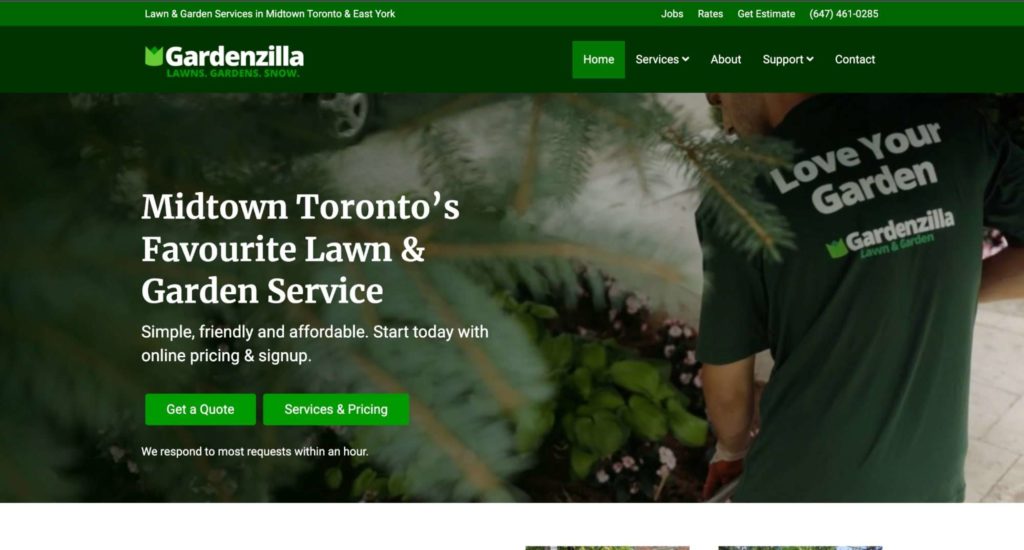 | Test | Info |
| --- | --- |
| SERVICES | Landscape maintenance, lawn mowing, lawn & garden care, spring cleanups, custom garden care, sod installation, snow removal |
| WEBSITE | https://gardenzilla.ca/ |
| ADDRESS | 618 O'Connor Dr, East York, ON M4C 3A1 |
| CONTACT DETAILS | +1 647-461-0285 |
| OPERATING HOURS | Monday - Friday: 7:00 AM - 3:00 PM |
| | |
| --- | --- |
| Services offered | ★★★★☆ (4/5) |
| Track record | ★★★☆☆ (3/5) |
| Customer satisfaction | ★★★★☆ (4/5) |
| Years in business | ★★★☆☆ (3/5) |
| Portfolio | ★★★★☆ (4/5) |
| Qualifications and experience | ★★★★★ (5/5) |
| Staff and equipment | ★★★★☆ (4/5) |
| Project management | ★★★★★ (5/5) |
| Communication | ★★★★☆ (4/5) |
Gardenzilla is relatively new in the business but already boasts a respectable clientele. We'll highlight some of their best traits and also some of their negative ones so you'll know what to expect.
First, the company doesn't specialize in any type of landscape work, but they balance it out in all of their services. Some of their most sought-after services are lawn mowing, garden care, sod installation, and spring cleanups.
What makes these services highly flexible are their billing options. Clients have the option to pay by the hour, by month, or by the project.
In our opinion, this gives customers more freedom to pay based on their needs only. Plus, it can eliminate any unexpected hikes in costs due to added services.
Second, they have a couple of optional services under their major ones. These add-ons enable customers to customize the care that their lawn will receive under a certain contract.
Additionally, they offer maintenance plans for garden care, lawn mowing, or both. For these clients get an option for either weekly or biweekly service, plus a fertilizer and weed control program of their choice.
Third, they're fantastic to speak with as they sit through brainstorming ideas to achieve a desirable quote. As past clients share, their rates are highly competitive and won't break the bank even for large projects.
Moreover, pricing is upfront and fixed so you won't have to worry about suddenly changing prices. There are no commitments too and you can cancel your plan anytime as you please.
The only thing we want to see improve is their customer service. It can be difficult to connect with them sometimes especially during peak hours.
Additionally, a few reviews said that they never received a call back after sending a message. Nonetheless, we're still satisfied with what they can deliver so far for their clients.
Flexible pricing structures
Customizable service plans
Optional services available for certain plans
Has maintenance plans for garden care and lawn mowing 
Upfront and fixed prices
Favorable service cancellation policy
Can be difficult to contact on certain occasions
Customer Reviews
Efficient and professional work
Gardenzilla is a wonderful company. They have done my yard maintenance and landscaping for years, and also rebuilt a stone wall and stone front steps. Their work is very friendly, professional and efficient. Would highly recommend them. – Kathie Krashinsky
Attentive, helpful, and flexible
Initially we engaged Gardenzilla for some design consultation (plantings and a flagstone path) and then for regular monthly maintenance. Michael Chudy is always attentive, helpful and flexible and his staff are friendly and thorough. We're very happy with their service and often recommend them.. – Pam Winter
4. M.E. Contracting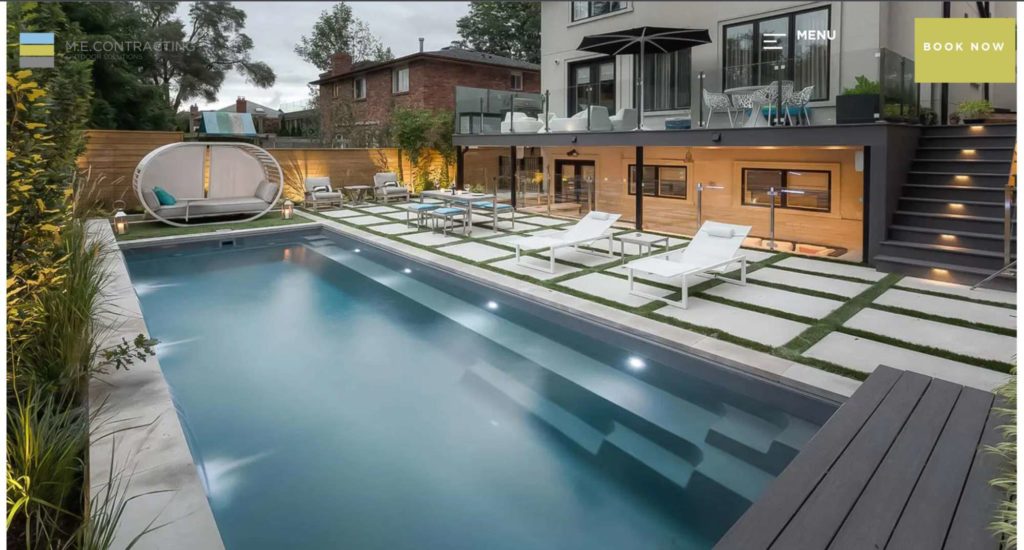 Test
Info
SERVICES
Landscaping, decking, interlocking, pools, woodworking, railings
WEBSITE
https://mecontracting.ca/
ADDRESS
63 Alness St #7, North York, ON M3J 2H2
CONTACT DETAILS
+1 416-238-6700
OPERATING HOURS
Monday - Friday: 9:00 AM - 6:00 PM

Saturday: 9:00 AM - 1:00 PM
| | |
| --- | --- |
| Services offered | ★★★★☆ (4/5) |
| Track record | ★★★★★ (5/5) |
| Customer satisfaction | ★★★★☆ (4/5) |
| Years in business | ★★★★★ (5/5) |
| Portfolio | ★★★★★ (5/5) |
| Qualifications and experience | ★★★★★ ​​(5/5) |
| Staff and equipment | ★★★★★ (5/5) |
| Project management | ★★★★★ (5/5) |
| Communication | ★★★★★ (5/5) |
M.E. Contracting is now our favorite company when it comes to outdoor landscaping needs. They have a fantastic selection of materials and top-class workmanship that sets them apart in the industry.
The company specializes more in large-scale hardscaping jobs. With over 15 years of experience, they already made hundreds of Ontarians happy with their services.
Knowing their line of specialty though, they're not the ideal company for small-scale jobs. You may want to look into other contractors on our list if you only need a small rework.
On top of that, the minimum project amount they accept is a whopping $15,000. Although we actually think that it's reasonable considering how extensive their projects tend to be – it's just not for everyone.
Apart from these matters, everything else they offer wins our favor. From project management to a range of solutions and materials, all else is just outstanding.
One of the things we appreciate is their sprawling showroom featuring project materials. We love it because it gives clients a chance to explore and feel the materials they'll want to use in their projects.
Second, not only does this company offer complete landscape solutions, but they're also into eco-friendly options. As much as possible, they always integrate green spaces into their designs which we think are cute and also helpful.
The other thing we liked is how personable the project feels from initial inspection to completion. Well, after all, if you're paying tens of thousands of dollars, then that's what you should expect.
Finally, their portfolio of work is immaculate and honestly to die for. They've really done everything including patio designs, gazebos, pools, irrigation, and more.
Integrates eco-friendly options in designs
Option to see showroom to explore materials
Offers complete landscaping solutions
Over 15 years of experience
Free estimate 
Multi-awarded landscaping company
Does not accept small jobs
Minimum project size is $15,000
Customer Reviews
Great attention to detail
ME Contracting, thank you so much for doing such a wonderful job on the interlocking walkway! They promised us that the work would begin in 2 weeks and they kept up to their promise. The team that was out working was very nice and very detailed oriented. They made sure every single detail was taken care off. Thanks so much! – Nettie Schultz
Warm and welcoming company
So happy with my renovations. The contractors were amazing to deal with, my Project Manager was patient and really inspiring and the office staff was warm and welcoming. Great company from the beginning to end. Love, love, love my new look. Our whole family is. My next project is in the works! Very excited! = Brenda Geffen
5. GTA Landscaping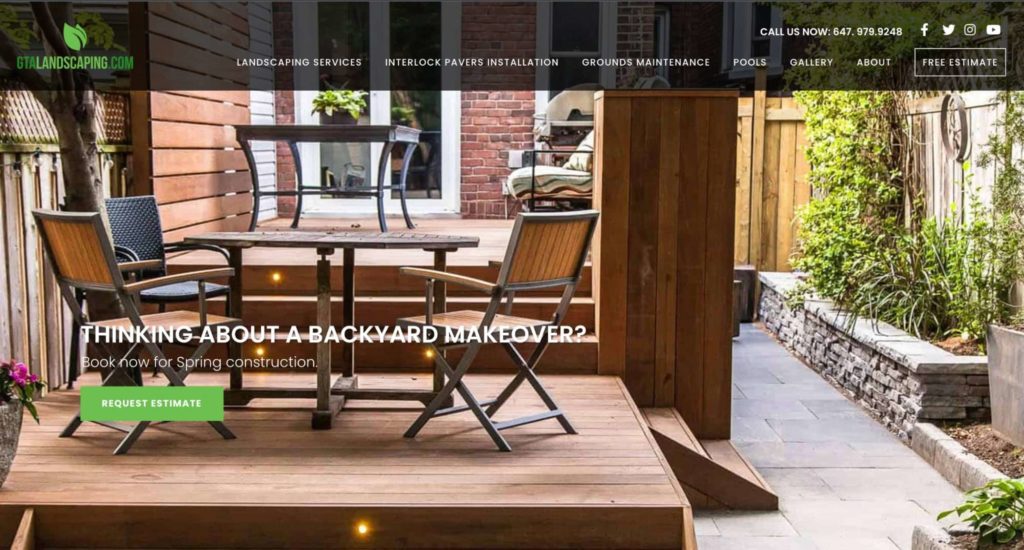 | Test | Info |
| --- | --- |
| SERVICES | Landscaping, interlock pavers installation, ground maintenance, pool |
| WEBSITE | https://gtalandscaping.com/ |
| ADDRESS | 162 Davenport Rd, Toronto, ON M5R 1J2 |
| CONTACT DETAILS | +1 647-979-9248 |
| OPERATING HOURS | Monday - Saturday: 8:00 AM - 9:00 PM |
| | |
| --- | --- |
| Services offered | ★★★★☆ (4/5) |
| Track record | ★★★★★ (5/5) |
| Customer satisfaction | ★★★★☆ (4/5) |
| Years in business | ★★★★★ (5/5) |
| Portfolio | ★★★★★ (5/5) |
| Qualifications and experience | ★★★★★ (5/5) |
| Staff and equipment | ★★★★☆ (4/5) |
| Project management | ★★★★☆ (4/5) |
| Communication | ★★★★☆ (4/5) |
GTA Landscaping is a wonderful choice if you want innovative landscape designs without the high cost. Let's walk through their best offerings so you can assess your options.
For starters, they specialize in driveway sealing and asphalt repair. We reckon that they're a great choice for this matter as they have 70 years of combined experience in the business.
We also liked that their landscape work is both luxurious and sustainable. Oftentimes one or the other is often compromised so we appreciate the balance.
Second, they are a full-service landscaping company so they can do everything from installations to repairs and maintenance. If you're looking for a one-stop shop that accepts both small and big jobs, they're a nice place to start.
Another thing worth highlighting is their 2-year limited warranty on labor. Not every company offers this so this factor definitely sets them apart.
When it comes to the design process, everything is as smooth as you can imagine. They also offer a free estimate and 3D designs so clients can visualize the outcome.
Their respectable portfolio shows a great mix of both residential and commercial projects. Looking through their gallery, we can say that they have a diverse clientele with varying needs and they delivered with satisfaction.
On the contrary, we can't raise the positive reaction up to 100% because they missed a mark on show projects. We found certain issues on low-quality work that cost clients extra to fix.
Compared to other companies, they're one of the only few ones with minor issues in delay. But if you compare these issues in the overall picture, they're basically small concerns that can be fixed with proper communication.
Full-service landscaping company
Specializes in driveway sealing and asphalt repair
70 years of combined experience 
Sustainable and luxurious design
2-year limited warranty on labor
Free estimate
Issues with poorly made installations
Minor concerns with project dela
Customer Reviews
Great dedication to the project
We have turned to Vlad and the guys at GTA twice in the past few years. We couldn't be happier with their professional and quality work. First, Vlad was vital to refining the design what we had envisioned to both our backyard patio and front driveway and porch. His crew worked extremely hard with great dedication. Just as important, they were pleasant and respectful. I have no hesitation recommending GTA. – Debbie Lightle-Quan
Clean and thorough job
Called GTA landscaping to give us a quote and happy we did. Alex and the crew cleaned the whole property like we never had it before. Their work is very clean and thorough. Everyone in the building is complementing the new gardens and everyone loves our new japanese maple tree. Thank you so much guys!! – Anna Mak
FAQs About Landscaping in Toronto
---
For all your home upgrades or maintenance needs, we have much helpful information out here for you. See a few others that may interest you: