The 9 Best General Contractors in Toronto
Are you planning on renovating your home but don't know where to start? In that case, you might want to consider hiring a general contractor to make your life easier!
Look no further because we made a rundown of the best general contractors in Toronto who can manage any type of residential or commercial renovation ourselves.
Before we start, though, we'll take a look at how much general contractors usually charge per construction project. That way, you're aware of how much money to shell out.
The Cost of General Contractors in Toronto
Regardless of the size of a renovation project, general contractors in Toronto usually charge 10% to 20% of the total cost of the renovation or remodelling as a rule of thumb.
Based on our research, the average cost of a complete home renovation in Toronto ranges from $40,000 to $60,000. If we're following this rate, expect to pay your general contractor no less than $12,000 per renovation project.
How much you're going to pay your contractor differs depending on multiple factors, including scope of the project, location of your house, materials needed, number of laborers, and required permits for the renovation.
As early as now, prepare yourself for the possibility that the remodelling of your home will be expensive, because more often than not, it usually is. There may be contractors out there with low rates, but there's no guarantee that their work will meet your standards.
Lastly, if you've found yourself a trustworthy general contractor,don't hesitate to negotiate to lower your overall expenses.
It's important for a homeowner to negotiate general contractor fees before signing any contractor. A reliable and experienced contractor should be able to find a way to reduce the overall cost of a renovation.
The Best General Contractors in Toronto
Renovating your home is a task that no one can do on their own, so it's best to hire a contractor who can manage everything for you.
Anyway, here are our picks for the best general contractors in Toronto worth checking out.
1. Mister Contractor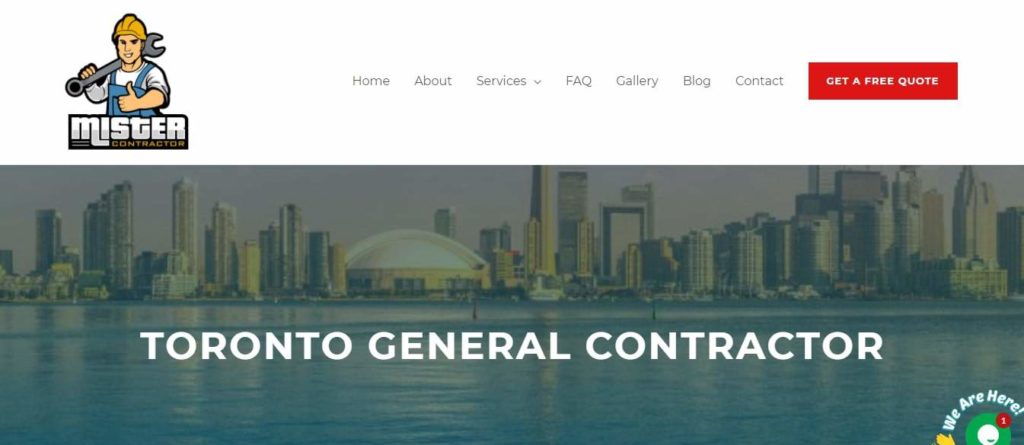 SERVICES
Home renovation, bathroom renovation, kitchen renovation, basement renovation, HVAC repair, customer home builder, roofing services, electrical repairs, landscaping, and home painting
WEBSITE
https://www.mistercontractor.ca/
ADDRESS
11 Brunel Ct Unit 4709, Toronto, ON M5V 3Y3, Canada
CONTACT DETAILS
647-251-8320


[email protected]

OPERATING HOURS
Monday to Saturday: 8:00 AM – 10:00 PM
Sunday: 10:00 AM – 8:00 PM
Mister Contractor is an all-around contractor that specialises in different types of home repairs and renovations, from room remodelling down to electrical services. It comes highly recommended if you want to renovate more than one room in your house.
In its more than 20 years of operation, Mister Contractor has handled both small and large renovation projects, so it's developed a strong understanding of what most homeowners want and prefer.
Another thing we like about it is its experience in working around different budgets. If you have a limited budget, no worries, as the assigned contractor will find a way to maximise it without failing your expectations.
With Mister Contractor, every process starts with a free in-house consultation with its trained and experienced general contractors. This is where the quotation, design, and timeline of the renovation will be discussed.
It's transparent and upfront when it comes to pricing, so expect no middleman fees or hidden charges. It sticks to the proposed timeline as well, which is a great thing if you're planning to put your property on sale as soon as possible.
Mister Contractor can accommodate emergency services any time of the day, even during midnight.
It's also a well-rounded renovation company, so you can depend on it beyond your renovation needs – it can deal with faulty plumbing systems and repair your broken HVAC, even.
20 years of experience
Transparent pricing
All-around renovation company
Open from Monday to Friday
Customer Reviews
Gabriel Macht shared this comment on Google Reviews:
"Great working with Mister Contractor team. They finished a basement for me in Ajax and the results were astonishing. The guys showed up on time and were top notch. Highly recommended and I would definitely call them again in the future."
Another customer named Brandon Happeney shared this feedback:
"Its CLEAR this contractor isn't like the others! The quality and attention to detail in his craft shows! Grade A Service with outstanding workmanship! These guys should be the first and only contractor you should call!
2. GTA General Contractors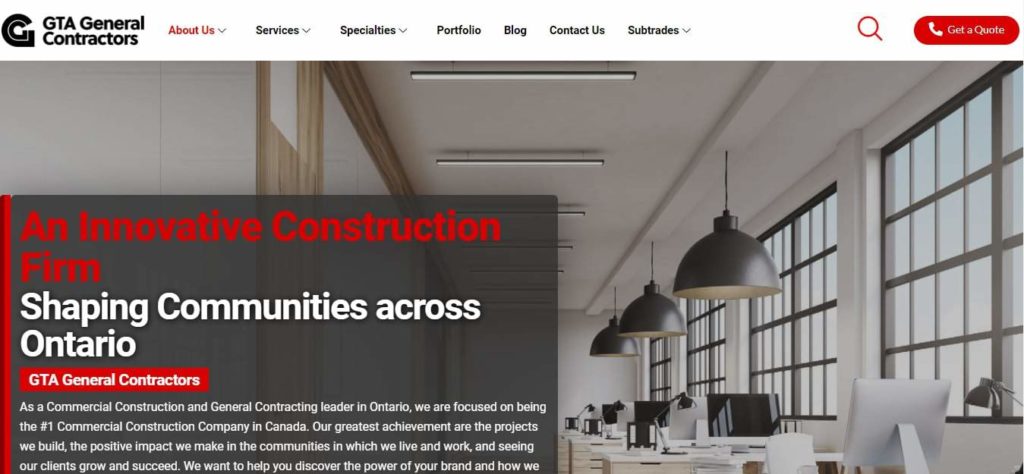 SERVICES
Commercial construction, design and build, branding and design, project management, millwork, and facility maintenance
WEBSITE
https://www.gtageneralcontractors.com/
ADDRESS
499 Edgeley Blvd Unit 10b, Concord, ON L4K 4H3, Canada
CONTACT DETAILS
647-341-1030


[email protected]

OPERATING HOURS
Monday to Saturday: 9:00 AM – 6:00 PM
GTA General Contractors stands as the perfect choice for those who are planning on expanding and remodelling their commercial or retail space. It's a renovation company trusted by business and building owners in the Greater Toronto Area.
As a full-service general contractor, GTA is composed of designers, tradesmen, engineers, architects, and project managers. That means there are multiple minds that go into every project proposal.
Its network doesn't end there, though. GTA is connected to qualified and professional subcontractors that lend them a hand in every project, so there will be a large group of experts working on renovating your precious space.
Additionally, its full renovation service has some of the most comprehensive packages we've seen, which include drawings, designs, consultations, materials, and proposals. If you only need a general consultation, though, that can be accommodated as well.
If most commercial contractors can only deal with office spaces, GTA is open to all of them, including dining spots, hotels, hospitals, dental clinics, and even educational spaces.
We have to mention that GTA boasts an impressive portfolio as well. Some of the big-name clients it's worked with are Fjallraven, Marriott Hotels, Boston Pizza, Alchemy Cannabis Co., and F45 Training.
Open to all types of commercial spaces
Large in-house team of construction and design experts
Impressive portfolio
Comprehensive renovation packages
Responsive customer service
Expensive renovation packages
Customer Reviews
Check out these comments to know what customers think about GTA General Contractors:
"We contacted GTA General Contractors to build our new medical clinic in Toronto. They did an excellent job! They were friendly, easy to work with, professional and did great work- all for a good price. They went to bat for us on more than one occasion. Thank you Babak, Abe and the rest of the team, for all of your help and support! We recommend GTA General Contractors without hesitation." -Mark DaCambra
"Abe and his team are professional and offer good workmanship. The company is fair and offers some of the best customer service available in the contracting space. You can trust GTA general contractors to complete your budget one time and within budget. Highly recommend the company to anyone out there looking to hire a contractor!" -Marietta Cini
3. Carter Fox Design Build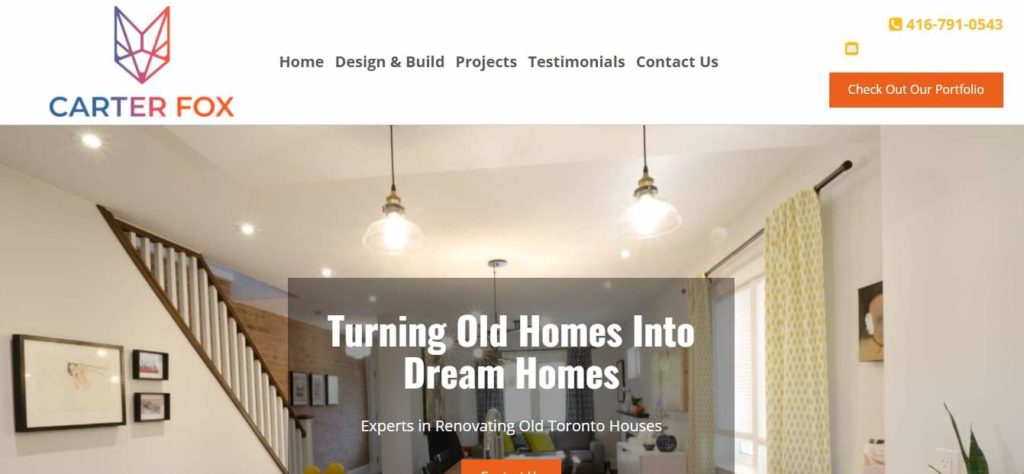 SERVICES
Renovations, remodelling, interior design, home additions, and plans and permits
WEBSITE
https://www.carter-fox.com/
ADDRESS
530 Queen St E, Toronto, ON M5A 1V2, Canada
CONTACT DETAILS
416-791-0543


[email protected]

OPERATING HOURS
Monday to Saturday: 9:00 AM – 7:00 PM
If you're after a general contractor that can do renovations for rental properties, Carter Fox Design Build could be the one you're looking for. It's a renovation company that focuses on home renovation and remodelling.
The thing we love most about Carter Fox is that it's open to all types of residential spaces. Whether it's a townhouse or a two-storey home, its folks can quickly draft a project proposal that meets both your preferences and Toronto's standards.
Carter Fox uses a system called "design and build" where everything related to the project will be taken care of by its team, starting from securing a permit down to finalizing the renovation. As a homeowner, you won't have to lift even a finger.
Another benefit of that system is the straightforward and honest pricing of every project, with no last-minute or hidden charges. The price on the quotation will be largely close to what will appear on your final bill.
It may not be one of the most in-demand general contractors in the area, but it's managed to earn the trust of several homeowners. In fact, it was even tagged as one of the best general contractors in Toronto by Houzz.
Responsive customer service
Smooth renovation process
Open to all types of residential properties
Widened service areas
Renovation packages can't be customised
Customer Reviews
Here's a comments shared by a former customer:
"We have a small Leslieville row house, with 1 bathroom and 2 growing kids. To say we were running out of room is putting it mildly, so it was time to make our unfinished basement part of our day to day living space. Carter Fox had already been highly recommended to us so we had them in for a quote, James came in with great ideas that fit within our style, timeline and budget. I love (LOVE) that we kept the beams open and sprayed white, it gives it a rustic/cottage feel…in your very own basement! Having that space and the additional bathroom has been incredible. We are in discussions for our next project, the front porch!" -Laurie Kerr-Jones
4. CSG Renovation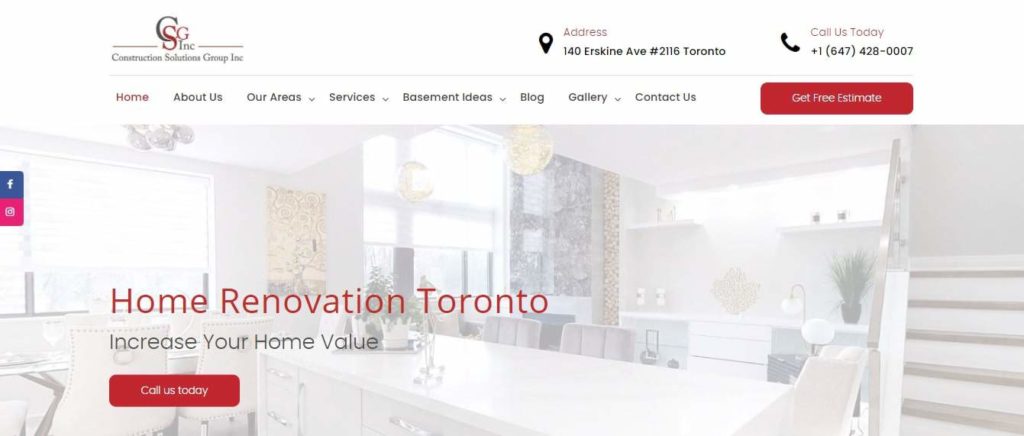 SERVICES
Bathroom renovation, kitchen renovation, basement renovation, condo renovation, popcorn ceiling removal, and commercial renovation
WEBSITE
https://csgrenovation.ca/
ADDRESS
140 Erskine Ave #2116, Toronto, ON M4P 1Z2, Canada
CONTACT DETAILS
647-428-0007


[email protected]

OPERATING HOURS
Monday to Friday: 9:00 AM – 8:00 PM
Saturday to Sunday: 9:00 AM – 4:00 PM
If you're looking for a contractor that can transform basements, CSG Renovation would be a great match for you. Here are the reasons we chose it as one of our picks:
CSG Renovation is a bonded and insured renovation company with licenses for plumbing, roofing, painting, and electrical works. It's fair to say that it can do more than just remodel your stagnant basement.
The most notable characteristic of CSG Renovation is that it can turn filthy basements into functional rooms. Whether it's a home theatre or home gym a customer wants, its specialists will know exactly what to do.
In case there are accidents during the renovation, no homeowner will have to worry about being legally liable for anything. All of its workers have insurance, which is something that all customers should look for in a renovation company.
It's common for contractors to offer fixed renovation packages, but with CSG Renovation, customers are allowed to include services they actually need. You won't have to pay for unnecessary services that do nothing for your home.
Aside from basement renovation, CSG Renovation can do bathroom and kitchen renovations as well. It does commercial renovations from time to time as well, but it's more popular for its residential renovations.
More than 10 years of experience
Open to non-Toronto residents
Insured and licensed workers
Free consultation
Custom renovation packages
Focuses on residential services
Customer Reviews
Take a look at these comments shared on Google Reviews:
"After seeing the quality of their work at a friend's home, where Zeev and his crew finished a basement, we decided to hire them for our basement renovation. We are extremely happy with the quality of their work. Everything Zeev promised he would do, he did. The job was completed on time, four weeks to the day, from start to finish. All of his tradespeople were respectful and courteous and very professional. Zeev is a problem solver and was able to help us incorporate an existing electric fireplace into our completed space. He worked with us in choosing finishing touches and his recommendations were informative and helpful. If you are looking for a contractor for your home renovation we would definitely recommend CSG Renovations. They offer quality, affordability and reliability." -David Torchia
"CSH Renovations has done an excellent job in one of my places. The quality of their work and level of the details is phenomenal! Very professional, punctual, responsible and very good at reasonable prices. Highly recommend it!!!" -Julia Cresiun
5. Astaneh Construction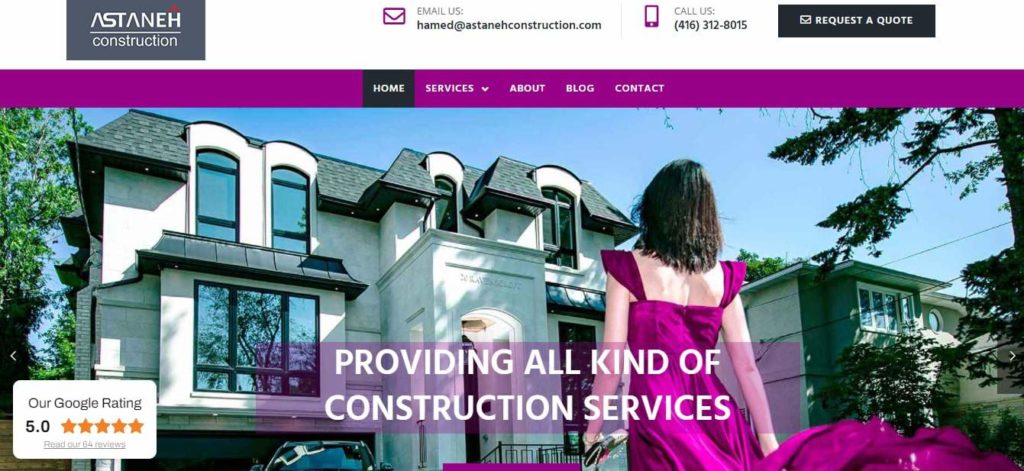 SERVICES
Home renovation, bathroom renovation, kitchen renovation, basement renovation, post-renovation cleaning, and project management
WEBSITE
https://astanehconstruction.com/
ADDRESS
3080 Yonge St Suite 6060, Toronto, ON M4N 3N1, Canada
CONTACT DETAILS
416-312-8015


[email protected]

OPERATING HOURS
Monday to Friday: 8:00 AM – 8:00 PM
Saturday: 10:00 AM – 4:00 PM
Astaneh Construction is a renovation company that services both residential and commercial spaces in Toronto, providing homeowners and business owners with dependable renovation services that don't hurt their pockets.
The renovation solutions offered by Astaneh are largely similar to what other general contractors do, but what makes them different is the reliance on latest technologies. If you want a high-tech faucet, its interior designers will find one for you!
Another thing we love about Astaneh is that there's no project too small or huge for its roster of designers, contractors, and project managers. Even projects as small as changing wallpapers are given as much time and attention as any other project.
If you hire its general contractors, expect that the entire project will go as smoothly as possible. You'll be able to relax while its staff secure a renovation permit, draft a proposal, source materials, and everything in between.
Once the renovation is over, no need to outsource the cleaning because Astaneh can do that for you as well. If most renovation companies don't care about cleaning up, consider this one different.
Lastly, Astaneh may be open to commercial spaces, but we can't deny that its residential renovations remain unbeatable. If you ask, we believe it's more popular for its bathroom and kitchen remodelings.
Open to residents and business owners
Reasonable pricing
Cleans up after the renovation
Excellent customer service
Handles multiple customers, so delays may happen
Customer Reviews
Astaneh Construction has an average rating of 5 out of 5 on Google Reviews. Here are two comments shared by two homeowners:
"I have been thinking about renovating my kitchen for a few months but did not think I could afford my dream kitchen. When I met Astaneh Construction, he was so helpful and offered me a price that I could not refuse. They worked very fast and clean and they did the project on time. I highly recommend them!" -Afshin Kherad
"Astaneh Construction did my kitchen renovation. I could not be more satisfied with the result! The service was done with high quality. The quality renovation Hamed and his team performed on my kitchen was exceptional. Team was respectful, enthusiastic, and extremely patient with all my questions. I would highly recommend Astaneh Construction for any renovations." -Afra Abbasfard
6. Men At Work Design Build Ltd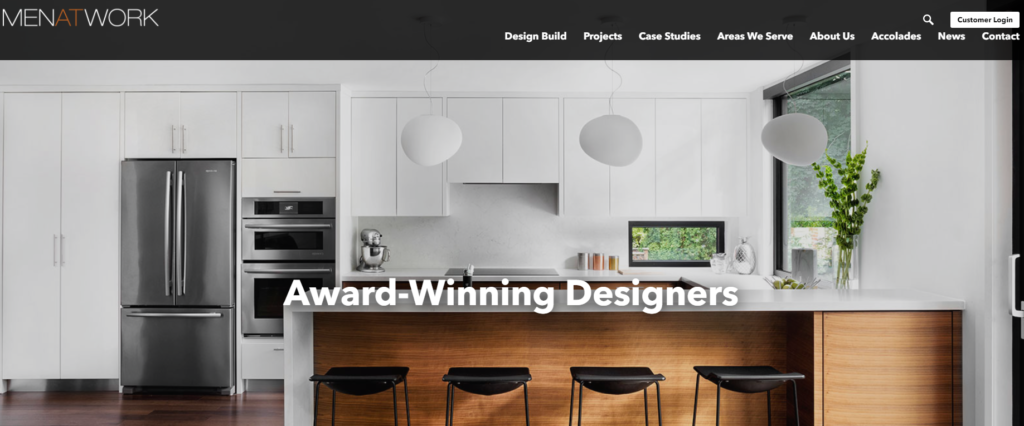 SERVICES
Kitchen and Ground Floor Renovations, Bathrooms and Second Story Design, Basement Renovations, Home Additions, Whole House Renovations,
WEBSITE
http://www.menatwork.ca/
ADDRESS
1174 Weston Rd
York Ontario
M6M 4P4
CONTACT DETAILS
416-763-0763
OPERATING HOURS
By appointment
Established in 1989, Men At Work is a general contracting firm whose main goal is to help solve home space problems for Toronto families.
In an effort to do so, Men At Work offers an array of home improvement services that cater to home addition and major home renovation requests. These services include kitchen renovations, bathroom renovations, basement renovations, whole house renovations, and home addition projects.
Now, the services that Men At Work has to offer are only some of the many reasons why we recommend this firm. Another reason is its team, which consists of building and design professionals who are experts in their respective fields.
These professionals have years of experience working as designers, project managers, carpenters, and technicians. Thanks to them, Men At Work can confidently and competently work on different builds, although the firm puts greater focus on working with old houses.
Following the team are the organised systems in place, which makes it easy for Men At Work as well as the clients to keep track of build projects. The cloud-based project management system is easily accessible online, no matter the time of day.
This system is where Men At Work updates project scheduling details, documents, drawings, files, photos, product information, and a detailed and organized To-Do list
Lastly, Men At Work is fully insured, which should give clients new and old some peace of mind. Not only that, but the firm also provides an exceptional four-year, no-nonsense warranty on everything they do.
With all of these in mind, it's not at all surprising that Men At Work is one of the best choices for residential builds, no matter the scale of the project.
Award-winning firm
Team of building and design experts
Fully insured
Offers warranty on all builds
Limited to residential properties
7. Henao General Contractor

Henao General Contractors is a family-owned and operated business that first began its operations in 2010. It was established with a simple goal in mind: To provide homeowners with some of the most genuine and authentic professional opinions on renovation projects.
Over the years, Henao General Contractors worked tirelessly towards this goal. While doing so, the company also began offering a wide array of services, including backyard makeovers, demolition and excavation, waterproofing, interlocking, hardscaping and retaining walls, landscaping and sodding, waste disposal services, fences, decks, and patios, and many more.
Henao General Contractors offering these services is quite commendable, as it gives clients the opportunity to choose a one-stop for their home renovation needs.
Another noteworthy thing about Henao General Contractors is its team, which consists of trained, highly skilled individuals who strive to bring clients' visions to life.
Henao General Contractors does not undermine or cut corners. Moreover, they work to get everything done in a proper and accurate manner, all while everything is effective and shows long-term results.
Wide range of construction services
Trained building professionals
Caters to commercial and residential clients
8. BRIKS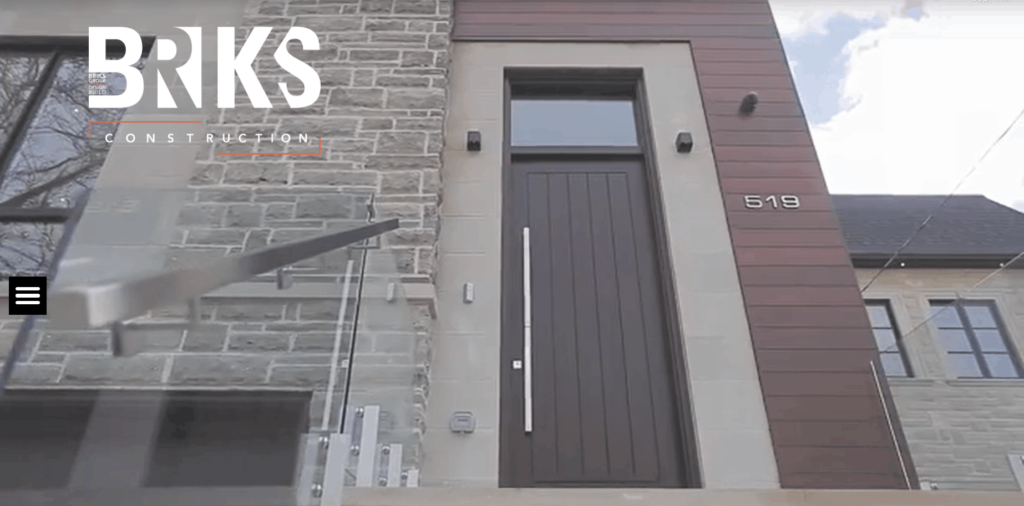 SERVICES
General Contracting & Drywall, Custom Renovations & Remodelling, Kitchen Designers and Kitchen Remodelling, Interior Design
WEBSITE
https://briks.ca
ADDRESS
5000 Yonge Street
Toronto ON
M2N 7E9 | CA
CONTACT DETAILS
(+1) 416.799.1000
(+1) 416.797.1000
[email protected]
OPERATING HOURS
By appointment
BRIKS is a general contracting company that offers a diverse set of construction and interior services to their clients. Their areas of expertise range from design and project management to remodelling, and everything in between.
Many praise them for consistently delivering quality projects on time, no matter the scale of the job. Moreover, their prices are set at competitive rates, giving clients more value for their money.
Their team is well-versed on all the ins and outs of construction from foundation to interior. To continue delivering their best, they strive to keep up with the latest news, techniques, and technologies available in the industry.
Given their quality services and reasonable rates, BRIKS is a general contractor you shouldn't fail to consider for your home project. They can turn any of your design ideas into reality without going over budget or taking too long to do so.
Wide range of services
Functional and stylish solutions
Within budget and on time
2.5/10 year warranty
Operating hours not listed on website
9. The Home Improvement People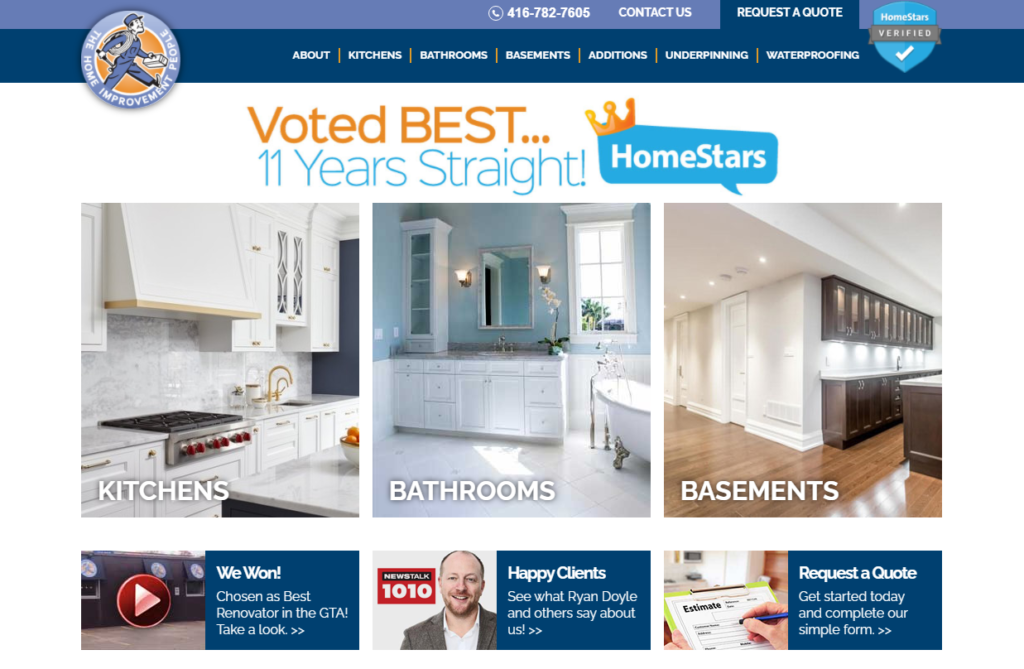 SERVICES
Renovations for Kitchens, Bathrooms, and Basements, Home Additions, Underpinning, Waterproofing
WEBSITE
http://homeimprovementpeople.com
ADDRESS
1120 Castlefield Avenue, Toronto ON, M6B 1E9
CONTACT DETAILS
[email protected]
(416) 782-7605
OPERATING HOURS
By appointment
The next entry on our list is an award-winning firm that has worked on thousands of renovations since the time it was first established.
The Home Improvement People, as its name may suggest, is a renovation firm that specialises in home improvement projects. Regardless of the part of the home that needs improvement, be it the living room, kitchen, dining room, or bathroom, The Home Improvement People will do their absolute best to get the job done.
Aside from that, The Home Improvement People is capable of taking on every step of the renovation process, including the creation of plans and acquisition of necessary documents and permits.
All of these are made possible by The Home Improvement People team, which consists of highly skilled, trained individuals with years of experience in the renovation field. Their skills and expertise allow them to confidently and competently work on any renovation project regardless of scale or budget.
Accommodates requests for various parts of the house
Award-winning renovation firm
Team consists of building and design professionals
Works on every part of the building process
Does not cater to commercial projects
FAQs about General Contractors
---
And that's the conclusion of our picks for the best general contractors in Toronto. If you're familiar with any of these contractors, share with us what you know about them!
If you know of general contractors that should've made the cut to our list, tell us their names so we can check if they're worthy of being included here.
At any rate, if you're looking for interior designers as well, we recommend checking out our list for the best interior designers in Toronto. Any of these talented designers can turn your dream interiors into reality!