The 12 Best Interior Designers in Toronto
Thinking about improving the overall aesthetics of your home? Well, you need to hire the best interior designers in Toronto to take care of that.
As there are hundreds of interior designers in GTA alone, finding the right one who can cater your preferences is easier said than done. That's why we've put together a list of interior design companies trusted by locals.
Before we reveal their names, we'll go over the cost of hiring interior designers in the area to help you know if you have the right budget for the look that you're after.
How Much Do Interior Designers Cost in Toronto
There are three types of fees commonly used by interior designers in Toronto: hourly fees, flat rate fees, and percentage fees.
The majority of interior designers in the area charge their clients on an hourly basis. This means that the more complicated an interior design project is, the longer it'll take to finish everything, resulting in higher fees.
On average, most interior designers charge an hourly rate that ranges from $150 to $500. There are younger interior designers out there looking to expand their portfolios, so their rates are likely lower than these – you may want to take advantage of that.
A lot of interior designers who work on an hourly basis will ask a retainer to begin the work on your project. It can cost anywhere from $2,000-$11,000, depending on the scope of the project.
If you believe that your design project is only a minor one, then you'd largely benefit from hourly rates. It's definitely a cost-effective way to work with an interior designer with the added pressure of ridiculously high fees.
On the other hand, some interior designers charge their clients flat-rate fees ranging from $2,000 to $20,000, depending on their experience and the scope of the project. Keep in mind that the cost of furniture isn't included here.
The great thing about this fee structure is that you have a complete understanding of how much the entire project is going to cost at the very beginning of the process. Its a transparent fee structure, and there's no conflict of ethics in billing.
If you go with an interior designer who charges a flat-rate fee, you need to pay close attention to their proposal. This is where a designer details the extent of the project and provides an accurate quote to the client.
Regardless of the amount of time spent building the proposal, the actual hours would be all included in the package fee.
Lastly, there are a few interior designers out there that charge a percentage rate for the total cost of a project, typically about 10% to 25%. Other homeowners prefer this fee structure because there's no upfront fee involved.
The only challenge with this fee structure is that you need to closely collaborate with your interior designers when it comes to picking furniture and other items that go into your home. You don't want your designer constantly picking expensive items, right?
The Best Interior Designers in Toronto
Now that you have an idea of how much an interior design project costs, let's now move on to where you can find the best interior designers in Toronto.
Let's start with one of the top-rated interior design firms in the area.
1. Toronto Interior Design Group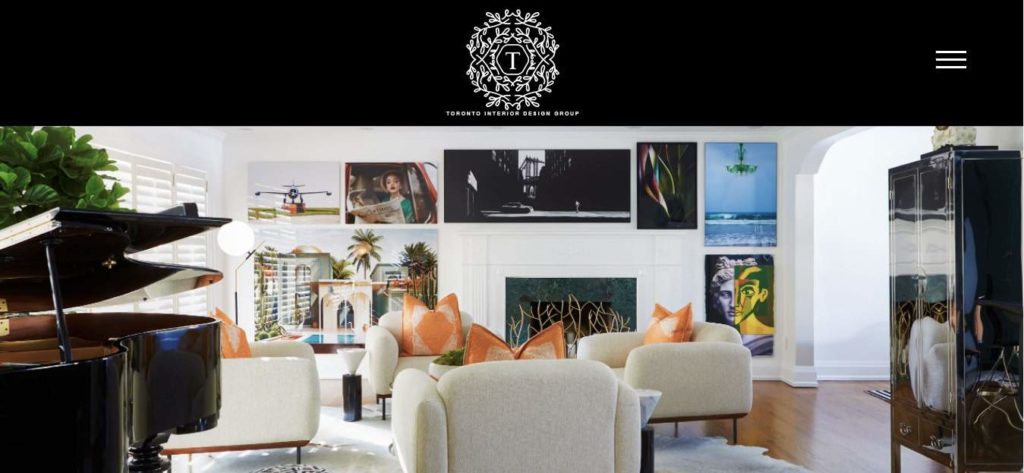 SERVICES
Interior design, architecture, additions, renovations, electrical RCP plans, elevation drawings, section drawings, cabinetry, millwork design, and complete project management
WEBSITE
https://tidg.ca/
ADDRESS
134 Park Lawn Rd #104, Toronto, ON M8Y 3H8, Canada
CONTACT DETAILS
416-927-8744


[email protected]

OPERATING HOURS
Monday to Friday: 9:00 AM – 5:00 PM
If you're after a full-range interior design firm, then we recommend checking out Toronto Interior Design Group. It has a near-perfect rating of 4.9 out 5 on Google Reviews, which says a lot about the quality of its services.
Toronto Interior Design Group provides all types of interior design and renovation solutions that local homeowners usually need, including floor plans, carpentry work, and even window treatments.
A notable characteristic of this firm is that it's capable of accommodating a wide range of designs, such as traditional, contemporary, mid-century, eclectic, and more. Its designers can basically manage homes of all sizes and aesthetics.
That doesn't come as a surprise given that it's headed by Yanic Simard, one of the most prominent interior designers in the country. However, this doesn't mean that its rates are ridiculously high.
Despite being one of the most in-demand interior design firms in Toronto, its rates remain competitive, which can't be said for other design firms out there.
With a large team of designers, traders, and suppliers, Toronto Interior Design Group is a perfect choice regardless of how grand or minimalist you want your home to be.
Competitive rates
Made up of designers, traders, and suppliers
Can accommodate any type of aesthetic
No operations on weekends
Customer Reviews
Here's what some of their clients have to say:
"Working with Toronto Interior Design Group is an absolute pleasure. Their group is structured, organized and pleasant to deal with from beginning to end. The attention to detail they provide is second to none, never leaving any stones unturned when it comes to design aesthetic/function and execution. If you're looking to be in the best hands, I highly recommend you indulge in their services for your home design and construction needs."
-Abe Hudy
"Working with Toronto Interior Design Group is an absolute dream. They make everything so uncomplicated and enjoyable from start to finish with their streamlined process and professionalism. I don't know how I would have executed my project without them."
-Lyssa D'Ambrosio
2. Jane Lockhart Design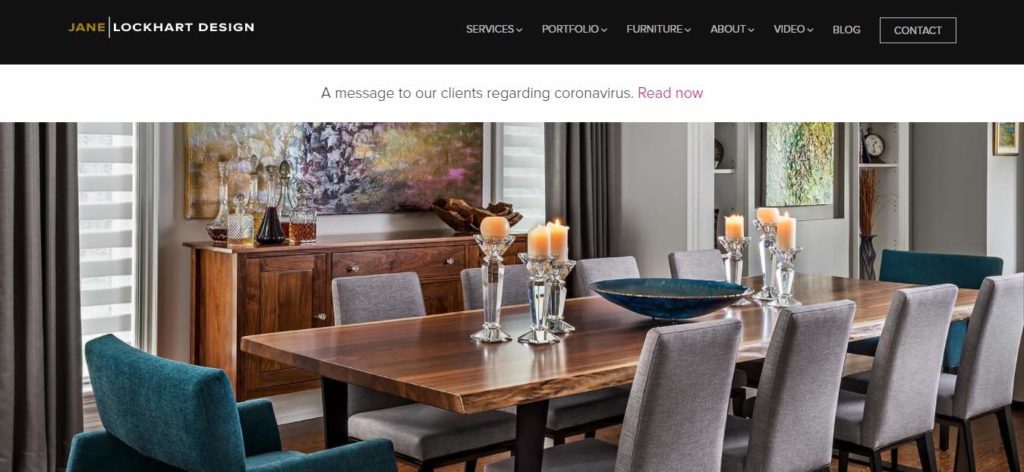 | | |
| --- | --- |
| SERVICES | Residential design, commercial design, model homes, presentation centres, product consulting, and 3D interior design |
| WEBSITE | https://www.janelockhart.com/ |
| ADDRESS | 6900 Airport Rd Suite 200, Mississauga, ON L4V 1E8, Canada |
| CONTACT DETAILS | 416-762-2493 |
| OPERATING HOURS | Monday to Friday: 9:00 AM – 5:00 PM |
You've probably heard of Jane Lockhart Design as it's one of the most in-demand interior design firms in the area, catering to both residential and commercial spaces. Here's why it made the cut.
It's headed by its namesake Jane Lockhart, an award-winning interior designer with more than two decades of experience under her name. She's known as the country's most prominent expert in design and colour.
There's more to this design firm than its principal interior designer, though. Jane is supported by a team made up of senior designers, stylists, interior decorators, and media coordinators, most of whom have been with her since the beginning,
We can't deny that an interior design project is a stressful undertaking. However, its customers will have nothing to worry about as everything will be taken care of by its in-house team, from coordinating with suppliers to transporting furniture into your home.
Another reason it earned a spot on our list is its expertise in commercial interior design and branding. This is something that business owners should consider if they want to give their company an identity through the aesthetics of their space.
25 years of experience
Huge team of design experts
Open to commercial clients
Large clientele, so its hotline may be busy on most days
Customer Reviews
Take a look at these comments shared on Google Reviews:
"Jane and her team are extremely talented and it is always a pleasure to work with them. We've purchased 3 pieces of furniture designed by Jane that not only look great, they are very comfortable to sit in. My favourite chair is the Bernie which sits proudly in my home theatre!"
-Jay Kerr
"Jane and her team were great. They really took the time to understand my style and helped me express myself in my home. The team's attention to detail was phenomenal. They did an amazing job blending my old and new furniture and decor. I'd definitely recommend them.a"
-Ainsley Moore
3. Stylishome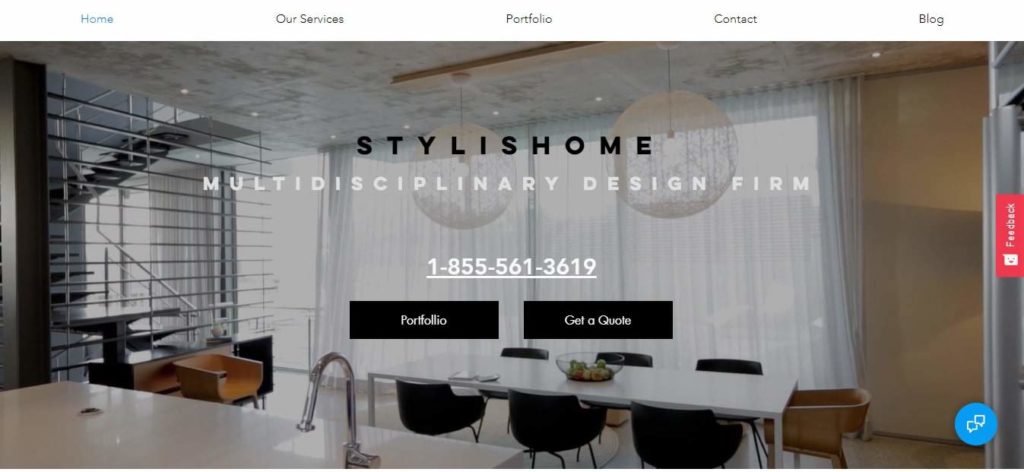 SERVICES
Home styling, renovations, real estate staging, custom home design, and vacation rental design and setup
WEBSITE
https://www.stylishome.ca/
ADDRESS
9 Bogert Ave #2506, Toronto, ON M2N 0H3, Canada
CONTACT DETAILS
855-561-3619


[email protected]

OPERATING HOURS
Monday to Friday: 8:00 AM – 8:00 PM
When it comes to design portfolios, we have yet to find an interior design firm that can beat Stylishome. Its portfolio includes houses of all moods and colours, such as monochromatic, romantic, contemporary, modern urban, coastal, and even European-chic.
Stylishome is a lot younger than most of our picks, though, having been around for less than five years. Despite its young age, it's earned the trust of more than 200 homeowners and business owners in Toronto and other surrounding areas.
On top of that, it's been selected as one of the top interior design firms in Toronto by the Consumer Choice Award for three years in a row.
We're quite impressed by the scope of its interior design services as well, which go beyond the essential inclusions.
Stylishome is quite generous when it comes to discounts and promos as well. Regardless of the size of the project, all customers will gain access wholesale volume discounts and designer and supplier rates.
One thing we like about it is that it's aware of the high cost of design and renovation projects, so it tries to tailor every project to the budget of its customers – without compromising the quality of its services.
Discounts and promise
Competitive rates
Longer business hours
Reliable customer service
No operations on weekends
Customer Reviews
Stylishome has earned a perfect rating on Google Reviews, making it one of the top-rated interior design firms in Toronto. Here are some comments:
"After years of hating my living room and months of looking for an interior designer, I decided to give Stylishome a try. Wow! In less than 8 days I had the most beautifully, interesting and unique living room design that was a perfect expression of my style, my home and my family. This was a huge timesaver vs if I had to meet with someone in person. I can't wait to start on other rooms"
-Snir Mishan
"Had a wonderful experience working with Stylishome. Handed over an empty 600sqft unit and they did a wonderful job designing and furnishing the unit within 10 days. From ordering to coordinating with the rest of the team, it was a hands-off operation for my part. Excellent communication all around. Definitely looking forward to working with them again in the future. Highly recommended."
-Jason Wong
4. Laura Stein Interiors
SERVICES
Interior design, renovations, design planning, design concept, sourcing, and selection, and project management
WEBSITE
https://laurasteininteriors.com/
ADDRESS
623A Mt Pleasant Rd 2nd floor, Toronto, ON M4S 2M9, Canada
CONTACT DETAILS
416-659-2504


[email protected]

OPERATING HOURS
Monday to Friday: 9:30 AM – 5:30 PM
If you want an interior design firm with a positive track record and multiple accolades, then you won't be disappointed with Laura Stein Interiors. It landed on our list based on two main reasons.
First off, like most interior design firms in the area, it's headed by its namesake. Laura Stein is a prominent interior designer with experience here in Canada and abroad, and has been featured in publications in the UK and China.
Second, it focuses on high-end, expensive bespoke home furnishings and decor, making it the perfect option for homeowners who want to turn their homes into spaces of luxury and sophistication.
That said, obviously, we can't really recommend Laura Stein Interiors if you're on a tight budget because its team may not be able to work around your budget restrictions.
Laura Stein Interiors's design services come with project management to ensure that all corners of your house and aspects of design are taken care of, so homeowners will literally have nothing to worry about.
There aren't a lot of interior design firms in the area that cater mainly to customers who mainly want bespoke furnishing, so we're more than happy to include Laura Stein Interiors in our list.
Focuses on bespoke and luxury furnishings
No hidden fees
With international recognition
Excellent customer service
Higher than average rates
5. LUX Design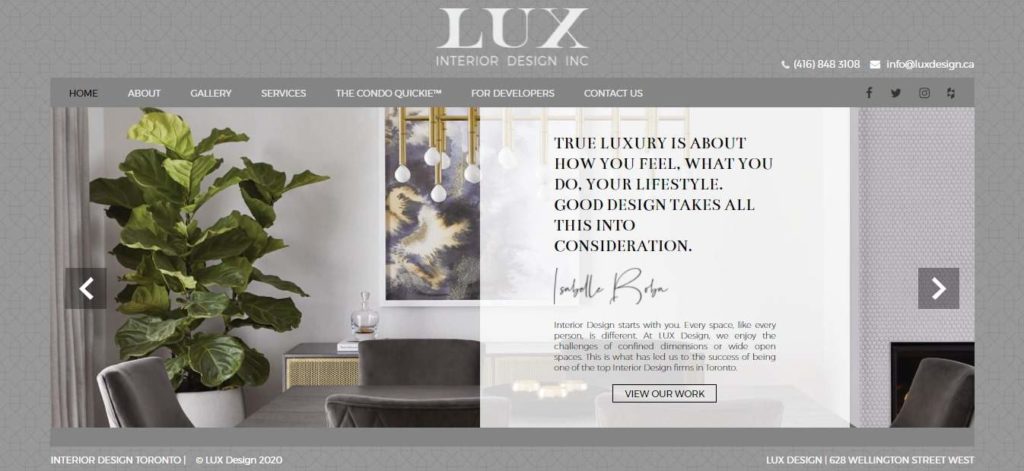 SERVICES
Residential design, commercial design, condo renovations, and bathroom renovations
WEBSITE
https://www.luxdesign.ca/
ADDRESS
628 Wellington St W, Toronto, ON M5V 1G4, Canada
CONTACT DETAILS
416-848-3108


[email protected]

OPERATING HOURS
Monday to Friday: 9:00 AM – 5:00 PM
If you're getting bored by how your bathroom looks, then it's probably time to hire an interior designer like LUX Design.
LUX Design is a full-service interior design and renovation firm that works with residential and commercial spaces. It's among the few firms in the area with a separate design and renovation solution for bathrooms too.
Its bathroom services include optimal floor plan, customised in-studio design presentation, sourcing of tiles, fixtures, and other accessories, and floor and wall hacking. These are all essentials to take note of when having your bathroom completely renovated.
All customers of LUX Design are entitled to a one-hour consultation with its leading designers. This is a bit short considering that consultation is a crucial early stage in any renovation or design project, so we wish that it could be longer.
However, some customers tend to look past that as there will be more chances to consult and edit the proposals during the course of the project.
Unlike some other interior designers in Toronto, LUX Design doesn't hide its fee structure on its websites. It charges customers on an hourly fee basis, which will depend on the interior designer that you're going to hire.
Since it charges on an hourly basis, it may be a more cost-efficient option for customers who only want minor home renovations.
Open to residential and commercial clients
Charges customers on an hourly basis
Ideal for minor design and renovation projects
Length of consultation session is too short
Customer Reviews
Here's what some of its clients had to say about their experience:
"Our designer, Erin English, and the team at LUX Design did an outstanding job with our downtown penthouse. Erin, saw the project through with her great taste and keen eye for detail; and brought in skilled, professional contractors and vendors to carry out our renovation. We're thrilled with the results. Kudos to Erin and the entire LUX team for their great work." -Ameet Nathwani
"LUX Design's services and Negar's taste were priceless as they moved from a large home to a Downtown Toronto condo. Negar helped me make excellent decisions and helped me create a space that was stylish, comfortable, and functional. Her commitment, dedication, and availability were unparalleled. It's rare that a home feels complete but working with LUX Design made that possible. I would highly recommend their services to anyone who appreciates fine taste and living but might be too busy to DIY." -Hala Hibri Amkie
6. Estee Design

Next on our list is a design firm that is highly regarded in its field, having won several awards since the time it first opened its doors to the public.
Estee Design specialises in design and project management. The company was first founded by one Svetlana Tryaskina, who has also won several awards during her time working in the field of design.
Currently, Svetlana and Estee Design are known for their comprehensive design and project management services, inviting clients to in-depth consultations where Estee Design can learn more about the specifications of the room alongside the vision of the client.
It's worth noting that Estee Design operates collaboratively, so clients can expect to be in the know every step of the way. Another thing worth mentioning is that Estee Design is also welcome to work with clients from outside the Toronto area, although the fees may change depending on the location.
All in all, Estee Design's extensive services alongside its flexibility make the firm an excellent choice for interior design needs.
Multi-award winning design firm
Works on various rooms and with different design aesthetics
Client-centric work and relationship
Transparent rates
7. Carriage Lane Design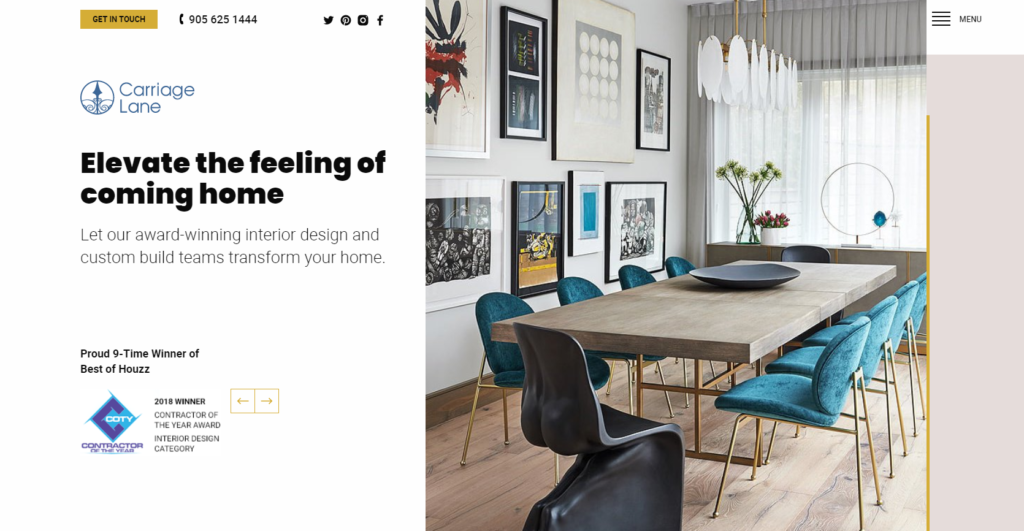 SERVICES
Interior Design
Space and Furniture Planning
Additions and Renovations
Architectural and Permit Drawings
Material Selections
Cabinetry Design and Drawings
Furniture selection + Custom Furniture
Design and Install
Drapery Design and Fabrication Styling
In House Design Consultations
Custom Build
Consultation for the Project and Evaluation of the Space
Custom Build and Design Quote
Architectural + Engineering Drawings
Permit Drawings + Submission
Construction Services
Custom Cabinetry and Installation
Project Management
Construction Timeline analysis
Payment Schedule
WEBSITE
https://www.carriagelanedesigns.com
ADDRESS
14 Leswyn Rd, Toronto, ON M6A 1K2, Canada
CONTACT DETAILS
Office:
905 625 1444
FAX:
905 624 9077
OPERATING HOURS
By appointment
Carriage Lane is an award-winning interior design company that offers residential designing and custom builds. They're known for revamping houses into amazing homes.
Their team of amazing designers creates bespoke styles that fuse the latest designs to their clients' wants and needs. They see potential in even the smallest of spaces and are able to innovate as well as provide functionality to each room of the house.
Another thing that makes Carriage Lane a great option is that they maximize materials and spaces to reduce waste. They have partners that provide them with eco-friendly resources at the best price.
Carriage Lane definitely brings efficiency and style to the table. They are a company that is able to provide the best interior designing, among many other services they offer.
Accurate estimate pricings
Unique fusion of styles
Years of interior designing experience
No specific business hours posted
8. Amanda Aerin Design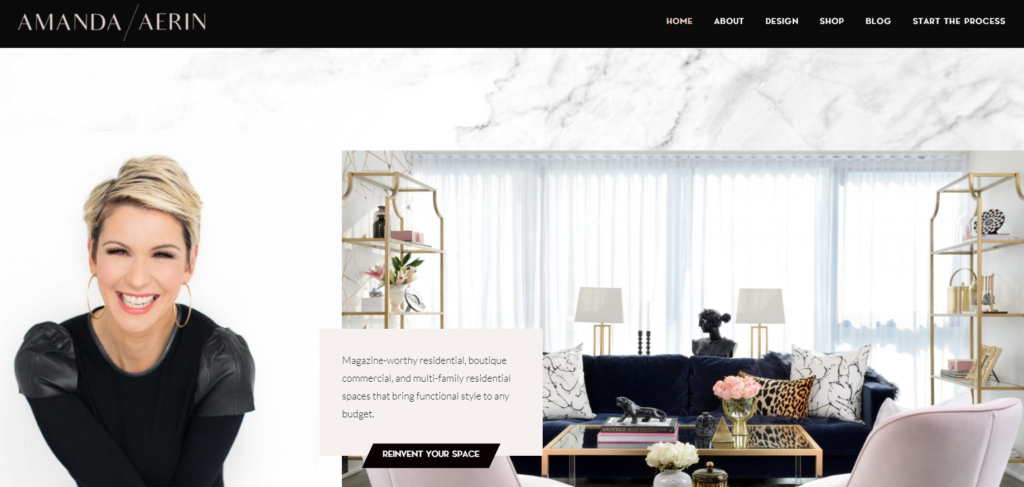 SERVICES
Interiors Firm + Lifestyle Brand | Artistic Spaces | Creative Content | Product Collaborations
WEBSITE
http://www.amanda-aerin.com/
ADDRESS
Toronto, Canada
CONTACT DETAILS
+1 416-629-3366
[email protected]
OPERATING HOURS
By appointment
Amanda Aerin is an edgy designer, TV personality, brand ambassador, media influencer and inspiration. She is a nationally recognized expert in home construction, project management, design and lifestyle trends. Named as one of the top 10 Toronto Designers.
Amanda's approachable, fun and informative broadcast segments are seen on multiple networks including The Marilyn Denis Show on CTV, heard on radio and shared on social media outlets. Her vast list of followers and clients value her flawless execution and technical know-how, sculpted from her diverse creative background and experiences.
Using a keen understanding of design and culture, Aerin creates spaces based on her clients' passions and inspirations. Her designs evoke a distinguished lifestyle, offering homeowners' a unique opportunity to turn their homes into an eclectic, creative oasis that truly represents their family.
Amanda has exhibited her work in leading industry events, including National Interior Design Shows, The International Builder Show Las Vegas, KBIS, The National Home Show.
Flexible design options
Works on commercial and residential designs
Unique and personable styles created
No operating hours posted
9. Sansa Interiors
SERVICES
Residential Interior Design
Restaurant Interior Design
Experiential Design
WEBSITE
https://www.sansainteriors.com/
ADDRESS
20 Tubman Avenue
Toronto, ON, M5A 0M8
Canada
CONTACT DETAILS
[email protected]
(647) 556 3137
OPERATING HOURS
Monday – Friday: 9am–6pm
Saturday – Sunday: 10am–4pm
Sansa Interiors is known for their expert knowledge in the industry and great eye for designs. They look into spaces as a whole picture to make sure everything is taken into consideration up to the finest details.
What sets them apart is that they're able to create unique designs fit for each client, one that would make what they imagine come to life, but with Sansa Interior's own touch to it.
Still, their team guarantees maximum functionality above the beauty and aesthetics of each room. Their architects and interior designers also consider the flow of the style for each room going to the next. which gives the home a unified look that would be worth paying for.
In conclusion, Sansa Interiors put out work that is timeless and unique. It's something worth looking into and investing in as it will really come a long way.
Holistic approach to client satisfaction
Beautiful designs
Patient and hardworking designer
Shorter business hours on weekends
10. Toronto Designers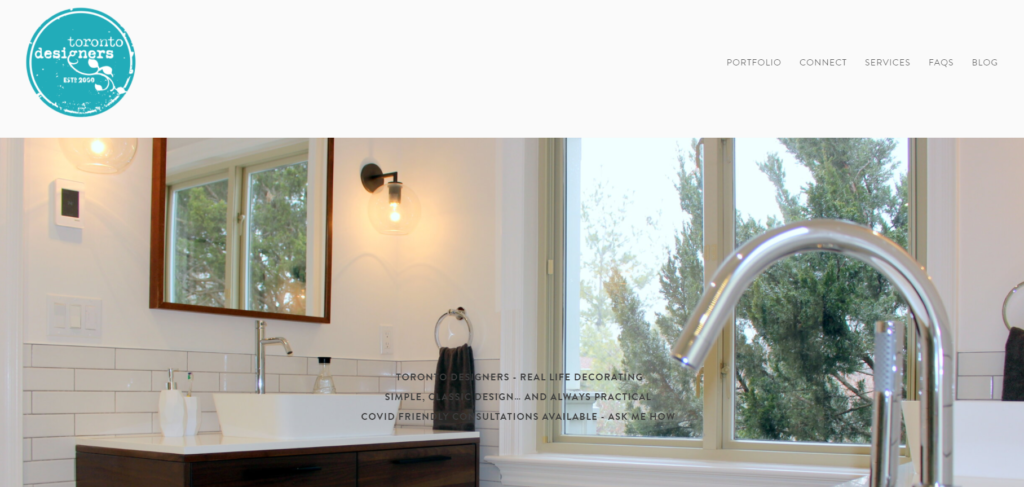 Toronto Designers is known for their simplicity and functionality. They make quintessential designs with a hint of personality, which is how each home is created unique to their own, but still have that touch of class..
To add to it, Susan Abramson, Toronto Designers' main designer, has been working in the industry for years and has racked up experience unlike any other. She has the edge of being able to learn all these new techniques and styles to utilize for her clients' spaces.
Not only that, but Susan is also known for her great energy and commitment to excellence. With her as the interior designer, fulfillment is readily delivered and satisfaction is guaranteed.
Their rates at Toronto Designers start at two hours per package, and within those hours, consultation and design making can already be done. In-home and virtual consultations are both available, so clients can choose what they're comfortable with.
Online estimates are available
Great value to professionalism and efficiency
Trained and skilled interior designers
11) RGS Design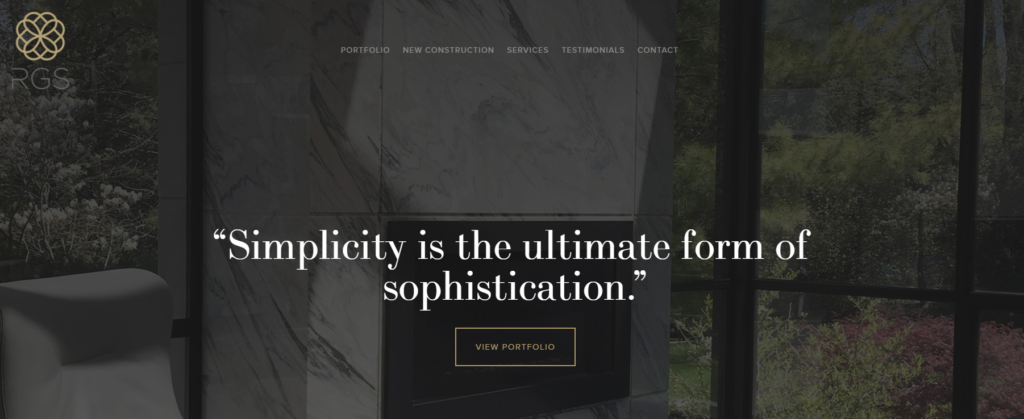 Next on our list is RGS Design, an interior design firm that endeavours to create design projects that are not only aesthetically pleasing but long-lasting as well.
RGS Design is headed by one Rhona Slomovic, who has over thirty years of experience in the field.
Rhona works with excellence and passion, which, when paired with her skills and expertise in interior spaces, structures and the latest in materials, have allowed her to work on countless projects from all over the world.
Now, in terms of the service itself, RGS Design specialises in high-end residential interior design, decorating, millwork and furniture design. Some of the styles that RGS Design has worked with in the past include modern, contemporary, corporate, and traditional.
RGS Design takes the time to learn about each client's vision before working tirelessly to bring every one of them to life.
This dedication to customer satisfaction has resulted in RGS Design winning the 2021 Best of Houzz Service Award, which recognizes the top-rated and top-contributing home pros around the world.
Award-winning design firm
Capable of working with any design style
Accurate estimates
30+ years of experience in design
Mainly works with residential spaces
12) Creative Interiors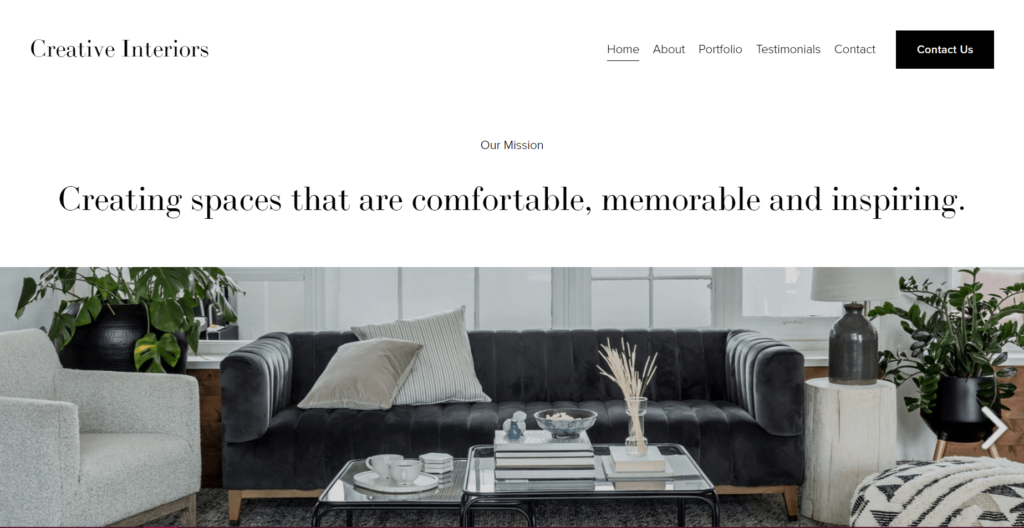 Creative Interiors provides spaces that make a striking and memorable impression on its viewers. They are capable of providing custom decorating services for residential and commercial clients.
Their team comprises individuals who are skilled in the industry, with certain specialisations of their own. Together, they work to meet their client's needs and preferences from the largest furniture to the smallest fixtures.
Project management, residential staging, and interior decorating are the services they have to offer. Their design is mostly inspired by Europe, France in Italy, which means their fabrics and colors will carry a certain European flair.
With over 30 years of experience, Creative Interiors know all there is to know when it comes to interior design, which ensures they continue delivering services that are more than satisfactory for their clients. True to their name, they continue to deliver unique designs that fall in line with what their clients want, no matter how simple of complex it may be.
Distinctive interior design
Seasoned trades professionals
Saves time and money
Prevents budget creep
No operating hours listed on site
How to Pick an Interior Designer in Toronto
Every interior designer has a unique set of skills and talents, but not all designers will be perfect fits for your tastes and preferences.
If you end up with the wrong interior designer, turning your design ideas into reality will be a lot harder, if not impossible. It's important to take your time when looking for one.
To help you out, here's a list of top four things that you should look for when hiring an interior designer in Toronto:
1. Overall aesthetics
In terms of interior design, almost every designer has their own personal style, but that shouldn't end there. It's important to go with a designer who's experienced in dealing with all types of look and aesthetic, regardless of their preferred style.
Whether you prefer modern interiors or minimalist furnishings, a great interior designer should be able to adjust to your preferences.
There's nothing wrong with an interior designer specialising in a particular design or style, but if they're not willing to adjust to your tastes, you're better off not hiring them.
2. Industry knowledge
Aside from a versatile sense of style, a good interior designer should have basic industry knowledge in terms of what materials will complement your preferred aesthetic and whether or not it's going to fit within your budget.
As there are certain fabrics that aren't suitable for warm or cold weather, your interior designer should know which ones shouldn't be used in your case. Also, there are certain types of lighting that aren't suitable for some seasons.
It's imperative that the interior designer you hire will know about these things and more.
3. Access to a variety high-quality products
Style and industry knowledge would be useless if an interior designer has no access to an extensive range of furnishings and household items, including window coverings, wallpapers, upholstery, and décor pieces.
A good interior designer should be able to know where to source all the materials you want included in your home and how to get them at the lowest price possible.
4. Solid references and feedback
If all else fails, you'll never ever go wrong with checking an interior designer's references and feedback. Some designers are open with their client testimonials, so don't hesitate to ask for those, or you could also check comments on Google Reviews and online forums.
Checking what customers think about them will help you gauge whether or not you'll have a pleasant experience working with an interior designer.
However, take some online reviews with a grain of salt, as angry and dissatisfied customers are more likely to leave reviews than those who were satisfied.
FAQs about Interior Designers
---
And with that, we conclude our list of the best interior designers in Toronto. We hope that you were able to pick at least one interior design firm that you'd like to hire.
By the way, if you know other interior designers worth hiring, share their names with us so we can check if they have what it takes to be added to our list.
If you have busted appliances at home, we suggest checking out our guide to the best appliance repair in Toronto. Our list features trusted repair shops in the area that can fix all sorts of home appliances.