THE BEST SANDWICH SHOPS IN TORONTO
From classic deli-style favourites to bold and daring creations, the best sandwich shops in Toronto consistently raise the bar of taste and creativity.
Whether you're a local looking to discover neighbourhood gems or a tourist eager to savour the city's culinary delights, these are the must-try sandwich shops that redefine the art of handheld feasts in the city.
How We Chose the Best Sandwich Shops in Toronto
How Much Does a Sandwich Cost in Toronto?
In Toronto, sandwiches typically cost between $4 to $6. Prices may differ based on the ingredients and the restaurant or deli you visit.
1. When The Pig Came Home Delicatessen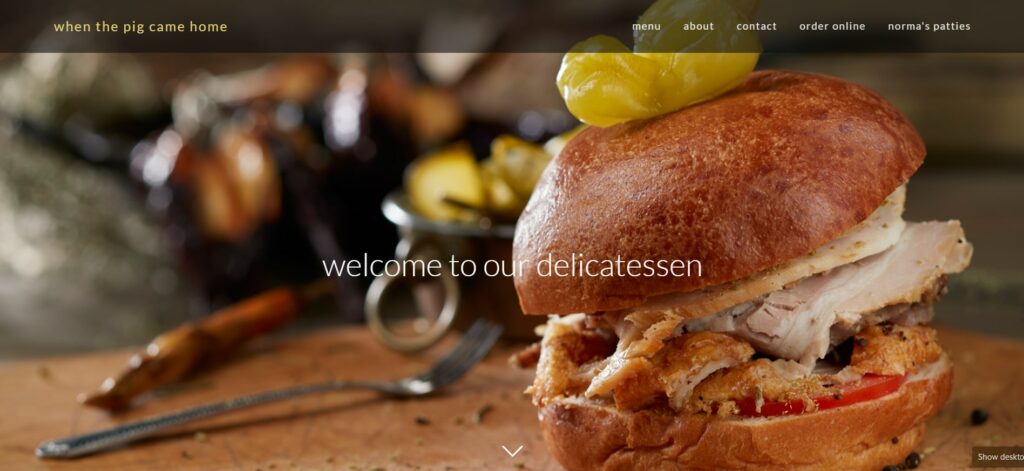 In 2012, Kimberly Hannam and Ryan Gatner built When the Pig Came Home with fellow food-loving friends and chefs. Using naturally raised, grass-fed meats and locally sourced ingredients, they offer a variety of sandwich meats that are prepared in-house daily, such as cured, seasoned, smoked, and roasted varieties.
The menu reflects the co-founders' diverse backgrounds: Kimberly's Caribbean heritage and Ryan's Polish and Ukrainian roots. From juicy smoked meat to jerk chicken and Jamaican beef patties, there's something to suit every palate.
Inspired by Ryan's memories of old-school Eastern European delis, the restaurant's design features classic elements like white subway tiles, painted tin ceilings, and salvaged brass rails.
Crowd favourites include smoked beef cheeks with classic yellow mustard on rye bread and a side pickle, and the steamie dog on a tender bun topped with coleslaw, green onions, and yellow mustard.
Affordable pricing
Locally sourced products
Homemade deli products and condiments
Generous portions
Attentive service
"Scratch cooking. Best Jamaican Pattie's in town and jerk chicken sandwich was delicious but a bit too creamy. My friend thought it was perfect so personal preference. Attentive service."
Touring Giant, Google Review
The friendliest owners
"My favourite sandwich place in all of Toronto! Delicious, melt in your mouth meat and the friendliest owners! This is what a neighbourhood eatery should feel like. I've loved everything I've had here over the years and I'm always bringing out of towners here. My fave sandwich is the Shrek — you gotta try it!"
Jill Roias, Google Review
2. Black Camel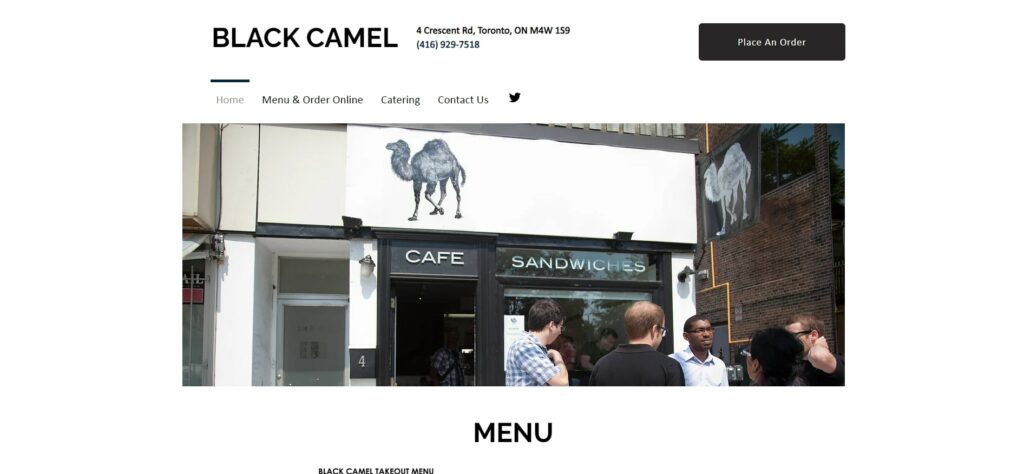 Test
Info
WEBSITE
https://www.blackcamel.ca/
ADDRESS
4 Crescent Rd, Toronto, ON M4W 1S9
SOCIAL MEDIA
FACEBOOK
CONTACT DETAILS
PHONE: (416) 929-7518
OPERATING HOURS
Monday - Friday: 7:00 am - 8:00 pm

Saturday - Sunday: 11:00 am - 8:00 pm
The Black Camel, situated just a few steps away from the Rosedale subway station, offers an intimate dining experience with ten indoor seats.
The star attraction is their breakfast sandwiches, which features scrambled eggs made using steam from an espresso machine – yep, you read that right! These are then matched with a Portuguese bun and topped with chipotle mayo. Additionally, you can select from various types of meat, such as pancetta, cured salmon, or steak.
Another one of their signature dishes is the slow-roasted beef brisket sandwich. The beef is marinated in a custom dry rub for three days, slow-cooked for 14 hours overnight, and then allowed to rest for 24 hours.
Customers can personalise their sandwiches with various base options, along with in-house prepared sauces and toppings.
The shop offers a punch-card loyalty program, rewarding customers with a free sandwich when they purchase a dozen.
Customised sandwiches
Rewards for loyal customers
Vegetarian options
Fast serving time
No reservations
No wi-fi
Pets not allowed indoors
Really excellent sandwiches
"Really excellent sandwiches. Cannot wait to try the beef brisket sandwich again but with toppings next time. The meat is tender and moist, and bun soaks up the delicious barbecue sauce. The camel BLT is a wonderful combination of classic flavours. It's loaded with toppings but at its core, it's still a great pesto chicken sandwich. The shop is tiny, only two 2-seater tables and a standing room counter. But the diners seem to eat as quickly as the sandwiches are prepared. Update: 2nd visit was just as good. Pulled pork with caramelized onions and roast sweet peppers was delicious!"
Theresa, Google Review
Faster than a drive-through
"The brisket sandwich was simple yet delicious. The bun are soft and chewy. Was curious to know what kind of buns they were. The kitchen had my meal out faster than a drive-through."
Shakil Mirza, Google Review
3. California Sandwiches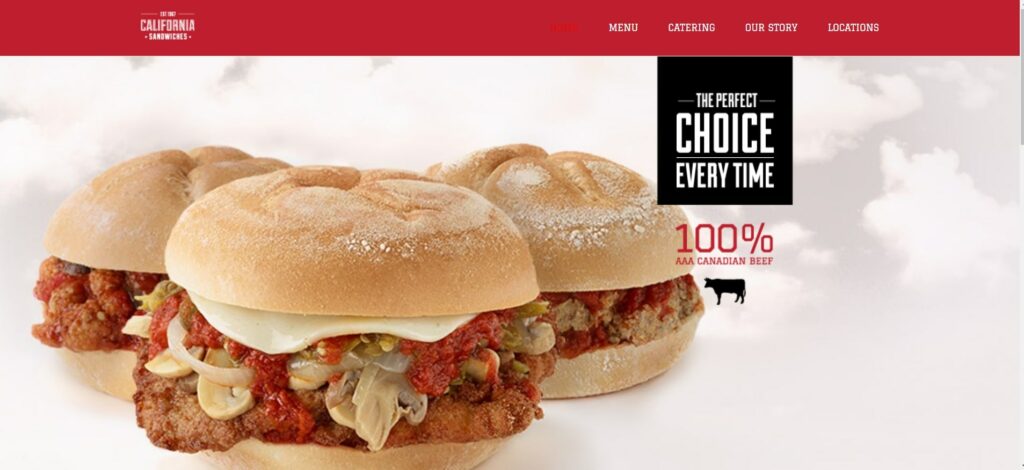 | Test | Info |
| --- | --- |
| WEBSITE | https://eatcalifornia.ca/ |
| ADDRESS | 244 Claremont St, Toronto, ON M6J 2N2 |
| SOCIAL MEDIA | INSTAGRAM |
| CONTACT DETAILS | PHONE: (416) 603-3317 |
| OPERATING HOURS | Monday - Saturday: 10:00 am - 8:00 pm |
The legacy of California Sandwiches, a beloved Toronto institution since 1967, is deeply rooted in the Bertucci family tradition and heritage. Originally a grocery store, it became a restaurant when its homemade sandwiches became popular. During the grocery store's conversion, the Bertucci girls went on vacation and returned with a deep tan, so patrons started calling them the "California Girls."
Now with 14 family-owned locations across Ontario and Montreal, they remain true to their traditional food preparation methods. Their sauce is freshly made daily from the finest Italian tomatoes, and Kaiser buns are delivered fresh each morning.
Their bestseller is the veal sandwich, crispy and generously coated with house-made tomato sauce. A large pot of this sauce simmers on the stove all day, with portions being transferred to a slow cooker until they're spooned onto your sandwich. They also have steak, sausage, meatballs, chicken, and fried eggplant sandwiches.
Generous portions
Multiple locations
Can accommodate large groups
ATM onsite
Clean and bright ambiance
Cash transactions only
Occasional lineups
Hands down the best veal sandwich
"Went to California Sandwiches for the first time today. This was hands down the best veal sandwich I've had. When I noticed their eggplant sandwich on the menu I had to try it as well. OMG it was AMAZING!!! It is my new favourite. I will definitely be making a stop here again next time I'm in Toronto."
Maria Tex, Google Review
A fixture in Toronto
"The OG of veal sandwiches. This place is a fixture in Toronto. It is legendary. I hope the Bertucci's keep it going until the bitter end. I love my extra hot veal and sometimes I splurge and add cheese. I've been eating here for almost thirty years. It is just one of those things, if you never tried it, then you don't know what you are missing."
Shawn Hayden, Google Review
4. Stuff'D Grilled Cheese & Tots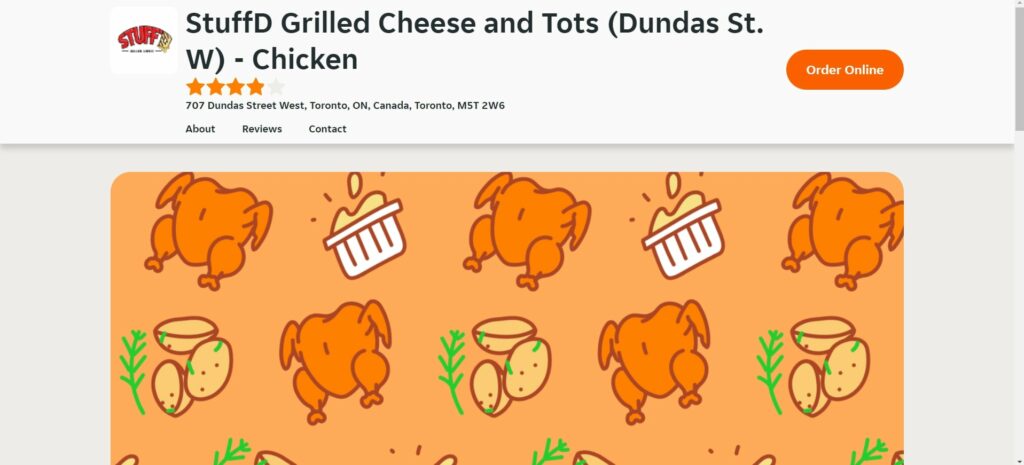 | Test | Info |
| --- | --- |
| WEBSITE | https://stuffdgrilledcheese.com/ |
| ADDRESS | 707 Dundas St W Unit 1A, Toronto, ON M5T 2W6 |
| SOCIAL MEDIA | INSTAGRAM |
| CONTACT DETAILS | PHONE: (416) 302-6222 |
| OPERATING HOURS | Tuesday - Sunday: 5:00 pm - 12:00 am |
Stuff'D, founded in 2017 by Chef Jey, offers soulful grilled cheese sandwiches with unique twists. Backed by 10 years of kitchen experience, Jey operates from a small shipping container at Dundas and Bathurst.
The winner of Toronto's Best Gourmet Grilled Cheese 2018, Stuff'D offers inventive combos like mozzarella-cheddar with jerk chicken and crispy mushroom sauce, served with fried pickles and tots.
One standout option is the Bombay Bad Boy grilled cheese, which also comes with delectable butter chicken sauce. For those who enjoy a little heat, the Jamrock grilled cheese features pulled jerk chicken, adding a burst of Caribbean flavours to the classic sandwich.
Their Double Cheese Burger Tots, a combo of cheeseburgers and tots, are also popular among repeat customers. For those looking for new flavours, they have a blueberry-infused grilled cheese, which is a sweet and savoury combo.
No alcohol policy
All-halal meat
Quick serving time 
This one is defintely the best
"Other vendors here open from lunch to early evening, but this one from 3pm to midnight. The grilled cheese takes about 10 minutes to prepare. The classic was really stuffed and stuffing. Melted cheese tasted great and heat was just right. Compared to my previous experiences with other grilled cheese stores, this one is defintely the best."
Mengyuan Chen, Google Review
Portions are generous and filling
"The best grilled cheese in the city, absolutely hooked on the Jamrock. The grilled cheese and jerk chicken together is amazing. The owner is good people and cares about his food everything is fresh and proper, portions are generous and filling. One of my favorite late night places usually open to 2:30am."
Joel Newman, Google Review.
5. Banh Mi Boys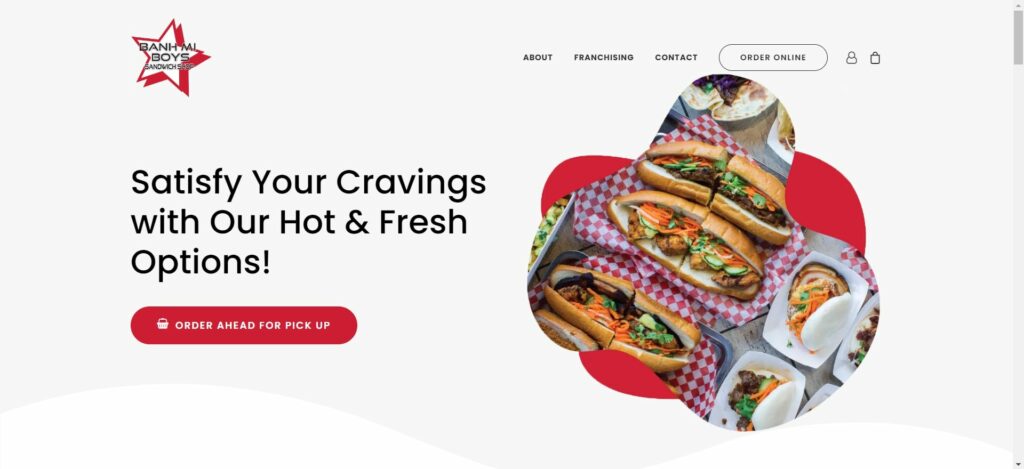 Test
Info
WEBSITE
https://banhmiboys.com/
ADDRESS
392 Queen St W, Toronto, ON M5V 2A9
SOCIAL MEDIA
INSTAGRAM
CONTACT DETAILS
PHONE: (416) 363-0588
OPERATING HOURS
Monday - Saturday: 11:00 am - 10:00 pm

Sunday: 12:00 pm - 7:00 pm
Banh Mi Boys is owned and operated by three Vietnamese brothers who are passionate about their local cuisine. Since 2011, they have developed a large following in the city, leading to more locations opening in 2013, 2015, and 2017.
Unlike the traditional banh mi, which typically includes cold cuts, pate, butter, and fresh vegetables, their interpretation of this iconic Vietnamese sandwich features braised, grilled, and fried meat options, plus vegetarian choices.
Banh Mi's star offerings include the five-spice pork belly, kalbi beef marinade, and succulent duck confit, snugly nestled in a crisp baguette alongside zesty carrot-and-daikon slaw.
Customers can personalise their sandwiches and complement them with a variety of homemade sauces, cucumbers, pickled carrots, and cilantro.
From a simple takeout shop, they now offer ample seating both indoors and on their patio outdoors.
Patio seating
Option to personalise your sandwich
Local ingredients
Multiple locations
Homemade sauces
Can be loud and crowded during peak hours
Super delicious
"I tried the 5 spice pork belly Bao ona. Wednesday afternoon, it was super delicious! Mine was a takeout order so I was pretty happy with the quick service. The restaurant was pretty crowded when I went in and I will definitely try to have a sit down lunch/dinner soon. :)"
Prima Melissa D'souza, Google Review
The service is fast
"It's a popular spot for Banh-mi and Bao. I ordered a 5-spice pork belly Banh mi for $10 and a fried chicken steamed Bao for $5. You can select the spice level as "medium" or "hot". The Banh mi was really nice. The taste was good. Also, they put some generous amount of meat. The Bao was bit average but maybe because I personally don't like the taste of it. The service is fast. You will get the order in around 10 minutes. The staff is nice and humble."
Neeraj Garg, Google Review
---