THE BEST ASIAN RESTAURANTS IN TORONTO
From Chinatown to Little Tokyo, Toronto boasts authentic Asian and fusion dishes that tantalise taste buds with the perfect balance of sweet and savoury, intricate spices, and exquisite presentation.
Celebrate diversity, embrace the extraordinary, and support these amazing Asian-owned restaurants in the city!
THE BEST ASIAN RESTAURANTS IN TORONTO
How Much Does Dining at an Asian Restaurant Cost in Toronto?
A meal will typically cost between $15 and $50 per person. The average cost of dining at an Asian restaurant in Toronto varies depending on factors such as cuisine type and restaurant location.
How We Chose the Best Asian Restaurants in Toronto
1. Lee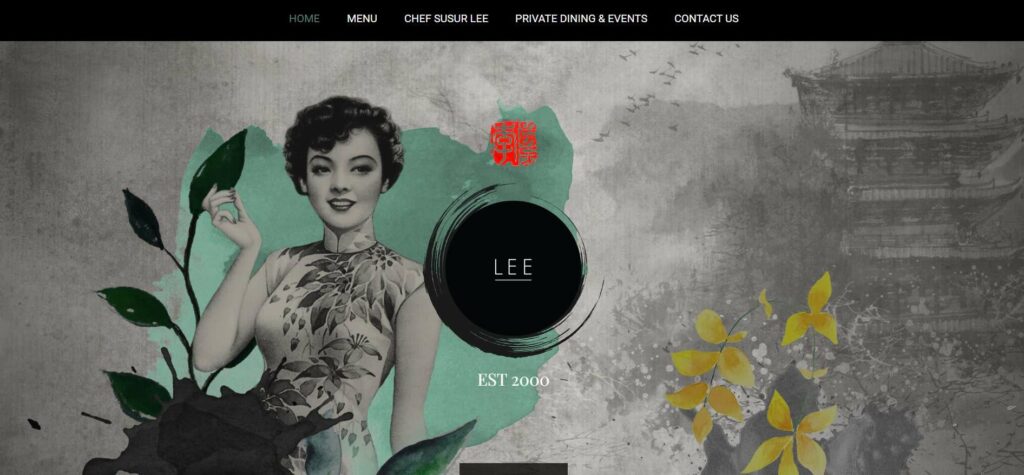 | Test | Info |
| --- | --- |
| WEBSITE | https://leerestaurant.com/ |
| ADDRESS | 505 Richmond St, Toronto, ON M5V 1Y3 |
| SOCIAL MEDIA | INSTAGRAM |
| CONTACT DETAILS | PHONE: (416) 504-7867 |
| OPERATING HOURS | Monday - Sunday: 5:00 pm - 11:00 pm |
Nestled inside the historic Waterworks building, Lee blends upscale hip eatery aesthetics with an expensive nightclub vibe. It reinvents Asian cuisine with French influences, thanks to Chef Susur Lee. Originally from Hong Kong, he moved to Toronto in 1978 and made his mark on Iron Chef America and Top Chef Masters.
Crowd favourites include cheeseburger spring rolls made with bacon, Angus beef, aged cheddar, and chipotle mayo encased in lettuce wraps, and their 24-ingredient signature Singapore-style slaw with salted plum dressing.
They also offer tapas-sized plates for sharing, such as the tuna ceviche with rocoto and chili, Asian pear, and pickled sweet onion; and the Top Chef curry chicken roulade with spiced pineapple, mint chutney, Indian tomato jam, and serrano chili.
Other bestsellers include the wild caramelised black cod with miso mustard and the Indochina rack of lamb with assam tamarind curry and a crispy onion ring.
Competitive pricing
Takeout and delivery options
Vegan, gluten-free, and vegetarian options 
Limited seating
High noise level during peak hours
The service is immaculate
"I finally tried this beautiful place… and it was worthwhile. A very relaxed but swanky vibe. Love the decor. The service is immaculate. They are informative and ensure you have a great experience. The drinks…. amazing. The best espresso martini I have ever had in my entire life. The food. Delicious. I can't say it enough how flavourful and fantastic every bite of each meal was. Please go if you have the chance you will not regret it."
Alanna Cassells, Google Review
Our server was patient and treated us well
"Dined here a couple of weeks ago. The server was very attentive and knew the menu well. They got to convince us to try the chef's tasting menu. This was a lot of food (8 plates and 2 desserts if I recall well) but we enjoyed most of them. One of my favorite was the signature slaw. My tastebuds were pleased. We were one of the last guests, yet our server was patient and treated us well. Dinner was pricey but it was worth the experience."
Eunice Ade, Google Review
2. DaiLo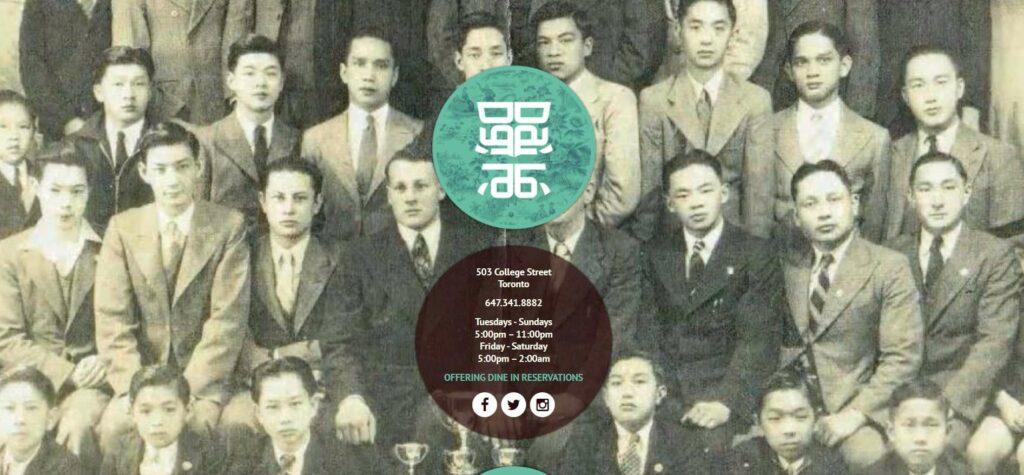 | Test | Info |
| --- | --- |
| WEBSITE | http://www.dailoto.com/ |
| ADDRESS | 503 College St, Toronto, ON M6G 1A5 |
| SOCIAL MEDIA | INSTAGRAM |
| CONTACT DETAILS | PHONE: (647) 341-8882 |
| OPERATING HOURS | Monday - Sunday: 5:00 am - 11:00 pm |
DaiLo's New Asian cuisine blends traditional Chinese flavours with a French twist, inspired by Chef Liu's Canadian upbringing with Hakka parents and using local and sustainable ingredients.
The restaurant's name means "big brother," embodying a deep respect for elders and a strong connection to the future with heritage dishes that Chef Liu's ancestors have been eating and cooking for hundreds of years. DaiLo believes that eating well is living well, where thoughtful, high-quality ingredients create not only more delicious meals but also better lives.
A crowd-pleaser is the smoked duck bokkeum, featuring tender duck with zesty kimchi-pickled vegetables, gochugaru onion jam, miso blue potato salad, and crispy wild rice.
Their 90-day dry-aged rib eye with bok choy, soy-pickled mushrooms, and a luscious black bean sauce is another popular choice among loyal customers.
Competitive pricing
Locally-sourced ingredients 
Heritage dishes with a modern twist
Chinese and French cuisine fusion
Limited seating
Can be noisy during peak times
Perfect for sharing
"Majestic culinary experience. Perfect for sharing. Okay joyed the pumpkin dumplings, duck and fried watermelon. Flavour profiles took you on a journey. Service was amazing. Atmosphere was great and covid friendly."
Halli Berry, Google Review
Service was so friendly/helpful
"Amazing place, service and food. First of all the service was so friendly/helpful with the meal, making it more memorable. All the food items we ordered were delicious – we especially loved the dumpling and lobster noodles; we decided to do a half-size fried rice (server recommended this) and it was the perfect portion. Would go back to try other dishes!"
Sally Chung, Google Review
3. PAI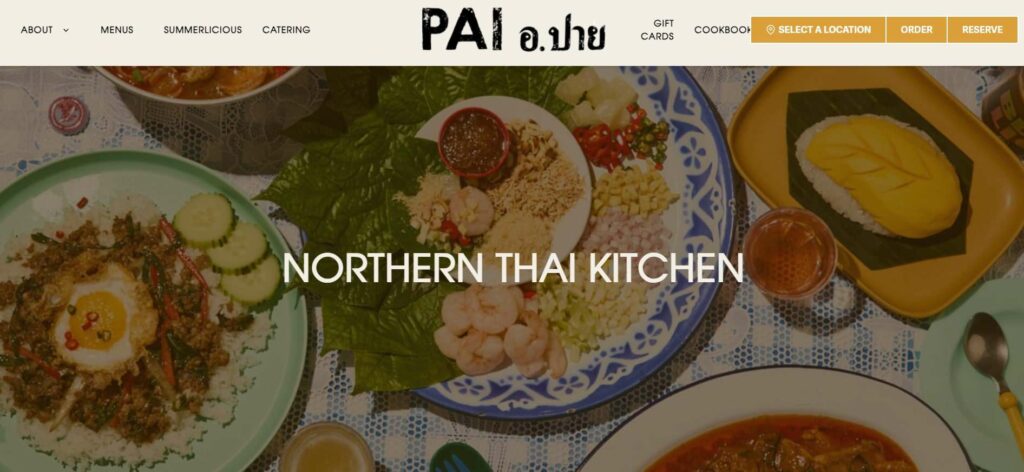 Test
Info
WEBSITE
http://www.paitoronto.com/
ADDRESS
18 Duncan St, Toronto, ON M5H 3G8
SOCIAL MEDIA
FACEBOOK
CONTACT DETAILS
PHONE: (416) 901-4724
OPERATING HOURS
Tuesday - Sunday: 12:00 pm - 9:30 pm

Monday: 4:00 pm - 9:30 pm
Pai's journey began in her hometown in Northern Thailand, where she met her would-be-husband chef Jeff.
After getting married, they moved to Toronto, where they opened Sukhothai to recreate the authentic Thai experience. Sukhothai's success led to a family of restaurants, including PAI Northern Thai Kitchen.
Pai was awarded the coveted Thai SELECT certification by the government of Thailand for its authentic dishes. It was also named one of TO's Best Restaurants for several years in a row by NOW Magazein. Regular herself has also become an acclaimed chef, having been named Nine and Nine winner at the Gourmet Food and Wine expo in 2009.
Their signature Pad Thai features stir-fried rice noodles in homemade tamarind sauce with beansprouts, tofu, egg, chives, Thai coriander, fresh lime, and roasted peanuts.
Pad Gra Prow comes in a close second, made with holy basil stir-fried with plant-based protein, red bell pepper, onion, and yardlong beans, served on jasmine rice.
Eco-friendly practices
Competitive pricing 
Vegetarian, vegan, and pescatarian options
Award-winning chef and restaurant
The main course was so delicious
"Amazing spot for authentic Thai food. The Tom Yum soup was spicy and tangy and packs a punch. The main course was so delicious I forgot to take pictures. Can't wait to go again and try new items."
Sara, Google Review
The food tastes so homemade and authentic
"Loved this place. The food tastes so homemade and authentic. We went at 2pm and had to wait for 30 min, at 3 it dies down a bit. I had the Pad Thai and it was amazing but the see ew was the star of the evening, so tasty and flavorful. Definitely recommend coming here."
Carmen Berlioz, Google Review
4. To-Ne Sushi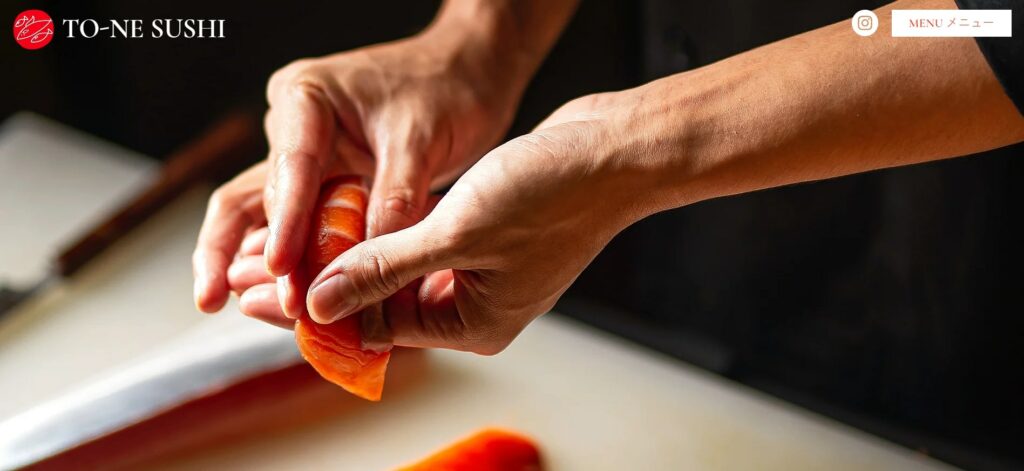 Test
Info
WEBSITE
http://www.tonesushi.ca/
ADDRESS
414 Queen St W, Toronto, ON M5V 2A7
SOCIAL MEDIA
INSTAGRAM
CONTACT DETAILS
PHONE: (416) 866-8200
OPERATING HOURS
Wednesday - Saturday: 12:00 pm - 10:30 pm

Sunday: 1:00 pm - 10:00 pm

Tuesday: Closed
Located conveniently near Queen and Spadina in Chinatown, To-Ne Sushi takes inspiration from Japan's Tone-gawa River.
The menu boasts classic sushi rolls, sashimi bowls with miso soup, and delightful bento combos. They have unique sushi pizzas that shine a spotlight on key ingredients such as salmon, shiitake, and crab meat; and eye-catching sushi boat trays.
To-Ne Sushi's rustic interior and warm lighting make it cozy and charming, and the super-friendly, efficient staff adds to the appeal. The best part is that To-Ne Sushi keeps prices wallet-friendly, ensuring you can savour scrumptious meals without any budget worries.
Just be prepared for longer wait times or lines, especially during peak hours. Whether you plan to reserve a table or opt for takeout, it's best to plan your visit ahead.
Prompt service
Affordable prices
Vegetarian options 
Excellent service
"Consistent food quality for many years, recommend the rolls the most. Tempura was crispy and fresh. Miso was the right temperature, also enjoyed the chilled beer glass. Excellent service!"
Jane Bae, Google Review
Very reasonably priced
"Excellent sushi. Its not all you can eat, but you don't need it to be. An order of sushi comes with miso and tempura, and by the end I was comfortably full (and I can eat a lot). Very reasonably priced and far better and fresher than a lot of sushi places I've been to. Atmosphere was very pleasant and comfortable, the sushi chef is on full display, and the staff were all very friendly. Will definitely go back and can't recommend enough."
Stan Barber, Google Review.
5. PLANTA Queen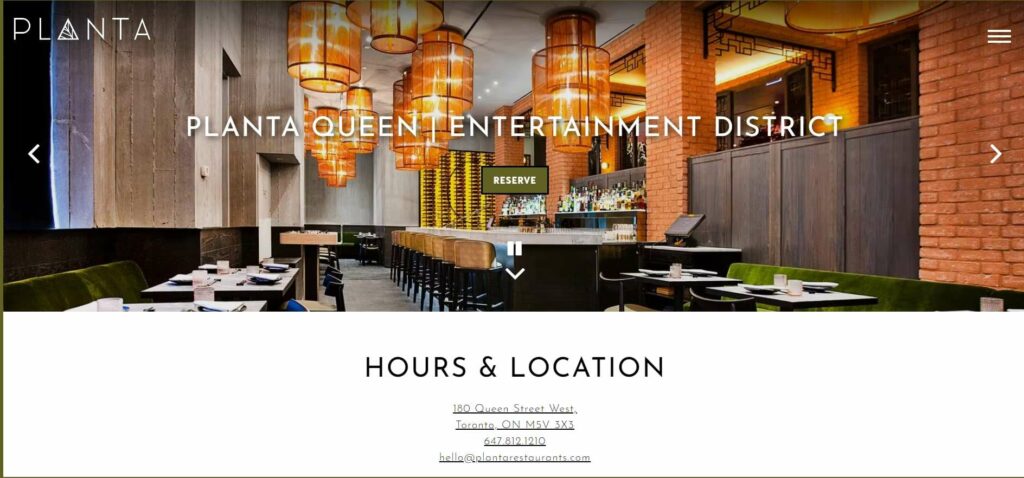 Founded in 2016 by CEO Steven Salm and Executive Chef David Lee, PLANTA aims to make plant-based dining accessible and enjoyable.
Here, guests enjoy the street market-style seating, intimate spaces, custom wall coverings with mega-floral imagery, and warm lighting. The menu offers a fusion of Asian flavours and plant-based goodness, featuring small, refined, shareable dishes in an "izakaya-style" concept.
Notable dishes include the refreshingly cold soba noodles and the delightful spinach shiitake. Handcrafted, healthy cocktails like Tonica's kombucha and fresh juices from Village Juicery are also must-tries.
Planta prioritises sustainability by sourcing locally and seasonally, supporting local farmers, and embracing paperless transactions to reduce their carbon footprint.
Locally-sourced and seasonal ingredients
Plant-based food
Paperless transactions
Fantastic dining experience
"I had a fantastic dining experience here! The cauliflower tots were amazing. The Japanese sweet potatoe was amazing. I only had a bite of the chicken fried mushroom but that was really good. Our main dish was the Singapore noodles and those were phenomenal. I'm not sure if there is a bad dish on the menu!"
Daniel Hefford, Google Review
You will have a great time
"The place lives up to the hype. I never ate broccoli with such happiness but their Bang Bang Broccoli is AMAZING!! You must try it. The Mango pineapple salad was fresh and light. The restaurant is beautiful and you will have a great time. Our server Taylor was nice. She ensured that we have a good time."
Siddhartha Bhati, Google Review
---