Top 5 Chemical Peel Services in Toronto
Dry and damaged skin can be caused by a variety of factors, from acne and sun exposure to the natural way of aging.
Our bodies naturally produce collagen, which binds the skin and helps give a youthful and vibrant look. But as we age, collagen production slows down, making our skin more prone to dryness, dark spots, and wrinkles.
Aside from proper skin care, people are leaning towards heading to skin clinics to avail themselves of chemical peels.
A treatment that can rejuvenate the skin, chemical peels work to regenerate collagen production and yield smoother and healthier skin. It is a non-invasive procedure with little to no downtime.
If you're looking for a good clinic to get a chemical peel, you've come to the right place. We have gathered the top chemical peel services in Toronto. Check them out!
The Best Chemical Peel Services in Toronto
Before you check our top picks, take a look at the criteria we used to review each clinic on this list.
How much does a chemical peel cost in Toronto?
Clinics offer various kinds of chemical peel treatments. You can choose from light, medium, and deep peels.
The cost for the best chemical peels in Toronto differs from one clinic to the other. Often, the price depends on the level of the peel and the kind of chemical or skin product used.
Light peels can cost as low as $138, while deep peels, the most expensive chemical peel treatment, can start at $500 per session. Some clinics offer packages for several treatments to lower the price.
We have indicated the starting price of basic or light peels for our entries below.
Do note that these prices can change. It is best to ask the clinic about its pricing first when you do an initial consultation.
| Clinic | Starting price (light peel) |
| --- | --- |
| Clinique de Mode | $155 |
| Clarity Med Spa and Laser Centre | $168 |
| NewDermaMed Cosmetic and Advanced Laser Clinic | $138 |
| North Medical Spa | $195 |
| VS MedSpa Laser Clinic in Toronto | $159 |
1. Clinique de Mode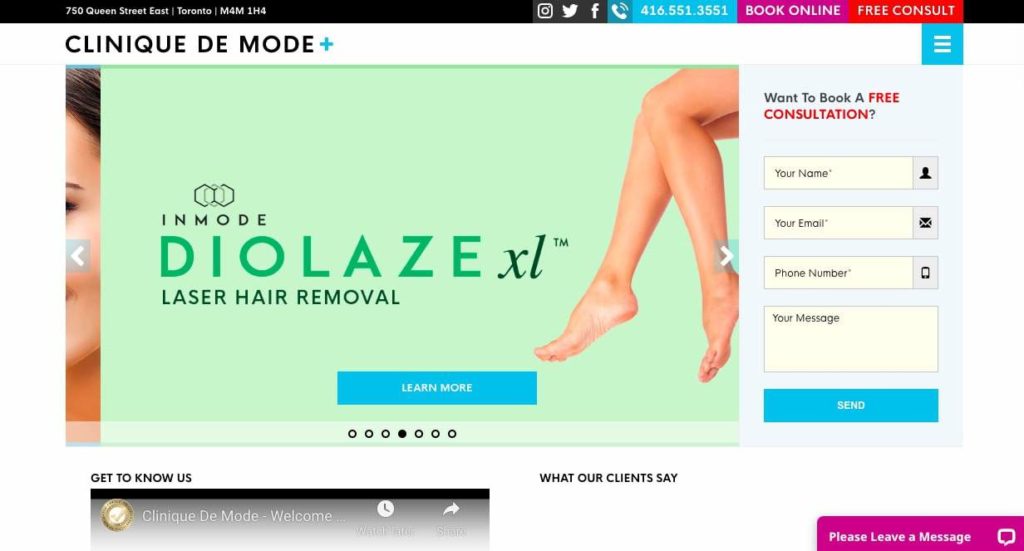 Test
Info
Website
Address
750 Queen Street East Toronto M4M 1H4
Contact details
416-551-3551
Operating hours
Sunday – Monday: Closed

Tuesday – Friday: 11:00am – 7:00pm

Saturday: 10:00am – 5:00pm
| | |
| --- | --- |
| Customer Service | ★★★★★ |
| Customer Satisfaction | ★★★★★ |
| Staff | ★★★★★ |
| Appointment booking | ★★★★☆ |
| Facility | ★★★★☆ |
Clinique de Mode is a boutique medical spa that gives honest, professional advice. It offers medical-grade skin services that clients all over the metro are raving about.
We think the clinic offers the best chemical peels. Its lunchtime peel, as they call it, is a superficial peel that offers the least downtime. It also offers medium and deep peels.
The team is composed of licensed doctors, nurses, and medical estheticians. They give well-educated advice, explaining everything you need to know about your skin problems and providing solid solutions.
At Clinique de Mode, customer service is excellent. We are happy to say that the staff is very welcoming, even to new clients.
We must commend their intimate and personal service. They have a way of making clients feel more comfortable and easing their worries before the treatment.
We like that on the clinic's website, clients can book an appointment with its specialists. They can also ask to speak to someone about their skin concerns and ask for advice on the best treatments.
However, a pre-authorized fee of $50 is required for consultation. This is to ensure clients won't miss or cancel appointments.
Being a boutique clinic, the place is small but has a clean and welcoming environment. It also has an arsenal of skincare products for sale, but we're glad the staff doesn't force customers to buy.
We're a bit disappointed that walk-ins are currently not accommodated. Should you want to get a chemical peel here, you would need to set an appointment.
Personalized service
Friendly and well-informed staff
Various chemical peel options
Limited operating days
Pre-authorized fee
Clinic is small
Customer Reviews
Exceptional service
Clinique De Mode is where I only go for all my medical spa services. I have been going here since the beginning and the service is still exceptional. They are the most professional, knowledgeable, and clean in the industry. They always take the time to ensure you fully understand your service, and answer every question you have. I recommend all my family and friends to CDM! – Victoria
Friendly and helpful
I've been coming here for the last 2 years for Hydrafacials, chemical peels and now Fractora skin resurfacing. The staff has always been extremely friendly and helpful. They take their time performing the services, while always explaining what they are doing and making personalized recommendations. They do not push sales and often have great promotions. Highly recommend checking them out. – Jane
2. Clarity Med Spa and Laser Centre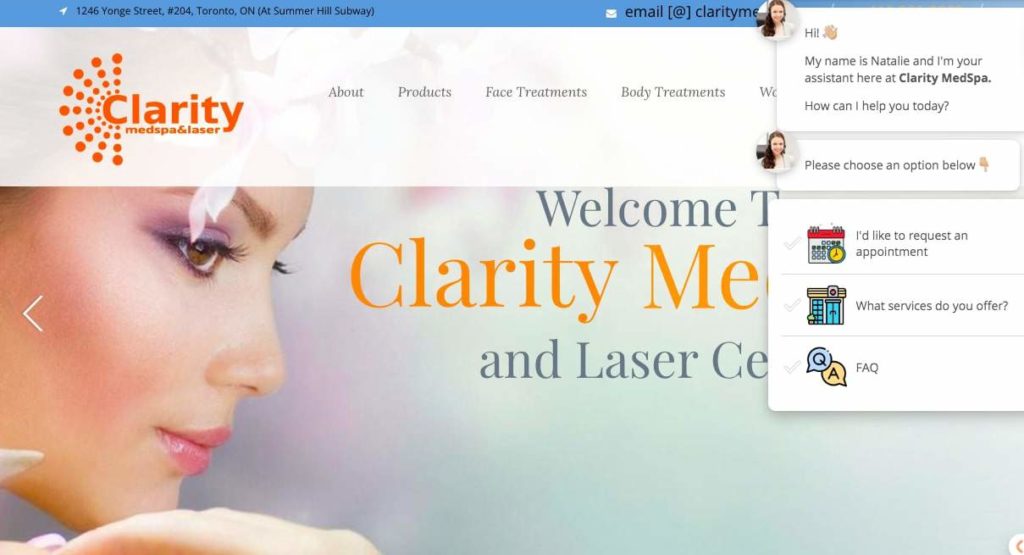 | Test | Info |
| --- | --- |
| Website | |
| Address | 246 Yonge Street – Suite 204Rosedale Toronto M4T 1W5 |
| Contact details | 416.960.2222 |
| Operating hours | Monday – Saturday: 10am – 6pm |
| | |
| --- | --- |
| Customer Service | ★★★★★ |
| Customer Satisfaction | ★★★★★ |
| Staff | ★★★★☆ |
| Appointment booking | ★★★★★ |
| Facility | ★★★★★ |
Clarity Med Spa and Laser Centre is highly recommended by its clientele, so we just had to check it out.
One of the treatments it offers is the chemical peel, but unfortunately, there aren't a lot of options. The clinic only offers light to medium peels for addressing acne scars, wrinkles, skin discoloration, and age spots.
The staff is composed of licensed members of CANS, ASLMS, and CAM. They are knowledgeable about the treatments they offer and even educate clients on their skin concerns.
We like that they come up with tailor-made solutions for different skin issues, which helps boost customer confidence and encourages them to go back.
To be honest, we felt at home upon the first consultation. The staff's friendliness helped us become less nervous about the procedure.
The clinic offers online booking, which makes securing an appointment easy. A chatbot is also available to answer basic questions and inquiries.
A free consultation is available for first-time clients. We appreciate this as it allows us to ask questions and get a better understanding of which treatments suit our skin concerns.
As for the ambiance, the clinic has a spa environment. It is welcoming, clean, and bright, which we think can help put clients at ease.
Clarity uses devices that are FDA and/or Health Canada approved. With this, we can see that it wants to assure clients that its treatments are safe.
We're quite disappointed, though, that it has limited operating days. It is closed on Sundays, which, ironically, is the time people have the most time to pamper themselves.
Friendly staff
Online booking
Incredible service
Limited chemical peel treatments
Closed on Sundays
Customer Reviews
Knowledgeable staff
My experience with Clarity Medspa has always been great. I usually come here to do my facial and most recently Linda recommended that I do some peeling to deal with my hyperpigmentation. As always Linda is very knowledgeable, sweet and nice. I would definitely recommend anyone to come and visit the clinic for any facial concerns. – Mary
Impeccable service
I recently had a Spectra Carbon Laser Facial to help treat my acne and tired looking skin. The Carbon treatment helped reduce the number of pimples sitting below the surface. Along with the Chemical Peel, which took off layers of dead skin and environmental pollution that has been sitting on my face for a long time! I look 5 years younger just from one treatment! The staff and service are impeccable and I promise you won't be disappointed! – Natalie
3. NewDermaMed Cosmetic and Advanced Laser Clinic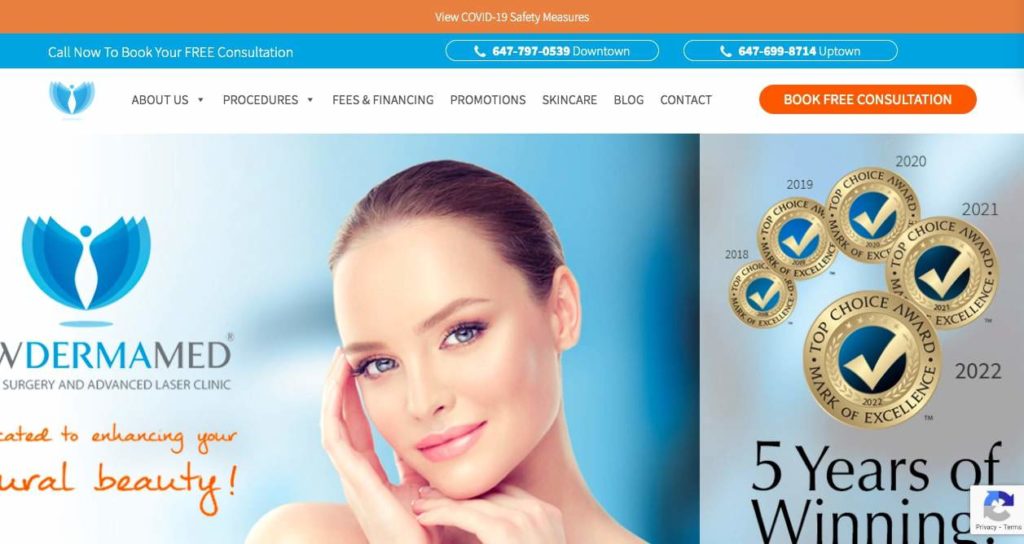 Test
Info
Website
Address
790 Bay Street, Suite 900 Toronto, OntarioM5G 1N8
Contact details
647-797-0539
Operating hours
Monday – Friday: 9am – 7pm

Saturday: 10am – 5pm
| | |
| --- | --- |
| Customer Service | ★★★★★ |
| Customer Satisfaction | ★★★★★ |
| Staff | ★★★★☆ |
| Appointment booking | ★★★★★ |
| Facility | ★★★★★ |
For the past 4 years, NewDermaMed Cosmetic and Advanced Laser Clinic has been a consistent title holder as the Best Cosmetic Clinic in Toronto.
We think that's owing to its variety of services, which include a purifying light peel, brightening medium peel and pro deep peel.
The pricing is dependent on the type of treatment but starts at $138. We like that the clinic offers discounts as well.
Plenty of its prior clients that we spoke to recommended trying the services of NewDermaMed because it has a way of pampering its clients and making them feel safe during the treatment.
The staff is accommodating and professional, so you are sure to feel comfortable throughout the procedure. They also take time to listen to their clients and give valuable and honest advice.
Scheduling an appointment is easy. You can give it a call or simply book through its website.
Facility-wise, we like that there are public and private parking spaces available around the facility. The clinic is also clean, pristine, and well maintained.
We're a bit bummed, though, that the clinic is closed on Sundays, which doesn't make it an option for those who don't have a lot of time on their hands because of their work.
Offers promo packages
Free consultation
Customer Reviews
Accommodating staff
I love this place! It was recommended by a friend. I loved how professional they are. I could tell after my first consultation. Scheduling is very easy, they're accommodating and knowledgeable about their services. This is my new go to for everything skin care and couldn't be more happier. – Zainab
No bruising or swelling
I never write reviews online, however this was an exception. This place is truly incredible, the place is extremely clean and well maintained. The staff are extremely welcoming and knowledgeable. I had my lip injections done by Catherine, she is truly a master at her craft. She completely transformed my lips to EXACTLY what I wanted. I had zero bruising or swelling. She took her time and explained everything she was doing, and truly cares about her clients. This place deserves more than 5 stars. Highly, highly recommend this place, and Catherine especially !! You will not be disappointed!!! – Elle
4. North Medical Spa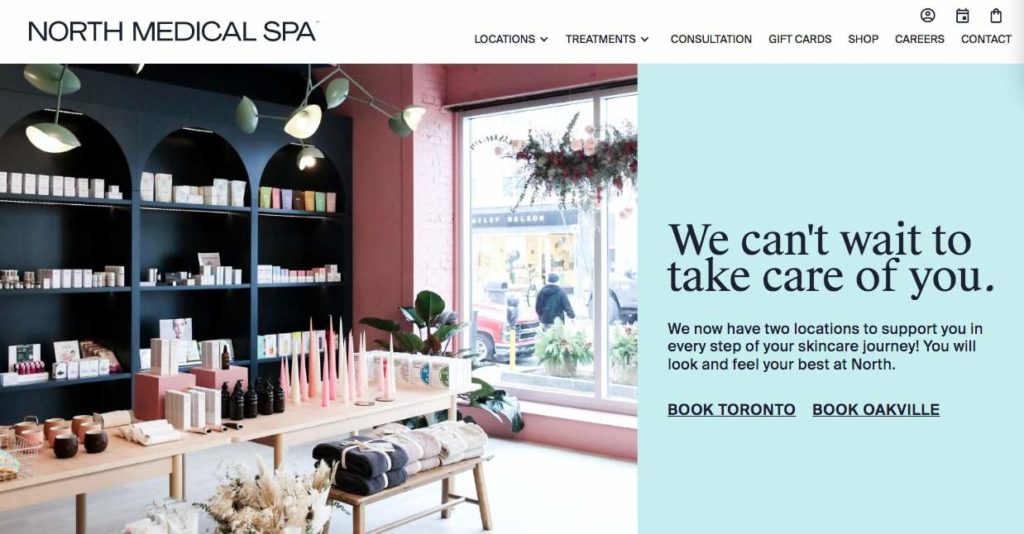 Test
Info
Website
Address
569 King St E, Toronto, ON M5A 1M5
Contact details
416-901-6672
Operating hours
Monday – Friday: 10am – 7pm

Saturday: 9am – 5pm

Sunday: 10am – 5pm
| | |
| --- | --- |
| Customer Service | ★★★★★ |
| Customer Satisfaction | ★★★★★ |
| Staff | ★★★★★ |
| Appointment booking | ★★★★★ |
| Facility | ★★★★☆ |
North Medical Spa has been serving Toronto clientele since 2017. It offers a variety of medical services and has one of the best chemical peels in the metro.
It offers 6 different kinds of chemical peels and customizes its services to suit its clients' skin issues and goals.
However, we think its treatments are a bit pricey. Regardless, some of its past clients think the cost is well worth it, considering that they are happy with the results.
We must commend this clinic for providing a good experience from the moment we set foot inside to the second we left. The staff was friendly and relaxed, which made us pretty confident in the procedure.
We like that we were surrounded by registered nurses, which gave us the assurance that they had the knowledge and experience to conduct chemical peels right. They also went out of their way to give us tips on how to improve our skincare routines!
We noticed as well that the clinic has a very pleasing environment. We were welcomed by a clean and organized space and greeted by a friendly and hospitable front-desk representative.
One of the special services the clinic offers is a complimentary skin analysis, which uncovers skin issues and recommends a specific treatment to target them. It also helps the staff come up with a customized treatment plan that's guaranteed to be effective.
We think, however, that the cancellation fee is a bit unfair. While clients are allowed to cancel their appointments, doing so less than 24 hours prior will result in a $50 fee.
Customized treatment plan
Warm and inviting place
Highly recommended by clients
Pricey treatments
Shorter operating hours on weekends
Customer Reviews
Fantastic Staff
I've had several different amazing treatments at North Medical. My die hard, must do, is Chemical Peels with Jennifer. She was so patient with me when I first came and was nervous but she put me at ease with her knowledge right away. I tell anyone who will listen to go see her and have your skin changed forever . The entire staff at North is fantastic and super helpful, and of course the space is gorgeous. – Janine
Go-to spa
North is my go-to spa for my husband & I. It's my one-stop shop for gifts, and treats for myself (they carry so many goodies and I recently got Vintner's Daughter – my mind is blown). I did a chemical peel with Jennifer a few weeks ago and my skin texture has never been better. I was nervous, as my skin is quite sensitive and reactive. Jennifer was so calm, provided a great service and made top notch product recos that I now love. Trust the process. I almost cried with how smooth my skin looks now! Looking forward to stocking up this holiday season and prepping my skin with another chemical peel in a few weeks. – Katie
5. VS MedSpa Laser Clinic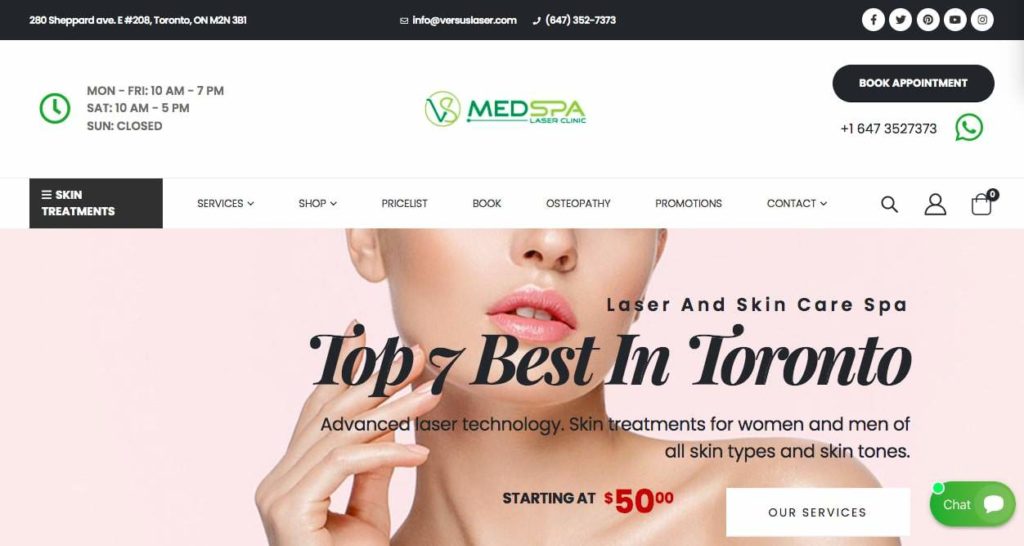 Test
Info
Website
Address
VS MedSpa Laser Clinic280 Sheppard ave. E #208Toronto, ON M2N 3B1
Contact details
647-352-7373
Operating hours
Monday Friday: 10am – 7pm

Saturday: 10am – 5pm

Sunday: Closed
| | |
| --- | --- |
| Customer Service | ★★★★★ |
| Customer Satisfaction | ★★★★★ |
| Staff | ★★★★☆ |
| Appointment booking | ★★★★★ |
| Facility | ★★★★★ |
VS Medspa Laser Clinic is a professional laser skin clinic. It offers medical aesthetic treatments, which include chemical peels.
The founders are doctors and experts in dermatology and surgery with the goal of fiving expert care before, during, and after treatments.
We must commend the clinic for its experienced, friendly, and down-to-earth service. We noticed that the staff knows what they're doing and delivers in a fast and efficient manner.
We really loved how they made us feel at ease throughout the procedure. They were happy to answer our questions and even gave us some valuable pro tips.
Now, a lot of dermatology clinics will promise results fast. We've always doubted that but were actually quite surprised to see improvements on our skin after 1 session with VS MedSpa.
Couple that with minimal pain during the chemical peel procedure, and we have to say that we're quite impressed.
Facility-wise, we noticed that attention to detail was given in keeping the clinic impeccably clean and hygienic. Only the best industry-grade equipment is used, which we appreciate.
The prices for the chemical peels are comparable and friendly on the pocket. There are also packages and discounts that can help you save more.
Booking an appointment is easy and can be done simply by calling the clinic or booking online. Schedules on weekends are limited though, as it is open only up to 5 pm on Saturdays and is closed on Sundays.
Another plus for VS Medi Spa is its convenient location. Ample free parking is available underground and outside the building.
Free parking
Discounted packages
Clean and well-maintained facility 
High-grade equipment 
Friendly staff
Closed on Sundays
Limited hours on Saturdays
Customer Reviews
Professional service
Both my wife and I have dealt with Victoria and VSMedSpa Laser Clinic and we are very happy with the services we received. My wife and I had face and body skin care as well as a beauty card. They were receptive to our needs and services were performed in a very professional manner. We live in New York State and will definitely return to Toronto in the future for further procedures. I would highly recommend VS MedSpa Laser Clinic for your skin care needs. Thank you Victoria and Vadim. Look forward to further visits. – David
Reasonable prices
I've come to this place for almost a year now. I can really say Victoria is very professional, knowledgeable and accommodating and very patient with me since I literally have zero pain tolerance. I always feel comfortable and very welcome whenever I come to see her. The prices are very much reasonable for a great service she does render. I've seen great results so this place is really highly recommended. Thank you Victoria! – Jennifer
FAQs about Chemical Peels
---
A chemical peel is one of the more popular skin treatments for youthful-looking skin. We found the clinics that offer the best chemical peels in Toronto. But if you are up for other cosmetic procedures, take a look at the Top 5 Lip Filler Clinics in the metro.
For invasive procedures, check out the 5 Best Plastic Surgery Clinics in Toronto.