Top 5 Clinics for Ultherapy in Toronto
Our skin loses its elasticity, plumpness, and smoothness as we age. For anyone who wants to slow down the aging process of their skin, Ultherapy is the best option.
The only approved cosmetic ultrasound procedure approved by both Health Canada and the U.S. Food and Drug Administration, Ultherapy is a non-invasive treatment that lifts skin on the face, neck, chin, and brow.
This is a good alternative for people who prefer skin rejuvenation but do not want to undergo cosmetic surgery.
If you're ready to try it out, read on further for the top clinics for Ultherapy in Toronto.
The Best Ultherapy Clinics in Toronto
To find the best clinics for Ultherapy in Toronto, we used the following criteria:
How much does Ultherapy cost in Toronto?
The average cost of Ultherapy is $1,200. However, the price is can go up to $5,000 depending on the area or coverage of the treatment.
We have gathered the prices for Ultherapy from the top clinics in Toronto. As the price is determined upon consultation, we have indicated here the range of prices per clinic.
| Clinic Name | Price Range |
| --- | --- |
| Sovereign Skin | $750 – $5,000 |
| Dr. Cory Torgerson Facial Cosmetic Surgery & Laser Centre | $750 – $4,750 |
| Lasting Looks Anti-Aging and Laser Clinic | $1,000 – $5,000 |
| Signature Medi Spa | Begins at $400 |
| Dermapure | $1,500 – $3,500 |
1. Sovereign Skin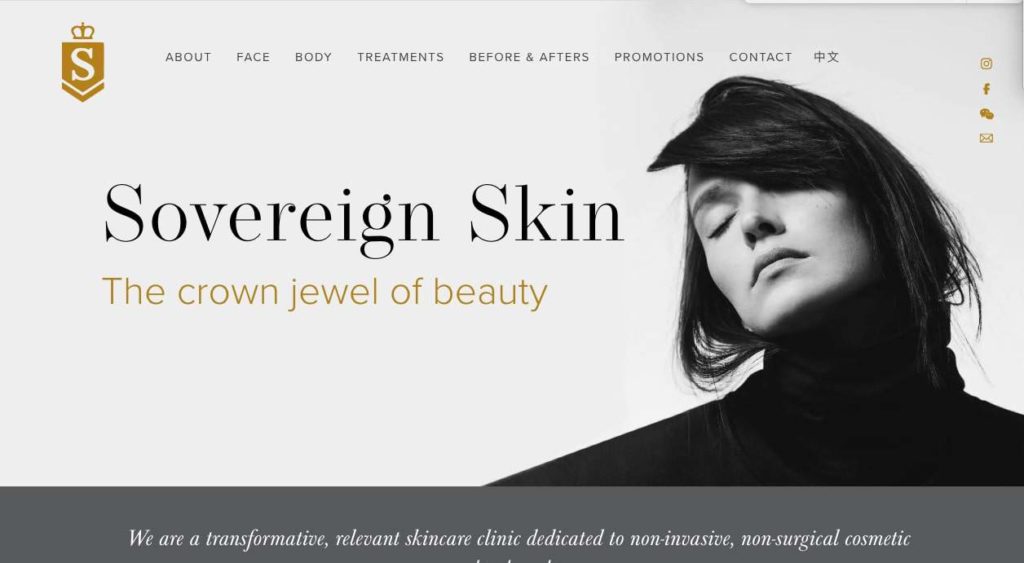 Test
Info
Website
Address
59 Hayden Street, Suite 701Toronto, ON M4Y 0E7
Contact details
647-343-0801
Operating hours
Monday – Friday: 8 am – 5 pm

Saturday – Sunday: Closed
| | |
| --- | --- |
| Customer Service | ★★★★★ |
| Staff | ★★★★★ |
| Price | ★★★★★ |
| Clinic environment | ★★★★★ |
Sovereign Skin is a leading cosmetic treatment clinic in Toronto. It takes pride in giving excellent service and utmost care to its patients.
As one of the best clinics that does Ultherapy, it strives to give quality results. Furthermore, it prioritizes safety and maintains a high standard of professionalism.
At Sovereign Skin, the patient comes first. We are happy to know that it gives importance to what is best for the patients rather than what it can earn from them.
Everything about this clinic says that it will provide the best care to its patients.
The staff is knowledgeable, including the front desk personnel. We appreciate that they take the time to give patients several options and explain each one meticulously.
Sovereign Skin has well-experienced doctors and nurses. Undoubtedly, they are the best people to give professional care and service — they are also personable and friendly, which is a point for the clinic in our books.
We like that the staff is open about their skincare experiences and shares objective answers to patients' skin concerns. We appreciate too that they are attentive and thoughtful.
We love the luxurious and relaxing atmosphere of the clinic. It is exceptionally clean and has the best types of equipment.
As for cost, Sovereign offers a competitive price that starts at $750. Although it does not have promotions or discounted packages for Ultherapy.
We also heard from patients how convenient the clinic is because of parking availability. To add to this, it also offers online appointments through its website.
However, we are bummed that the clinic is closed on weekends when people have the free time to do some pampering and treatments.
Overall, this is a gem in the city filled with skincare clinics. We highly recommend Sovereign because of the utmost care it gives to clients.
Highly experienced doctors and nurses
Luxurious clinic
Attentive and thoughtful staff
Cost is competitive
Closed on the weekends
No discount packages
Customer Reviews
Amazing experience
Had an amazing experience with Dr. T! He is such a pro, funny and makes you feel really comfortable. He's amazing with needles – didn't even hurt! The space is so beautiful and premium and location is awesome. The front desk team is super lovely and offer you room temp or cold boxed water as you arrive. – Julia
5-stars
I have rated Sovereign Skin a 5 star as they made my 1st visit absolutely worry free! They answered all questions that I had for them and walked me through the whole process! The nurse was amazing and had a very gentle hand! I would recommend Sovereign Skin to anyone who is need in of the procedure's they offer! I also have to mention how amazing the in call centre is! I dealt with a lady named Nicole and she made the registration process very easy!
Thank you very much to the team at Sovereign Skin! – Stephanie
2. Dr. Cory Torgerson Facial Cosmetic Surgery & Laser Centre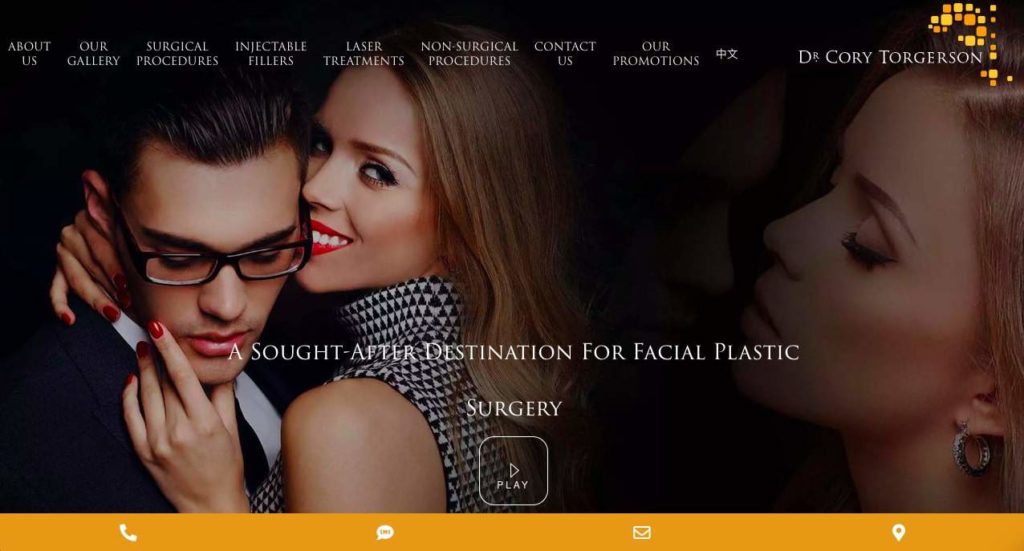 Test
Info
Website
Address
59 Hayden St Suite 700, Toronto, ON M4Y 2P2, Canada
Contact details
647-343-0207
Operating hours
Monday – Tuesday: 8 am – 5:30 pm

Wednesday: 8 am – 8 pm

Thursday – Friday: 8 am – 5:30 pm

Saturday – Sunday: Closed
| | |
| --- | --- |
| Customer Service | ★★★★★ |
| Staff | ★★★★★ |
| Price | ★★★★☆ |
| Clinic environment | ★★★★★ |
As one of the leading plastic surgery and laser centers in Toronto, Dr. Cory Torgerson Facial Cosmetic Surgery is famous for surgical and non-surgical procedures.
We are happy to know that the clinic is led by the vibrant Dr. Cory Torgerson. As one of the country's leading facial plastic surgeons, he has amazing skills as well as a welcoming personality.
The clinic prioritizes giving excellent service to its patients. This is evident in the way it tailor fits the treatment plan after listening to the concerns and goals of the patients.
Also, it has an expert team of doctors and medical practitioners to help come up with a personalized plan. We also appreciate that the nurses are accommodating and knowledgeable.
Furthermore, the team takes time to explain everything from pre-treatment to post-treatment. Indeed, this made us a lot more comfortable trying Ultherapy.
Speaking of Ultherapy, expect to pay at least $750 for a treatment. However, the price can go up to $4,750 depending on the area that needs treatment.
In spite of this steep price, we observe that patients continue to patronize this clinic because of the professionalism of the staff. Despite asking so many questions, the staff did not hesitate to answer all of them in an informative and comforting way.
Facility-wise, we agree that it is in a great location and very accessible as it is in the heart of Toronto. Also, not only is the clinic gorgeous but it is extremely clean and modern.
It is disappointing, however, that the clinic is closed on weekends. But we think it more than makes up for this by having longer operation hours on Wednesdays.
Great location
Customized treatment plan
Expert and professional team
Friendly and accommodating staff
High-priced service
Limited operating days
Customer Reviews
Excellent service
I would like to express my satisfaction with my experience with Dr. Torgerson. He is without a dought the most caring, great sense of humor, the professional and meticulous surgeon I have ever met. The results from my mini facelift and browlift procedures were amazing. He goes far and beyond what other doctors do as far as follow-ups to make sure your improvements go smoothly. Thank you, Dr. Torgerson. – Peter
Extremely professional
I cannot say enough good things about Dr. Torgerson and his team. From the very first appointment, I knew I had made the right decision. I have never met a group of professionals who at every interaction went above and beyond to make me feel comfortable and confident in my decisions. I am so happy with the results!! Dr, Torgerson is extremely professional and genuinely cares! thank you – Carla
3. Lasting Looks Anti-Aging and Laser Clinic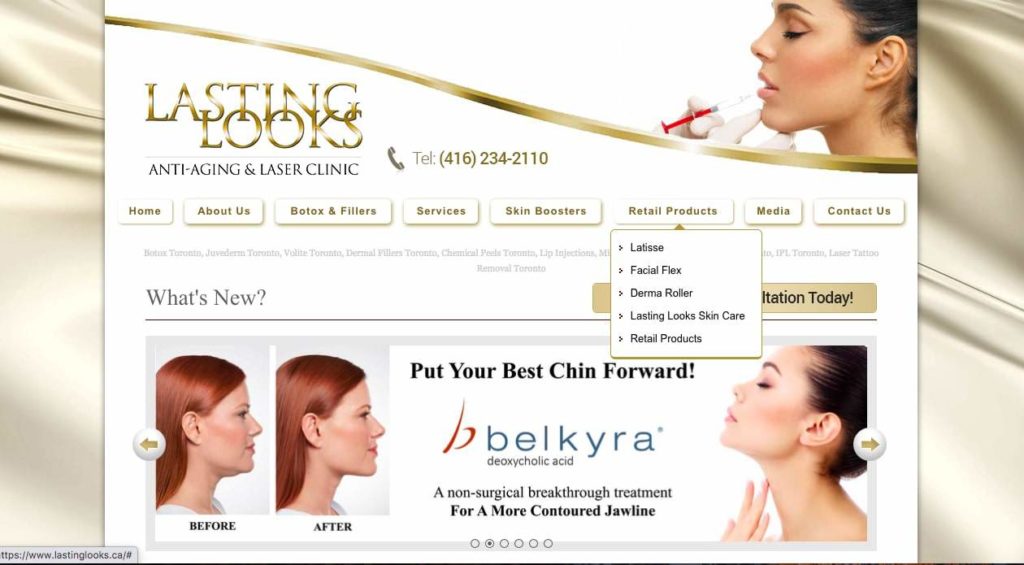 Test
Info
Website
Address
3-3009 Bloor St. W. Toronto ON M8X 1C3
Contact details
416.234.2110
Operating hours
Monday – 10 am – 5 pm

Tuesday – Thursday: 10 am – 5:30 pm

Friday: 10 am – 4 pm

Saturday – Sunday: Closed
| | |
| --- | --- |
| Customer Service | ★★★★☆ |
| Staff | ★★★★★ |
| Price | ★★★★☆ |
| Clinic environment | ★★★★★ |
Lasting Looks Anti-Aging and Laser Clinic has over 18 years of experience in anti-aging, medical cosmetics, and laser procedures. It offers both surgical and non-surgical procedures that are done by highly-trained practitioners.
We are happy that the team is led by certified plastic surgeons who are highly regarded in the industry. They take pride in their patients' satisfaction and their treatments as well.
We have observed that the team is very patient in explaining the benefits of Ultherapy. To add to this, they even discussed the downtime needed to get the best results.
However, there was an instance when the tone of voice of the staff was not very welcoming. We hope this was just one of those off days and they strive better to make patients at ease all the time.
The clinic accepts patients by appointment only, either by phone or on its website. However, the staff coordinates well before the scheduled procedure, and appointments are started on time.
As for the cost of its Ultherapy, the starting price is $1000. We were told that depending on the area that has to be treated, the price can go as high as $5,000 per treatment.
When we visited the clinic, we saw that it was stunning and very clean. The environment has a positive and calming vibe that helps put patients at ease.
However, we're disappointed that it only opens a limited number of hours on the weekdays and is closed on the weekends.
Location-wise, we appreciate the convenience of street parking in front of the clinic. And if this is not enough, there are parking buildings nearby.
All in all, we are happy with our experience at Lasting Looks. A lot of patients as well have recommended this clinic because of the good results of its treatments.
Certified team
Patient and understanding staff
Almost 20 years of experience
Good results
Not welcoming
Limited operating hours and days
Customer Reviews
Boosted confidence
My experience at lasting looks clinic has been positive and every visit I am made to feel at ease and hopeful. I am a high school student that had severe acne and I've tried every product and been to many doctors, which none have helped. Janice's acne/chemical peels have brought my skin back to what it once was. I no longer need to wear makeup to cover up my acne and it's boosted up my confidence. I am so grateful to have found her and I highly recommend their services. You're in great hands. – Tayler
Elegant place
Upon arrival at the clinic, I couldn't help but notice how clean and elegant the place was. I felt at ease, all my questions were answered and I was very happy when I left. I came for in for my appointment and was very satisfied with the results. Thank you again – Maria
4. Signature Medical Spa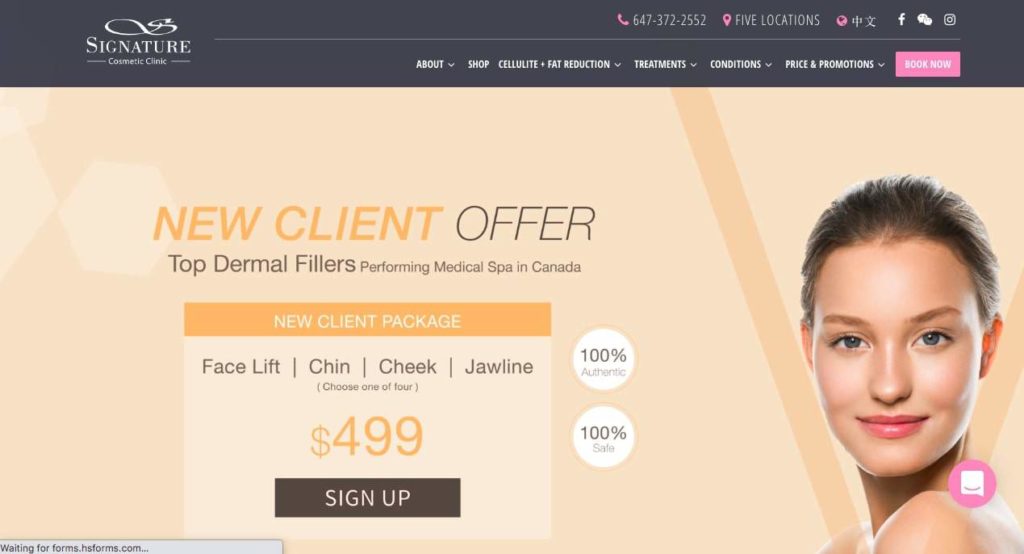 Test
Info
Website
Address
30 Carlton StreetToronto,ON M5B 2E9
Contact details
647-372-2552
Operating hours
Monday – Saturday: 10 am – 8 pm

Sunday: 10 am – 6 pm
| | |
| --- | --- |
| Customer Service | ★★★★★ |
| Staff | ★★★★★ |
| Price | ★★★★★ |
| Clinic environment | ★★★★★ |
Signature Medical Spa offers top-of-the-line medical cosmetic treatments. Also, it prioritizes safety by giving professional advice and quality service.
We are happy that it is willing to share technical information and experience, especially on how to treat your skin better. It also makes personalized health and beauty plans for its patients.
The team is very thorough in explaining the pros and cons of Ultherapy and other procedures. Because of this, the patients feel cared for and comfortable.
We learned that treatments are always a pleasant experience for patients. What we like best is the technicians' care on follow-up calls to ask how the patient is recovering.
Speaking of treatments, this clinic's price for Ultherapy skin lifting is more affordable than others on this list. The treatment starts at $400, but of course, the price is really dependent on the scope of work.
We are disappointed that the clinic does not accept walk-in patients. However, appointments can be done by phone or through its website.
Not to worry, though, about its by-appointment policy. The clinic is open every day including Sundays with long operating hours.
Also, Signature Medical Spa has 5 locations in and around Toronto. This is awesome as patients have the option to go to other branches if their schedule does not work in one.
The overall experience is awesome because everyone in the clinic is organized and pleasant. We highly recommend this clinic for its great customer service and its affordability.
Thorough staff
Safety is a priority
Personalized treatment plan
5 locations
Cheaper than other clinics
No walk-ins
By appointment only
Price can change depending on the scope of treatment
Customer Reviews
Professionalism
Went here to try their ultherapy treatment. The staff were very friendly and professional, we discussed my concerns and they gave recommendations on what i can do to achieve best results. During the treatment they also made sure i was comfortable with the experience. – Coco
No hard selling
This is the Cosmetic Clinic which I highly recommended. All the staff in the clinic are so nice and professional. Specially, the manager, Anki, is so nice according to your skin problem and give the right advise. The most important things is she NEVER EVER hard sales. When you go there for relax, that is really relax never have anyone come to the room, and sale you the produces or promotion. Also, Lala, she will according to your skin situation and give you time schedule for your next treatment. Overall experience is awesome. Will definitely recommend and go back to explore more services! – Zou
5. Dermapure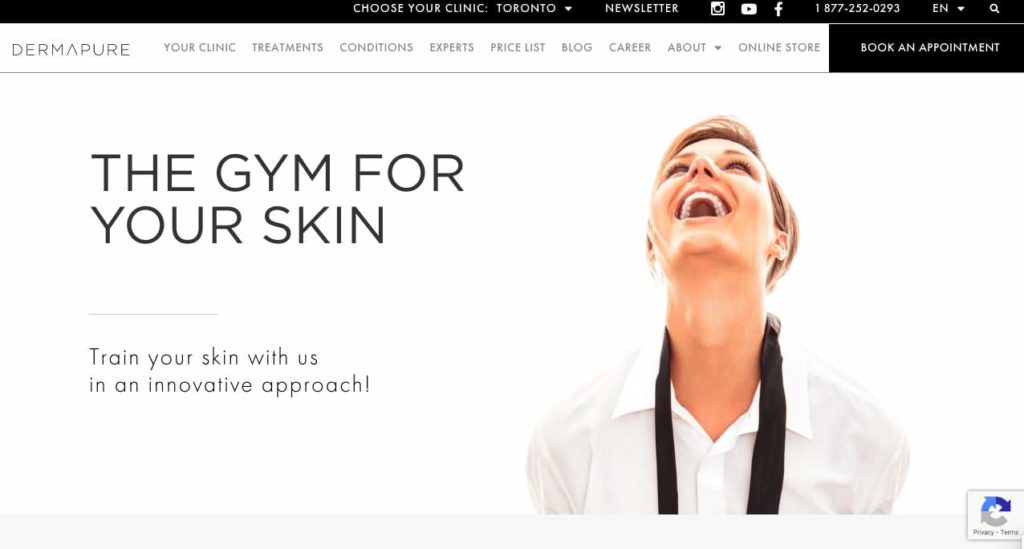 Test
Info
Website
Address
1333 Sheppard Ave E #324, Toronto, ON M2J 1V1, Canada
Contact details
416-494-4247
Operating hours
Monday: 9 am – 5:30 pm

Tuesday: 9 am – 7 pm

Wednesday: 9 am – 5:30 pm

Thursday: 9 am – 5 pm

Friday: 8 am – 2 pm

Saturday – Sunday: Closed
| | |
| --- | --- |
| Customer Service | ★★★★★ |
| Staff | ★★★★★ |
| Price | ★★★★☆ |
| Clinic environment | ★★★★★ |
Dermapure partnered with renowned Dr. Fred Weksberg and his team so it can offer its different cosmetic treatments in Toronto. We are happy to know that one of its most popular treatments is Ultherapy.
What we love about this clinic is its professionalism complemented with warmth and care. It focuses on the industry's best practices while ensuring that the patients are safe and satisfied with the treatment results.
Dr. Weksberg's expertise in medical aesthetic care is apparent in the kind of attention he and his team gives to their patients. We have noticed that they walk through how the procedure will be done and what to expect during and after the process.
Also, patients who have tried its Ultherapy procedure have all been happy with the outcome. However, we're shocked that you have to shell out a minimum of $1,500 — and this can go up as more areas have to be included in the treatment.
Furthermore, we must commend the team's amazing attention to detail. Not only do they make the initial consultation informative, but they are also very thorough in answering questions.
We like that the clinic is not only clean and well maintained, but the front desk's demeanor is also a welcome treat. Also, it has one of the most pleasant and informative staff.
Everyone in the clinic is kind and caring, going the extra mile for their patients. When clients are getting anxious, they are given a stress ball to help them relax and breathe better.
However, we're disappointed that the clinic has limited operating days and hours. On Fridays, it closes quite early at 2 pm and is completely closed on the weekends.
In spite of this, Dermapure is worth your time and money. The staff's service is excellent, coupled with world-class treatments.
Excellent service
Accommodating staff
Amazing attention to detail
Fantastic results
Limited operating hours
Closed on weekends
High-priced
Customer Reviews
Comfortable and happy
The staff was great and welcoming. Marianne made me feel comfortable and informed about my treatment. I am happy with my treatment and look forward to seeing the results over the next 6 months. I would definitely recommend Dermapure for your skin care needs. – Shivani
Accommodating staff
Doctor Weksberg and his team are all extremely professional and friendly. Such a pleasure to use their services. They are very accommodating, flexible, and just super lovely to be around! Would highly recommend Doctor Weksberg and his team for any cosmetic/dermatological service. 5 stars!! – Maya
FAQs on Ultherapy
---
Ultherapy is a treatment that can help you have a more youthful appearance. The top clinics we have mentioned above are worth a visit.
For other skin and body treatments, you may check out the following: