Top 6 Places to Get the Best Facial in Toronto
As we all know, our skin takes a good beating every day from pollution to daily stress. Like an armor of suit for our body, it won't do its job without proper care.
With this in mind, getting the best facial in Toronto is a small yet effective step to get started. Consider these places we'll mention in today's review to get the care you deserve.
The Cost of Facials in Toronto
There are various types of facials you can get and this drives the cost. Other than that, the cost tends to go up with higher-end spas with luxe treatments.
The most affordable facial you can get usually ranges from $35 to $120. If you're getting a facial in a mid-range spa, the cost easily starts at $100.
In luxurious spas, it's not shocking to see facials starting at the $200 price range. But these types of spas may also offer basic facials that can be around $120.
The Best Facial Clinics and Spas in Toronto
In selecting our top picks, we looked into availability and value for money. In this case, we don't mind adding higher-priced spas if the overall experience makes up for the costs.
We also assessed their level of customer satisfaction. We reached out to past clients, looked into shop reviews, and saw which places had the most positive experience testimonials.
1. Beauty Unlimited Spa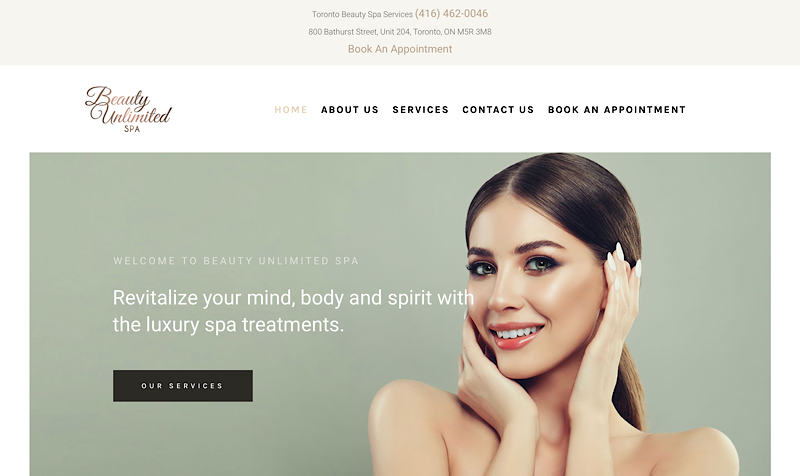 SERVICES
Facial Treatments, Photo Rejuvenation, Permanent Hair Removal, Waxing, Extras
WEBSITE
http://buspa.ca
ADDRESS
800 Bathurst Street, Unit 204, Toronto, ON M5R 3M8
CONTACT DETAILS

[email protected]


(416) 462-0046
OPERATING HOURS
Mon – Fri 10:30AM – 8PM
Saturday 9:30AM – 5:30PM
Sunday: Closed
Based in Toronto, the Beauty Unlimited Spa offers personalized natural and advanced aesthetic services to their clients. They incorporate the use of their own skin care products made from active botanical, marine, and hi-tech ingredients in administering their treatments.
The Beauty Unlimited Spa is known for the different types of facial and body treatments that they offer. Some of these treatments include the Hydrodermabration Facial and Vitamin C Brightening Facial.
Aside from facials and body treatments, they offer photo rejuvenation, permanent hair removal, waxing, and other extras. They can be the one-stop-shop solution for beauty needs.
In terms of pricing, their services start at $15 for a Hand Paraffin Treatment or SOS Eye Care Treatment Mask. Their treatment is priced up to $350 for a back IPL permanent hair removal treatment but they are priced affordably as compared with other clinics.
To add to this, we like that they are now offering a 25% discount on their facial treatment services. New clients can also get a 25% off on some services
Has a lot of facials and body treatment options
Wide array of services
Competitive prices
Offers 25% discount on facial services and to new comers
Customer Reviews
Blissful experience – relaxing, clean and cozy
"My regular visits to Beauty Unlimited are the highlight of my month! I have been a loyal client of Natalia's for over 10 years. She is professional, knowledgeable, committed and a wonderful person, and she hand picks her staff to have the same qualities. This spa is a blissful experience – relaxing, clean and cozy, with a range of services and products. I've treated a couple of friends and now they are regular clients, too. I'm 43 years old and frequently get compliments on my skin – it's all thanks to Beauty Unlimited." – Catherine Murray
Leaves skin feeling incredible, soft, moisturized and youthful
"Best facial I have ever had! Natalia goes out of her way to make you feel comfortable and serene. Her techniques leave my skin feeling incredible, soft, moisturized and youthful I trust her completely and always feel incredible when I leave…..I would go every day if I could! Highly professional, always educated in new techniques and uses the finest quality products. She explains everything and always ensures your comfort and relaxation. I am so thankful to have her in my life." – Carley Vint-Reed
2. Pure + Simple King West
SERVICES
Virtual services, elemental facials, advanced facials, natural facials, IPL, add-ons, skincare products
WEBSITE
https://pureandsimple.ca/
ADDRESS
725 King St W, Toronto, ON M5V 2W9,
CONTACT DETAILS
+1 416-366-8558
OPERATING HOURS
Monday: 11:00 AM – 7:00 PM
Tuesday – Friday: 11:00 AM – 9:00 PM
Saturday – Sunday: 10:00 AM – 6:00 PM
If you like having a lot of options like us, then you'll like Pure + Simple in King West. This facial spa offers a wide variety of skin care services under three major categories.
Their elemental facials are best for those who want deep pore cleaning and hydration. The prices range from $70 to $130 – great for those who want beauty on a budget.
The set of advanced facials they offer takes facials to another level. This time, the results involve drastic changes in the appearance using technology,
Some of the advanced facials include aquabrasion and sea salt microdermabrasion. These are more complex treatments that cost $125 to $225.
Now, if you want something more holistic, they also offer super natural facials. The treatments range from AFA clay and gel peels to LED treatment.
These natural facials lie in the mid-range in terms of prices going from $150 to $175. It's kind of like a combination of natural products and tech to achieve great results.
Apart from these, what we also liked is their set of add-ons that can totally lift your look. Some of our favorites are the fruit enzyme peel, radiant eye lift, and oxygen treatment.
Finally, we also took interest in their virtual services that you can try anywhere. For $60, you can get virtual facial coaching plus a complimentary skin consultation.
A wide variety of facials to choose from
Offers add-ons to facials
Average prices
Virtual facial coaching available with a complimentary skin consultation
Certain issues with online appointments
Customer Reviews
Leaves skin clean and glowing
I can't say enough about this place and the care and attention they lavish on me. Brilliant products and very knowledgeable staff. I've had IPL, facials and peels from most of the practitioners there and each has left me with clean and glowing skin. Colleagues are actually commenting on my complexion for the first time in my life. Recommended. – Stephen Lynch
A relaxing experience
Had a lovely hydrating facial with Diana. It was my first facial and Diana explained everything she was using, how I can maximize the benefits, and how to take care of my skin at home. Left with my skin looking amazing and had such a relaxing hour. Would absolutely recommend Pure+Simple and their facial with Diana! – Michelle Perelchtein
3. Dermalogica Royal Bank Plaza
Since 1986, Dermatoligca has been providing clients with custom skincare solutions. The best part is, the prices are all affordable and the treatments are super fast.
The highlight of all their services is the customer favorite Pro Power Peel 30. This treatment is ideal for dealing with acne breakouts, wrinkles, and uneven pigmentation.
Now, this facial is their strongest peel that uses a three-acid approach. If you want a more tamed-down version, you can choose either the ProSkin 30 or ProSkin 60.
ProSkin 30 takes 30 minutes and is best for toning with exploitation and deep serum treatment. ProSkin 60 is great for brightening, firming, and smoothing, which is done using enhanced treatments.
They offer other notable facials based on your needs, but they can be summed up in two ways. One, quick treatments, and two, high-quality services minus the luxurious experience.
Other than these, the other thing we liked is the digital experience they offer. You can book a virtual consultation with a skin expert to assess your skin.
One of these services includes face mapping skin analysis. This 10-minute session addresses your concerns while giving you treatment recommendations.
Complimentary virtual skin consultation
35 years in business
Best for quick facial treatments
Among the cheapest facials in Toronto
Offers face mapping skin analysis
Located within a busy and rather loud commercial area
Customer Reviews
Great experience from start to finish
I had such a lovely visit with Maicy. I arrived a few minutes early and saw her sanitize everything very well. We had a consultation where I voiced my skin concerns and she did an analysis of my skin before starting a treatment. She checked in on me throughout the treatment and explained the process. We did a walk through of the products she used and she made a few recommendations to my routine before I left. I highly recommend this service. My skin has never looked better! – Katrina Gillett
Makes skin look supple, glowy, and healthy
Such a great experience! The treatment itself targeted my most frequent skin concern – dehydration – and I left with supple, glow-y, and healthy skin. Nyssa is a true professional in her field and made my overall experience informational, as well as fun and relaxing. I left with some recommendations and samples, and will definitely book with her/the RBP location again. – Arina Terentjeva
4. Province Apothecary
SERVICES
Custom organic facials, express custom organic facials, skin care products, naturopathy, meditation, brow & lash treatment, facial rejuvenation acupuncture, osteopathy
WEBSITE
https://provinceapothecary.com/
ADDRESS
1554 Dundas St W, Toronto, ON M6K 1T8
CONTACT DETAILS
+1 647-479-5525


[email protected]

OPERATING HOURS
Monday – Friday: 12:00 PM – 7:00 PM
Saturday – Sunday: 10:00 AM – 5:00 PM
Province Apothecary is best known in Toronto for its line of skincare products. But beyond this, they also offer a couple of services from facials to acupuncture and even osteopathy.
Let's focus on their facials first. They provide five different organic facials best for holistic treatments.
These custom organic facials are made to strengthen, detoxify, and hydrate the skin. For first-timers, the facial costs $140 and takes 75 minutes to complete.
If you end up liking it, you can come back as a returning customer for your next facial. This time, you'll only have to pay $120 for a 60-minute session.
What we liked about this set of treatments is that you actually get an option to speed things up. They offer an express edition of these custom facials that reduces session time for up to 30 minutes.
The express custom organic facials cost only $95 for first-time customers. An express facial for a returning client costs $85 for a 30-minute facial treatment.
As we said, they have a prominent skincare line that you can try out if you like. And since it's under the same clinic, your service plus product matches so you don't have to switch between ingredients.
In addition to all these, they also offer virtual skin consultations for $20 to $70. They'll give you a thorough skin analysis, recommended products, and help you create a home care plan.
Best for custom organic facials
Lower prices for return customers
Has express facial for faster facials
Offers virtual skin consultations
Limited variety of facials
Customer Reviews
Best facial experience
I had a facial with Vanessa and it was the best facial I have ever had!
Vanessa was so knowledgeable and pleasant, and my face was absolutely glowing after. The room was also very cozy and relaxing. I have had many facials before but I never left feeling this great after, skin- and mind-wise. I've become a fan of Province Apothecary products since last year and have slowly been switching up my skin care routine to incorporate more of their products. They are just simple and very effective. The skincare industry is so saturated but with their products you realize that less is more…Now that I tried the facial I'm excited to try the custom serum. Vanessa also got me thinking about getting into dry brushing. And I will definitely be back for more facials. I couldn't recommend this place more for one's skincare needs! And book a facial with Vanessa, you won't regret. – Olga Dadabayeva
Beautiful and relaxing space
Cassandra was super helpful and knowledgeable. This was my first ever facial and she really made me feel comfortable. The customized serum and tonnes of samples I walked away with, plus the personalized follow-up email, were the lovely cherry on top. It's a beautiful, relaxing space and I can't wait to book my next appointment! – Sarah Valant
5. Hammam Spa by Céla King West
SERVICES
Steam rituals, signature treatments, RMT, specialty massage, spa packages, body treatments, skin therapy, waxing, nail rituals
WEBSITE
https://hammamspa.ca/
ADDRESS
602 King St W, Toronto, ON M5V 1M6
CONTACT DETAILS
+1 416-366-4772
OPERATING HOURS
Monday – Saturday: 10:00 AM – 7:00 PM
Sunday: 10:00 AM – 6:00 PM
If you want a more luxurious experience for your facials, Hamman Spa is a wonderful choice. Of course, now that there's luxury in the picture, you'll have to pay higher prices too.
Their most notable facial treatment is their signature custom facial. With this, your esthetician will assess your skin to custom-craft a treatment for you.
This signature facial includes masquing, exfoliation, and facial massage for the ultimate treatment. While you're getting this facial, you get effleurage on your hands, shoulders, neck, and arms.
The signature facial costs $190 for a 60-minute session. But if you're pressed for time, you can try their mini facial instead.
This option takes only 30 minutes to complete at $145. Expensive, but many past clients said that it left their skin feeling firmer and looking more radiant.
Another thing that we looked into is their gentlemen's custom facial. It's basically the same as the signature facial, but the techniques and products used are more suitable for men.
Apart from these facials, they also offer Oxygeneo Facial, Intensive Facial Peel, and various medical facials. If you don't know which one to get, you can book a free 15-minute consultation to give you a personalized plan.
Speaking of this consultation, they use SkinCeuticals SkinScope technology for skin assessment. This is a high-tech full-face diagnostic tool that helps detect skin concerns.
Can pair facials with other services under certain packages
Best for a more luxurious and sensorial facial
Offers facials suitable for men
Free 15-minute consultation
Uses SkinScope technology for skin assessment
Can be difficult to contact at times
Customer Reviews
Reasonable prices for great services
Seriously the best spa on Toronto. The quality of service, and experience that I have here is on point EVERY time. Prices are very reasonable for the quality. I've had facials, mania & pedis here. I'd rather pay just a couple of dollars more and have my nails last. Phoebe is so lovely and I look forward to seeing her in the spa. Thanks guys! – Jordana Blumberger
Makes any experience a treat
My experience at Hammam Spa is always a treat! The front desk is friendly, professional and competent. I recently had a facial with Anna K. her expertise in skin care made my experience a absolutely terrific one. Thank you, Hammam Spa. I would recommend visiting the spa the next time you need to relax and be pampered. – Gem
6. Hand & Stone Massage and Facial Spa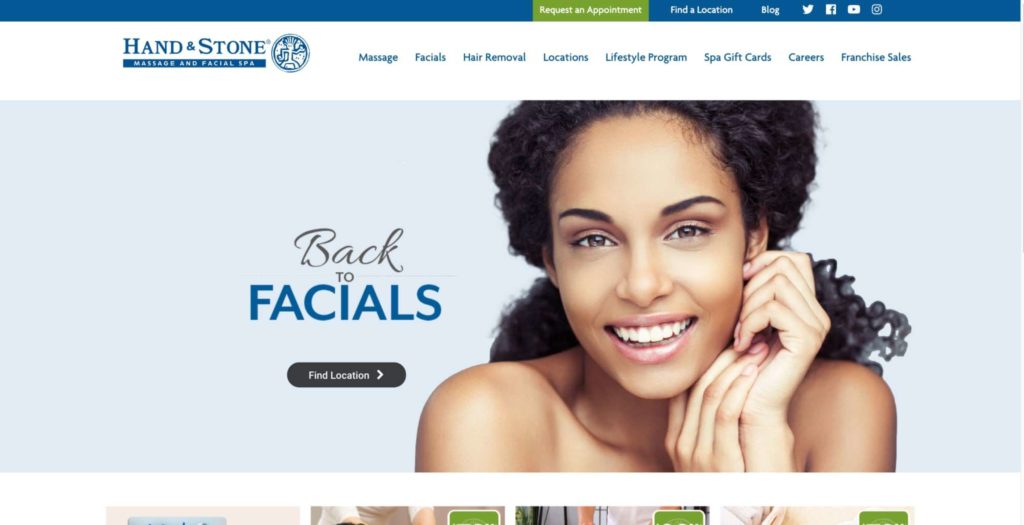 SERVICES
Massages, facials, hair removal
WEBSITE
https://handandstone.ca/
ADDRESS
410 Lake Shore Boulevard West, Dan Leckie Way, Toronto, ON M5V 2V9
CONTACT DETAILS
+1 647-347-4909
OPERATING HOURS
Monday – Friday: 9:00 AM – 9:30 PM
Saturday: 9:00 AM – 7:00 PM
Sunday: 10:00 AM – 6:00 PM
Hand Stone Massage & Facial Spa is what you get when you combine the best of both worlds. You'll enjoy the feeling of luxury without having to pay insane prices.
The introductory price of facials here is only $79.95. Plus, you have a wide selection of facials to choose from under certain categories.
The first that they have are signature facials, namely classic, men, and teen. Each type of facial is tailor-fit for its target clientele, specifically dealing with their unique skin needs.
The next set of facials that they have are advanced or exceptional facials. They offer a wide variety here ranging from rejuvenating facials to LED skin phototherapy.
For their exfoliants and peels, they offer microdermabrasion and active peel. Both techniques revitalize the skin, giving it a more radiant look.
What we liked about these services (apart from the price), are the add-ons. To enhance your facial treatment, you can get a pro power peel eye, pro neck contour, lip & eye treatment, and more.
If you end up liking their facials and want to patronize them, we recommend looking into their membership program. The program is free, has no long-term commitments, and is easy to cancel.
One of the greatest benefits you get is either a free massage or facial every month. You can also earn rewards, get a 10% discount on products, and try spa packages at members' rates.
Among the cheapest prices in Toronto
Wide range of facials to choose from
Facials available to address men's and teens' skin needs
Add-ons available
Free membership program with great perks
Better known for RMT services
Customer Reviews
Professional, skilled, and effective
Excellent service and facilities. I called last minute and they were able to accommodate me. Simon was professional, skilled and effective. The other staff were great too. Definitely will be returning. – Dawne Jubb
High-quality service
Very relaxing experience. Everything smelled great with diffusers running in the main waiting area. They had complimentary lemon water and tea available. I've been here for several massages and a facial and would definitely recommend this place. High quality service and you get an insurance slip right away. – Katrina S.
FAQs About Facials in Toronto
---
Getting facials isn't just about feeling beautiful, it's also about being healthy and happy with your skin! For other things about cosmetics, browse some of our reviews: