Where to Find the Best Homes for Rent in Toronto
Renting a house is one of the fastest ways to have a roof over your head. It may not be your own just yet, but it serves its purpose.
For those of you in Toronto, this article will tell you all about where you can find the best homes for rent in the city. We gathered the essential information along with each of the items' pros and cons.
Where to Find the Best Homes for Rent in Toronto
We used the following criteria to evaluate each of the spaces in this list:
How much do homes for rent cost in Toronto?
Prices of homes for rent vary in so many ways. Here is a sample price table (including utilities cost) to help you get started. 
| Homes for rent in Toronto | Monthly Cost |
| --- | --- |
| 3-bedroom | CAD 3,805 and above |
| 2-bedroom | CAD 2,605 and above |
| 1-bedroom | CAD 1,995 and above |
| Luxury home | CAD 10,000 and above |
Kindly take note that these are only average prices and that exact amounts will be disclosed once all details are in.
1. Point2Homes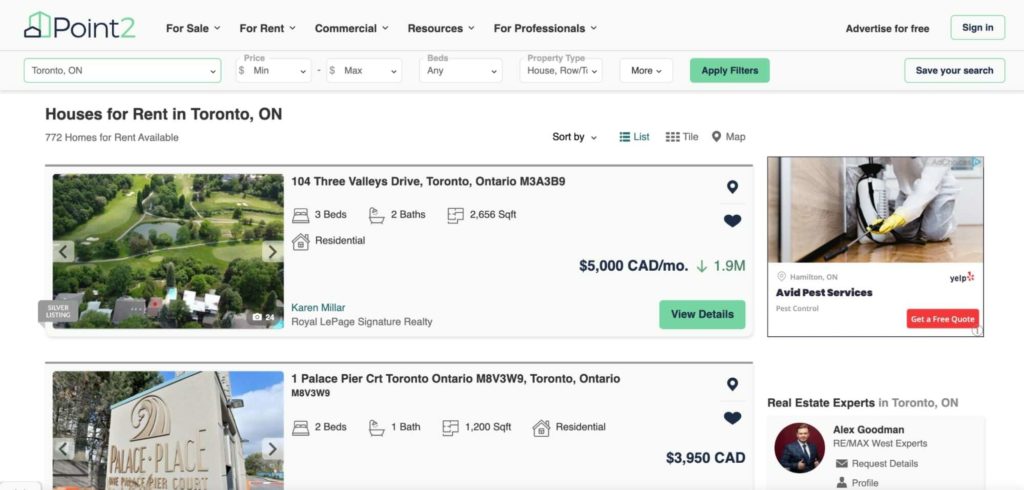 | | |
| --- | --- |
| RANGE OF SELECTION | ★★★★★ |
| TRANSPARENCY | ★★★★☆ |
| OVERALL PROCESS | ★★★★☆ |
| Website navigation | ★★★★☆ |
| Communication | ★★★★☆ |
| SUCCESSFUL RENTS | ★★★★☆ |
Point2Homes is a Canadian company that was founded in 2004 with the goal to help people find their dream home. Being located in Canada itself makes them an optimal choice for finding homes in Toronto.
The best thing about this company is that their website is well-categorised and very specific. You will be able to know upfront whether a house is actually for sale or available for rent.
We like how they have options for rent-to-own as well, which is something that a lot of people look for nowadays. They have more than 750 houses for rent listed on their website as of writing of this article, which is a pretty good number.
Details are disclosed such as the house's total area size, number of rooms, baths, rental price, and the listing owner's name and/or company. They also specify whether a listing is actually silver or gold, which are highly-promoted posts or ad-heavy.
Another thing we like about Point2Homes is that it allows website guests to request further details directly from the listing owners and/or property rentors. This can be done by simply clicking on the "request details" button.
Of course, this service isn't perfect. We do note that there are way more listings in the above-average rates, which doesn't exactly make them budget-friendly.
We also find that they have several reports of having unresponsive rentors, with some customers claiming that they encountered scams. This isn't a good reflection to Point2Homes, as it suggests that their security is not well-polished.
Still, we find that Point2Homes is one of the best options to find a home for rent in Toronto. The good reviews outweigh the bad ones and their website has good navigation and is very detailed.
Almost 2 decades' worth of experience
Has over 750 listings as of writing
Very detailed listings 
Directly connects renters to rentors 
Majority of listings are in above average rates
Has reports of unresponsive rentors 
2. RentFaster.ca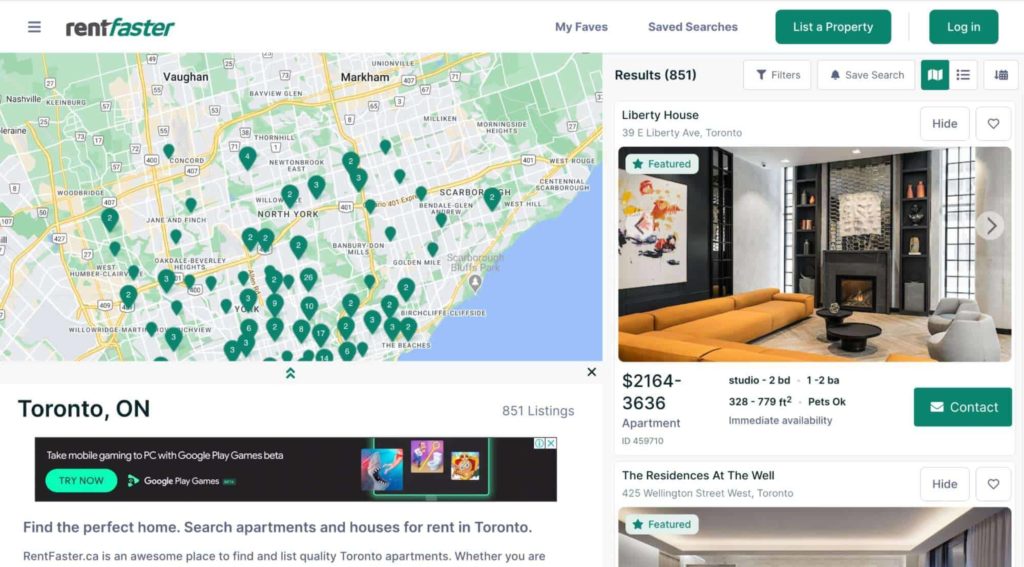 | | |
| --- | --- |
| RANGE OF SELECTION | ★★★★★ |
| TRANSPARENCY | ★★★★☆ |
| OVERALL PROCESS | ★★★★☆ |
| Website navigation | ★★★★☆ |
| Communication | ★★★★☆ |
| SUCCESSFUL RENTS | ★★★★☆ |
RentFaster is a go-to place for anything that concerns rent in Canada. Whether it's a small room, short-term condominium, apartment, or home, this company helps people find the best space for them.
Having been in the rental industry since 2003, this place can be regarded as a very knowledgeable service. Their website even comes with a map, allowing people to see how near a property is to a certain landmark or how many listings are in an area.
We found a total of 851 apartment or home for rent listings on their website as of writing, which is a pretty impressive number. They also list whether a space is pet-friendly, which makes things easier for people who have pets.
We especially like how they include the date of availability of a place. This saves a lot of time and energy for both parties and is even a great way to narrow down options should a renter search for listings by date.
Deposit amounts are disclosed as well, making things easier for people. We do note that while their details are very extensive, it could be quite a long read and could ruin navigation experience.
We also warn that several pop-ads here could be sketchy, as customers experience being directed to a page and having trouble with going back to the site. RentFaster should do something about this and improve their security.
We do find that despite its shortcomings, this website is still undoubtedly one of the easiest and most convenient ways to find a home for rent in Toronto. Its power search tools make it easier if you are searching by location, date of availability, or budget.
20 years of experience
851 home or apartment for rent Toronto listings as of writing 
Website comes with a map that makes locating easy
Lists whether a space is pet-friendly
Some long reads ruin navigation experience
Contains several troublesome pop-up ads
3. Zolo.ca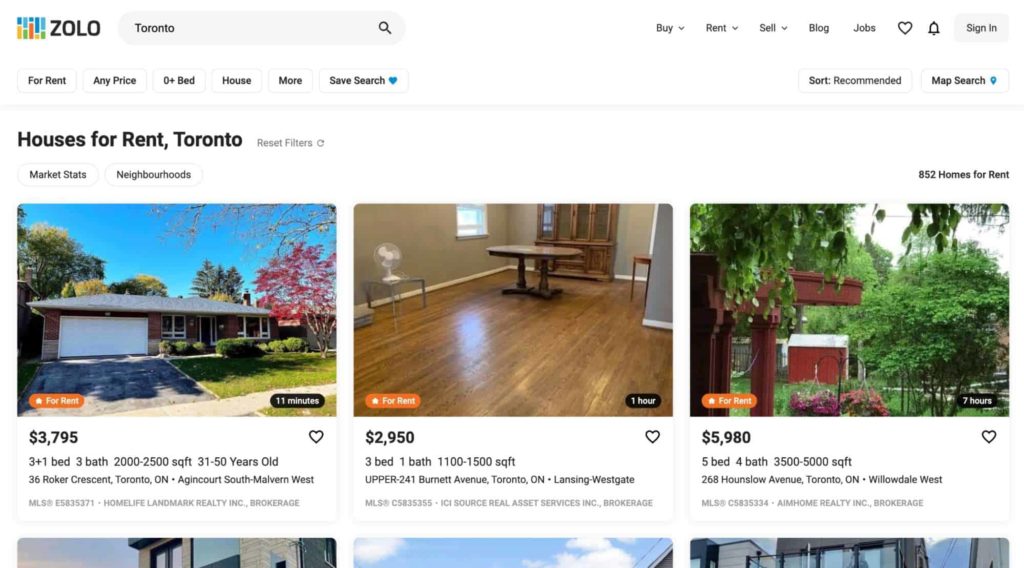 | | |
| --- | --- |
| RANGE OF SELECTION | ★★★★★ |
| TRANSPARENCY | ★★★★☆ |
| OVERALL PROCESS | ★★★★☆ |
| Website navigation | ★★★★☆ |
| Communication | ★★★★☆ |
| SUCCESSFUL RENTS | ★★★★☆ |
With actual to realistic photos of their rental listings, Zolo.ca is one of the best ways to literally look for and look at home rentals in Toronto. It also adds that their headquarters is also located in the city and they have a decade's worth of experience.
The good photos on their website are backed by relevant information. We like how they disclose usual details and provide brief descriptions of the spaces.
We do warn that an account is required for people to access information, but an account is free for life so no worries on your finances. Take note that they also have more than 875 homes for rent listed as of writing, giving people plenty to choose from.
Prices of their listed spaces are also within the average, making them appealing to those on a budget. We also like how they also take photos of the surroundings or the neighborhood to give people an idea of the overall atmosphere should they move in.
Honestly, there isn't really anything alarming about Zolo. It is however important to remember that more than 10 million Canadians use this to look for home rentals, so those looking for a place in Toronto may encounter many competitors.
We also note that sometimes, a listing isn't updated real-time. This means that it can show as available when it has actually been rented already, which could be a problem.
Overall, we recommend Zolo because of the website's straightforward design and honest photos. Their tenure also qualifies them as an experienced service.
Began in 2012
Located in Toronto
More than 875 Toronto homes for rent listed as of writing
Budget-friendly spaces
Requires an account to access information
Has millions of users to compete with for listings
Some posts are not updated real-time
4. Realtor.ca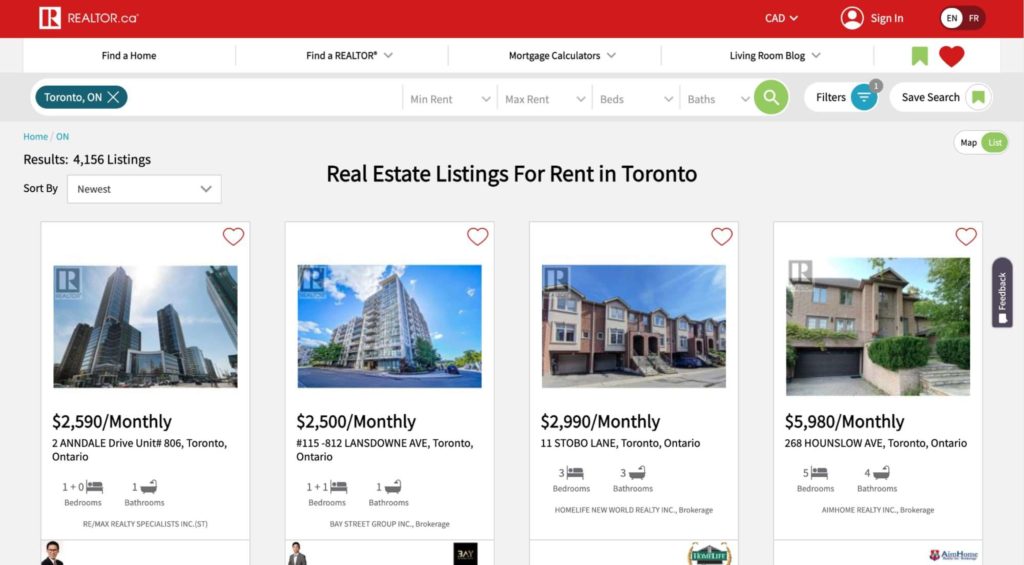 | | |
| --- | --- |
| RANGE OF SELECTION | ★★★★★ |
| TRANSPARENCY | ★★★★☆ |
| OVERALL PROCESS | ★★★★☆ |
| Website navigation | ★★★★☆ |
| Communication | ★★★★☆ |
| SUCCESSFUL RENTS | ★★★★☆ |
Owned and operated by the Canadian Real Estate Association (CREA), Realtor.ca is the place to be for anything real estate. This goes for properties that are either for sale or for rent, such as buildings, homes, condominium units, and others.
The very reason why this service is reliable is because of their knowledge in real estate. We like how they list everything you need to know about a space and what inclusions may come with it.
Condominium units are often the highlights here given the nature of the service. We do find that many people nowadays also prefer condominiums as temporary homes, which is good for this service.
We also like the way they lay out each listing. Every rental space usually comes as a page on a smartphone, making it more appealing and easy to comprehend.
Their price ranges are also very extensive, so people on a budget to those who are willing to splurge are free to look. We also find that there are usually over a thousand listings across all categories, which makes this a great place to search.
Both single and multi family houses are sorted as well. We do note that some house listings have very few to no photos, which could be bothersome.
We also find that some measurements of the house's spaces are sometimes not available. This could be a dealbreaker as some people are very particular about the area they could move around in.
Realtor.ca is a good place to look if you want a verified source for rental properties. We especially recommend this for those who are eyeing to move into condominium units or high-rise residential areas.
Owned and operated by the Canadian Real Estate Association (CREA)
Well-designed website and individual listings
Over 1,000 listings per residential category
Extensive price ranges
Some listings have few to no photos
Area or space measurements are sometimes unavailable
5. Zillow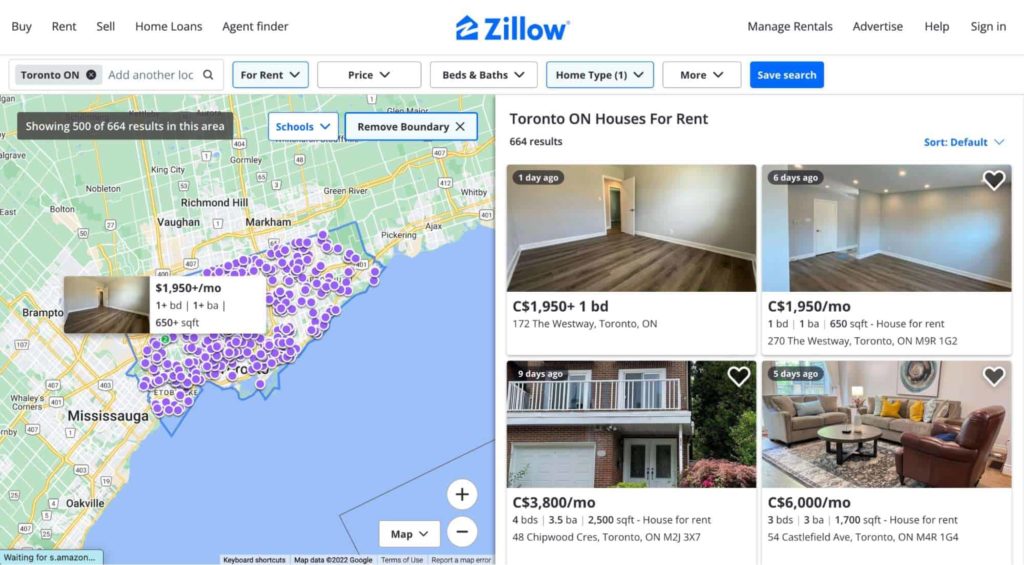 | | |
| --- | --- |
| RANGE OF SELECTION | ★★★★★ |
| TRANSPARENCY | ★★★★☆ |
| OVERALL PROCESS | ★★★★☆ |
| Website navigation | ★★★★☆ |
| Communication | ★★★★☆ |
| SUCCESSFUL RENTS | ★★★★☆ |
Founded in 2006, Zillow is a focused real-estate tech marketplace that aims to serve people through experience design. This is what makes them a reliable place to look for rentals, as they focus on continuously improving their own platform.
We believe that Zillow made the cut not only because of their high regard for visual technology but also because of their impressive listings. Despite being a non-Canadian company, they managed to gather more than 660 Toronto homes for rent as of writing.
They also have a huge map that serves as a visual guide during one's search. Categories of their available residential units for rent are houses, apartments or condominiums, and they even have townhomes.
People can also search by location, whether a space is pet-friendly, features, and amenities. We especially like the feature where you can factor in travel time to and from work when choosing a rental property.
The houses go from humble to luxe, which also translates to average prices to a bit of higher ones. We do warn that some listings are too long to read, which can disrupt a customer's overall experience.
We also find that some listings have incomplete information and state that people would need to contact the manager. This isn't exactly bad, but it would be better if the platform sets standards as to disclosed information so as to make each listing stronger.
All said, we find that Zillow is a growing platform that has potential to reach and help many people in Canada as well. Their website is good if you want to find fresh posts and have very few competitors for rental slots.
Focuses on tech design and user experience
Users can check the listing's proximity to and from work
Houses are available from humble to luxe
More than 650 rental homes available as of writing
Some listings have incomplete information
Some listings are too long to read
FAQs about homes for rent in Toronto
---
We hope you had fun looking through all the websites on this list. Do share your thoughts with us in the comments below!
If you just need a room to stay in Toronto for a while, you may want to check out our review of the top room rental websites in Toronto.