The 5 Best Woodworking Services in Toronto
Wooden furniture is preferred by some because of its long-lasting quality and sustainability. Also, it has an enduring look and aesthetic that can enhance the overall appearance of your home interior.
In case you're looking for a woodworker, we reviewed and assessed the shops that offer the best woodworking services in Toronto.
Our criteria for the best woodworking services in Toronto
We used the following in assessing the companies that offer the best woodworking services in Toronto:
What is the average cost of woodworking services in Toronto?
The average hourly labour cost for woodworking services in Canada is $35 to $85 per hour, according to the FDMC's Pricing Survey.
1. Woodcraft Solid Wood Furniture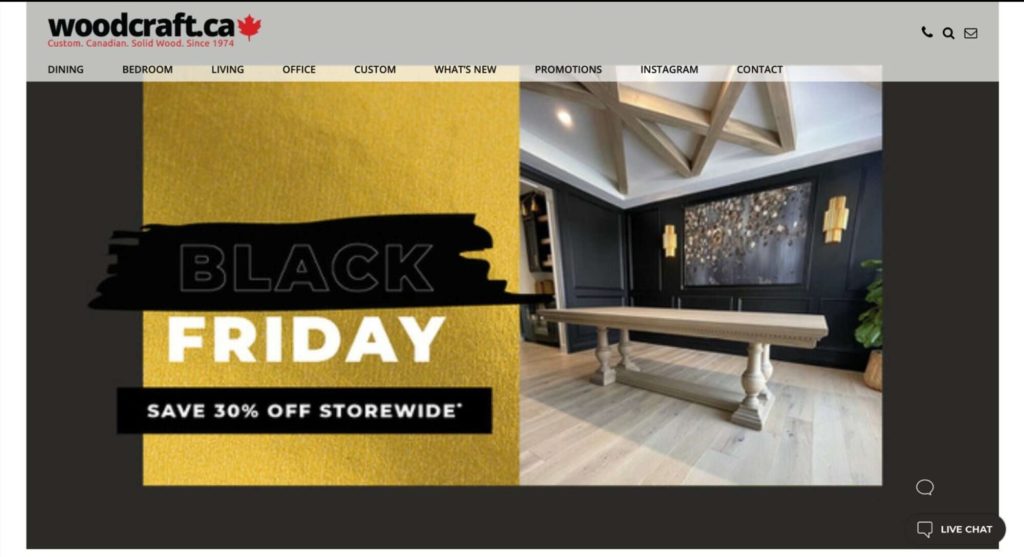 Test
Info
SERVICES

Refinishing

Delivery & Assembly

Custom Stains

Custom Furniture

WEBSITE
https://www.woodcraft.ca/
ADDRESS
370 Denison St, Markham, ON L3R 1B9, Canada
CONTACT DETAILS
Phone: (905) 475-2488

EMAIL: [email protected]

OPERATING HOURS

Monday to Saturday, 10:00 AM to 5:00 PM

Sunday, 11:00 AM to 5:00 PM
| | |
| --- | --- |
| EXPERIENCE | ★★★★★ (5/5) |
| PRODUCTS AND SERVICES | ★★★★★ (5/5) |
| > Selection and scope | ★★★★★ (5/5) |
| > Quality | ★★★★★ (5/5) |
| COST | ★★★★☆ (4/5) |
| STAFF | ★★★★★ (5/5) |
| > Responsive to calls | ★★★★★ (5/5) |
| > Timeliness | ★★★★★ (5/5) |
Woodcraft Solid Wood Furniture has been manufacturing handcrafted, custom-sized and custom-stained wood products for 43 years. You can choose from their classic solid wood furniture collection, which features oak, cherry, maple, and pine.
Their products include dining tables, bedroom sets, beds, coffee tables, sofa tables, office desks, bookcases, and cabinets. Their specialty is furniture made of maple wood, which we like for its resistance to decay and its nice and beautiful stain.
We're quite impressed that their tables feature innovative centre and end extension mechanisms.
With these mechanisms, their tables open up in the middle, where centre panels can be added or removed quickly. We like it because it makes the table sturdier and increases its functionality.
We also think it's an advantage that they have three branches in Toronto because it increases their accessibility to their clients from all over the city.
For their shipping and delivery, they do a white-globe and door-to-door service around Canada and the U.S, and all their deliveries are insured and guaranteed.
However, take note that they don't accept refunds and returns, and you're also not allowed to cancel your orders, which can be a dealbreaker for some customers.
Also, be warned that their pricing is a bit on the high end. Dining tables, for instance, may cost you anywhere from $2,216 to $10,900, depending on the size, style, and wood.
Regardless, most of their clients are happy with the overall design of their products – so we think that their products are a worthy investment for the home.
Lastly, we're also happy with Woodcraft Solid Wood Furniture's overall service. Staff apparently work efficiently, with clients finding them easy and helpful to work with.
43 years in the industry
Has an extensive wood furniture collection
Tables have centre and end extension mechanism
Has three branches in Toronto 
No refunds and cancellation
A bit pricey compared to competitors
Customer Reviews
Accommodating staff
"Oliver has been outstanding in accommodating our needs in furnishing our new home. From the first email inquiry to delivery, we are extremely pleased of the service we received and are very happy with our new furniture. The craftmanship and details are unmatch by any other company. This is an investment we will enjoy for years to come. Thank you to everyone at Woodcraft.
If we can improve on one thing, what would it be?
Hard to say as our experience has been top notch. Communication was great, timeline was met, prices were great and customer service is outstanding. I say stay the course, you have the right approach." – Marc Grimard, Google Reviews
Easy and helpful to work with
"We had a great experience working with Woodcraft- helpful service team, good communication and beautiful custom product we love. Rare to find a company this easy and helpful to work with these days. The table is really high quality. Much nicer than expensive high end retail brands like RH etc. highly recommend." – tim peterson, Google Reviews
2. Good Wood Brothers Inc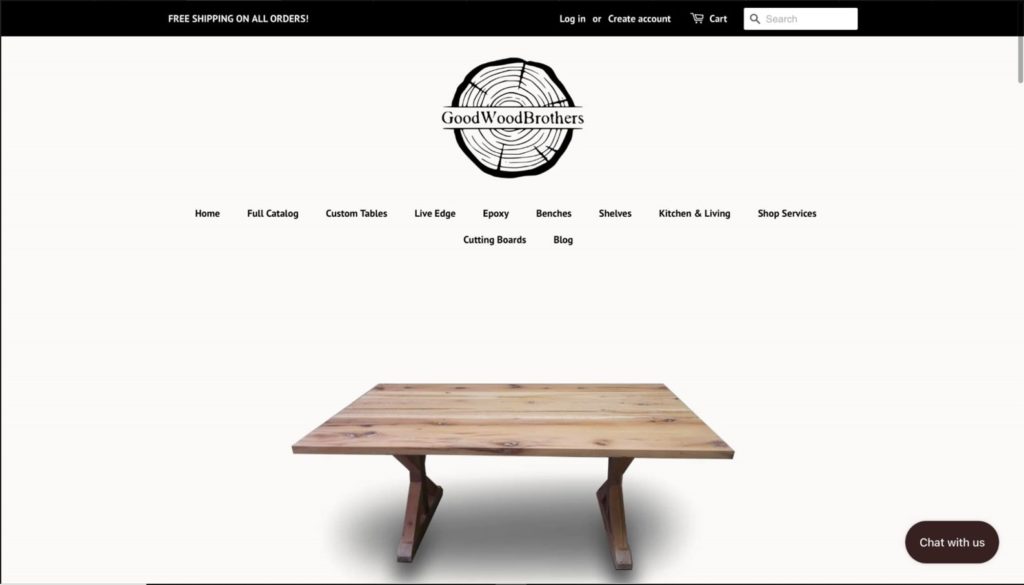 Test
Info
SERVICES

Custom Tables

Live Edge

Epoxy

Benches

Shelves

Kitchen & Living

Cutting Boards

Wood Planning Services

WEBSITE
https://goodwoodbros.com/
ADDRESS
33 Casebridge Ct #4, Scarborough, ON M1B 3J5, Canada
CONTACT DETAILS
Phone: +1 (647) 205-9040
OPERATING HOURS

Monday to Friday, 9:00 AM to 5:00 PM
| | |
| --- | --- |
| EXPERIENCE | ★★★★☆ (4/5) |
| PRODUCTS AND SERVICES | ★★★★★ (5/5) |
| > Selection and scope | ★★★★★ (5/5) |
| > Quality | ★★★★★ (5/5) |
| COST | ★★★★★ (5/5) |
| STAFF | ★★★★★ (5/5) |
| > Responsive to calls | ★★★★★ (5/5) |
| > Timeliness | ★★★★★ (5/5) |
Good Wood Brothers Inc is a family business owned by brothers who are skilled in woodworking. Their products include custom tables, benches, and cutting boards that are available in multiple sizes and wood options.
We like that they have wood planning services for wood and epoxy if you have rough lumber that you want to smoothen out.
Based on customer feedback, it also seems that their prices are cheaper than similar companies. This is great if you're looking for a budget-friendly woodworking shop.
We also appreciate that they have flexible payment methods. You can pay via American Express, Apple Pay, Discover, Google Pay, MasterCard, PayPal, and Visa.
Most of their clients are happy with their efficiency. In most cases, they can do short notice requests; one time, they even took on a wood planning service in under 15 minutes for a client.
It's just a shame that you can't book online appointments with them, which would have earned them additional points for convenience.
If you're planning to book Good Wood Brothers Inc for your woodworking needs, you'll need to get in touch the old-fashioned way: call or text. This shouldn't be a problem, however, as clients testify that their staff are mostly responsive.
Affordable prices
Offer wood planning service
Offer flexible payment methods
Allow returns
Closed on weekends
No online appointment
Customer Reviews
Communicative throughout the process
"Absolutely love our dining table that GoodWood brothers designed for us. You won't find this quality at your normal furniture store so even if it's a bit more,
It's worth the extra price!
We showed Alex some inspiration photos, and we were able to pick out the slabs and the stain to match with our accompanying chairs. Alex was very communicative throughout the process which was great because we are not in Ontario. Shipping was a breeze, arrived in 7 days from out of province. It was beautifully packed and secured in its crate! We are so happy! Thank you, thank you!" – charlotte, Google Reviews
Heirloom quality
"Was considering purchasing a coffee table from Crate and Barrel, but after reading the reviews about peeling veneers I decided to go the custom route and have something made that was solid. Couldn't be more pleased! Feels like heirloom quality!" – Jennifer Wilson, Google Reviews
3. Emerald Custom Woodworking Inc.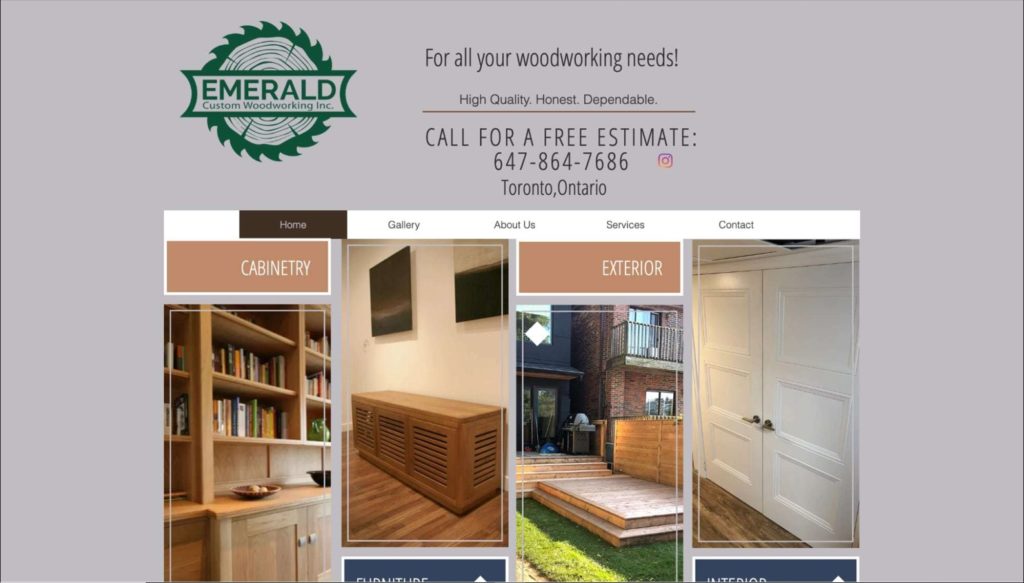 Test
Info
SERVICES

Decks

Fences

Renovations

Kitchen Remodel

Furniture

Restaurant/Shop Remodel

Doors

Windows

Mantles

Shelving/Built-Ins

Bathroom Vanities

Basements

Hardwood Flooring

Baseboards

Cabinetry

Crown Moulding

Sheds

Garage

WEBSITE
https://www.emeraldcustomwoodworking.com/home
ADDRESS
1806-45 Dunfield Ave., Toronto, ON M4S 2H4
CONTACT DETAILS
Phone: (647) 864-7686

EMAIL: [email protected]

OPERATING HOURS

Monday to Friday, 7:00 AM to 6:00 PM

Saturday to Sunday, 9:00 AM to 6:00 PM
| | |
| --- | --- |
| EXPERIENCE | ★★★★★ (5/5) |
| PRODUCTS AND SERVICES | ★★★★★ (5/5) |
| > Selection and scope | ★★★★★ (5/5) |
| > Quality | ★★★★★ (5/5) |
| COST | ★★★★☆ (4/5) |
| STAFF | ★★★★☆ (4.5/5) |
| > Responsive to calls | ★★★★☆ (4/5) |
| > Timeliness | ★★★★★ (5/5) |
Emerald Custom Woodworking Inc. specialises in exterior and interior cabinetry for commercial and domestic clients. Aside from cabinetry, they also produce decks, fences, hardwood floorings, and many others.
The owner, Ciarán Garry, is a fully licenced and insured woodworker and has over 12 years of experience. We're confident in his expertise knowing that he was recognised as part of the top five cabinet makers in an Ireland competition in 2011.
The quality of his craftsmanship is commended by the majority of his clients. Of course, this means that he is not the most affordable option – but certainly worth the hefty price tag.
In addition, most of the clients we spoke with were happy with his attention to detail and ability to accurately execute their design vision.
Moreover, many of the clients mentioned that he's patient and accommodating to various requests. Ciarán also apparently sticks to the timetable given and stays within the budget, which underscores his professionalism.
But one thing we think they could work on is their responsiveness. Apparently, some clients experienced not getting a response even after calling and texting several times for an appointment.
Overall, we still recommend Emerald Custom Woodworking for their high-quality woodworking skills and client rapport. In fact, most of their clientele are repeat customers who were initially impressed by the quality of their craft.
Owner was ranked among the top five cabinet makers in Ireland
No hidden charges
Tends to be unresponsive at times
Can be expensive
Customer Reviews
A dream to work with
"Ciaran was a dream to work with – collaborative, dependable, and expertly skilled. I gave Ciaran an inspiration picture for our living room built in, and he brought it to life even better than I expected. We started with a blank slate, and added a beautiful fireplace, wrapped in marble, and custom mantle, with two shelving units on either sides.
Ciaran provided us with a quote, design and a thorough explanation of the process. He consulted with us every step of the way to ensure we're liking how things were progressing.
His work is impeccable, he has amazing attention to detail, and he's just lovely to interact with. I would 100% recommend him, and in fact, we're in the process of another project with him." – Raluca Gheorghe, Google Reviews
Beautiful craftmanship
"I am so impressed by Ciaran's work. He has built an amazing home office/display unit in my condo. I had made some crude designs and gave a few reference pictures and with just that he was able to bring my vision to life, exactly the way I had envisioned. Beautiful craftmanship and it was a pleasure seeing him work and have him around the house while he completed the job. Professional and a great guy all around.
I will use the shelves he built to display expensive collectables and I trust his work 100%. I will be using Ciaran for all my future projects and will be recommending him to everyone I know." – Denis Café
4. DS Wood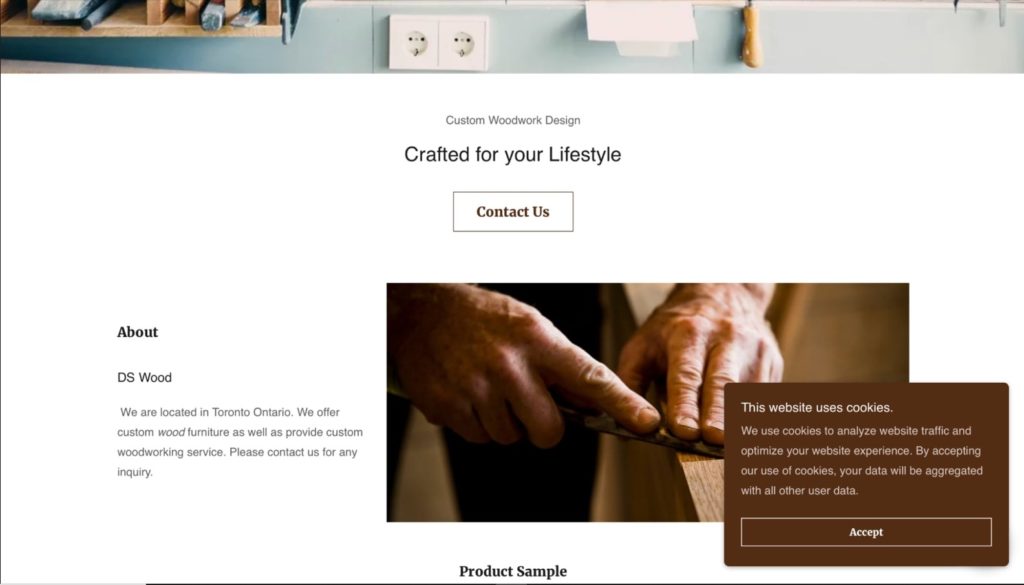 Test
Info
SERVICES

Custom Woodwork Design

WEBSITE
https://ds-wood.ca/
ADDRESS
Ravel Road, Toronto, Ontario M2H 1T1, Canada
CONTACT DETAILS
Phone: (416) 828-5005

EMAIL: [email protected]

OPERATING HOURS

Monday to Friday, 9:00 AM to 5:00 PM
| | |
| --- | --- |
| EXPERIENCE | ★★★★★ (5/5) |
| PRODUCTS AND SERVICES | ★★★★☆ (4.5/5) |
| > Selection and scope | ★★★★☆ (4/5) |
| > Quality | ★★★★★ (5/5) |
| COST | ★★★★★ (5/5) |
| STAFF | ★★★★★ (5/5) |
| > Responsive to calls | ★★★★★ (5/5) |
| > Timeliness | ★★★★★ (5/5) |
DS Wood offers woodworking services, mostly specialising in custom wood furniture such as coffee tables, kitchen tables, patio boxes, and phone or any device stand.
They create tables made up of live edge tree slices and tree stumps, which we think can add great aesthetic appeal to your home. We find this unique as most of their competitors don't usually use these kinds of materials on their products.
It seems they are known for their quality and consistency, as some of the clients we were able to interview were already repeat or loyal customers. This increases our confidence in their craftsmanship.
Another thing we like is that they do contactless delivery. This is convenient for most customers since deliveries are paid for beforehand, and items can be left on your doorstep without needing the signature of the receiver.
Sadly, though, they don't accept debit cards for payment. This might be a drawback for some customers who prefer more flexible payment options.
You can fill up their appointment form on their website if you're planning to book their services. Also, calling or messaging them by e-mail can be an option if you have some queries – you can expect a fast reply since they are reportedly responsive.
Uses tree stumps and live edge tree slices
Does contactless delivery.
Closed on weekends
Doesn't accept debit card for payment
Customer Reviews
A very great experience
"The personalized service was a great experience. Di patiently listened to my ideas even though I had few change of mind. I'm very happy with my purchase!" – Joyson J, Google Reviews
Will be always going back
"If you need a custom design and something unique! You have to talk to DS wood! I am a repeating customer and I will be always going back to DS wood whenever I want a beautiful wood piece. They will make sure you're happy with your piece. Don't hesitate to contact them, you will not be disappointed" – Alice Wong, Google Reviews
5. Black Forest Woodworking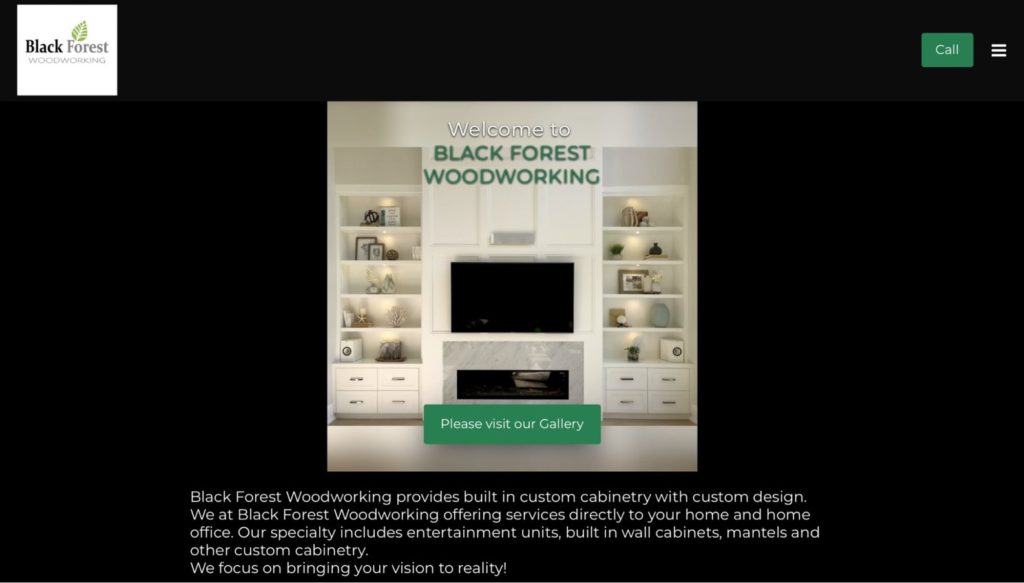 | | |
| --- | --- |
| EXPERIENCE | ★★★★★ (5/5) |
| PRODUCTS AND SERVICES | ★★★★☆ (4.5/5) |
| > Selection and scope | ★★★★☆ (4/5) |
| > Quality | ★★★★★ (5/5) |
| COST | ★★★★☆ (4/5) |
| STAFF | ★★★★★ (5/5) |
| > Responsive to calls | ★★★★★ (5/5) |
| > Timeliness | ★★★★★ (5/5) |
For over 20 years, Black Forest Woodworking has been specialising in building entertainment units, built-in wall cabinets, mantels, and other custom cabinetry. They've also been offering their services both in Europe and Canada.
Steven, the owner, received a cabinetry diploma from Hungary in Technical School, which reflects his extensive knowledge of woodworking.
Their meticulousness is something to take note of. Most clients love the overall quality of the team's service, highlighting their attention to detail and design in particular.
Some were also happy that the team was helpful in assisting them in installing high-quality pieces, making the installation a seamless and smooth process.
Also, many of their customers were impressed by the owner's eye for design. For instance, he reportedly was able to elevate the overall appearance of the room because of the built-in bookshelf his team installed.
However, take note that their payment options only include cheque or cash, which we find quite limited compared to what their competitors offer.
Also, their prices are a bit more expensive than most companies out there. In fact, building a custom bookcase may cost you up to $26,000.
Despite that, we still think Black Forest Woodworking is a great woodworking shop if you need cabinetry for your office, kitchen, or hallways. Their services are top-notch!
Over 20 years of experience
Owner has a cabinetry diploma
A bit expensive than most companies
Only accepts cheque or cash for payment
Customer Reviews
Excellent workmanship
"I am an interior designer and I met Steven on a job site.
We have worked together several times now.
I have found Steven to be punctual, reliable, and to deliver a great product.
I forgot also very charmingclients love him.
I would highly recommend him excellent workmanship." – Andrea Gray, HomeStars
Always meticulous
"here was no closet in the room I had chosen to use as my bedroom, so I worked with Istvan to design a custom closet on the window wall. He had great ideas and executed the design beautifully. His work is always meticulous and he has a great sense of style. Well done team!" – deborahb, HomeStars
FAQs on woodworking
---
That concludes our list of the best woodworking services in Toronto. We hope you learn more about woodworking and find the best shop that suits your home needs!
In case you need a contractor for your home renovation, we recommend reading our review on The 8 Best General Contractors in Toronto