15 Best Zoos Animal Lovers Should Visit in Canada
Going to the zoo is always a fun and educational experience, especially for students. It's an excellent opportunity to teach them about ecology, and biology, and imbue them with a deep respect for all living creatures, big or small.
This is why many schools usually plan field trips to the zoo. That being said, if you're a teacher, guardian, or parent looking for a comprehensive guide on the best zoos in Canada, you've come to the right place.
As animal lovers ourselves, we want to ensure that you and your children can have the best possible zoo experience. In this article, we listed down the best zoos in the country across different cities.
We also included all the pertinent details so you can find them all in one place - pretty convenient, huh? We hope that this guide can be helpful for schools, towns, and even bloggers who are looking for the best zoos to visit.
What are we waiting for? Let's dig right in!
1. Toronto Zoo
VIDEO PREVIEW:
DID YOU KNOW?
Toronto Zoo is the biggest zoo in Canada, spanning 287 hectares.
DESCRIPTION
As mentioned, the Toronto Zoo is the largest zoo and features over 5000 animals from 450 different species. It's conveniently divided into seven zoo-geographical regions showing different animals from various continents flourishing in their natural habitats.
Some of the animals you'll see here are naked mole rats, turtles, different species of snakes, fish, hippopotamus, otters, lions, tigers, cheetahs, birds, hyenas, rhinoceros, alligators, flamingos, frogs, kangaroos, and many more.
Aside from the wide range of animals you'll get to see in the zoo, there are also a lot of other attractions, events, and programs available that will make your trip to this zoo a memorable and thrilling experience for both adults and kids!
Granted, most of these attractions require a fee aside from the entrance fee we listed above. Check out this table and their prices below:
Africa
Americas
Australasia
Canadian Domain
Tundra trek
Eurasia Wilds
Indo-Malaya
2. Calgary Zoo
Calgary Zoo is one of the oldest charities in Canada! They focus not only on wildlife but also on environmental sustainability.
Calgary Zoo has 6 wonderful divisions that contain different kinds of animals and collections:
Penguin Plunge- This division has a display of a lot of different types of penguins such as King, Gentoo, Humboldt, and Rockhopper penguins.
Canadian Wilds- This division showcases a lot of local animals such as moose, cougars, bears, and more.
Prehistoric Park- This division shows exhibitions of different dinosaurs.
Destination Africa- This division simulates the wonderful savannah, and rainforests filled with lions, gorillas, hippopotamuses, giraffes, and lemurs.
Exploration Asia- This division demonstrates the forests and mountains of Asia. Animals including Amur tigers, snow leopards, and red pandas can be seen here.
ENMAX Conservatory/Dorothy Harvie Gardens- This division is an immersive experience that has a lot of seasonal butterflies and a scenic outdoor garden.
They offer schools the option of having self-guided visits. If you're a school group with 15 students or greater, you're eligible for discounted rates!
Calgary Zoo also believes in preserving the safety and well-being of Canada's students so together with the discounted rates, they offer free chaperone tickets. However, they require booking 3 days in advance for you to avail of this package.
Schools that purchase tickets on the day will be charged the full price with an additional $25 late booking fee. The chaperone tickets can be used only on the day of the trip.
Calgary Zoo also offers a lot of events for families and even adults. See them here:
3. British Columbia Wildlife Park
British Columbia Wildlife Park divides their animals into these categories:
Bears – The zoo displays grizzly bears, blackbears, and kermode bears, however the black bears and the kermode bear have denned down for the winter.
Felines – They also have two rescued cougars and a bobcat.
Birds of Prey – Bald eagles, golden eagles, barred owls, great grey owls, great horned owls, red-tailed hawks, long-eared owls, and burrowing owls call British Columbia Wildlife Park their home.
Canines – Learn about arctic wolves and red foxes in the zoo.
Home Hardware Family Farm – See some of your favorite farm animals in the zoo such as goats, sheep, llamas, donkeys, and chickens.
Hoofstock – Bisons, bighorn sheep, mountain goats, mule deers, and white-tailed deers are seen in the zoo.
Small Mammals – The zoo is also home to small mammals such as the American badger, northern flying squirrel, porcupine, and raccoons.
Waterfowl – For waterfowls, they have Ralph Edwards the trumpeter swan, George the tundra swan, and Ferdinand the snow goose.
Reptiles and Amphibians – The zoo has a wonderful collection of rattlesnakes, rubber boas, gopher snakes, pacific chorus frogs, western toads, spadefoot toads, tiger salamanders, red-eared slider, and western painted turtles.
What we love about this zoo is that they readily offer discounted prices for families! Aside from this, they also have a lot of things to do within the park:
4. Edmonton Valley Zoo
VIDEO PREVIEW:
This zoo has an application that can help you navigate the zoo during your trip called "Edmonton Valley Zoo Map". You can download it for free on the App Store or Google Play.
You can also have a copy of the zoo's map here.
Located on the banks of the North Saskatchewan River, the Edmonton Valley Zoo is an intimate zoo that allows your children to have an engaging experience with the animals. They have over 350 native and exotic animals of over 100 species.
We love how this zoo focuses on animal conservation and aims to give an intimate experience through their animal interaction programs. For a fee, you can check out their live and pre-recorded virtual programs for example.
As for the animals that you'll see here, the zoo is divided into various habitats. Some animals you'll encounter are the following:
Red panda
North American River Otter
Meerkats
Sultaca tortoise
Squirrel monkeys
Emu
Kea
Lemur
Elephant
Arctic wolves
Amur tigers
Snow leopard
Red fox
White-handed gibbon
Zebra
Sheep
Hoenybees
Reindeer
Takin
Guanaco
Camel
Aside from the different animals you'll see, here's a list of some of the various programs they have available at this zoo:
The zoo also has a cafe, a restaurant, a picnic area, and an ice cream store.
Sounds fun? You can book your tickets here.
5. Granby Zoo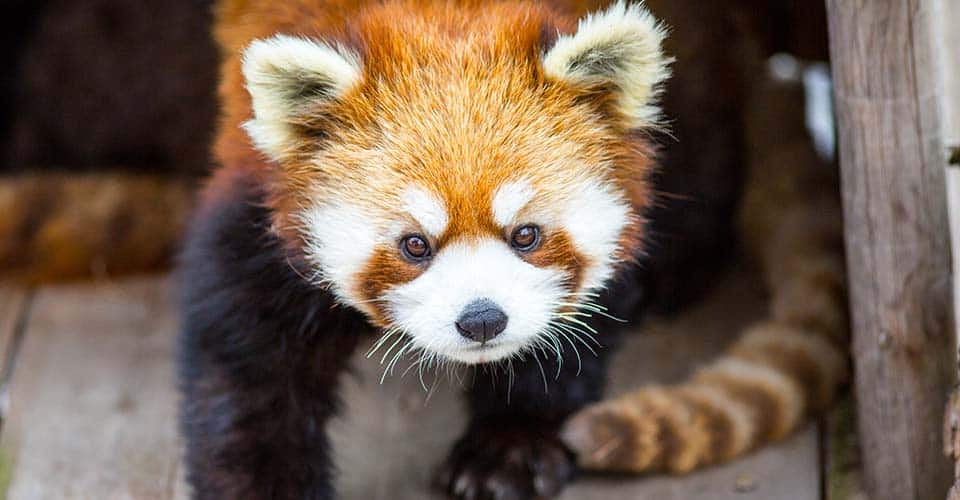 Granby Zoo has an amusement park called "Parc Johnny test Collection" which is named after the Johnny Test animated TV series.
Granby Zoo divides its animals into different continents. Check out the animals you'll see per area here:
Asia – Some animals you'll see here include the snow leopard, amur leopard, red panda, amur tiger, yak, Bactrian camel, and Japanese macaque.
Oceania – In this region, you'll see the eastern grey kangaroo, cownose ray, blacktip reef shark, emu, green sea turtle, Bennett's wallaby, barn owl, black swan, moon jellyfish, and rainbow lorikeet.
African – Be amazed at the wildlife from Africa like the blue wildebeest, ball python, giant African land snail, white rhinoceros, Aldabra giant tortoise, grant's zebra, guereza, African lion, hippopotamus, western lowland gorilla, giraffe, bateleur eagle, ostrich, slender-tailed meerkat, the African elephant.
South America – See the Caribbean flamingo, golden lion tamarin, three-banded armadillo, red-footed tortoise, softshell turtle, American kestrel, Andean condor, long-tailed chinchilla, boa constrictor, blue and yellow macaw, alpaca, jaguar, American alligator, and llama.
This zoo is very unique because of the different activities you can enjoy here:
6. Greater Vancouver Zoo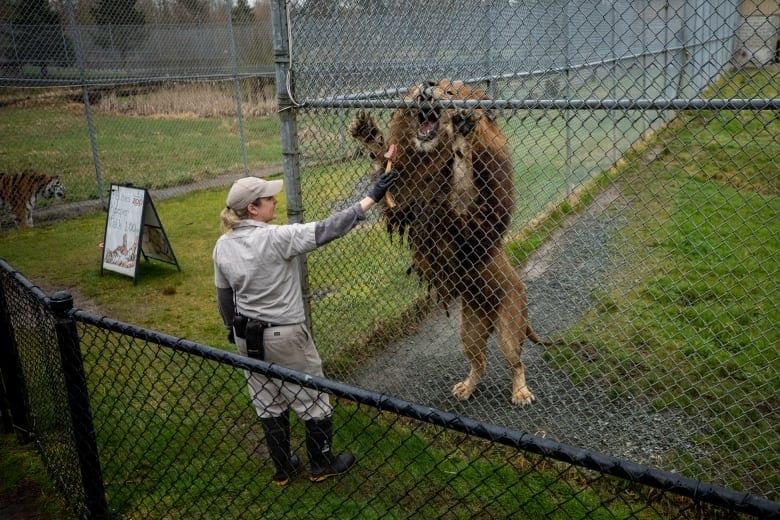 The zoo has a podcast about conservation that you can listen to on Spotify! Check it out here.
DESCRIPTION
The Greater Vancouver Zoo is home to over 140 species of animals. The whole zoo spans 120 acres and is located in Fraser Valley.
The zoo is very passionate about conservation. In fact, it is home to many rescued, donated, and orphaned animals.
Some animals that you'll see here include the following:
Tortoise
Alpaca
Elk
Flamingo
Horse
Pelican
Camel
Bison
Donkey
Cheetah
Emu
Giraffe
Juguar
Lion
Red panda
Tiger
Deer
Turtle
Pig
To see more information and the full list of the animals, check it out here.
Aside from their collection of animals, they also have a lot of programs you and your child can enjoy such as the following:
7. Magnetic Hill Zoo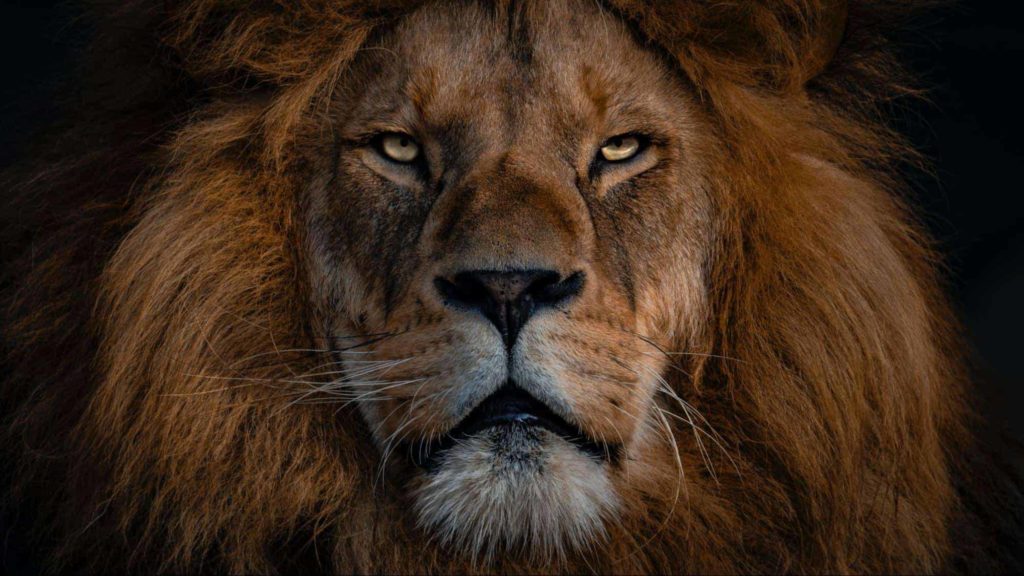 VIDEO PREVIEW:
The Magnetic Hill Zoo was formerly known as the Magnetic Hill Game Farm, which was a home to orphaned and injured indigenous species until the city of Moncton took over the park and began acquiring more exotic species.
Magnetic Hill Zoo divides its animals into continents where you can find those animals just like Granby Zoo:
Asia – Amur tiger, barn owl, and serval
Africa – the African lion, black and white ruffed lemur, Dromedary camel, siamang, watusi, white-handed gibbon, Geoffroy's spider monkey, ostrich, Barbary sheep, Boer goat, Colobus monkey, Marabou stork, plains zebra, ring-tailed lemur
America – black bear, Indian blue peafowl, jaguar, Muscovy duck, rhea, squirrel monkey, white-collared peccary, red fox, western cougar, white-tailed deer, woodland caribou, alpaca, Andean condor, Arctic wolf, blue and yellow macaw, Canada goose, capybara, and fallow deer
And a special division:
Discovery
Here you can see the emu, red-necked wallaby, reticulated python, African soft-furred rat, ball python, bearded dragon, North American river otter, Tarpan horse, African pygmy goat.
This area also shows the landing's turtle, box turtle, budgie, Caribbean flamingo, Chilean rose tarantula, common marmoset, corn snake, domestic mouse, and domestic rat.
In this region, you can also see the Dutch bantam chicken, dwarf caiman, emperor scorpion, goldfish, hermit crab, Madagascar hissing cockroach, Mali uromastyx, meerkat, Sicilian donkey, Silkie chicken, Sudan plated lizard, Sulcata tortoise, Bietnamese pot-bellied pig, and walking stick bug.
The zoo offers unique things to do that are listed below:
8. Riverview Park and Zoo
VIDEO PREVIEW:
Riverview Park and Zoo is Canada's only free-admission accredited zoo.
Riverview Park and Zoo divides their animals into species. Check out the animals you'll see here below:
Reptiles – African dwarf crocodile, African plated lizard, African spurred tortoise, ball python, Burmese python, boa constrictor, Eastern box turtle, Malayan box turtle, Sulawesi forest turtle, yellow-footed tortoise
Mammals – Bactrian camel, Barbary sheep, pot-bellied pig, capybara, squirrel monkey, domestic yak, Eurasian lynx, river otter, red-necked wallaby, red-rumped agouti, reindeer caribou, serval, slender-tailed meerkat, Sichuan takin
Birds – chestnut-fronted macaw, common peafowl, emu, green-winged macaw, helmeted guineafowl, Muscovy duck, wild turkey
Fish
The zoo offers unique things to do that are listed below:
9. Vancouver Aquarium
Vancouver Aquarium is the largest aquarium in the country.
DESCRIPTION
The Vancouver Aquarium features thousands of ocean species and aquatic life. It opened its doors in 1956 and since then it has been visited by over 40 million people from all over the world.
Here you'll see penguins, otters, frogs, turtles, seals, and thousands of fish, jellyfish, and other aquatic animals. They have 11 different exhibits you can visit:
B.C.'s Wild Coast Exhibit
Canada's Arctic
Frogs Forever?
Graham Amazon Gallery
Pacific Canada Pavilion
Penguin Point
Steller's Bay
The Tropics
Treasures Of The BC Coast
Wondrous Jellies
Wet Lab
You can check out specific details of these exhibits here.
Aside from the different exhibits, you can also check out their other attractions:
10. Assiniboine Park Zoo
On September 24, the Assiniboine Park Zoo became one of only five Canadian zoos to be accredited by the Association of Zoos and Aquariums.
Assiniboine Park Zoo divides their sections into different experiences:
Journey to Churchill – This is an award-winning exhibit with one of the most complete collections of northern species in the world. It has an interactive display to make visitors learn about biodiversity, climate change, and conservation.
It also features an underwater viewing tunnel known as the Sea Ice Passage that gives an opportunity to view polar bears and seals swimming below the surface of water.
Animals you'll see here include polar bears, snowy owls, Arctic fox, muskox, reindeers, and harbor seals.
Aunt Sally's Farm – This is a modern farm that encourages play and teaches about the standards for animal welfare and care.
It has parallel playgrounds where children can play alongside the goats.
It has bridges with platforms so that goats can climb overhead.
You can wish at the wishing well from the original farm.
Animals: Nubian goat, Kiko goat, pygmy goat, Sardinian miniature donkey, American miniature horse, llama, Vietnamese pot-bellied pig
Toucan Ridge – This is a tropical oasis with a lot of plants and animals from South and Central America. It is an indoor exhibit that features lush vegetation and a collection of birds, mammals, amphibians, and reptiles.
Animals here include:

Mammals such as Seba's short-tailed bat, Indian fruit bat, Patagonian mara, common squirrel monkey, Geoldi's monkey, cotton-top tamarin, ocelot, and red panda
Birds such as suplur-crested cockatoo, sun conure, golden eagle, blue-throated piping guan, scarlet ibis, and monk parakeet
Reptiles and amphibians such as snakes, turtles, frogs, tortoises, and chameleons
Kinsmen Discovery Centre – This is a place where people of all ages can be one with nature.
Animals include:

Fish, crustaceans, and insects such as anemone, corals, crabs, shrimp, snails, catfish, and clownfish
Reptiles and amphibians such as White's tree frog, New Caledonia bumpy gecko, Geyr's spiny-tailed lizard, Solomon Island skink, Indian star tortoise
Mammals such as prehensile-tailed porcupine, Prevost's squirrel, slender-tailed meerkat, greater spear-nosed bat, woylie
Animals of Asia – which is a section that has a collection of rare and exotic animal species.

Animals include:

Mammals such as domestic Bactrian camel, Sichuan takin, reindeer, domestic yak, Turkmenistan markhor, white-handed gibbon, snow leopard, Amur tiger
Birds such as Stellar's sea eagle, emu
McFeetors Heavy Horse Centre – covers 4.7 acres which houses the majestic Percheron horses and Belgian draft horse.
Grasslands and Boreal Forest – features a lot of animals native to North America. This section is an important haven for those that inhabit the canopies, lakes, and wetlands.
Mammals such as American bison, American elk, Stone's sheep, Turkmenistan markhor, cougar, Canadian lynx, grey wolf, red fox, rocky mountain bighorn sheep, striped skunk
Birds such as American white pelican, snow goose, greater white-fronted goose, sandhill crane, snowy owl, burrowing owl, red-tailed hawk
Open range – is at the center of the zoo which has a collection of animals from around the world.

Animals include:

Mammals such as red kangaroo, common wallaroo, pronghorn, llama, and Japanese serow
Birds such as Demoiselle crane, common peafowl, and wild turkey
Shirley Richardson Butterfly Garden is currently closed for the season. However, from late spring to early fall, visitors can experience the spectacular world of butterflies.
11. Jungle Cat World Wildlife Park
Jungle Cat World was established in 1983 and was formerly known as "Orono Exotic Cat World". This wildlife park is located in Orono and is home to over 150 animals.
In this park, you'll get to see animals such as:
Gray wolf
Amur tiger
Red fox
Ring-tailed Lemur
Cougar
Spider monkey
Lion
Snow leopard
There are also free-roaming animals that you can interact with. Just make sure that you respect them and treat them nicely!
Aside from getting to see different animals, this zoo also has a comfy BNB and a campsite. They have three different rooms that cost around $200-$300 per night depending on the kind of room.
They also have the following activities:
12. Elmvale Jungle Zoo
Elmvale Jungle Zoo started with just 2 acres and exhibited mainly reptiles and birds.
DESCRIPTION
Although Elmvale Jungle Zoo started with only 2 acres of land, it has expanded to over 30 acres and now includes 300 animals from around the world. It doesn't only provide animal viewing but also interactive displays.
You can feed the giraffes, alpacas, monkeys, and lemurs inside the zoo, which is an interesting experience. They provide the food, however.
You can't bring your own food to feed them!
You'll also be able to see the following animals in this zoo:
Tigers
Flamingos
Gibbons
Lemurs
Zebras
Red Kangaroo
Ducks
Mandrill
Giraffes
Brown owls
Red macaw
Cape porcupines
White lions
Peacock
13. Reptilia Vaughan
Reptilia's Reptile Kingdoms are Canada's largest indoor reptile facility.
DESCRIPTION
The Reptilia Vaughan is a fully-indoor zoo that is capable of accommodating any size group at any time except on Christmas Day.
Aside from different species of reptiles, they have colorful amphibians and arachnids as well.
They offer services for kids to celebrate a unique birthday party experience. They can go to your location together with their professional hosts and safe residents.
Also, Reptilia includes a very special gift for the birthday child, which would be memorable!
These are the different packages:
They also have options to upgrade by including more animals, and add-ons such as loot bags and balloons.
Reptilia also offers its space if you want to celebrate your formal events there. Their brochure for this can be found here.
BONUS: They also offer free parking all year round.
14. Ripley's Aquarium of Canada
Ripley's Aquarium of Canada also offers virtual experiences wherein you could have a virtual tour and virtual field trip.
DESCRIPTION
The aquarium has 5.7 million liters of water and has a collection of marine and freshwater animals from all over the world. It is divided into ten galleries:
The Canadian Waters exhibit showcases animals from the waters surrounding Canada such as alewife, American lobster, giant Pacific octopus, and more.
The Rainbow Reef exhibit features animals from the Indo-Pacific waters which is the reason for their namesake. It has colorful fish such as Picasso triggerfish, emperor angelfish, unicorn surgeonfish, etc.

The Dangerous Lagoon is a tunnel with a moving floor which has animals such as sand tiger shark, roughtail stingray, long comb sawfish, etc.
The Discovery Centre has hands-on activities for visitors such as a research submarine, underwater viewing areas, and a touch exhibit.
The Gallery exhibit features the most delicate animals from all around the world such as archerfish, seahorses, and eels.
The Ray Bay focuses on three species of stingrays and you can even see the divers feeding them during their dive shows.
The Life Support System lets the visitors take a peek beyond the curtains and look at the aquarium's life support room.
Ripley's Aquarium of Canada also provides discounted rates for group reservations of 10+ guests:
Child (3-5): $11.05
Youth (6-13)/Senior (65+): $22.10
Students: $28.90
Adult (14-64): $33.15
You can even celebrate your birthday party here for a price of $500. You'll get to enjoy it for up to 24 guests (including adults and children) and 90 minutes in a private party room.
An educator would also tour you and teach you some hands-on activities. Lastly, every child that would attend your party will be able to have a loot bag!
Aside from the different exhibits, you can also check out their other attractions:
15. Killman Zoo
The Killman family that operates the zoo descended from the Seneca, Onondaga, and Mohawk tribes of the Canadian First Nations.
DESCRIPTION
Killman Zoo's animals are divided into different species:
Canines such as timber wolves, coyotes, and foxes
Birds such as peacocks, kestrels, eagle owls, bald eagles, hawks, and horned owls
Big felines such as jaguars, cougars, and tigers
Small cats such as bobcats, servals, and lynxes
Primates such as snow monkeys, baboons and lemurs
The Killman Zoo is also home to one of the largest lion families which they call The Pride. Everyone who is a part of the pride is an African lion.
They've recently added two new additions to the pride which are two white lions. Sometimes the whole pride roars throughout the zoo, so be prepared to experience that rare event!
The zoo offers free parking all throughout your stay. They also rent out wagons and single strollers, although you are welcome to bring your wagons and strollers.
Why not celebrate in the Killman Zoo together with the big cats? You can enjoy your special day at the zoo with your own private picnic area and even experience additional program packages such as:
Big Kitty Crunch Time which demonstrates feeding meat to the big cats. Because this event is graphic, they recommend this for older age groups.
Show and Tell is an event recommended for younger age groups that will introduce them to facts and even touch animal furs, porcupine quills, antlers, and other animal textures.
Fruit n Go is an event wherein you'll join the keepers to feed the animals that eat fruits in the Killman Zoo.
They encourage advanced booking for group gatherings in order to make your special day extra special.
FAQs About Zoos
---
This concludes our guide on the best zoos in Canada. We hope we were able to help you identify which one you're going to next!
Did we miss out on any good zoos? Let us know!