The 5 Best Massage Schools in Toronto
Want to become a registered massage therapist (RMT)? We know exactly what you'll need!
Today's reviews showcase the best massage schools in Toronto. Sort through your top options here so you can gain qualifications with quality education.
The Top 5 Massage School in Toronto
Attending a massage school is an imperative part of your professional journey. There, you are expected to learn human anatomy and physiology for a better understanding of the science behind the practice.
To save you the worry of finding the perfect massage school, we have listed the best there are in Toronto that offers quality education and promising opportunities for their students.
We considered the massage school's customer service, value, customer satisfaction, qualifications and awards, and services offered. 
The Cost of Attending a Massage School in Toronto
Those who are planning to get into a massage school in Toronto should be ready to spend around $15,000 to $35,000. This excludes books, supplies, and other fees upon attending the program.
However, there are also some massage schools that do not require students to totally commit to the program and can instead attend limited courses. Of course, expect to pay less with these crash courses that usually contain only the basics of massage.
1. Sutherland-Chan School of Massage Therapy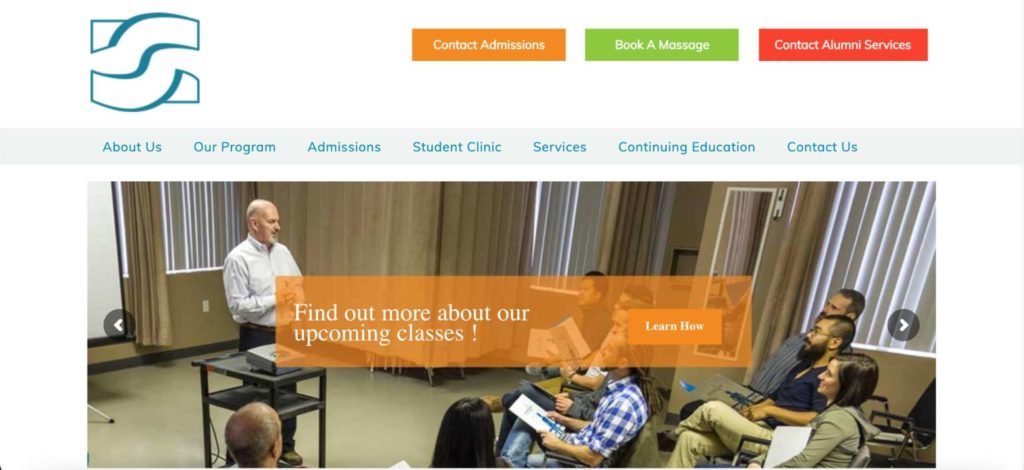 | Test | Info |
| --- | --- |
| SERVICES | Therapy Pricing, Massage Techniques, Hydrotherapy Techniques |
| WEBSITE | https://sutherland-chan.com/ |
| ADDRESS | 15 Gervais Drive, Suite 308, Toronto ON M3C 1Y8 |
| CONTACT DETAILS | 416-924-1107 |
| OPERATING HOURS | Monday-Friday: 8:30 AM - 8:00 PM |
| | |
| --- | --- |
| Student Service | ★★★★★ |
| Value | ★★★☆☆ |
| Student Satisfaction | ★★★★★ |
| Program/Curriculum | ★★★★★ |
Sutherland-Chan School of Massage Therapy is a vocational college with a long track record in the professional field and a good reputation as one of North America's premier institutions.
One of the things we like about them is their transparency when it comes to their school's mission. The school views massage therapy as a genuine healthcare profession instead of an aesthetics and service occupation which ultimately changes the way students learn.
Speaking of learning, the past and current students we've interviewed had nothing but great praises for their instructors. Some of the recurring remarks involve compliments on the instructors' knowledge in massage as well as overall approachability.
Sutherland-Chan has a well-established and highly respected massage therapy diploma program. They offer two tracks for students entering the program.
Their Standard Program is for students who meet their regular admission criteria. We see this as a great option for absolute beginners in the field of massage.
Meanwhile, the Advanced Standing Option for Health Professionals is for applicants with above-average credentials in their freshman curriculum (eg. applicants who have taken kinesiology programs or who are professionally trained abroad).
Either program options both operate in the same structure with a comprehensive curriculum so that's a real plus for us.
Once becoming a student, you can expect practice clinics, science subject tutoring, special needs support, evaluations and focus groups, and a "lunch and learn" system. Overall, we find these techniques of teaching sufficient enough for introductory to advanced learning of massage therapy.
Apart from the quality of education, we also commend the school for its well-kept classrooms and location. It's just right at the subway making it a convenient spot for commuting students.
If you wish to apply to the Sutherland-Chan School of Massage Therapy, an application fee of $120 is payable through e-transfer. And yes, it's definitely expensive so it's something to really think about.
Premier massage school
Offers a two-track program
Provides many student services
Application fee is required
Great instructors
Attended an Intro to Massage 14 hour course as a Kinesiology student to see if it was a career I might like. The instructor was great, classrooms were clean, and it's right near the subway! -Adrienne Elgie
Friendly students
Been coming here since 2015. Originally to the spadina and dupont clinic before they moved to this location. I love the massages and the staff is wonderful. All of the students are great. In 6 years and over 100 massages I maybe had 1 bad one before from a student. I love to come weekly and get some much needed relaxation. It's just part of my life now! $20 for specialty clinics and 40ish for other clinics so it's a great price! -Vanessa Anton
2. Royal Canadian College of Massage Therapy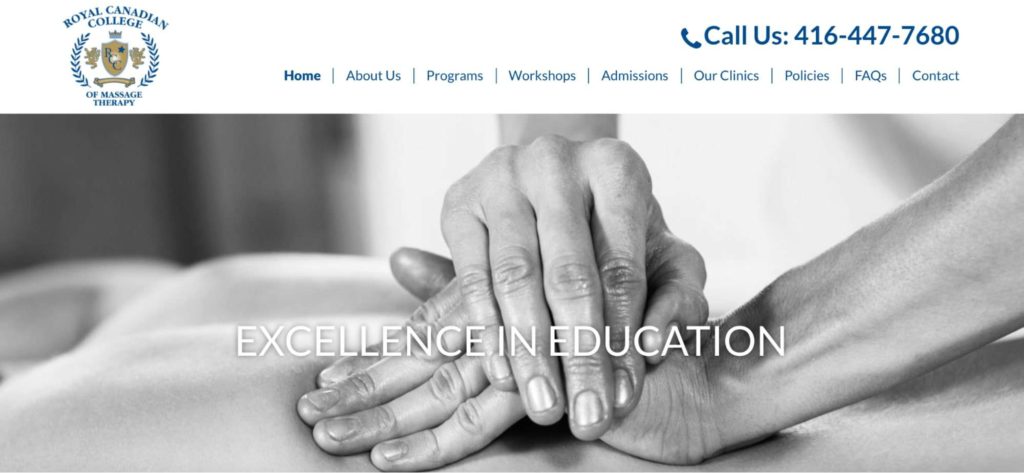 Test
Info
SERVICES
Diploma, RMT Diploma Program, Advanced Standing, Provincial Certification Preparation Course
WEBSITE
https://www.rccmassage.com/
ADDRESS
220 Lesmill Rd, North York, ON M3B 2T5
CONTACT DETAILS
+1 416-447-7687
OPERATING HOURS
Monday - Friday: 12:15 PM - 5:15 PM

Saturday: 10:00 AM - 3:00 PM
| | |
| --- | --- |
| Student Service | ★★★★★ |
| Value | ★★★★★ |
| Student Satisfaction | ★★★★☆ |
| Program/Curriculum | ★★★★★ |
When it comes to training, we barely found any faults with the Royal Canadian College of Massage (RCCMT). In fact, we found the whole learning experience absolutely pleasant from start to finish.
The first thing we love to highlight is the level of support instructors give to their students. For instance, they're very hands-on when it comes to training and reviewing for the examination process.
On the downside, the "atmosphere" does feel a bit off, being both a clinic and a school. Fortunately, the wonderful customer service makes up for this slight drawback.
RCCMT is driven by its mission of providing high-quality education in the field of massage therapy through training competent and steadfast learners who possess a passion for patients' wellness and holistic healthcare.
Their Massage Therapy Program takes 18 months to complete which is patterned after the College of Massage Therapists of Ontario (CMTO) Interjurisdictional competency. The program involves both class lectures and hands-on training.
The combination of these two techniques guarantees that graduates have foundational knowledge before getting into actual practice.
And yes, it's a quite common approach already but seeing where it's patterned from, we reckon they do things a lot better than others.
A great focus on learning the human body will be discussed for the first two terms. Meanwhile, the last two terms of the program will be allotted for the application and the refinement of the student's clinical skills.
Field visits to medical labs, cadaver labs, hospitals, workplace functions, rehab clinics, and athletic events will also be available for RCCMT students. The overall experience makes up for a meaningful learning journey that many graduates will be proud of, in our opinion.
RCCMT also offers an Advanced Standing in their Registered Massage Therapist Program. They accept both regulated and non-regulated healthcare professionals such as chiropractors, physiotherapists, and athletic therapists.
Well-trained instructors
Practice clinical sessions
Offers Standard and Advanced Standing Programs
Offers a full-time day/night program
Provides educational lab visits
Unresponsive to general inquiries
Customer Reviews
Pleasantly surprising experience
I have been going to this clinic for a while now and it's usually a mediocre experience. Today I met Lisa for a massage. I was pleasantly surprised at her professionalism and massage skills. It was the best massage there so far. She even followed up showing me some exercises that I can do to help. I was impressed. -Kimlena Boodhoo
Great passion for teaching
The instructors at RCCMT are highly educated and passionate about teaching and developing good massage therapists. A lot of work is required to become a RMT but the school is very supportive and flexible. -Junko Takano Beker
3. ICT Kikkawa College | Massage Therapy School Toronto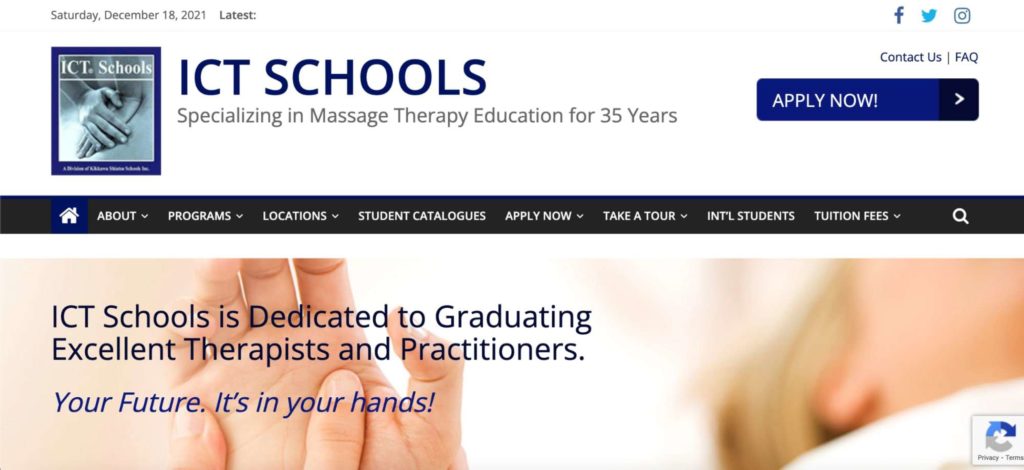 Test
Info
SERVICES
Massage Therapy Program
WEBSITE
https://ictschools.com/
ADDRESS
Unit G-04, 2340 Dundas St W, Toronto, ON M6P 4A9
CONTACT DETAILS
+1 416-762-4857

(416) 762-5733

OPERATING HOURS
Monday-Friday: 9:30 AM - 5:30 PM
| | |
| --- | --- |
| Student Service | ★★★★★ |
| Value | ★★★★★ |
| Student Satisfaction | ★★★★★ |
| Program/Curriculum | ★★★★★ |
ICT Schools, a subsidiary of Kikkawa Shiatsu School Inc., owns and manages private vocational colleges in Toronto and Halifax, where students can study massage therapy.
It is the first private career college to introduce a 2200-hour massage therapy program in Ontario and is a major contributor to the Ontario Core Curriculum Document now used by the College Massage Therapists of Ontario (CMTO).
They continue to be at the forefront of massage therapy curriculum development, focusing on clinical evaluation in their educational approach. Or at least, that's what we see with what they currently offer now.
Let's talk about the learning experience first. Our interviews with its past and current students show that the majority of the students have a positive experience during their programs.
However, there are certain cases that we just can't ignore when it comes to comprehensive education. We heard a few remarks about school staff being inaccessible and having the tendency to be less than approachable.
Still, since the positives beat the negatives, these complaints didn't turn us completely off from this school. Plus, they have great programs for various types of learners.
Their program is aimed to produce highly effective therapists who are completely prepared to work in the healthcare field.
Hence, courses under their Massage Therapist Program include classes in anatomy, physiology, and pathology, which ICT Schools hope for their students to apply in clinical practice.
ICT Schools' Massage Therapist Program usually by September and January. Students may also opt if they would like to take the program full-time or part-time (a great plus in our book, especially for working individuals).
Just like the other massage schools in Toronto, they also offer an Advanced Standing Program and a Continuing Education option for students. Moreover, ICT Schools' programs are also open for international students.
Has a full-time and a part-time student options
Competitive massage school
Accepts international students
Provides Continuing Education programs
ommitment
Continuing Education is only seasonally available
Customer Reviews
Great first assessment
Had a great first assessment and massage with Petra. I was assessed and treated for my general muscle soreness from the various physical activities I take part in. Prices were fair. Service was great. Would go back again. -Piotr Makuch
Unique experience
I have been there twice so far, scheduled for another two planned sessions. It's a unique experience. Students get to use their acquired skills in a real time environment. -Sohail Tiwana
4. Bryan College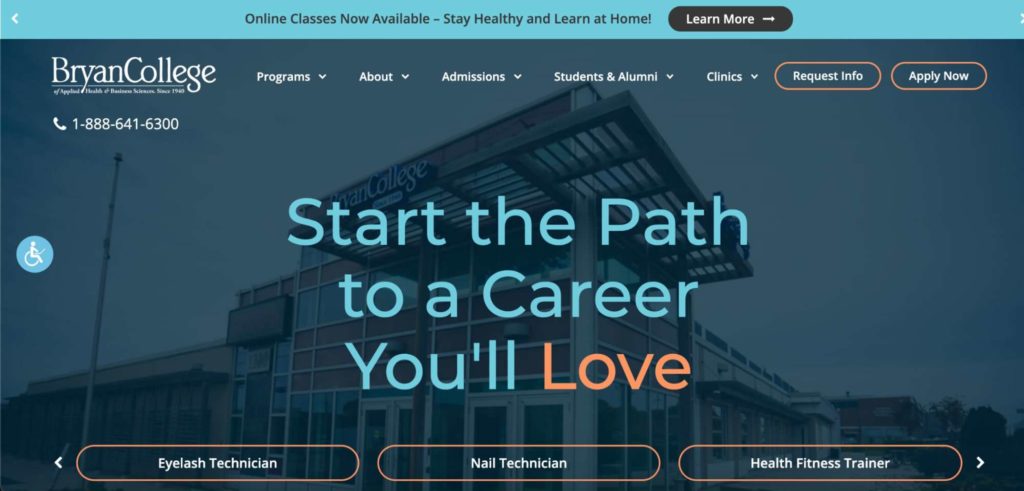 | Test | Info |
| --- | --- |
| SERVICES | Massage Therapy Program |
| WEBSITE | https://bryancollege.ca/ |
| ADDRESS | 1200 Lawrence Ave W, North York, ON M6A 1E3 |
| CONTACT DETAILS | +1 416-630-6300 |
| OPERATING HOURS | Monday-Friday: 8:00 AM - 5:00 PM |
| | |
| --- | --- |
| Student Service | ★★★★☆ |
| Value | ★★★★★ |
| Student Satisfaction | ★★★★★ |
| Program/Curriculum | ★★★★☆ |
The massage therapy program at Bryan College was designed by industry professionals to meet the changing job market demands and to offer you with the hands-on training and support you need to succeed in the profession.
You'll gain technical skills that will help you advance in your profession, as well as the key technical and health-related abilities you'll need to thrive as a successful massage therapist.
Perhaps the best thing about them is how seamless every process is compared to other massage schools. From the application, enrollment, up to the actual attendance of the program, we found nothing but good things to highlight.
On top of that, the school general feels a lot more laid-back, making the learning more fun for all.
But of course, there are a lot of not-so-fun parts such as school staff members that can be hard to reach and unhelpful management (as told by past students)
The massage therapy curriculum at Bryan College is evaluated every year and includes the following career-relevant skills and modalities: Swedish Massage, Sports Massage, Pregnancy Massage, Therapeutic Rehabilitation, Trigger Point Therapy, Myofascial and Superficial Fascial, Friction Therapy, Lymphatic Drainage, Joint Play, Hydrotherapy, Client Home-Care Plans, among others.
Bryan College's campus features modern buildings with a trendy design and a welcoming atmosphere – all the goodies you can expect in a forward-thinking campus. It's also strategically placed in North York and is easily accessible by public transportation if you come from Toronto.
They also now offer online classes so you can keep on learning from the comfort of your own home. It's a great option, especially if you want to take advantage of time flexibility.
Program designed by experts
Offers online classes
Equips with modern facilities
Customer Reviews
Small class sizes
After looking at all the options and attending a few open house nights at other schools, I chose Bryan College – mainly for their small class sizes, outreach opportunities and the feeling I got after taking a tour and speaking to the staff. -Patti MacGregor
Real-world ready
The massage therapy program prepared me for exactly what was ahead. I felt confident in completing the CMTO exams and was prepared for the real worldThe massage therapy program prepared me for exactly what was ahead. I felt confident in completing the CMTO exams and was prepared for the real world. -Gloria Di Leo
5. Protégé School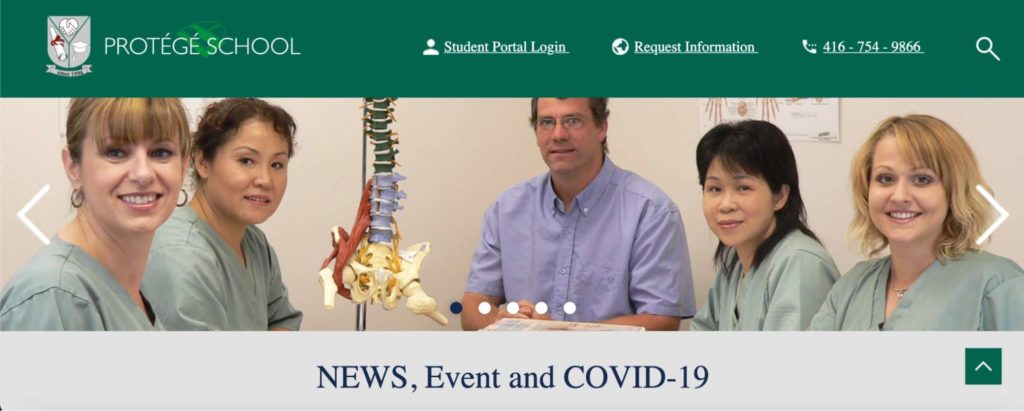 Test
Info
SERVICES
Massage therapy program
WEBSITE
https://www.protegeschool.com/
ADDRESS
3390 Midland Avenue Unit 10, Toronto, ON M1V 5K3
CONTACT DETAILS
416 - 754 - 9866

416 - 754 - 4439

OPERATING HOURS
Monday-Friday: 9:30 AM - 5:30 PM
| | |
| --- | --- |
| Customer Service | ★★★★★ |
| Value | ★★★★☆ |
| Customer Satisfaction | ★★★★★ |
| Services Offered | ★★★★★ |
Protégé, which specializes in all aspects of the Esthetics and Massage Therapy industries, has conducted an extensive study on the sector, goods, and employers in order to reach a consensus on how to best prepare their students.
The school offers a unique fusion of European and Asian techniques and practices, providing their students with the most up-to-date benefits as well as a more flexible and competitive education.
Moreover, it is registered as a Private Career College under the Private Career College Act, 2005 ( PCCA, 2005 ).
As far as programs go, this school is pretty standard with nothing generally groundbreaking to offer. But, we like how they have certain offerings that set them apart from the rest.
Our favorite is that ​​ they impart employment preparation services that are focused on achieving career goals upon finishing the program. This ensures that graduates can easily land a job fast, shortening that period to get your ROI.
We also found that they have efficient student services that students can run to in case they encounter certain issues.
Some of these services include resolving any academic problem within their stay of completing the program, career planning, continuous education, among others.
Protégé is also open to accepting international students who wish to further their knowledge about massage therapy. Overall, the experience is pleasant and worthwhile as many past students noted.
Offers student and employment preparation services
Teaches European and Asian techniques
Accepts international students
Certain complaints about instructors
Customer Reviews
Notable service and quality
I go to the student clinic and it is amazing. The service and quality is up to par and comparable to professional clinics. -Angie Lavsherbabies
Excellent experience
They are awesome. Good teachers and mentors. Excellent experience. -Nancy Li
FAQs About Massage Schools in Toronto
---
Attending a competitive and high-quality massage school is critical if you want to become a professional and qualified massage therapist. This will provide you with the abilities you'll need to advance in your job.
You do not have to be a trained massage therapist to enjoy a relaxing and soothing massage. We suggest that you check the best therapeutic massage and the top 5 spas for the best massages to visit when in Toronto. Book and enjoy that well-deserved rest!