The 5 Best Car Insurance Providers & Brokers in Toronto
Let's face it - no one likes financial liability, especially on a damaged car. And if you have some wheels of your own, the only way to prevent this is with car insurance.
In this review, we'll talk about the best car insurance providers and brokers in Toronto. We'll discuss each one for the coverage they offer plus other insurance payment plans.
But before we get into the reviews, let's talk about the cost of car insurance in Toronto (and the cost of not having it) first.
The Cost of Car Insurance in Toronto
As with any other form of insurance, the cost of car insurance is variable. It all depends on the following factors:
On average, car owners in Toronto pay around $2,071 to $2,252 in annual premiums. That translates to $172 to $188 per month, which is relatively high compared to other cities in Ontario.
By the way, driving without insurance is a serious offense in Ontario. So if you think that the annual premiums are high, just think about how much you'll pay if you get caught without insurance:
| | |
| --- | --- |
| Offense | Fines |
| 1st Offense | $5,000 - $25,000 |
| 2nd Offense | $10,000 - $50,000 |
| Any subsequent offense | Up to $50,000 |
Apart from fines, your cars can also get impounded for up to three months. On top of that, your driver's license can be suspended for up to a year.
As such, we strongly recommend picking up insurance as soon as you can if you own a vehicle. To that end, we can move on to our list of the best providers in the city.
Top Car Insurance in Toronto
Note that for each review, the mandatory coverage in Toronto is always involved in a standard car insurance policy. This includes third-party liability, accident benefits, uninsured automobile insurance, and direct compensation for property damage.
This is to avoid repeating notes about these for each review. Instead, we'll focus on additional coverage (if any) and other services and features that will make a big difference when making a choice.
Just remember that the minimum amount of car insurance in Toronto is $200,000 in third-party liability. Plus, rates are really variable and unique per case so we can't say that another policy is automatically better for you just because the rates are lower.
And as a reminder, keep in mind that some of the entries here are insurance brokers instead of providers. We'll indicate which ones in their names.
Type of vehicle you drive
Your personal profile (age, gender, etc.)
Driving habits
Experience in driving
Insurance history
1. Belairdirect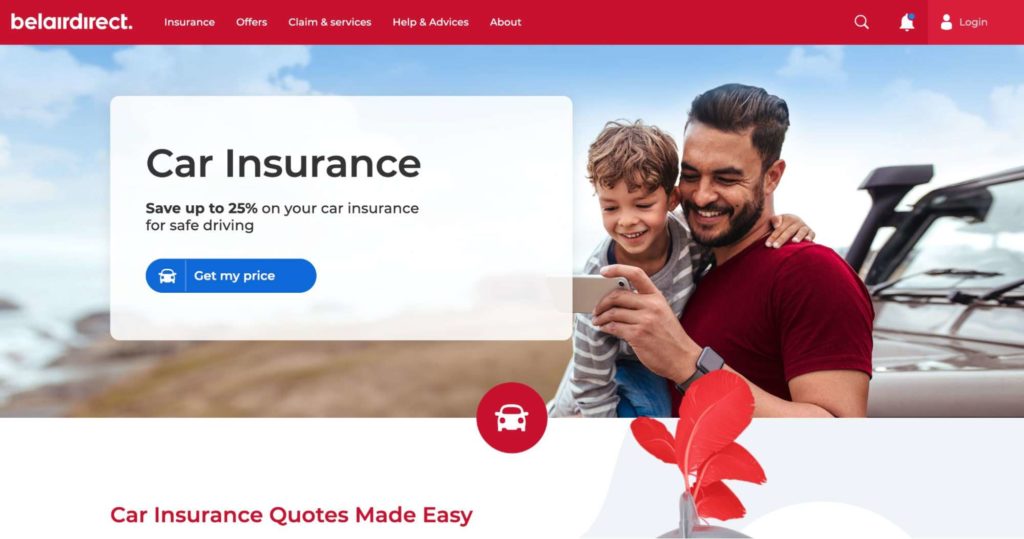 SERVICES
Car insurance, home insurance
WEBSITE
https://www.belairdirect.com/
ADDRESS
700 University Ave #1100, Toronto, ON M5G 0A2, Canada
CONTACT DETAILS
+1 833-885-2650
OPERATING HOURS
Monday – Friday: 8:00 AM – 8:00 PM
Saturday: 8:00 AM – 5:00 PM
Belairdirect packs many cool features that make it stand out as an insurance company, in our opinion. Here are some things that we think you'll appreciate as a client.
First, you can control how much you pay for your car insurance via the automerit® program. What this app does is use sensors to assess how safely you've been driving – the safer it is, the more you can save.
By the way, you can save up to 25% using this program, which is a really great deal. We recommend taking advantage of it as it's already integrated into the Belairdirect app.
Speaking of the app, it has all the features you need to make things more convenient for you. You can use it to snap photos to make a claim, see your billing info, access your pink slip, and use roadside assistance.
In case you're interested in the roadside assistance service, it costs $3.75. Actually, we think it's a really great deal because you get tire change services, battery boosting, gas delivery, and door unlocking services.
To wrap it up, you can get a bundled car and home insurance here to save on costs. They also have other exclusive deals such as multi-vehicle insurance where you can save up to 15% on premiums.
Open on Saturdays
24/7 claims service
Save more the safer you drive through the automerit® program
Bbelairdirect app is an all-in-one access point to other services
Offers roadside assistance packed with other emergency services
Get a bundled home and car insurance
Save up to 15% with a multi-vehicle insurance
Offers optional car insurance coverage 
Has a cancellation charge
Doesn't insure older vehicles
Rates tend to go up every renewal cycle
Customer Reviews
Understands your situation
Shaun from Belair Direct was absolutely incredible. I was looking to get a lower rate for car and home insurance than I had with the broker I was with for over 30 years. Unlike my broker he took the time to get to know my situation and really looked for discounts and ways he could get the rate down for me and boy did he get that rate down. He also really helped me to understand some of those complicated insurance terms and coverages. True outstanding customer service! I should have switched over years ago. – Tammie Macintyre-Steeves
Highly recommended
Belairdirect was recommended to me by a friend. And despite the stay at home order, Belairdirect immediately responded to my phone call with a really cheerful customer service rep who transferred me to the Belairdirect Insurance agent. Christine was welcoming, polite, concise, thorough, and knowledgeable and I got a reasonable rate. I really appreciated her advice and would highly recommend Belairdirect as a result of my experience. – Tessa Shirley
2. Intact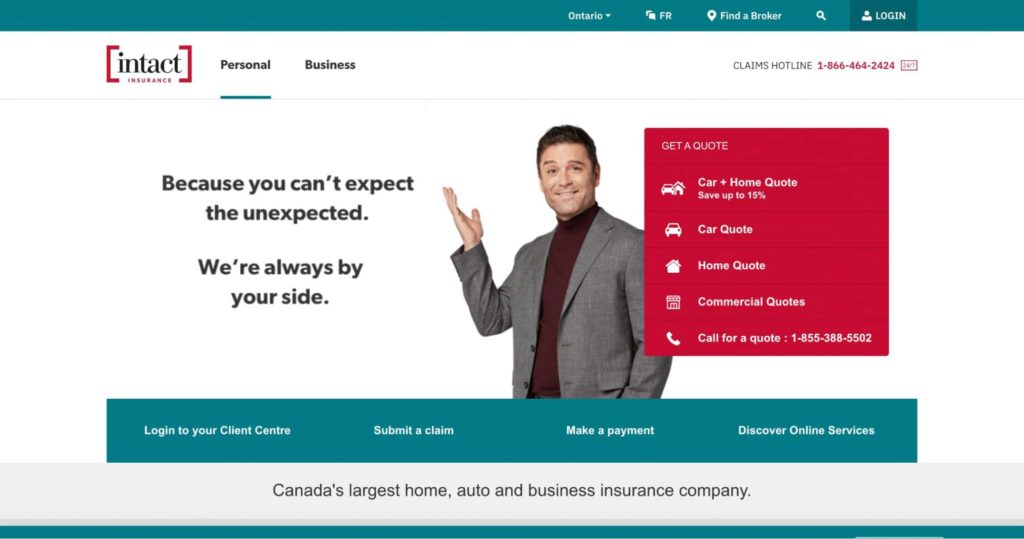 | | |
| --- | --- |
| SERVICES | Car insurance, motorcycle insurance, roadside assistance, RV insurance, ATV and snowmobile insurance, boat insurance, home insurance |
| WEBSITE | https://www.intact.ca/on/en/personal-insurance.html |
| ADDRESS | 700 University Ave, Toronto, ON M5G 0A1, Canada |
| CONTACT DETAILS | +1 844-489-3768 |
| OPERATING HOURS | Monday – Friday: 8:00 AM – 5:30 PM |
Apart from the mandatory car insurance liability, Intact also offers various types of extra coverage. We reckon that you can take advantage of these, especially if you want better damage protection.
The first one is Collision and Upset coverage. This frees you of any financial liability for any damage to your car due to car or object collision.
The second one is coverage against perils other than collision. Other than the damage repair costs, this also includes theft, natural disasters, or vandalism.
For optimum protection, we recommend going for perils protection because it is a combination of the two types of coverage. Alternatively, you can choose Specific Perils coverage so you can use the insurance against certain dangers only.
Another thing we liked about getting their insurance is that you get a Responsible Driver Guarantee®. This means that they'll cover your first at-fault accident – as if it never happened.
You may also be eligible for their Minor Protection coverage under certain conditions. This includes protection against speeding tickets that can affect your insurance premium.
If you're a safe driver, you can take advantage of their my DriveTM program where you can save up to 30% for safe driving habits. And if you want to earn cash on the side, you can sign up your vehicle for the Turo Car Sharing program if it's only sitting idle in your garage.
Offers various additional coverage options
Offers a Responsible Driver Guarantee
Has Minor Protection coverage 
Save up to 30% through the my DriveTM program
Earn extra cash via the Turo Car Sharing program
Save up to 15% with a car + home insurance bundle
30-minute claims guarantee
Manage your eligible auto claims repair with Intact Service Centre™
Closed on weekends
Difficult to contact at times
Can be difficult to cancel
Customer Reviews
Magnificent job
Two months ago, I was involved in a colission when someone scraped the saide of my car damaging both doors. The Intact insurance claims representative and later their Service Centre did a magnificent job. They looked after the repairs, paperwork and car rental while keeping me informed at all times. Everybody's extreme kindness gave me the impression that they were sincerely interested in helping me. My experience was a great one and I won't hesitate to recommend this insurance company to friends and family. – Sergio Vazquez
Quick and easy process
Honestly. Everything with this company for me is amazing. Had an employee get into an accident. And they handled everything professionally for me. The whole process was quick and easy. They followed up on all phone calls and sent emails with the phone call. The settlement process was quick and easy. I would definitely recommend them to anyone. – Hemen Dabbaghi
3. Canadian Auto Association (CAA)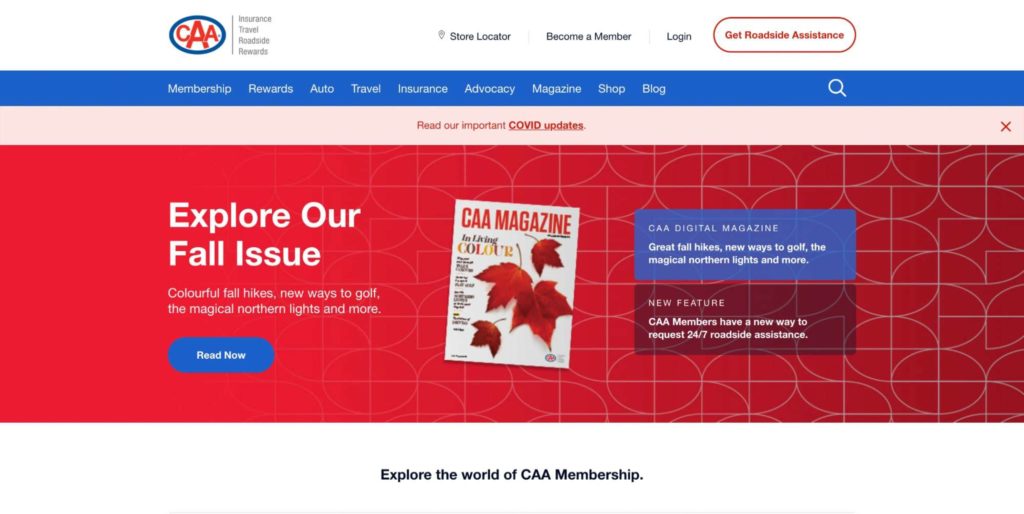 | | |
| --- | --- |
| SERVICES | Auto insurance, home insurance, life insurnce, health and dental insurance, pet insurance |
| WEBSITE | https://www.caasco.com/insurance/auto |
| ADDRESS | 20 Marie Labatte Rd, Toronto, ON M3C 0H9, Canada |
| CONTACT DETAILS | +1 416-449-9442 |
| OPERATING HOURS | Monday – Saturday: 11:00 AM – 7:00 PM |
CAA gives you a variety of car insurance coverage options aside from the basic ones depending on your needs. Let's discuss each one to find out if anything fits you.
If you're not a frequent driver, we suggest looking into the CAA MyPace™ payment program. With this, you only pay your rates based on the distance you need to actually cover.
For drivers whose habits fall into the safer spectrum, they can try CAA Connect®. They can enjoy up to 15% savings on their premium after one year with this one.
With a Forgive and Forget®, your first at-fault accident is on them. This prevents your insurance premium from going up, potentially saving you hundreds of dollars.
If it so happens that you also collect classic cars, you can get their Classic and Antique Car Insurance. Note that you must have an existing auto insurance policy to get this coverage.
Overall, we love the fact that there are so many clearly delineated options for those who want more specific types of coverage on top of the essentials. It doesn't hurt either that they rank high in terms of convenience, from offering 24/7 claims services to being open on Saturdays.
Open on Saturdays
Offers various insurance payment plans
Optional coverage on top of auto insurance policy
Roadside assistance request via app, SMS, call, or online request
Offers CAA's Mobile Battery Service for battery testing and replacement
6-month warranty on CAA Premium Batteries
Has a service tracker on the app for roadside assistant services
24/7 claims service
More of a travel agency than an insurance company
Customer Reviews
Stress- free process
Like many drivers, I was unsure of the reviews I'd read about CAA and the ability to cover me. So someone hit me in my parking lot and drove away. I went to the self-reporting collision center and obtained a report. I then filed a claim online with CAA. They phoned me back the next business day. We arranged to take my vehicle to one of their preferred body shops. I obtained the quote and pricing for additional work (removal of rust in the wheel well). The deductible was $500 so I would pay that and the extra labour for the rust fix. CAA had arranged for me to have a rental car for the 6 days my vehicle was in the shop. The rental was on site waiting for me on the day I brought my vehicle in. The entire process was stress-free, great communication and everything explained to me. CAA was great! – Mike Lalonde
Better coverage at lower rates
After years of annual auto and home insurance rate increases at Desjardins Insurance, we went with CAA. Their rates for both home and auto were phenomenal. We saved over $1000 by switching. Our good rates were based on 20 yrs with no claims, our age (seniors) and less driving. I was very happy switching to Mitchell and Whale since they found the best "fit" for us. – Richard Bender
4. ThinkInsure (Broker)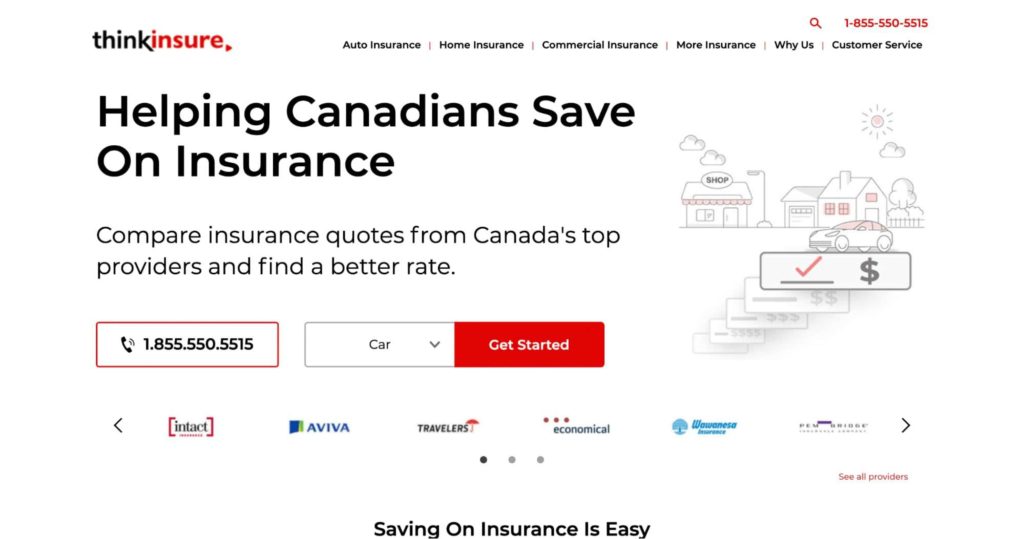 SERVICES
Auto insurance, home insurance, commercial insurance, life insurance, travel insurance, motorcycle insurance, classic car insurance, boat insurance, RV insurance
WEBSITE
https://www.thinkinsure.ca/
ADDRESS
5700 Yonge St. Suite 1900
Toronto, ON
M2M 4K2
Canada
CONTACT DETAILS
+1 855-550-5515
OPERATING HOURS
Monday – Friday: 8:00 AM – 6:00 PM
Saturday: 9:00 AM – 5:00
ThinkInsure made it to our list with services that always hit the bull's eye among customers. Communication is easy and buying a policy is almost as easy as online shopping.
The first thing that immediately caught our eyes is the 24/7 claims service. When you're in a stressful situation, the last thing you want to do is wait for your claims – so this availability is a plus for us.
What we liked best about this network is that they give you the freedom of choice. See, once you place your details, you'll get rates from top Canadian insurers and you can choose the lowest quote that comes up.
This process allows you to see for yourself exactly what you'll pay for. Of course, if you have a hard time choosing, you can speak to one of their agents for expert advice.
Finally, we favor its no auto-renewal policy, which prevents you from getting tied down to a policy that may not work for you anymore.
Every time your policy is up for renewal again, they'll guide you in comparing options. Then, they'll move your insurance to a different company if that's what you like.
Open on Saturdays
24/7 claims service
Freedom to choose among the lowest rates
No auto-renewal policy
Can shift to a different insurer if the rates are lower
Get coverage in as fast as the same day
Easy shopping for policies in as fast as 3 minutes
Can be difficult to cancel
Customer service is hard to reach at times
Quotes may be slightly different online vs. in-person quote
Customer Reviews
Lower quote vs. competition
My renewal was coming up and with being a high risk driver im always looking for the least expensive rate and think insure definitely delivered! They were able to provide me with a quote that was $200+ Less than my current insurance offered me nor were my broker willing to search for new insurance. Neil was very helpful throughout the process and i would highly recommend Think Insure.- Cameron Sheppard
Quick and easy process
I called ThinkInsure to set up a policy for my dad that hasn't driven in a couple years and I was fortunate enough to speak to Rafael. He was professional, knowledgeable and very friendly. The process was quick and easy and he answered all my questions. I will definitely recommend him to my friends and family! Super happy with the service. – Elisa Perez
5. isure Insurance Inc.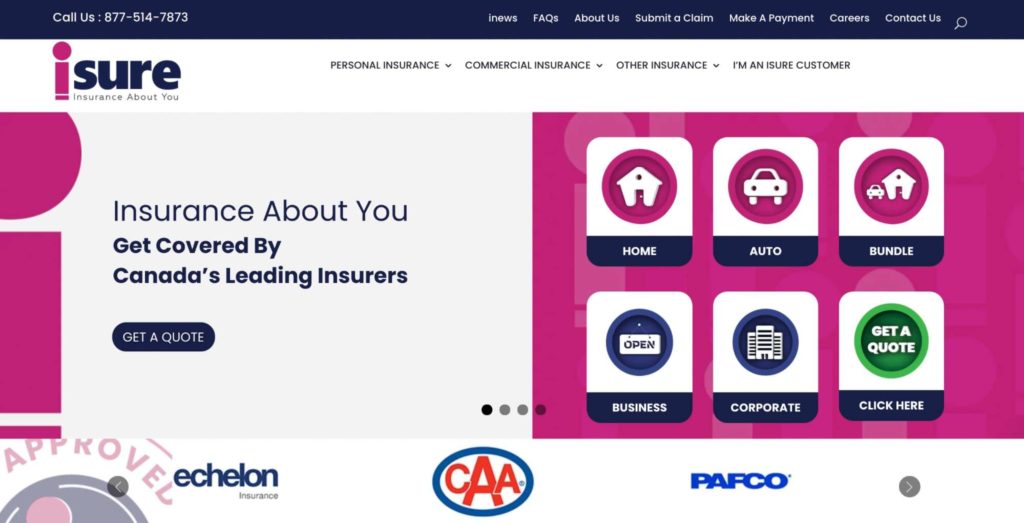 SERVICES
Car insurance, home insurance, business insurance, corporate insurance, bundled insurance, travel insurance, RV insurance, boat insurance, cottage insurance
WEBSITE
https://isure.ca/
ADDRESS
7000 Pine Valley Dr Suite 101, Woodbridge, ON L4L 4Y8, Canada
CONTACT DETAILS
+1 877-514-7873
OPERATING HOURS
Monday – Friday: 9:00 AM – 8:00 PM
Saturday: 10:00 AM – 4:00 PM
iSure Insurance works with 25 of Canada's leading insurers to find the best rates for you. Apart from auto insurance, you can also get policies for your home, business, and even your cottage (if you have one!)
As most brokers do, they compare rates from various insurers to give you the best rates. Each service is also personalized to give you coverage that suits your needs.
One of their strongest cards is the amount of savings you get because they have the longest list of auto insurance discounts online. This plus their competitive bidding ensures that you get the right policy at the best rate.
They can also reduce your premium by bundling up multiple policies in one. For instance, if you bundle your car and home insurance, you can get up to 15% savings.
To give you an idea, you can bundle two car insurance policies, home insurance and car insurance policies, or a home plus car plus motorcycle insurance policy in one.
Works with 25 insurers
Has the longest list of auto insurance discounts online
Competitive bidding
Can bundle multiple policies
Offers Telematics (or Usage-Based Insurance -UBI)
24/7 claims service
Open daily
Can be difficult to contact at times
Place is usually busy
Customer Reviews
Saves you hundreds of dollars
Our Personal Lines Sales Professional (Jessica Lilley) was very helpful and got us the best rates for our auto insurance. She saved us hundreds of dollars, compared to our previous insurance company. Jessica was very helpful, professional and responsive in getting us new quotes for our insurance needs and setting up our new insurance policy. – Lester Wicks
Honest and professional service
Well it was my first experience with isure company regarding my Auto insurance. And to be very honest it was wonderful experience, Josh Preh was the sales professional and he helped & cooperated me very professionally. Thank you so much Josh!! Regards Rashid – Rikk Tech
Factors to Consider When Choosing a Car insurance Provider
It's incredibly important to find the right car insurance provider to get the best coverage. Here are some factors to consider before choosing a car insurance provider.
Customer Service
The first thing you might want to find out is how your provider treats their clients, and how well they will react to your questions. It would be hard for you if your car insurance provider can't communicate well with their clients, especially with something this important.
A quick way to check this is to go to their website and try to send a simple question. Assess how quickly they'll reply or if they ever reply at all.
Another great way is to look through reviews online. Although they might not have all the information, you can still learn 1 or 2 things about them.
Online Portal
Another thing to consider is if the car insurance provider has an online portal that you can easily access with just one tap. Not only will this be convenient for you, but it also makes sure that you have easy access to all the services you need.
Another plus would be if the insurance provider has a mobile app that lets you update your car insurance policy. This would make it easy for you to file claims online as well as use exclusive features to monitor your policy
Reputation and Financial Standing
A great way to know that you will be choosing the right insurance provider is by going through all the reviews and what their past clients have to say about the company. Was the insurance able to cover the damage?
Car insurance is a two-way street where you provide the payment for the coverage and the insurance company provides the coverage. And if they aren't able to do just that, then their reputation will plummet, thus leading to unsatisfied clients.
Financial standing is important too because the insurance provider has to have the capacity to release your claims. You can also try checking out how much money they were able to release in the previous years to see their financial standing.
Garage Network
Another thing to consider is if your insurance provider offers a cashless garage network. Since looking for another garage to have your car fixed is really troublesome and time-consuming, most insurers actually provide this service
A garage under a car insurance provider's networks allows you to get your car fixed for free. Some will offer something that's called roadside assistance where another driver picks you up in case something happens while you're driving.
FAQs About Car Insurance in Toronto
---
Having car insurance is required in Toronto; otherwise, you'll be chasing after big troubles without it. In case you get into a serious driving case (we hope not!), you can gear up with our list of the best DUI lawyers in Toronto so you don't end up with charges after a night of fun.