The 5 Best Emergency Plumbers in Toronto
Uh-oh, something wrong with the plumbing? It's a good thing the best emergency plumbers in Toronto can fix that right up!
Different plumbing companies can fix a plethora of issues, from leaky pipes to water damage restoration. We scouted the best ones that can bring your property back to shipshape.
How Much Does an Emergency Plumber Cost in Toronto?
Before we look at your options, let's first address how much this repair job is going to cost you. Since this is an emergency, you might have to call for services outside of a company's regular hours, which means higher fees.
You can expect flat rates between $130 to $455 and hourly rates between $95 to $520. Of course, it depends on the severity of the problem you need fixed.
You likely also have to shoulder any additional materials or parts that are necessary. This happens even when you book services on weekends, holidays, and emergency situations.
The Best Emergency Plumbers in Toronto
Now that we're clear about the caveat that emergency services generally cost more, read on to find out which companies made our list.
1. Mr. Rooter Plumbing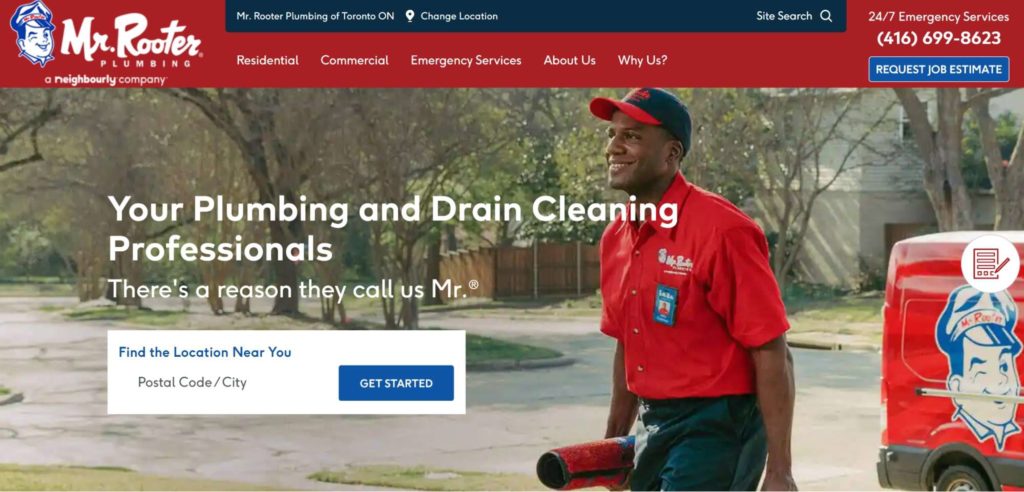 | | |
| --- | --- |
| SERVICES | Trenchless sewer line repair and replacements, clogged drains, video camera inspection, frozen or leaking pipes, water heater repair and replacement, septic tank service, sump pumps, water softeners and filters, preventive maintenance products |
| WEBSITE | https://www.mrrooter.ca/ |
| ADDRESS | No office |
| CONTACT DETAILS | (416) 699-8623 |
| OPERATING HOURS | 24 hours |
Mr. Rooter Plumbing has been around since 1970, making it a prominent figure in the plumbing industry in Canada. It's now a family of independently owned franchised companies united in a code of values.
The first quality that we like is their honesty. They only do in-home estimates, which means they'll assess your issue first before offering flat-rate pricing upfront.
They also never charge overtime. If your problem turns out to be a truly challenging one, you don't have to worry about additional costs.
Next up is their customer service. We took the liberty of contacting MRP, and boy, did they respond quickly.
There's a built-in help chat on their site with attentive and knowledgeable representatives standing by. If you're unsure about the course of action you should take regarding your problem, they can enlighten you.
Lastly, there's the quality of their workmanship. Their uniformed team of dedicated plumbers can handle the most highly technical plumbing issues you might be facing.
We get why Mr. Rooter Plumbing is still going strong more than half a decade later. Your emergency is their emergency.
Excellent customer service
Flat-rate pricing (reasonable)
At your door within an hour
Lines can be tied up sometimes
Customer Reviews
Check out these glowing reviews for Mr. Rooter Plumbing:
"We recently had Woody Tesfaye look at a leak underneath our bathroom sink and his service was quick and fantastic! To add to the story, we were actually closing our condo that day, so the repair was even more time-sensitive. He was not a minute late and cleaned up extremely well. Thank you again, Wondy, for your fantastic customer service!"
– Grant Garrard
"I had what I thought was a minor leak at the toilet supply hose. It turned out that there was a lot more going on. Samuel B, the technician, quickly and professionally investigated the matter, provided a quote, and resolved all the problems! He really went above and beyond. I am extremely satisfied with the service!"
– Natalia Tcherniak
2. Leaside Plumbing and Heating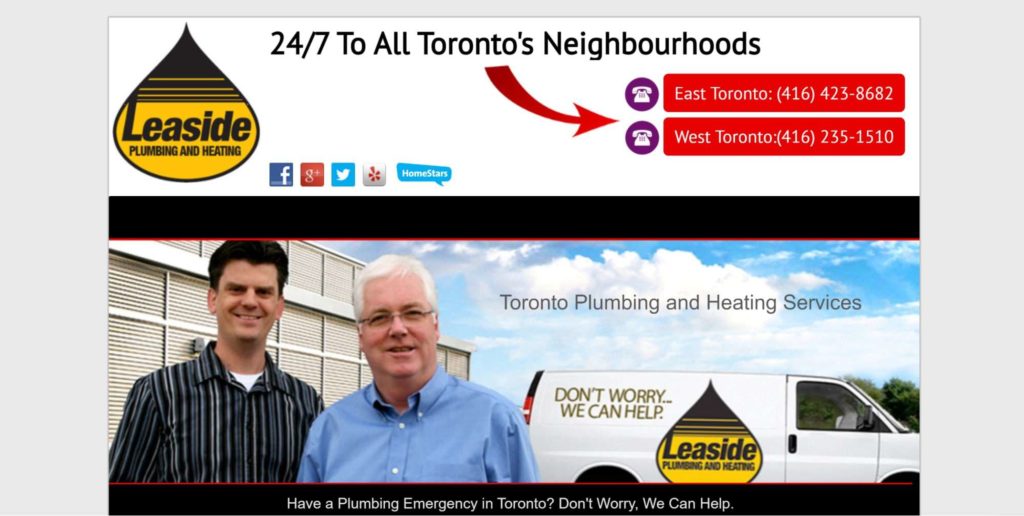 | | |
| --- | --- |
| SERVICES | Shower and bathtub repair, faucet repair, no heat emergency, toilet repair/installation, drain repair, power flushing, video camera inspection, frozen and leaky pipes, gasfitting |
| WEBSITE | https://www.mrrooter.ca/ |
| ADDRESS | No office |
| CONTACT DETAILS | (416) 699-8623 |
| OPERATING HOURS | 24 hours |
Leaside has been serving the Greater Toronto Area since 1985. Because they've been around this long, their expertise is in repairing older piping systems that still exist in many Toronto properties.
If you're having problems with outdated piping or fixtures, these are the guys to call. Sometimes, newer companies offer over-the-top solutions for such cases, which could rack up quite the bill.
We had to include Leaside on this list because they're also highly trained in gasfitting and heating systems. As you know, winters in Toronto without heating are a nightmare and definitely qualify as emergency situations.
So on top of plumbing repairs, Leaside can also check out your boiler, calculator pumps, and radiators. We appreciate the option to call one company and have multiple issues addressed.
If it can take a while to fix your heating problem, Leaside goes as far as to provide clients with temporary heaters. You won't have to suffer the cold as they do their repairs.
Lastly, they can detect and fix gas leaks, another urgent issue that needs to be addressed immediately. While they're at it, you can also ask them to install a barbecue gas line for outdoor cookouts when the weather permits it!
Provides heating and gasfitting services in top of plumbing services
Popular and established company
Gives live updates
Higher rates for some services
Customer Reviews
Take a look at these Google reviews for Leaside Plumbing and Heating:
"We have been using Leaside Plumbing for many years for countless repairs to our century-old house, from radiator repairs to broken water heaters due to clogged drains. They are always super responsive, professional, and do a tremendous job every time. I cannot thank them enough and highly recommend them! They are the best!"
– Cindy Y. Lam
"I had Rick Philipps come to my apartment and look at my tub which was leaking into the downstairs apartment. He told me all my options and quickly repaired my overflow drain and my regular bathtub drain. He was very friendly and cats seemed to love him. My tub no longer leaks and he also gave me great tips for my smelly sink. I would highly recommend them anyone for great and knowledgeable service."
– Darcy Leyes
3. Everest Drain & Plumbing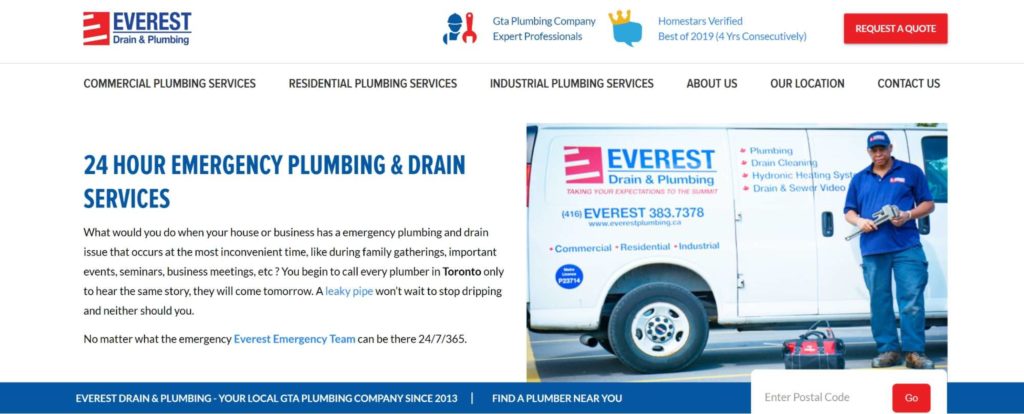 SERVICES
Clogged sinks & toilets, sump pump installation, burst pipe, basement flooding, backup sewer, water distribution issues, leaky ceiling
WEBSITE
https://www.everestplumbing.ca/
ADDRESS
31 Commercial Rd, Toronto, ON M4G 1Z3
CONTACT DETAILS
(416) 221-9754
(416) 383-7378
OPERATING HOURS
24 hours
Established in 2013 by plumbing contractor Khem Bohara, Everest Drain & Plumbing didn't take long to garner positive attention. They did so by using the latest plumbing technology in their work.
This means they can offer plumbing solutions at more affordable costs because they can work efficiently. Most of EDP's repair jobs are finished in record time.
One of their distinct offerings is assessing and fixing basement flooding problems. We probably don't need to tell you that flooding can worsen structural damage, not to mention increase the likeliness of mold and insect infestations.
The folks over at Everest Drain & Plumbing can stop this flooding once and for all to ensure the safety of your property. You can even get your basement decked out with the latest appliances while you're at it.
Overall, we think that EDP plumbers are the best problem-solvers around. If by some chance you can't afford the best possible solution at the moment, they can resolve your plumbing issues temporarily within your budget.
Works within your budget
Prompt and responsive
Latest plumbing equipment
Gives status updates
Customer service could be better
Customer Reviews
Are you curious about what past Everest clients have to say? Here are two reviews:
"It is always stressful to have leaks in your house, and adding to that stress is having to call for help and not knowing the person you are calling. Tenzin was amazing! He investigated quickly and explained what had happened. He found the quickest way to fix both of my leaky (and cracked) pipes, and left my space clean. The bill felt very reasonable, which can often be the next cause of stress. I will be calling Everest again and ask for him specifically next time I need a plumber, for sure. Thanks again!"
– Monique Permitin
"Despite stores being shut due to COVID, Donald not only managed to source a toilet unit quickly to replace the existing leaking toilet, but during the entire time his team constantly provided us with status updates on the progress.
Donald arrived at our home on time, following complete COVID protocol. He installed the toilet professionally, maintaining a clean work site at all times. He went above and beyond and fixed a faulty toilet flap in another washroom. That was not even in his work order.
I have no hesitation in recommending Everest for all your plumbing needs on account of their expertise and professionalism."
– Bopanna CK
4. Priority Plumbing & Drains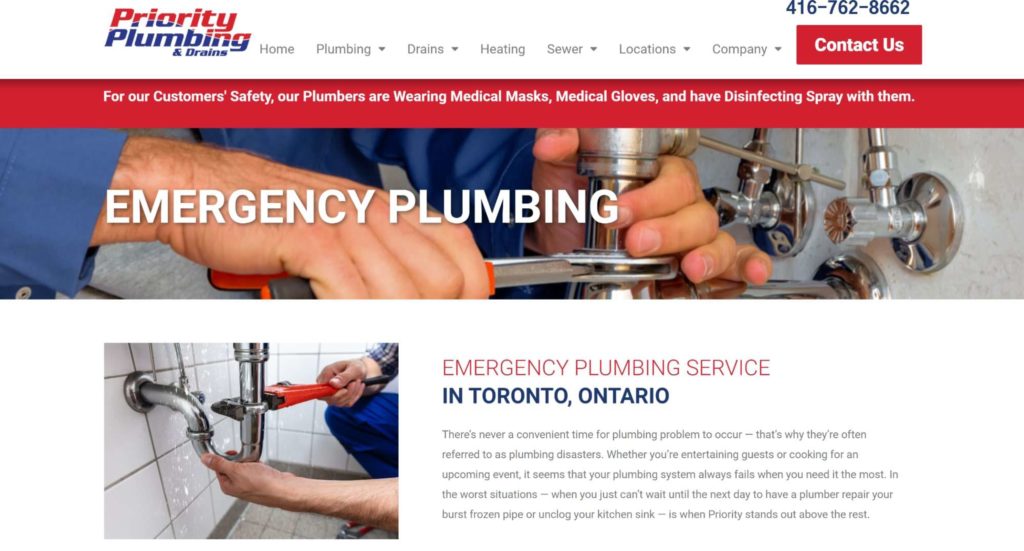 And then there's Priority & Plumbing, HomeStars' "Best of" Award winner of 2021. They definitely don't deserve to be overlooked.
For one thing, all their installations come with a lifetime warranty. Plus, if you're not satisfied with their service, you don't have to pay at all.
Another thing we like about Priority Plumbing is that they're upfront about their rates. If you decide to go for their services, you'll be told what you have to pay before any project begins.
This is a common complaint about other plumbing companies: how people have to do some guesswork beforehand. With Priority Plumbing, you can rest easy knowing that they can beat any quote by some other contractor.
Priority Plumbing also tries to work clean, which we always like. They usually don't leave a jobsite in shambles, even going as far as wearing shoe covers.
Lastly, on top of their standard plumbing and drainage repair services, Priority Plumbing can also handle your heating and sewer issues.
Overall, they're a well-rounded company, which is probably why they won Toronto Central's Consumer Choice Award for 2021 as well.
100% satisfaction guarantee
Generous warranties
Fair pricing
Calls to give updates
Automatic +$49.99 for emergency services
Customer Reviews
There are so many glowing reviews for Priority Plumbing. Here are our two recent picks:
"The reviews were right. We found this through a quick Google search and decided to go with them due to extremely high reviews. They were fast to respond, very knowledgeable, and professional. Joel was our guy and he was clearly very good at what he does. He also took me through the house and pointed out things to keep on my radar. Will definitely use this company for all my plumbing needs."
– Chris Bone
"I called them to get help with a plugged drain and a replacement of a hot water tank. The telephone experience was very positive. I arranged a time for the next day that was convenient for me. Kyle came at the arranged time and was very professional. He explained things and worked quickly to resolve both issues. Then he did a super clean-up job. Everything is working great now."
– Evellina Keith
5.   Preferred Plumbing Solutions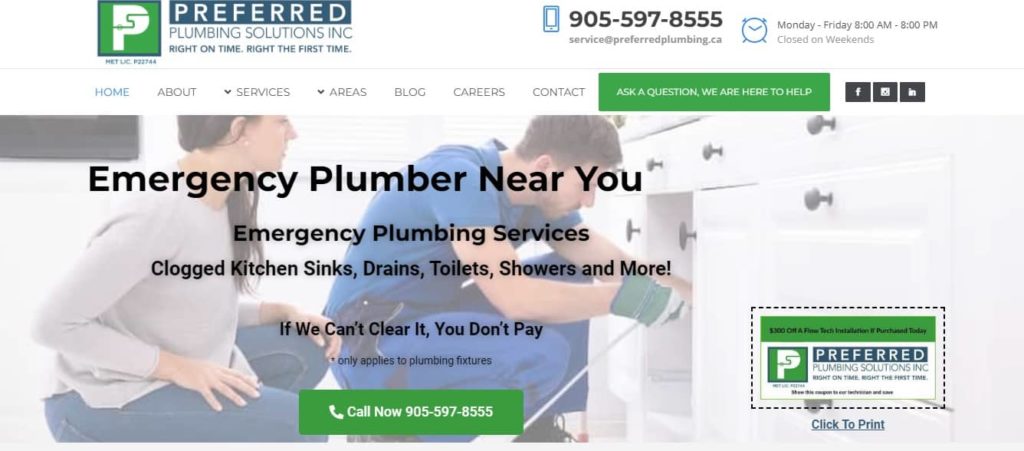 Preferred Plumbing Solutions Inc is a company that provides clients with various plumbing jobs that involve clogged kitchen sinks, drains, toilets, leaks, and hard water problems among many others. Able to provide both residential and emergency plumbing services, they are a current holder of the Red Seal Certificate and OWWA backflow Prevention License which only says a lot about the standards of their services.
We like that they can work with a wide range of brands and even have access to specific replacement parts which ensures clients of a proper fix and long-lasting solution to their plumbing issues.
Furthermore, their services are comprehensive and accurate since not only do they provide a precise diagnosis and the proper materials needed for the job but they also clean up effectively after the whole plumbing work is done.
Though note that they are only able to service the GTA area and their no-payment guarantee for unresolved works only include plumbing fixtures.
Overall, with their diverse experience in the plumbing industry, full coverage of services, and comprehensive maintenance checks, we highly recommend them to clients who are in need of reliable plumbing services anywhere and anytime in GTA.
Neat and tidy services
Wide range of services covered
Reliably sourced parts and materials
No payment warranty only includes plumbing fixtures
Customer Reviews
Here are some reviews from their clients:
"I was very happy to have contacted preferred plumbing solutions. I was dealing with a classic case of clogged toilet that I couldn't fix myself ; Daniel and Dominic came over and suggested multiple solution options which was nice to have. They were professional and friendly! 🙏"
"A number of years ago I received a quote from PPS that I thought was too high. Ultimately, the work was completed by another plumber, and I realized the PPS quote really was in the right ballpark. This time, when I needed work done, I called PPS and had a great experience with Daniel and Mario. They gave me options to choose from and completed the work efficiently. I have never had a workman leave a job as clean as Mario did! He even came equipped with his own spray bottle of Lysol. I believe we all always think that the price for plumbing work is too high, but PPS provided professional values to the work and time will tell if the workmanship and materials stand up. I think they will."
Why You Should Never Ignore Emergency Plumbing Issues
Could you put off calling an emergency plumber for a day or two? That might not be the best idea.
Check out the following common emergency plumbing issues and why it's best to address them right away.
1. There's no hot water.
If you can't get a decent warm shower or even if the water takes longer to heat up, then that's a sign of a faulty water heater. Having to take cold showers in Toronto is never pleasant.
Ignoring this sign can lead to a build-up of sediments in your water tank, which will be even more difficult and costly to diagnose and repair in the future.
2. The water pressure is low.
Low water pressure is an indicator of a leaking pipe, which most often is not visible. In some cases, you can confirm this leak with wet spots on the floor or leaking ceilings.
Ignoring this sign can damage the walls of your property, thus lowering its safety and market value. This is also why you might have higher water bills than normal.
3. Your house smells weird.
Strange odors may be an indication of clogged drains. This is especially alarming if the water coming out of your taps smells funky.
If your water is anything but odor-free and colorless, there's a good chance that your piping system has been compromised. Ignoring this problem means you're going to have to drink and shower in dirty water, which will take a toll on your health.
4. Your drains are slow.
Clogged drains usually happen in kitchen sinks and bathtubs. Many things can block up your sewage system, from fat residue to hair.
In some cases, you might be able to resolve the issue by yourself with a common drain snake. However, tougher jobs like slow-flushing toilets require professional services.
Ignoring this problem will compromise your sewer system, which could cost you thousands of dollars to fix.
FAQs about Emergency Plumbers
---
We hope your plumbing issues get resolved ASAP by one of our top picks for emergency plumbers in Toronto. Getting a plumber within the hour is way better than facing larger repair bills in the future.
If you're also having power issues, you might want to know who the best electricians in Toronto are.