The 6 Options for the Debt Consolidation in Toronto
Are you having trouble keeping track of all your debts and loans? If so, signing up for a debt consolidation can make it easier to pay everything off all at once.
We scouted the entire Greater Toronto Area in search of credit companies with the best debt consolidation in Toronto to help those struggling with dealing with a large pile of debt.
Here, we included everything you need to know about them, including the range of their services and payment terms. Without further ado, here are our picks!
1. Steve Welker and Company
Steve Welker and Company is a bankruptcy firm that aims to pull Canadians out of financial ruin. It's mainly known for its bankruptcy solutions, but we believe that its debt consolidation program is worth checking out as well.
It uses consumer proposal to consolidate all your debts into one payment, which makes them safe from ridiculously high interest. It's a commonly used debt settlement agreement to repay your lenders a percentage of your loan in exchange for full debt forgiveness.
It's a good debt consolidation approach as it saves you from possible bankruptcy. On top of that, it comes with long payment terms of five years with no interest rates, resulting in long-term savings of as much as 70%.
Steve Welker and Company's services come highly recommended if you've been getting stressed after getting harassed by your lender. Its licensed insolvency trustees can make those frequent calls from your lender and bill collectors go away through legal means.
Every customer is entitled to two free consultations with its team to give them a chance to personally explain their situation and know how Steve Welker and Company is going to handle their case.
For what it can do, Steve Welker and Company stands as a perfect option for individuals who want to resolve their pile of debts as amicably and peacefully as possible.
Customer Reviews
Take a look at these comments posted on Google Reviews:
"I couldn't have asked for a better experience. Todd explained consumer proposals to me. I had never heard of this before. Everything he said was so helpful and the process played out just the way he said it would. The price I was quoted was exactly what he said it would be. The counselling sessions I had with Raquel were amazing. She is truly a caring and thoughtful person. I feel like a giant weight has been lifted off my shoulders and I can start anew. Thanks to Steve Welker!! I would highly recommend them to anyone who is having financial problems." -Robyn Sutton
"Steve Welker is a very friendly and professional person to deal with. Steve made me feel at ease when talking about my personal affairs and very gently gave me options and suggestions which I am very happy with.The cost was indeed less than I expected and his staff are also lovely to deal with and if there are any problems go out of their way to assist. I would gladly recommend Steve and his company to any of my family or friends who are in need of this service." -Yvonne Reaney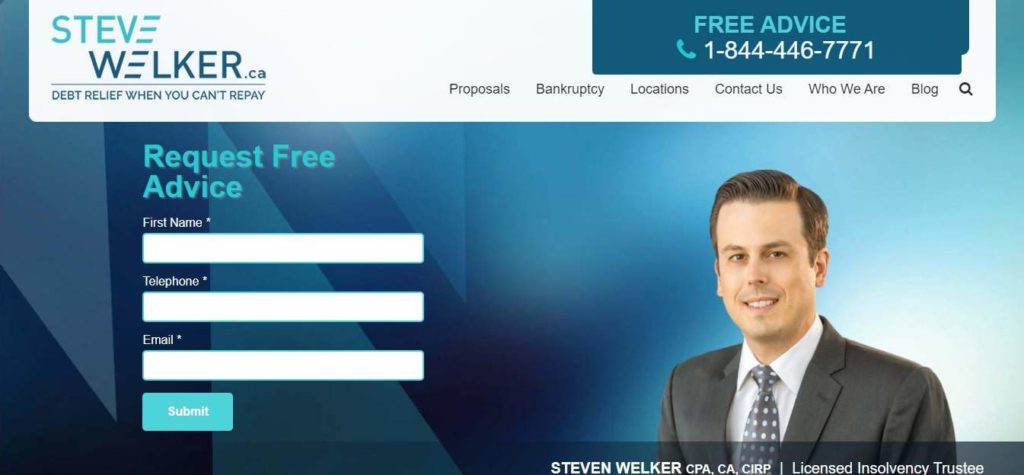 SERVICES
Debt consolidation, debt reduction, stop collection calls, erase tax debt, stop garnishments, and stop interests
WEBSITE
https://stevewelker.ca/
ADDRESS
314-200 Ronson Dr, Etobicoke, ON M9W 5Z9, Canada
CONTACT DETAILS
416-246-7771


[email protected]

OPERATING HOURS
Monday to Friday: 8:30 AM – 5:00 PM
Flexible payment terms
No ridiculously high interest rates
Ideal to avoid bankruptcy
Comes with two free consultations
In some cases, not all debts are erased
No operations on weekends
2. Easyfinancial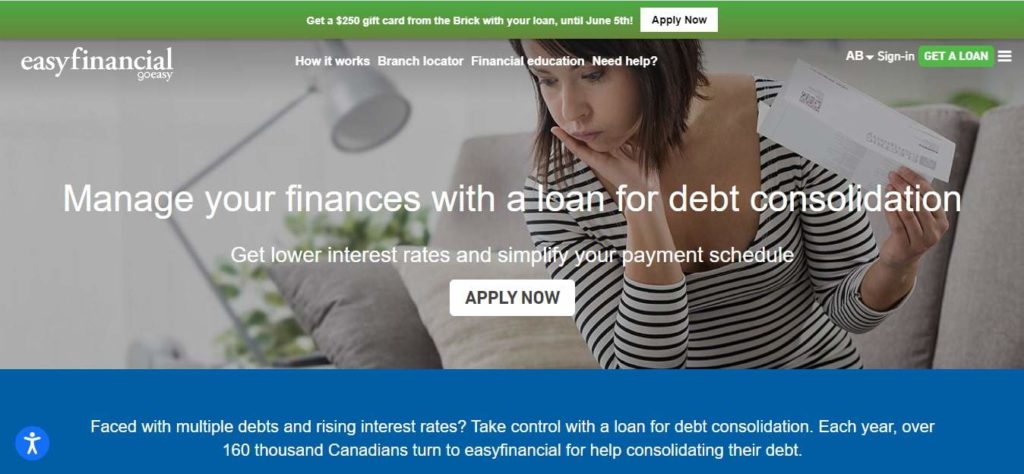 SERVICES
Debt consolidation, secured personal loans, unsecured personal loans, savings loans, bad credit loans, installment loans, and financial education
WEBSITE
https://www.easyfinancial.com/
ADDRESS
245 Dixon Rd, Etobicoke, ON M9P 2M4, Canada
CONTACT DETAILS
647-794-2224
OPERATING HOURS
Monday to Friday: 10:00 AM – 7:00 PM
Saturday: 9:00 AM – 5:00 PM
If you're looking for a credit company that's trusted by a lot of Canadians, then look no further than Easyfinancial. In the previous year alone, over a hundred thousand Canadians asked for its help, which says a lot about the quality of its services.
Easyfinancial helps customers to pay off at least $45,000 worth of multiple loans and credit card debts. Its debt consolidation loans come with flexible payment terms as well, ranging from 9 to 60 months, a lot longer than what other credit and loan companies allow.
Of course, another thing we like about Easyfinancial is the relatively low interest rates. For example, when you borrow $10,000, you only have to pay as little as $69.65 in interest, depending on your chosen payment terms.
In terms of accessibility, Easyfinancial is the one to beat too. It has more than 200 locations scattered all over the country, so we're sure that there's a branch near you are right now.
The only downside about Easyfinancial is that we've heard a few comments about its customer services, so you might want to watch out for that when dealing with them. Other than this, it's an excellent choice as a credit and loan company.
Reasonable interest rates
Flexible payment terms
Accessible branches
Friendly and supportive staff
Questionable customer service
A customer named Adam Abshir shared this comment:
"I would like to thank AISHWARYA . She is amazing and actually very good at what she is doing, very very professional. I was looking to open up a new business and was looking for a loan to set it up. She helped me to get the amount Iwas looking for 10k. Thank you Aishwarya if there were more stars i would give it to you."
Another customer named Beulah Grace posted this online:
"The FSR Chetanye was very helpful throughout the process. He explained everything step by step and was quick to all my queries and doubts. I was able to receive amazing customer service. Thank you very much for your assistance and I really appreciate all the effort to explain everything so well. Highly recommend it! :)"
3. York Credit Services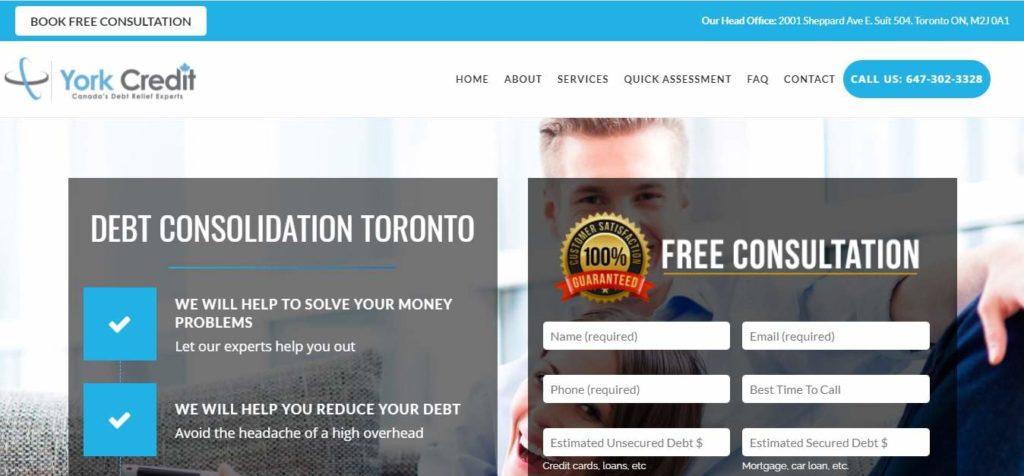 SERVICES
Debt consolidation, credit repair, credit counselling, income tax debt, business debt relief program, mortgage referrals, and car loan referrals
WEBSITE
https://yorkcreditservices.com/
ADDRESS
101 Sumach St, Toronto, ON M5A 3J8, Canada
CONTACT DETAILS
647-302-3328


[email protected]

OPERATING HOURS
Monday to Friday: 9:00 AM – 9:00 PM
Considered one of Toronto's most dedicated debt consolidation companies by various industry leaders, there's no way we're not adding York Credit Services to our picks. It earned a spot on our list for two main reasons.
For one, it houses a huge team of experienced credit and loan experts who can deal with all forms of personal and business debt. Its large network allows it to provide the best debt solution to its customers in as fast as two days!
Second, its debt consolidation services are open to everyone regardless of the cause of their financial burden, may it be loss of employment, death of a loved one, or even divorce. It's safe to say that it's a company that's willing to help anyone facing financial hardships.
However, as its customer, you have to be open with having your monthly expenses and income extensively reviewed by its credit counselors. It's their own way of making sure that every customer receives the best payment plan for their situation.
Unlike other debt consolidation companies, York Credit Services doesn't make false promises. You can expect that its counsellors will be direct to the point when your case can no longer be resolved.
York Credit Services can't promise that all your debts will be completely erased. One thing's for sure, though: you won't have to worry about high interest rates and finance charges.
Low interest rates
Free consultation
Accessible location
Free financial help on its website
Large network of debt experts and counsellors
"At some point I failed in running my own business and ended up with 4 credit cards with a total debt of over $200K. I tried to pay it off myself working almost 24/7 but then I realised I cannot handle this amount myself. I used York Credit when I decided to get my life in order and finally become debt free. I started in August 2015 and am now completely debt free as of early 2018. This impacted my credit quite substantially and hindered my ability to get a mortgage for next few years but in the end I believe it was worth it. I'm glad I went with these guys." -Layla Dickinson
"Not my first choice for an option with my debt. After speaking with Stan I knew this was my best option and felt like he really cared about and understood my situation. So far I'm happy with their services. They have made my loan payment affordable." -Ray Smith
4. Lending Circle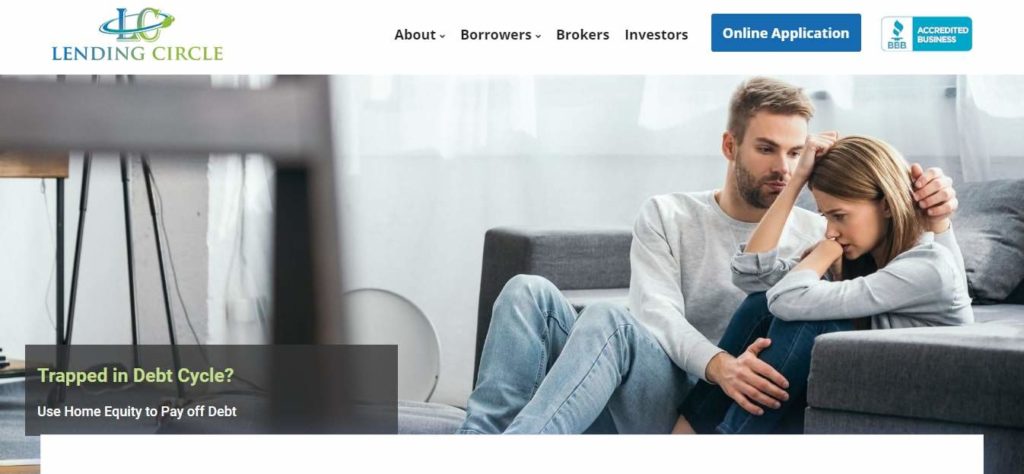 SERVICES
Debt consolidation, home equity loan, second mortgage, private mortgage, bad credit mortgage, mortgage arrears, mortgage refinance, cash-out refinance, reverse mortgages, and home purchase
WEBSITE
https://www.lendingcircle.ca/
ADDRESS
101 Sumach St, Toronto, ON M5A 3J8, Canada

21 King St W, Suite 500, Hamilton, ON – L8P 4W7
CONTACT DETAILS
866-556-3136


[email protected]

OPERATING HOURS
Monday to Friday: 9:00 AM – 5:00 PM
With a perfect rating of 5 out of 5 on Google Reviews, Lending Circle is the best reviewed company among our picks.
It's primarily known as a mortgage brokerage and lending company, but its debt consolidation is something that we highly recommend to homeowners who find themselves in huge debt because of their mortgage.
We highly recommend checking out Lending Circle if you're a homeowner who needs additional funds. It helps its homeowner clients by approving their existing mortgage or providing funds for a home equity loan or a second mortgage.
In line with that, Lending Circle is not open for everyone. It only works with individuals who are in debt because of housing or mortgage reasons and who desperately need cash on hand.
It's one of the few lending companies in Toronto that specialise in consolidating home equities, mortgages, and other loans related to housing. This is also the reason we couldn't help but add it to our list of the best debt consolidation options in Toronto.
When it comes to interest rates, as per customer reviews, Lending Circle offers low interest rates for its debt consolidation programs. There's nothing posted on its website about interest rates though, but we're trusting the word of its clients on this one.
Reasonable interest rates
Online consultations
Two locations in GTA
Flexible payment terms
Open only to homeowners in debt
Dr. Robert Villa shared this own experience with Lending Circle:
"Great experience working with them. Was able to have a very clear line of communication as well as clarifying a number of topics that we otherwise did not clearly understand/grasp. Felt safe trusting their recommendations and it's been seamless to not have to stress about making these decisions on our own without good guidance."
A customer named Arlene Timms shared this feedback online:
"I recently used the Lending Circle for mortgage financing. I worked with the very energetic Parm. Wow! He was professional and knowledgeable throughout and explained my options clearly. He answered all of my questions promptly and completely. He made me feel that my business was important to him. I highly recommend Lending Circle!"


5. EmpireOne Credit Solutions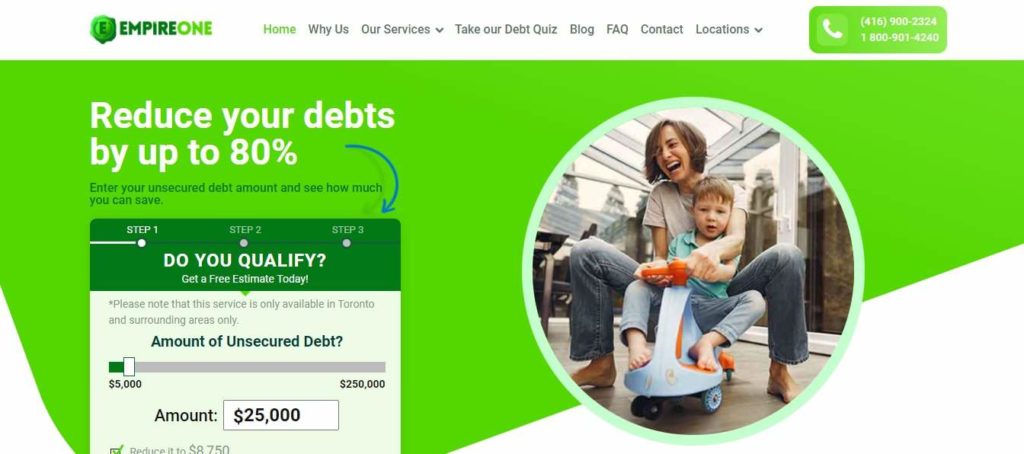 SERVICES
Debt consolidation, credit counselling, personal bankruptcy, and consumer proposal
WEBSITE
https://www.empireonecredit.ca/
ADDRESS
250 Consumers Rd. Suite 810 Toronto, ON M2J 4V6
CONTACT DETAILS
416-477-3503
OPERATING HOURS
Monday to Friday: 9:00 AM – 6:00 PM
Saturday: 10:00 AM – 4:00 PM
EmpireOne is a credit company that provides judgment-free debt solutions to help Canadians overcome personal loans, consumer debt, garnishment, collection calls, and other causes of financial stress.
One thing we love about EmpireOne is that it has highly customised debt services. It's a company that believes no two financial situations require the same solution, so customers can expect its services will be catered to their specific challenges and desired outcomes.
The coverage of its debt consolidation includes credit card debts, payday loans, bank loans, and even tax debts. It's not as extensive as one would expect, but it should be enough as long as you're not involved in sketchy loans.
Unlike most credit companies, EmpireOne doesn't ask for upfront fees from its customers. You only need to pay once all your loans have been taken care of and an agreement has been reached between you and its team.
Another thing we like about EmpireOne is that it can take care of endless collection calls from your lender and wage garnishments. We believe that these two features are things that everyone should look for in a credit company.
In terms of customer services, EmporeOne doesn't fall short. Its debt counsellors are always on call from Monday to Saturday during business hours, always ready to talk to potential customers about dealing and reducing their stacks of debts.
Reliable customer service
Longer operating hours
No upfront fees
Competitive interest rates
Customised debt solutions
Limited debt consolidation coverage
Here's what some of its customers had to say:
"I would definitely recommend Empire One to my relatives and friends. The staff, Elvira, is very accomodating. Whenever you need to get an update you always get a response from her all the time. And as for now I am getting approval for credit cards for a fresh new start … It seems my credit score is getting better. Thank you Empire One" -Miya V
"EmpireOne helped me get my finances back in order. The team, especially Elvira, was always accommodating and understanding. I wouldn't hesitate to recommend their services to anybody who needs some help getting back on the right track. They definitely deserve and earned these 5 stars." -Paul Boamah
6. goPeer

SERVICES
Credit Card Consolidation
Debt Consolidation
Home Renovations
Auto Repair or Financing
Medical Expenses
Big Purchases
WEBSITE
https://gopeer.ca/borrow/
ADDRESS
111 Peter St, Suite 700 Toronto, Ontario Canada M5V 2H1
CONTACT DETAILS
[email protected]
1 (844) 960-3090
OPERATING HOURS
Open 24 hours
goPeer may seem just like any other money lending company based in Toronto, but what sets them apart is that their funds come from fellow regular Canadians rather than from big banks.
They allow smaller investors to contribute to the pool of money, which means less hassle with transactions compared to bigger financers that require more papers and more time to process.
With their help, clients are able to receive the money they need faster than ever. But just because it's fast, doesn't mean it's suspicious. goPeer prides themselves in providing safe loaning services with minimal interests, all for the sake of helping a fellow citizen. The company was specifically made for the people, by the people.
Services that they can offer include automobile financing, assisting in medical finances, as well as credit card and debt consolidation.
To know more about goPeer and the amazing team behind it, you can head on to their website. A form is also posted there ready to be filled in case you have further inquiries regarding the process and other details.
Rest assured that they will get back to you as soon as they can.
Quick and efficient client processing
Professional staff
Low-interest rates
Trusted money lender
Customer service online tend to be slow due to traffic
Here's what some of its customers had to say:
"Very streamlined process. Working with goPeer was very easy and quite professional. Received great customer service as well. I recommend Go Peer for both investing peer-to-peer and borrowing from other peers. A+ service."
"This is the best loan experience I have ever had. I'm so happy I found out about GoPeer. I did some research online and I love the idea of my loan being funded by other Canadian investors. I applied online and then talked with a very helpful member of the customer service team (I think it was Alex). Within a day of applying my loan was approved and posted to their forum for funding. It only took a few days and 85 investors made my loan happen. It took another couple days and the funds were in my account. The whole process was so much more enjoyable than any borrowing experience I've had in the past. When I am in a position to invest myself I will definitely do so with GoPeer and help someone else."
FAQs about Debt Consolidation in Toronto
---
And that completes our list of credit companies with the best debt consolidation in Toronto. Any of these companies can help anyone with a long list of debts and loans settle everything conveniently.
If you know other credit companies that can help in consolidating debts, don't hesitate to share them with us. If you found them worthy, we'll definitely add them here.