A Guide to the 5 Best Singing Lessons in Toronto
We never let talent go to waste here - that's why we took the time and effort to find the best singing lessons in Toronto for those who want to hit the big time.
This review features the music schools that made our cut with their outstanding reputations and instructors. So go ahead, read on and unleash that talent that will soon rock the world!
Top Schools for Singing Lessons in Toronto
We used the following factors to measure the music schools we chose as the best in the city:
The Cost of Singing Lessons in Toronto
Quick answer – it depends. But overall, you have to pay by the hour as singing lessons are often self-paced.
For reference, when comparing prices, anything below $20 from an experienced coach is already an amazing deal. On a regular basis, you actually have to pay an average of $40 to $60 per hour for voice lessons.
In most cases, teachers will personalize the learning journey for you, ultimately deciding how many lessons you must take and how frequently you should take them.
Of course, you still have the final say in these matters, so you're paying for as long as you're using their expert services.
1. Singer's Edge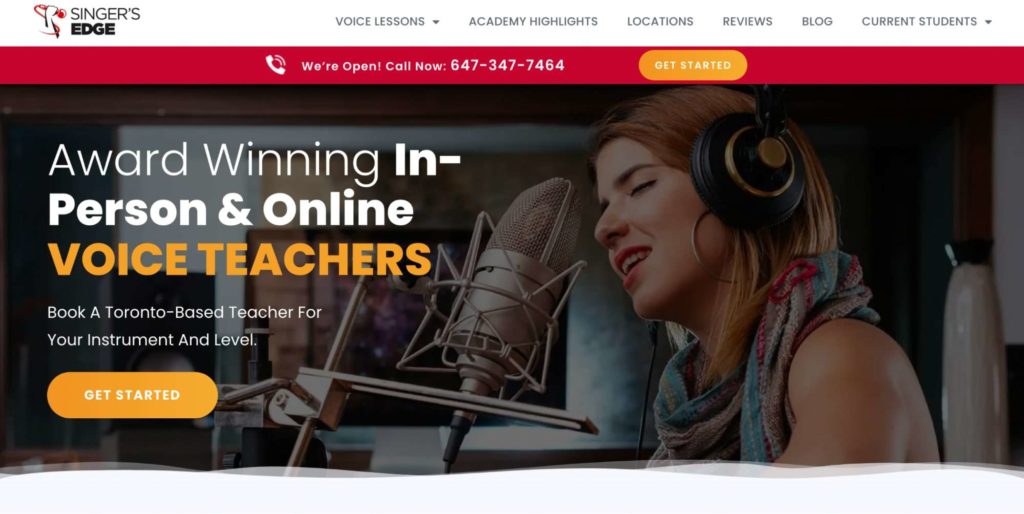 Test
Info
SERVICES
Voice lessons, beginner singing lessons, advanced singing lessons, youth singing lessons, singer's edge program™, recording & production, managing covid-19, online singing lessons
WEBSITE
https://singersedge.com/
ADDRESS
19 Isabella St, Toronto, ON M4Y 1M7
CONTACT DETAILS
+1 647-347-7464
OPERATING HOURS

Monday - Thursday: 11:00 AM - 9:00 PM

Friday: 12:00 PM - 8:30 PM

Saturday- Sunday: 10:00 AM - 5:00 PM
| | |
| --- | --- |
| Teaching competence and knowledge | ★★★★☆ |
| Quality equipment and studio | ★★★★★ |
| Variety of learning formats | ★★★★★ |
| Lesson fees and other charges | ★★★★☆ |
Singer's Edge is a music school in Toronto that offers a wide variety of lessons in music. Apart from vocal lessons, they also teach piano and guitar in Toronto and other neighboring areas.
What we liked best about their singing lessons is that students don't get confined to a rigid curriculum. Every lesson is customized based on the student's skills, often incorporating private and group sessions.
However, the issue here is that the learning becomes a lot less structured. So if you're looking for that wiggle room to gain consistency, it can be a tough mission to find here.
Fortunately, the music school also offers the Singer's Edge Program™. This is basically a more structured and linear practice system where there is equal attention to skill-building and performance.
Within this program, you get a bunch of perks that we think will truly supplement your learning journey. You get an exclusive lesson book system plus 100 customizable online scales.
Our personal favorite is the certificates of achievement you earn in each completed level. After all, we think that it's important to validate the skills you build throughout the entire program.
Take note that you don't have to enroll in this program if you don't find it fitting. You simply enroll in their regular beginner, advanced, or youth singing lessons.
As it has been a trend lately, online singing classes are also offered with greater discounts in the long run. The online setup is completely free ($35 on regular lessons) plus students get a bonus lesson worth $43.
In terms of the coaches, they currently have 30 onboard across the two locations that they have in Toronto. Many students were pleased that they get to learn at their own pace with supportive and talented vocal coaches.
Specializes in Pop, R&B, Musical Theater, Soul, Jazz
Multi-awarded music school
Individualized musical curriculum 
Blended learning formats
Great deals on online singing lessons
Offers Singer's Edge Program™ with multiple online resources
Earn certificates under the Singer's Edge Program™
In-house recording and music production services
Self-paced learning can be a bit unstructured
Initial booking can be troublesome in-person
Can be hard to catch up with missed lessons
Customer Reviews
Positive and encouraging experience
I knew I would never be a great singer. I just wanted to be able to sing along with a song and not clear the room. My instructor, Galen, was always positive and encouraging. He taught me to not be afraid to use my voice, how to breathe better and my range. I really enjoyed my sessions and would recommend this company to anyone. – Dona Coffey
Family-like learning environment
I love the consistency and quality of lessons I receive. Every week, Dani teaches me something new and has helped me level-up my singing! Also, SE provides such a warm, family-like environment. Even virtually, I feel like SE cares about me as a client but also as a person and artist. Thanks, SE! – Cassandra Gentile
2. Voice Yourself Singing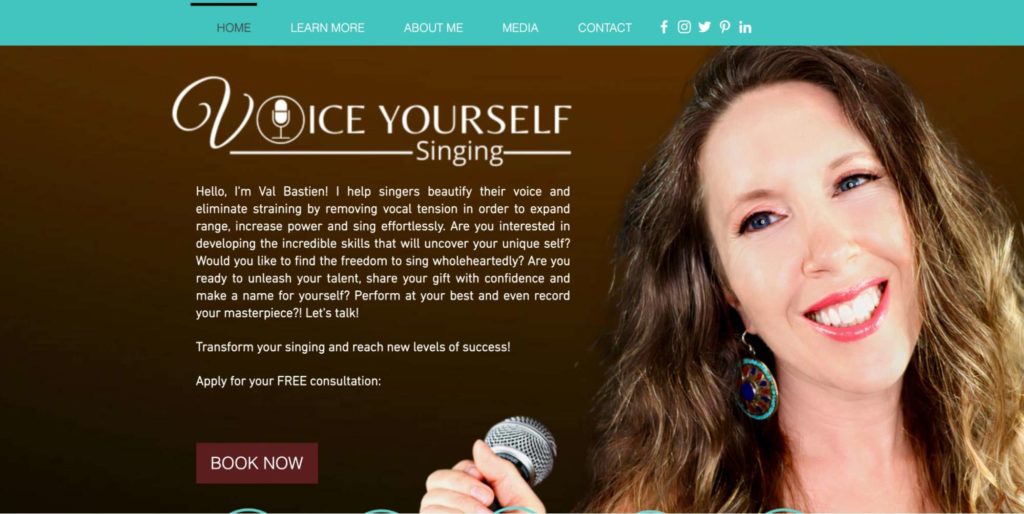 | Test | Info |
| --- | --- |
| SERVICES | In-person singing lessons, online singing lessons |
| WEBSITE | https://www.voiceyourselfsinging.com/ |
| ADDRESS | Dufferin St at, Rogers Rd, Toronto, ON M6E 3R3 |
| CONTACT DETAILS | +1 647-209-3776 |
| OPERATING HOURS | Monday - Friday: 4:30 PM - 9:00 PM |
| | |
| --- | --- |
| Teaching competence and knowledge | ★★★★★ |
| Quality equipment and studio | ★★★★☆ |
| Variety of learning formats | ★★★☆☆ |
| Lesson fees and other charges | ★★★★☆ |
If you want an ultra-private learning experience, Voice Yourself Singing is a wonderful choice. We'll list down a couple of its highlights that you might want to look into before enrolling in a lesson:
For starters, you only have one vocal teacher here, Val Bastien. As an advantage, this makes the learning journey more personalized for each student – making the sessions a lot more direct than most.
On the other hand, that already means she can't accommodate everyone in-person, or even online for that matter. But fear not yet because as of writing, her schedule is pretty free and she can still accept enrollees.
Plus, you also have the option to learn within a group. So that may work out for you in case you get stuck with an unlikely schedule.
There's nothing excessively fancy about the lessons you'll get here, which is both a strength and a weakness. As a plus, everything becomes more direct with quick feedback sent along with each session.
As a drawback, learning formats are pretty limited, including the music resources you'll have access to. Nonetheless, we actually pretty much like it because the overall experience really makes up for what it lacks.
As proof, this school has a perfect 5-star rating on Google Reviews. Students often raved about the incredible improvement they've had – and that's what all that matters, really (in your beginner stages, at least).
Free consultation
Home vocal studio for a more private experience
Studio complete with instruments, microphones, and amplifications
Flexible schedules for online singing lessons
Learn alone or within a group,
Vocal coach is a professional pianist, music director, and conductor
Limited availability for solo learners
Limited learning formats
Customer Reviews
Helps overcome vocal challenges
Valerie in an amazing vocal instructor! This was my first time doing any formal vocal training, and Val was incredible at teaching me how to control my voice. She offers exercises and tricks that can help you overcome challenges, and makes recommendations based on your voice and experience. I could not recommend Val enough for anyone that is looking to explore singing further! – Julia Laing
Highly recommended vocal trainer
Valerie is incredibly helpful and has a large repertoire of exercises to help improve your singing. She is very patient and kind and wants to help you get better. I have been working on eliminating my vocal break, and I am slowly making progress with Valerie's help. I would highly recommend Valerie to anyone thinking about trying singing lessons. I too wasn't sure if I should try lessons initially but one lesson with Valerie convinced me they were worth it. – Claudia W.
3. Vocal Studio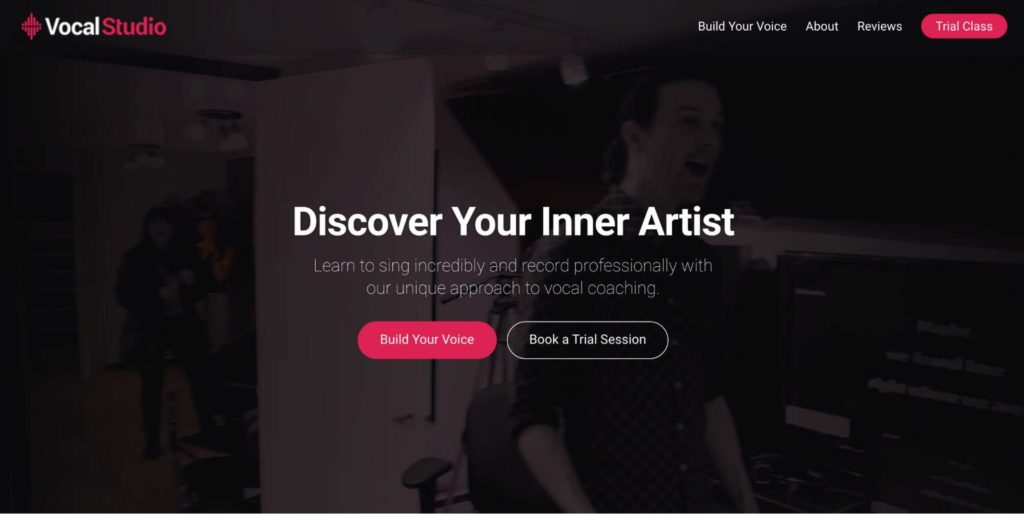 Test
Info
SERVICES
Singing lessons
WEBSITE
https://www.vocalstudio.ca/
ADDRESS
3215b Yonge St, Toronto, ON M4N 2L3
CONTACT DETAILS
+1 416-570-2496
OPERATING HOURS
Monday -Tuesday, Thursday - Friday: 12:00 PM - 8:00 PM

Saturday: 10:00 AM - 5:00 PM
| | |
| --- | --- |
| Teaching competence and knowledge | ★★★★★ |
| Quality equipment and studio | ★★★★☆ |
| Variety of learning formats | ★★★☆☆ |
| Lesson fees and other charges | ★★★★☆ |
As their name suggests, Vocal Studio is all about singing and developing techniques to improve. In terms of capacity, the place is tame in comparison to the others, but it is still just as good as some, if not better.
The first thing we liked to talk about is its instructors. There are only two of them here but as far as competence goes, they can rival other teachers easily.
Based on the insights shared by former students, the instructors were extremely easy to work with. Other than that, they also teach a thing or two about performances and stage presence on top of singing methods.
You can book a trial class just to get a feel of what to expect, but we do think it's a bit expensive. To be fair though, that $40 gives you one-on-one class in a recording studio and quick assessment after the trial.
Bonus plus, we actually took a liking to their studio because it feels pristine yet also brimming with youth. It's modern and classy without looking a bit too intimidating – just the right amount of ease for a great learning environment.
By the way, online classes are also available here via Skype. You get to join various students around the world if that's more of your thing.
Two seasoned instructors available
Specializes solely in singing lessons
Trial classes available with recording and assessment
Great studio set up in a great location
Customer Reviews
Great understanding of the human voice
Will Patterson is a fantastic teacher and voice coach. He has a great understanding of the human voice and is able to easily convey his ideas and instructions. Learning to sing is very abstract and you really have to rely on feeling and sensation. Will is able to get me to sing/speak in the proper place. – John Force
Impeccable vocal ability
Eli has a talent that is rarely seen. His vocal ability to sing in various genres is impeccable. Eli is truly an artist and a phenomenal coach, he has a natural tendency to help people bring soul and passion into the music. If you are looking for a vocal coach look no further. Eli and his team are amazing, they will find the artist in you and bring it to life. Highly recommend! – Serafima Zavulunova
4. Elite Music Academy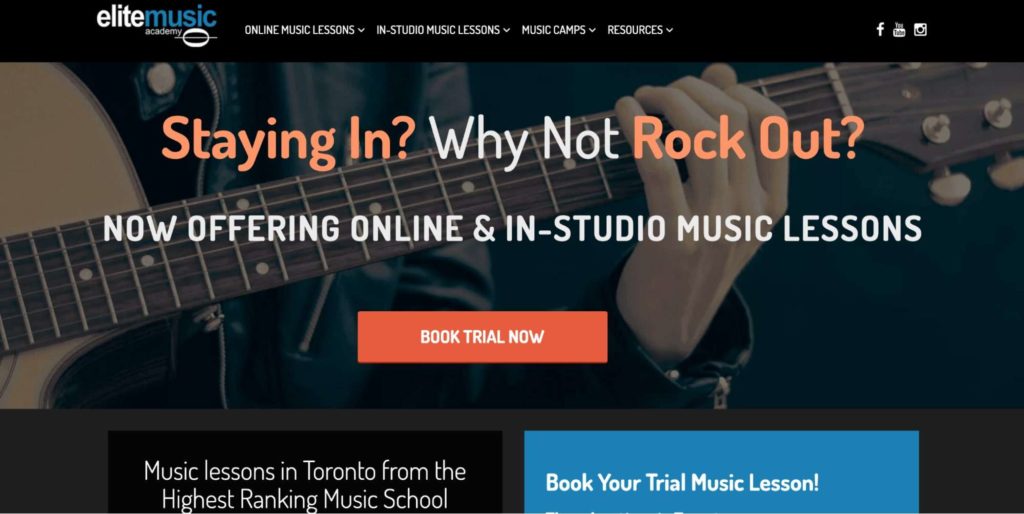 Test
Info
SERVICES
Online and in-studio guitar, piano, singing, drum, violin, and saxophone lessons, music camps
WEBSITE
https://elitemusic.ca/
ADDRESS
822 Danforth Ave, Toronto, ON M4J 1L6
CONTACT DETAILS
+1 416-406-5355
OPERATING HOURS

Monday - Friday: 3:00 PM - 9:00 PM

Saturday: 10:00 AM - 5:00 PM

Sunday: 11:00 AM - 5:00 PM
| | |
| --- | --- |
| Teaching competence and knowledge | ★★★★★ |
| Quality equipment and studio | ★★★★★ |
| Variety of learning formats | ★★★★★ |
| Lesson fees and other charges | ★★★★☆ |
Elite Music Academy is a gold mine of all music opportunities you can imagine. You can enroll online or in-person to learn certain instruments or to hone your singing skills or a mixture of both.
One of the things we liked about this music school is the number of vocal teachers they have. Prospective students can book a 30-minute trial lesson for $25 to see if they're compatible with the coach.
Every voice teacher has their own set of unique skills and specialties in terms of music genre. So, you can basically hone your voice in R&B, pop, jazz, opera, or any type of singing approach depending on your teacher.
The learning formats are nothing groundbreaking as far as variety is concerned. Students can learn solo, in groups, either online or in person.
But the real highlight of the learning experience here for us is the chance to perform onstage. If you want to showcase your newly gained skills in front of a live audience, then you may want to look into this school.
As one of the only few performance-based music schools in Toronto, the live show performance is something to look forward to. Through this, you get to sing with a live band, record your music with production, and perform live!
The school is quite popular with young kids but they basically teach every one of all ages. Just a head's up, booking trial lessons can be difficult on the first few tries – you might need some patience to get through that process.
Open 7 days a week for in-studio classes
Specializes in a wide variety of music styles
Professional production recording available
Opportunities to perform live 
Trial singing lessons available per vocal coach
Lower rates for flexible students
Students get to produce a music video during camp season
Booking a trial class can be difficult 
Customer Reviews
Provides solid music foundation
My daughter took piano and voice lessons at Elite and attended their Toronto Music Camp for two summers. She loved her teachers and has passed her RCM exams rather quickly. Her teachers mixed the lessons with classical training and pop music to keep it interesting while still providing a solid music foundation. Their store is warm and welcoming; the owners obviously have a passion for what they do. I also loved how they got the kids performing out in the community and recording their music. Seeing my daughter finally perform on a professional stage made all the back and forth to lessons worth it. – Torva L.
Talented and friendly teachers
Although I am a mature student, I never feel out of place. I have a wonderful, talented and very friendly teacher who has a great sense of humor. I would recommend Elite Academy to student of all ages and all levels. – Amir Ghorbani
5. Canada Music Academy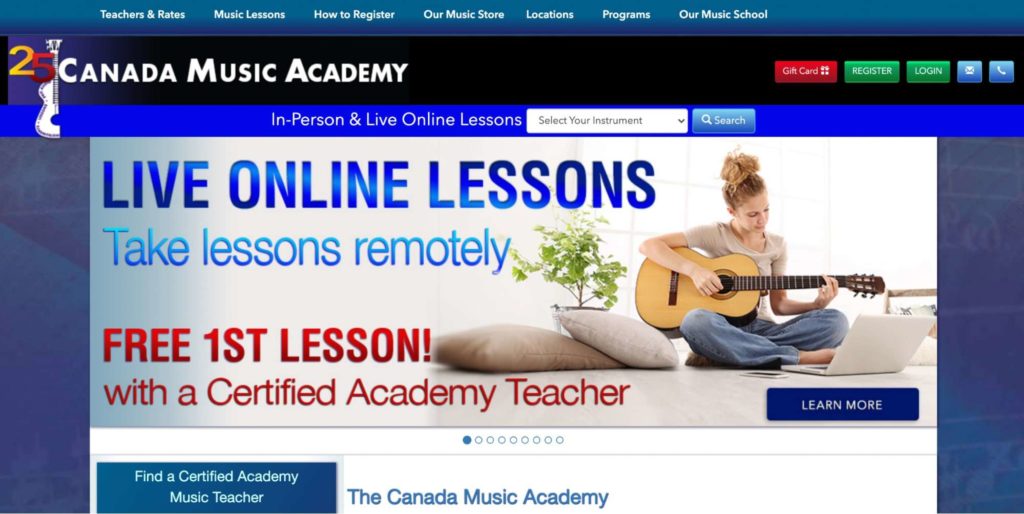 | Test | Info |
| --- | --- |
| SERVICES | Voice lessons; guitar & bass; piano & keyboard; brass, strings & woodwind; drums & percussions; songwriting, recording, DJ |
| WEBSITE | https://canadamusicacademy.ca/ |
| ADDRESS | 800 Bathurst St #402A, Toronto, ON M5R 3M8 |
| CONTACT DETAILS | +1 416-207-0884 |
| OPERATING HOURS | Monday - Sunday: 9:00 AM - 9:00 PM |
| | |
| --- | --- |
| Teaching competence and knowledge | ★★★★★ |
| Quality equipment and studio | ★★★★☆ |
| Variety of learning formats | ★★★★★ |
| Lesson fees and other charges | ★★★★★ |
Like most music schools, Canada Music Academy offers a lot more than just voice lessons. Students can also enroll for instrument training or songwriting and recording.
Out of all of our picks in this review, this school has the most competitive rate at $25 per hour. On top of that everything from the initial registration to the actual lessons is a smooth process – even us didn't have a hard time during our test.
Another thing that got our attention was the ability to choose an instructor, which they have a lot of, by the way. Plus, they have more learning formats that make learning a lot more flexible for all ages.
Apart from the typical in-studio and online classes, they also have an in-home option. Just don't forget to take extra caution for this setup since you know, COVID is still out there.
Additionally, they take remote lessons to the next level by offering them live. It's a perfect setup for those looking for spontaneous sessions but can be a struggle due to basic technical problems or time conflicts.
With over 25 years of experience, the school has already mastered the art of giving customized lessons. Or at least, that's what the results showed us when we spoke to some of their students.
Many current and former students (and their parents) shared the wonderful experience they've had in the school. To summarize the points we've gathered, it's fun, encouraging, and always full of energetic passion.
Finally, we appreciate the fact that they offer online lessons in up to 40 languages. It's not a topmost advantage, to be honest (in terms of improving vocal technique), but it opens the door for a diverse set of students/
25 years in business
Competitive instructor rates
Students are free to choose their own teacher
Offers in-home singing lessons
Live online lessons available
Customized learning experience
Online music lessons available in 40 languages
Free first lessons
Certain learning formats can be a challenge 
Customer Reviews
Significant improvement over time
I get singing lessons from Daniela. She's great. Knowledgeable, supportive, encouraging. And, best of all, in just a few months my voice is changing and I can sing things I couldn't in the past, and what I could sing sounds better. Work in progress, but thoroughly recommended. – John Macleod
Gives a boost of energy
I loved the freedom of choosing an instructor on line. The instructor was very good with my teen. My teen was hesitant about online lessons but it has given her a boost and new energy in these pandemic times. – Kimberly Heath
FAQs About Singing Lessons in Toronto
---
If you have the gift and have found a school where your talent has flourished, tell us in the comments and we'll be happy to review them in the future!
For now, if you're on your way to superstardom, consider taking piano lessons as an artistic endeavor too.