Top 6 Best Dance Classes to Take in Toronto
Ready to unleash your talent and passion for dancing? Read through our list of the best dance classes in Toronto to make it come true!
The 6 Best Dance Classes to Enrol in Toronto
Taking dance classes for any reason is a good personal investment. It guarantees your skill growth and might save you the shame of performing before an audience on a party's dance floor, or even in your own prom or wedding.
Today, dance classes are more tailor-fitted based on your level and the dance style you would want to learn. Most dance studios now also consider your preference to be in a private or a group class, whichever makes you feel more comfortable.
Due to the restrictions of the pandemic, several studios also now include virtual drop-in dance classes that are made available for your safety. So, there's really no excuse for missing classes!
Here, we listed the best dance classes you can take in Toronto that will improve your kinesthetic ability and refine your grace on the dance floor. Our list is based on the program's range of classes and dance styles offered, its price, the studio's environment, and student satisfaction.
The Cost of Dance Classes in Toronto
The cost of attending a dance class in Toronto will mainly depend on how many classes you would like to take, your preference between a private or a group dance session, and choosing the best dance package that is most convenient for you.
While other dance studios in Toronto offer a monthly membership package, a single session for a private dance class typically ranges from $19 to $25. But if you really enjoy dancing to the beat, a 10-session class of your chosen dance style would be perfect, which on average costs around $170 to $290.
1. City Dance Corps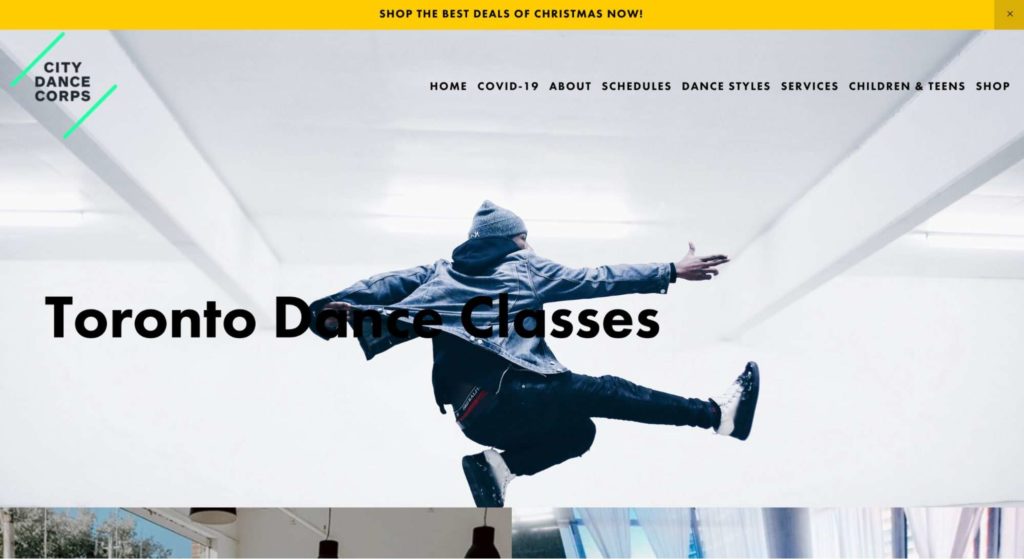 Test
Info
SERVICES
In-studio drop-in classes, virtual drop-in classes, private lessons, studio rentals, wedding choreography
WEBSITE
https://www.citydancecorps.com/
ADDRESS
950 Dupont St, Toronto, ON M6H 1Z2
CONTACT DETAILS
416-260-2356
OPERATING HOURS
Monday-Thursday: 3:00 PM - 10:00 PM 

Friday: 4:00 PM - 10:00 PM

Saturday: 9:00 AM - 4:00 PM

Sunday: 11:00 AM - 4:00 PM 
City Dance Corps is Toronto's central hub for dance and artistic movement, offering in-studio drop-in and virtual drop-in classes for both adults and youth. Since 2002, it has been an industry leader in the Canadian dance scene.
Additionally, City Dance Corps boasts its eight-studio facility housed in a unique Toronto antique manufacturing building that has been beautifully converted into a dance room. It includes high-quality sprung flooring and plenty of natural light.
Over a hundred lessons a week are held in these facilities, covering more than a dozen distinct genres taught by some of Canada's best professional dancers.
Anyone over the age of 18 is welcome to join the adult dance classes offered by the City Dance Corps. From absolute beginner to advanced students, this studio will surely have a class for you.
More importantly, City Dance Corps implements some anti-racism initiatives to observe inclusivity and sensitivity within their ever-growing community of dancers, choreographers, administrators, staff, and volunteers. This ensures every student and member of the studio their right to freely express themselves through dancing without discrimination or judgment.
| | |
| --- | --- |
| Quality of Instruction | ★★★★★ |
| Learning Opportunity | ★★★★★ |
| Price and affordability | ★★★★☆ |
Includes both in-studio and virtual drop-in classes
Professional instructors
Variety of dance genre
Best studio initiatives and practices
Opens late afternoon on Monday – Friday
Customer Reviews
A Great Experience
I have been taking classes at City Dance Corps since the pandemic started and it has been such a great experience! I have taken the Absolute Beginner modern courses with Sarah and they are so much fun, and I always feel challenged without being overwhelmed. She is a wonderful instructor. I also always enjoy the drop-in classes for trying out different styles or just getting in some extra movement. -Theresa Ghislaine Aqui
Worth it!
Took my first class – Spice Girls workshop over the weekend and I absolutely loved it. Friendly front office staff and the instructors made everyone feel welcome. Even if you're not an experienced dancer they always ask if you need any reputation. They brought the energy and I felt amazing after!! Will definitely come back for another workshop as I don't live downtown, but this place is definitely worth a try! – Kennelyn Mercado
2. Arthur Murray Dance Centers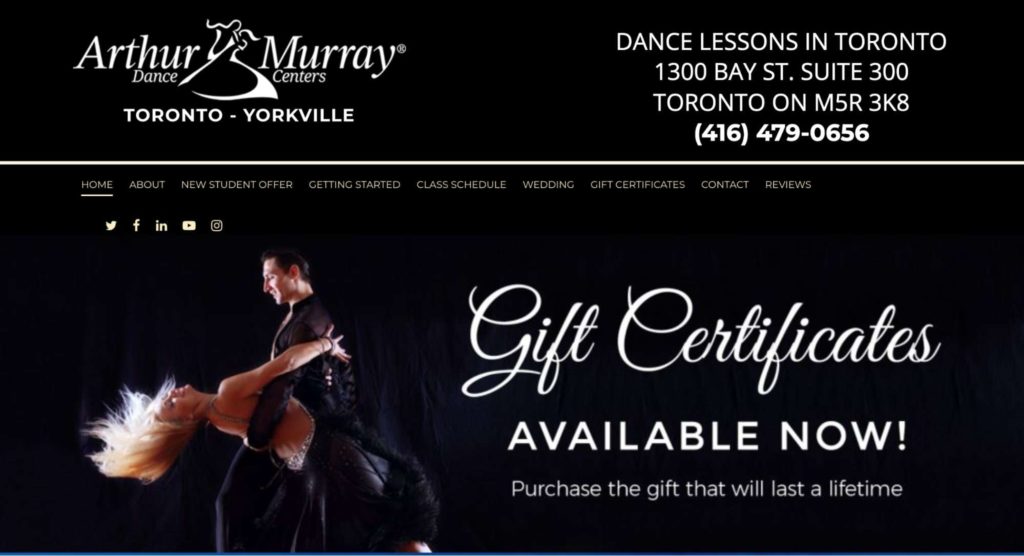 Test
Info
SERVICES
Personal dance lessons, group classes, wedding choreography, practice sessions
WEBSITE
https://arthurmurraytoronto.com/
ADDRESS
1300 Bay St, Suite 300, Toronto, ON M5R 3K8
CONTACT DETAILS
416-479-0656
OPERATING HOURS
Tuesday - Friday: 1:00 PM - 10 PM

Saturday: 9:00 AM - 6:00 PM
Something to consider why you should take a dance class here at Arthur Murray Dance Centers is because of their world-renowned dance-teaching method that has been developed over the last 100 years.
The Arthur Murray method is used to provide students the skills and experience they need by combining skill-based instruction and progressive development as well as integrating fun social events and activities while learning.
Since 1952, the dance studio has produced over a hundred thousand dance students in Toronto who were taught the fundamentals of social and competitive dances. Instructors are skilled and certified to teach today's most popular Ballroom, Latin, and Swing lessons to help you become more confident of your grooves.
Moreover, all of the lessons are taught based on a similar syllabus. This means that you are trained the same way by every instructor in every session in all Arthur Murray studios in the world.
Every class comes with a 100% money-back satisfaction guarantee. If you are dissatisfied with any aspect of your Arthur Murray experience, simply let one of the staff know and the studio will make sure to resolve the matter or you will receive a swift and courteous refund of your money.
| | |
| --- | --- |
| Quality of instruction | ★★★★★ |
| Learning opportunity | ★★★★☆ |
| Price and affordability | ★★★★☆ |
Tried and tested method
Trained and certified instructors
Money-back satisfaction guarantee
Closed on Sunday and Monday
Customer Reviews
Dance Culture
Amazing staff, atmosphere and overall dance culture! If you're looking to find your 'Shall we Dance?' moment, a great core workout or a new hobby this is the place! Great Dance Studio in Toronto! -Sehr Tejpar
Quality instructions
Even with the challenges brought on by Covid Arthur Murray Toronto adapted quickly to bring the same quality instruction and fun through virtual classes and lessons. I can't wait until we are all back in the studio dancing together! #teamtoronto. -Nyasha Tanyanyiwa
3. Joy of Dance Centre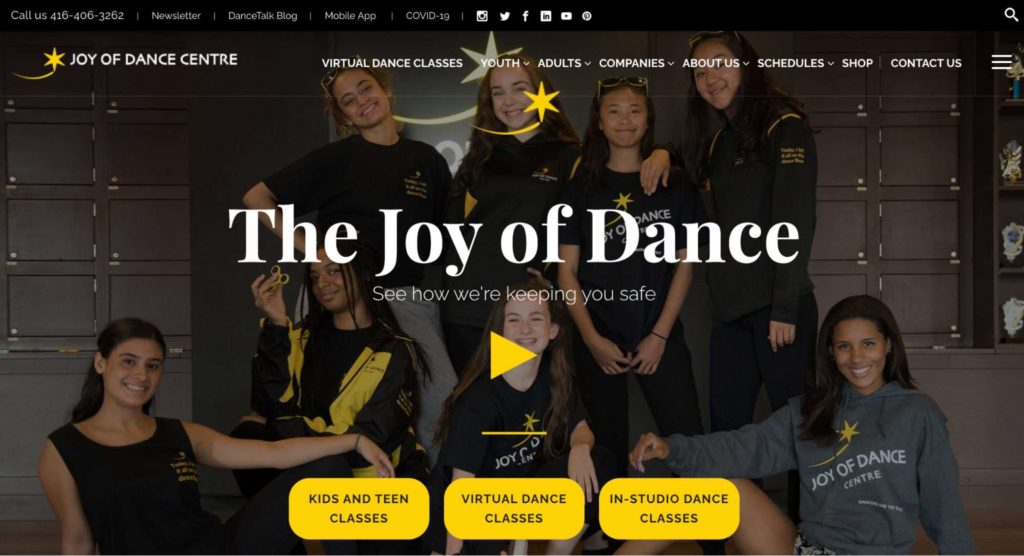 Test
Info
SERVICES
Kids and teens dance classes, private lessons for kids and teens, private lessons for adults, group classes, workshops
WEBSITE
http://www.joyofdance.ca/
ADDRESS
Joy of Dance Centre, 95 Danforth Ave, Third and Fourth Floors, Toronto, ON M4K 1N2
CONTACT DETAILS
416-406-3262
OPERATING HOURS
Monday-Friday: 12:00 PM - 10:00 PM

Saturday: 9:00 AM - 6:00 PM

Sunday: 9:00 AM - 5:00 PM
If you are a parent looking for a nurturing dance class for your children, Joy and Dance Centre would be a children-friendly dance studio. It specialises in teaching kids as young as 3 years old!
Joy of Dance Centre is a home for kids who have a growing interest in dancing. It offers the best energetic, engaging, and modern dance courses for kids and teens in Toronto.
Dance principles, technique, choreography, and performance quality are all patiently taught by their qualified and loving instructors. And of course, all these are a plus in our book.
These classes offer a playful and creative approach that teaches students the FUN in the fundamentals of dance, along with balance, expression, and coordination to your kids.
Meanwhile, the dance studio also offers dance classes to adults. The young-at-hearts can likewise have their fair share of learning the basics of dance.
Joy of Dance Centre offers a variety of classes of different dance styles including ballet, hip hop, contemporary, Irish and tap, ballroom, Latin, Zumba, among others.
Both children and adult classes can be taken either as a group or in a private session with a certified dance instructor.
| | |
| --- | --- |
| Quality of instruction | ★★★★★ |
| Learning opportunity | ★★★★★ |
| Price and affordability | ★★★★★ |
Both for kids and adults,
Age-appropriate instruction for children
Variety of dance genres and classes
Issues with management and refunds
Customer Reviews
Great Value for Money
My wife and I have been dancing here for over a year. We take private lessons. You can choose what you learn and when you learn it. We usually follow Mark's recommendations. Our instructor, Mark Read, is first rate and a class act. Very patient with us, (especially me) as I am obviously challenged! I can have a step reviewed as many times as I want or need. I am never rushed, and I get honest (and positive) feedback. I think that the price charged is very fair. (When you pay peanuts, you get monkeys.) The facilities are big and bright. I feel that we are getting great value for our money. -Gerry Miller
High-Quality Dance Training
Absolutely love this studio! They offer high quality dance training for adults in all different styles. The ballet program here is fantastic and they offer adults the opportunity to do their RAD exams, which I haven't found at any other studio in Toronto. They also have their own app, which makes signing up for classes so easy. Highly recommend it! -Jennifer Edmunds
4. DanceLife X Centre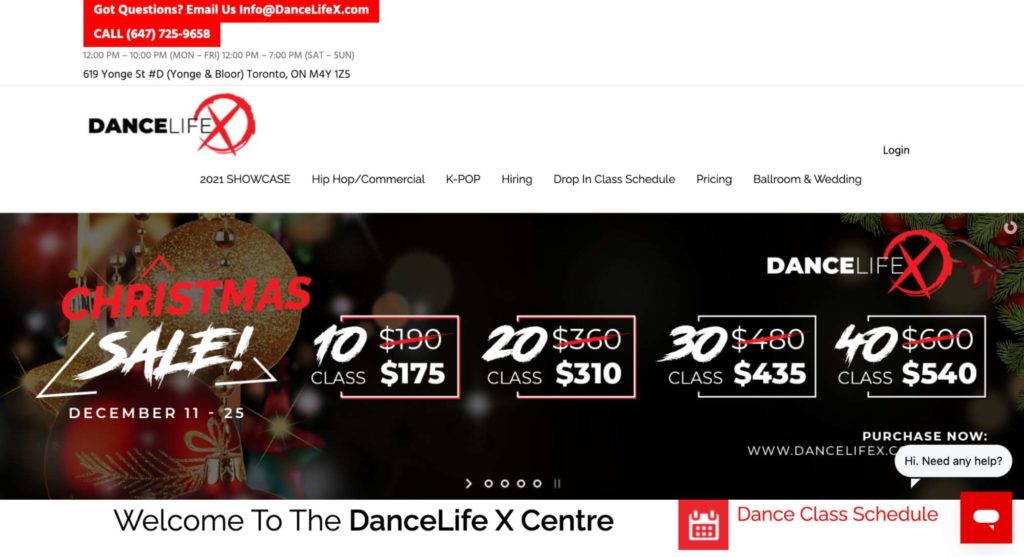 Test
Info
SERVICES
Hip hop and commercial dance class, jazz-funk dance class, heels dance class, contemporary style dance class, Bollywood dance class, dancehall dance class, and K-pop dance class
WEBSITE
https://www.dancelifex.com/
ADDRESS
619 Yonge St, Toronto, ON M4Y 1Z5
CONTACT DETAILS

[email protected]

OPERATING HOURS
Monday-Friday: 12:00 PM - 10 PM

Saturday-Sunday: 12 PM - 7 PM
The DanceLife X Centre is committed to making you feel welcome and inspired. In our opinion, it is one of the largest and most exquisite dance facilities in downtown Toronto.
If you want to learn some of the most popular styles like hip hop, K-pop, jazz-funk, contemporary, dancehall, and heels, DanceLife X Centre is the place for you to grow your love for dancing even more. Fun is nothing short in its studios.
Its dance courses are composed of different levels for each dance style they offer. The studio provides Beginner, Beginner-Intermediate, Intermediate, and Intermediate-Advance dance courses to ensure that instruction is appropriate to each student's dance experience and competency.
On the other hand, DanceLife X Centre does not offer tuition refunds. For missed classes, no credit will be provided.
The DanceLife X app is also available on App Store and Google Play which is convenient for monitoring your courses and your progress.
Moreover, if you are unable to attend a booked class, be sure to cancel at least 18 hours prior to the start of the class to avoid losing the class.
| | |
| --- | --- |
| Quality of instruction | ★★★★★ |
| Learning opportunity | ★★★★☆ |
| Price and affordability | ★★★★★ |
Largest dance facilities in Toronto
Beginner to Advanced level classes
Learn popular dance styles
Has an application
Customer Reviews
Comfortable and stylish!
I like how inclusive everyone is. I've never danced before, since I've been afraid of it, but when I showed up everyone had arms open wide to me. I feel like I am allowed to try and mess up here without being judged. – Jurny H
Many Different Options
I love the classes that are offered at DanceLife X, they have so many different options and a large variety. The staff is always welcoming when you take a class and I love the videos that get made! – Madison H
5. The Underground Dance Centre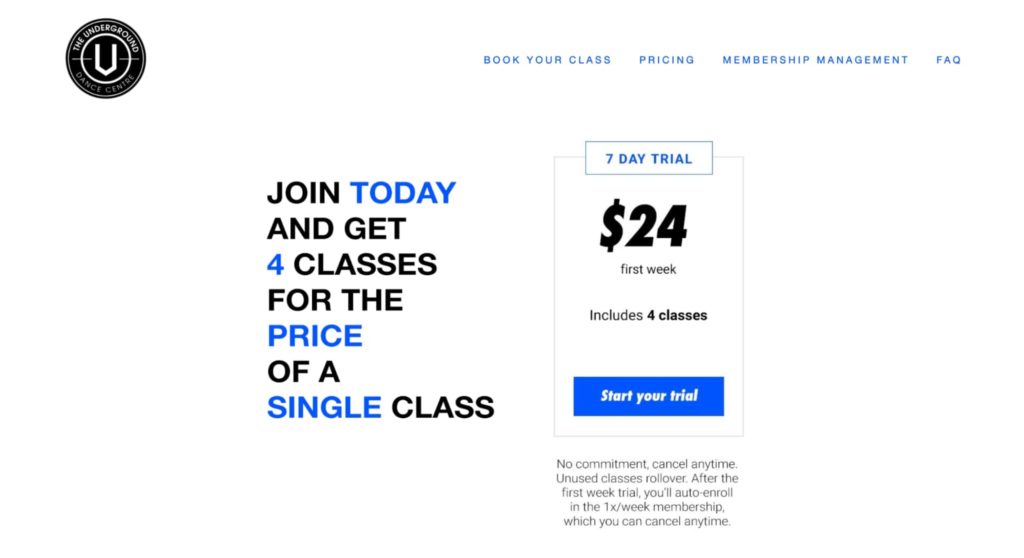 Test
Info
SERVICES
The Underground Dance Centre
WEBSITE
https://www.theundergrounddance.com/
ADDRESS
Building A

224 Richmond Street West, Toronto, ON M5V 1V6


Building B

220 Richmond Street West, Toronto, ON M5V 1V6

CONTACT DETAILS

[email protected]

OPERATING HOURS
Monday - Sunday: 8:00 AM - 10:00 PM
The Underground Dance Centre began as a professional dancers' studio. It has been voted as one of the top dance classes located in the heart of Toronto, which already says a lot about its popularity in the area.
Beginner hip-hop or vogue classes are available for those with no prior dancing experience. There are also popular artist-themed workshops, such as "Beginner Beyoncé," in which you may dance to Lemonade and Crazy in Love while learning some of Queen B's signature dance moves.
The dance studio boasts amazing facilities and employs cutting-edge technology to provide a one-of-a-kind dance experience.
When you step inside The Underground Dance Centre, you get the impression that you've come onto something unique and cutting-edge. The two main studios are spacious and light, with mirrors and GoPro cameras for recording each of your classes.
The Underground Dance Centre's digital app, TurnnOut, is perfect for novices and first-timers looking for a pleasant recording of their dancing experience and can also be used as a tool for practice and dance training.
For your first week of subscription, the dance studio provides a free trial week. This is a wonderful chance to test out its classes before making a long-term commitment.
During the trial week, you will receive four courses as a bonus, allowing you to sample a variety of classes. You can cancel your subscription at any time before the next payment cycle begins.
They also provide class package extensions amounting to $5/month by emailing [email protected].
| | |
| --- | --- |
| Quality of instruction | ★★★★★ |
| Learning opportunity | ★★★★☆ |
| Price and affordability | ★★★★☆ |
Modern dance facility 
Excellent lessons
Offers a one-week free trial class
Unused classes do not roll over to next billing
Customer Reviews
Diverse teaching Styles
Great teachers with diverse teaching styles. Tons of classes and times to choose from. Most importantly, kind and supportive staff who want you to have a wonderful experience whatever level you're at. -Kelsey Molder
Wonderful
I love the variety of classes you offer. All the teachers that I met so far have been wonderful. -Irina Eremeeva
6. The S.P.A.C.E.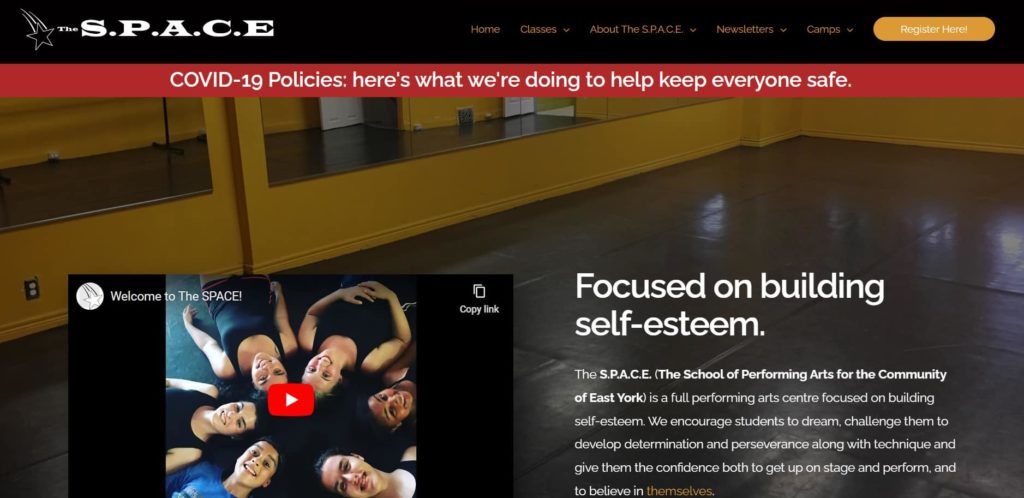 The S.P.A.C.E. is a performing arts center established back in 2004 that provides a place for individuals to flourish and discover themselves by immersing themselves in various performance arts.
Capitalizing on believing in oneself and building self-esteem, we like that students can expect an excellent array of classes to provide individuals with diverse experiences to explore their interests and passion in the field as well.
Furthermore, they also employ professionals in the field to ensure that not only are they adequately trained and certified to implement such activities in an engaging yet also educational approach as well.
Note though that rates of their services aren't readily available on their website to clients may need to inquire further for more information on this.
Overall, with their well-maintained facilities, multidisciplinary team of professionals in the field, and highly smooth and transparent transactions, we highly recommend that clients in the area can inquire further on.
| | |
| --- | --- |
| Quality of instruction | ★★★★★ |
| Learning opportunity | ★★★★★ |
| Price and affordability | ★★★★☆ |
Accommodates a wide range of performing arts classes and variations
Accommodating and motivating professionals
Well-equipped facilities
Rates of services are unavailable
FAQs About Dance Classes in Toronto
---
The best dance classes in Toronto are those that can nurture your talent and provide you with the best deals and space for self-expression using your body and rhythm.
If you wish to make your body in tip-top condition aside from dancing, we suggest you check out the following: