THE BEST HAIR REMOVAL IN TORONTO
Every so often, we feel the need to get rid of unwanted hair across our body. Owing to the many reasons that we've come up for this—hygienic and medical purposes, even aesthetic considerations—hair removal has emerged as a lucrative industry.
Looking for establishments that will effectively and efficiently remove those strands? Check out these five spots that will have you waxing poetic—or, perhaps, sprouting sugary praise.
How We Chose the Best Hair Removal in Toronto
How Much Does Hair Removal Cost in Toronto?
In general, expect to pay between $15 to $350 for each round of waxing, $20 to $75 per sugaring session, and $75 to $385 for each laser treatment.
Factors affecting costs include the type of treatment and the body part being serviced.
1. Aroma Waxing Clinic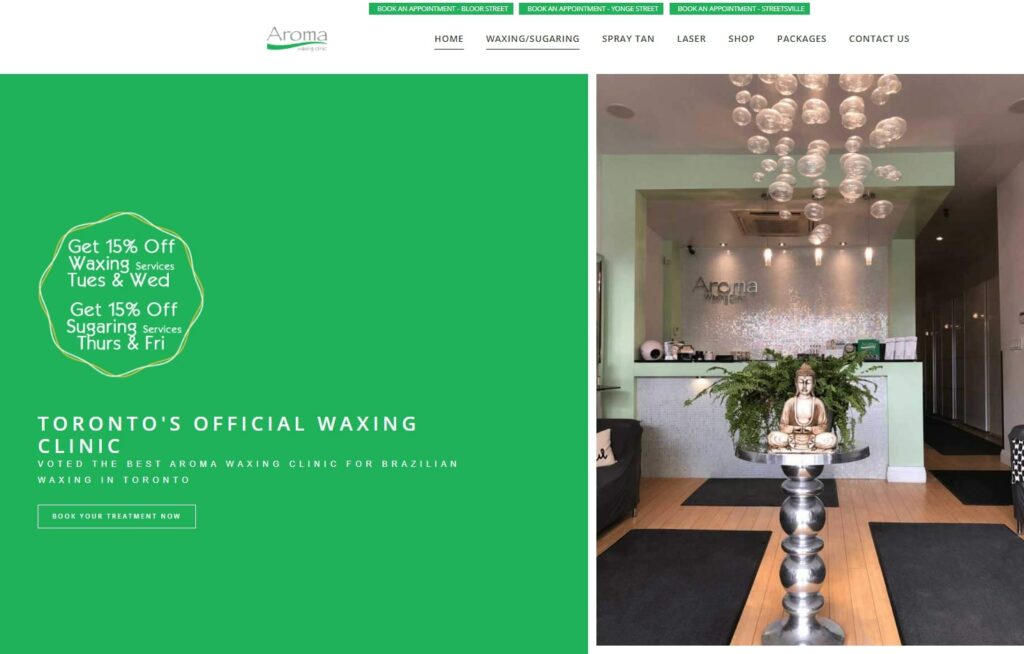 Test
Info
WEBSITE
https://aromawcs.ca/
ADDRESS
2028 Yonge St.
SOCIAL MEDIA
INSTAGRAM
CONTACT INFORMATION
Phone: (416) 901-1190
OPERATING HOURS
Mon: 10:00am – 7:00pm

Tues-Thu: 10:00am – 9:00pm

Fri: 10:00am – 8:00pm

Sat: 10:00am – 6:00pm

Sun: 11:00am – 6:00pm
This Yonge Street establishment specializes in—what else?—waxing for both women and men. If Canadian pride is a big deal to you, know that Aroma Waxing Clinic exclusively uses Toronto-made wax.
The clinic offers waxing for face, upper body, and lower body, as well as full-body, Brazilian, and bikini treatments. In addition, Aroma Waxing Clinic provides sugaring, laser, and spray tan options.
Watch out for their discounts—the Clinic offers 15% off on waxing every Tuesday and Wednesday, and the same discount for sugaring on Thursdays and Fridays. Thanks to their expertise in waxing and sugaring, the Clinic has been recognised by publications like Toronto Life and Spa Inc.
Wide range of waxing areas covered
Weekly discounts offered
Reports of miscommunication with staff
Hygiene is a top priority here
I've been coming to Aroma Yonge for a few years now and highly recommend. The employees are always very professional and hygiene is a top priority here. Their waxing discounts make this one of the more affordable places to get your waxing done. Thanks to Aroma for the excellent service!
Tijana Djokic, Google Reviews
Highly talented aestheticians
You will absolutely not find better bang for your buck in the city!! Gorgeous atmosphere, friendly & welcoming front desk staff, highly talented aestheticians, huge range of services. Only positive experiences here for me, 100% of the years I've been coming. Highly recommended!
Sylvia Travis, Google Reviews
2. Lovely Sugaring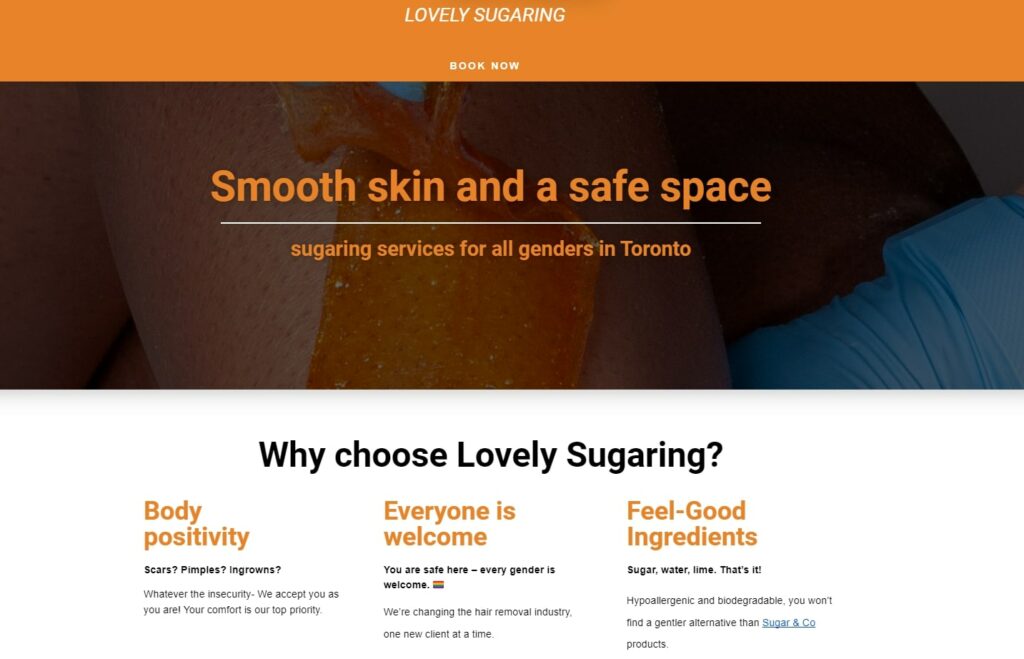 | Test | Info |
| --- | --- |
| WEBSITE | https://lovelysugaring.com/ |
| ADDRESS | 1655 Dufferin St, 2nd Floor, Suite 204 |
| SOCIAL MEDIA | INSTAGRAM |
| CONTACT INFORMATION | Phone: (647) 874-7225 |
| OPERATING HOURS | Mon-Sat: 10:00am – 8:00pm |
Lovely Sugaring provides a host of sugaring services that appeal to its customers. In the words of founder Alexandra Cardona, the establishment is firmly devoted to servicing "all clients regardless of gender or sexual identity. We love everyone!"
They offer face, eyelash, and body services, including pelvic, anus, and groin options. If you need multiple body parts done, check out their packages that include full pelvic-underarms and groin area-underarms-anus. Other services provided by Lovely Sugaring include eyelash lift and eyebrow threading.
To complement this sugaring arsenal, Lovely Sugaring has an online store that sells items like body brushes and anesthetic numbing cream. Plus, if you're all about the DIY way of life, you can avail of their special sugaring home kit!
Specialization in sugaring
Packages offered for various body parts
Membership options
Closed on Sundays
No laser or waxing options
Quick and relatively painless
Allana made the whole experience a pleasure! Was able to put me at ease very quickly and the sugaring experience was quick and relatively painless. What a treat!
Tajia C., Fresha
A gem within the city
If you're looking for a new waxing spot, Lovely Sugaring IS A MUST! I started going here back in 2022 and honestly have only great things to say! From the cute space, welcoming staff, quick, professional service, to the booking process. I am not one to pre-book appointments, however, Lovely Sugaring has made me not hate waxing as much..ha! Seriously, I would highly recommend making this your new waxing spot, def a GEM within the city!
Samantha Coelho, Google Reviews
3. IGBeauty Laser & Skin Clinic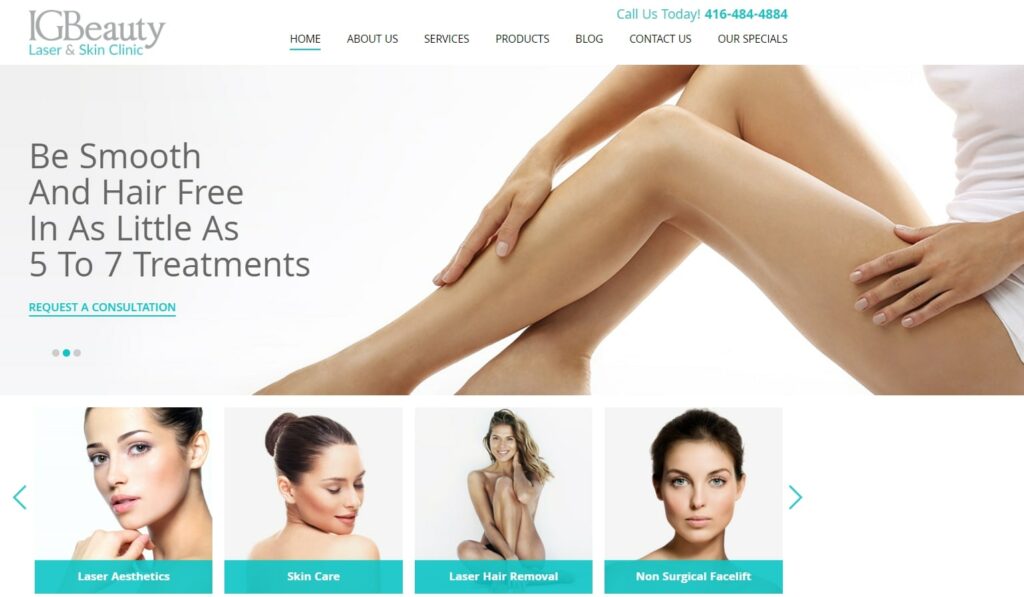 | Test | Info |
| --- | --- |
| WEBSITE | https://www.igbeauty.com/ |
| ADDRESS | 605 Eglinton Ave. East |
| SOCIAL MEDIA | INSTAGRAM |
| CONTACT INFORMATION | Phone: (416) 484-4884 |
| OPERATING HOURS | Mon-Sat: 10:00am – 7:00pm |
Since 2010, IGBeauty has offered laser treatments to deal with those nasty little hairs. These treatments include Brazilian laser hair removal and machine-assisted techniques. One could say, then, that this Eglinton Avenue clinic is, ahem, laser-focused.
Aside from innovative approaches to hair removal, IGBeauty is distinguished by its well-credentialed team. The staff consists of laser technicians, registered nurses, and other qualified medical personnel.
If you're looking to maximise the value of your dollar, you can explore IGBeauty's package deals that target multiple body parts. Specifically, you can save up to 20% by bundling treatments for five different areas. Your options include underarms, chest, arms, back, legs, and feet.
Specialization in laser treatments
Savings via package deals
More than 10 years of experience
Quality clientele relationships
Going to IGBeauty is a pleasure. Irina is a true professional. I come for laser hair removal (planning to do facials soon too). I had tried laser hair removal in the past, even at a dermatology clinic, and barely had any results, certainly not long lasting ones. Since starting treatments with Irina, my hair barely grows back, it's amazing. You will be taken care of here and also – never pressured into anything! They are not looking to make quick sales here, they are looking for long term quality clientele relationships. I highly recommend coming in!
Alexandra R., Yelp
Cozy and clean
Irina is professional and knowledgeable. I came to her for laser hair removal. The atmosphere is cozy and clean. She made me feel comfortable very quickly and her treatments have been effective. I did a lot of research about lasers before and found her because of the laser she uses (LightSheer Duet) which is great for my skin type. Today, I am hair free! I enjoyed my experience with laser hair removal so much that I am now seeing her for facials and other services. I trust Irina with all my skincare needs!
Eleni Castro, Google Reviews
4. 4Seasons Massage Therapy & Acupuncture Clinic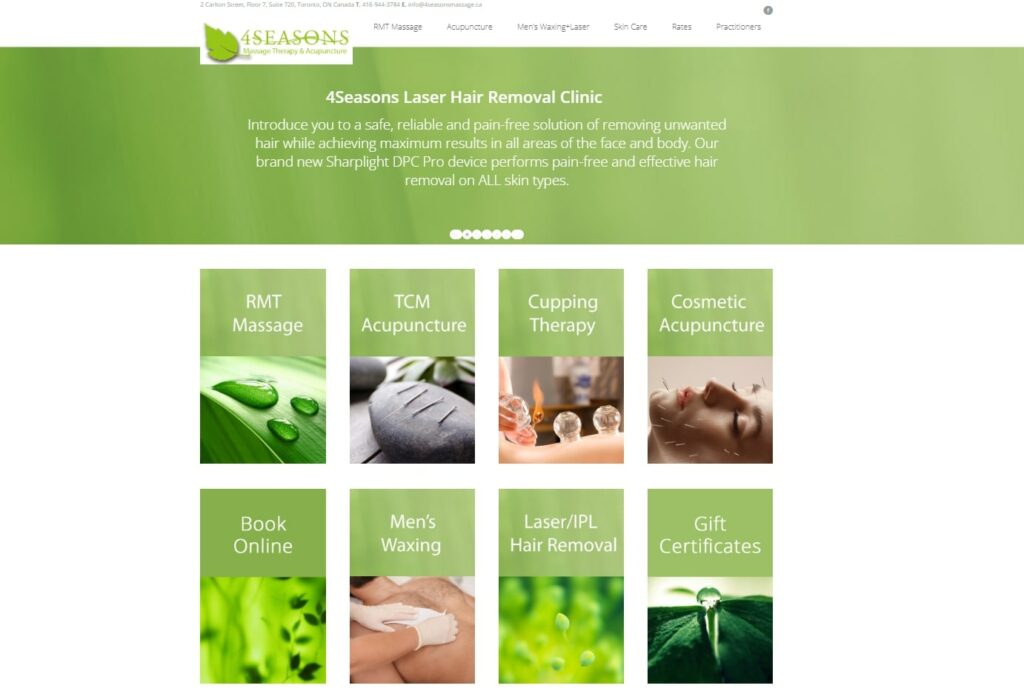 4Seasons is an establishment that primarily focuses on massage and acupuncture services. Be that as it may, it has distinct offerings when it comes to hair removal. To begin with, 4Seasons offers an array of waxing services for men, from upper body to lower body.
In addition, 4Seasons employs cutting-edge technology called the SharpLight Rapid DPC Pro device to conduct laser treatments. With the use of this equipment manufactured in Israel, the 4Seasons staff ensures that the impact of their laser treatment is comprehensive and lasting. After 6 to 10 treatments, you can bid those unwanted hairs a permanent goodbye.
Advanced equipment for laser treatments
Plenty of options for men's waxing
No waxing options for women
Closed on Sundays and Mondays
Made me feel very comfortable
Have gone to see Charles a few times now. First time I went to get a massage and got some waxing done while I was there. He was very welcoming when I arrived and made me feel very comfortable. He is good at what he does and is very professional. Have been happy with his service everytime I have gone now. I recommended a friend who was also very satisfied. I would recommend his services to anyone.
Thanks Charles.
Alexander M, Google Reviews
Extremely thorough and detail-oriented
I've been using Charles' services for over two years now and I cannot recommend him highly enough. Charles is very professional, friendly, personable and extremely thorough and detailed oriented with his care. Charles has put all the right protocols in place to make me feel safe throughout COVID-19. I wouldn't consider going elsewhere – I highly recommend him to anyone!
Adam Tkach, Google Reviews
5. New Skin Laser Clinic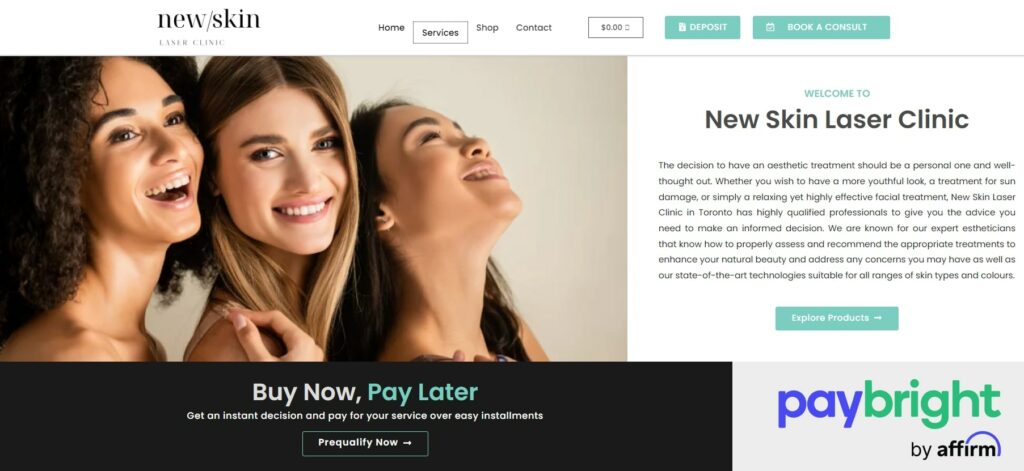 Test
Info
WEBSITE
https://newskinbeauty.ca/
ADDRESS
2355 Yonge Street
SOCIAL MEDIA
INSTAGRAM
CONTACT INFORMATION
Phone: (416) 317-6696
OPERATING HOURS
Mon-Thu: 10:00am – 7:00pm

Sat: 10:00am – 6:00pm

Sun: 10:00am – 5:00pm
Through some of the most advanced equipment in the industry, New Skin Laser Clinic offers unique treatments to its customers. The specialty of the house, of course, is painless hair removal—made possible by the high-speed laser of the Motus AX device.
Another fancy piece of tech used by this clinic is the GentleMax Pro. This hair removal device is suitable for all types of complexions. Using the GentleMax Pro, the New Skin team services body parts such as arms, legs, chest, face, and neck.
These advanced treatments certainly don't come cheap, but no matter. New Skin Laser Clinic accepts payments over installments that are convenient to your budget.
Cutting-edge technology
Experienced staff
Multiple payment options
Closed on Fridays
Reports of poor customer service
Very professional and friendly
I had a very good experience with Tas, Maritza and now Theodora. Did most of my laser hair removal sessions with Maritza, she made me feel comfortable and at ease..All are very professional and friendly here..I would recommend them 100%
Lakshmi K, Google Reviews
Worth every penny
I was extremely skeptical about getting laser hair removal as I am a black woman who suffers from PCOS. I have very sensitive skin and I was worried about scaring or generally having a poor skin reaction. On my first session we talked through the type of laser used, the risks and after care. I immediately felt at ease. I'm about 8 sessions and loving it. The technicians at New Skin are kind and patient. They will answer your questions and address your concerns. Worth every penny.
Ashli Pinnock, Google Reviews