The 4 Best Life Coaches in Toronto with Life-Changing Programs
Having a general idea of your life goals is great, but executing these goals is better.
A certified life coach can help you create and make your life goals a reality. Together, you create a strategy to reach the best version of yourself.
To help you get started, we listed the best life coaches in Toronto that can help kickstart your action plan for your goals.
How much do life coach sessions in Toronto cost?
Life coaches can offer single sessions or packages depending on your needs. Some offer a free discovery session too to help you see if you can work with them in the long run.
Here are the prices for the life coaches we've picked for our list:
Life Coach
Services Offered
Fees
Lisa Jeffs

The Bold & Conscious

Entrepreneur VIP 1:1

Package




Life on Purpose Package




Maximize Your Results

Intensive

$26,000




$18,000




$9,500

Krista Roesler
Per session
$397
Toronto Performance

Coaching

Single session (90 minutes)




Three session package (90

minutes per session)




Three month, biweekly

package (six 90 minute

sessions)




$125





$330





$600

Rostyslav Shemechko
Per session
$195
Life Coaches in Toronto with Life-changing Programs
There are a lot of life coaches in Toronto, and each of them offers various programs depending on your needs. As we created this list, these are the factors that influenced our rating on those that we chose:
It is best to know the areas in your life you need coaching and direction before we begin our recommendation. This way, you get to choose the life coach whose expertise is in improving that area of your life.
Also, having an open mind is a must. The life coaches will say and recommend actions that will challenge you.
As they say, no one grows within their comfort zone.
With that said, let's jump right to it and check the life coach in Toronto with life-changing programs.
1. Lisa Jeffs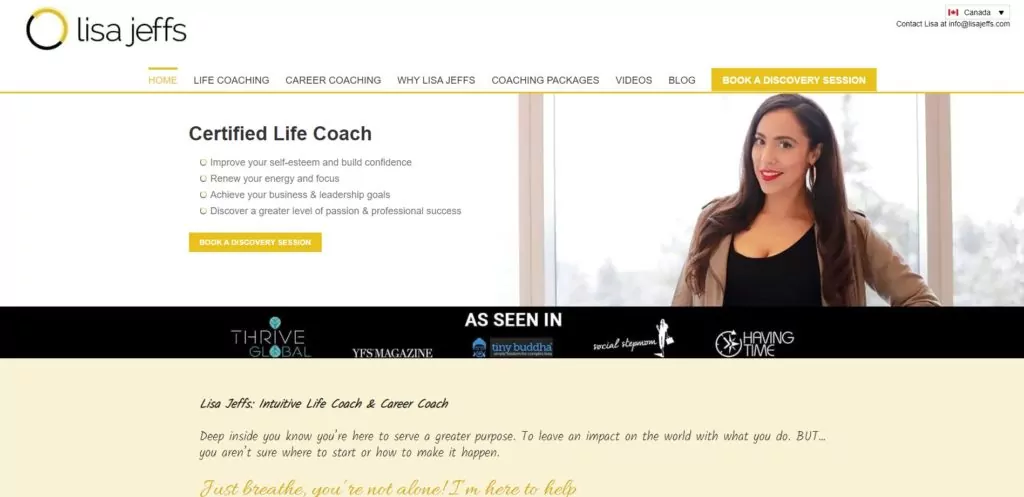 Test
Info
SERVICES

Life Coaching

Career Coaching

Business Coaching

Entrepreneurship Coaching

WEBSITE
lisajeffs.com
ADDRESS
4884 Dufferin St Unit 6, North York, ON M3H 5S8, Canada
CONTACT DETAILS
+1 866-563-3229
OPERATING HOURS
Monday to Friday, 9 a.m. to 6 p.m.
| | |
| --- | --- |
| Criteria | Rating |
| Expertise and experience | ★★★★★ (5/5) |
| Qualifications and additional certifications | ★★★★★ (5/5) |
| Life coaching experience | ★★★★★ (5/5) |
| Fees | ★★★☆☆ (3/5) |
| Life Coach's personality | ★★★★★ (5/5) |
| Online works | ★★★★★ (5/5) |
Lisa Jeffs started her career as a professional life coach in 2014. While based in the Greater Toronto Area, Lisa served clients worldwide.
Helping people and raising her daughter inspired her to attain her Advanced Diploma and Bachelor's Degree (both with Honours) in Child and Youth Care. She then worked as a counseling instructor at the Toronto District School Board for the at-risk youth.
She then got a Professional Coach Certification and established her life coaching service.
Her experience allowed her to understand how humans behave, particularly the youth. While her current clients are adults, she cultivated a deeper idea of human behavior that can help her talk to people of all ages.
Currently, Lisa caters to hundreds of people worldwide via online consultations. She's even been featured in magazines and television for her services.
Lisa's coaching services focus on two areas, which are life and career. Both services help you recognize and address roadblocks and refocus your energy to achieve your personal and professional goals.
While both tackle your life's purpose, they differ in terms of focus.
Her life coaching services deal with stress management. On the other hand, her career coaching services help you deal with professional matters or if you're transitioning to a different career.
For us, these two are the standard services life coaches offer. However, Lisa's edge is on her coaching services for businesses and her coaching packages.
Business owners consult her on their business's purpose and differentiator. She also advises them on business growth.
Her coaching packages come with a lot of inclusions. There are the coaching sessions as well as the work monitoring and accountability trackers to help you track your progress.
Typically, follow-up consultations are separate and priced the same as a single session. Lisa offers multiple support and follow-up communications in her coaching packages.
While this is appreciated, the prices for each package are probably on the steep side. They're comprehensive, but we think individuals or starting businesses may think they should just invest their money in other self-improvement activities like online courses after seeing her fees.
She does offer a discovery session if you don't want to commit fully yet, fortunately. A reservation fee of $197 should be deposited to hold your spot.
What's good is that this will be returned to you (minus the $10 processing fee) when you attend your booked session.
A lot of her clients loved their service with her despite the pricey packages. Her professional, passionate, supportive, and motivating personality shone, they told us, as she empowered her clients toward self-improvement.
Her blog topics and audio recordings are relatable, and her tips apply to everyone. It's good because it gives you a perspective on the type of advice she shares even before scheduling a session with her.
Lisa Jeffs is a good life and career coach if you're looking for a supportive coach that would guide you every step of the way. Her pricey packages would be the major con for us, however.
Discovery session offered if you're not willing to fully commit to any of her coaching packages
Multiple support and follow-up communications included in the coaching packages
Expensive coaching packages
Customer Reviews
Patient, kind, never judges
"Lisa shows patience, kindness, and never judges. Her compassionate nature fostered a belief in myself that wasn't there before working with her. I now see my life as limitless. Lisa takes pride in helping you achieve your goals. I am so grateful for her help in creating a powerful lifestyle change for me." – Alexis L.
Brings out the best in me
"Lisa is an amazing individual who has helped me over the years by listening to my struggles and giving me strategies on how to overcome them. She gives me the confidence to overcome tough life decisions. She has always been my "Go to person". A truly amazing coach who consistently brings out the best in me." – Delsean H.
2. Krista Roesler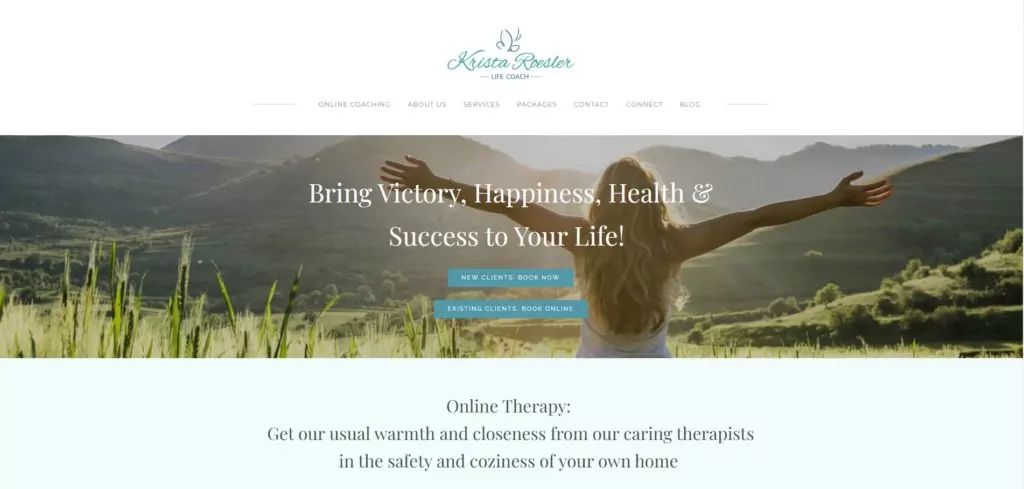 Test
Info
SERVICES

Life Coaching

Career Coaching

Relationship Coaching

NLP Master Practitioner

WEBSITE
https://torontoperformancecoaching.com/
ADDRESS
43 Springhurst ave, Toronto
CONTACT DETAILS
+1 289-259-4778
OPERATING HOURS
Monday to Sunday, 7 a.m. - 9 p.m.
| | |
| --- | --- |
| Criteria | Rating |
| Expertise and experience | ★★★★★ (5/5) |
| Qualifications and additional certifications | ★★★★★ (5/5) |
| Life coaching experience | ★★★★★ (5/5) |
| Fees | ★★★★★ (5/5) |
| Life Coach's personality | ★★★★★ (5/5) |
| Online works | ★★★★★ (5/5) |
Krista Roesler has been a Life Coach and Psychologist for more than 15 years. She is the co-owner of a Psych Company focused on mental health and life coaching.
Krista holds a Master's in Psychology from the University of Toronto. She got her life coach training from the Adler Institute Toronto/OISE.
Her passion for the forward-looking, action-oriented features of life coaching is apparent in her work experiences.
What's good is that Krista and Psych Company offer services beyond life coaching. They also provide counseling services for mental health issues or concerns.
She has a solid track record as a psychotherapist and life coach. She worked with an academic institution, a non-government organization, and an organization advocating for mental health.
Krista's life coaching services start at $397 per session. This pricing is the in-between among those listed in this article. Not to mention, most extended health care benefit packages can cover the session fees.
Another good thing is that Psych Company offers seasonal discounts of up to 25% for new clients and referrals.
They understand that clients need different approaches to their concerns. The business offers face-to-face and online sessions and individual packages based on the client's needs as assessed by the therapist.
Their way of working was recognized by the clients and the Canadian Business Review Board. Psych Company was voted 2021 Best Psychotherapist Practice in Toronto.
Clients also raved about the business. They mentioned how they liked the therapists assigned to them based on their needs.
They also remarked that the staff was highly trained, knowledgeable, empathetic, and caring. They provided the right support, whether for the client's mental health or to help them achieve their life goals.
Clients also only had good things to say about Krista. They liked her supportive, understanding, and non-judgemental approach to coaching and counseling.
Her approach helped them understand and deal with their mental health concerns. As a life coach, she collaborated and encouraged them to set life goals and create an action plan to achieve these goals.
A longer initial consultation would have been nice. Currently, Krista only offers a 15-minute free consultation for new clients.
Psych Company has a blog where the whole team contributes articles on mental health, wellness, and goal-setting. It is categorized per topic so you can get a feel of how they tackle these issues by reading what they wrote.
Krista Roesler and Psych Company have earned the people's trust for their genuine, supportive, and non-judgemental approach to therapy and coaching. If you have the means to book a session with them, go for it.
We do wish that the free consultation was longer than 15 minutes. Maybe 45 minutes to an hour will do.
Supportive, understanding, non-judgemental approach to coaching and therapy
Individual coaching packages are customized to your needs
Sessions are covered by most extended health care benefit packages
Free consultation could have been longer than 15 minutes
Customer Reviews
Compassionate, constant support, insightful
"I had the great pleasure of working with Krista through a very difficult period in my life. Through her compassionate approach, I was able to find hope again in my life. Her constancy of support, her keen insights empowered me to discover solutions to my life challenges at the time. Gradually, I reclaim my self-confidence and life continues to unfold meaningfully. Every session was a step towards progress. I owe much of my present state of positive well-being to her. I'm beyond grateful. I needed help and Krista did help me." – Bayu S.
Works hard to make you feel safe
"Krista has really helped me navigate some very difficult times. She has all of the qualities you would hope for in a therapist/life coach: kind, caring, understanding, supportive, non-judgmental, and she works really hard to make you feel safe. She's very skilled at recognizing when you can handle being pushed or challenged a little bit and when you just need compassion and support. I couldn't recommend Krista more." – Karen S.
3. Jonathan Thomas – Toronto Performance Coaching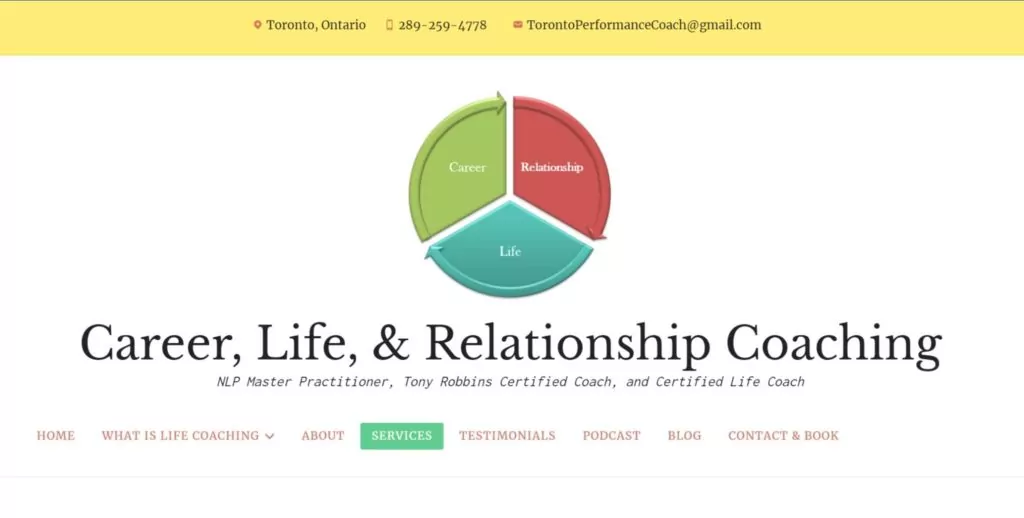 Test
Info
SERVICES

Life Coaching

Career Coaching

Relationship Coaching

NLP Master Practitioner

WEBSITE
https://torontoperformancecoaching.com/
ADDRESS
43 Springhurst ave, Toronto
CONTACT DETAILS
+1 289-259-4778
OPERATING HOURS
Monday to Sunday, 7 a.m. - 9 p.m.
| | |
| --- | --- |
| Criteria | Rating |
| Expertise and experience | ★★★★★ (5/5) |
| Qualifications and additional certifications | ★★★★☆ (4/5) |
| Life coaching experience | ★★★★★ (5/5) |
| Fees | ★★★★★ (5/5) |
| Life Coach's personality | ★★★★★ (5/5) |
| Online works | ★★★★★ (5/5) |
Toronto Performance Coaching is Jonathan Thomas's career, life, and relationship coaching business. For over 5 years, he has provided life coaching to the Greater Toronto Area.
Jonathan graduated with a Diploma in Fitness and Health Promotion from Humble College.
Before becoming a Certified Life Coach, he was an In-Home Personal Trainer for more than 10 years. Hence, his services and blogs discussed the importance of both mental and physical health and why it's good to achieve both.
He earned his life coach certification from the Transformational Arts College of Spiritual and Holistic Training. He also became an NLP Master Practitioner from the NLP Training Canada.
These certifications allowed him to help guide clients in various ways as a Certified Life Coach. He helped them discover their limitations, set the goals they want to achieve, and their action plan moving forward.
His coaching approach involves using Neuro-Linguistic Programming exercises. He helps clients train their brains to reframe their mindset and overcome their limiting thoughts.
Jonathan offers three frequencies for coaching. His coaching session frequency packages are the cheapest on the list.
A single coaching session worth $125 can help you address the current issues you're going through. The three-month package worth $600 addresses immediate concerns while also providing the client with the materials and exercises to train themselves to live a fulfilled life.
According to his clients, the first thing you'll notice once you start your session with Jonathan is that he immediately puts you at ease. You can be comfortable sharing your thoughts and concerns, and he listens intently.
Clients also said that his passion for helping others is apparent, and his NLP techniques are easy to follow. He can provide exercises that are achievable and can be practiced daily.
Jonathan's blogs on his website also showed the kind of life coach he is. His writing style is conversational and reads more like a story than a how-to instructional.
This is particularly helpful when choosing your life coach. A conversational life coach may be the one that is right up your alley.
Jonathan's life coaching services is one to consider given its prices and the type of coaching you'll get.
While his online consultations are timely given the pandemic, we would have liked a face-to-face option to his coaching sessions. This would be helpful, particularly for those who are more comfortable with face-to-face interactions (face masks on, of course).
Affordable coaching sessions and packages
Easy to talk to, the type of life coach that puts you at ease
Face-to-face coaching sessions are currently on-hold
Customer Reviews
Helped change my perspective
"Jon has the gift of making you feel instantly comfortable. His personality and wit combined with his NLP techniques have helped to change my perspective and put me in a great state in so many aspects of my life. He is truly passionate about what he does, and it definitely shows in his sessions and client interactions. On many occasions I've had coworkers or friends approach me and comment on projects I've been working on, or how I carry myself, or my motivation and ask me, "How have you been doing it? Because you're killing it!" And I owe a lot my current success to techniques and life coaching strategies I've learned from Jon. Can't recommend him enough!" – Jenna M.
Amazing life coaching experience
"I had an amazing life coaching experience with Jon. He gave me some very valuable tools and perspective. I can not recommend him enough." – Amy D.
4. Rostyslav Shemechko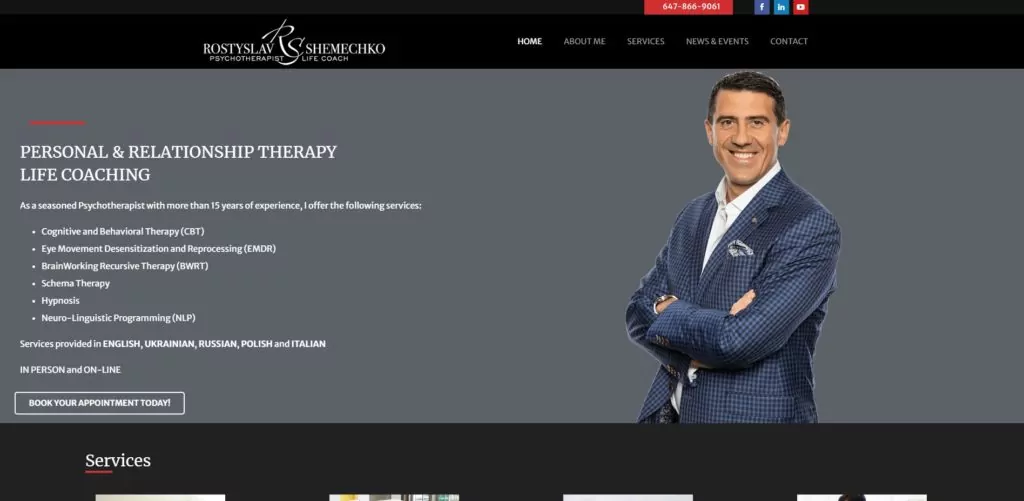 Test
Info
SERVICES

Individual Therapy

Couples Therapy

Relationship and Family Therapy

Therapy Groups

Workshops

Individual and Group Coaching

WEBSITE
https://shemechko.com
ADDRESS
357-359 Jane St., Toronto, ON M6S 3Z3
CONTACT DETAILS
647-866-9061
OPERATING HOURS
Monday to Saturday, 9 a.m. - 9 p.m.
| | |
| --- | --- |
| Criteria | Rating |
| Expertise and experience | ★★★★★ (5/5) |
| Qualifications and additional certifications | ★★★★★ (5/5) |
| Life coaching experience | ★★★★★ (5/5) |
| Fees | ★★★★★ (5/5) |
| Life Coach's personality | ★★★★★ (5/5) |
| Online works | ★★★★★ (5/5) |
Rostyslav Shemechko is a Psychotherapist and Life Coach with over 15 years of experience in psychotherapy and life coaching. He offers his services in English, Ukrainian, Russian, Polish, and Italian languages to the Greater Toronto Area.
His educational background is exceptional. He earned a bachelor's degree in Psychology, two master's degrees in Bioethics and Theology, and a Ph.D. Science of Education.
His certifications also allow him to wear many hats and put on the best one for you. He is a Certified Hypnotist, a Registered BWRT® practitioner, and a Certified Practitioner of NLP and CBT, among others.
Before focusing on psychotherapy and life coaching, he was a University Professor at the Ukrainian Catholic University. He then became the Co-Founder and President of the Center of Psychology and Center of Counseling at the University.
His qualifications more than exemplify his capacity as a therapist. But how about as a life coach?
His coaching services are straightforward. He helps you identify and deal with the limitations and fears that hinder you from achieving your life goals.
He also helps you develop the skills and strategies to achieve your personal and professional goals. Paired with his expertise in psychotherapy, you can develop into the well-rounded individual you aim to be.
Rostyslav charges $195 per session. We would have liked session packages to be offered.
Session packages are helpful for those who do not wish to pay for every session.
His qualifications might make him seem intimidating, but clients say otherwise. They liked how knowledgeable he is of the different therapy techniques and practices, and is always prepared for their session or coaching.
He is also compassionate and kind. Clients liked how the sessions were informative and empowering at the same time.
He also has a variety of written works on his website. His writings were concise, but some recent articles were derived from other sources.
We would have liked to see more recent writings on his blog. It would have been better if he also included his thoughts on the derived articles.
Rostyslav Shemechko is one of the qualified psychotherapists and life coaches in Toronto. We hope that he offers packages soon for his sessions for easier booking.
Exceptionally qualified psychotherapist and life coach
Affordable sessions at $195 per session
Having session packages would have been nice
More recent articles from his point of view on his website would have been nice to see too
Customer Reviews
Skilled in transforming mindsets
"I came to Rostyslav because I was told that he is very skilled in helping clients to transform their mindsets and improve their lives. I had wanted to work with him on my professional goals, and thus far, I have gained so much more from our sessions than I expected.
Rostyslav is kind, knowledgeable and compassionate. Our sessions are very informative and empowering. He has helped me to understand myself better, which has increased my confidence in achieving my personal and professional goals.
I would recommend Rostyslav to anyone who is seeking any type of self-development. He is a valuable source of support and insight for anyone on a transformation journey." – Annabelle R.
Genuine and always prepared
"Rostyslav is very genuine and is always prepared for each session with a plan yet also allows you the freedom and vulnerability to address what you need when you need it. He provides a safe place to allow you to be open and discuss the most difficult things in your life. He makes you feel cared for and helps you gain understanding about yourself, your thoughts, and behaviours. Our sessions have made a huge positive impact on my life and those around me." – Maria N.
FAQs about Life Coaches
---
That concludes our best life coaches in Toronto with life-changing programs! While we provided life coaches with psychotherapist backgrounds in the list, we also have best psychotherapists in Toronto in case you're looking for one that focuses only on psychotherapy.