A Guide to the 6 Best Speech Therapists in Toronto
A speech problem is a confidence problem. Oftentimes, these minor flaws make people feel small, which can further develop into more serious communication issues.
If you or a young loved one has ever had this experience before - fret not. We already selected the best speech therapists in Toronto for you and reviewed them here!
Top Speech Therapists in Toronto
We evaluated the best speech therapists in Toronto based on the following:
The Cost of Seeing a Speech Therapist in Toronto
The cost of speech therapy is often based on the duration per session. The table below shows an example:
| Duration | Cost |
| --- | --- |
| 30 minutes | $80 |
| 45 minutes | $115 |
| 1 hour | $145 |
The frequency and number of sessions required depends on the treatment plan established by the therapist. The costs are usually the same for both adults and kids, online or in-clinic.
Speech therapy is also covered by most insurance plans. It's best to connect with the clinic to ensure that you can reimburse the costs according to your policy and coverage.
1. Wonderspeak Speech Therapy & Myofunctional Clinic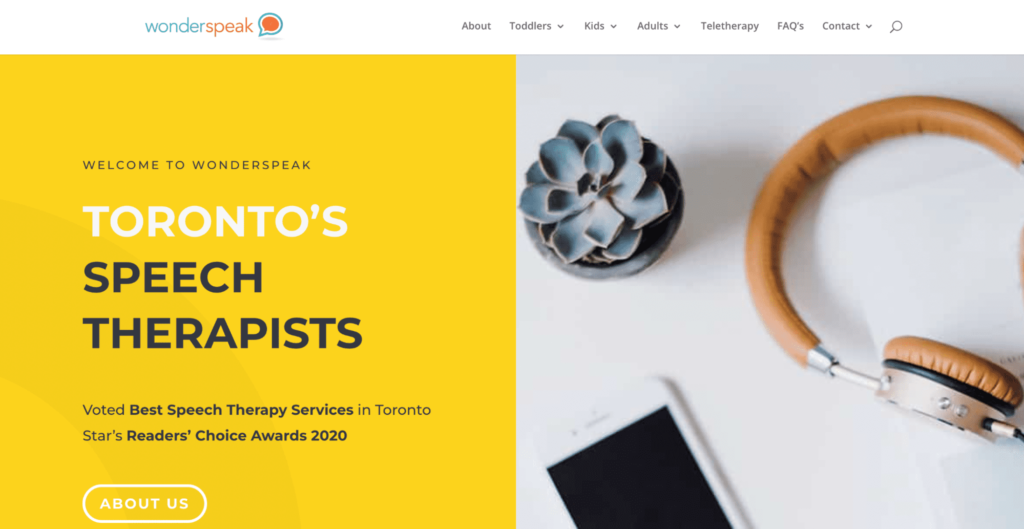 Test
Info
SERVICES
Speech therapy for articulation, language, stuttering, apraxia, accent reduction; myofunctional therapy; rehab for brain injuries; swallowing
WEBSITE
https://wonderspeak.com/
ADDRESS
67 Euclid Ave, Toronto, ON M6J 2J8
CONTACT DETAILS
+1 416-788-7460
OPERATING HOURS
Monday - Friday: 9:00 AM - 9:00 PM

Saturday: 9:00 AM - 12:00 PM
| | |
| --- | --- |
| Credentials and qualifications | ★★★★★ (5/5) |
| Knowledge and experience | ★★★★☆ (4/5) |
| Specialty | ★★★★☆ (4/5) |
| Therapy formats and techniques | ★★★★★ (5/5) |
| Character and attitude | ★★★★★ (5/5) |
| Connection with clients | ★★★★★ (5/5) |
| Communication skills | ★★★★☆ (4/5) |
| Environment | ★★★★★ (5/5) |
Successful results are our best gauge to determine how effective the speech therapy program is. Through our client interviews, we found a lot of people reporting stellar outcomes in this clinic that often start within the first six months of the therapy.
Note that we're not viewing success by the speed of speech improvement (because the results are relative to various factors). What we looked for instead was consistent training with proper intervals using at-home practice.
This is basically the best way we can describe the speech programs here. Part of the therapy plan involves practices that are reinforced in between the clinical sessions.
On top of that, they also train caregivers to transfer relevant skills to them to assist in the therapy. This ensures that the individual can continue with the training beyond the walls of the clinic.
Speaking of the clinic, we appreciate there are age-appropriate games that kids can try during their visits. These games also have interactive properties which is something that we value in terms of mental stimulation.
As per their clientele, they work with toddlers as young as 1 year old to adults of any age. They also specialize in various areas including stuttering, articulation, apraxia, and accent reduction.
By the way, they also provide speech therapy online which is most convenient for busy, working adults. Treatment blocks take about 30 to 50 minutes which is a standard session for speech therapy.
Free phone consultation
Comprehensive therapy plan
Integrates a home-practice program
Offers online speech therapy
Has more experience with kids than adults
Customer Reviews
Tremendous improvement
Working with Alicia has improved my son's speech tremendously. He always looked forward to our speech therapy sessions, and my husband and I learned so much to improve my son's speech. Thank you! – Jessica Jung
One of the best
Alicia is clearly one of the best in her field, knowledgeable and very good at what she does, it's obvious that her priority is delivering you the best results first, and making money second. You will not regret working with her. – Tim Gao
2. Well Said: Toronto Speech Therapy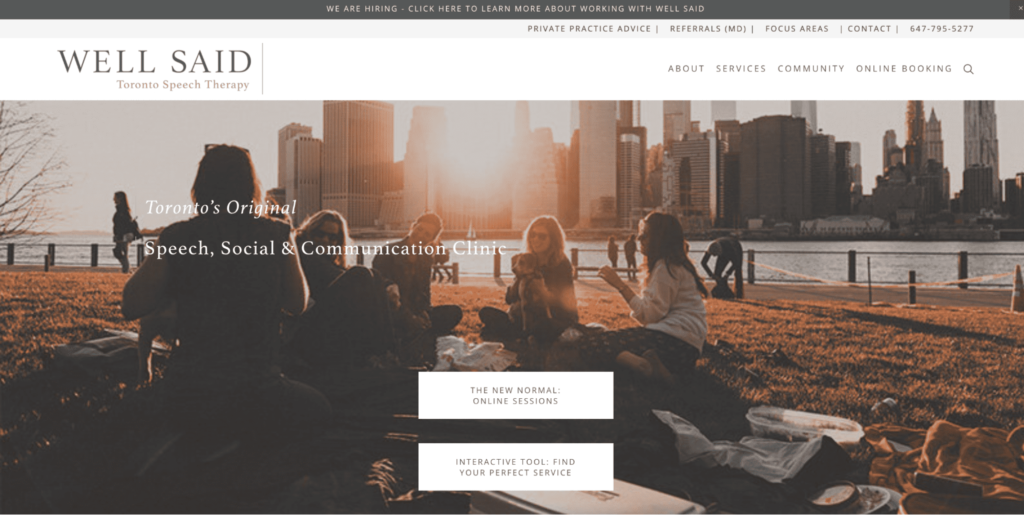 Test
Info
SERVICES
Speech therapy, social skills training, communication training, voice therapy
WEBSITE
https://www.torontospeechtherapy.com/
ADDRESS
670 Bloor St W #201, Toronto, ON M6G 1L2
CONTACT DETAILS
+1 647-795-5277
OPERATING HOURS
Monday - Thursday: 9:00 AM - 8:00 PM

Friday & Saturday: 9:00 AM - 5:00 PM
| | |
| --- | --- |
| Credentials and qualifications | ★★★★★ (5/5) |
| Knowledge and experience | ★★★★★ (5/5) |
| Specialty | ★★★★★ (5/5) |
| Therapy formats and techniques | ★★★★★ (5/5) |
| Character and attitude | ★★★★☆ (4/5) |
| Connection with clients | ★★★★☆ (4/5) |
| Communication skills | ★★★★☆ (4/5) |
| Environment | ★★★★★ (5/5) |
Right off the bat, we liked that Well Said's services are concentrated on adults only. While this limits the range they offer, this provides a great advantage in terms of expertise in specialization.
There are certain nuisances in both the disorder and treatment between adults and children. Knowing that they're only concerned with adults, we can say that the experience gives them an edge in providing personalized treatment plans for adult clients.
Another noteworthy thing about them is the speech problem they deal with. Oftentimes, you'll see clinics focusing on below-average speakers to help them get to a "normal" range:
But in this clinic, they also help those in the "normal level" to get to the "exceptional level" in terms of communication skills. This is what makes them a strong choice for professionals such as lawyers and teachers who want to upskill.
As per results, we're glad to note that most clients saw significant improvement within a couple of weeks to a few months time. It's not exceptionally fast, but it's relatively faster than most competition.
Finally, both their methods and clinic embrace a contemporary approach which matches the needs of adult clients. Plus, the therapy is highly collaborative which we think is a great way for the client to grasp their progress/
Adult-centric speech center
Programs designed for upskilling
Contemporary clinic built for adults
Offers online sessions
Issues with billing process
Customer Reviews
Seamless learning experience
This is long overdue but I'm writing this to showcase how much I appreciate Anna's work on fixing my lisp! It took a few months but I was able to overcome it. She was very flexible, nice, and friendly. She encouraged me, simplified things for me and made the process of relearning how to pronounce sounds very seamless. – Shay Baig
Highly recommended
Attending well said was a great decision. The entire staff was extremely professional and accommodating to my needs. I got rid of my lisp within only a few sessions of practice. I also learned how to use my assertiveness. Now my self-confidence and self-esteem are far greater than four months ago. I highly recommend seeing Alyssa if you are looking for any help regarding oral communication or social skills. – Trevor David
3. Andalusia Speech Therapy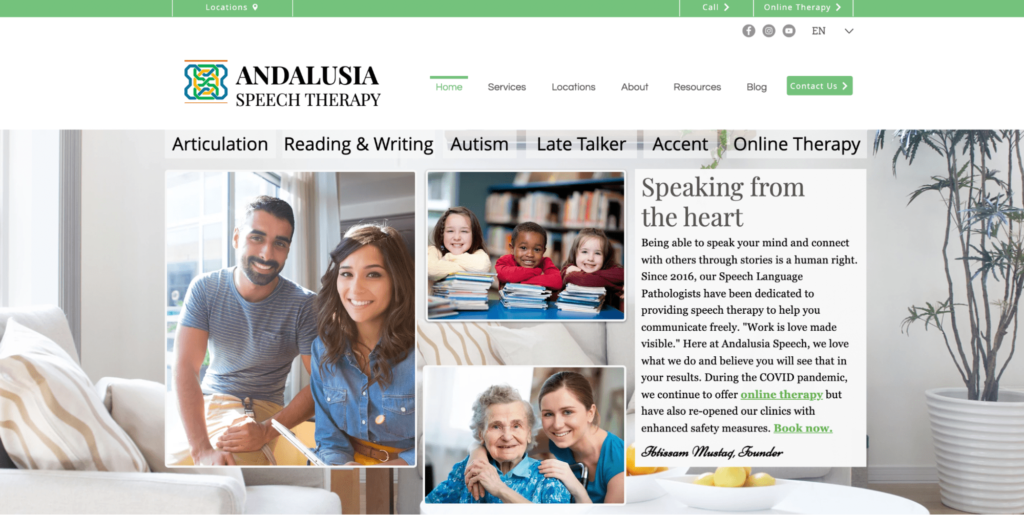 Test
Info
SERVICES
Speech therapy for articulation, stuttering, voice, aphasia, late talkers; occupational therapy; public speaking
WEBSITE
https://www.andalusiaspeech.com/
ADDRESS
2899 Danforth Ave, Toronto, ON M4C 1M3
CONTACT DETAILS

+1 647-725-7736

1-888-773-2503

OPERATING HOURS
Monday - Friday: 9:00 AM - 8:00 PM
| | |
| --- | --- |
| Credentials and qualifications | ★★★★★ (5/5) |
| Knowledge and experience | ★★★★★ (5/5) |
| Specialty | ★★★★☆ (4/5) |
| Therapy formats and techniques | ★★★★★ (5/5) |
| Character and attitude | ★★★★☆ (4/5) |
| Connection with clients | ★★★★★ (5/5) |
| Communication skills | ★★★★★ (5/5) |
| Environment | ★★★★★ (5/5) |
We recognize that a speech therapist's clinic must be a safe place for all types of clients. Fortunately, this is something that Andalusia Speech Therapy also understands and also seeks to promote.
Founded by a woman of color, the clinic fosters a culture of diversity and inclusivity. And a large part of speech development can be associated with the learning environment they practice in.
But, even in a remote setting, we saw that the same levels of effort are reflected. For instance, the therapist is always prepared with props in case the kid in therapy loses focus during the practice (with parental help, of course).
Plus, they offer therapy in various formats that are often missing in some clinics. Apart from one-on-one treatments, they also offer group sessions for kids which we think is a great option to improve socialization skills.
Additionally, we appreciate their transparent pricing structure, giving potential clients a lot of financial room to move around. We know that speech therapies can be expensive and even small things like this create a big difference.
While we're not big fans of their customer service, we like the solid results that clients enjoyed. Through their rigorous treatment plan, the fastest improvement we saw was 1 session but it still really depends on the disorder being treated.
Inclusive environment for all clients
Online sessions available
Offers group therapy sessions
Transparent pricing
Various locations across Toronto
Minor issues in customer service
Customer Reviews
A great experience
Lovely place and lovely people. Joanne was amazing. We had a great experience at Andalusia Speech Therapy. I have seen progress in my 20 month old son's communication after a couple of sessions. Highly recommend it. – Sarah Svaty
Patient, kind, and professional
Anna is a wonderful, patient, kind professional who helped my son overcome some speech articulation opportunities. I would recommend Andalusia Speech Therapy to anyone at any age, who needs assistance. I saw a huge improvement with my son after just a few visits. – Catherine Town
4. Speech Therapy Works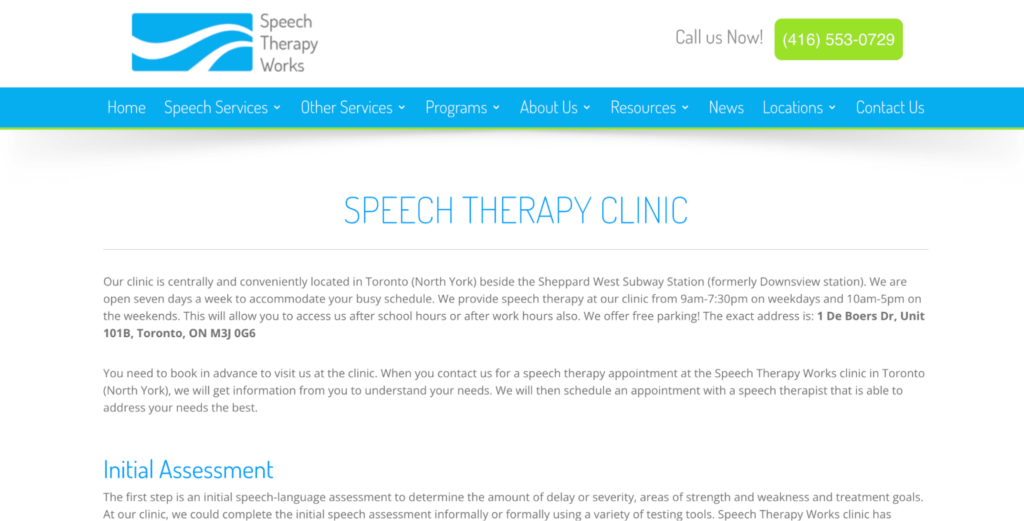 Test
Info
SERVICES
Speech therapy for apraxia, language delay, stuttering, learning disability, articulation; traumatic brain injury
WEBSITE
https://speechtherapyworks.ca/speech-therapy-clinic/
ADDRESS
1 De Boers Dr Unit 101B, Toronto, ON M3J 0G6
CONTACT DETAILS
+1 416-553-0729

OPERATING HOURS
Monday - Friday: 10:00 AM - 8:00 PM

Saturday: 10:00 AM - 5:00 PM
| | |
| --- | --- |
| Credentials and qualifications | ★★★★★ (5/5) |
| Knowledge and experience | ★★★★☆ (4/5) |
| Specialty | ★★★★☆ (4/5) |
| Therapy formats and techniques | ★★★★☆ (4/5) |
| Character and attitude | ★★★★★ (5/5) |
| Connection with clients | ★★★★★ (5/5) |
| Communication skills | ★★★★★ (5/5) |
| Environment | ★★★★★ (5/5) |
One of our favorite things about Speech Therapy Works is their approach to personalized treatments. They mostly deal with kids, giving them specialized advantages to the dynamics of speech therapy among children.
In our opinion, that makes their plans more comprehensive is the rigorous assessment coupled with solid follow-ups. The clinic uses both formal and informal assessments which we deem is a fair and effective way to evaluate a speech disorder.
Beyond the formal treatment, we also like that they make the treatment more enjoyable for kids. This involves using interactive toys as motivators to help them develop at a satisfactory speed.
Other than that, they also have group therapy sessions which, as we've established previously, is great for building social skills. A large part of speech disorders are hinged on the lack of confidence – so addicting this to the picture is a real plus.
The play-based therapy that they have is something we favor because it promotes flexibility. Plus, the environment is a lot more relaxed, making the experience less intimidating for the young ones.
However, since this approach lacks structure, we're just a bit concerned about making progress. So far, their success rates remain consistently good so we'll take it as a great sign for now.
Kid-centric speech therapy
Comprehensive assessment
Play-based therapy in a group
More flexibility during treatments
Offers in-home speech therapy
Less structure may result to staggered progress
Customer Reviews
Excellent and entertaining
Wonderful therapy for my 5 year old child for over a year now. Attended in person until COVID and currently remote with Ms Samantha who is excellent. It's been going well and she has many entertaining and fun learning activities for my child to focus on for the online sessions (I was worried he wouldn't sit and focus for the sessions). This is appreciated! – Lina Lee
Exciting programs
We are thankful to have found Speech Therapy Works and to have Shayna working with our boys for the past few years. She is very professional and easily gets the kids excited and keeps them engaged for their entire session. We have seen improvements since using her and are very happy with the progress made. – Catrina Mazur
5. Speech Appeal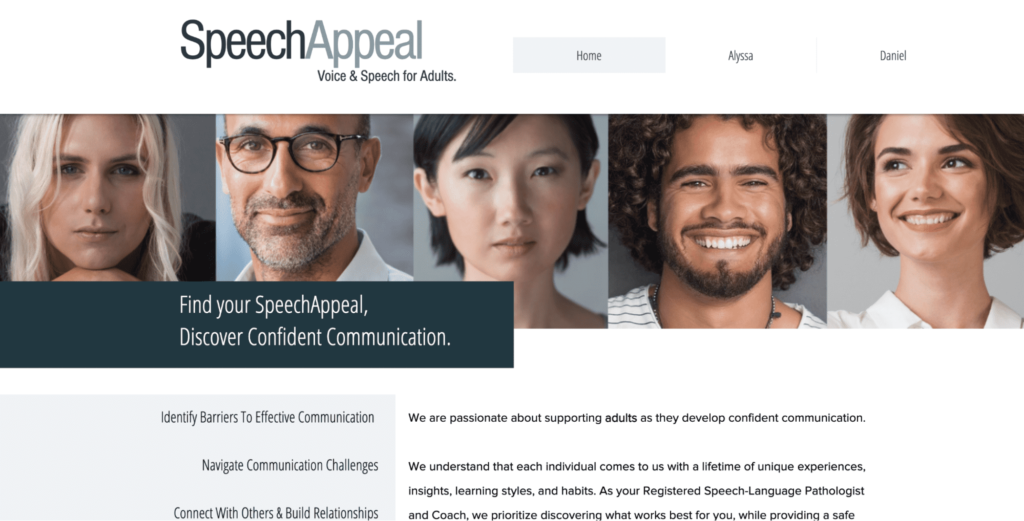 Test
Info
SERVICES
Speech therapy for adults
WEBSITE
https://www.speechappealclinic.com/
ADDRESS
2300 Yonge St Suite 1600, Toronto, ON M4P 1E4
CONTACT DETAILS
+1 416-549-1641
OPERATING HOURS

Monday - Thursday: 10: 30 AM - 7:30 PM

Friday: 10:00 AM - 4:00 PM

Saturday: 10:00 AM - 2:00 PM
| | |
| --- | --- |
| Credentials and qualifications | ★★★★★ (5/5) |
| Knowledge and experience | ★★★★★ (5/5) |
| Specialty | ★★★★★ (5/5) |
| Therapy formats and techniques | ★★★★☆ (4/5) |
| Character and attitude | ★★★★☆ (4/5) |
| Connection with clients | ★★★★☆ (4/5) |
| Communication skills | ★★★★☆ (4/5) |
| Environment | ★★★★★ (5/5) |
Speech Appeal is another adult-centric clinic where clients go to deal with their communication challenges. Plus, the treatment plans are personalized to match speech pathology with other areas such as art and music.
Some of the areas they specialize in involve adult stuttering and cognitive communication. In fact, we think that they're best in this area because their past clients recorded impressive results in a short amount of time.
Apart from this, we also like how clear they are in terms of their rates. For clients who are a bit strapped for cash, we see how this can easily make a difference in terms of decisions so we really value this transparency.
There are currently 2 speech pathologists in this clinic each with their own specialties and rates. We like that clients can choose between either professional based on who they feel most comfortable with.
They currently don't work with anyone aged 15 and below (well, this is an adult-centric clinic, anyway). So if you're looking for that type of service, you may want to bring your business somewhere else.
Specialized speech therapies for adults
Matches treatment plans with complimentary areas
Clear and upfront rates
Can choose between pathologists
Great improvement within 3 to 5 sessions
Doesn't offer services to children
Customer Reviews
Dramatic improvements
I have worked with Alyssa a few times on my vocal range, clarity and confidence of tone. In just a few sessions, I have found a much better understanding of my own capabilities and seen a dramatic improvement. She is as skilled as she is generous with her clients. – Daniel Fernandez-Palmieri
Knowledgeable and helpful
Alyssa is an amazing Speech-Language Pathologist! She's very knowledgeable at what she does. Due to my insurance limitation, I only had a few sessions but all those sessions were really helpful. I love the fact she gets to the core issue and explains as she goes. Voice analogy isn't everyone's forte and it really makes it easier to visualize when she explains in detail. The exercises she provided really helped me. Definitely recommended! – Ushan Makaju
6. Melanie Tapson Voice Care
SERVICES
Voice TherapyVoice TrainingSinging LessonsConsulting
WEBSITE
melanietapson.com
ADDRESS
107 Hamilton Street
Toronto ON M4M 2C7CANADA
CONTACT DETAILS
[email protected]
OPERATING HOURS
Monday – Friday, 10:00 AM – 4 PM
| | |
| --- | --- |
| Credentials and qualifications | ★★★★★ (5/5) |
| Knowledge and experience | ★★★★★ (5/5) |
| Specialty | ★★★★★ (5/5) |
| Therapy formats and techniques | ★★★★☆ (4/5) |
| Character and attitude | ★★★★☆ (4/5) |
| Connection with clients | ★★★★☆ (4/5) |
| Communication skills | ★★★★☆ (4/5) |
| Environment | ★★★★★ (5/5) |
Melanie Tapson offers one of the most effective speech therapy in Toronto. She is well-known for her classical approach to voice therapy. Conventional voice therapy usually entails an examination and a certain number of therapy sessions established by your therapist.
They have a plethora of information that shows voice therapy works brilliantly in a variety of settings. The problem is that even when they have a good plan in place and a fantastic therapist, many people fail to reach their goals because they struggle with two things: follow through and carry over.
When follow through fails, it's usually because, let's face it, a LOT of individuals struggle to successfully build new habits between sessions on their own. They know what they should do, but they struggle to put solutions into action and find time to practice in their already hectic schedules.
Carry over is that elusive thing we're always looking for: how to use what you learn in therapy in everyday situations without feeling like you're always "on." And it's the most difficult thing to realize in this line of business. So many individuals come to voice therapy with the greatest of intentions and very profound motives, but they don't get the results they're looking for. I was among them. And, speaking from personal experience, I can tell you that it may be really upsetting.
Transparent rates
Flexible services
Strict therapy methods
Customer Reviews
Helped me develop my confidence to sing again
"I drive 2.5 hours every time I see Melanie and I would do it every day if I could!!!!! She not only helped me recover my voice after a vocal injury but helped me develop my confidence to sing again. Melanie has gone above and beyond my expectations of any speech pathologist. She ensures I am well-equipped and have had all my questions answered before we finish a session. She is incredibly kind and bubbly, really easy to talk to and is an incredibly intelligent woman who adapts to your individual needs quickly. Give her one hour of your time and you will NOT be disappointed!" – Natalia Zuk
Funny, smart, analytical and precise in her work
"Melanie is not only one of the best professionals in her field, she's funny, smart, analytical and precise in her work. She will tailor your voice goals in a multifaceted approach that not only make sense, but is fun and easy to understand. I'm so glad we've met, I learned so much from this person. Highly highly recommended..!" – Akihiko Yagi
FAQs About Speech Therapists in Toronto
---
Did we miss some notable speech therapists within the area? Tell us the professionals that deserve to be on this list and we'll check them out in the near future!
For now, let's help you with other medical needs with these reviews: